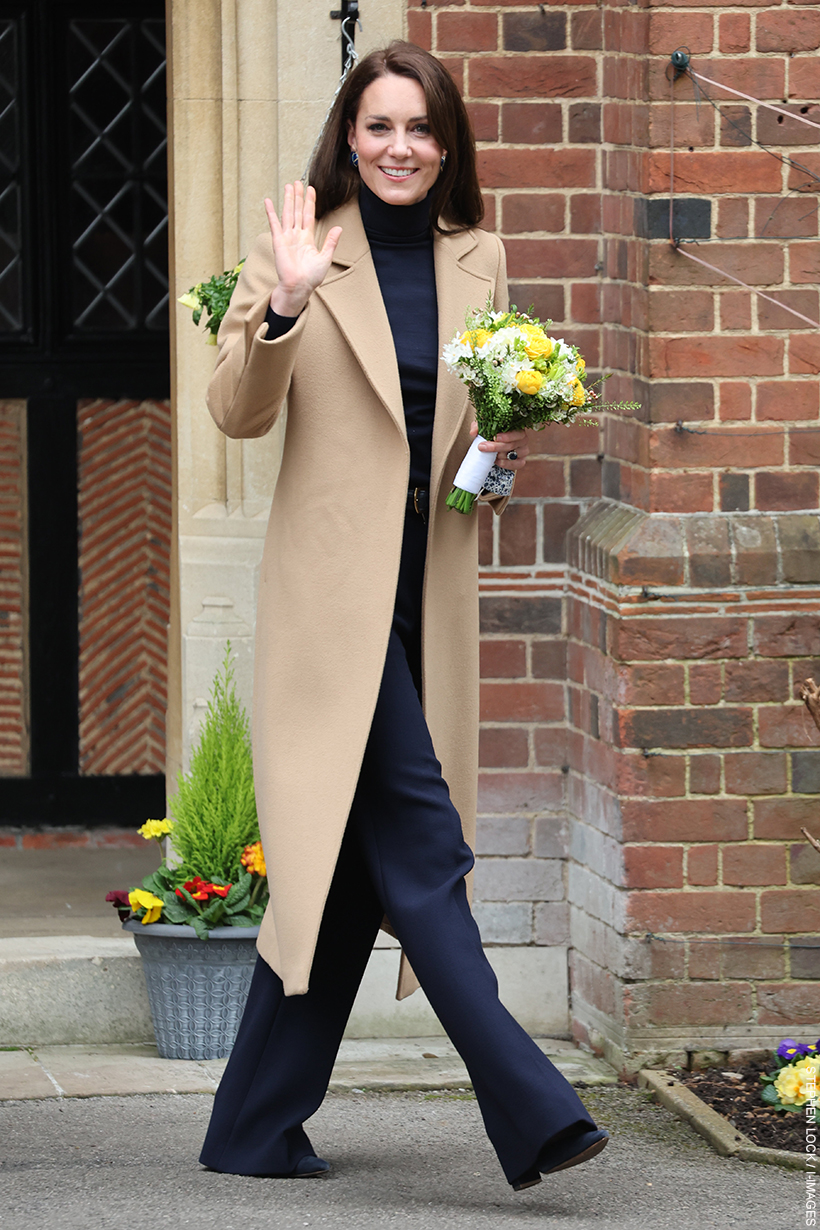 Kate Middleton brightened the day for residents at the Oxford House Nursing Home in Slough on Tuesday afternoon. The Princess of Wales visited the award-winning nursing home to chat with residents, tour the facilities, and with it being Shrove Tuesday, demonstrate her prowess for pancake-flipping—or not as it turned out. As always, she looked effortlessly chic in her navy outfit and camel coat.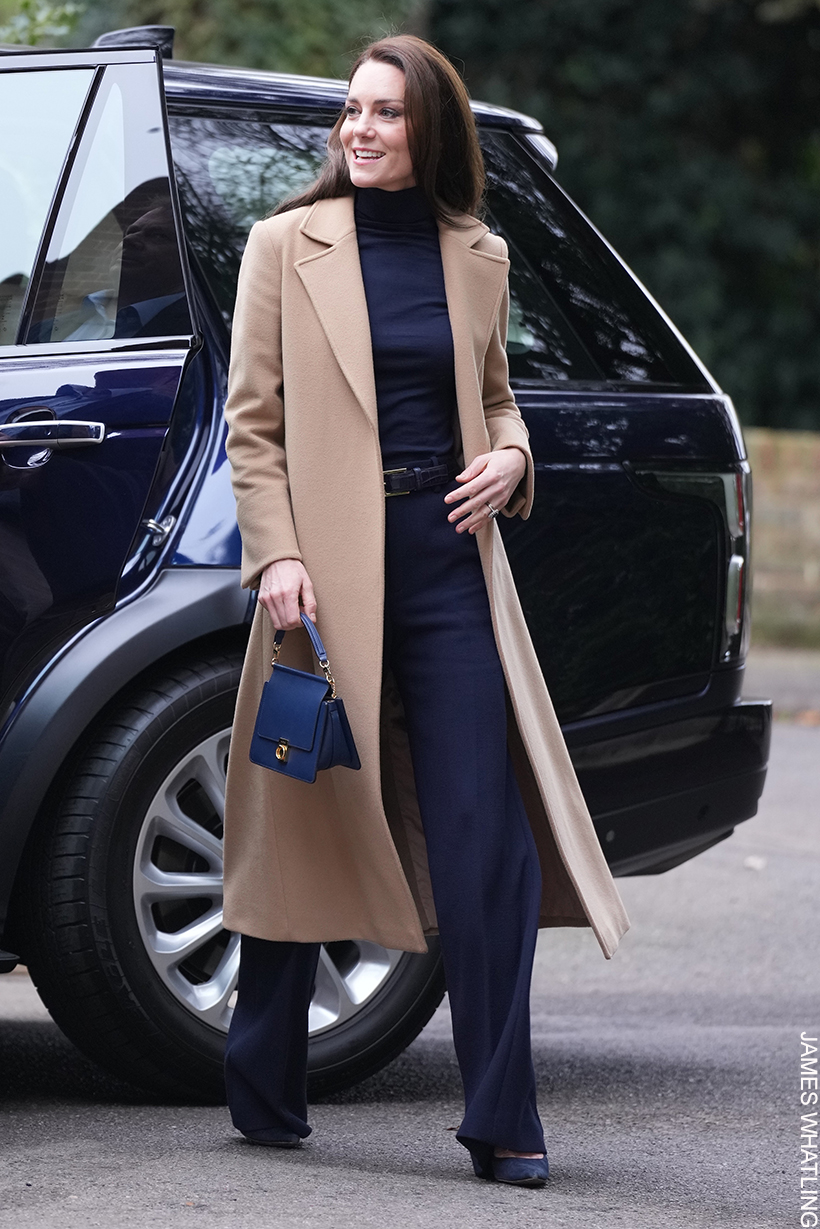 The Princess toured the family-run nursing home. From the photos and video footage I've seen, she sat and spoke with many residents.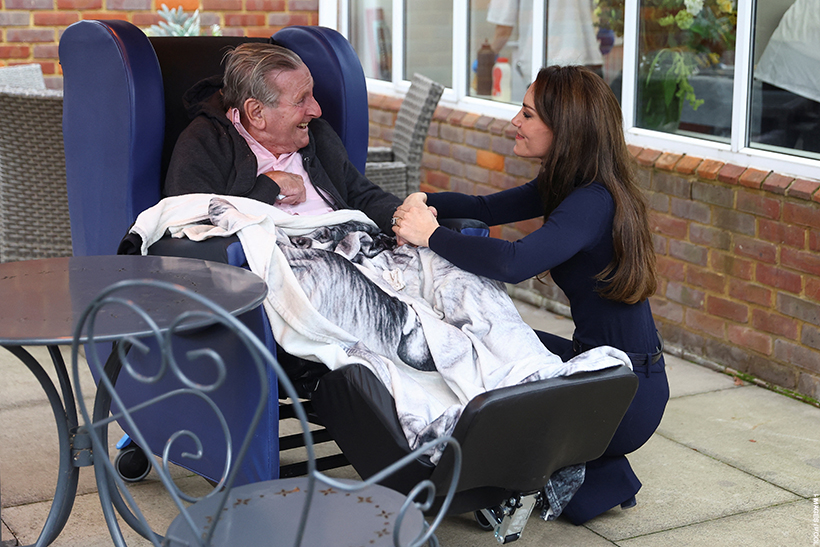 She witnessed the high-quality, patient-focussed care that Oxford House is renowned for and heard more about the cutting edge interactive technology they're using to stimulate and enrich the daily lives of residents.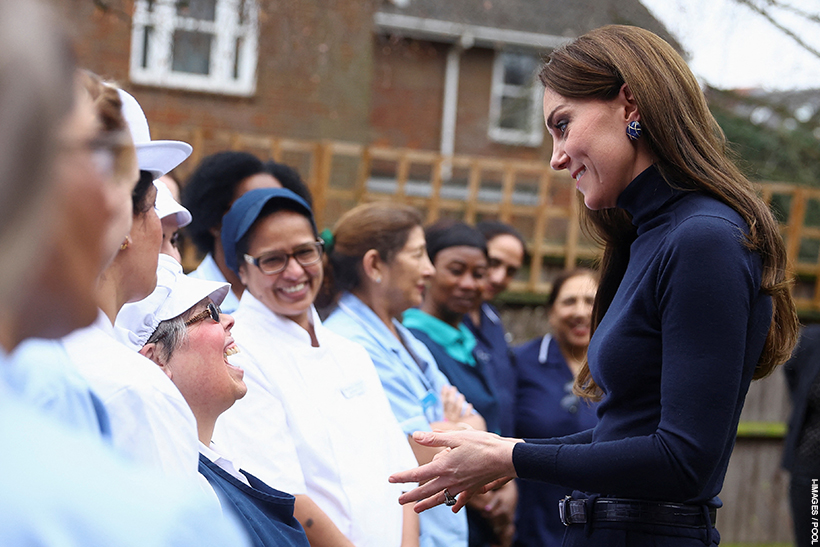 Gadgets include an interactive wall used to support residents with dementia and an interactive sensory table, both shown below:
Residents marked Shrove Tuesday with a pancake-making activity. Of course, Kate had an attempt. "A congealed blob" is how she described her creation. Oh dear. You can watch the moment she cooked and flipped the pancake below (at approximately 1:11).
Let's move on to her outfit now.
Kate Middleton's Outfit at Oxford House Nursing Home:
The Princess mixed a number of old and new items for today's look. Let's start by looking at her gorgeous camel coat by Max & Co.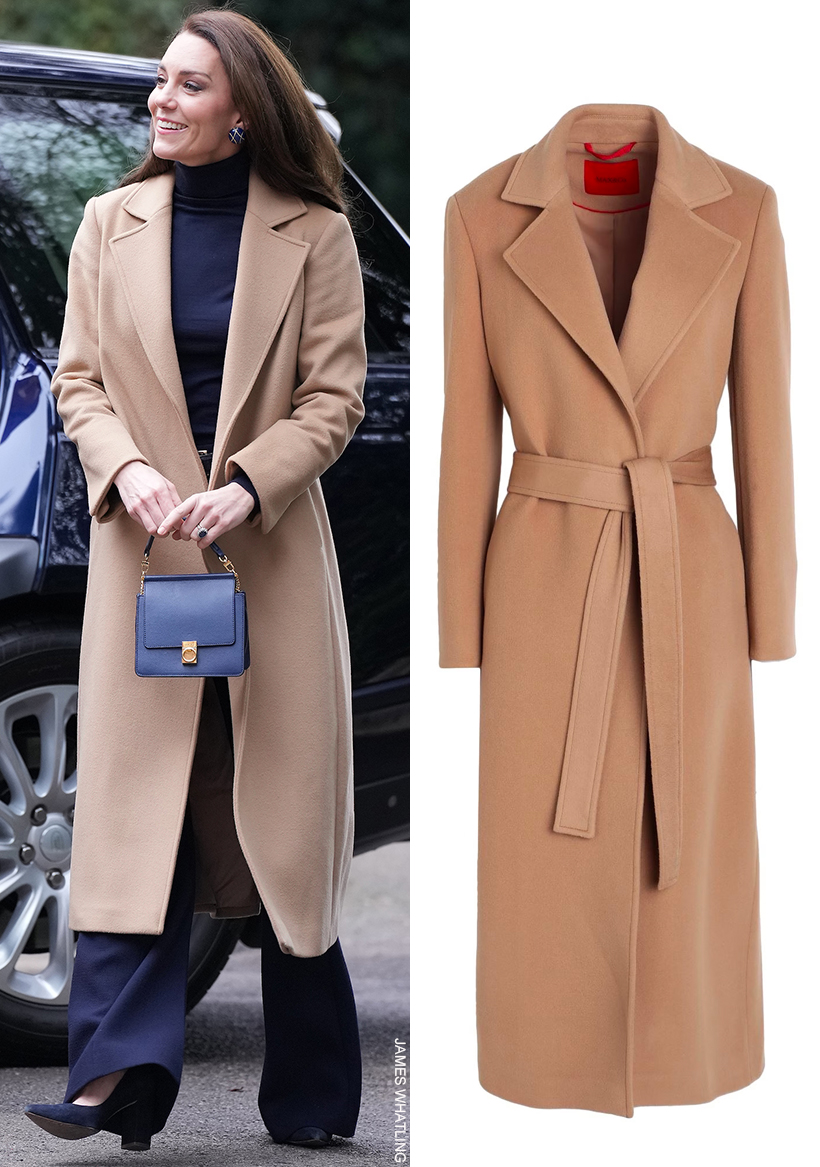 It's known as the Longrun style. The coat is crafted from 100% wool. It features a lapel collar, slip pockets and a matching self-tie waist belt. We've yet to see Kate wear the coat belted.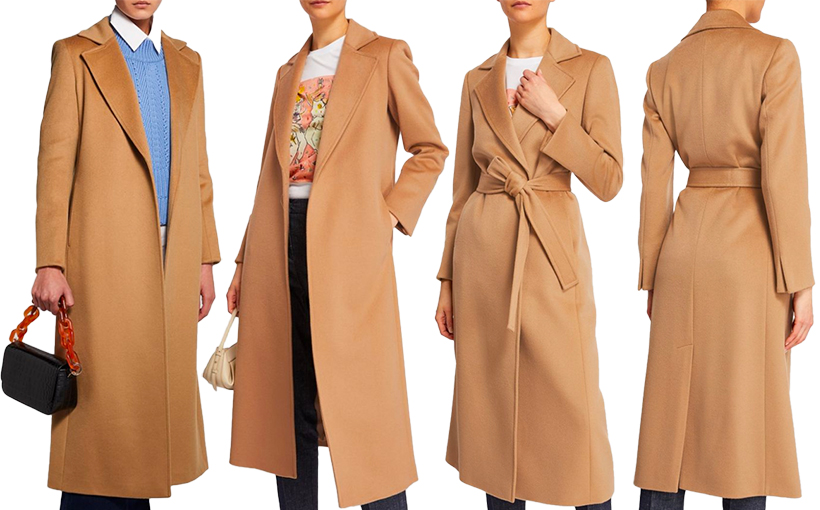 We've seen her in the coat twice before: to visit the city of Scarborough in November 2022 and then later in the same month at the Reading Ukrainian Cultural Centre.
If you want to recreate Kate's chic look, you can buy the camel coat for £442 / $461 at Yoox.com (part of the Net-A-Porter group if you weren't already familiar with the brand.)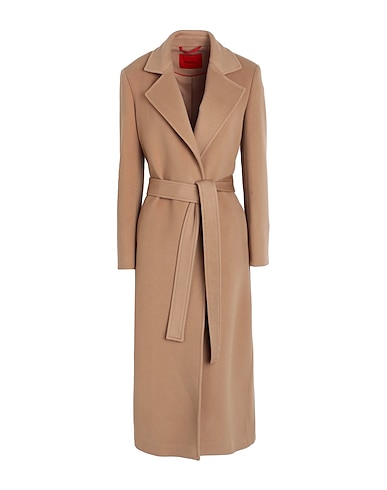 EXACT MATCH – Max & Co Longrun Coat in Camel
Recreate Kate's chic look with this camel coat by Max & Co.
Max&Co is a bold and vibrant contemporary fashion brand from Italy, launched by the Max Mara group in 1986. We've spotted Kate in a bunch of designs from the group over the last decade including a jacket by Max Mara, two coats from Max&Co, various dresses and a coat from MaxMara Studio, plus two coats from SportMax—I've shared a selection of designs in the gallery below.
The Princess wore her camel coat over an all-navy outfit, including a roll neck knit and a pair of wide-leg trousers and matching accessories.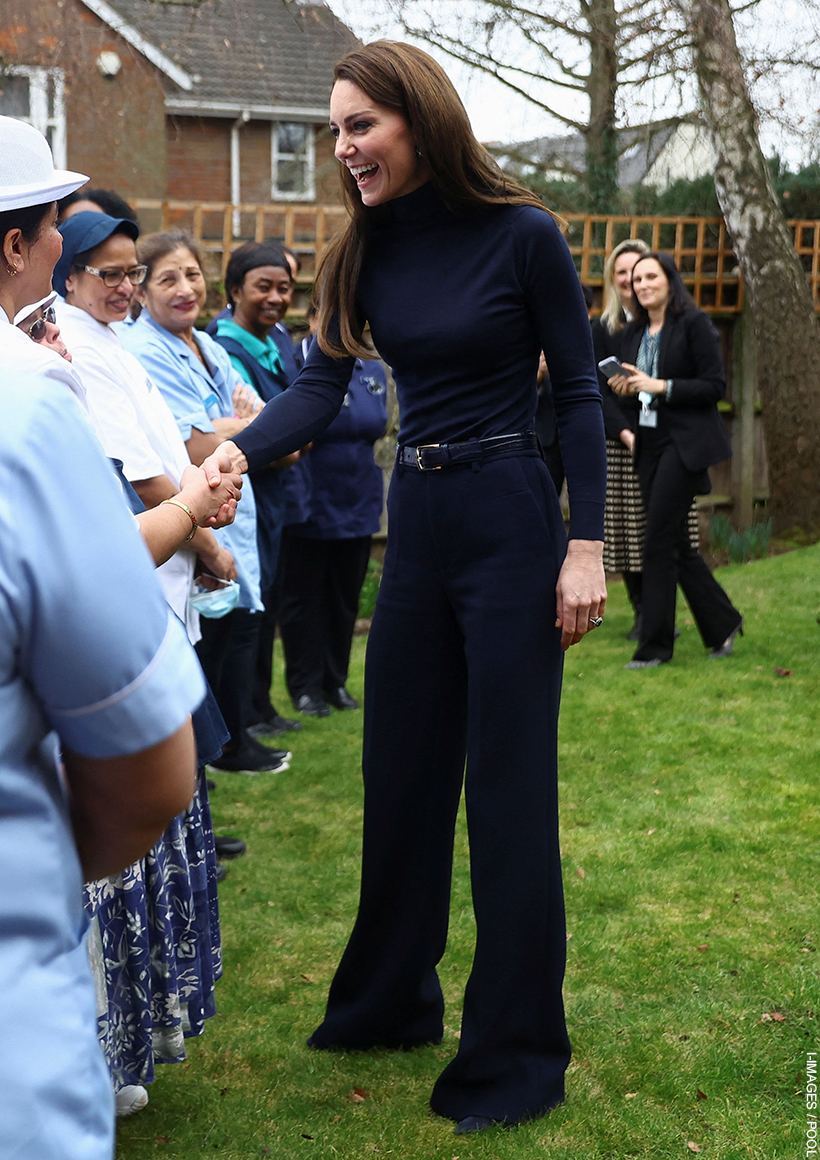 The knit is currently unidentified, though some detective work by Middleton Maven has led to the Ralph Lauren Cashmere Turtleneck as an option.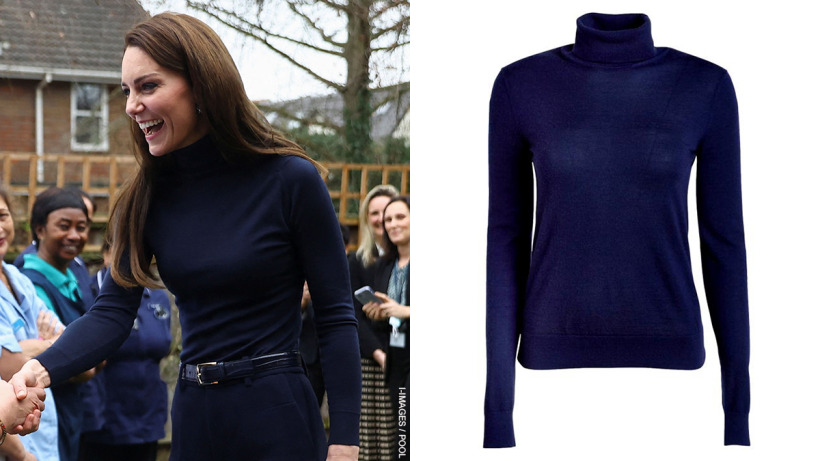 The ribbed cuffs, ribbed roll-neck and type/colour of fabric do seem to match upon closer inspection. Plus, Kate's worn quite a lot from Ralph Lauren over the years, so I wouldn't be surprised to learn this ID is correct.
UPDATE: Having looked really closely at the top on Kate's shoulder (below left) and the Ralph Lauren model's shoulder (below, right), I've noticed that both feature a distinctive, thick seam. So I'd say the sweaters are a match.
Want to buy the sweater? It's available at Ralph Lauren and Bergdorfs.
I believe the Princess has worn the blue knit in public a few times before—I think under the suits pictured below? I can't say for certain.
The clever folks over at UFO NO MORE identified Kate's trousers—they're new (to us at least). They're the Roland Mouret Lucanus style.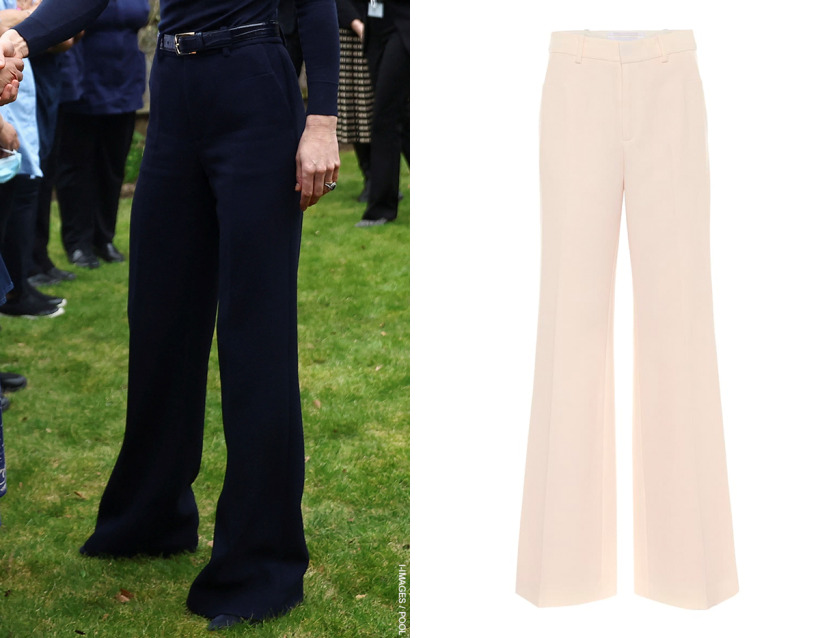 The wide-leg wool crêpe trousers feature a figure-flattering flared cut. They have a distinctive seam across the back of the trousers and on the hips, which led to their identification.
It appears that Roland Mouret have offered the trousers in a number of shades at one time or another, including the navy as seen on Kate and the pink shown above. It looks like Yoox have the navy in stock (size US8 only) for $193. A pale pink version is available for $665 (down from $950) at MyTheresa (again, only limited sizes left in stock).
Kate's worn Roland Mouret for years, we first spotted her wearing a dress from the designer at Heathrow Airport in 2011, ahead of her first official overseas tour (of North America). She's continued to wear gowns and tailoring from the French fashion house ever since.
The Princess wore her navy block heel pumps by Emmy London under her blue trousers.

The dark midnight blue pumps are made from luxurious soft suede and come with lined with leather and finished with a comfortable padded insole for all-day wear. The classic shoe features a pointed toe and an 85mm block heel. They retail for £425.
The shoe is fast becoming one of Kate's go-to styles. The Princess has worn them to 12 or 13 public engagements since their debut in 2019 (baring in mind, for a lot of the following year, we didn't see her shoes as most engagements took place via Zoom due to the pandemic!)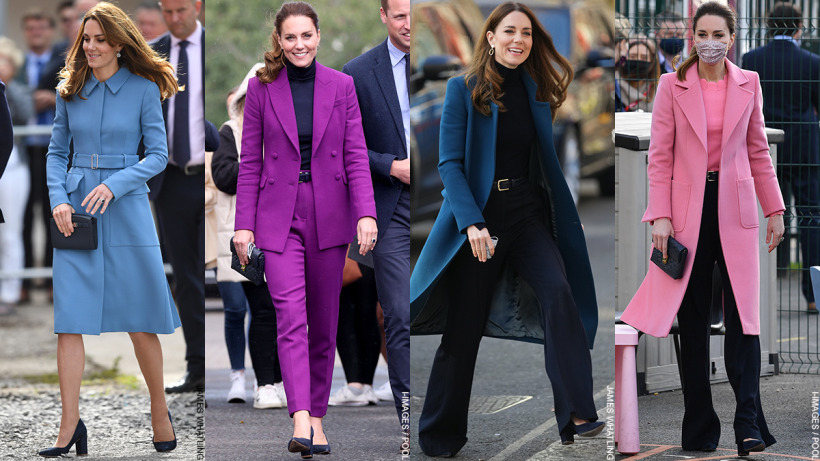 If you want to copy Kate's look—right down to her footwear—you're in luck. The Josie shoe is a staple for Emmy and the London brand still sell the design in an array of colours today.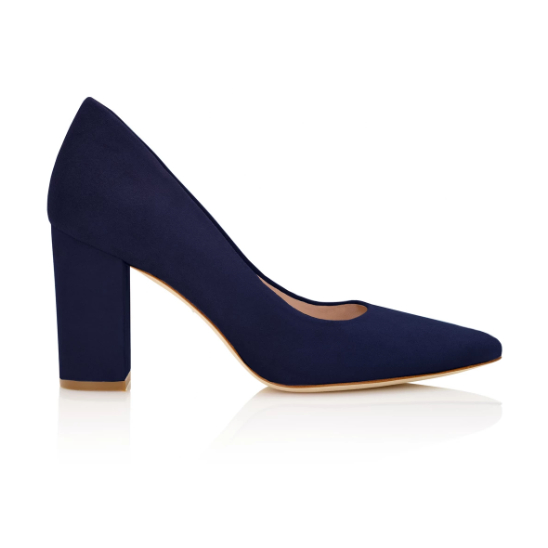 EXACT MATCH! Emmy London Josie Block Heel Pumps in Midnight Blue
If you need a pair of stylish heels for work or a special occasion, Emmy London's Josie is about to become your new go-to shoe!
The Princess is a devoted fan of Emmy London, she owns over a dozen pairs of their heels. She also carries an equally impressive collection of the British brand's handbags.
Kate accessorised with her Polène Paris bag.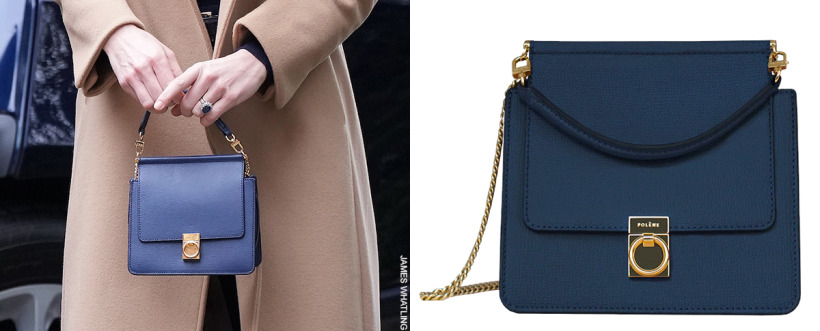 It's the Numéro Sept (or Number Seven) Mini in blue leather. The dainty bag is handmade in Spain from textured leather and is finished with a gold plated stainless steel clasp. The interior is lined with suede.
At the time of writing, the bag is no longer available in the same blue carried by Kate. It can be pre-ordered in another shade of blue on Polène's website for $420 USD or £320 GBP. They ship in late March. A number of other colours are available now for the same price.
Kate's carried the bag on two prior occasions. To the Glade of Light Memorial Garden in Manchester, during a visit to commemorate Manchester Arena bombing victims in May 2022, and for a visit to Scotland for a series of engagements concerning early childhood, homelessness and mental health in the same month.
Polène is a relatively new leather goods brand that was founded in Paris in 2016. We've not seen the Princess carry anything other item from the company, to date, from my knowledge.
Finally, let's look at Kate's new blue button earrings. They feature a gold lattice design.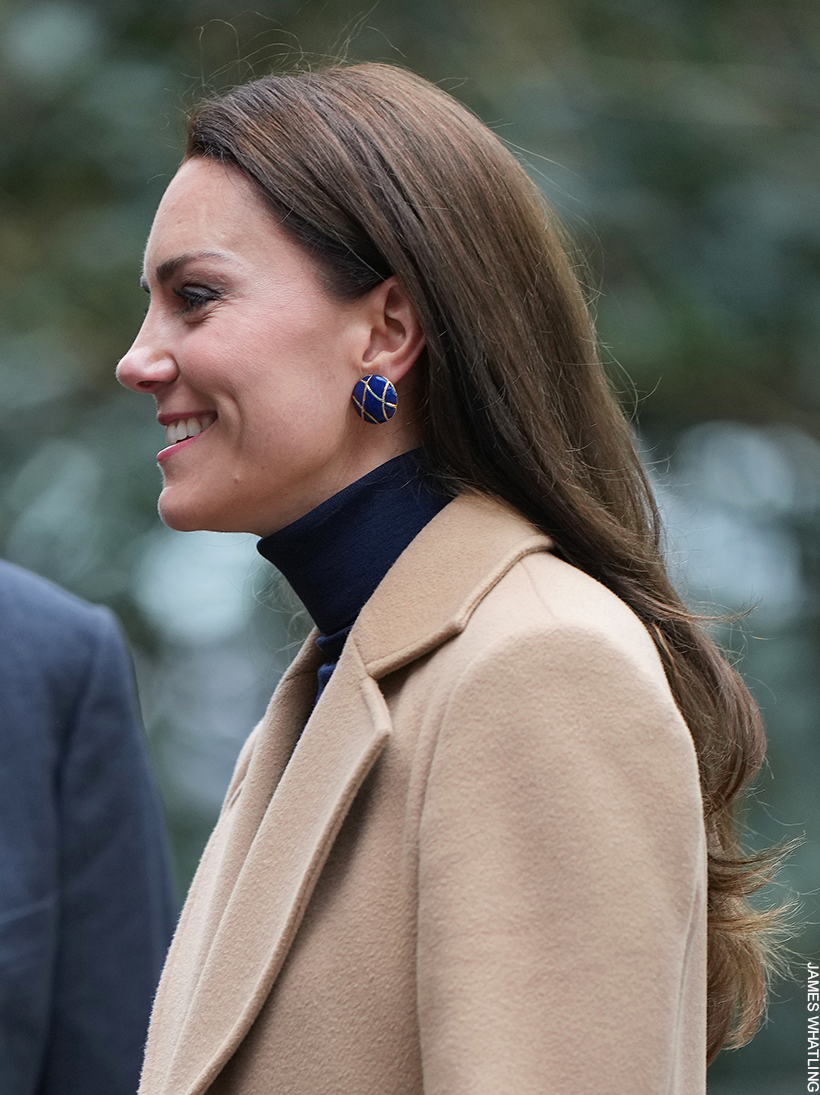 At present, the whole community is searching for these earrings, to no avail.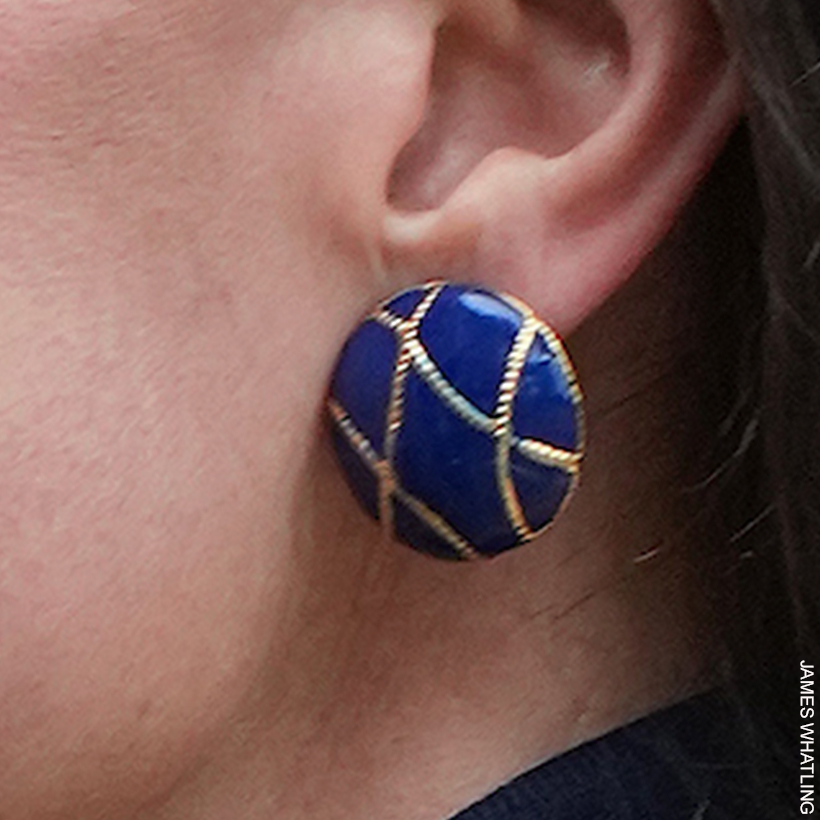 If anybody identifies them, I'll drop an update here. I found a few David Webb designs that are similar—but sadly nothing close enough to provide an ID.