Kate Middleton rocked a wide-leg burgundy pantsuit at a reception on Tuesday.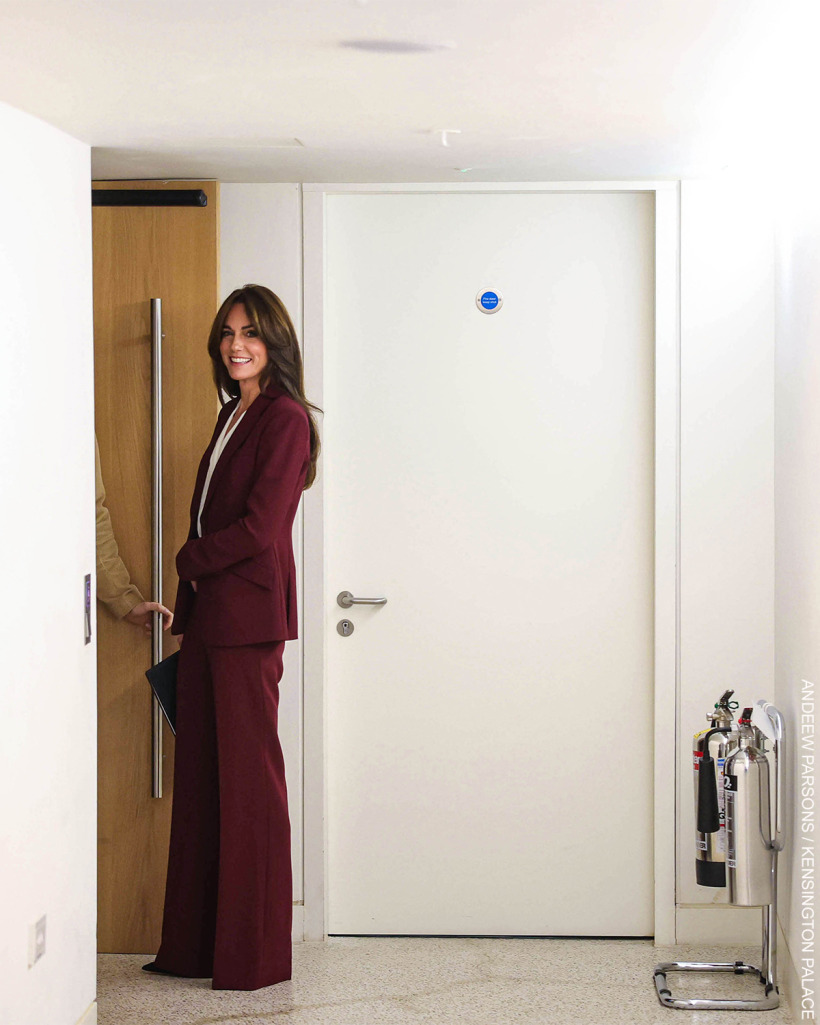 The Princess of Wales attended the reception ahead of her inaugural 'Shaping Us' National Symposium that will take place later today (Wednesday).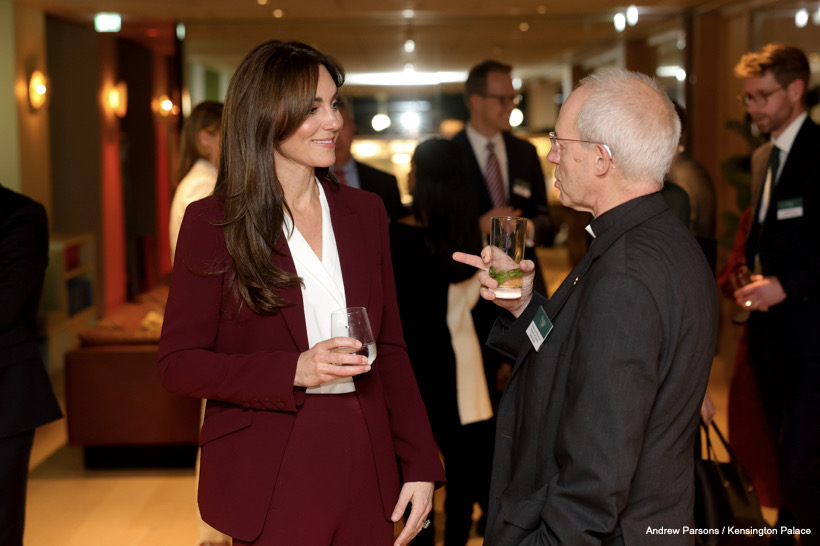 The symposium will be hosted by the Princess and The Royal Foundation Centre for Early Childhood.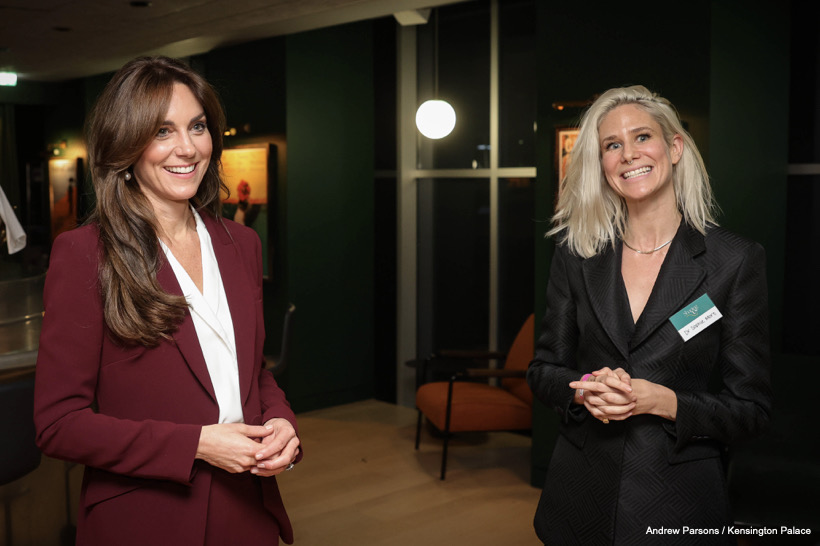 It'll take place at The Design Museum in London and bring together cross-disciplinary leaders, child and adult specialists, and global thinkers for the first time to consider how we grow, think, and behave throughout life, in order to build resilience for the future.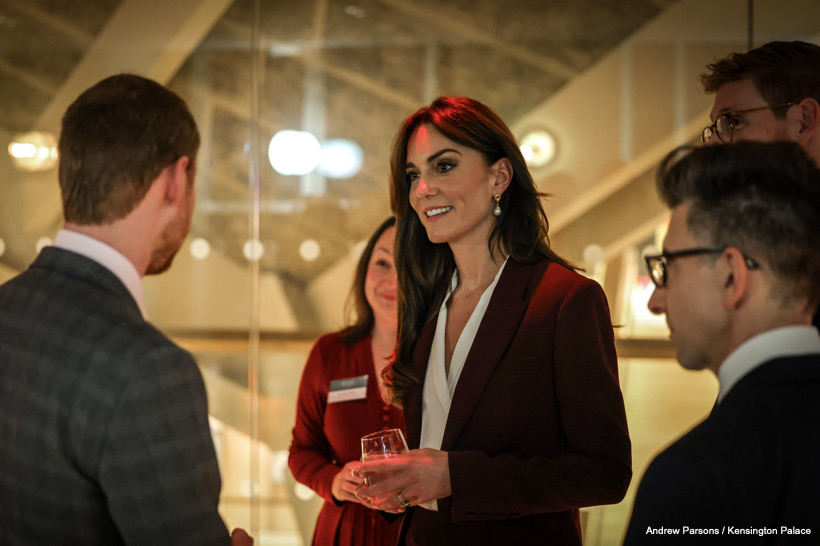 Kate mingled with VIPs and speakers ahead of the symposium. It looks like she also took part in a 'sound check' for the keynote speech she's delivering later. (That, or she welcomed and thanked those who attended the reception.)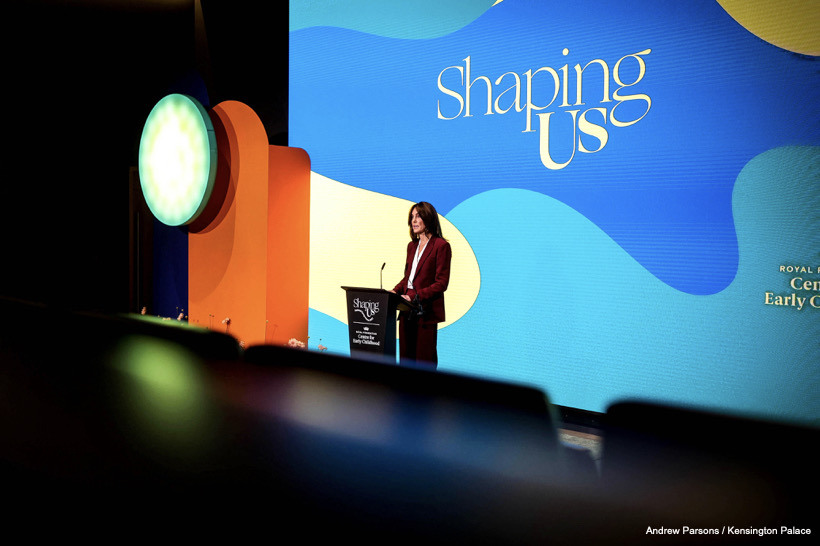 Kate's keynote is slated to be a landmark speech — "the biggest that she's ever delivered – explaining her vision for her work in this field."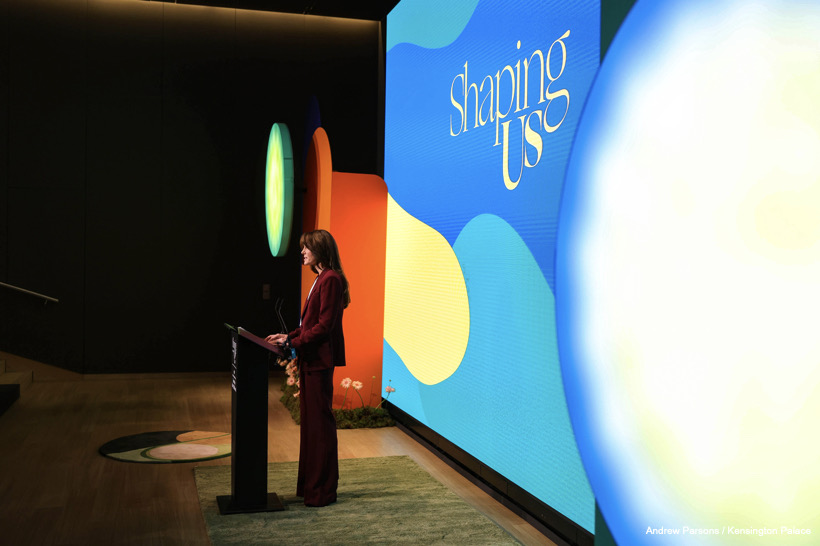 According to the Daily Mail's Rebecca English, the speech will explain why Kate works on the early years, how it links to her mental health work and she'll set out her vision for the future of her work. The Royal Editor says "it's going to be a huge moment for her."
The Telegraph report that the Royal Foundation has conduced a "first of its kind global listening exercise" by bringing together international experts to combine their knowledge and expertise. The group agreed on a set of common core skills that children develop in childhood, which continue to be refined in adulthood. These are self-awareness, managing emotions, focusing thoughts, communication, nurturing relationships and exploring the world.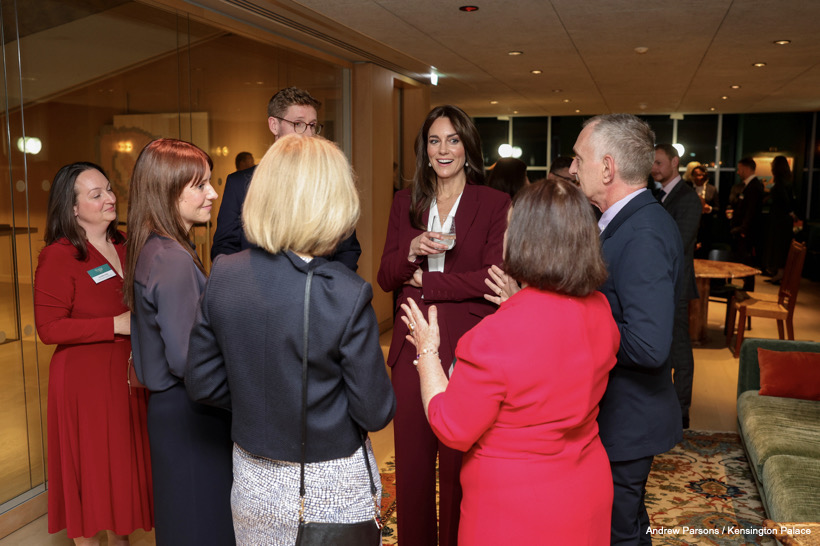 The group of experts believe these skills lay the foundations for positive future mental health and resilience, and the full findings will be shared during the Symposium.
Kate's Shaping Us campaign launched back in January. It's been a huge focus for the Princess over the last 10 months. This campaign is dedicated to increasing awareness of the vital role early childhood plays in shaping an individual's future. It spotlights the profound impact of the first five years of life on long-term development and well-being.
At the heart of this movement is the Centre for Early Childhood, launched by the Princess in June 2021. It focuses on three main areas: advancing high-quality research, collaborating with diverse sectors, and crafting innovative campaigns to elevate awareness and drive meaningful action.
The "Shaping Us" campaign exemplifies the Princess's longstanding commitment to early childhood development, aiming to transform societal perceptions and foster generational change in how early years are understood and valued.
Following the reception on Tuesday, Kensington Palace uploaded a short video to social media, showing the symposium set up at The Design Museum. It also featured Kate walking through a white hallway in slow motion. You can watch it below:
Let's move on to look at Kate's outfit at the reception.
Kate's outfit at the reception:
The Princess of Wales brought back her tailored burgundy suit from Roland Mouret.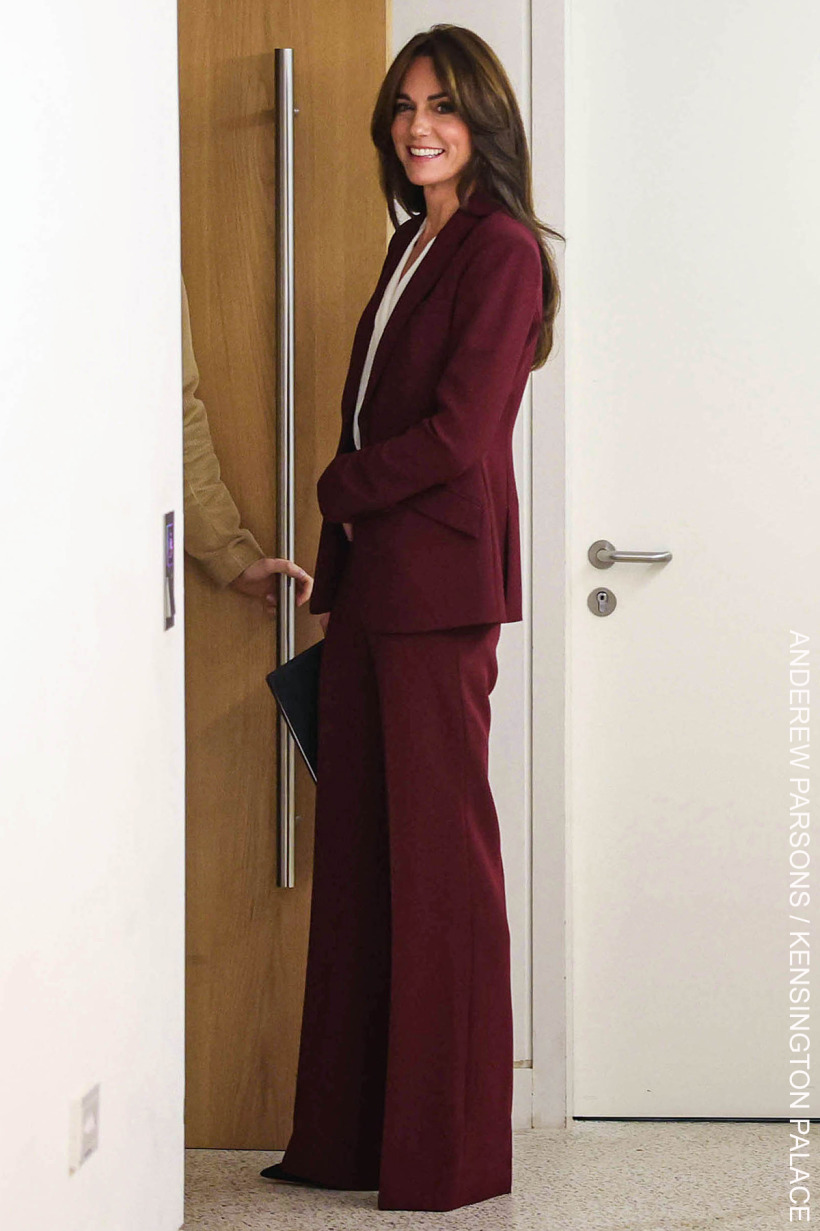 The ensemble comprises the designer's Single-Breasted Cady Blazer and Stretch-Cady Flared Trousers.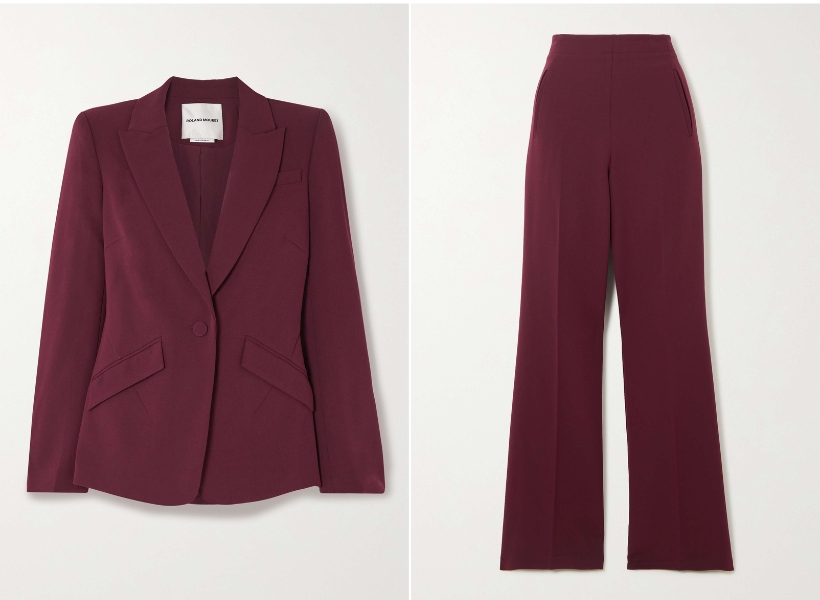 This suit blazer boasts a single-breasted silhouette, complete with a peaked lapel that adds a sharp edge to the overall look. Its single-button closure allows for a streamlined shape that cinches in at the waist, highlighting the wearer's silhouette. The flap pockets are placed strategically to accentuate the hip curve, while the clean lines throughout ensure a sleek and polished finish.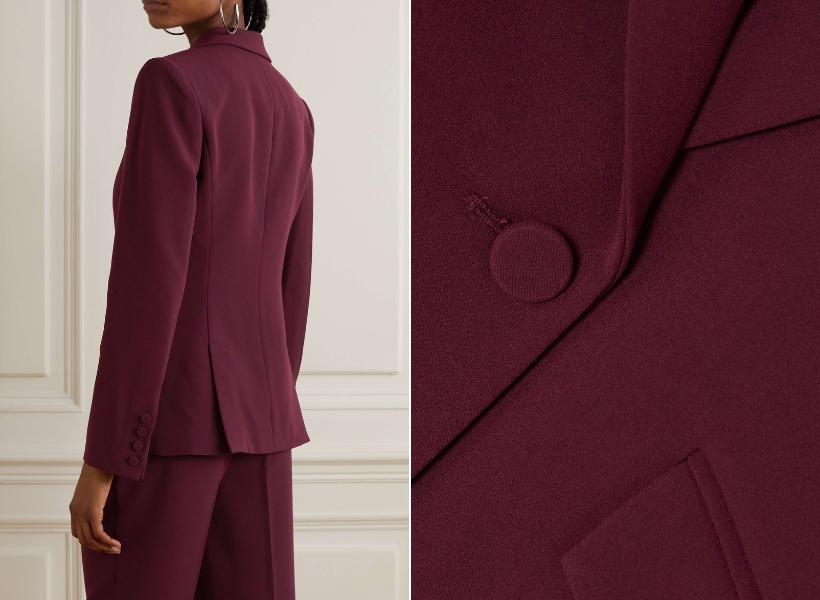 The trousers are a highlight of the suit, cut to a flattering wide-leg flared silhouette that drapes effortlessly, elongating the frame. The wide-leg cut offers a contemporary twist on traditional suiting, presenting a relaxed yet structured look. The high-waisted design enhances the natural waistline.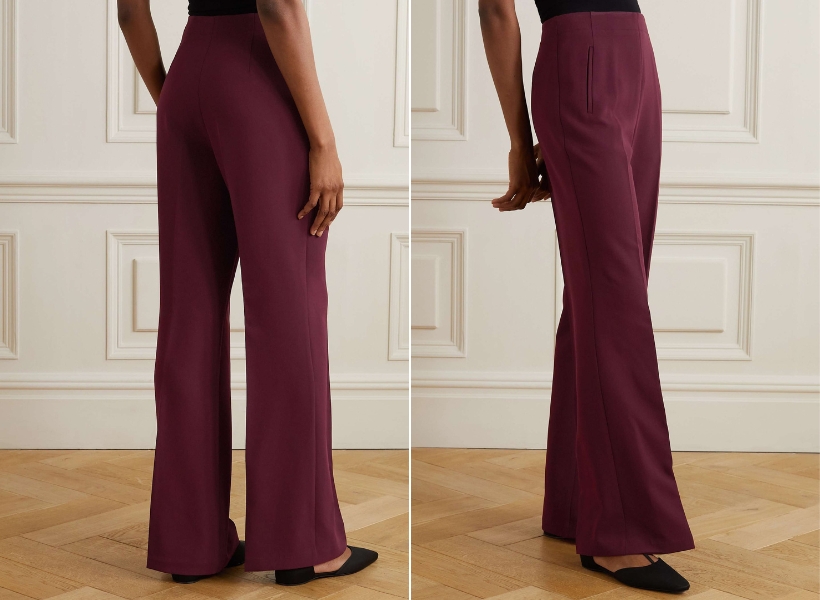 For those inspired by Kate's Smyposium style, the good news is that the suit is available for purchase. The suit can be found in black and the same burgundy shade Kate wears at Net-A-Porter.com.
This isn't the first time Kate has been seen in the striking Roland Mouret suit. She debuted the suit during a visit to Boston last winter and reprised it for a reception for the England Wheelchair Rugby League Team earlier this year​. She also owns the same suit in camel.
Kate has a long-standing relationship with the Roland Mouret brand. Since her entry into the Royal Family, she has frequently chosen Mouret's designs for high-profile engagements, including gowns, trousers, and dresses. Her first public appearance in a Mouret design dates back to 2011, ahead of a trip to Canada, and she has continued to showcase his creations since then. In 2022, she made a notable appearance at the Top Gun premiere in a Roland Mouret gown​​.
Roland Mouret, known for his craftsmanship and sophistication, is a brand celebrated in the fashion world for its exceptional tailoring and intuitive understanding of the female form. The French designer's expertise in drape and structure makes his designs more than mere garments; they are experiences designed to make women feel as fabulous as they look. Mouret is particularly recognized for pioneering the "Galaxy" dress, a symbol of his ability to blend timeless elegance with modern luxury​​.
Kate paired the burgundy jacket and trousers with her white bodysuit from Holland Cooper.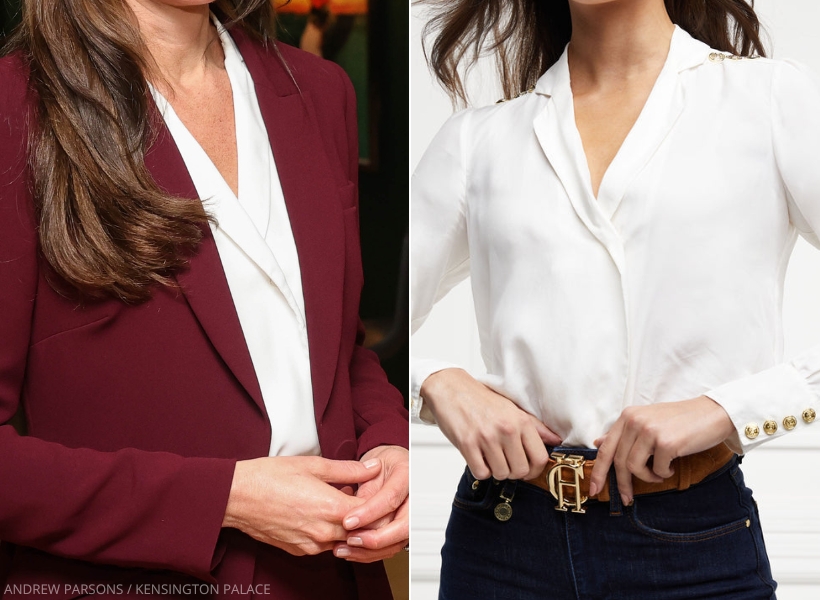 Designed for a day-to-night transition, the bodysuit features a nylon elastane thong base, ensuring a flawlessly smooth fit. The lightweight shirt creates the impression of a seamlessly tucked-in blouse, designed to offer a streamlined look, perfect for a polished and sophisticated appearance. The inverted dart back pleat enhances any silhouette.
The garment features full-length sleeves, and signature HC button detailing on the shoulders and cuffs. It's made from 60% Cupro and 40% Viscose.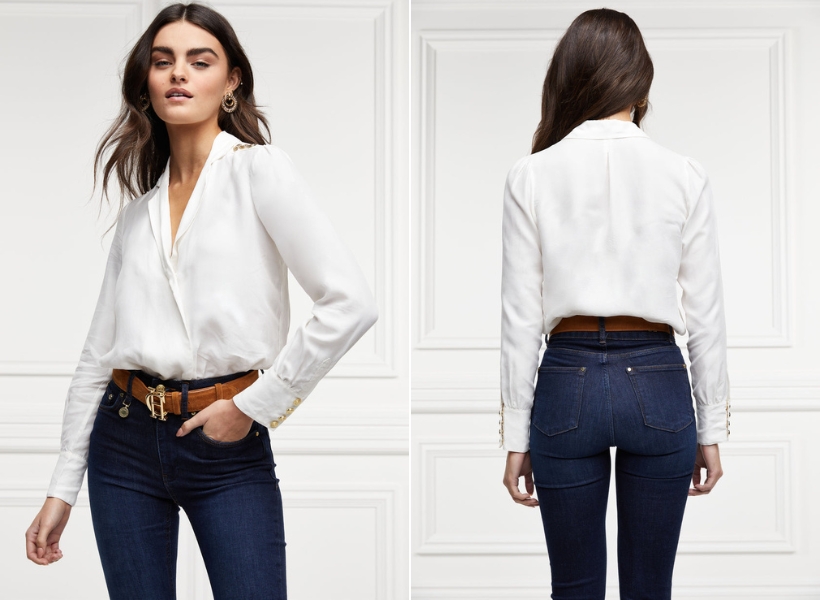 Kate debuted the white bodysuit in January 2021 during a video call and has worn the item on a handful of occasions since  The piece remained a mystery for some time before being identified and confirmed by the brand.
Would this bodysuit complete your look? You'll be pleased to know it's in stock at Holland Cooper. It retails for £149.00.
The Princess has showcased her fondness for Holland Cooper on multiple occasions. She has been seen sporting various designs from the company, including snug fair isle knits, gorgeous tartan coats, and most recently, a double-breasted black twill blazer from the brand. This suggests the Princess rather likes Holland Cooper's unique blend of classic equestrian style and city-style tailoring.
Established in 2008 by Jade Holland Cooper, the brand is known for its classic equestrian style and tweed, all British-made. Holland Cooper has carved a niche in the fashion world with its blend of country design and city-style tailoring. The collection began with tweed separates, evolving into tailored garments, wardrobe staples, and statement coats.
Let's move on to Kate's accessories now. The Princess wore her Chunky Knot Baroque Pearl Earrings by Shyla.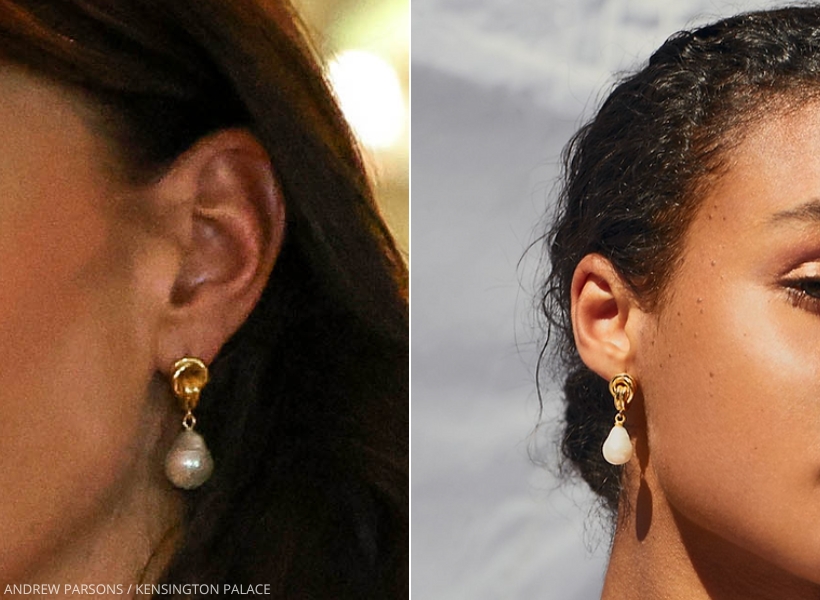 The earrings feature a baroque pearl suspended from a chunky knot top, finished in a high-shine gold. They're crafted from 22 carat gold on silver, and retail for £72 at Shyla Jewellery.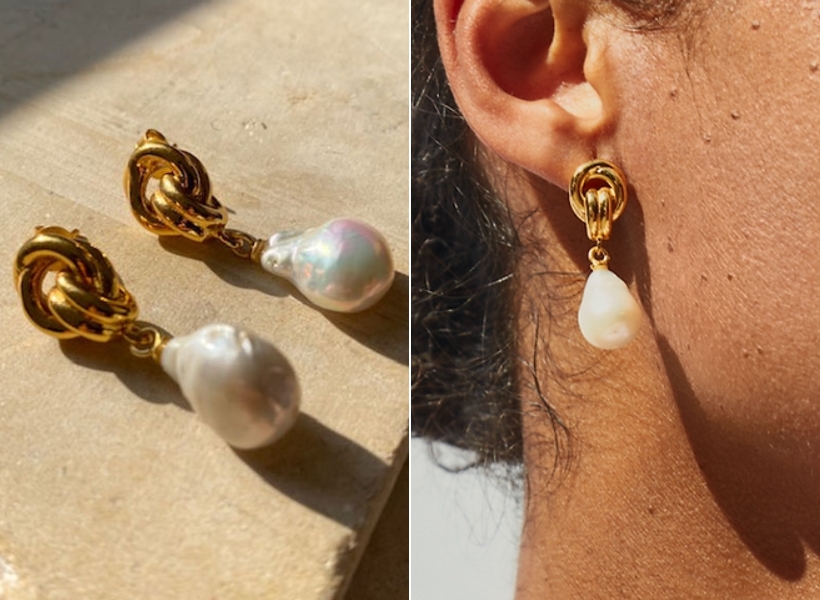 Selfridges also sell the same earrings with a synthetic pearl for £58.
Kate debuted the Shyla earrings in during a welcome event in Boston last year. This occasion marked her first time wearing an item from the London-based sustainable brand. She's worn the baroque pearl earrings and a few other pieces from the brand quite frequently since.
Shyla was founded by Alice Blofeld, driven by her passion for vintage jewellery and the desire to create timeless, yet contemporary pieces at an affordable price point. The brand is known for its ethical approach, using recycled metals and supporting women empowerment initiatives. Shyla's distinctive aesthetic is a fusion of timeless classics with modern twists, offering a range of delicate everyday items and bold statement pieces.
It looks like Kate finished her ensemble with her favourite Gianvito Rossi 105 pumps.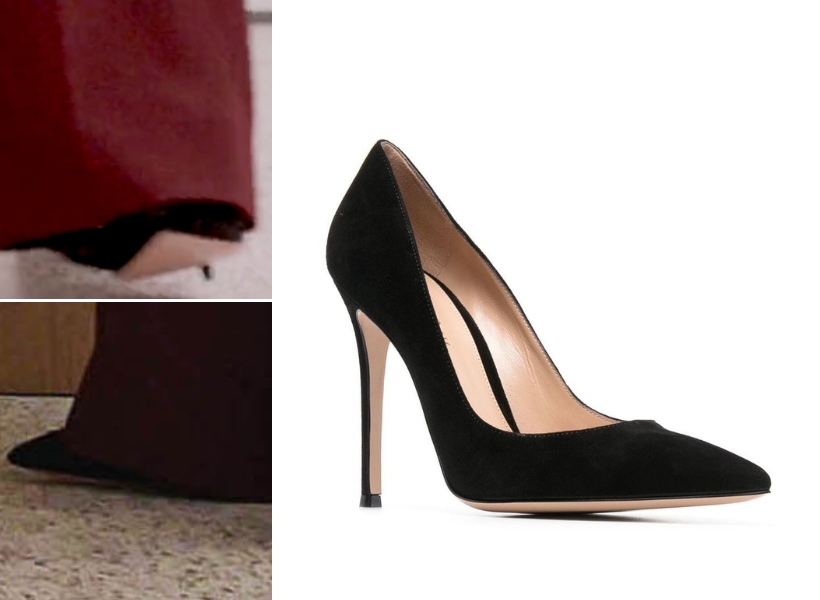 I think she's wearing the black pair, they look like the black pair in the video shared by Kensington Palace. I will she's worn the same shoes in burgundy with this suit on prior occasions.
I think we can all agree the 105 pumps—whatever their colour—embody timeless elegance. Handcrafted in Italy, they feature a sleek 105mm stiletto heel and a sharp pointy toe. They're made from 100% suede.
The pumps are sophisticated and versatile, suitable for both formal and office settings. Their simple structure is complemented by the luxurious goat leather upper and leather lining, making them a staple for any fashion-forward wardrobe​.
The black suede pumps are still available for purchase, shop them in black at MyTheresa.com, Farfetch.com and Net-A-Porter.com.
Kate owns the 105 pumps in 10 different colours. She debuted this particular hue in 2015 and has been seen wearing them at various public engagements over the years. I believe Kate's worn the heels on more than 30 occasions to date.
It's not just the 105 style that Kate likes, she has a fondness for the designer's entire range! The Princess owns an impressive collection of 22 pairs of footwear from Gianvito Rossi, including 18 pairs of heels, a pair of sandals, and three pairs of boots.
Gianvito Rossi, son of the renowned shoe designer Sergio Rossi, has carved a niche for himself in the luxury footwear market. Following his father's footsteps, Gianvito combines intricate attention to detail with a dedication to modern, sophisticated designs. He ventured out on his own after the Kering Group acquired the Sergio Rossi brand in 2005. His design philosophy focuses on simplicity, originality, and a timeless feel, catering to the confident, modern woman.