Kate Middleton looked sharply dressed in a camel power suit at for a visit to a youth intervention charity on Tuesday.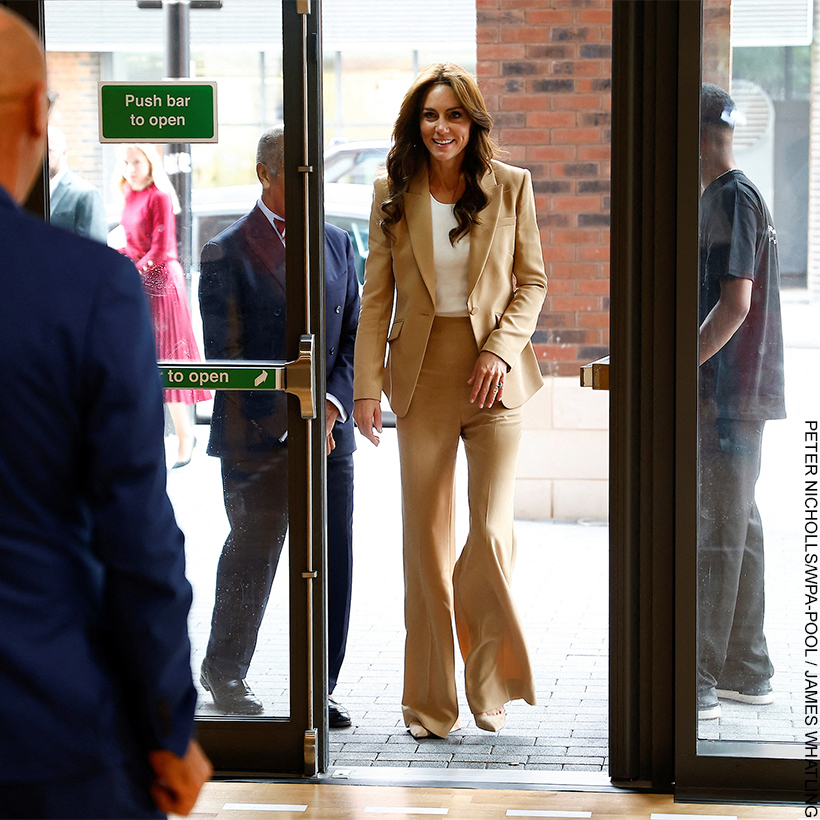 The Princess of Wales opted for a sophisticated blazer and wide-leg trouser combo by Roland Mouret for a visit to 'Streets of Growth', an organisation that works to transform the lives of young people.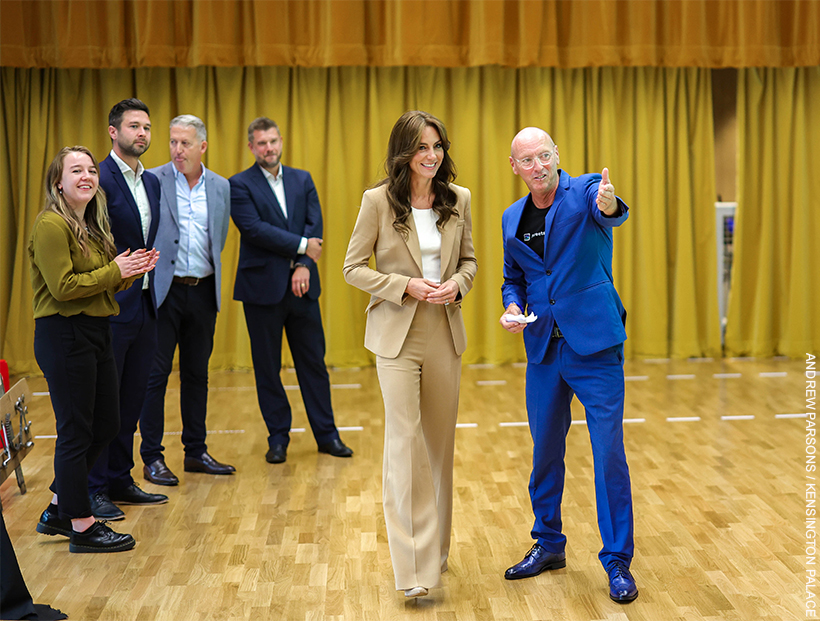 Based in East London, Streets of Growth offer targeted intervention to re-engage young adults aged 15-25 who are at risk of becoming trapped in a cycle of isolation, exploitation, violence and criminality.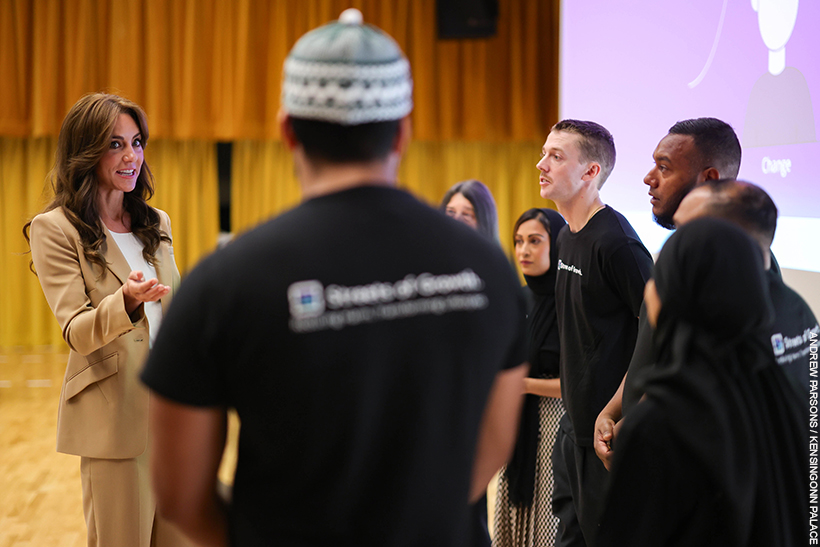 The young people we relentlessly find, or who are attracted to our model of approach are – seriously stuck. Their reasons include, socially isolated, bullied, exploited, underserved, and often caught up in a spiral of hopelessness, violence and criminality.

Streets of Growth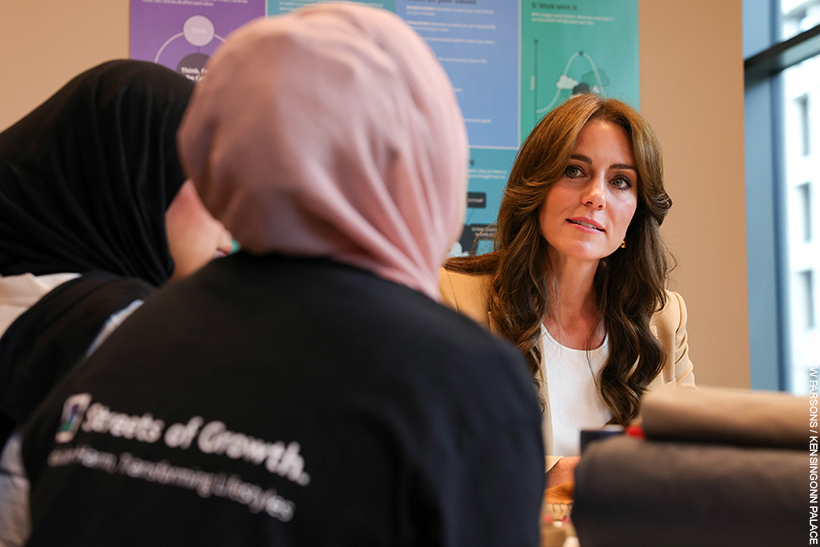 The organisation's 'Outreach and Street Intervention Programme' is central to their work. Support workers have to build connections and trust with young adults—something that's often time absorbing and challenging!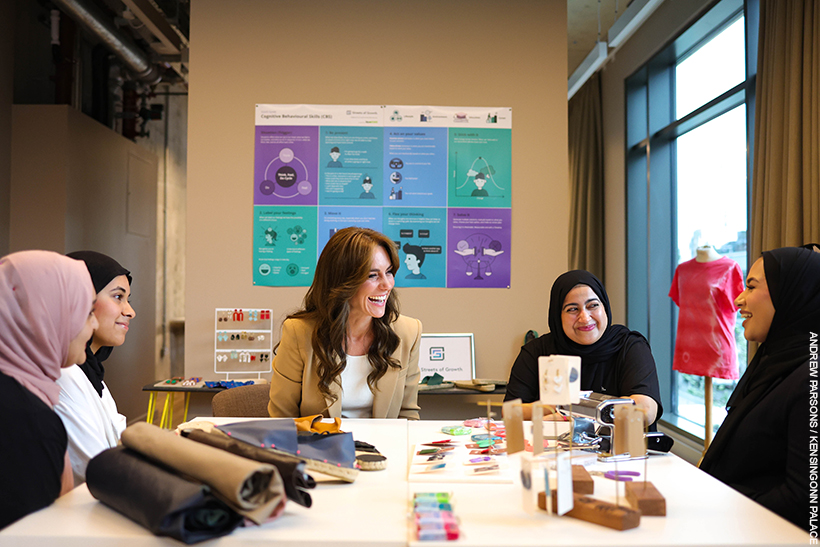 Once engaged with the charity, young people take courses and participate in creative programmes. Topics include media and TV production, photography, crafting, furniture making, podcasting, nail art and vinyl printing.
The charity also runs coaching and employability workshops, plus they encourage clients to get involved in positive projects that benefit their local community.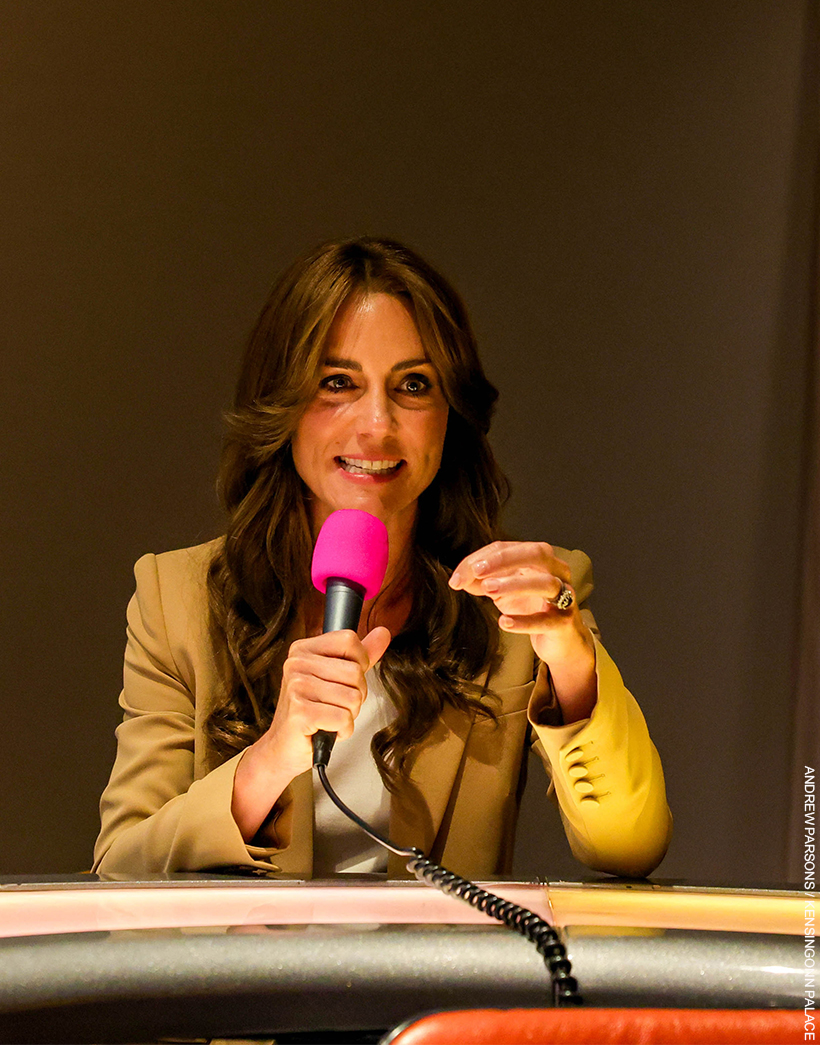 Kate got hands on with one of Streets of Growth's workshops during her visit. She joined three young people in a mental health session styled like a podcast. The conversation delved into issues such as social media and body image.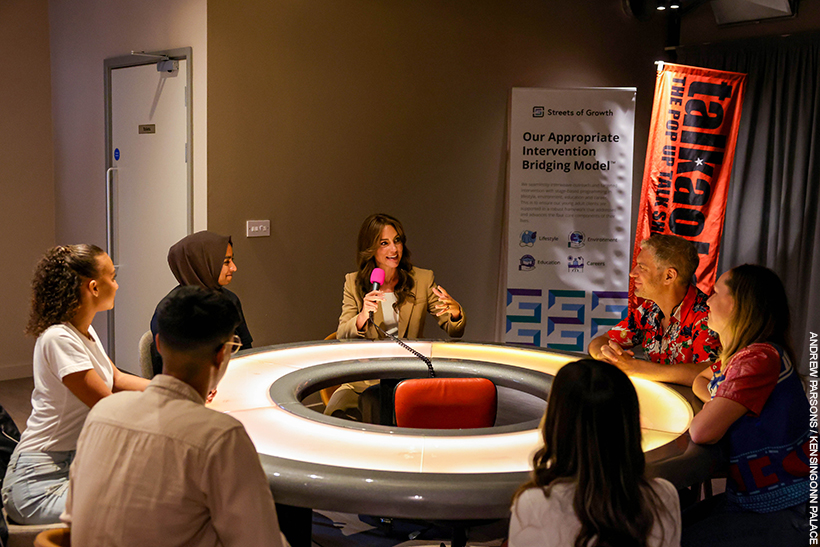 The Princess also chatted with the charity's founder, Darren Way (in the bright blue suit), as well as frontline staff—some of whom were once beneficiaries of the charity before successfully turning their lives around. Kate heard first-hand about the impact the organisation's work has had on their lives.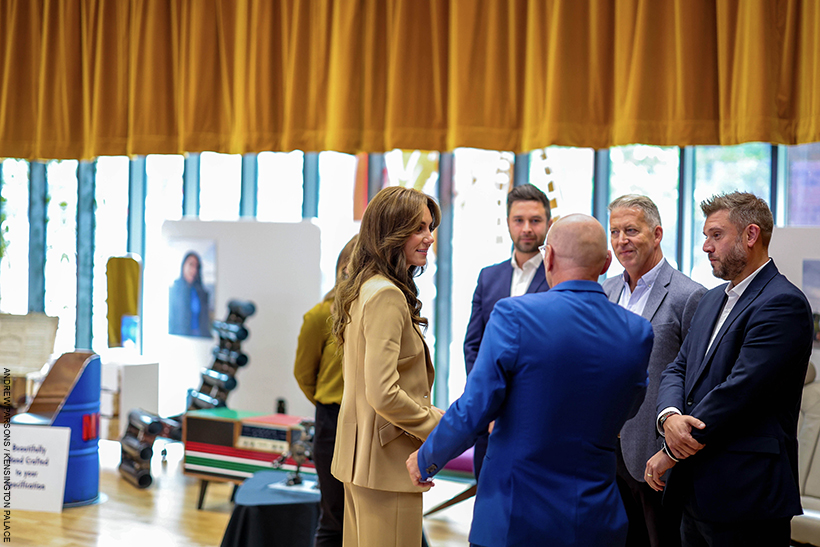 Kate lauded the charity's staff for their outreach efforts in communities, particularly in helping isolated children who are navigating challenges alone.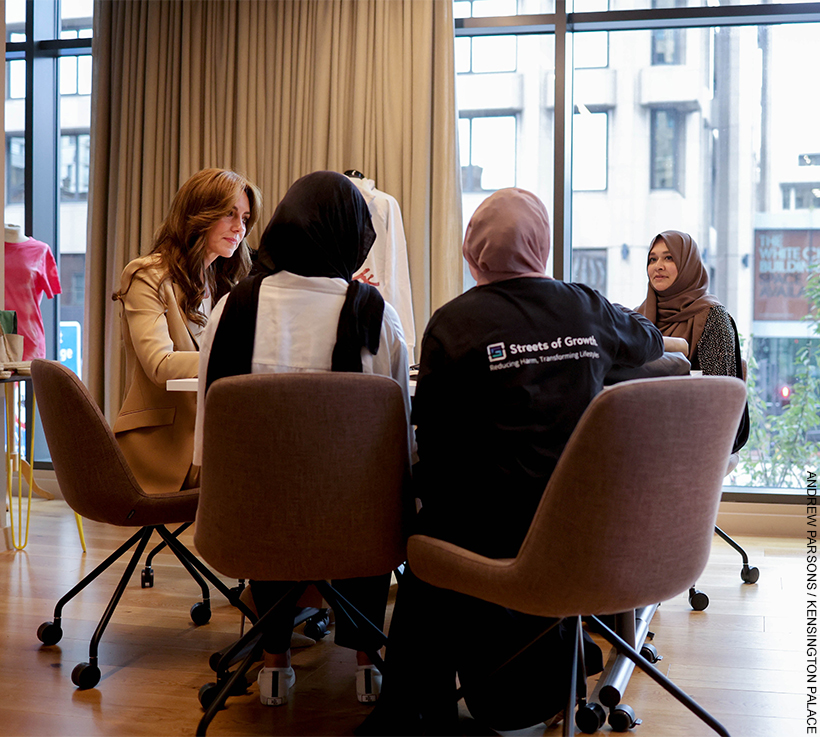 She also underscored her own mission to "connect the dots" between early childhood development and future well-being, emphasising that a stable and nurturing upbringing can be a preventive measure against crises in adulthood.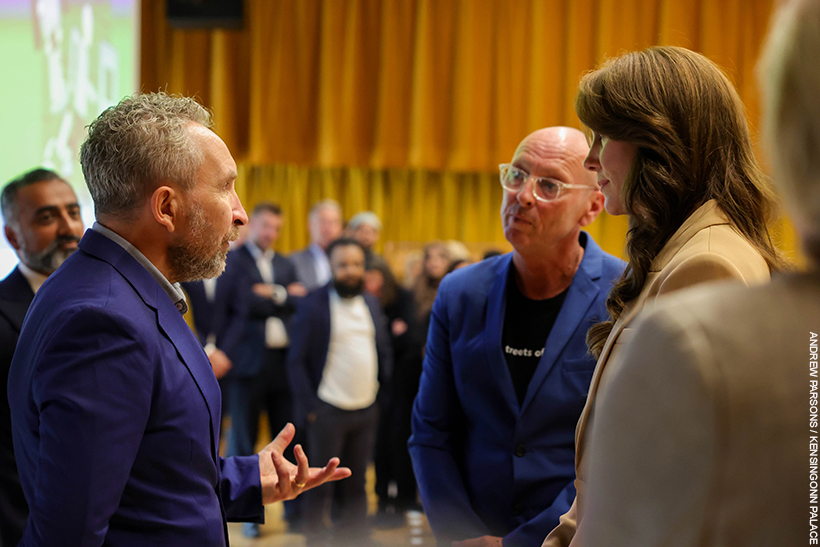 Kate's commitment to this cause comes after 12 years of meeting individuals grappling with social challenges like homelessness, poor mental health, family breakdown and addiction. These experiences have solidified the Princess's belief that many of life's hurdles can be traced back to early experiences. She has chosen to be a voice for early childhood development and champion the importance of the formative years, from birth to age five.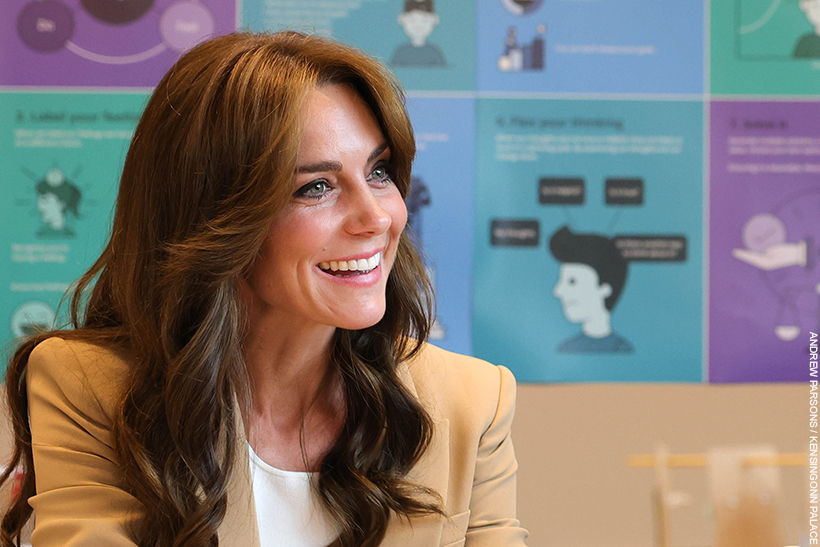 In 2021, the Princess launched The Royal Foundation Centre for Early Childhood. The centre focusses on research, collaboration, and social change initiatives related to early years.
Let's move on to look at the Princess's camel coloured 'power suit'.
Kate Middleton's camel suit:
The Princess wore a camel-coloured suit by Roland Mouret for her visit to Streets of Growth.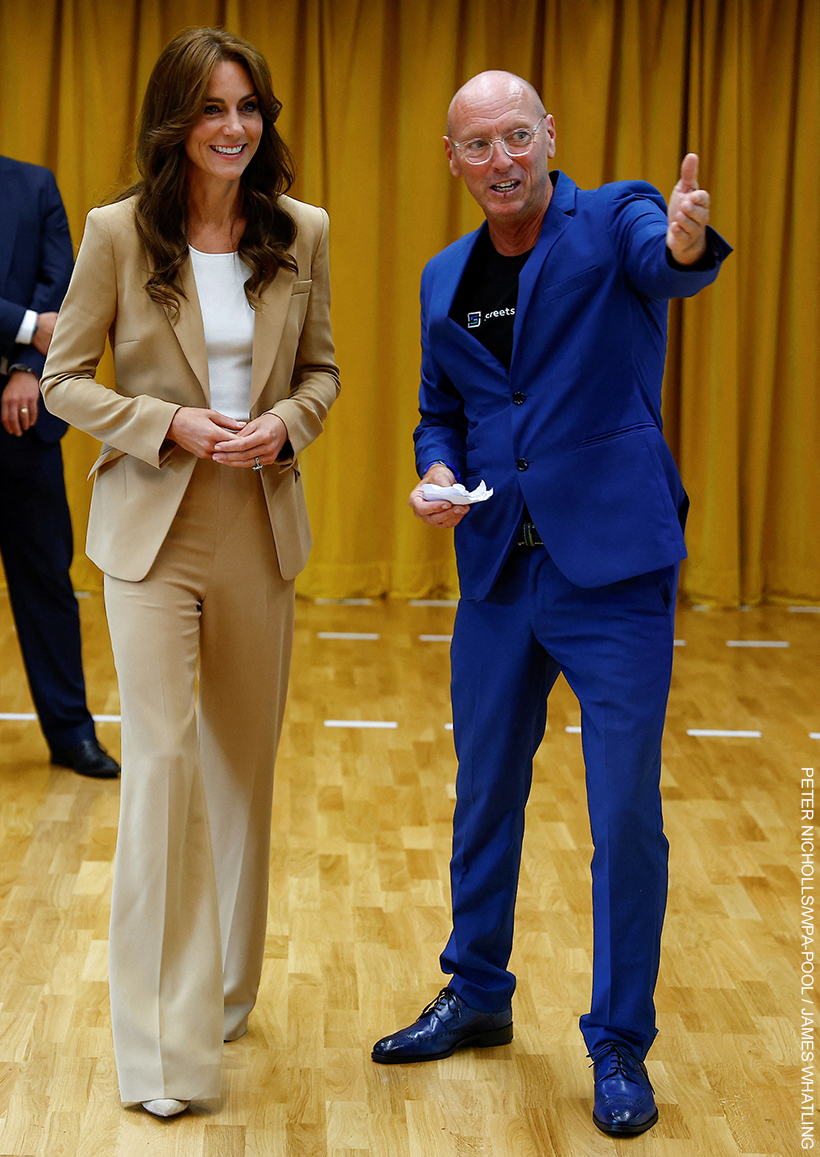 Kate has clearly entered her 'suit era.' In recent months, the look has become the Princess's go-to for public engagements. If she's not wearing a suit with tonal pumps, expect to see her in tailored trousers and a blazer. This camel ensemble proves that power dressing isn't just a trend for Kate; it's fast becoming her signature style!
Some of my regular readers will recognise the suit. Kate's worn it before in burgundy purple (to visit Boston last winter, and while at a reception for the England Wheelchair Rugby League Team earlier this year – pictured below.).
This time Kate's opted for a sumptuous camel hue. The suit blazer features thoughtful detailing like strategic lapels and slanted pockets, which draw the eye toward the waist. The fitted bodice and tailored shoulder pads provide a structured yet chic look. Close the jacket with a single self-covered button. Please note, the blazer below is the burgundy version edited in photoshop, I am showing it in camel for illustration purposes only.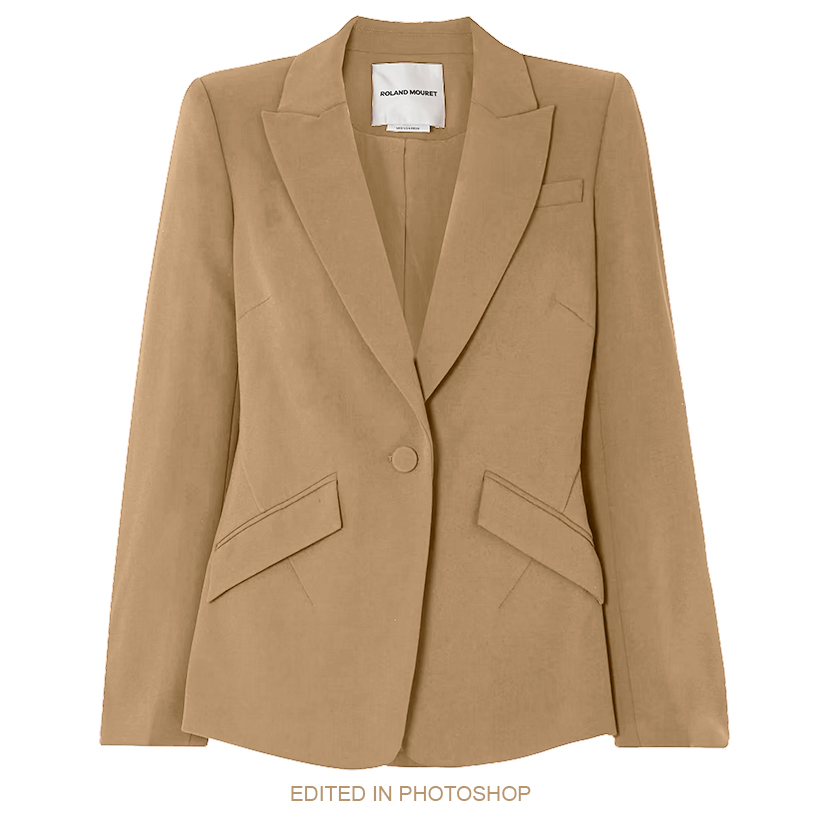 Crafted in a mid-weight, slightly stretchy fabric, the blazer offers a slim fit that's both flattering and comfortable.
The matching suit trousers feature a high waistline with a fitted waistband and a wide leg with a flare hem. The heavy cady trousers feature seam crease details on the front and back of the garment. They close with a concealed zip fastening at the side. Again, the trousers shown below are burgundy. I have changed the colour to camel in Photoshop.
At the time of writing, the suit can be purchased from Net-A-Porter.com in black and the burgundy shade worn by Kate. Sadly, you cannot currently buy the suit in the rich camel colour worn by Kate (though I wonder if you'll find it in store next spring). The suit also comes in red, crafted from a silk-wool mix fabric. Find it at MatchesFashion.com.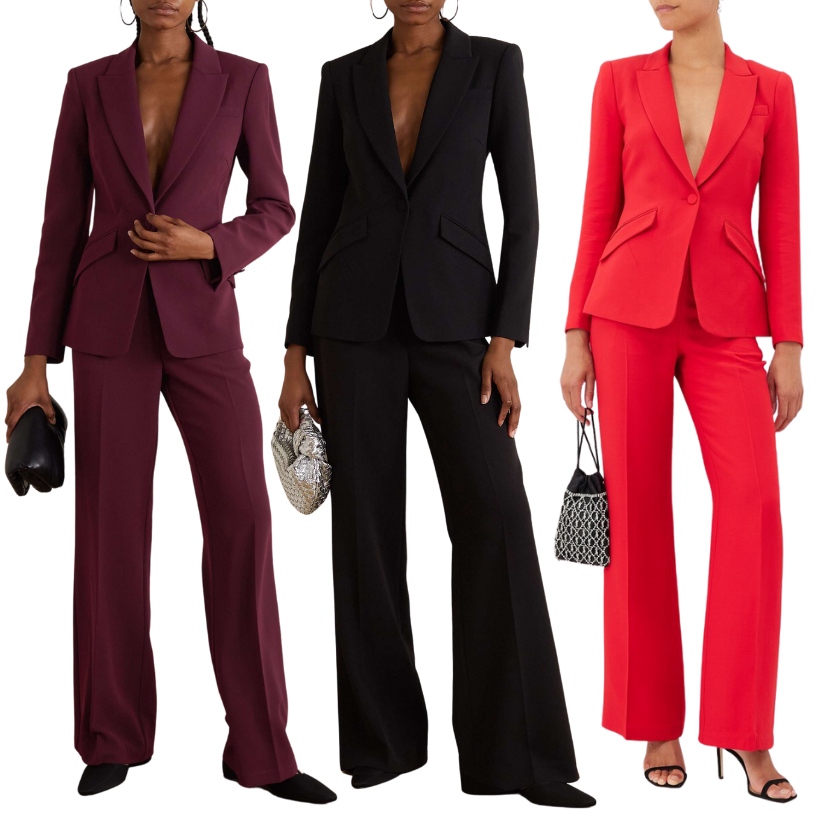 Since joining the royal family, Kate's has been frequently spotted in Roland Mouret. In addition to the two suits, Kate's worn gowns, trousers, and dresses from the label.
We first caught a glimpse of Kate in a Roland Mouret dress ahead of a trip to Canada in 2011. Since then, she's continued to turn to the brand for various high-profile engagements. In 2022, Kate attended the Top Gun premiere in a show-stopping Roland Mouret gown, below: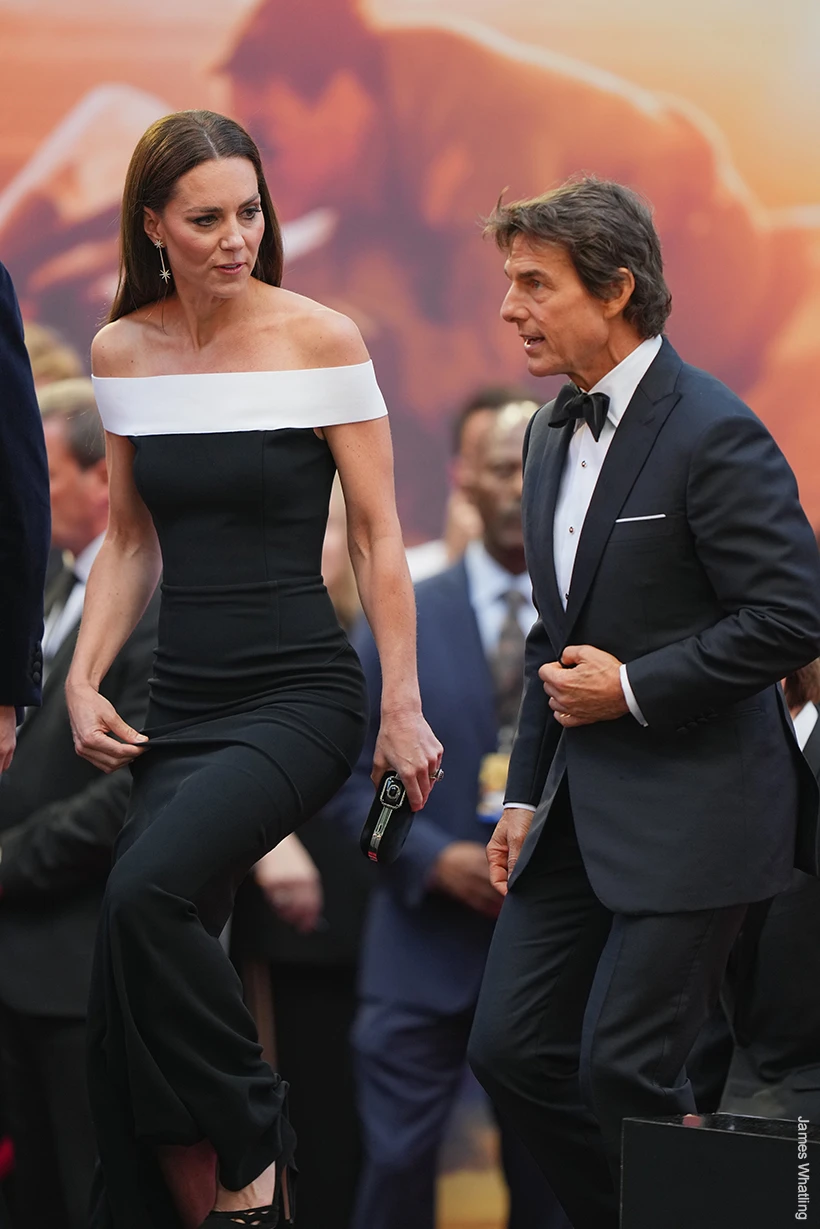 Roland Mouret is a brand synonymous with craftsmanship and sophistication. Known for pioneering the "Galaxy" dress, the French fashion designer has consistently charmed the fashion world with his impeccable tailoring skills and an intuitive understanding of the female form.
Specialising in drape and structure, Mouret's designs are more than just garments; they're experiences, meticulously designed to make women not just look but feel fabulous.
Thanks to FairyQueane and UFO No More for setting me straight on the suit (I originally thought it was another Alexander McQueen).
Kate wore a simple white tee under her suit. Unfortunately, it's too 'generic' to identify.
Let's move on to look at her footwear and accessories next.
The shoes are by Gianvito Rossi. It looks like she's wearing her 105 pumps in the colour 'bisque.' Crafted in Italy, the handcrafted pumps are all about understated elegance.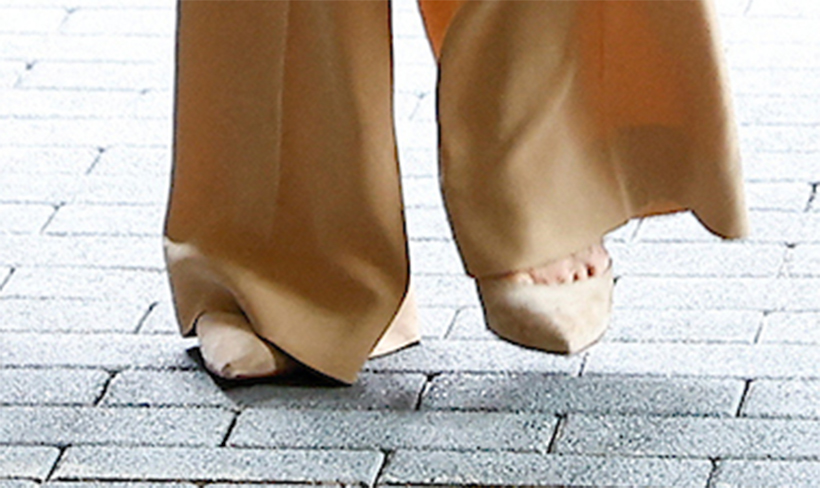 The slip on shoe features a pointed toe, 105mm stiletto heel, and are swathed in luxuriously soft, biscuit-coloured suede. The style is perfectly balanced with a low vamp.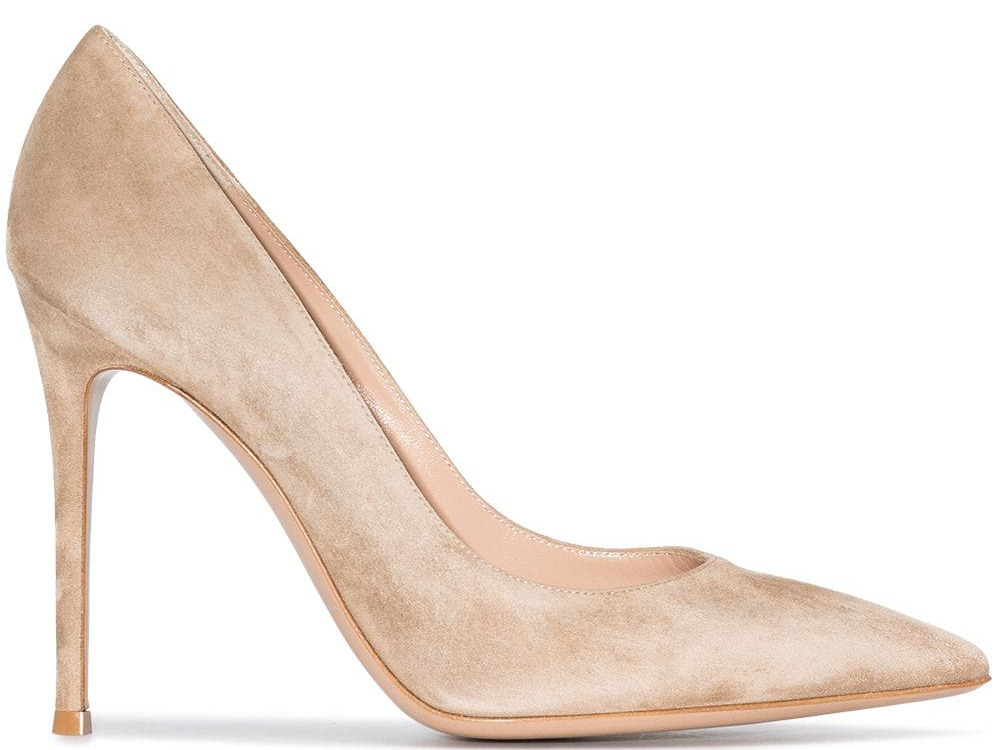 Ready to step into these beauties? This particular colour is available for purchase at Farfetch.com for £650. Find the style in a myriad of other shades at Net-A-Porter.com too.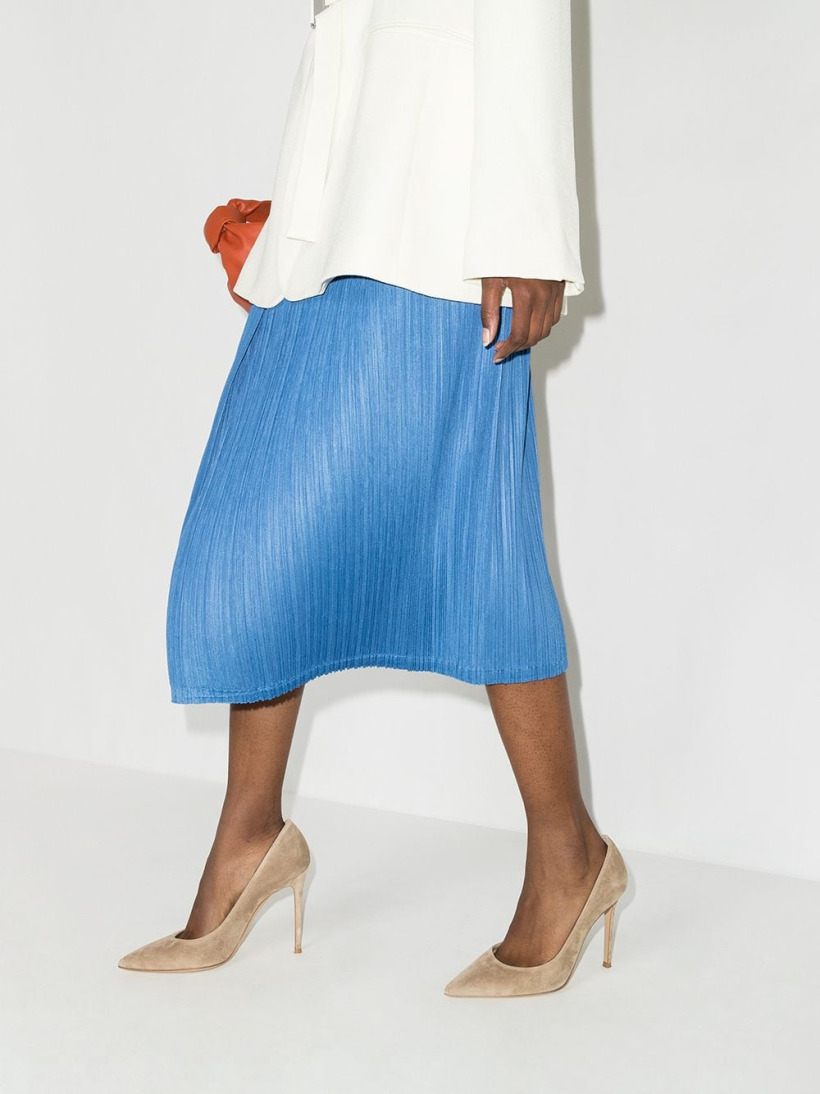 Kate's been spotted in these particular pumps on several occasions, with their debut being during her official departure from Jamaica on the Platinum Jubilee Tour in March 2022.
The Princess's fondness for these shoes in no secret; she owns this same style in nine different colours! If the shoe fits—buy it in every colour, right?
In fact, I think it's safe to say Kate's a fan of Gianvito Rossi all round. Her collection boasts an impressive lineup of 20 pairs from the designer. We're talking 15 pairs of heels, two pairs of sandals, and three pairs of boots! (That we know of!)
The man behind the brand, Gianvito Rossi, believes in the power of simplicity, which perhaps is the secret sauce to the allure of his designs. A descendant of Italian shoemaking royalty—his father is Sergio Rossi—Gianvito has carved a distinct niche for himself with his commitment to craftsmanship and timeless elegance.
Let's finish up by looking at Kate's earrings. It looks like she's wearing her Citrine Cushion Drops by Kiki McDonough.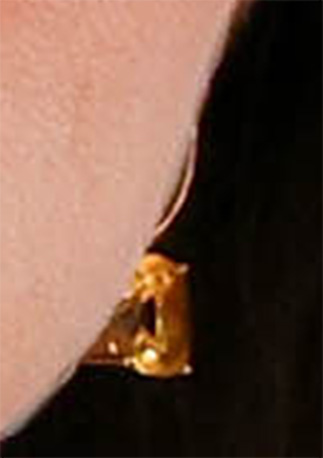 Set in 18ct Yellow Gold, the cushion-cut citrine gemstone, known for its vibrant yellow hues, adds a burst of colour and is perfect for those wanting to make a subtle yet unforgettable statement.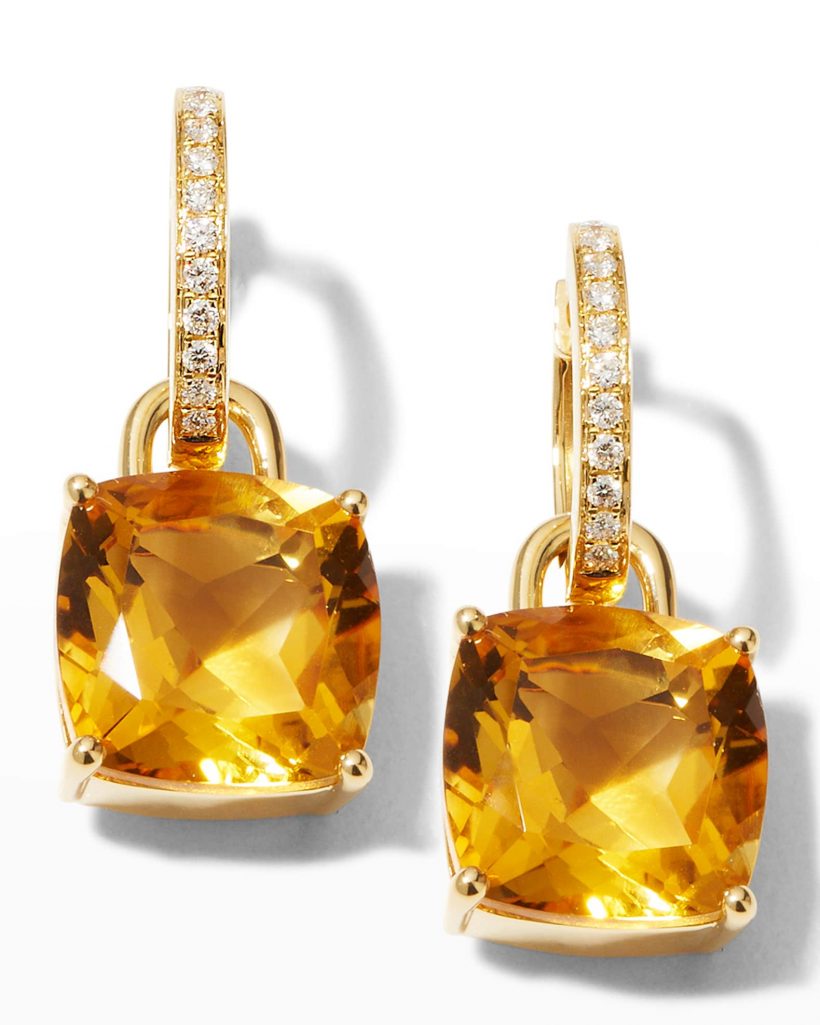 We suspect Kate wore the earrings suspended from a pair of plain gold hoops by the same designer.
Ready to elevate your jewellery game? You can snag these eye-catching drops directly from Kiki McDonough's official website for £900. That's the drop only – no hoop. If you'd like to add a gold hoop, prices start at £500.
For those who prefer to shop from multi-brand platforms, you can also find the citrine cushion drop earrings at FarFetch.com for $2,410, sold with the diamond hoops. Worldwide delivery options mean you can channel your inner royal, no matter where you are.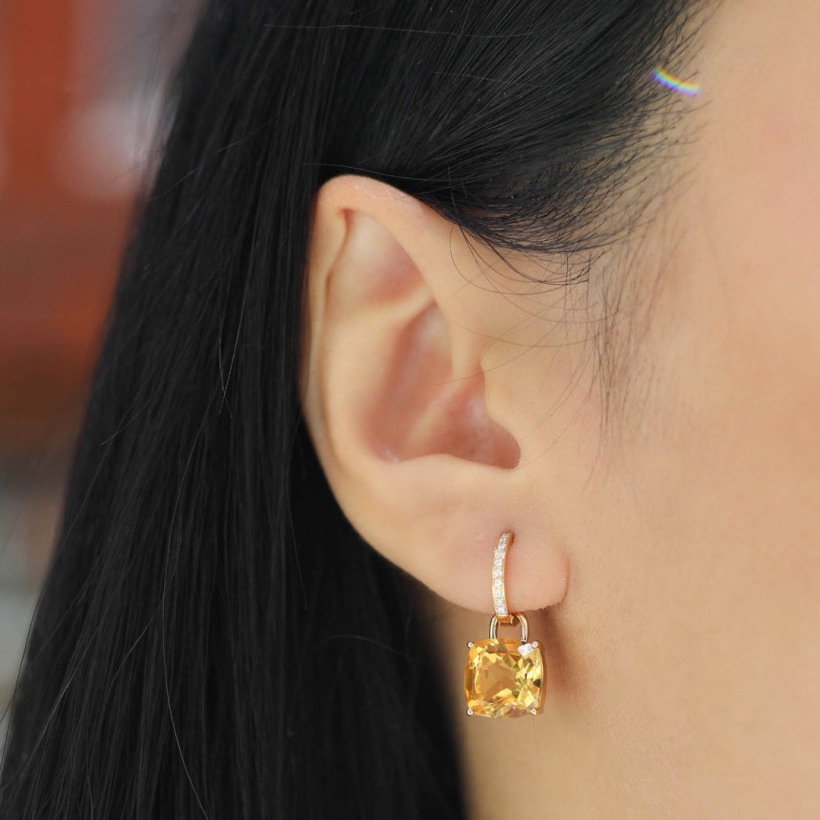 Kate first showcased these exquisite earrings at the Cheltenham Festival back in 2013.
Clearly charmed by the brand's detachable drops, she's added not one, but three more pairs in varying hues to her collection—pink morganite, white quartz, and green amethyst.
In fact, the Princess boasts an enviable collection of 21 pieces from the brand in total—18 pairs of earrings and 3 necklaces. I think it's safe to say the Princess is a bonafide Kiki McDonough fan. Compared to the 6-7 pieces she owns from her next most-worn brand, Sézane, it's safe to say the deisgner holds a special place in her royal accessory lineup.
Established by British jeweller Kiki McDonough, the brand has carved a niche in creating timeless pieces that blend modernity with tradition. Known for their exquisite craftsmanship and innovative designs, Kiki McDonough is a staple in many high-society jewellery boxes, making them a go-to for those in search of classic yet contemporary pieces.