Kate Middleton delivered a monochrome moment in Marseille on Sunday evening.
The Princess of Wales mixed high end with highstreet in shades of black and white as she watched England beat rivals Fiji in the Rugby World Cup quarter-finals at the Stade de Marseille, France. She paired an off-white blazer from Zara with black trousers and a black handbag the iconic French fashion house, Chanel.
One cheeky member of the crowd had a message for the Princess. He held up a sign that read "Kate, divorce and marry me". It's been decorated with a heart and an engagement ring.
Following the game, Kate congratulated the England team on their victory in the changing room.
This is the second time Kate, who serves as Patron of English Rugby, has travelled to France to watch a World Cup game live during the 2023 tournament. Last month, she cheered for England as they competed against the formidable Argentine team in their opening match.
Kate's attendance at the quarter-final showcases her continued support for rugby. The Princess has conducted several rugby-related engagements since taking on the patronage last year.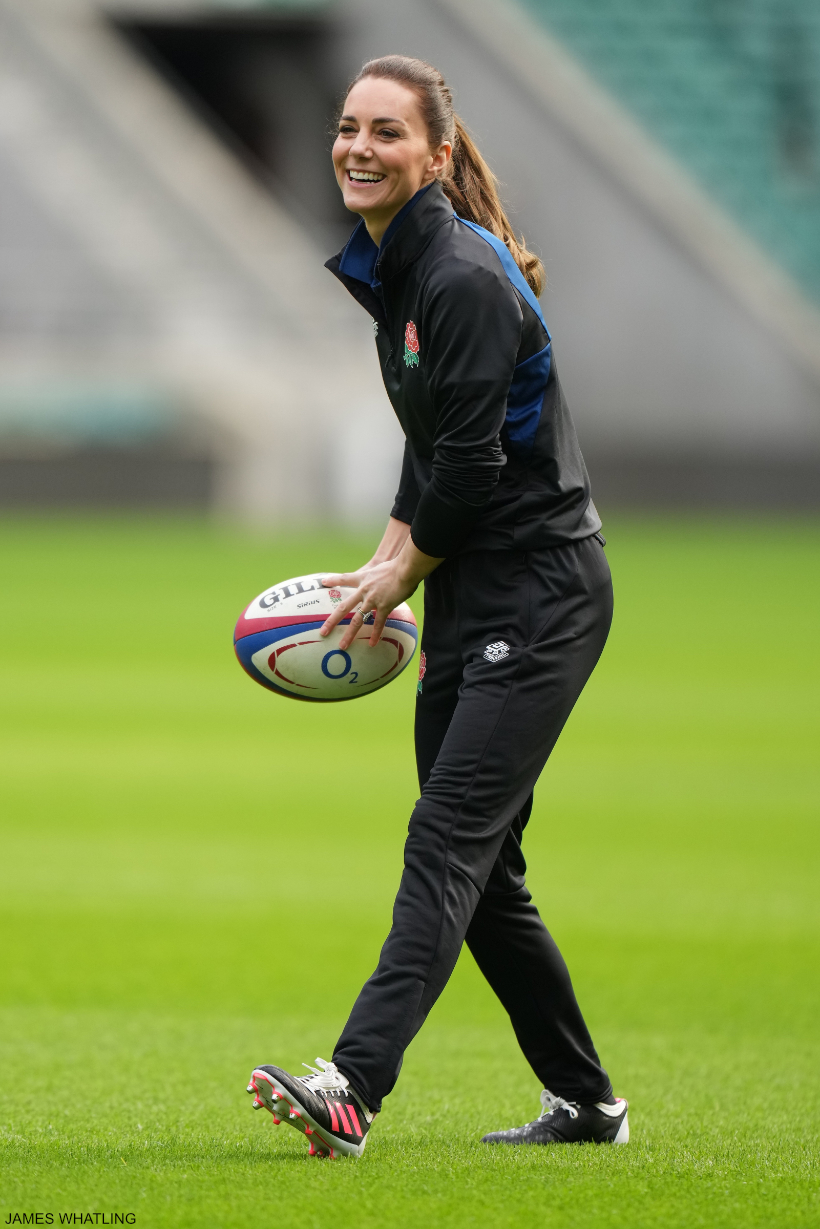 Just last week, Kate joined a rugby inclusivity day in Hull. In early September, she took part in The Good, The Bad and The Rugby podcast with Mike Tindall, James Haskell and Alex Payne.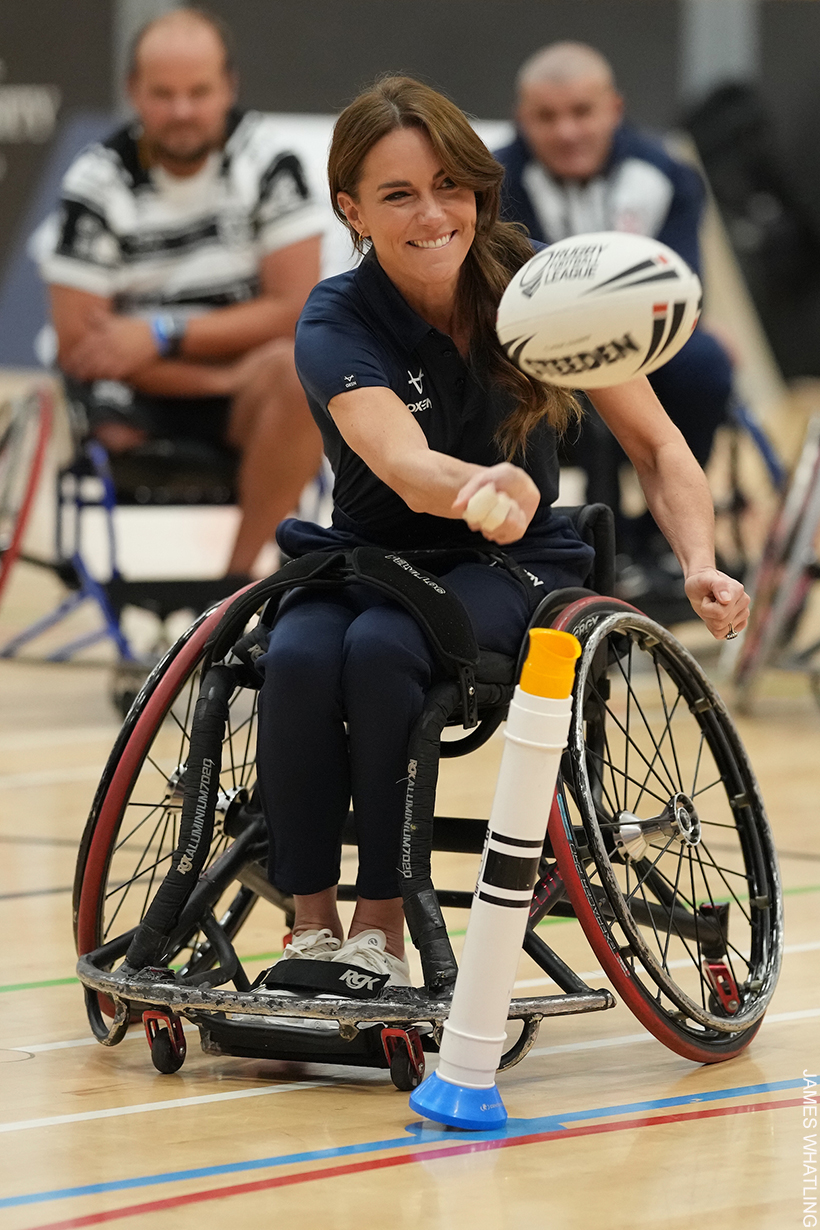 Let's move on to look at Kate's outfit in Marseille.
Kate's outfit at the Rugby in Marseille:
The Princess of Wales selected a monochrome ensemble for her visit to Marseille. The choice of off-white is likely to be a subtle nod to the England flag, where white is a dominant colour.
Kate wore a double-breasted blazer from Zara for the rugby match. The Princess owns this particular style in three different colours, red, green and ecru. She's wearing it in ecru today.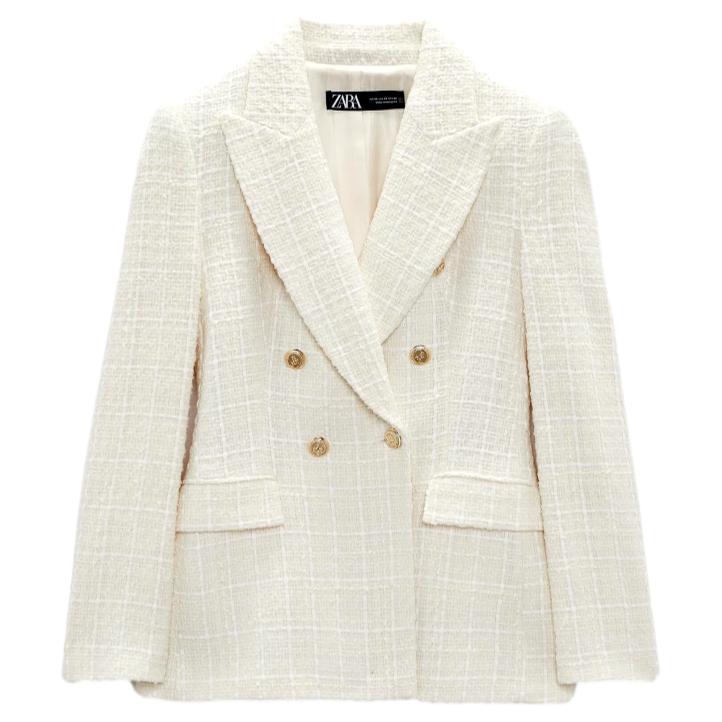 The blazer is crafted from a textured weave boucle fabric which adds a subtle, tactile appeal. It features a double-breasted front, is adorned with embossed gold-tone buttons, and features a lapel collar and structured shoulders. The versatile ecru shade is a chic choice for various occasions.
Kate debuted the blazer during a visit to a school in Derby with "Polar Preet" earlier this year. The Princess paired the item with navy trousers and her Veja Esplar Sneakers in White/Rose Gold.
At the time of writing, surprisingly, the affordable blazer is still available to buy in the off-white shade worn by the Princess. It retails for £69.95 / $99.90 at Zara.com.
Kate has a penchant for Zara. This isn't the first time the Princess has been spotted in Zara attire, I think I counted 10 of their blazers in her wardrobe last time I checked. She's worn other items from the Spanish brand too.
Zara is known for its trendy, high-quality yet reasonably priced apparel. Its broad range of offerings caters to a modern, fashion-forward audience, making it a go-to choice for those seeking stylish, contemporary attire without the hefty price tag.
Let's discuss Kate's contrasting black bag now. The Princess wore it over her shoulder in the stadium. It's by Chanel. Unfortunately, I cannot licence the photo for the blog. But you can see it here (new tab).
It's looks like she carries the Chanel Mini Flap Bag in black lambskin. The shoulder bag retails for £4,700 in the USA and £3,960 in the UK according to chanel.com.

The bag features the iconic Chanel quilted design, a gold chain and leather strap, the brand's interlocking CC logo and a turnlock closure.
A Chanel handbag makes sense given the location. Sporting a Chanel handbag in France could be seen as a nod to the local fashion culture, given the French company's stature in the fashion world.
The Princess's affinity for Chanel is well-documented, with numerous instances of her adorning Chanel pieces. She owns two other Chanel handbags, a vintage blazer and a coat dress from the French design house.
Chanel, a French luxury fashion house, was founded in 1910 by Coco Chanel in Paris, and has since been a symbol of elegance and timeless style. Under the vision of Gabrielle Chanel, the brand championed comfort, simplicity, and wearability, embodying a modern aesthetic that appealed to the contemporary woman​. Over the years, Chanel has expanded its creative frontier beyond clothing to fragrances, handbags, and jewellery, retaining its iconic status in the world of luxury fashion.
Kate wore a familiar pair of earrings at the rugby match. The Lenique Louis Spine Hoops in Gold (pictured below on the model).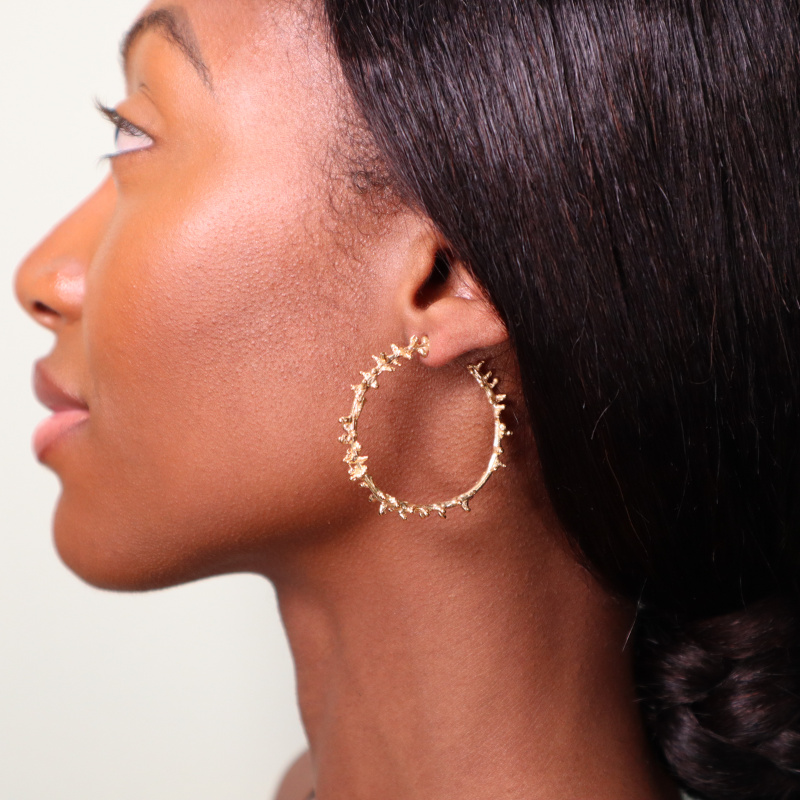 Handcrafted in Britain by designer Lenique Louis, these earrings exhibit a whimsical take on Coral Reef, showcasing bold and intricate details. The earrings are crafted from Sterling silver plated with 18ct gold vermeil. Light in weight, they offer an ease of wear while making a fashionable statement. The earrings are handcrafted in England, from Fairmined metals.
Kate debuted these captivating hoops in December 2022 during a visit to Harvard University. They had another outing over the summer, at a polo match.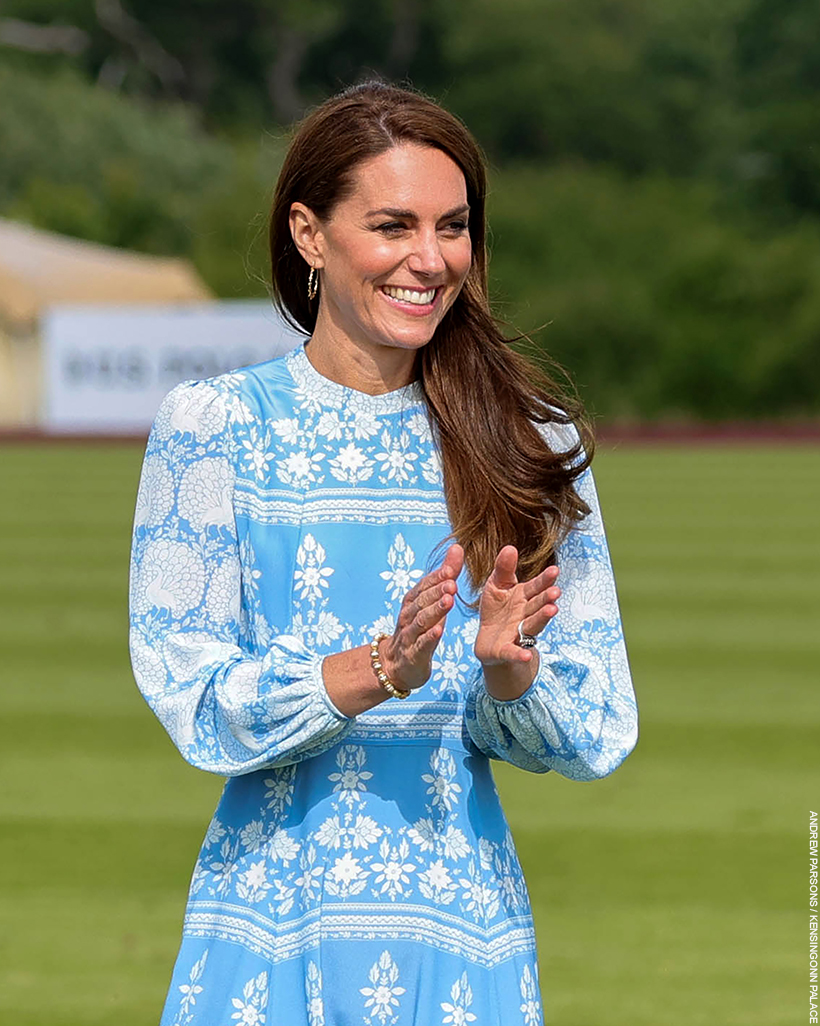 The earrings are currently available for purchase. They come in three different sizes, I expect Kate wears the medium size but I cannot say for certain. Prices start at £360.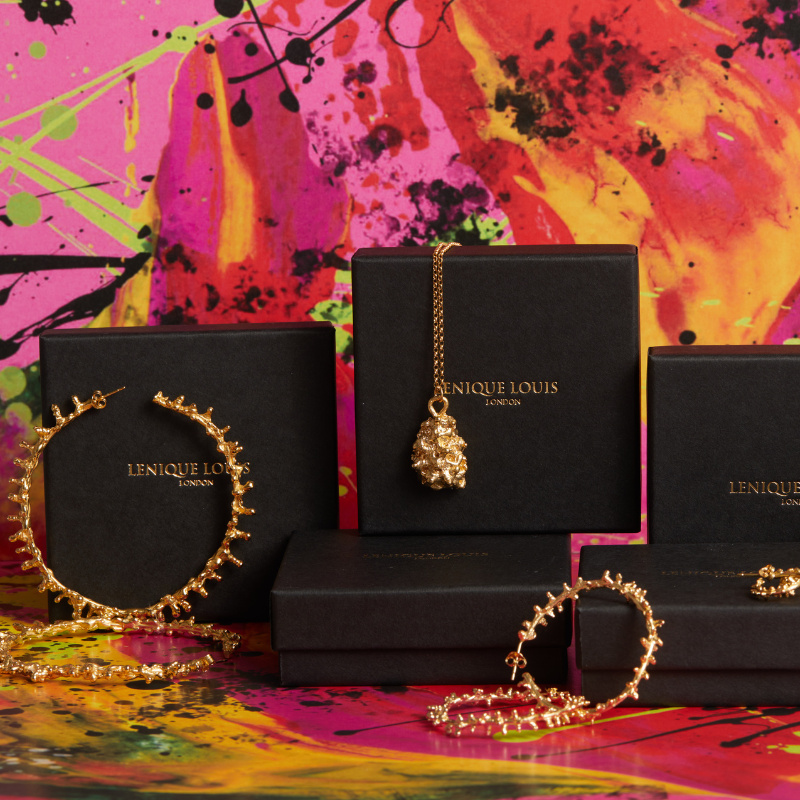 Lenique Louis is an award-winning British jewellery designer who has carved a niche in the fashion realm with her organic, handcrafted jewellery. Starting her venture from her grandmother's garage in 2009, she's now celebrated globally, especially for her hoop earrings. Her designs, often recognised for their 'leniquely stylised' traditional craftsmanship, have found a place in the wardrobes of conscious consumers, royals, and celebrities alike.
It's also noteworthy that Lenique kick-started her venture with a loan from The Prince's Trust charity.
I haven't confirmed which trousers or heels Kate's wearing yet. It looks like she's wearing her Roland Mouret Axon Wide Leg Trousers in Black with the Russell & Bromley Blade 100 Pointed Shoes in Black. But both of those IDs are to be confirmed.