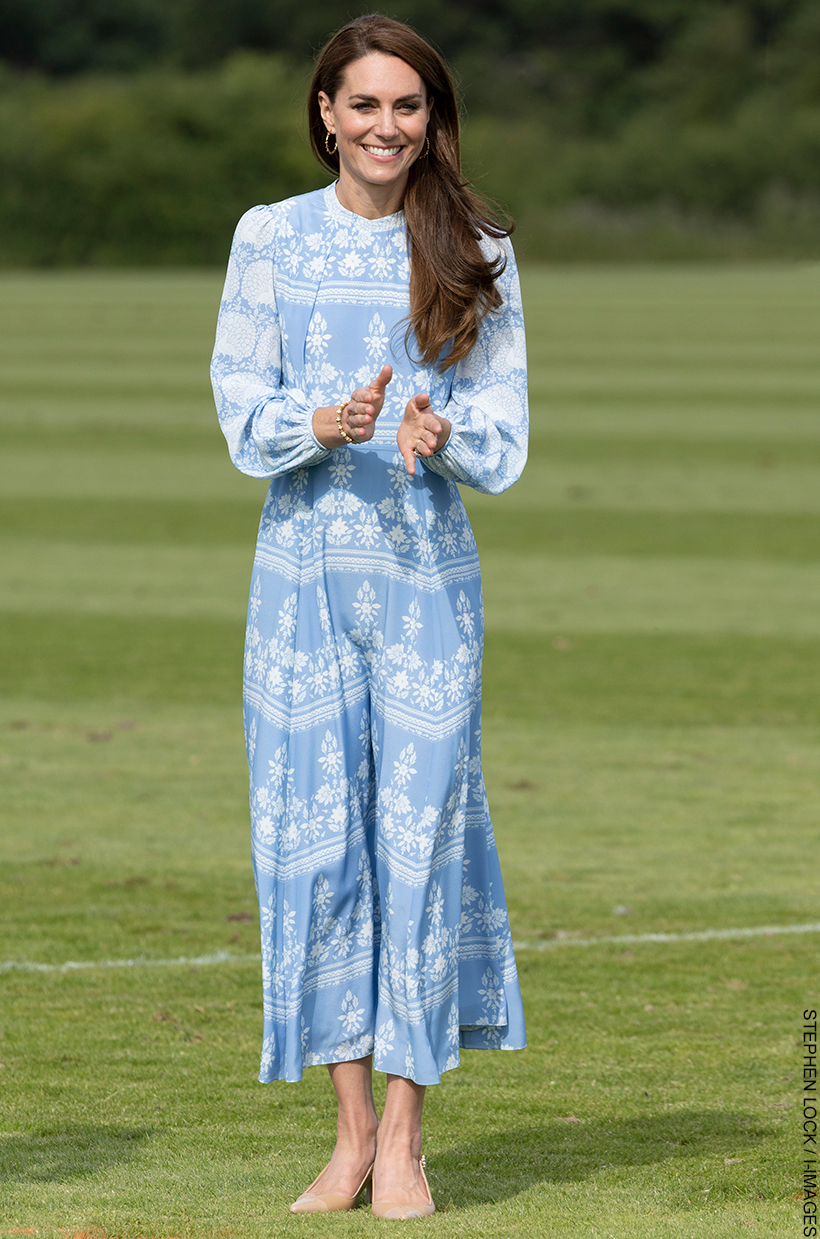 Kate Middleton was the picture of summer elegance at Guards Polo Club in Windsor on Thursday (6th of July 2023). The Princess of Wales wore a cornflower blue dress with a floral print by Beulah London as she watched a charity match.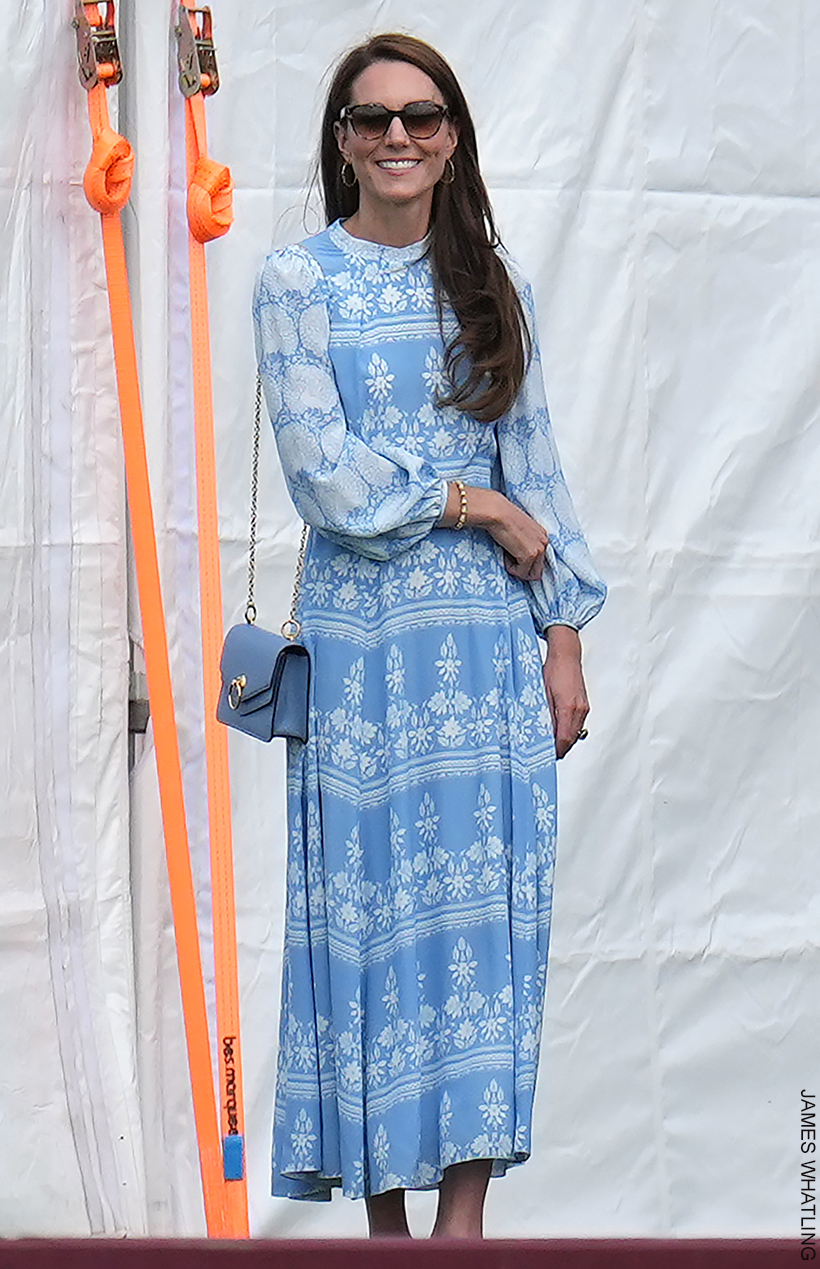 Complementing her blue maxi dress, Kate wore a pair of Finlay 'Vivian' sunglasses and her slate blue Mulberry Harlow bag. Adding a touch of sparkle, she wore gold hoop earrings by Lenique Louis, a gold cuff by Sézane and completed the look with a pair of taupe slingback pumps by Camilla Elphick.
The Princess attended with her husband, Prince William who played in the match.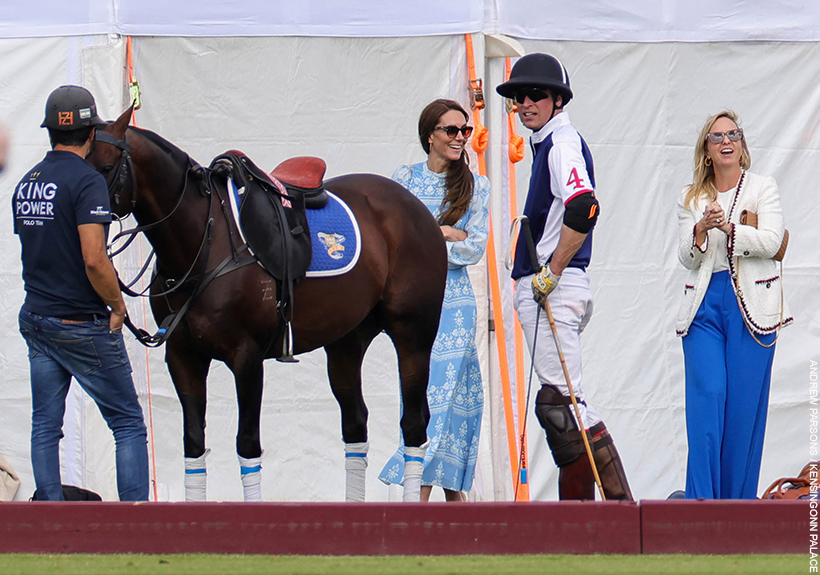 It looks like she's wishing William good luck in this photo. Or telling him he looks good to go!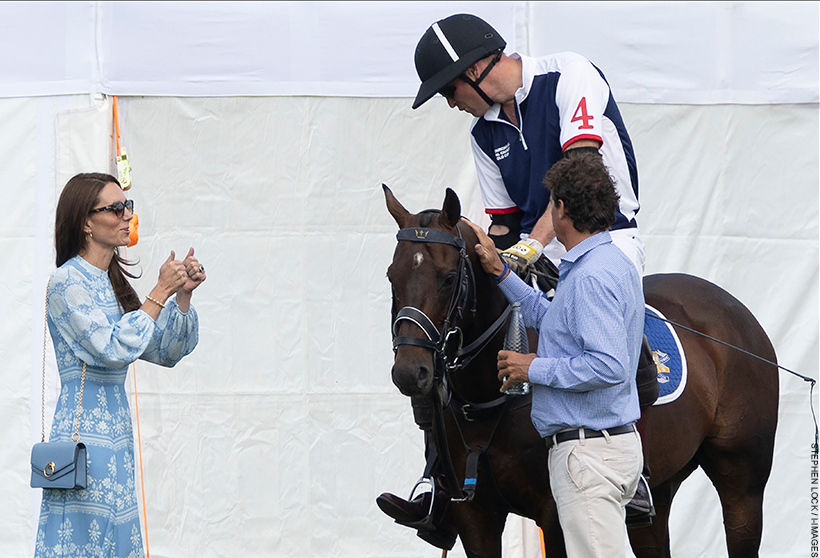 The Princess watching her husband play. He wore the number 4 jersey out on the field.
Here's the Prince on horseback!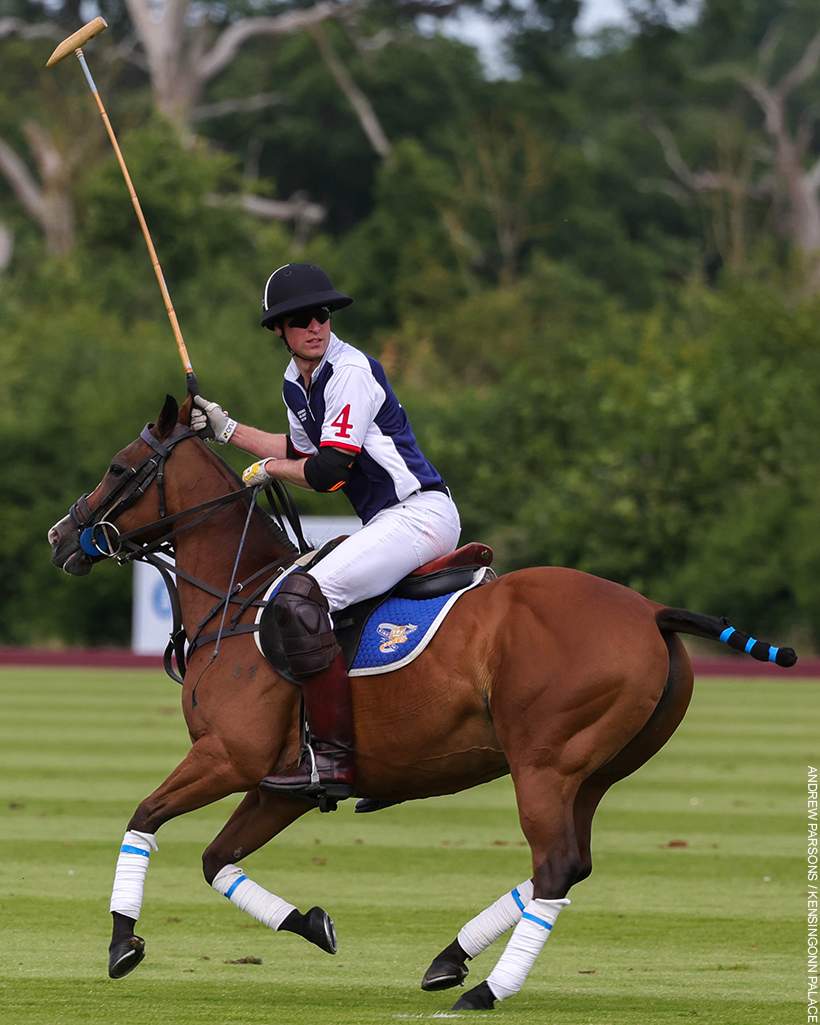 The match was a part of the Out-Sourcing Inc. Royal Charity Polo Cup and marked the 12th year of the Royal Charity Polo Day.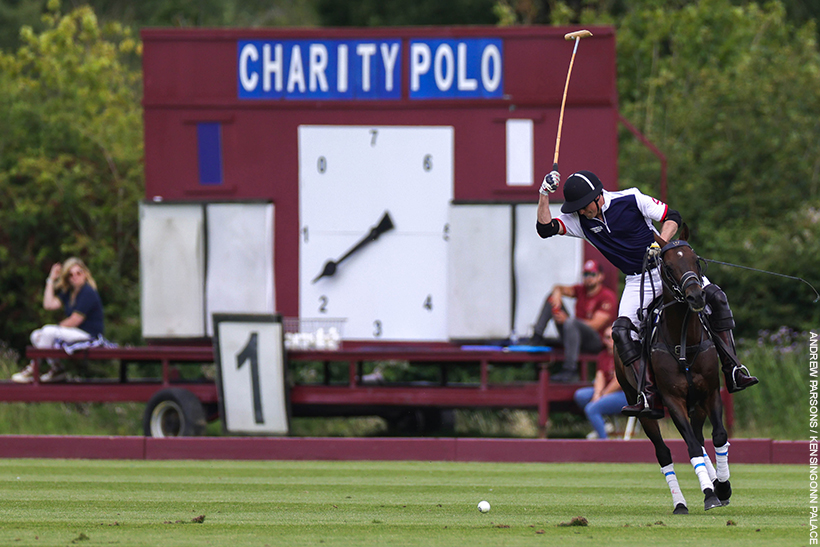 The event was organised to raise funds for eleven charities the Prince and Princess of Wales are passionate about.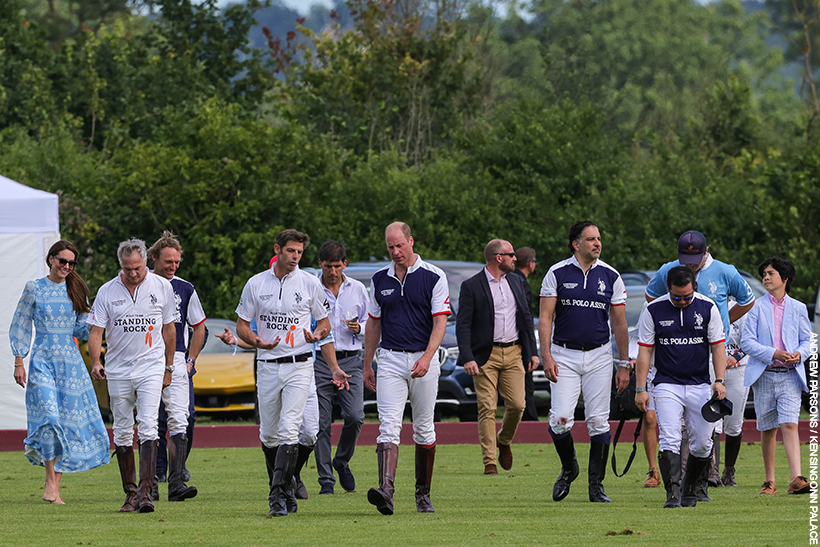 The organisations that benefited were MHI (Shout), Wales Air Ambulance, Centrepoint, The Passage, Mountain Rescue England & Wales, Foundling Museum, Forward Trust, East Anglia Children's Hospices, Baby Basics, Little Village, and AberNecessities. All charities the Prince and Princess support and champion regularly.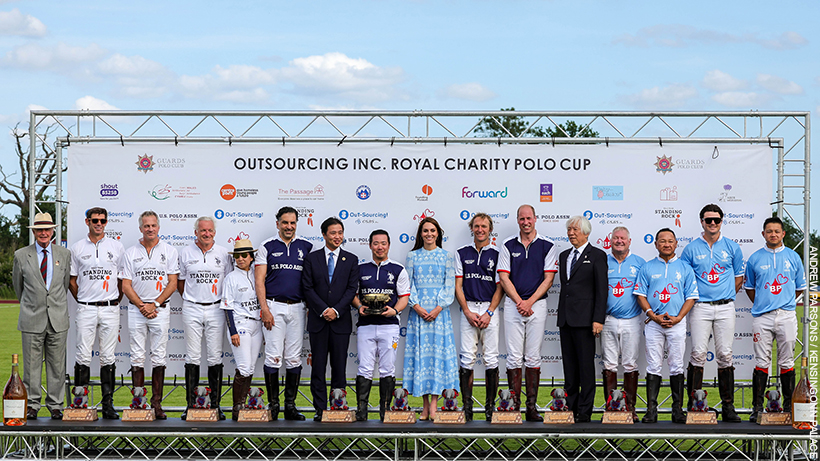 The event raised £1,000,000, taking the total raised from Royal Charity Polo Days played in the UK over the last 12 years to more than £12,000,000. Wow, impressive!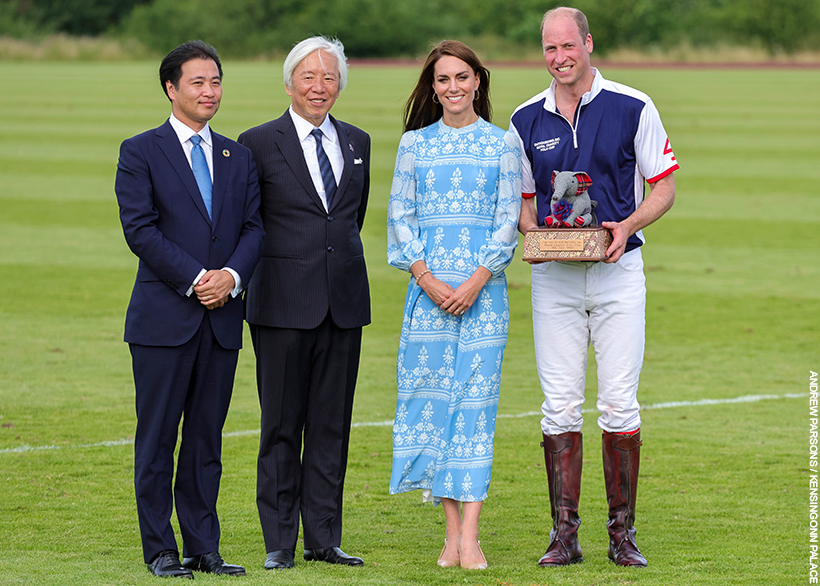 The Prince's team won!
Kate congratulated the team members.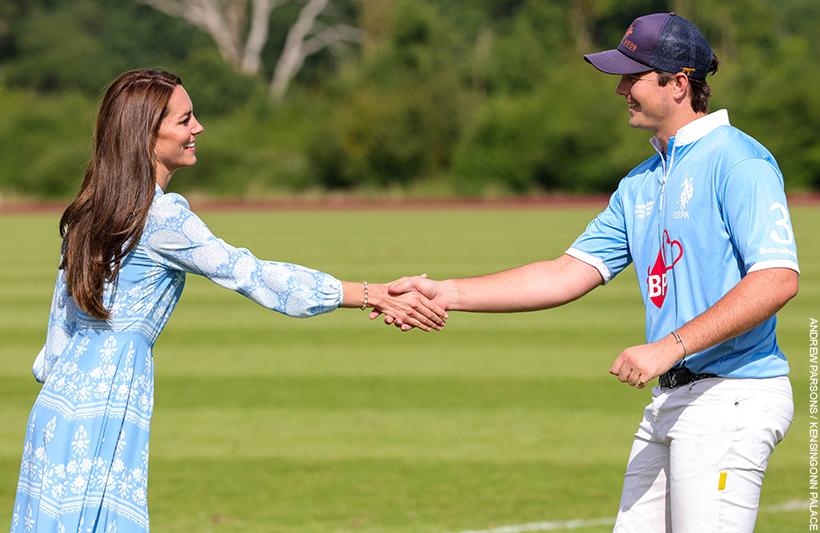 She also presented trophies.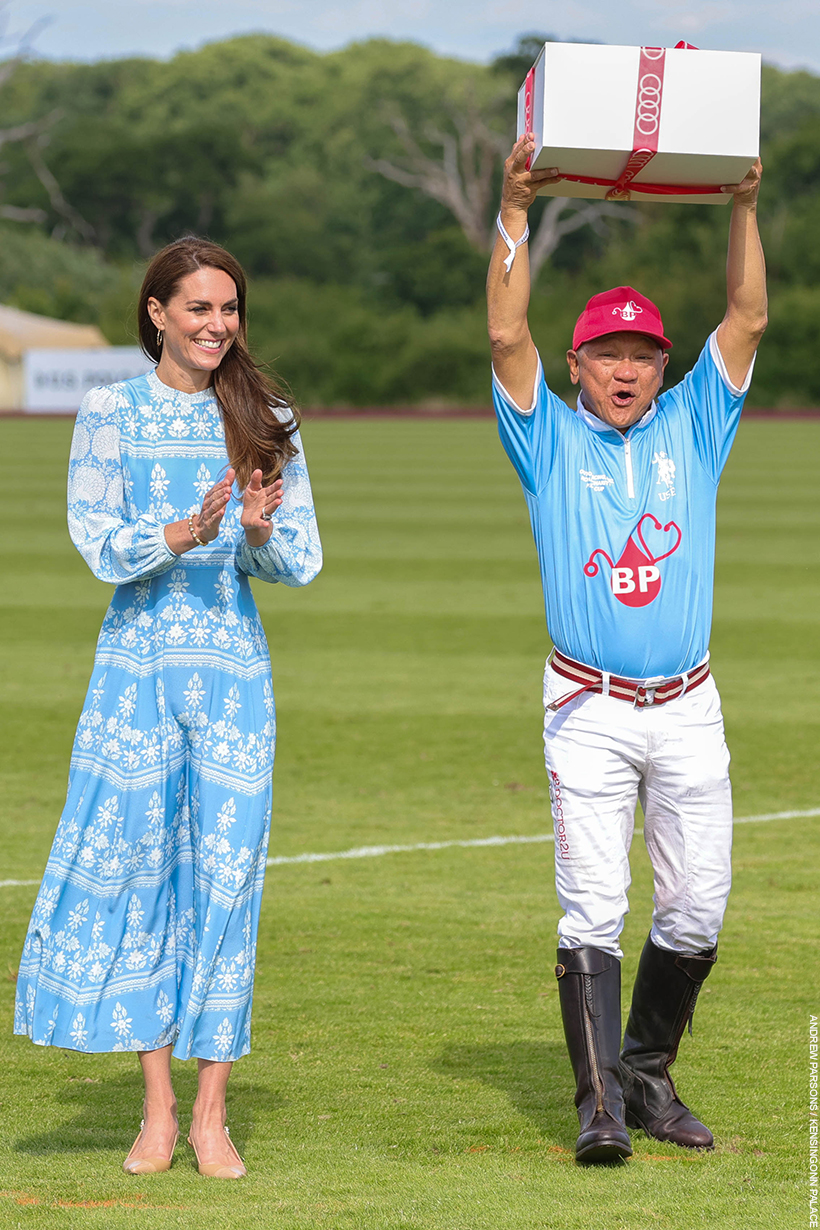 An embrace for her husband: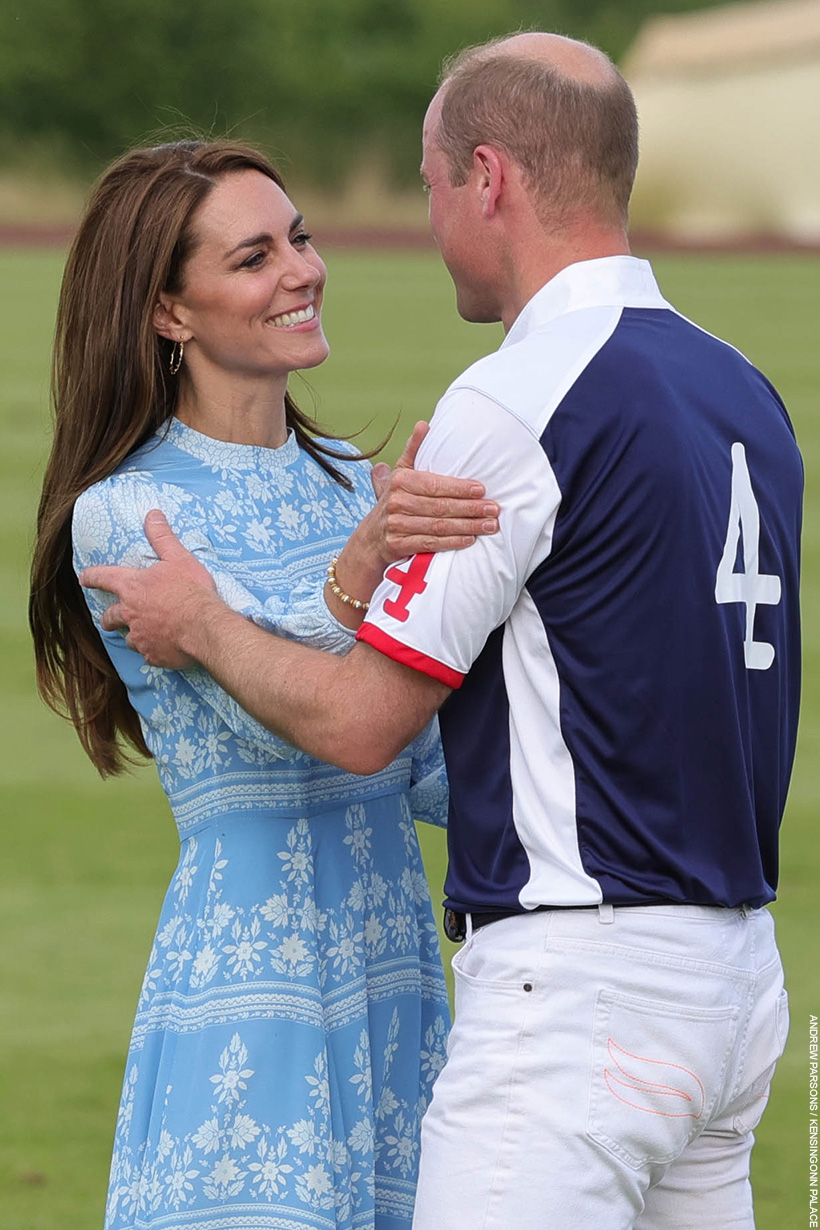 Followed by a peck on the cheek!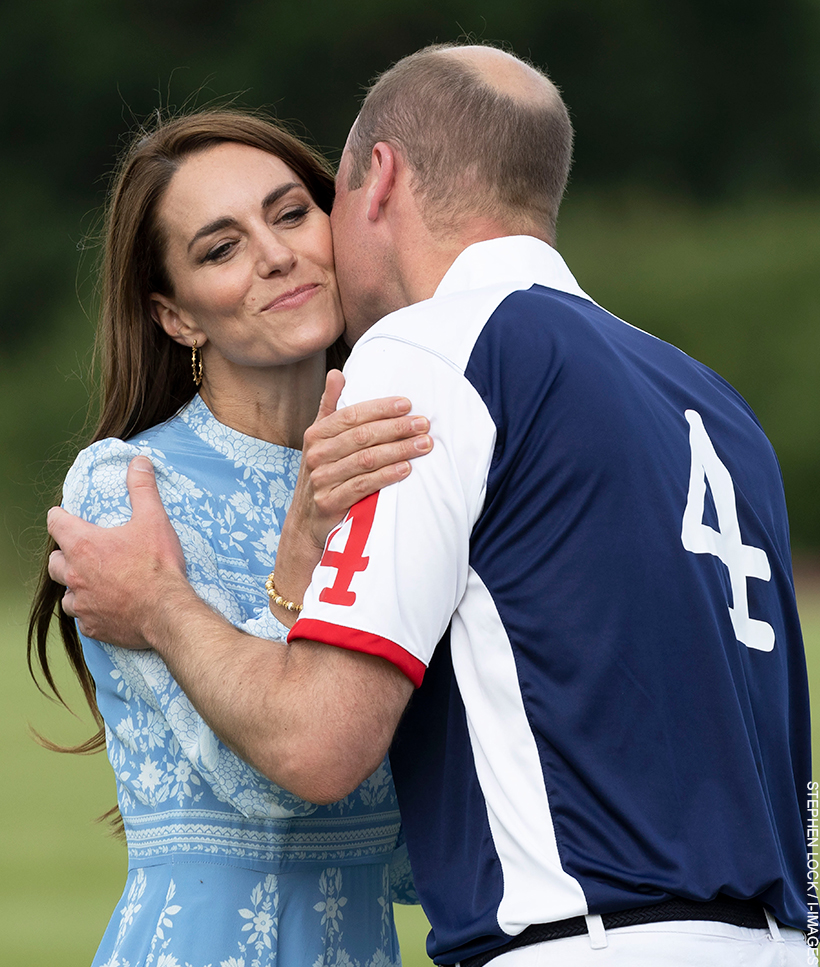 Let's take a look at her outfit in full now.
Kate Middleton's outfit at the polo – all about her blue dress & accessories:
Ah, I love Kate's relaxed summer style, don't you?  I think the Princess hit the mark with this floral maxi from Beulah London. It was the perfect choice for an afternoon watching polo.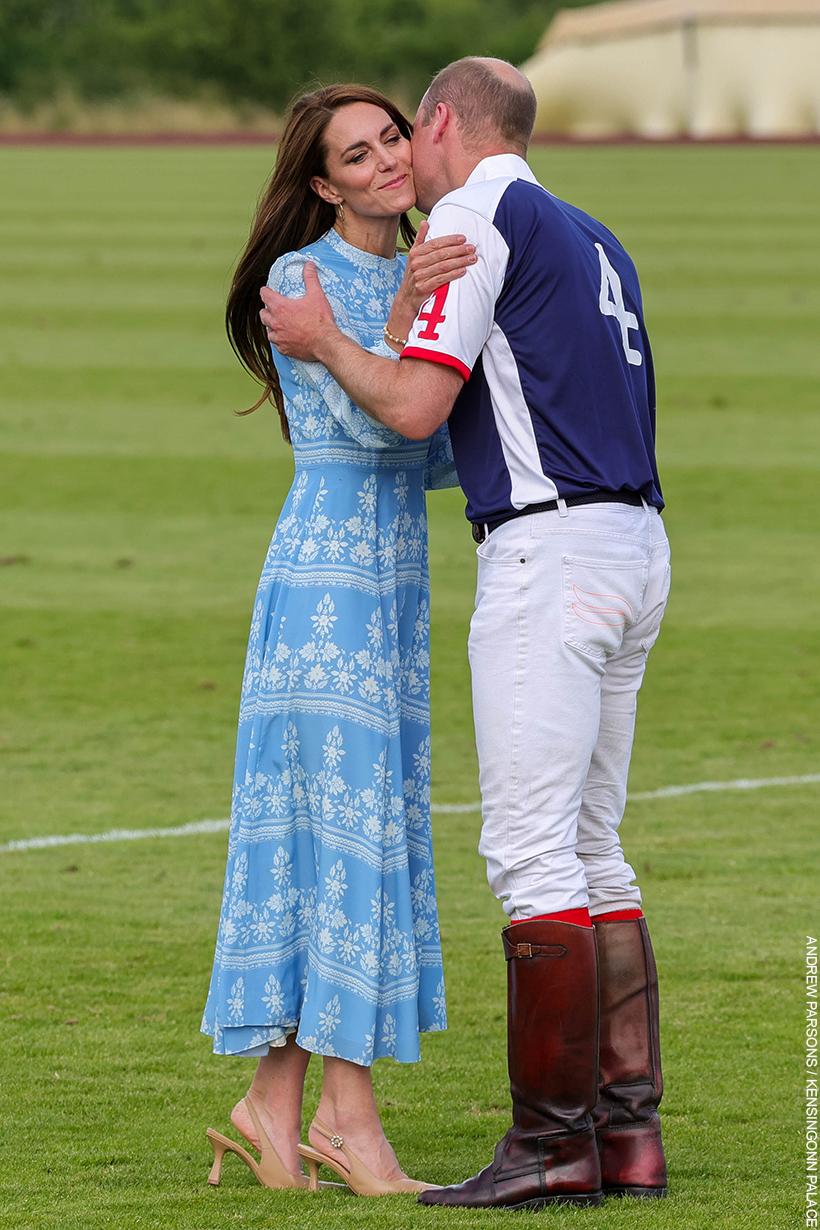 I love its beautiful colour and eye-catching pattern. The fabric looks like the perfect weight for the British summer weather too.  The style is casual enough for a dressed down occasion, toned down by Kate's choice of heels and crossbody bag.  It's also on the right side of formal for representing charities, presenting trophies and posing for official photos.  Spot on as usual, Kate.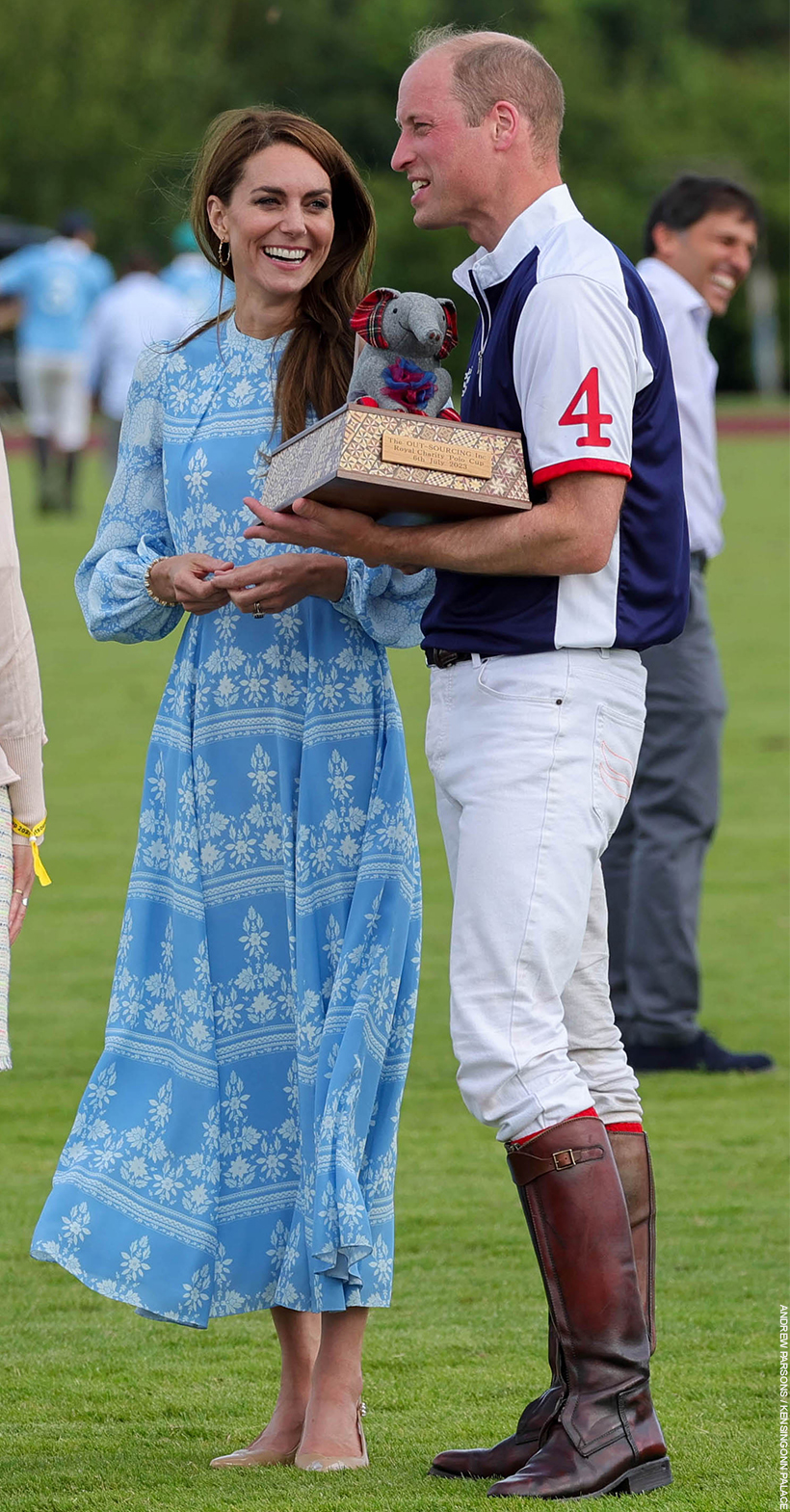 The Beulah London dress is known as the 'Sonia Blouson Sleeve Dress' and the colour is 'cornflower blue.'    Beulah describe the Sonia as one of their "classic shapes."  The dress features three-quarter length blouson sleeves, a high neckline and a lovely swishy skirt (I think Kate is wearing a bespoke version with a longer skirt—thanks to my regular reader Kris who pointed this out to me).
The cornflower blue dress is crafted from silk crepe de chine and features a chintzy white print with flower and peacock motifs. (Note in Britain, where I live, chintzy does not mean cheap or nasty like it does in the USA. It means patterned, ornate and over-decorated, and sometimes slightly old fashioned. I've made the mistake of not explaining that before and had readers think I'm insulting Kate and the designer who made her clothes!)
At the time of writing, you can pre-order the Sonia dress at BeulahLondon.com for £550. The company will despatch in November.
Kate debuted a new pair of sunglasses on the polo field. They're the Vivian style by Finlay & Co.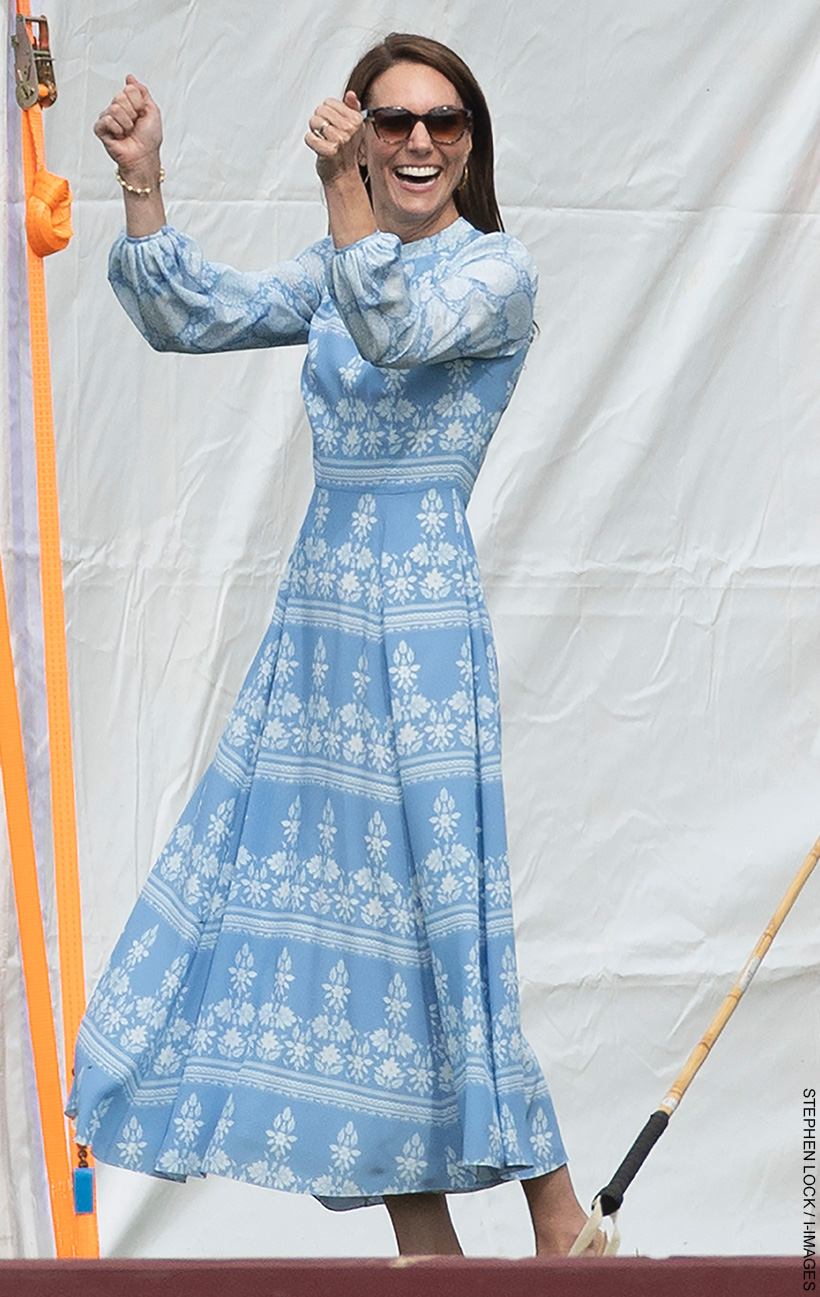 The brand confirmed the Princess wears the marble frames with brown-to-white lenses.  The lenses offer sun protection and the sustainable acetate frame is handmade.  Order for £150 from finlayandco.com.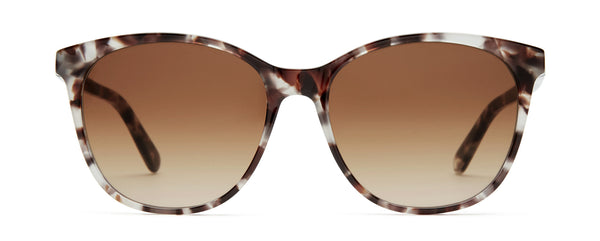 Kate's blue handbag will feel familiar to readers who followed her style during the 2022 visit to the USA—she debuted it in the country during a visit to Harvard University in Boston last December. This is now the second time we've seen her wear/carry the item.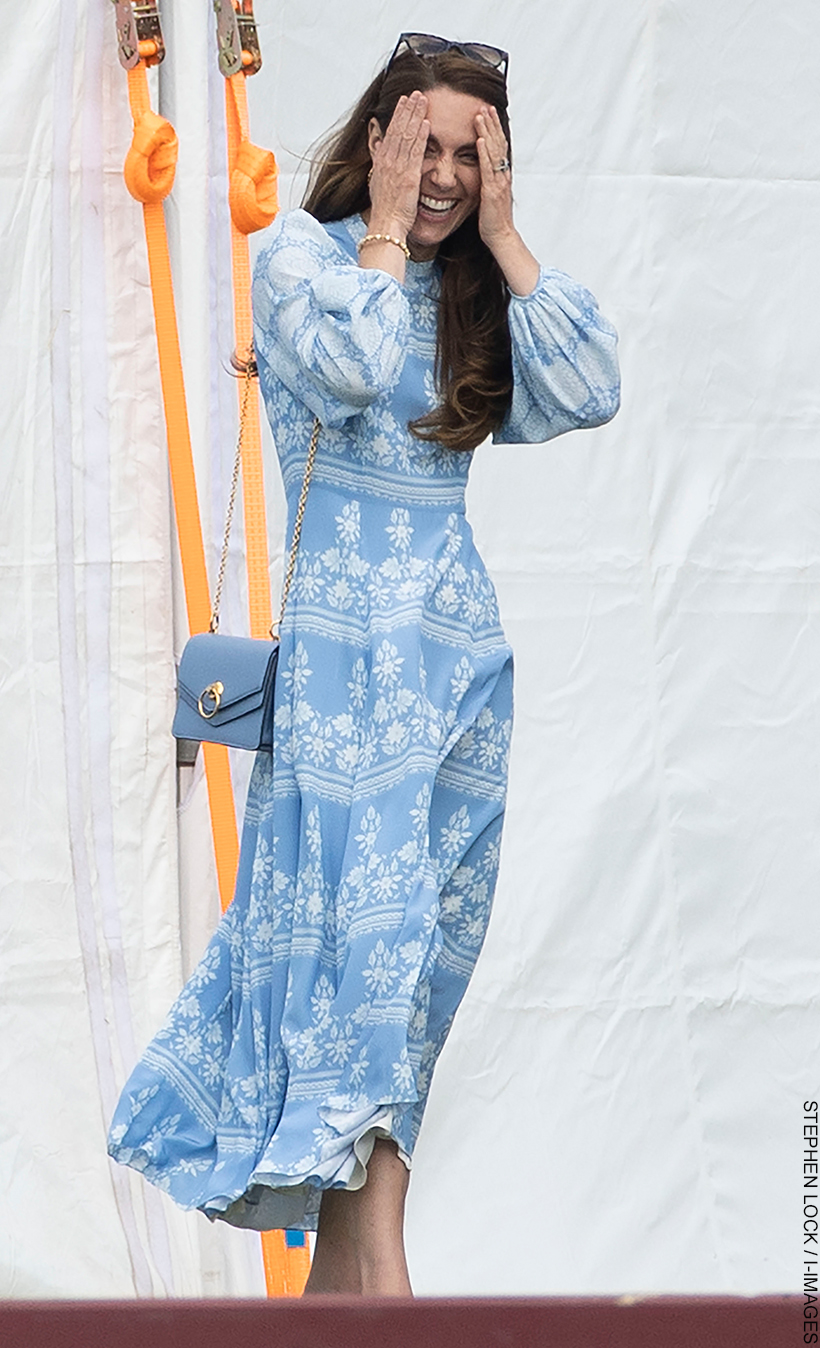 It's the Mulberry Harlow bag. Kate carries the small version of the bag in 'Slate Blue'.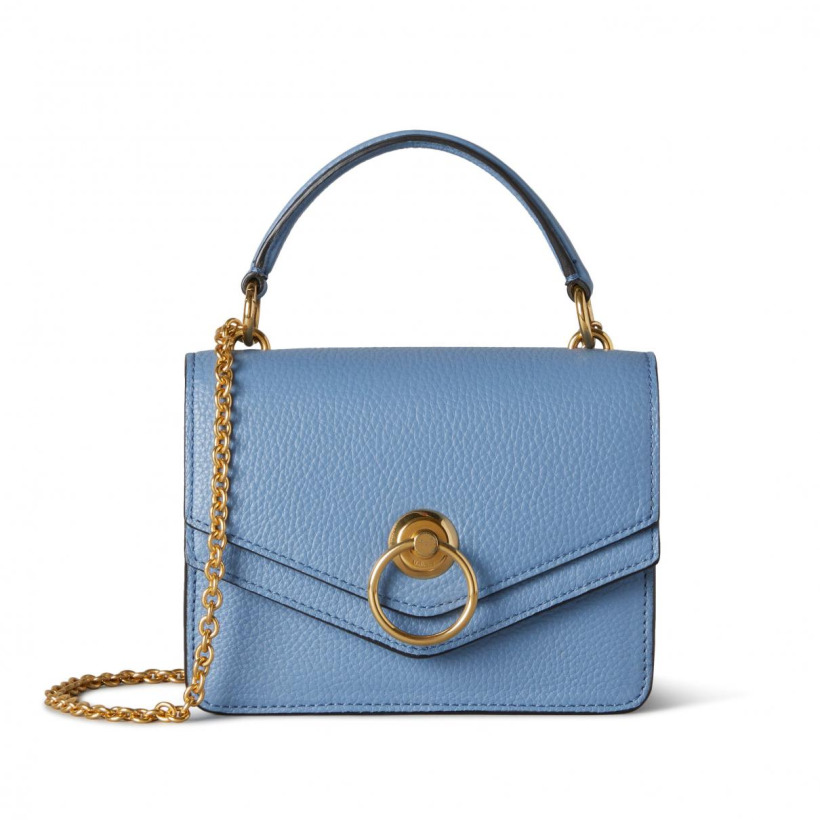 In December, Kate carried the bag with its removable top handle. At the polo, she switched the handle for the gold chain shoulder strap.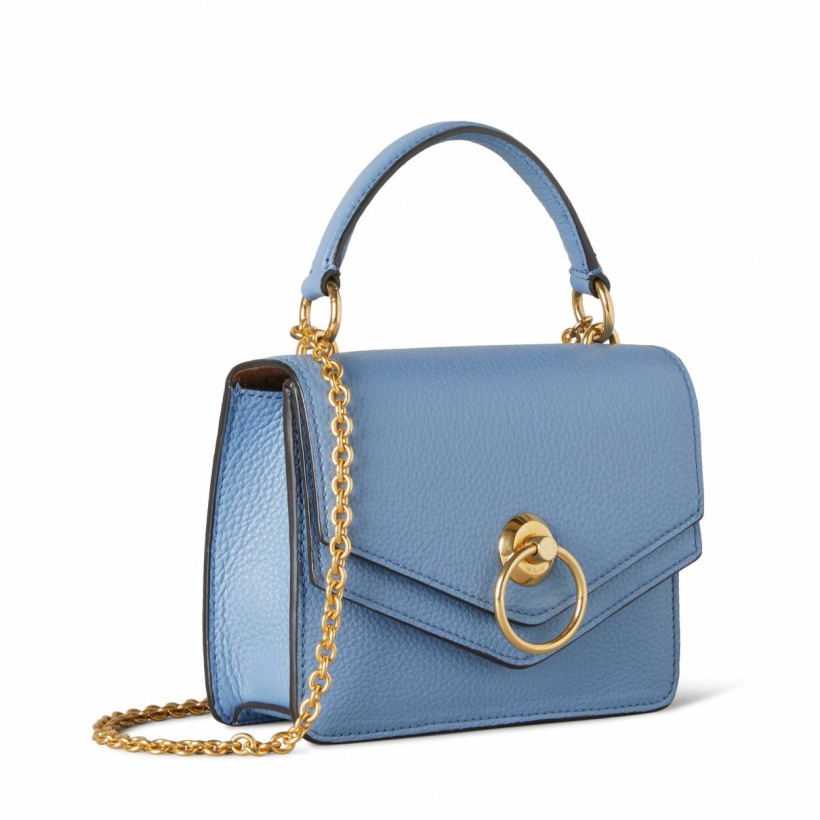 The elegant bag features a double-flap front closure, which gives the bag a layered look. It also has a gold twist ring on the front that was modelled on Mulberry's iconic Rider's Lock.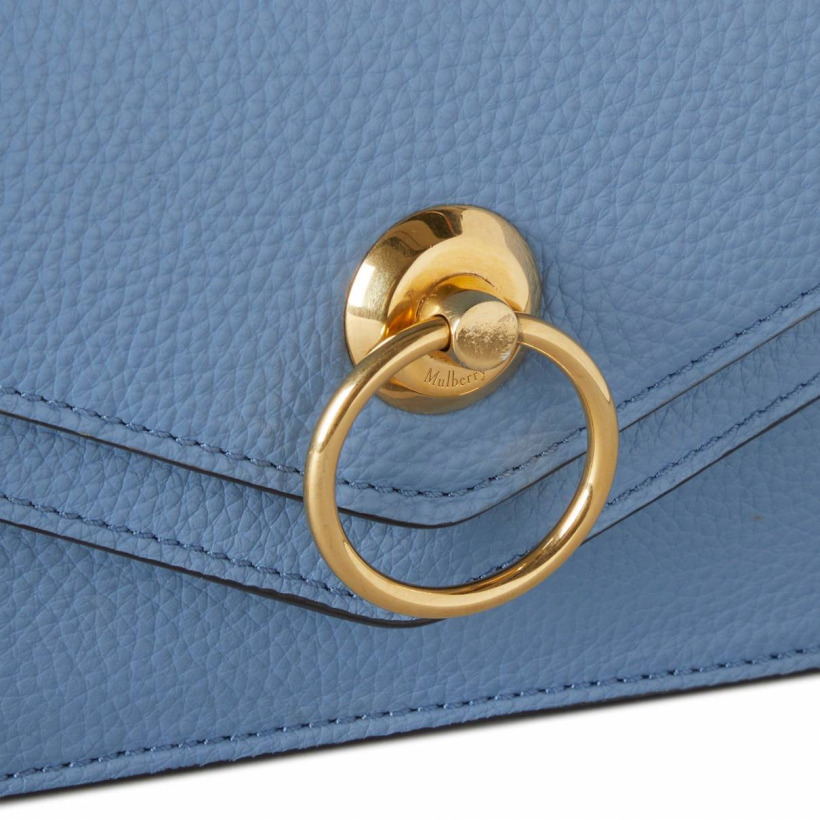 From what I understand, the Harlow bag was a limited edition design launched exclusively in South Korea in Autumn/Winter 2019 and is no longer available for purchase. Pre-loved luxury good sites like Vestiaire Collective and 1st Dibs are where you'll find the style now. Both have a couple of listings for the Harlow in other colours/designs at the time of publishing.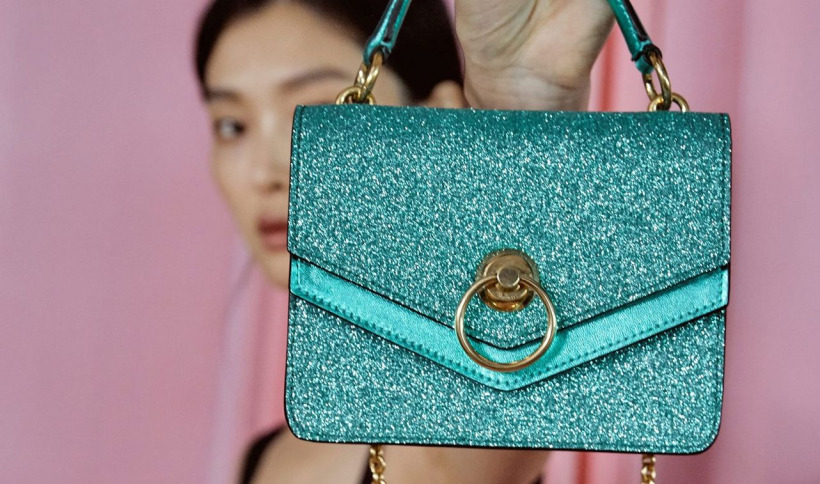 Mulberry listed Kate's version of the bag—the Harlow in blue leather—on Vestiaire Collective a few years ago.  It sold in August 2021 for £395.  It was a bag they'd refurbished and listed as "very good condition."
Don't want to trawl online marketplaces? My suggestion would be Mulberry's Amberley clutch in 'Cloud' instead. It's a good alternative for anybody looking for a similar bag. You can also wear it on the shoulder, on a chain.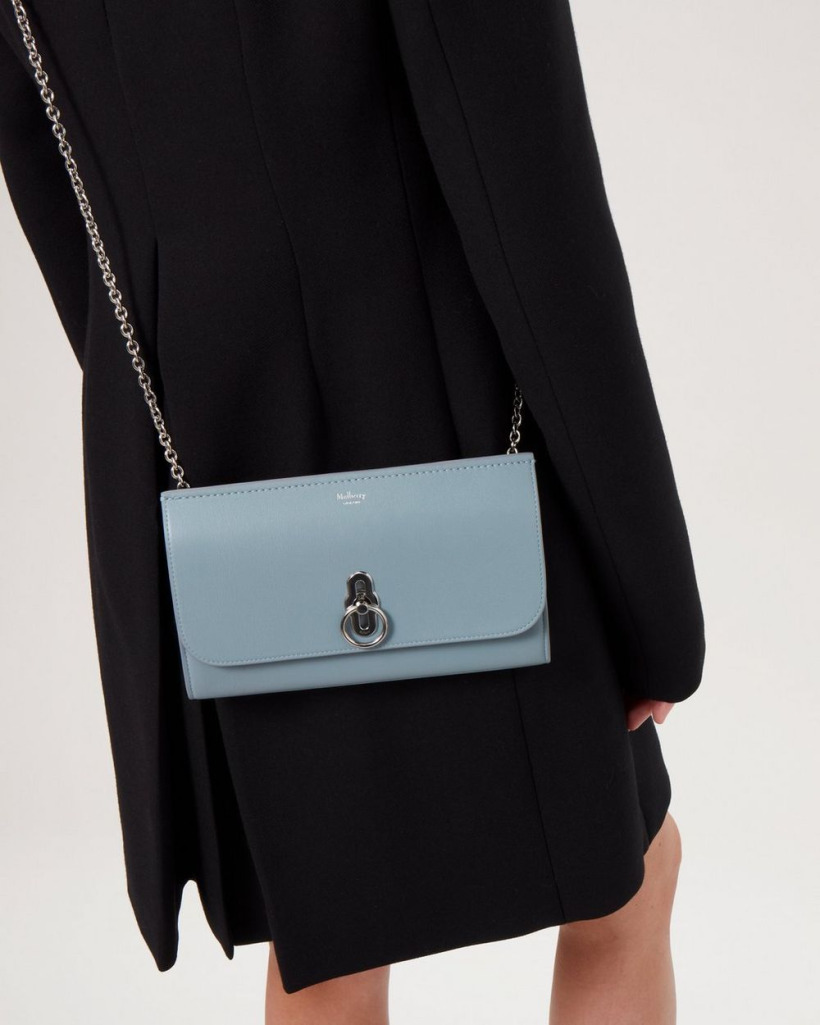 I also have a great repliKate/dupe for anybody who wants to steal Kate's style for less. I spotted this bag at Charles & Keith for £115. It comes with two interchangeable straps.
Let's move on to Kate's jewellery now. Let's start with her hold hoop earrings (which nicely echo the gold ring on her bag! I don't know if that was an intentional choice!)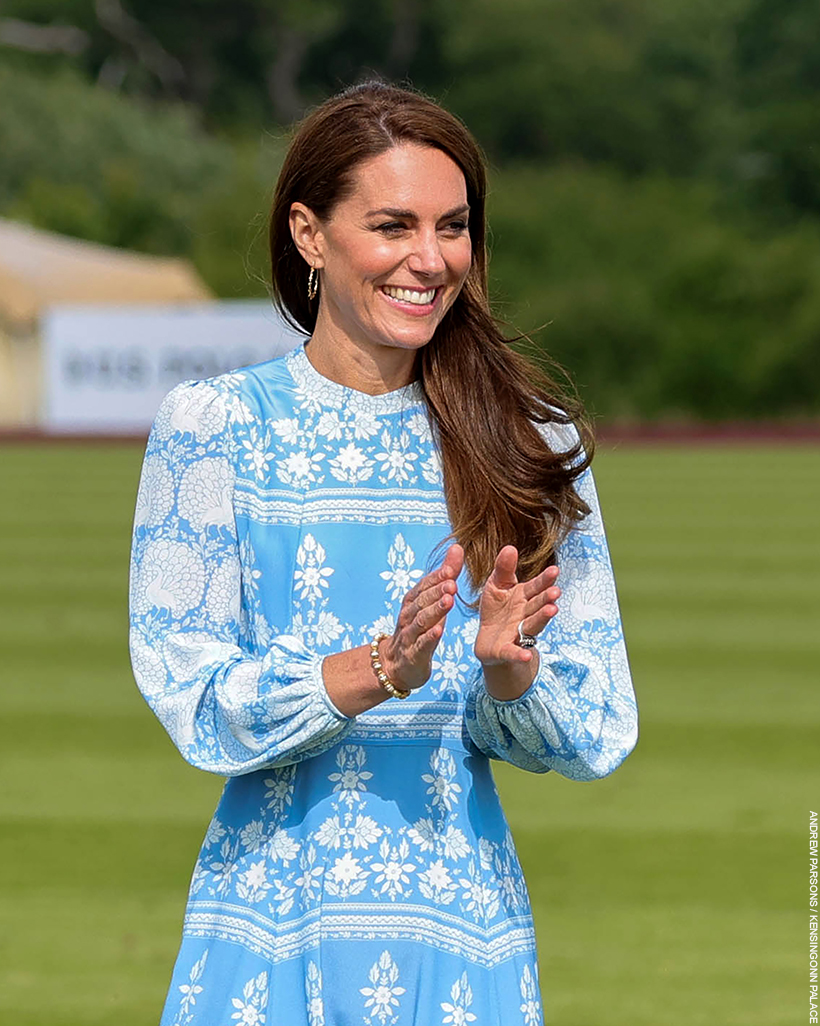 They're the Gold Spine Hoops by British designer Lenique Louis.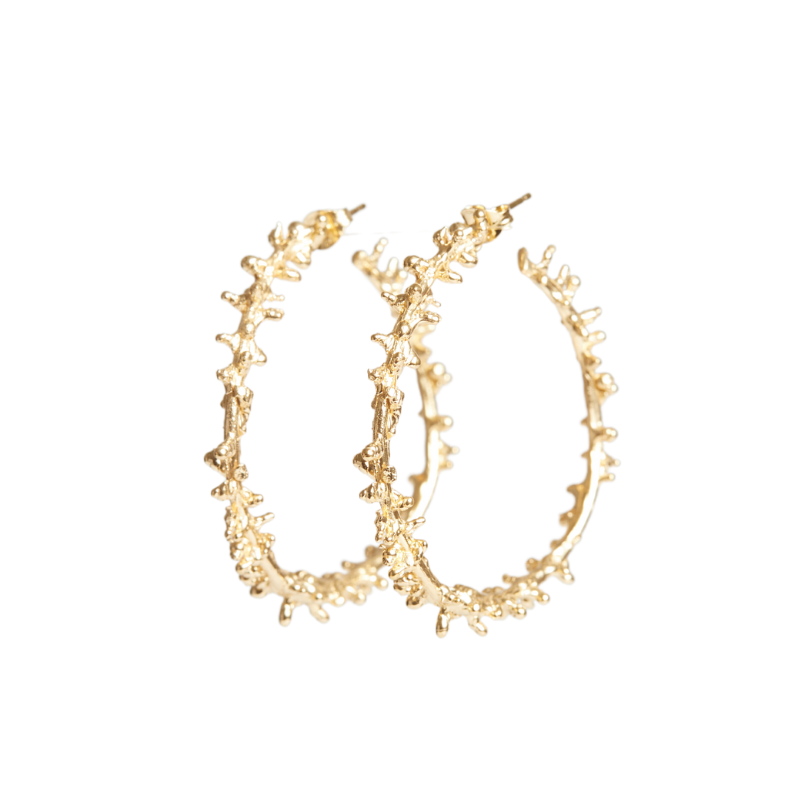 Lenique took inspiration from the coral reef during the design process, and describes the hoops as "easy to wear and light weight." They're handcrafted to order in London, England from Fairmined Sterling silver and Fairmined gold.
I love how the designer doesn't want to name check Kate on her website and calls the earrings "best selling and a celebrity favourite" in the product description.
You can order the gold hoops in either small, medium or large at leniquelouis.com. Prices start at £360. I'm not sure which size Kate wears. I'll find out.
Kate also accessorised with her Sézane Stéphanie Howlite Cuff.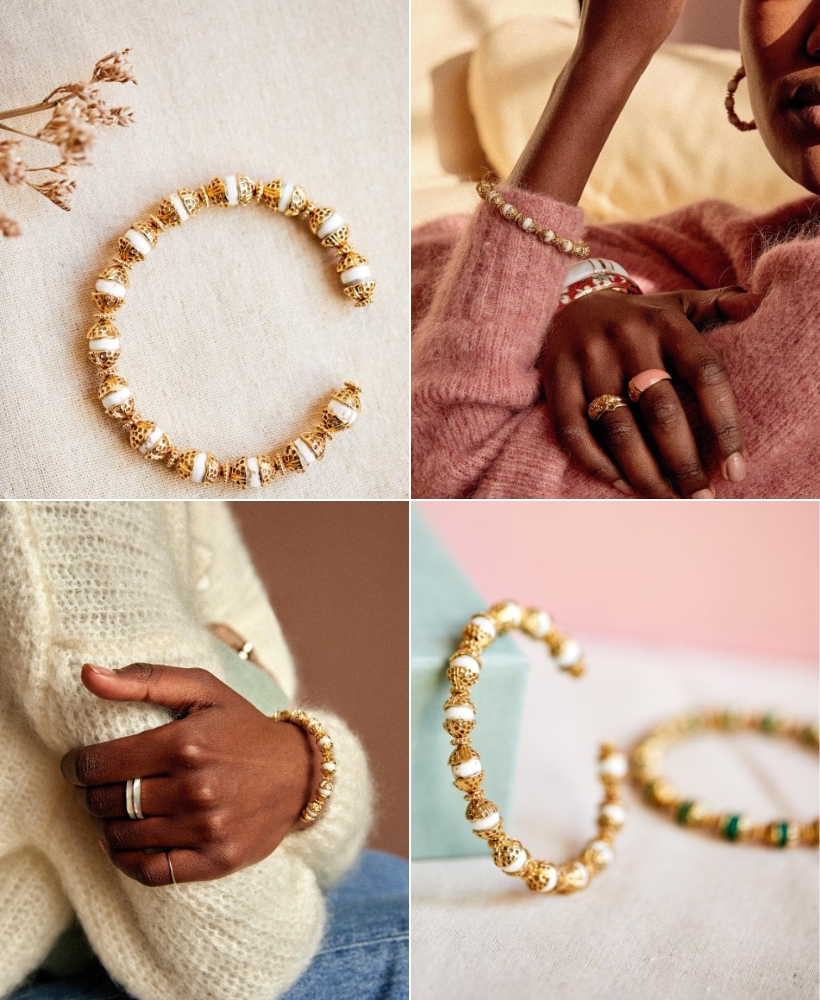 The pretty bangle is made from 3-micron gold-plated brass and features natural stones. The pretty bangle is no longer available, unfortunately. It once retailed at sezane.com for £80 before going on sale at £40.
Disappointed? Love Sézane's cool French boho aesthetic? You'll be pleased to know the company have a bunch of lovely bracelets in their online shop.  I quite like the Milo, below (RRP: £55).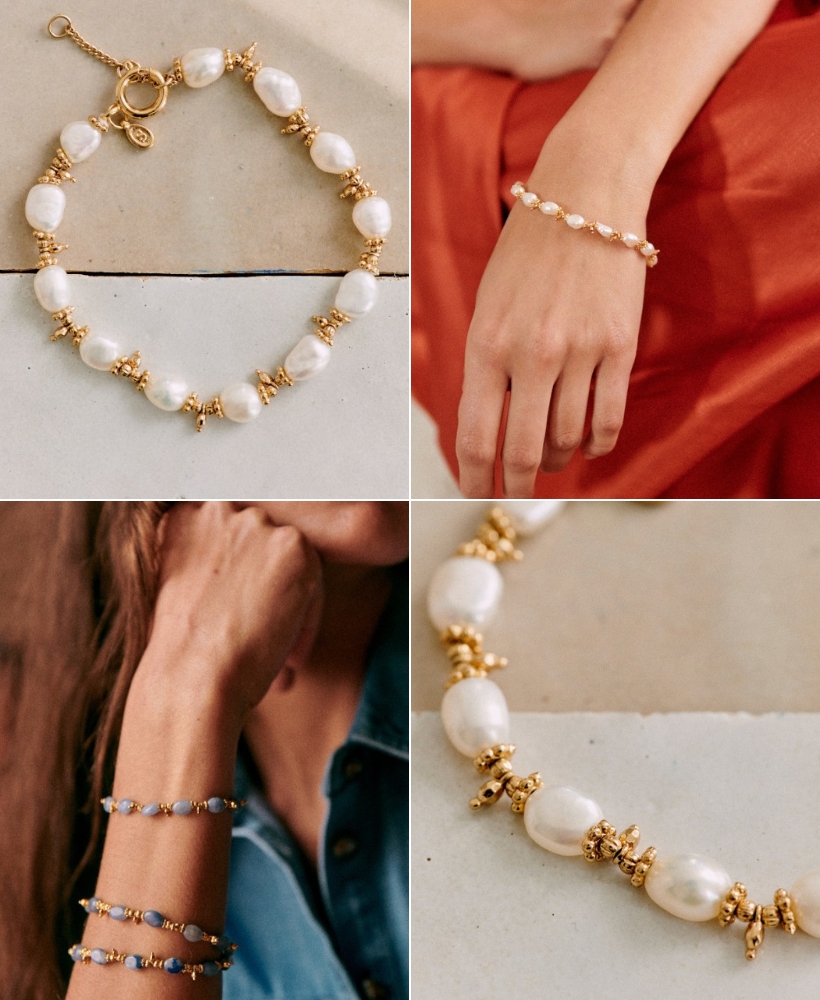 Last but no least, let's take a look at Kate's new kitten heels.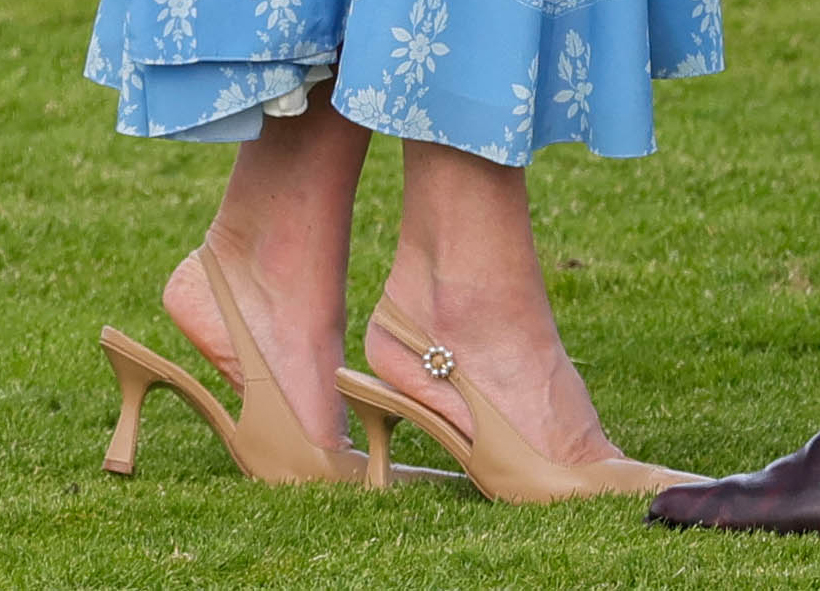 The taupe pumps are by Camilla Elphick. They're the designer's 'Lucia' slingbacks in Tan.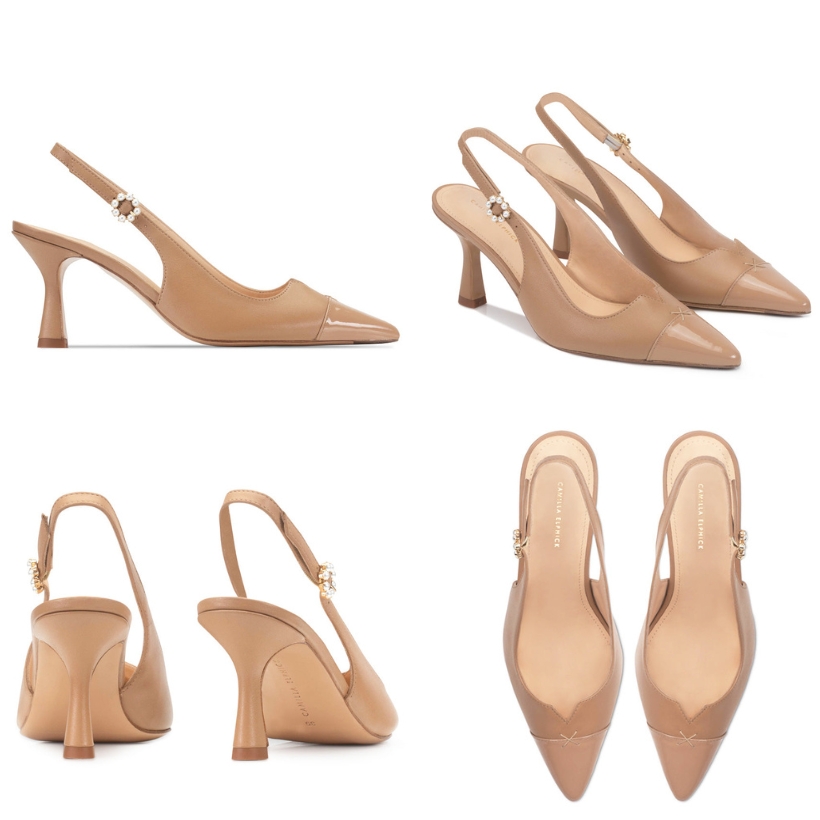 The neutral-tan leather shoes feature a pointed toe in a contrasting patent material.  The slingback shoe has an angular kitten heel and is finished with Camilla Elphick's signature pearl buckle. 
I think this is Kate's third pair of Camilla Elphick's shoes. She also owns two pairs of flats by the designer.