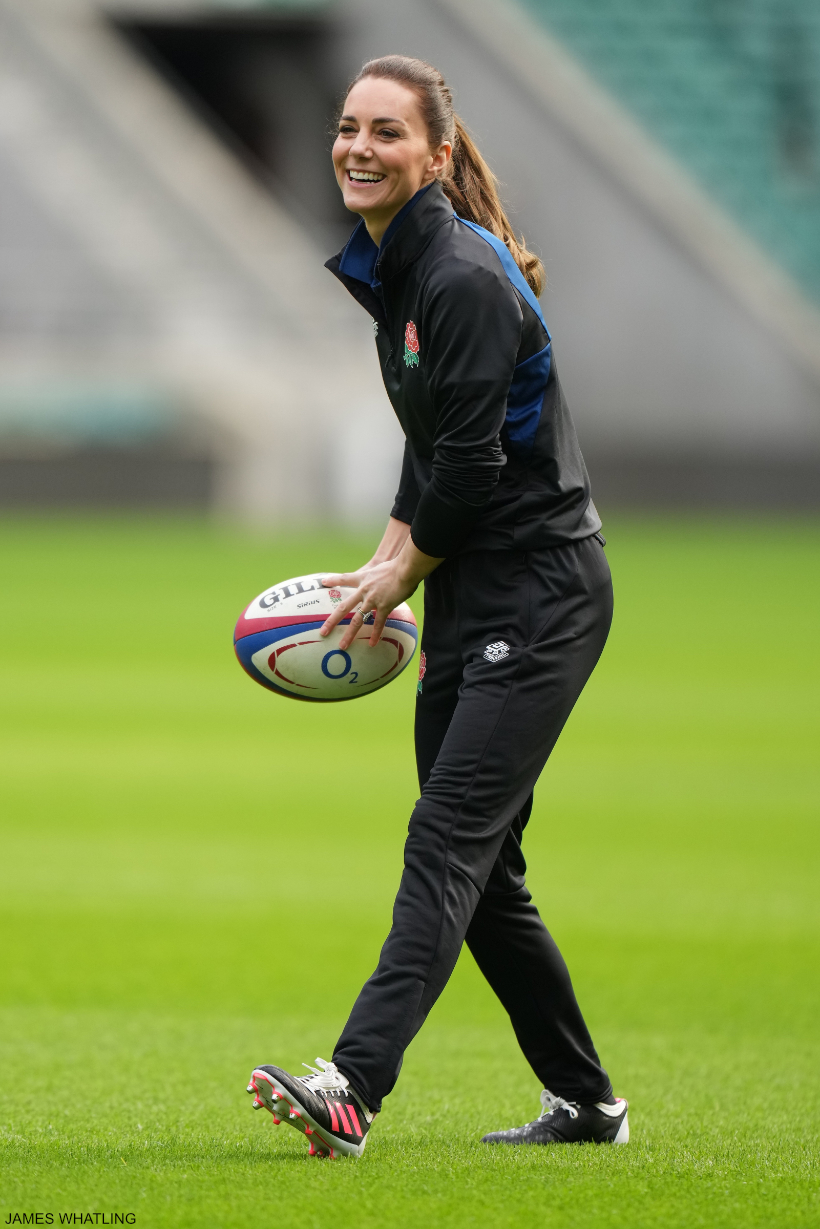 On the 2nd of February 2022, Kensington Palace confirmed a rumour that had been circulating in the press for months: Kate was to take on two new Patronages that formally belonged to Prince Harry: England Rugby Union and the Rugby Football League. A video accompanied the announcement on social media:
In the video, Kate holds a rugby ball before throwing it off-screen. The ball is passed back and forth between various community and pro rugby players before it returns to Kate. At one point in the video, the Duchess spins the ball on her finger.
Kate chose sporty attire for the announcement video—a blue gym top by Sweaty Betty and a pair of Nike Tracksuit Bottoms. I'll include full details below in the outfit segment of this post.
Kate's new role as England's Rugby Union patron puts her in direct competition with her husband, William who holds the same role in neighbouring Wales. The two are expected to attend an England v Wales Six Nations match together later this month, that should be fun!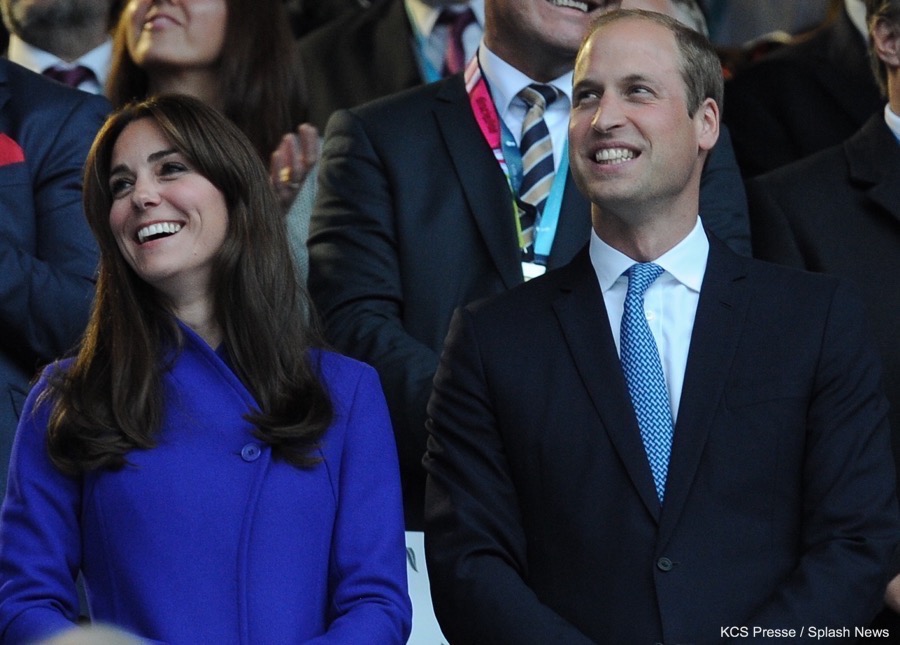 (Above, William and Kate at the Rugby World Cup opening ceremony in 2015.)
A few hours after the announcement and accompanying video, Kate visited Twickenham Stadium. Here, met England players, coaches and referees at the ground. She also took part in a training session taking place on the pitch.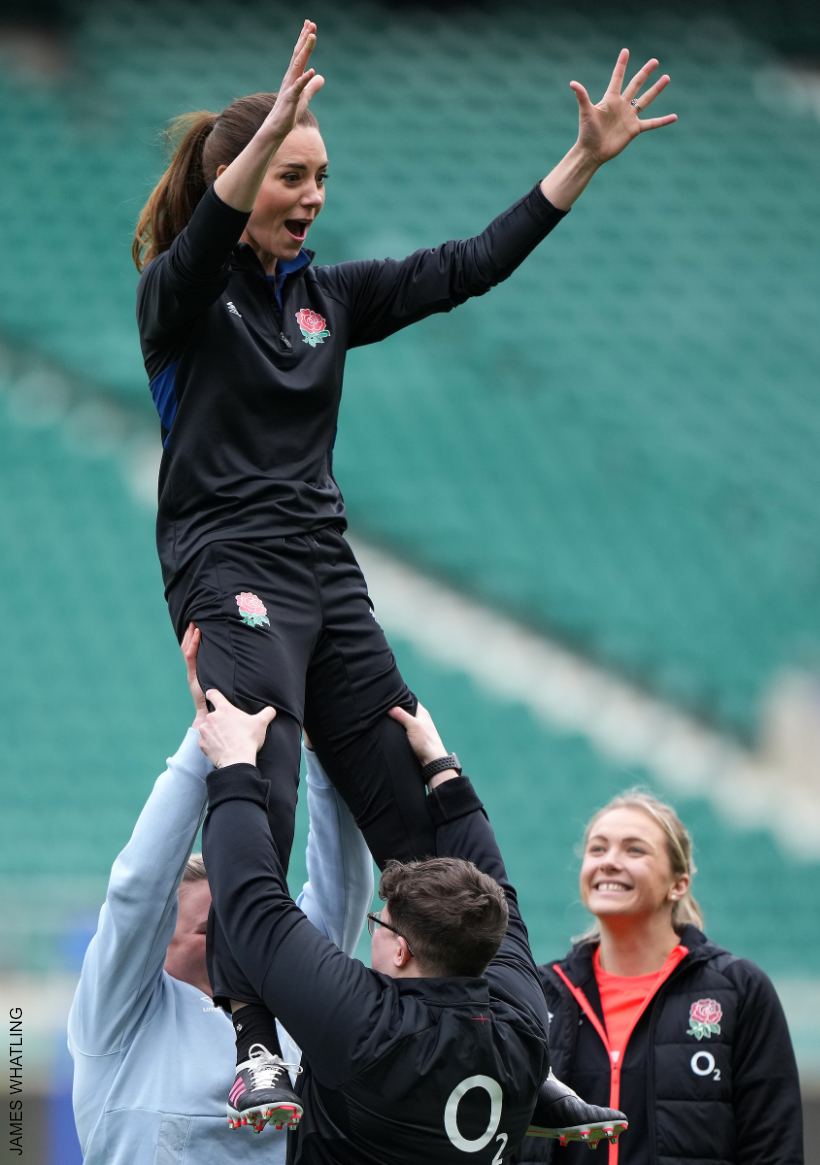 Video footage from the visit, if you'd like to watch Kate during the training session:
Kate's outfits:
I will start with the sporty outfit Kate wore in the rugby video. The Duchess paired a bright blue top by Sweaty Betty with a pair of black tracksuit bottoms by Nike.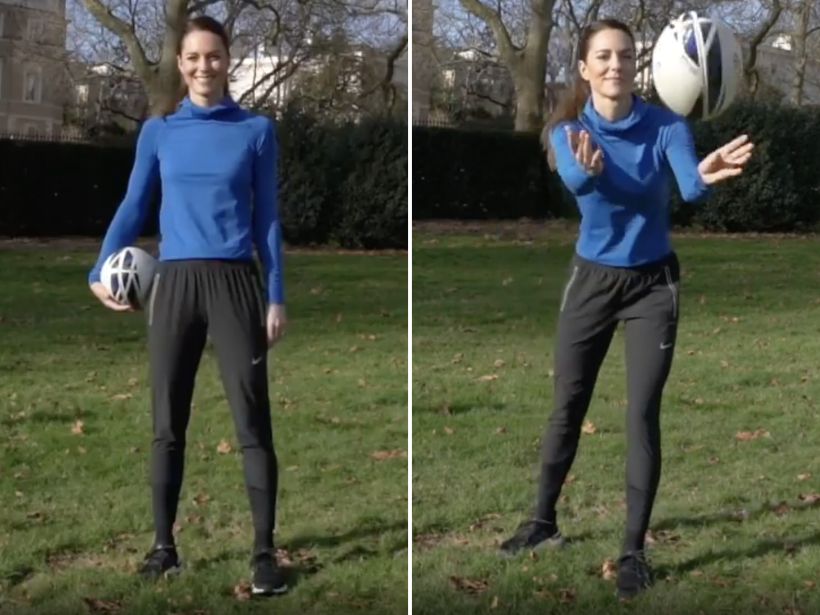 The top is the brand's Athlete Hooded Long Sleeve Top in Oxford Blue. Sweaty Betty describe the piece as "versatile" and "suitable for all workouts". The top is made from a technical fabric that is lightweight, breathable and sweat-wicking. It's been crafted without seams for added comfort.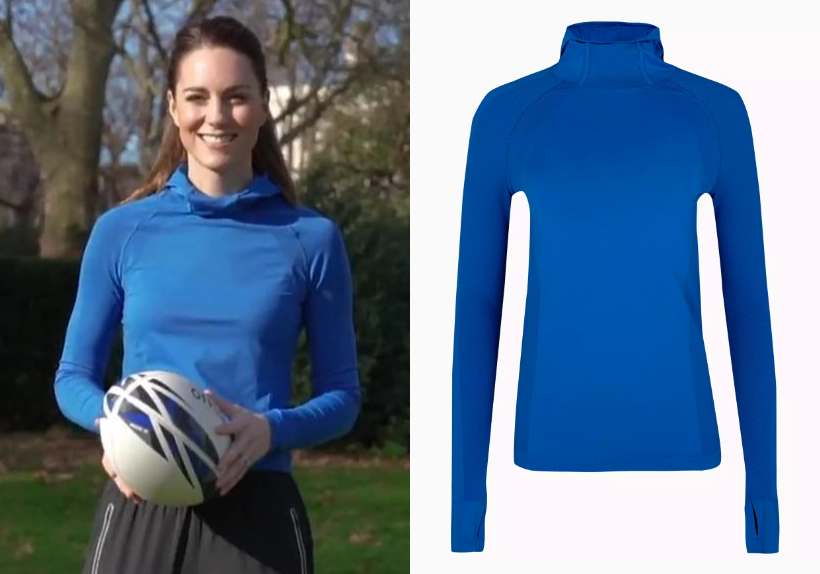 If you want to steal Kate's sporty style, you might be pleased to read that it is still in stock for most sizes (XS-L at the time of writing). Plus, there are three other colour options available. RRP £60 / $78. (Usual disclaimer, Sweaty Betty offer worldwide delivery I just list the two most popular currencies with my readers.)

I think this is the second item we've identified Kate wearing from Sweaty Betty during her official work. She wore these trainers from the brand's collaboration with New Balance a few years ago too.
The Duchess wore Nike's Swift 27 running pants (or tracksuit bottoms) with her blue top. The trousers offer a relaxed fit on the thigh for comfort and a streamlined calf for a sleek look.

Sadly, the trousers are from an older season and are no longer available to buy. (A listing I found at Macy's showed the trousers date back to at least 2017). If you want to copy Kate's style, Nike does sell similar styles. The Dri-FIT jogger (available here at ASOS) is a good alternative. They're also made from recycled polyester, which we know Kate would approve of (the Duchess has worn a lot of eco-conscious brands recently). Get them from ASOS for £67.95 / $70 USD.
I can't tell which trainers Kate paired with the sporty ensemble, unfortunately.
On the pitch at Twickenham Stadium, Kate wore what I assume to be an official England rugby training kit. You'll notice the England team rose emblem on her tracksuit: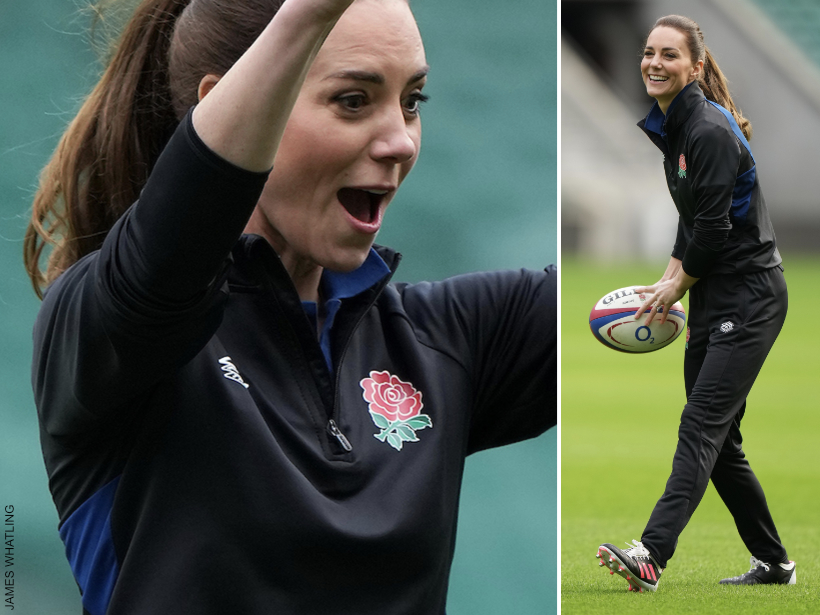 I've browsed the England Rugby website and it does not look like you can buy the exact kit, sadly (it'd make a good gym kit). They do sell plenty of similar designs though, including a half zip top in navy
Kate donned a pair of rugby boots on the field, they're by Adidas. I believe they're the Adult Soft Pitch Screw-in Hybrid Rugby Boots Malice SG style. Shown here at Decathlon for £59.99 (around $81 at today's rates.)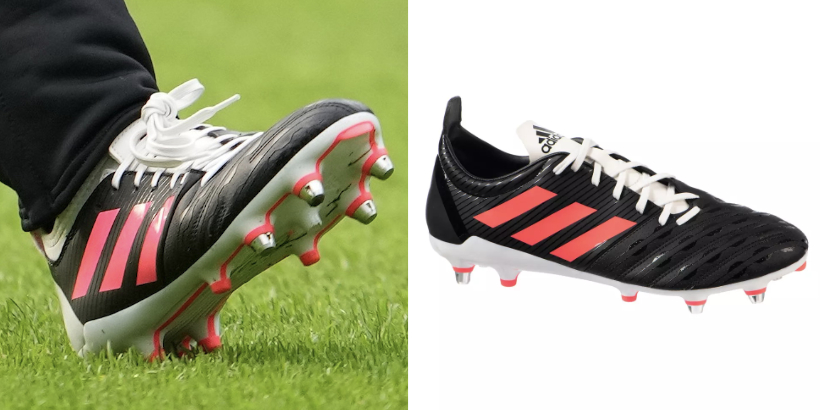 Kate did not wear earrings for this engagement. She did, however, wear a necklace. The Astley Clarke Stilla pendant in blue Lapiz Lazuli. You can see the necklace peeking out from her top in the photo below:
The pretty round blue Lapis Lazuli pendant hangs from a demi-fine 18ct yellow gold vermeil chain.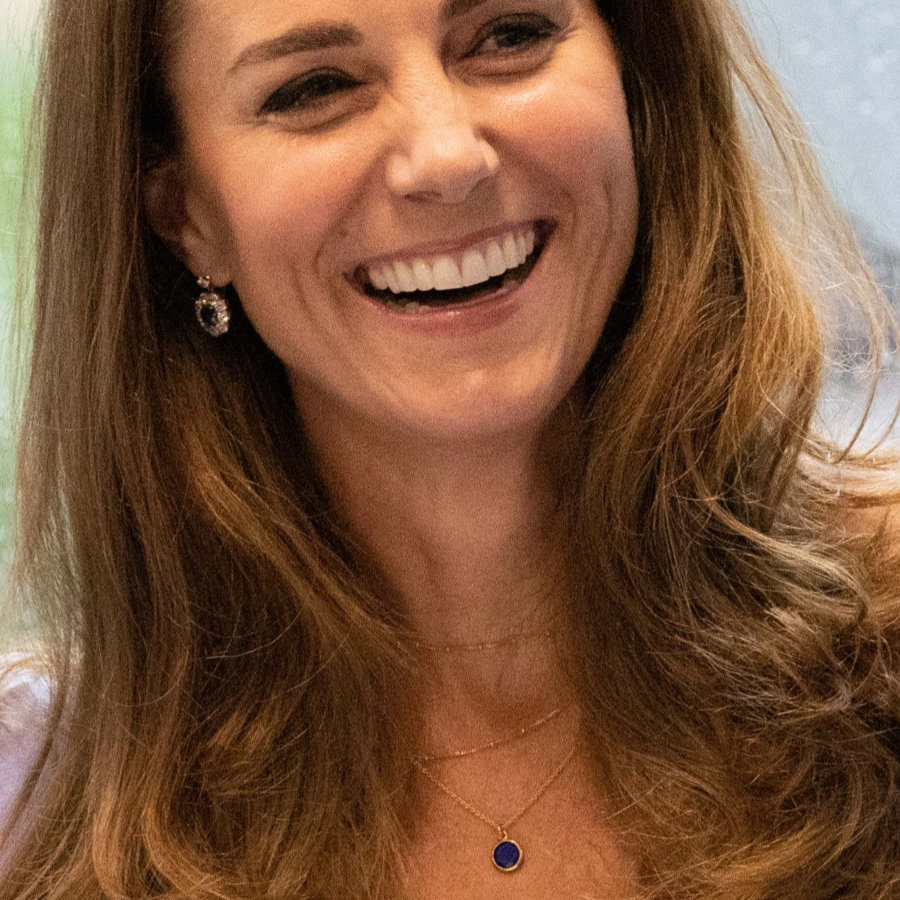 If you'd like to buy Kate's gold and blue necklace, you're in luck! Astley Clarke still stock this piece. You can buy it from their website: astleyclarke.com. RRP £160 / $220. If blue isn't your colour, you'll be pleased to know Lapis lazuli isn't the only gemstone on offer. Choose from six other semi-precious beauties including black onyx, green malachite, aqua-blue amazonite, milky white moonstone and silver labradorite.
This is the sixth time Kate has worn the pretty necklace in public to date.