Kate Middleton returned to her signature look of tailored separates on Wednesday.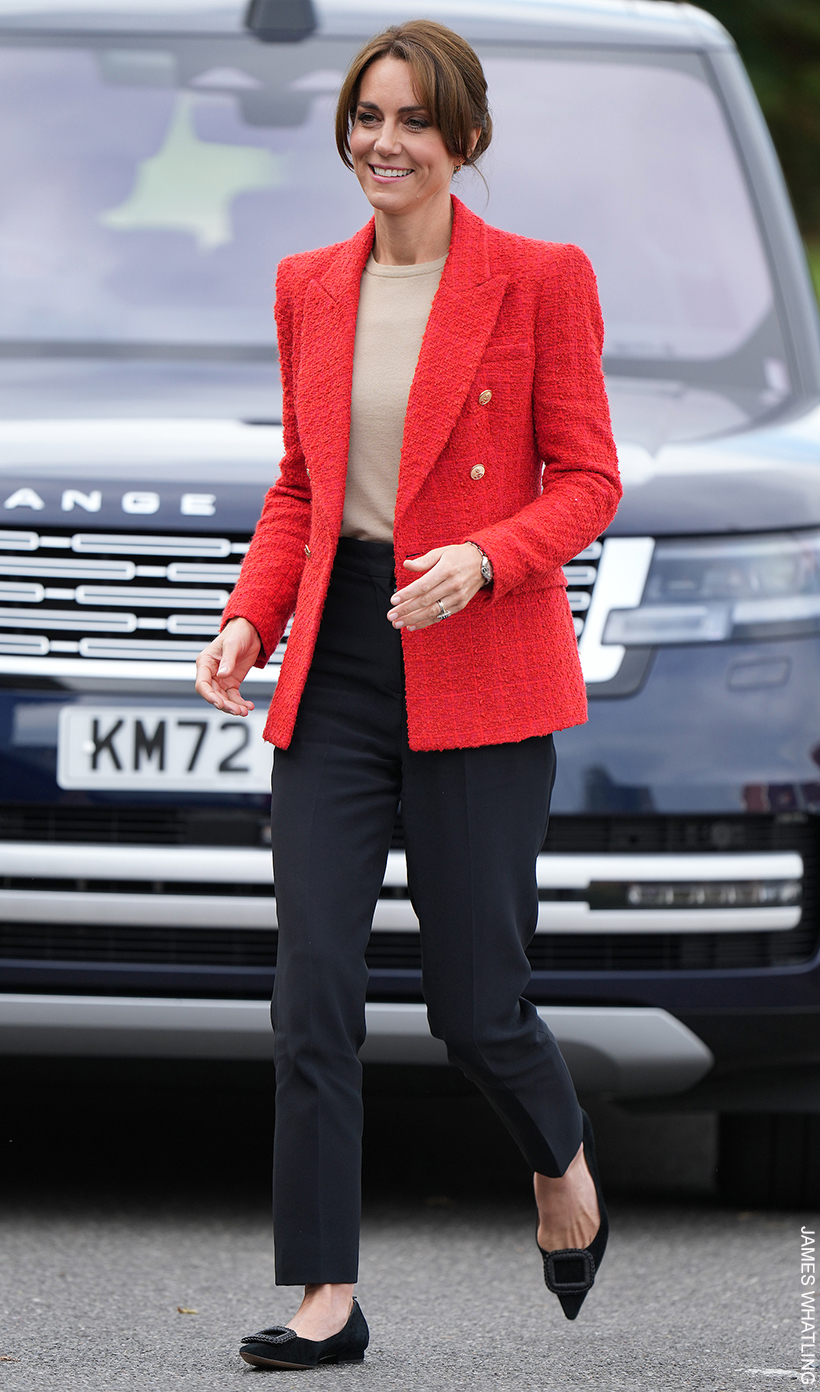 Wearing a red Zara blazer, the Princess of Wales paid a visit to a family portage session at the Orchards Centre in Sittingbourne, Kent. She spent the afternoon engaged in messy play with children and chatting with parents.
The Princess paired her vibrant jacket with smart black trousers, a beige knit sweater and black pointed ballet flats from Boden.
It hasn't escaped fans notice that this is the eighth blazer/trouser look Kate's worn this September, out of ten public engagements! It looks like Kate has definitely ditched dresses for blazers, suits and tailoring.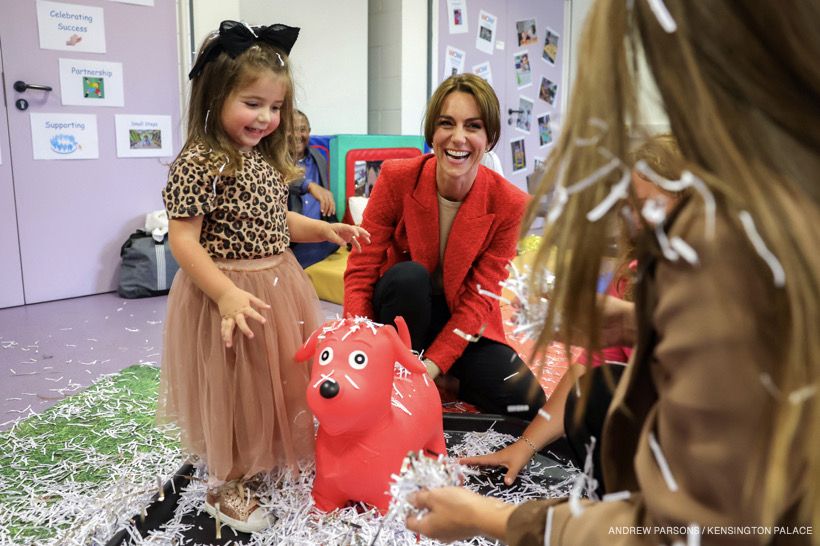 Nevertheless, the choice of outfit worked with the informal and hands-on nature of the event, which aimed to highlight the crucial role of supporting children with special educational needs and disabilities, as well as their families.
Kate joined children with a range of needs and disabilities for the messy play session, including autism, social communication difficulties and Down Syndrome. sensory development class.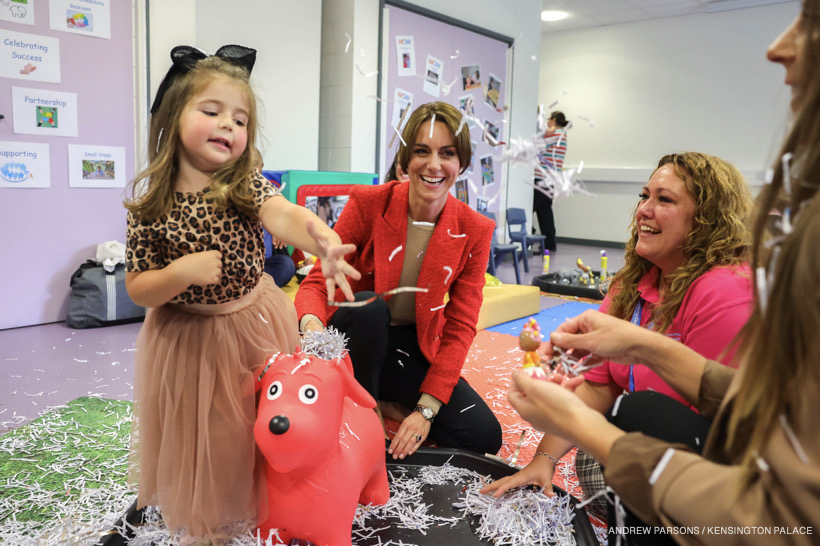 The Princess wasn't just an observer in the sensory development class, she was an active participant, joining the kids in activities designed to stimulate sensory growth.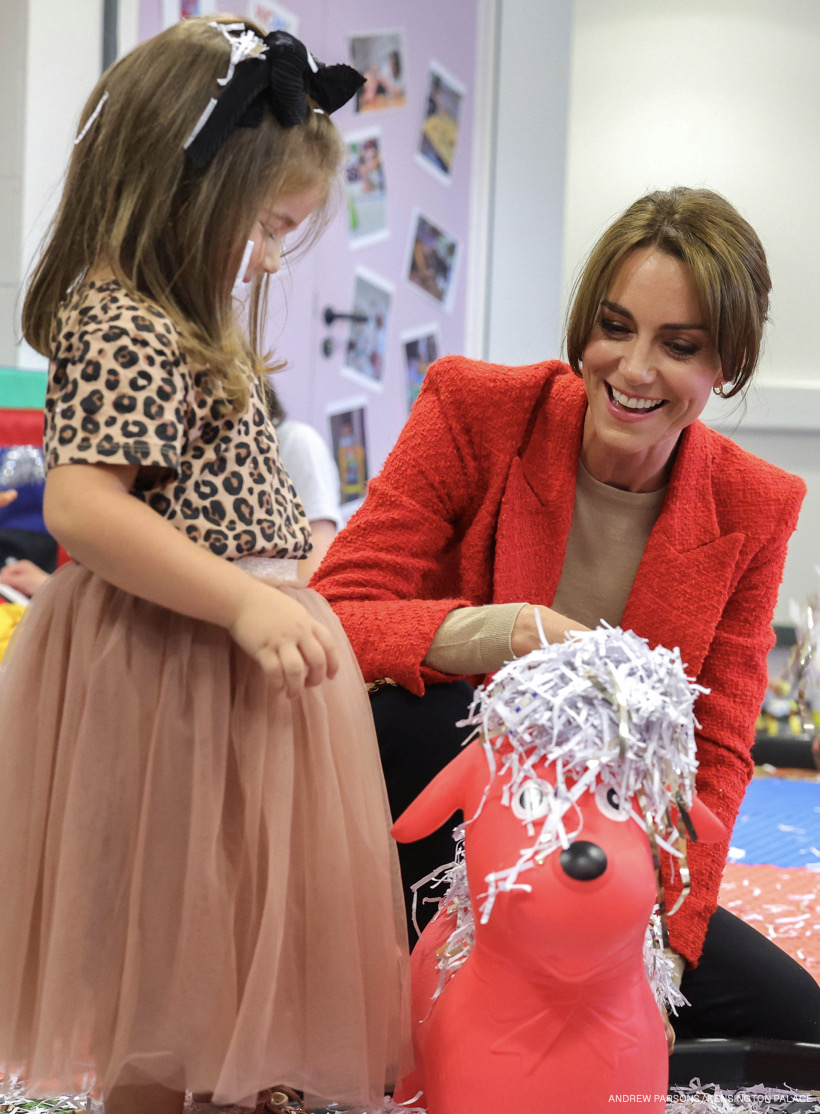 We saw the Princess kneel and play with the children, and chat with their families.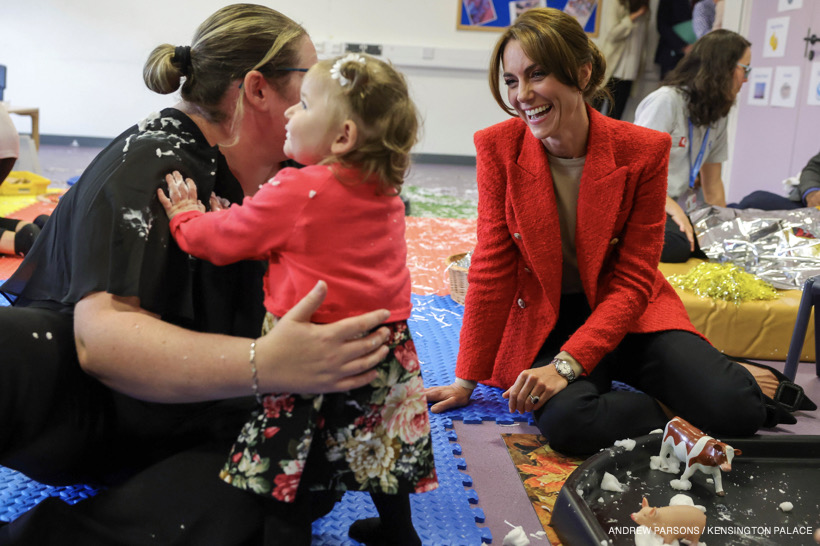 She saw a range of materials in use for the sensory session, including foil blankets, metallic confetti, shredded paper, messy foam and wooden toys.
Here's Kate sat at a table with Darcie. The Princess told the youngster that her son also has a "Darcie" in his class.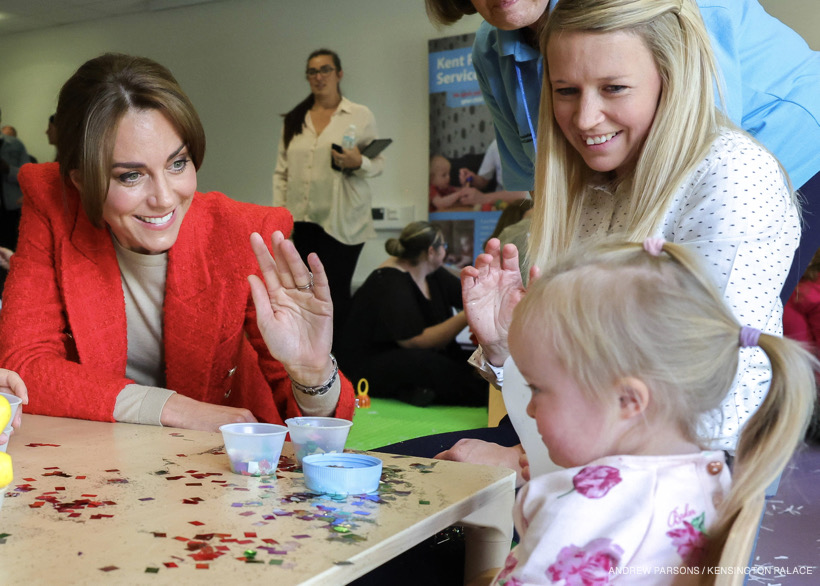 The room was busy as the toddlers and children bounded round from activity to activity.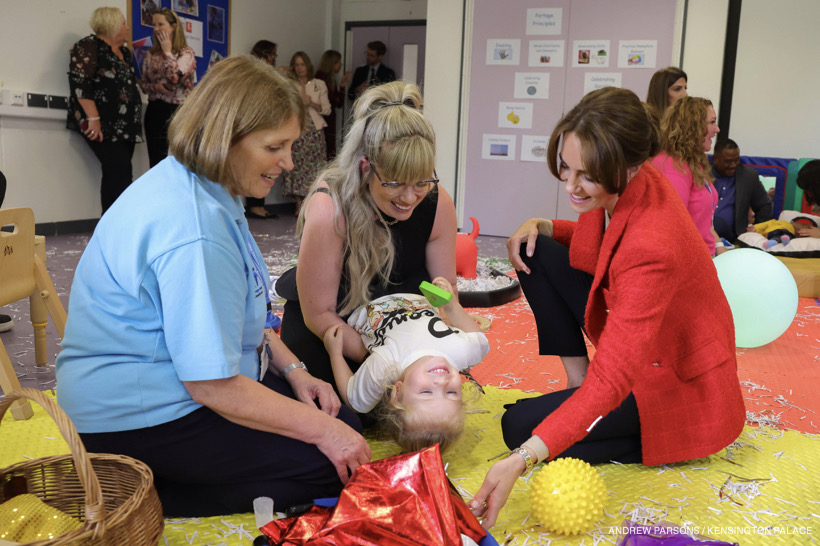 Kate spoke with parents including one father who talked about his wife's extreme morning sickness during her pregnancy. Kate, who suffered with hyperemesis gravidarum during all three of her pregnancies—which led to her being hospitalised during her first pregnancy—said "I went through that, I know what that feels like".
She also took the opportunity to connect with frontline practitioners, diving into heart-to-heart discussions about the day-to-day realities of portage and how it serves as a vital support mechanism for families.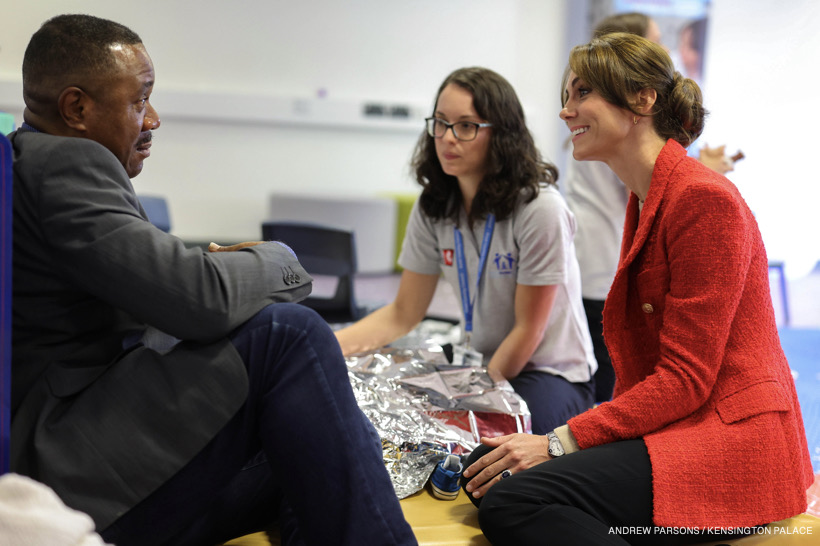 This visit was arranged by the Kent Portage Team alongside the National Portage Association, an educational service for pre-school children with special educational needs and disabilities, and their families.
Portage Visitors often come to the home to support children and families within their local community, Though each service is different from area to area.
Portage Visitors work with families to help them develop a quality of life and experience, for themselves and their young children, in which they can learn together, play together, participate and be included in their community in their own right. They also play a part in minimising the disabling barriers that confront young children and their families, and support the national and local development of inclusive services for children.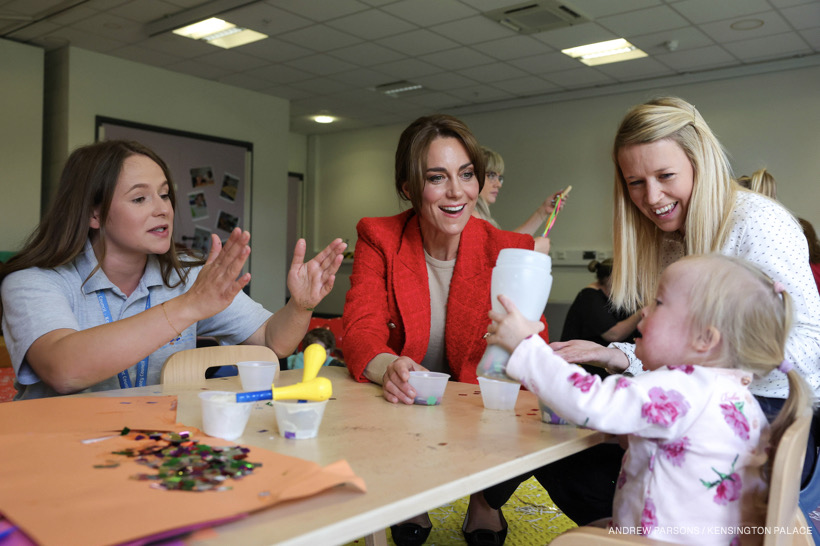 The visit forms part of the Princess's 'Shaping Us' campaign, which she launched back in January.
Spearheaded by Kate, 'Shaping Us' aims to educate the public on the pivotal importance of the first five years of a child's life. This campaign aligns seamlessly with Kate's long-standing commitment to early childhood development.
On Twitter (I'll never call it X, I refuse), Royal Editor Rebecca English mentioned that today's engagement was the first in series in the run up to Christmas "that will focus on children and families as part of her Shaping Us campaign, to give every child the best start in life through positive interactions with family, carers and the communities around them.
The portage session was a tangible extension of the work the Princess has been championing for years, particularly through The Royal Foundation Centre for Early Childhood.
The centre, which Kate officially launched in June 2021, aims to elevate public awareness about the impact of early childhood experiences, in order to transform society for the future.
Let's move on to discuss Kate's outfit now.
Kate's outfit today:
As I mentioned in the opener of this post, Kate's returned to her tried and tested "blazer-and-trouser" combo for today's engagement at the Children's centre. She gave the look a fresh twist with a pair of pointed flats and a chic up-do: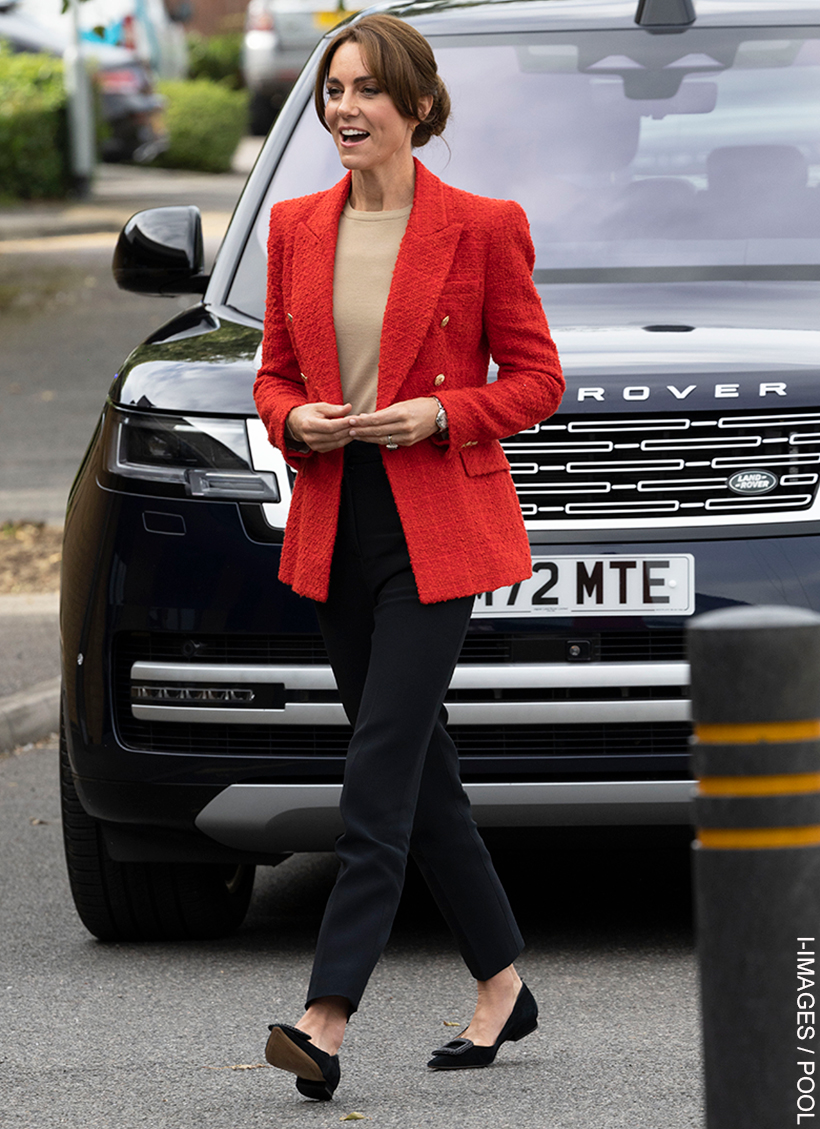 The red blazer is by Zara. It's the brand's Textured Double-Breasted Blazer. It features long-sleeves and a double-breasted closure.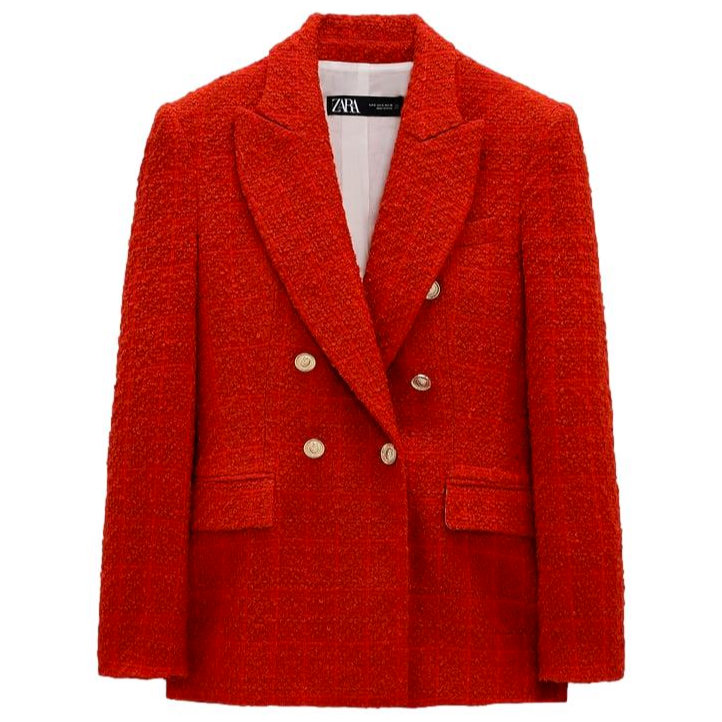 It has a lapel collar, pronounced shoulders and front flap pockets. The textured fabric is described as a 'cotton mix'. A very subtle tonal check runs through the red blazer.
Kate's worn the red blazer on three other public occasions, to deliver her best wishes to the Red Roses England rugby team ahead of a game (below, 2022), during a visit to Copenhagen, Denmark (2022) and to watch the Euro2020 England v Germany football match at Wembley (2021).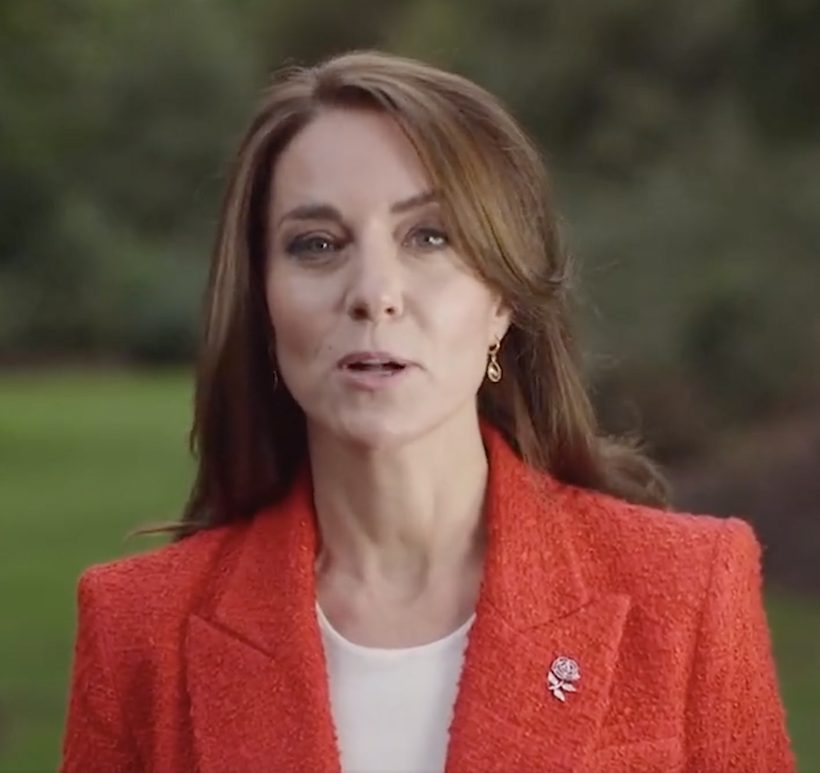 Kate's got quite the penchant for Zara blazers, she has quite a few in her closet now. Including this same design in green: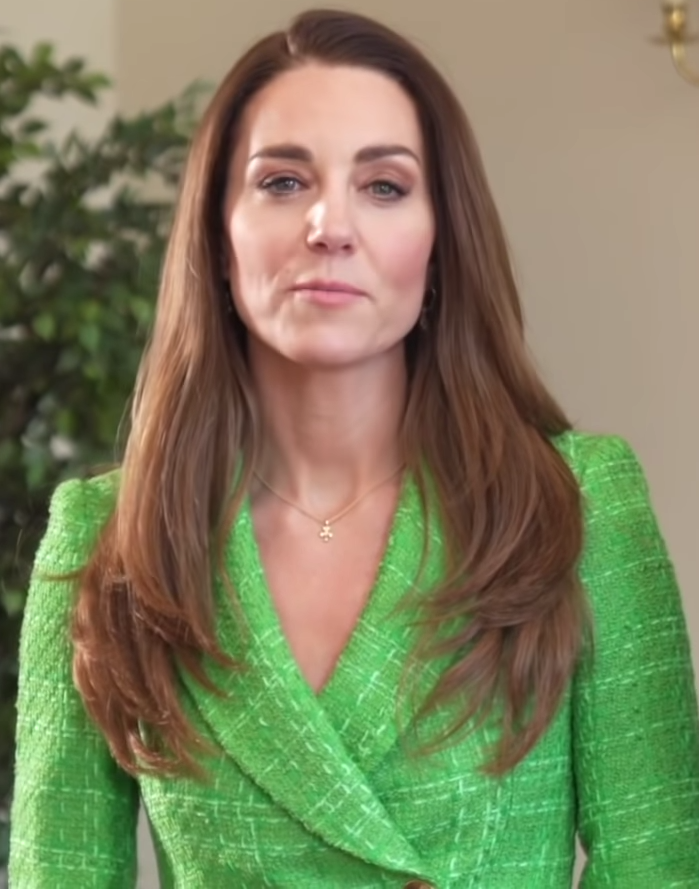 Kate is quite loyal to Zara, she's worn a lot from the Spanish brand during her time in the royal family.
Known for its quick turnaround on the latest trends, Zara has a knack for delivering luxury vibes at a fraction of the price. It's the go-to spot for those who want to keep their wardrobe current without breaking the bank.
The Princess wore a beige sweater under her red Zara blazer, unfortunately, I cannot tell you anything about the piece. I thought it was the Boden cashmere sweater she wore in Cumbria last year, but after further inspection, I can confirm the necklines don't match up.
A look at the slightly ribbed neckline and ribbed cuff detailing:
I found this this sweater at Boden, which is very similar though not an exact match the piece Kate's wearing today. But it's a good option if you're looking for something similar to wear under your own red blazer.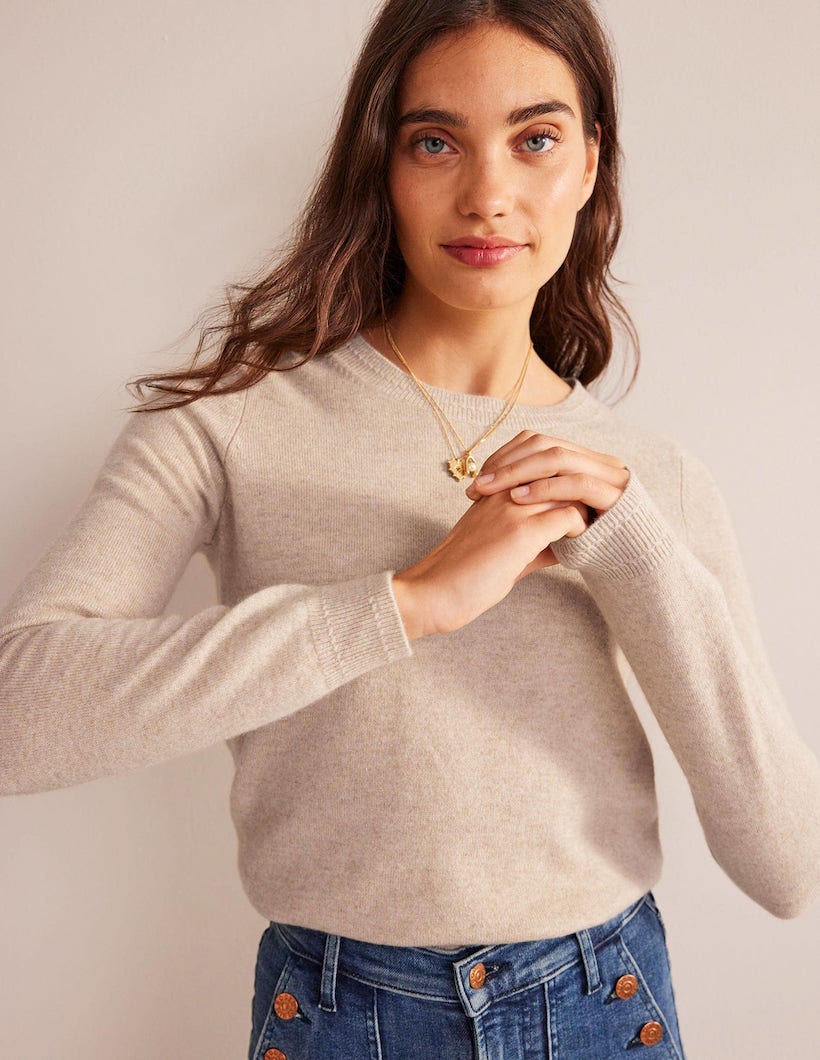 Again, I cannot tell you anything about Kate's trousers unfortunately. The black ankle-length trousers are pressed with a crease at the front.
Let's move on to Kate's earrings now. They're from Welsh brand Spells of Love. The Princess wears the Medium Twist Hoop in gold.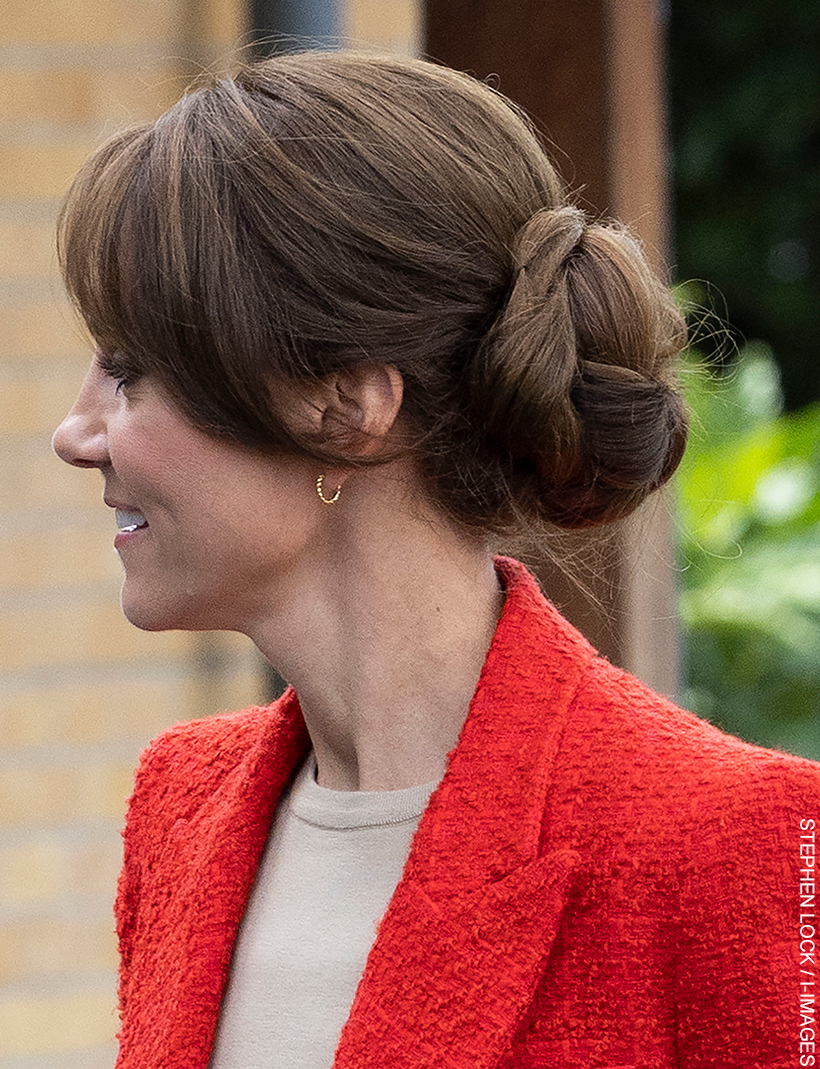 The gold hoop earrings are a modern and elegant. Made with a twisted design, they're crafted from recycled gold vermeil, which covers a sterling silver base. This ensures the earrings are not only beautiful, but also high-quality and durable. (Vermeil is often regarded as a good process for long-lasting wear).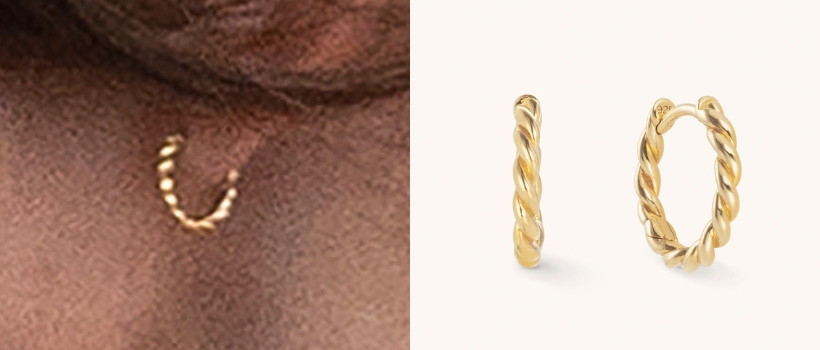 Fancy snagging a pair for yourself? You're in luck. They're available for pre-order at spellsoflove.co.uk. Get them for £60. Note: the earrings are handmade, so could take up to 12 weeks to ship.
Kate's worn the earrings on a handful of occasions since their debut on St David's Day last year. She also owns three other pieces from the company, including a gorgeous double stranded gold necklace, a pair of angular hoops and a pair of garnet earring drops.
Spells of Love aim to be as eco-friendly as possible, responsively sourcing and manufacturing their jewellery, plus delivering items in 100% plastic free and biodegradable packaging. As I've written in recent posts, it looks like Kate buys all of her jewellery from conscious brands these days.
Spells of Love is an independent, small-batch jewellery brand located in the heart of Wales. Designer Hayley Jones founded the relatively young company in 2016. The jeweller creates sustainable demi-fine jewellery with a contemporary, feminine bohemian aesthetic. Shop Spells of Love.
Let's finish up by looking at Kate's Boden pointed ballet flats.

The black pointed flats are decorated with a statement square buckle' which led to their easy identification. They're crafted from responsibly sourced suede and leather.
For those wanting to buy the flats, it's bad news I'm afraid. They're completely sold out. Boden do still carry the shoe in tomato red though. It's in their sale but only limited sizes remain available, unfortunately.
RepliKate! Looking for a similar shoe? Try the Iris from Boden. The stylish leather pointed ballet flat features an equestrian-inspired snaffle trim: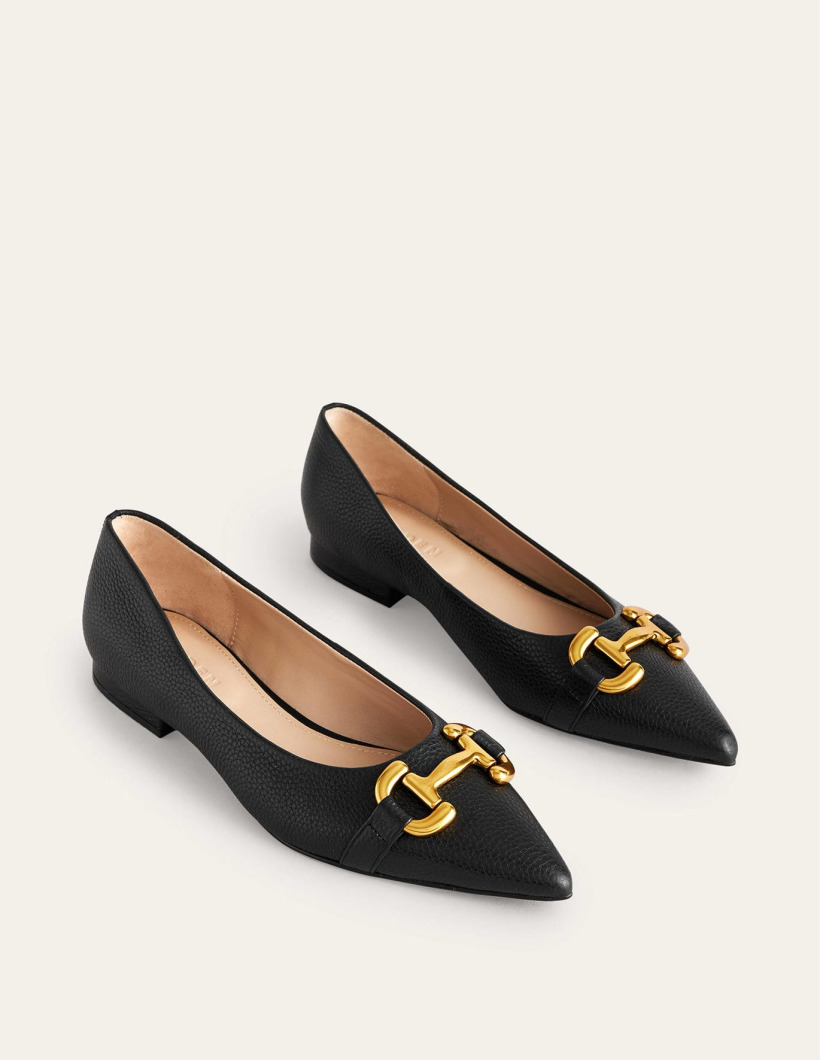 Ideal if you're looking for the perfect flat work shoe to wear with your trouser-blazer outfit.
Kate's no stranger to Boden. We know the Princess owns at least seven items from the British brand, including a scalloped sweater in pink, a cardigan in frosted blue and a maxi dress in green.
Boden strikes the perfect balance between timeless and trendy, making it a favourite for those looking to elevate their everyday wear. Classic cuts meet vibrant patterns, and the quality is something you can always rely on. No wonder it's garnered a following among royalty, fashion insiders and style-savvy parents alike. Shop Boden.
Also published today: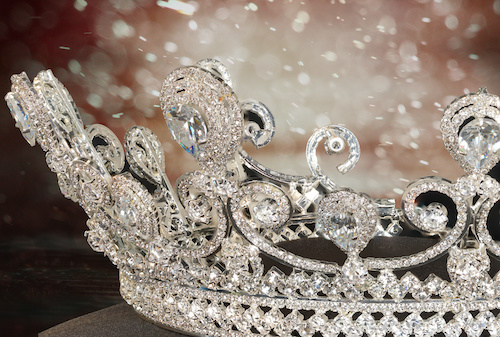 Will Kate dazzle us with a tiara moment this autumn?
It's looking likely! Click the button to speculate with me and see pictures of Kate wearing pretty tiaras:
CLICK TO SEE