Kate Middleton visited two tonic textile mills in the north of England on Tuesday.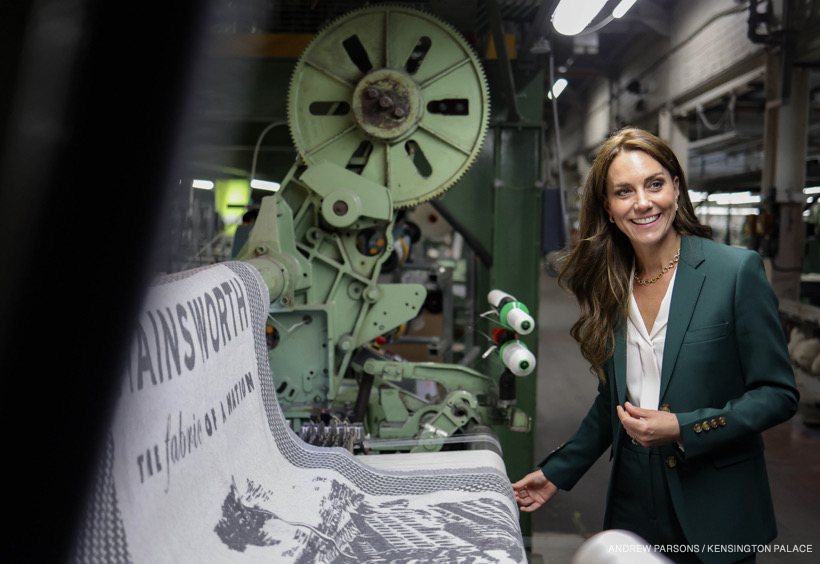 The Princess of Wales chose a green suit from British luxury fashion house Burberry for the visit, as she journeyed from Leeds to Lancaster. This is the seventh trouser suit/tailored look she's worn this month.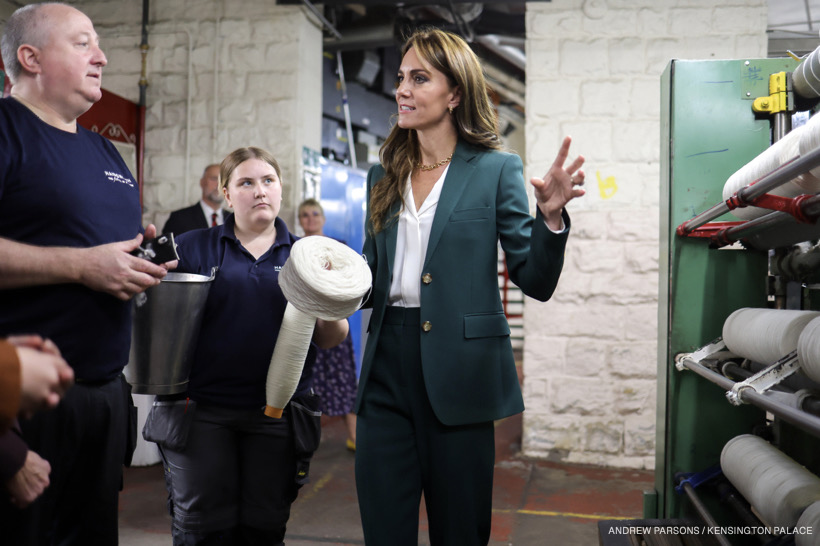 Kate started her textile tour at AW Hainsworth near Leeds, the world's leading manufacturer and supplier of ceremonial military fabric, high-performing technical textiles and British woollen cloth.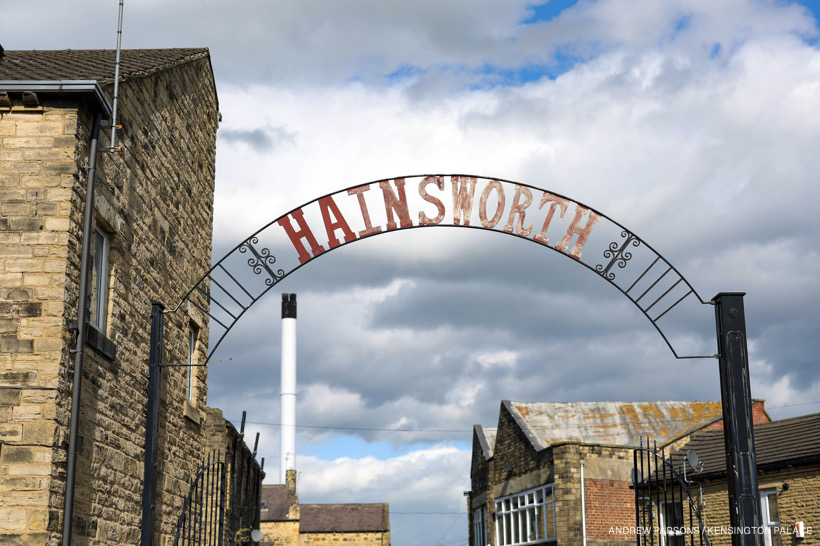 The Princess wanted to explore the heritage, history and innovation of the textile manufacturing industry, and how vital the sector is to the UK economy.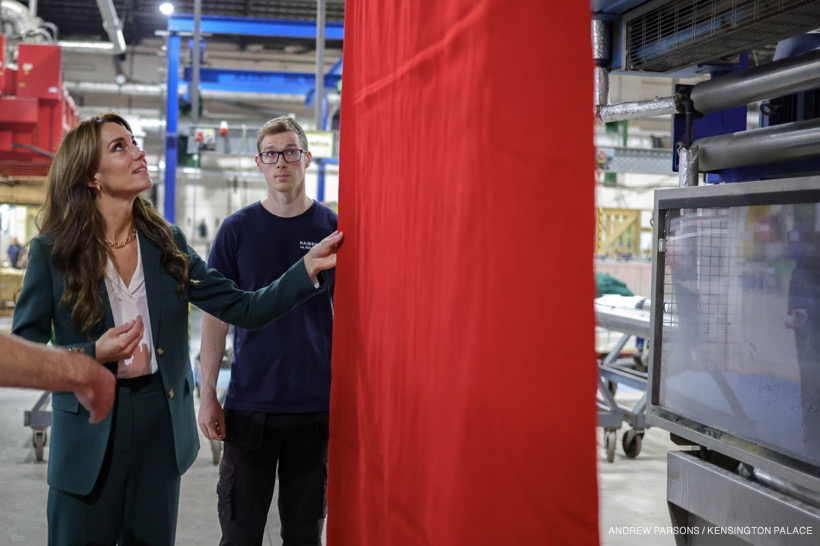 AW Hainsworth is a family-owned heritage textile mill, established in 1783. Today, they hold a royal warrant.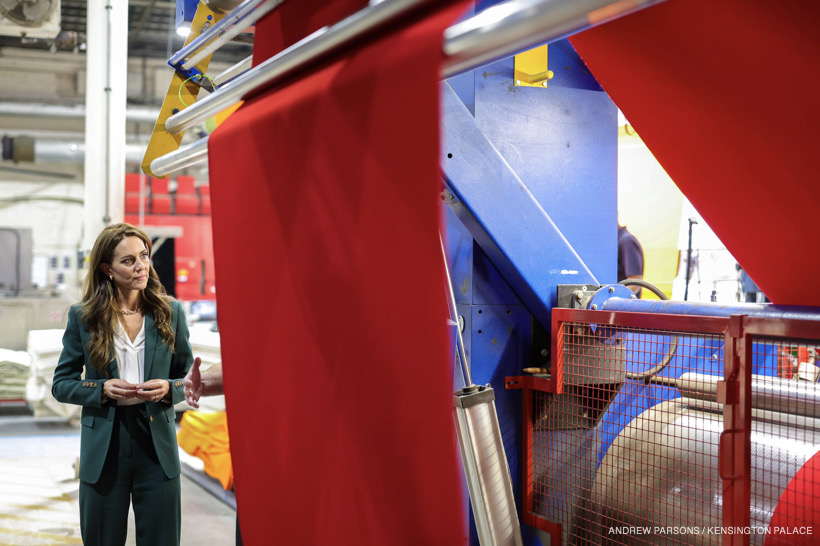 The mill's fabrics were used for both the coronation of the late Queen Elizabeth in 1953, and the coronation of King Charles earlier this year.
Here's Kate looking at 'Oliver', the mill's resident mannequin, sporting a guardsman uniform.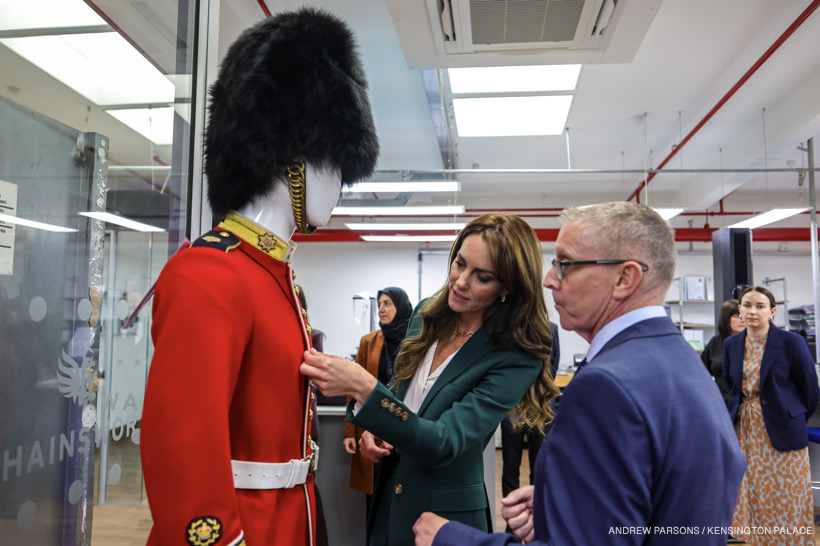 The Princess has her own special connection to the manufacturer too. Her great-great-grandfather sold his business, William Lupton & Co., to AW Hainsworth back in 1958.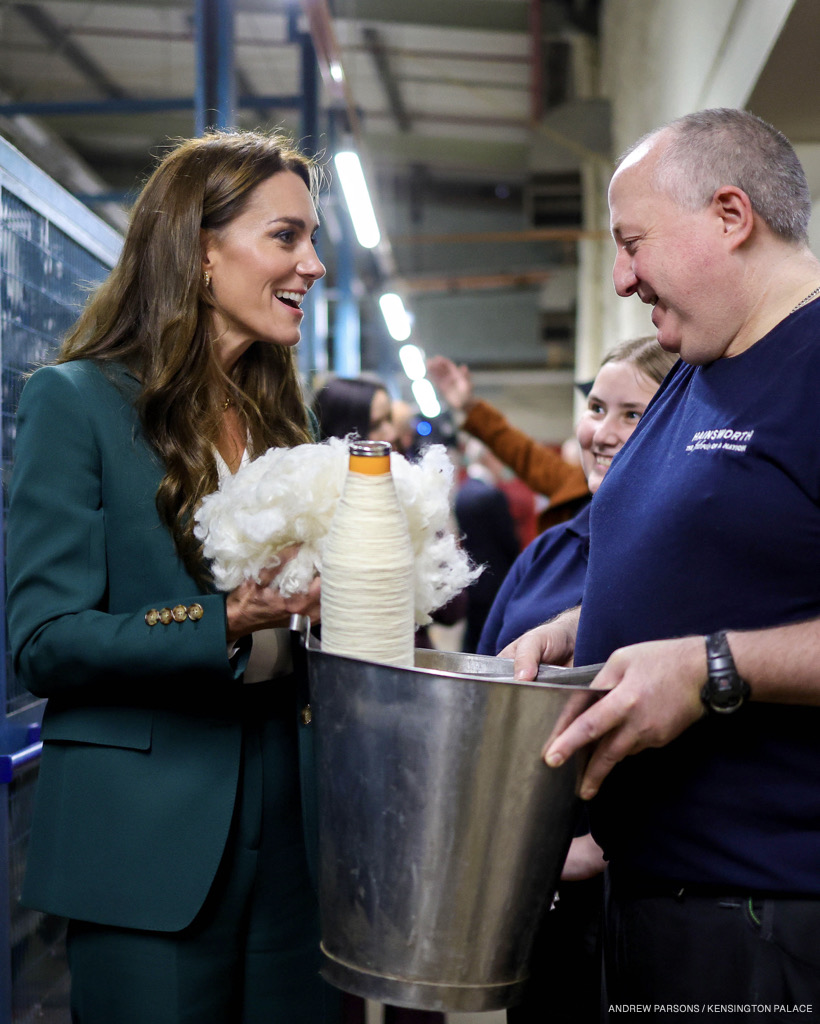 Kate toured the factory and learned about the manufacturing process of different textiles—from yarn to fabric—as the traditional looms clinked away in the background.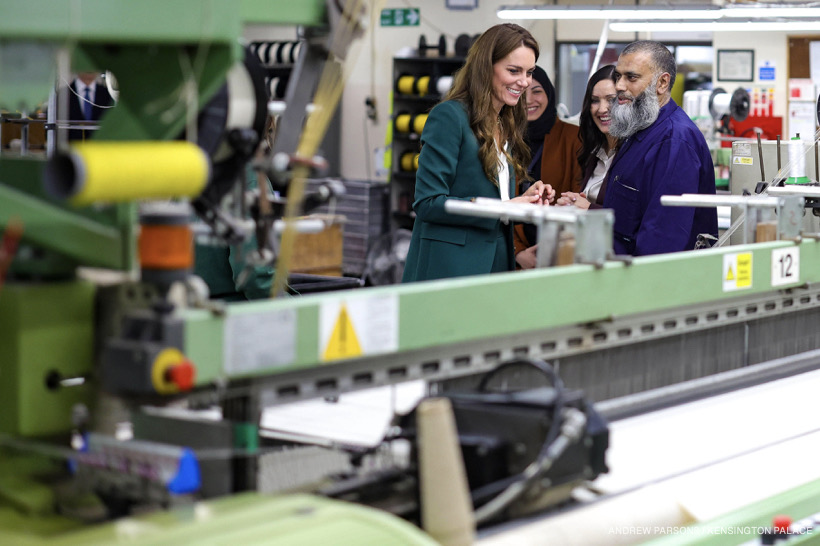 She met the mill's apprentices and their mentors who are passing down generations of specialist skills. She looked deeply engaged in conversation with staff as she walked around the premises, learning about the various processes—from weaving to how fine merino wool thread is made.
Kate also watched fabric being dyed, and saw one of her own maternity dresses on display (below). The dress, by Madderson London, was crafted from fabric manufactured by AW Hainsworth. It's now permanently on display at the factory.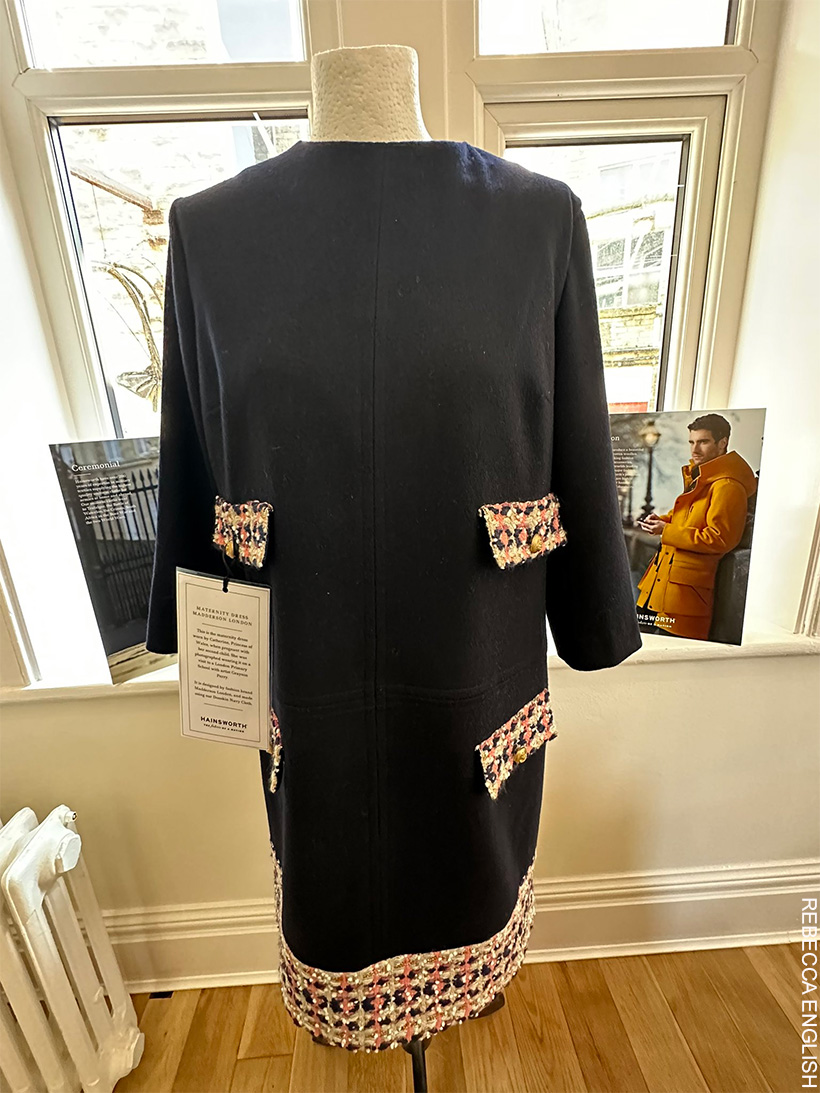 The Princess wore the dress while pregnant with Princess Charlotte in 2015. Kate had worn the garment to open The Clore Art Room at Barlby School in London. Here's a reminder:
Before leaving the Leeds mill, Kate took a peek in their state-of-the-art lab used for cutting-edge innovation and product development.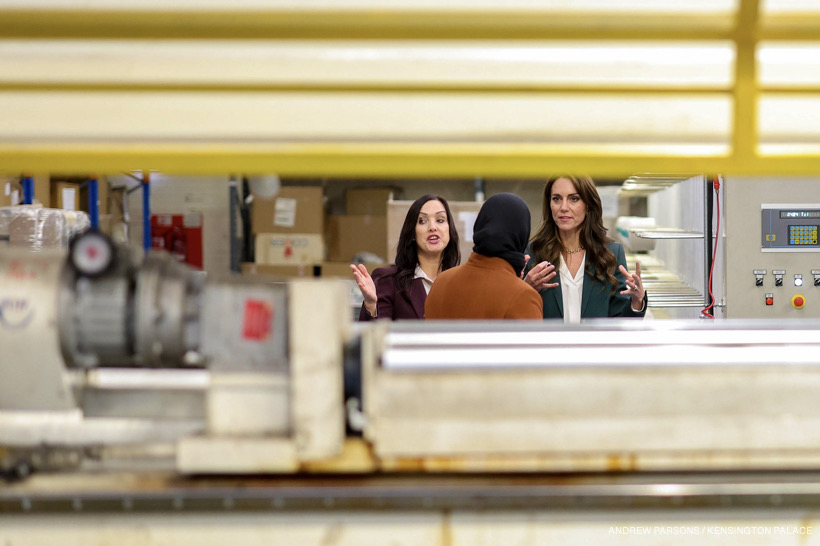 In the lab, Kate spoke with with Professor Stephen Russell, the Founding Director of Fashion Fashion Factory, an industry-led collaborative R&D programme that harnesses academic and business expertise to design and deliver innovation in fashion and textiles. The Princess heard more about the importance of innovation in the textile industry as it looks to the future.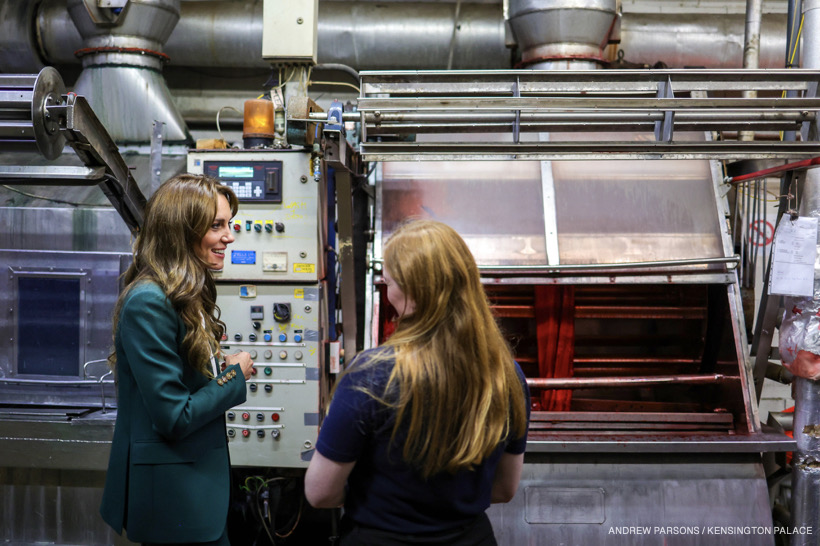 Following her visit to Leeds, the Princess headed to Lancaster to visit Standfast & Barracks, a printworks dating back to 1924 which is now part of the Sanderson Design Group. The company is renowned for its impressive heritage in textile design and creativity.
The textile giant has earned its stripes in innovation, offering both traditional and cutting-edge digital printing methods. Kate delved into the history of the company, even getting a close look at some archived artefacts.
She also met the founders of House of Hackney, Frieda Gormley and Javvy M Royle, who are collaborating with Standfast & Barracks on a trailblazing sustainability project. The aim? To produce end-to-end regeneratively farmed materials, a move that ticks all the right boxes for both people and the planet.
The Princess got firsthand insight into this promising initiative and also learned about apprenticeship programs designed to cultivate the next generation of textile talent.
Tying it all together was a tour of the printworks, where Kate observed both traditional and modern printing processes. These methods have their own merits but share a commitment to sustainability, with digital printing slashing water usage by a staggering 80 litres per meter of fabric.
Now let's move on to talk about Kate's outfit.
Kate's outfit:
The Princess re-wore her vibrant green Burberry suit to visit the two textile mills. The eye-catching colour might have been a subtle nod to sustainability—a topic discussed during both visits.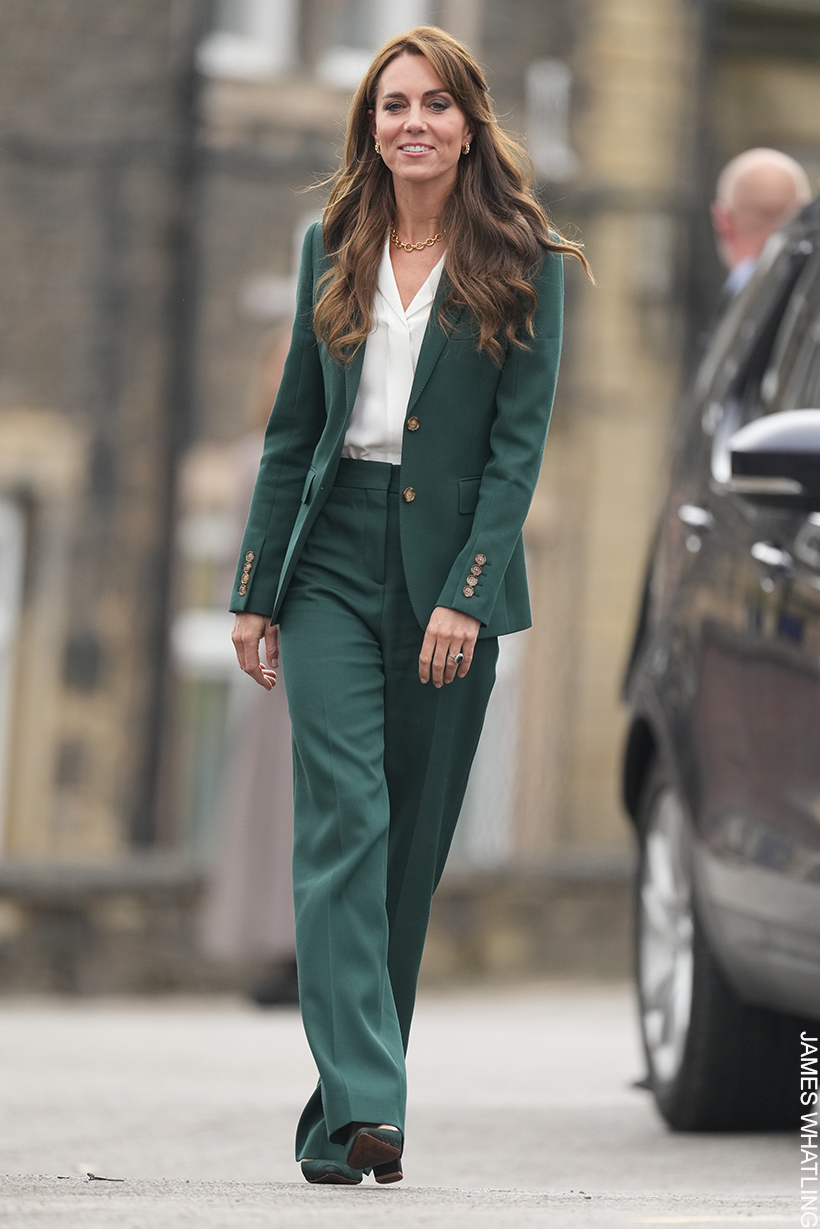 You might recall that the Princess first wore the ensemble in March this year, to greet the visiting Norwegian royals at Windsor Castle.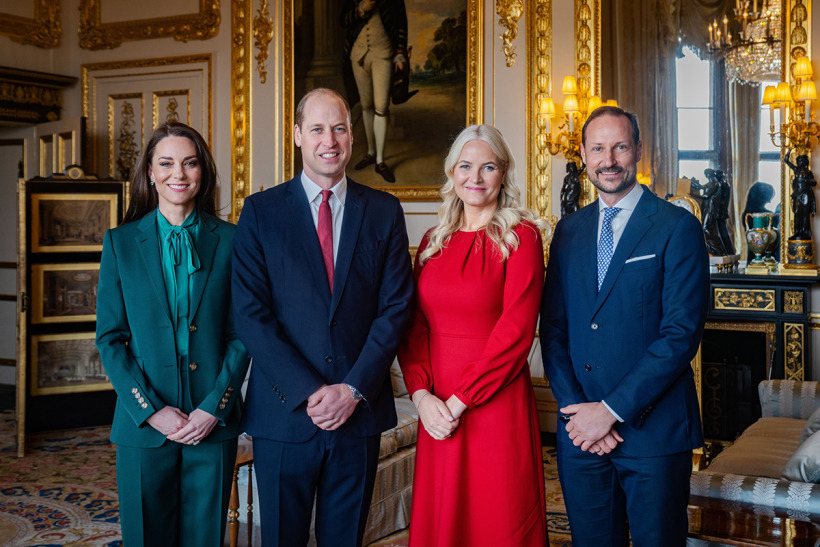 The suit jacket features notched lapels, single-breasted two button closure on the front, long sleeves with buttoned cuffs, a chest welt pocket, two side flap pockets and a straight hem. The buttoned cuffs are on the outside of the sleeve, which is pretty distinctive.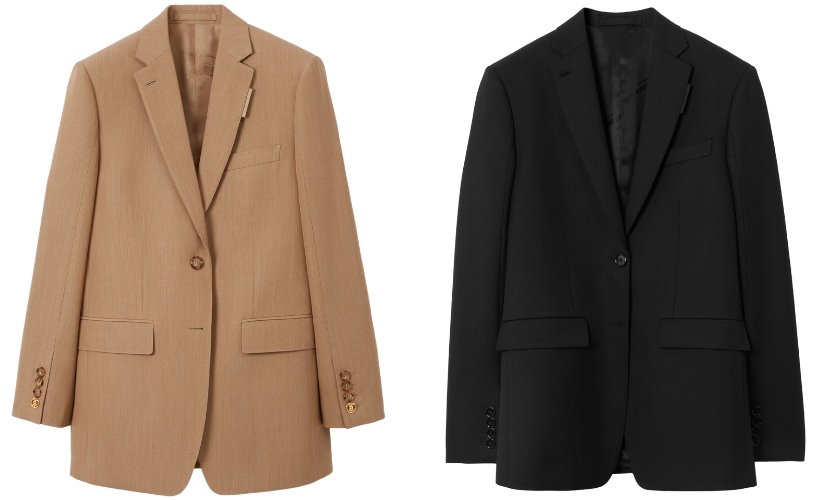 The matching trousers feature a front crease and an extra long hem.
At the time of writing, Burberry do not sell the tailored wool-blend blazer and wide-leg trouser suit in the green colour worn by Kate. However, you can purchase in other hues, including dark grey, camel and black.
The off-the-rack jacket RRP is from about £1,550 depending on colour, fabric, etc.
Burberry was an apt choice for the Princess—the brand is a British institution and felt like a fitting choice for visiting English textile mills. (However, it's understood that the textile manufacturers did not supply Burberry with the fabric, which would have been a nice link!)
Kate's not worn a lot of Burberry during her time in spotlight. It's not a brand we really associate with the Princess. In addition to her suit, she's worn Burberry on handful of occasions. She debuted a beige trench in 2011 on a royal engagement in Belfast shortly before her marriage. She wore a Burberry shirt during the Canada tour in 2011 (below), a black coat in Norway in 2018, a green tartan dress in Boston last year and a green blouse worn under her green suit a few months back.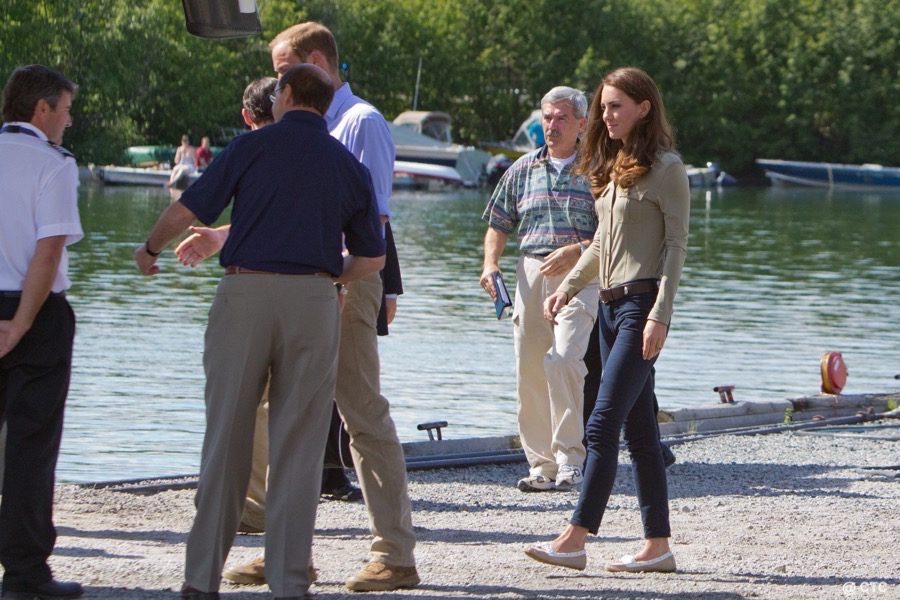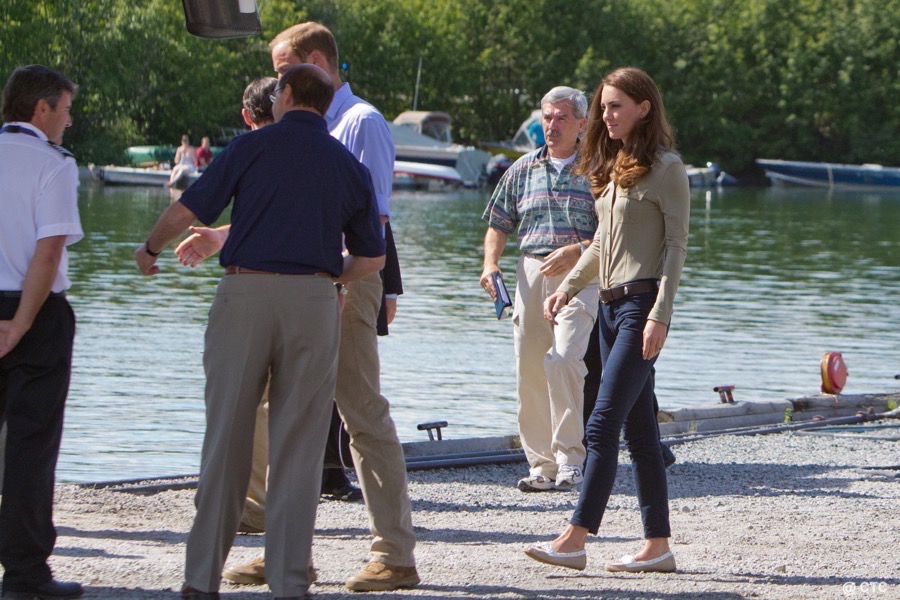 This appearance also marked the seventh time Kate has rocked a suit or tailored blazer and trouser combo since her return from summer hiatus. To put that into context, she's only carried out nine engagements since her return to work in early September—which means she's worn a suit/tailoring to a whopping 66.66% of public appearances since then!
Clearly, tailoring is becoming something of a go-to look for the Princess, and why not? It's the epitome of power dressing for her new chapter as the Princess of Wales.
While tailoring is bold and empowering, I think this is also a strategic move on her/her stylist's part. The different colours and styles are enough to distinguish between her public appearances, but they aren't interesting enough to draw focus and overshadow the people and places she visits. I believe the Princess is wearing suits on repeat to get the media to write about her work, rather than her wardrobe.
Underneath the suit, it looks like Kate's wearing a white blouse with concealed button closure. I'm also wondering if it's safety pinned where the v-neckline ends? I can see the fabrid looks a bit pinched. Or perhaps that's just the design?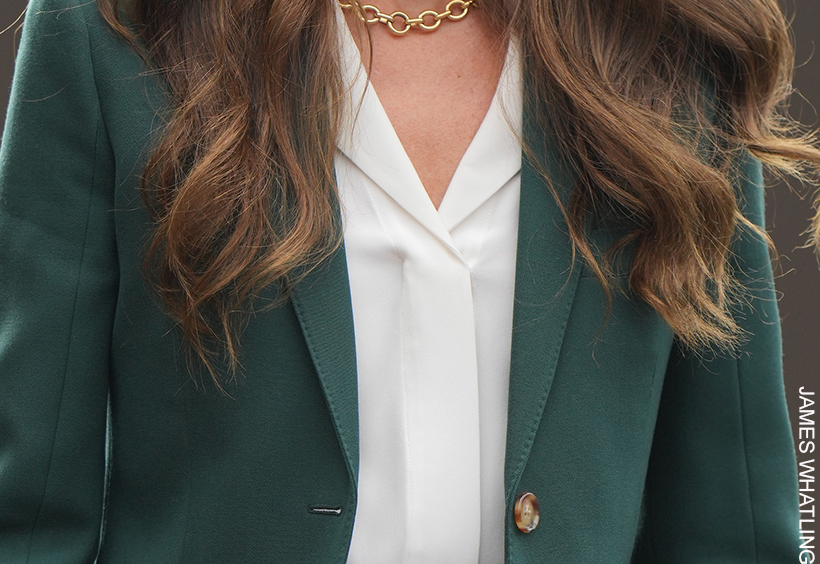 There's not much I can tell you about the piece, unfortunately. I do not know who made it. I did notice it has quite a distinctive, wide placket though.
Kate accessorised with gold jewellery. She wore her chunky gold chain necklace by Laura Lombardi.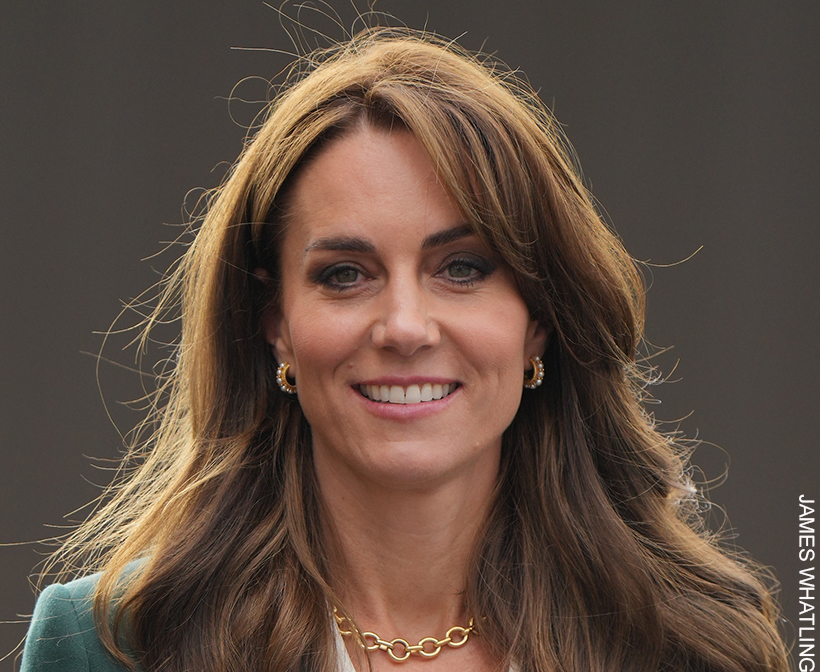 It's the 'Portrait' style crafted from 14kt gold-plated brass and features interlocking round and oval links.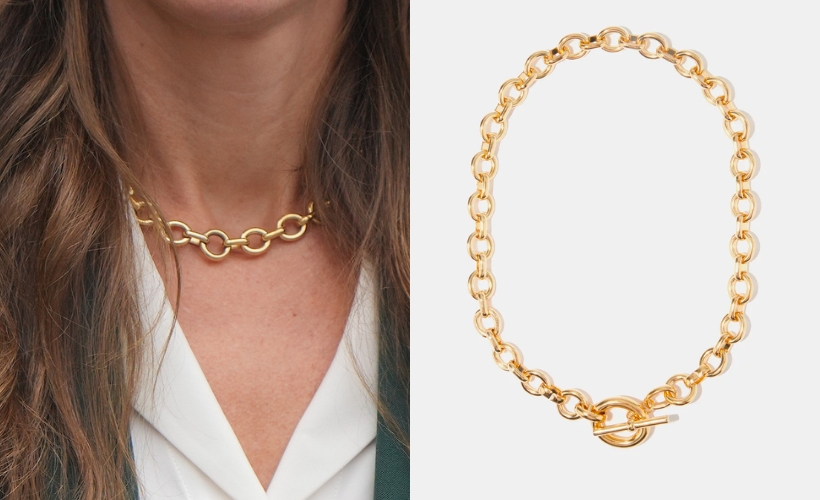 We first saw the Princess wear the gold chain during a visit to the USA last year, during the Earthshot campaign.
Want to buy the necklace? You're in luck. Find it at Matches Fashion (£158 / $158) and Net-A-Porter (£185 / $205).
We know the Princess owns at least one other Laura Lombardi piece, the designer's 'Luisa' chain with heart-shaped pendant.
Laura Lombardi is an eco-friendly brand—Kate tends to buy all of her jewellery from conscious companies these days. The New York-based designer sources materials responsibly, uses recycled brass and vintage dead stock materials. All plating is done in a zero-waste closed filtration system. The brand is built upon the principle of sustainability and contributes a share of sales to organisations dedicated to marginalised and at-risk communities and individuals.
Speaking of jewellery from conscious companies, Kate debuted a new pair of gold and pearl hoop earrings from Shyla London. They're the Rosalia' style — cleverly identified by Bojana in record time.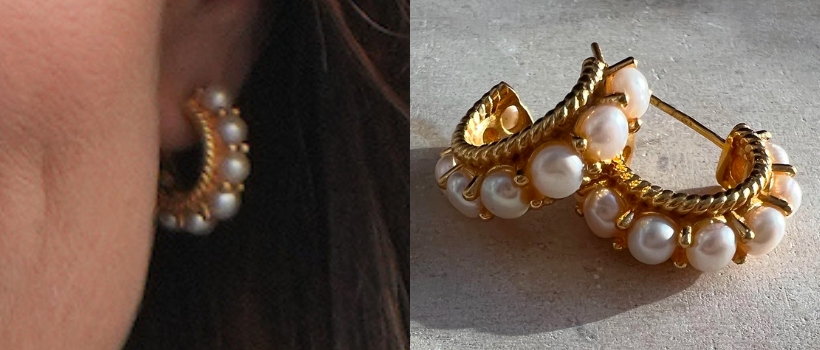 The earrings feature circular freshwater pearls set in 22 carat gold on sterling silver. They cost £68 and can be purchased from the brand's website, shylajewellery.com.
These aren't Kate's first pair of Shyla London earrings the Princess has in her jewellery box. To date, we've spotted the Princess wear another two pairs from the British company. The Biarritz Squiggle hoops and the Chunky Knot Baroque Pearl Drops, both debuted in 2022.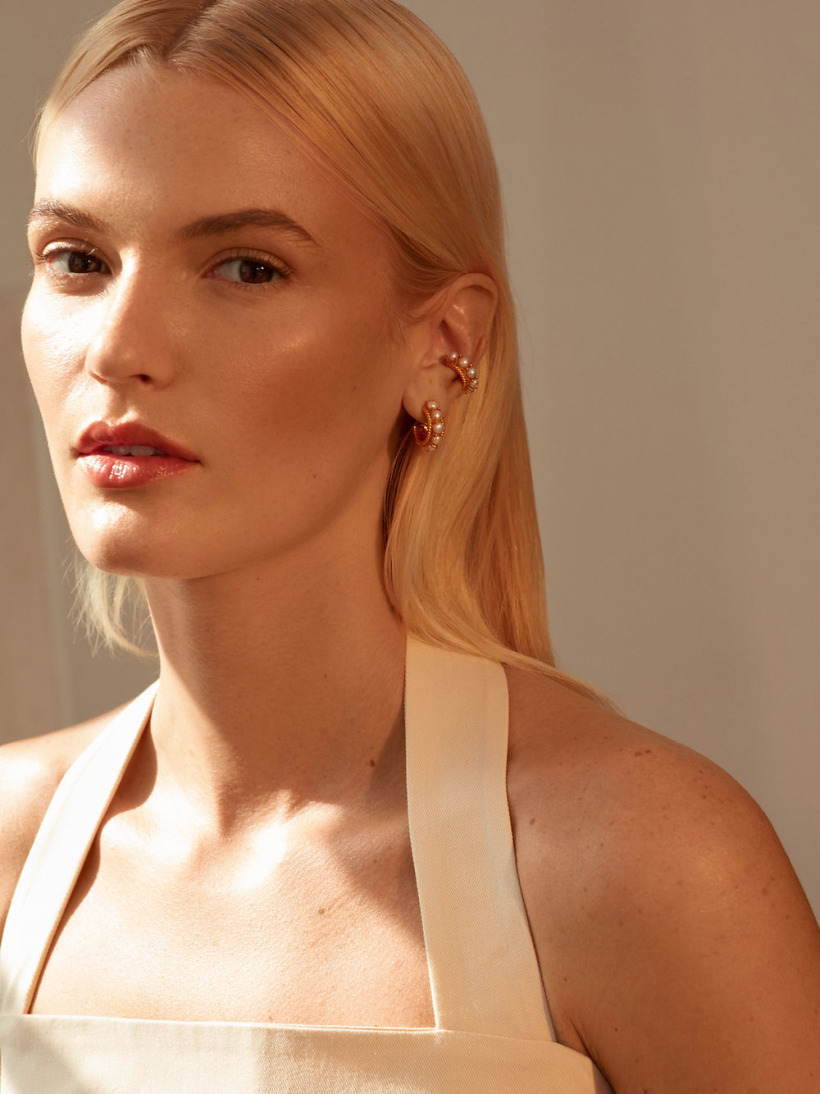 Shyla London offers timeless jewellery designed for today's conscious consumer. Founded by Alice Blofeld in London, the brand champions sustainability through its use of recycled metals and natural stones. But it's more than eco-friendly—it's a brand with a mission. Shyla not only fills the fashion gap for affordable, high-quality jewellery but also actively uplifts women, partnering with charities to educate impoverished women in India.
Let's finish up by looking at Kate's green shoes. They're from Emmy London, the the 'Josie' block heel pumps in the colour way 'greenery.'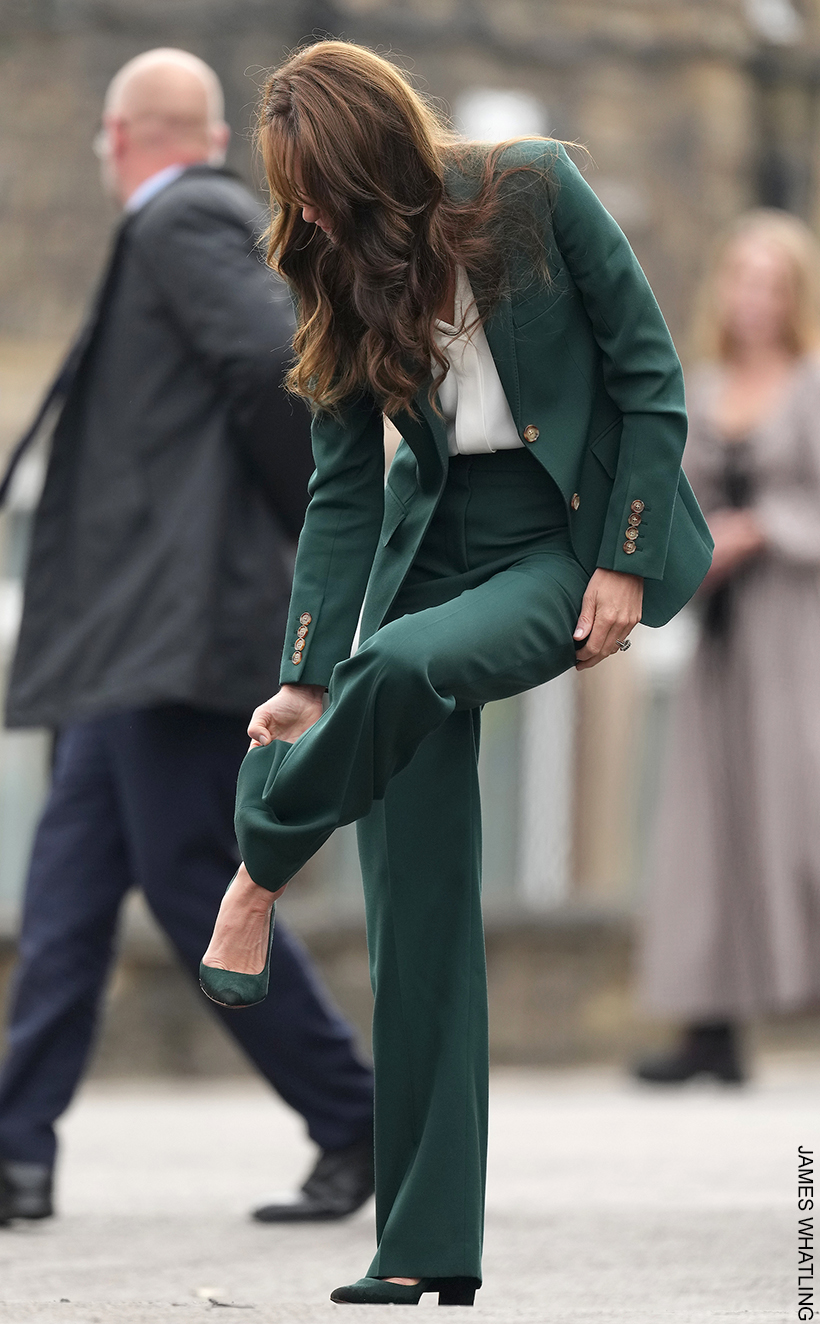 Kate debuted the shoes in 2019, on Christmas Day, for the service at St Mary Magdalene's Church on the Sandringham Estate. This is the second time we've seen the Princess wear them in public.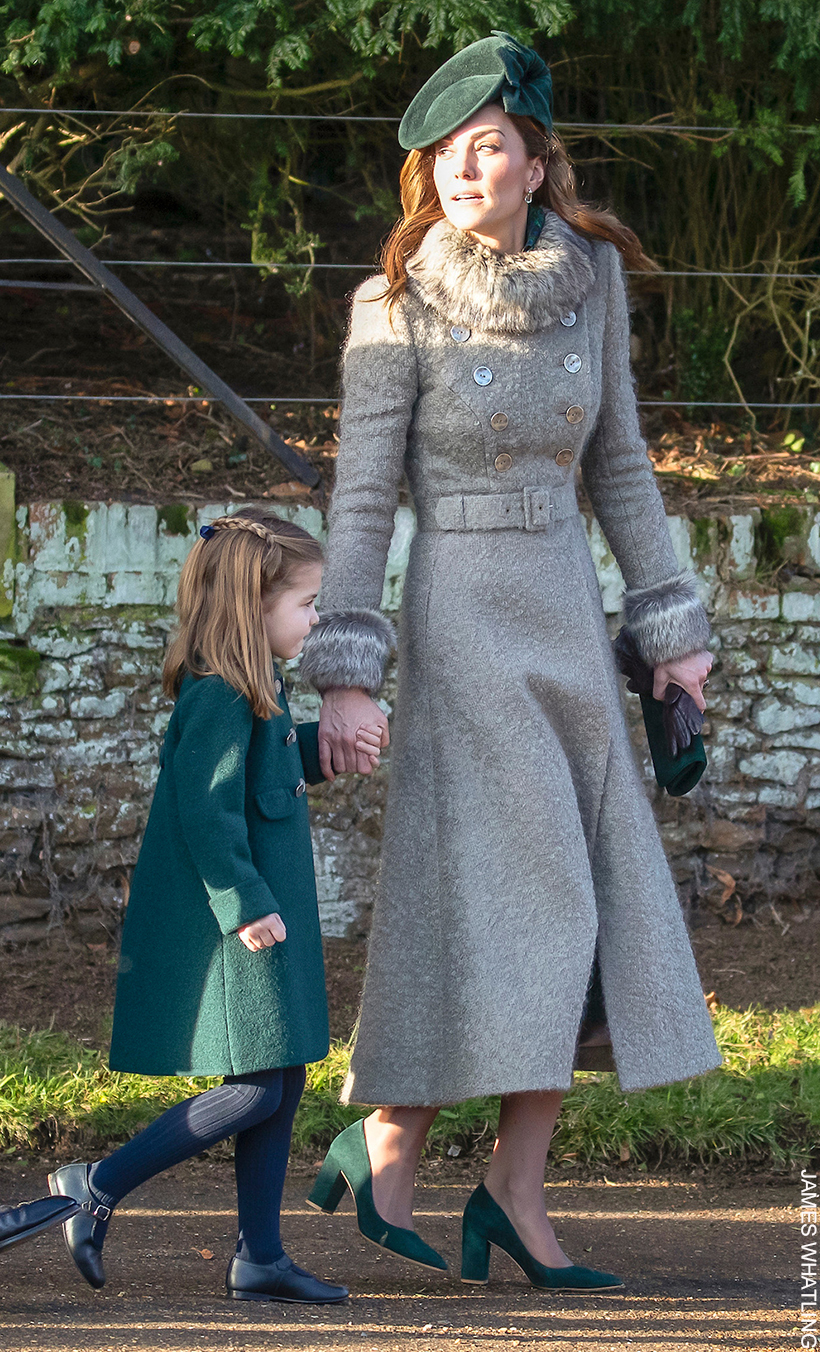 The shoes feature an elegant pointed toe, a 85mm block heel and a luxuriously padded insole. They're handmade in Portugal from 100% leather and suede.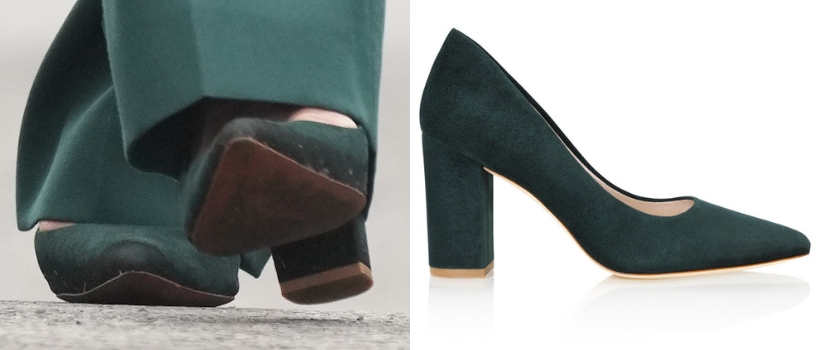 Vogue.com call the Josie "the perfect work shoe for fall" adding that it's "a style you could even commute in".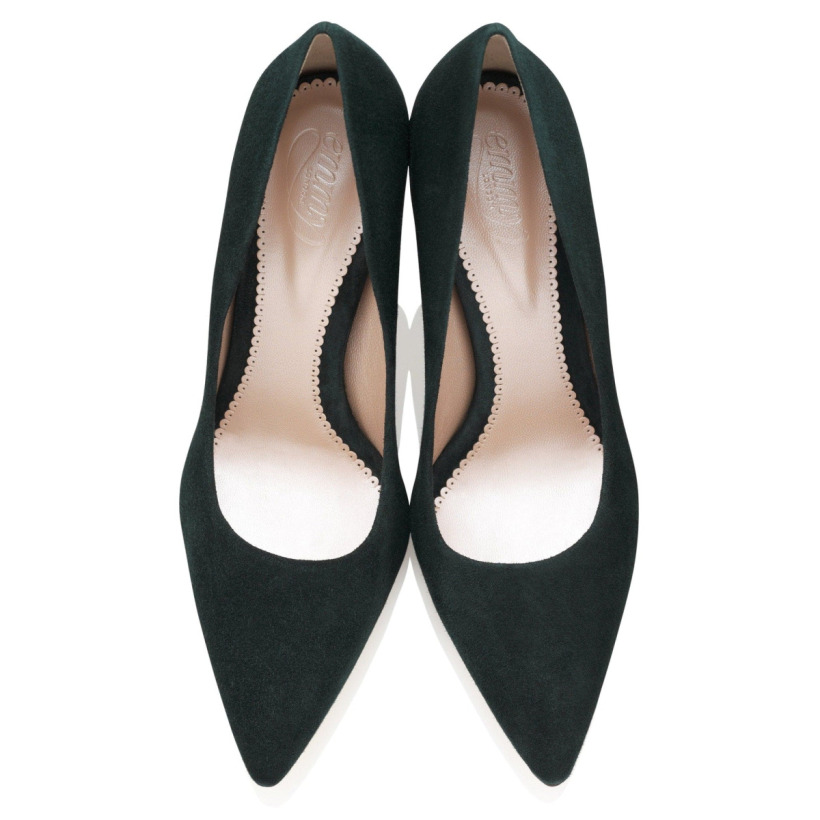 Find the shoes at EmmyLondon.com for £445 – the company do ship internationally but double check the product page description for information about taxes and duties in your location.
Emmy London is one of Kate's go-to heel brands. The Princess owns at least 13 pairs of their heels (that we know of — plus just as many matching clutch bags).
Kate's worn Emmy at many notable occasions throughout the last 12 years, including to present the winner's trophy at Wimbledon, for high profile visits abroad, during the platinum jubilee, to garden parties, Easter services and much more.
Founded by Emmy Scarterfield, Emmy London is the go-to for bridal and occasion shoes. Her brand is synonymous with elegance, showcasing intricate designs that often feature exquisite detailing like crystal embellishments and hand-beaded elements.
Rooted in traditional artisanship but with a modern twist, each Emmy London piece is a work of art that's made to make its wearer feel special, whether they're walking down the aisle or attending a gala.
While the brand started with a focus on bridal, it has successfully expanded to offer a broader range of fashion-forward yet timeless accessories.