Kate Middleton continued her business-chic streak with a pinstripe suit on Thursday.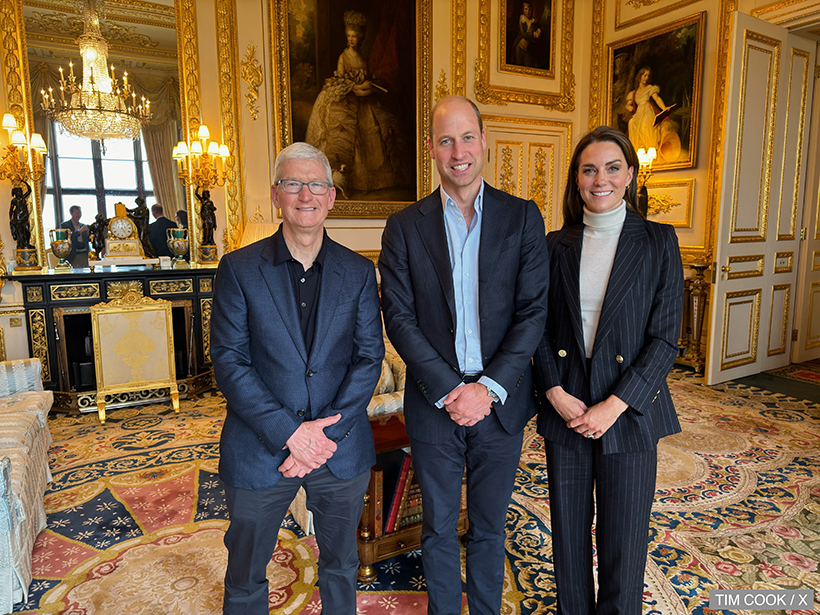 The Princess of Wales chose the trouser suit, by Holland Cooper, and a crean polo neck sweater for a meeting with the CEO of Apple, Tim Cook.
In recent months, Kate's been showcasing a sharper, more professional look by sporting a range of sleek blazers, tailored trousers and two-piece suits.  Her latest ensemble continues the trend.
Tim Cook attended the meeting with both the Prince and Princess of Wales at Windsor Castle.
Kensington Palace confirmed that the three VIPs spoke about the Earthshot Prize Ceremony in Singapore, the environment, mental health and the early years—all passion projects for the two royals.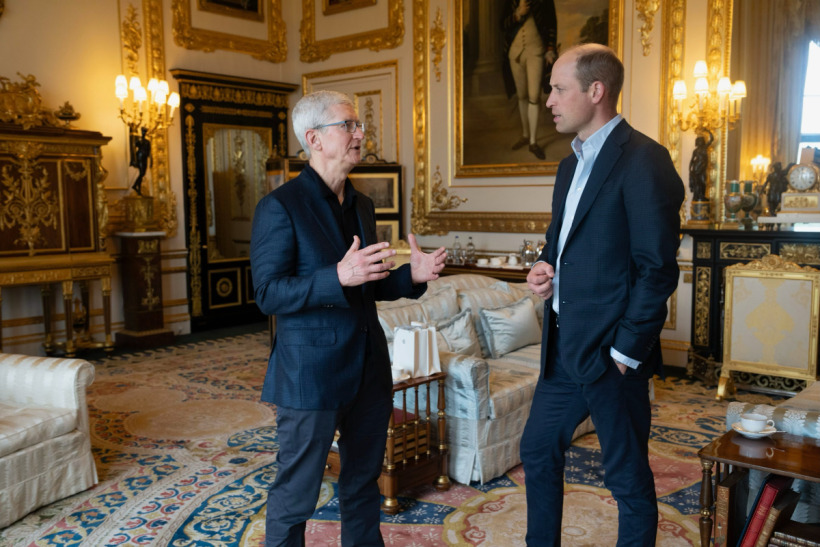 Following the meeting, the Apple CEO shared two photo to his Twitter (X) page with the following message:
It was a true honor to meet with the Prince and Princess of Wales. We had a wonderful and wide-ranging discussion about the environment, mental health, and other issues that mean a great deal to all of us.

Tim Cook / X
Eagle-eyed fans spotted two Apple-branded bags in the background of one of the photos, which look like they contain the company's products. It's plausible these are thoughtful gifts for the Prince and Princess.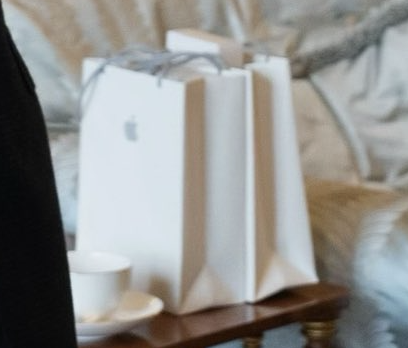 The news of the meeting came shortly after the Palace confirmed Kate won't attend William's Earthshot Award Ceremony this year, as she wants to stay home and support Prince George who has exams in the same week.
The Prince, who is in year six at Lambrook School in Berkshire, visited Eton College with his parents over the summer.  It's thought that the young prince will be sitting his entrance exam to Eton in November.  Although children attend Eton in year 9, the selection process begins in year 6.  A quick online search does show that the exam usually takes place in October/November.  
A shame for us royal fashion fans, but understandable.
Let's look at Kate's pinstripe suit now.
Kate's outfit:
The Princess suited up in a double breasted-blazer and matching high-waisted straight-legged trouser, both in navy with a chalk white pinstripe.   Both pieces are from Holland Cooper.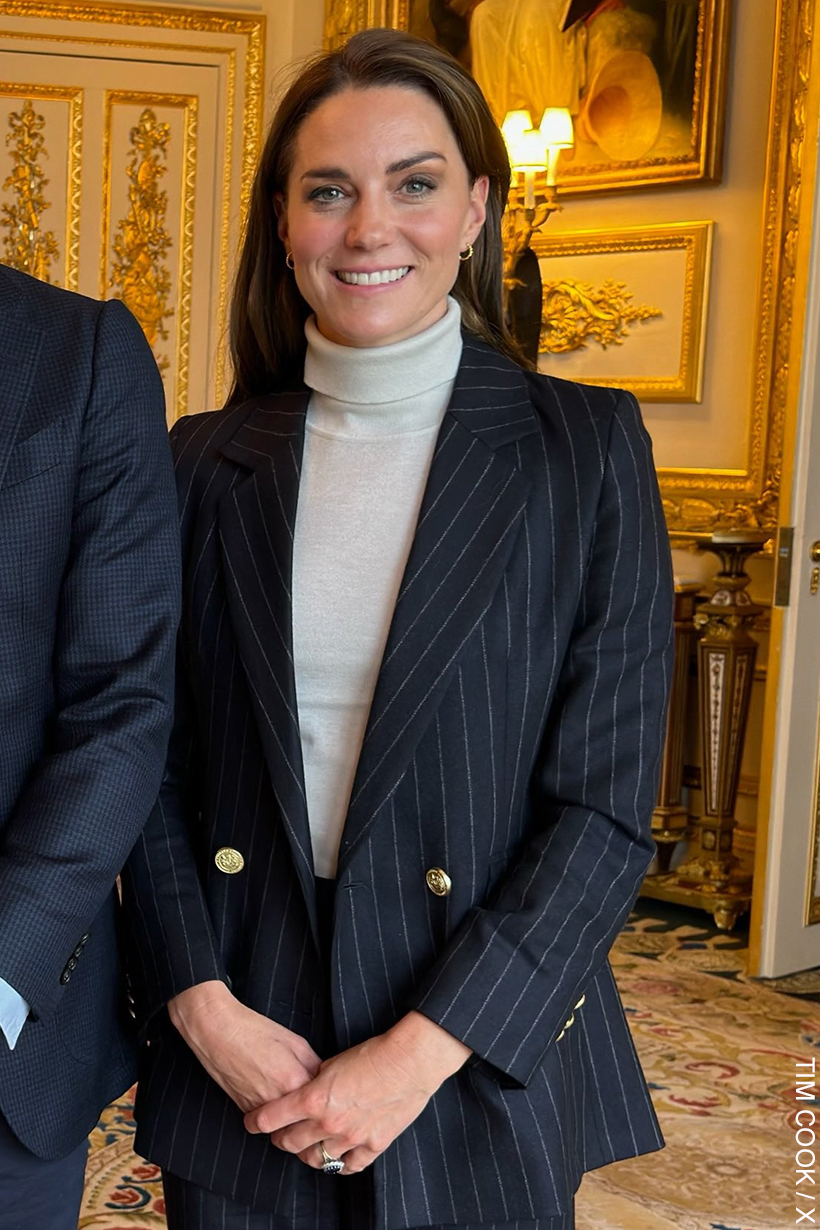 The tailored blazer is crafted in the UK and designed to sculpt a sharp silhouette. It features a classic pinstripe pattern, bold lapels, subtle hip pockets, and is adorned with signature gold hardware by Holland Cooper. It is also fully lined with a luxury stretch lining for added comfort.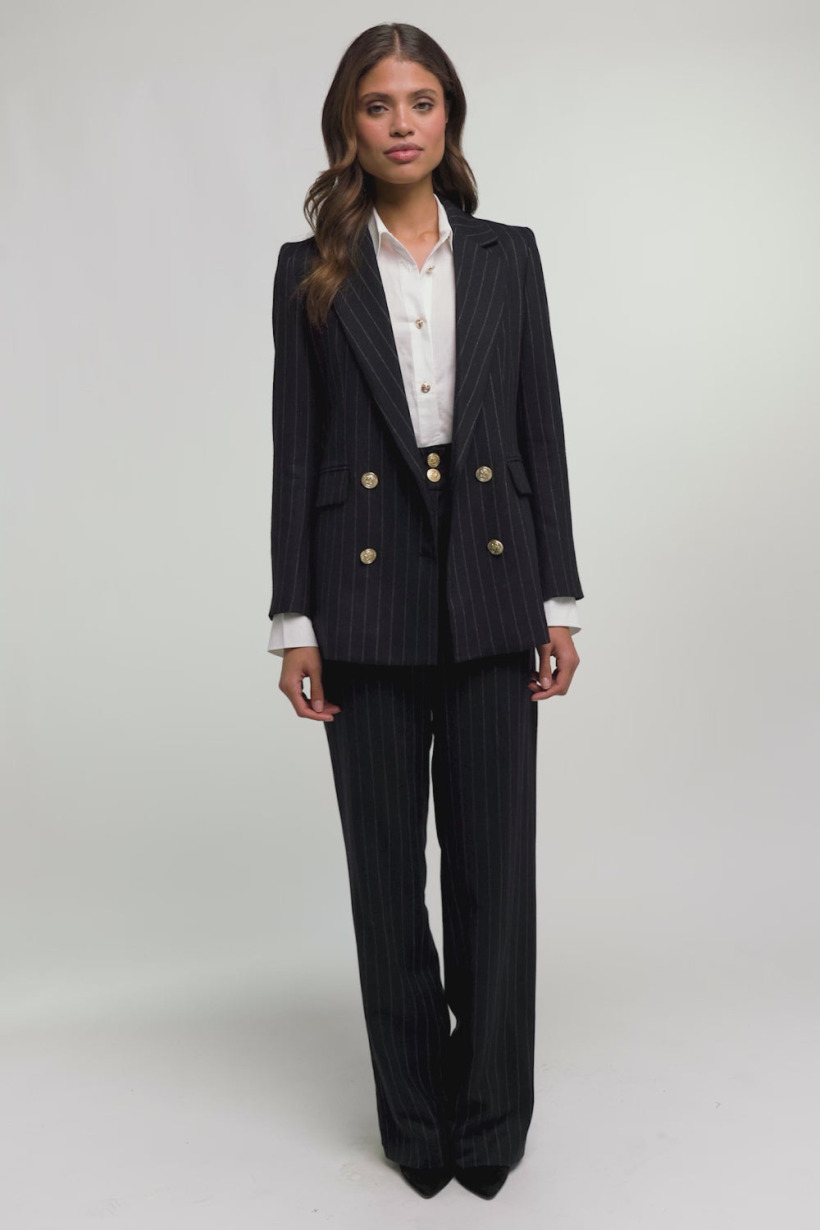 The blazer is still available to buy and costs £549.00. Each piece is custom made to order, so expect a delivery window of 14 to 28 working days.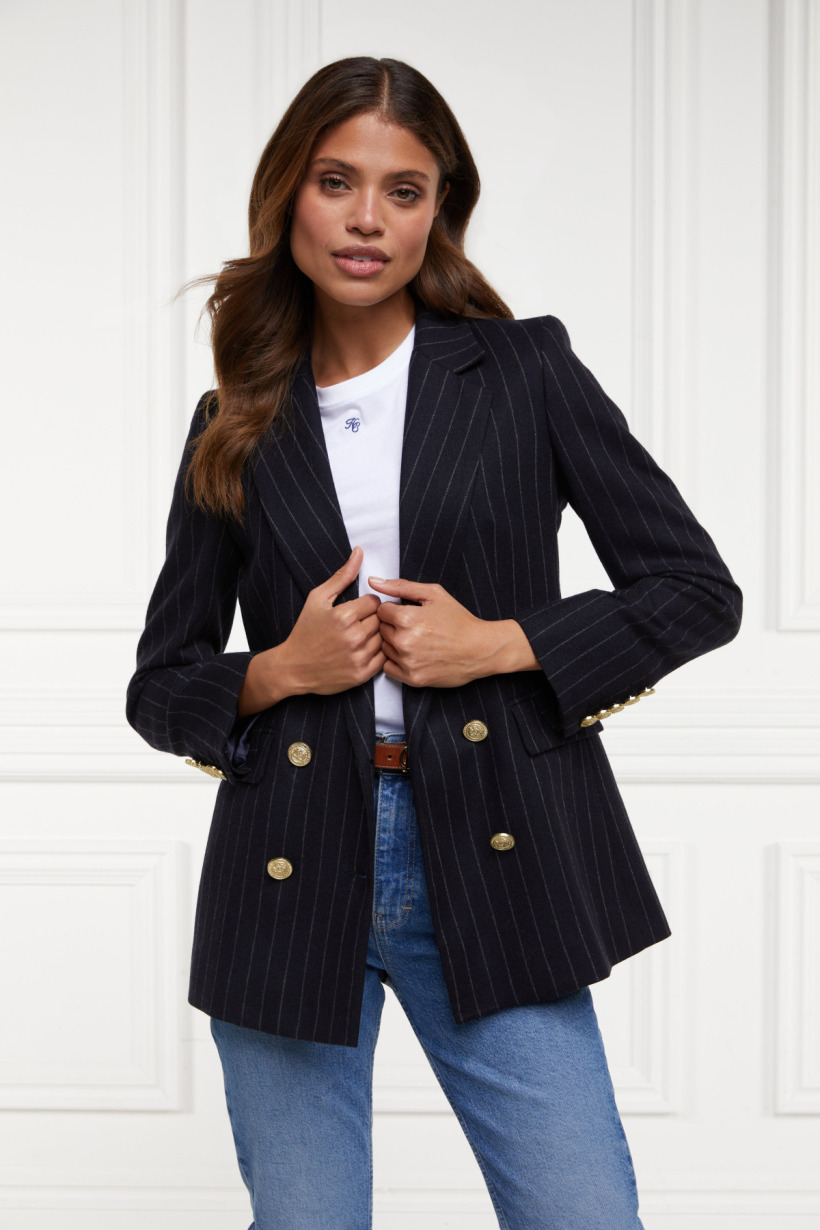 The matching trousers are crafted from a luxurious wool blend. They're UK-made and feature a wide waistband, two large side pockets, and iconic gold hardware detailing. They offer a flattering fit with a straight-leg design and a high-rise waist.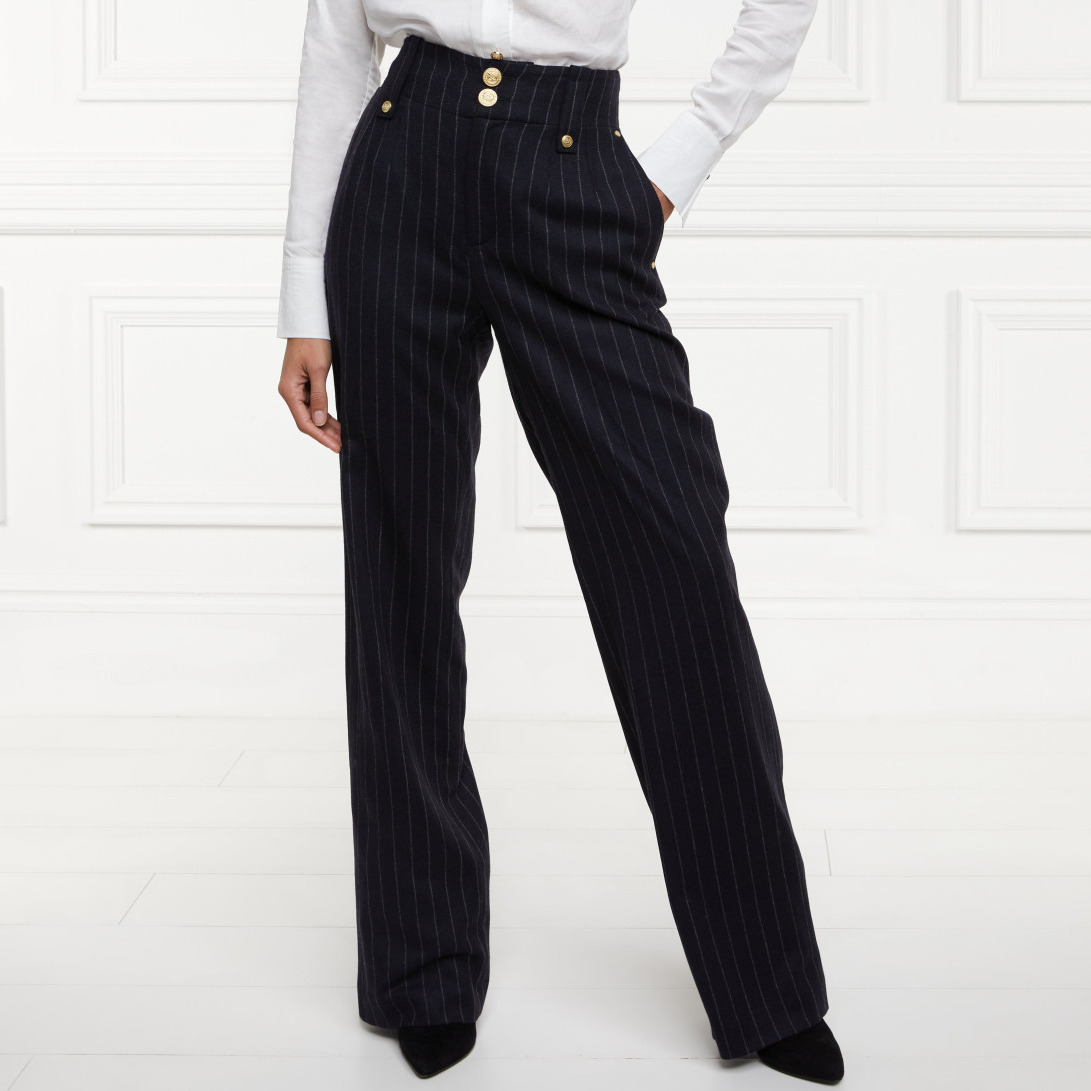 Available for purchase on Holland Cooper's website, they come in sizes 6-16 and are priced at £249.00. Estimated delivery time: 3-5 working days.
Kate wears Holland Cooper fairly regularly. I assume she likes the British brand's classic-meets-contemporary British aesthetic, and that the garments are made here in the UK.
Holland Cooper is a luxury fashion brand known for its contemporary yet timeless pieces with a modern take in British heritage styling. Founded by Jade Holland Cooper in 2008, the brand sells a range of products from outerwear to accessories, for women, men and children.
Unfortunately, I can't identify Kate's roll-neck sweater. It could be another Holland Cooper piece, the buttoned roll neck in cream (RRP £99).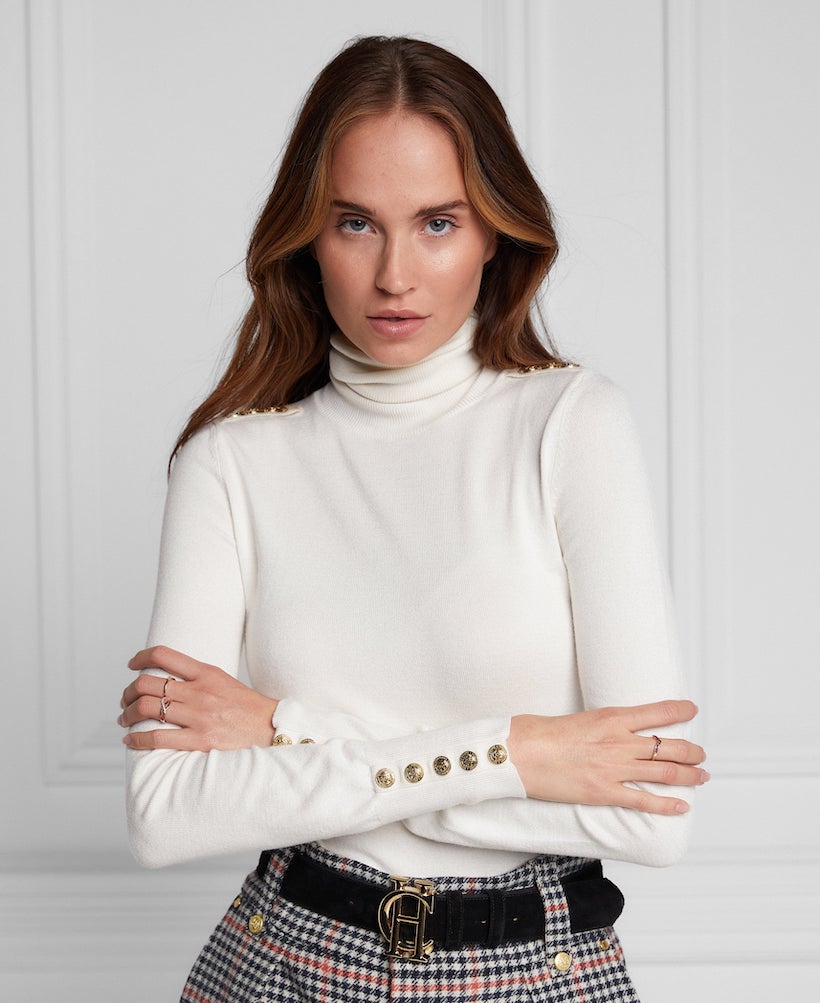 Kate does own a couple of Holland Cooper roll necks, so it's a solid theory.
Finally, Kate finished her smart look with a pair of small hoop gold earrings. They're from Spells Of Love. The Medium Twist Hoops in Gold.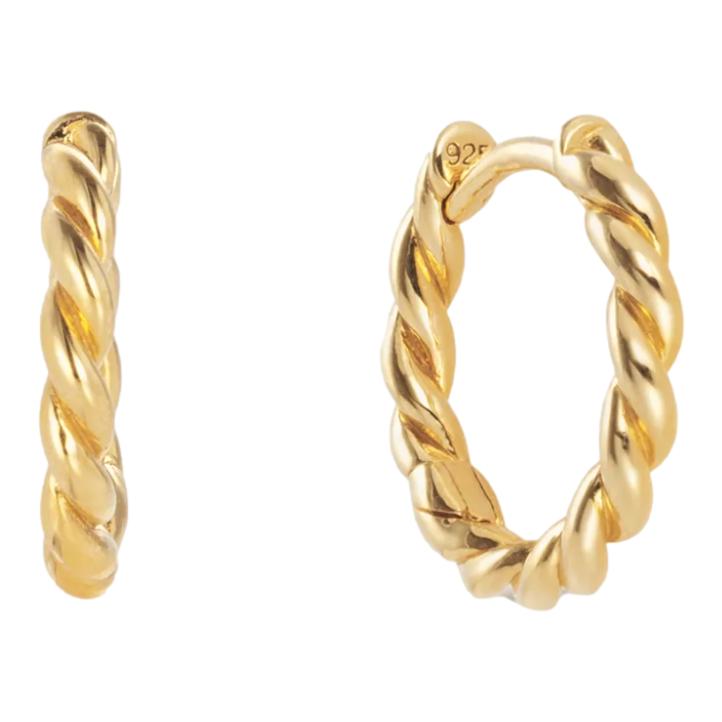 The elegantly crafted earrings are made from gold vermeil over sterling silver and embody a modern twist design.
The earrings, along with other jewellery from this brand, are created from recycled materials and come in eco-friendly packaging—making them not only a fashionable choice but an ethical one too.
The hoops can be purchased from Spells of Love for £60.
Kate owns a few pieces of jewellery from the Welsh brand, including a double strand necklace, a pair of garnet drops and a pair of angular hoops.
Spells of Love is known for its timeless designs and commitment to sustainability.