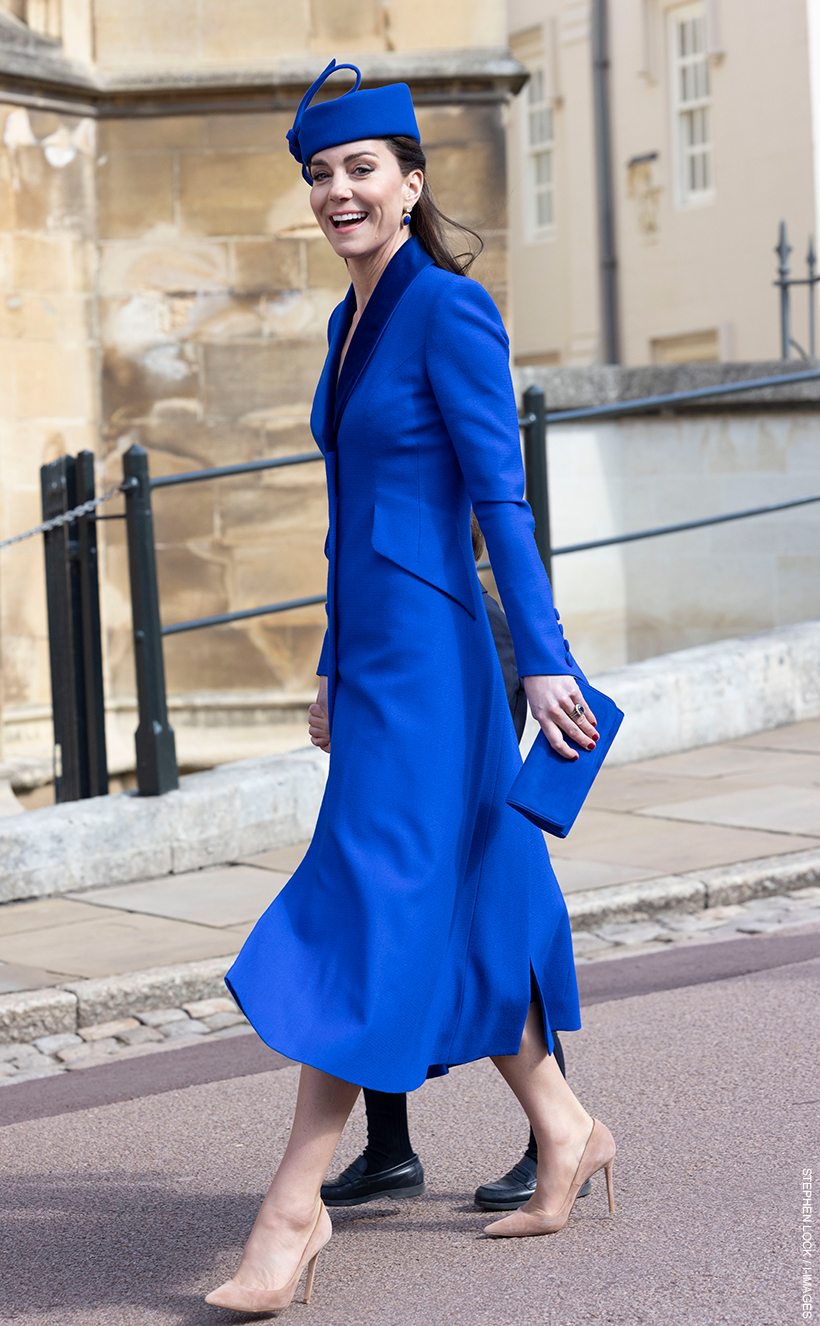 Kate Middleton wore a striking blue coat dress to the 2023 Easter Mattins Service at St George's Chapel on Sunday.
The Princess of Wales looked splendid in the eye-catching garment as she walked to into the chapel in the Windsor Castle grounds. (Full outfit information further down the page ⬇)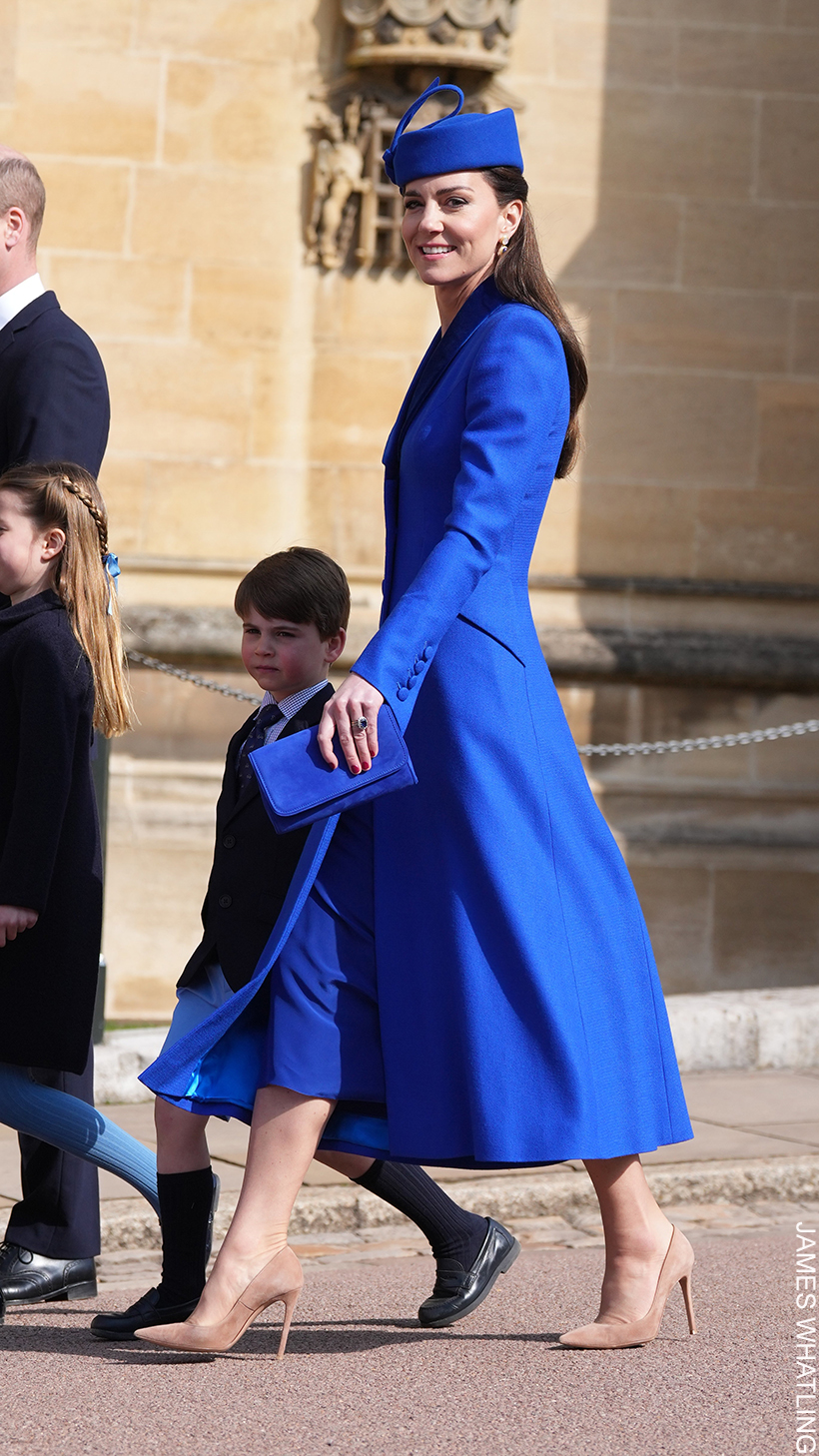 The whole Wales family attended the service—it was the first time for four-year-old Prince Louis.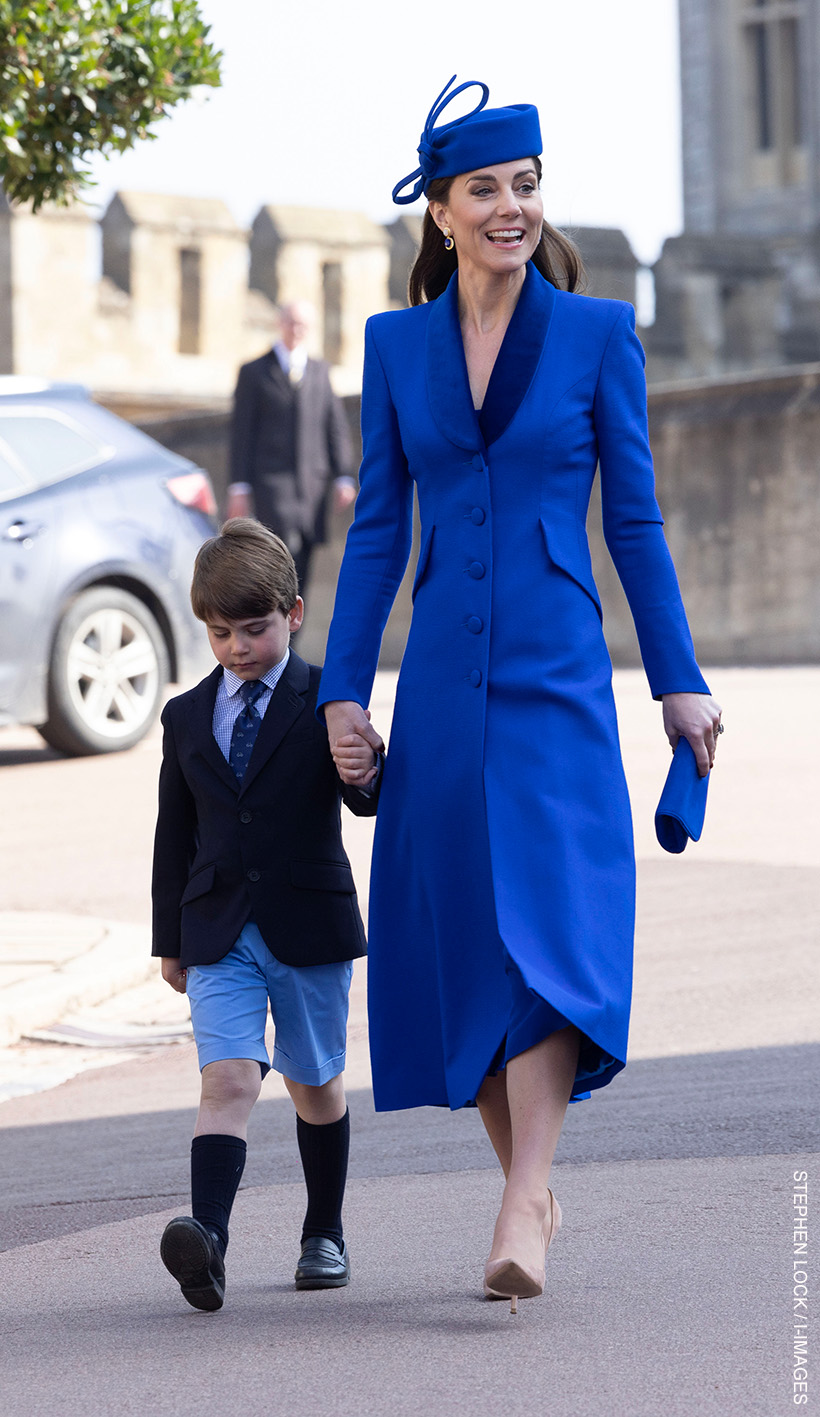 You'll probably remember that George and Charlotte made their debut last year, in 2022 (pictured below).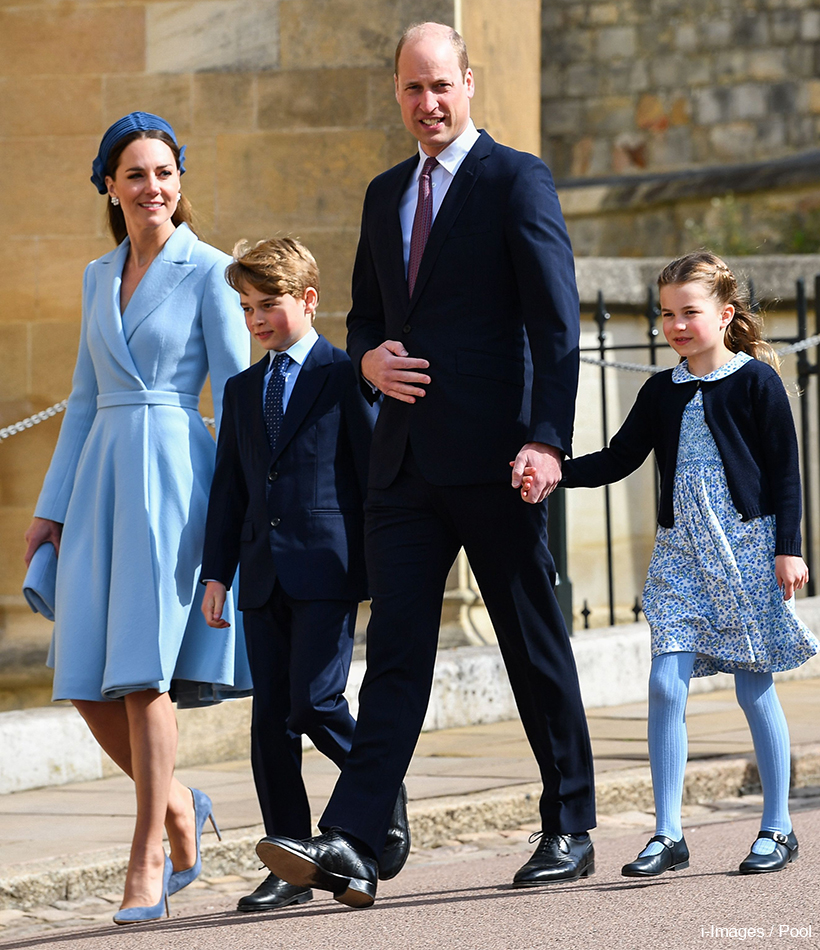 The family chose to colour coordinate in matching blue outfits once again. George looked dapper in his navy suit and Louis looked adorable in his shorts.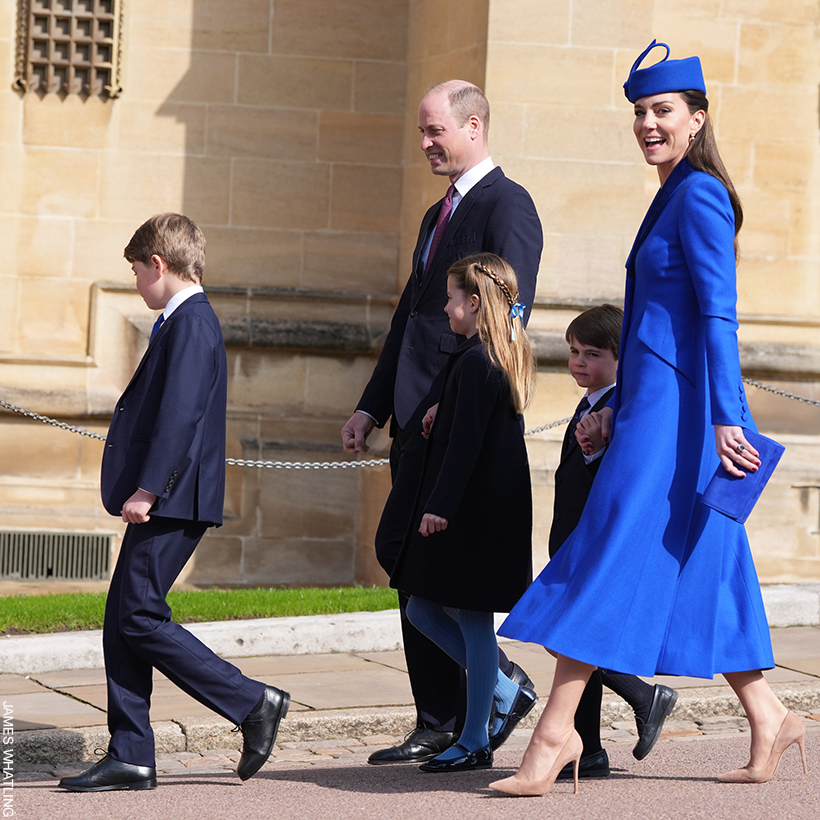 Charlotte looked pristine in her floral dress, thought to be from Rachel Riley, worn under a navy coat. Her hair finished with a matching blue ribbon.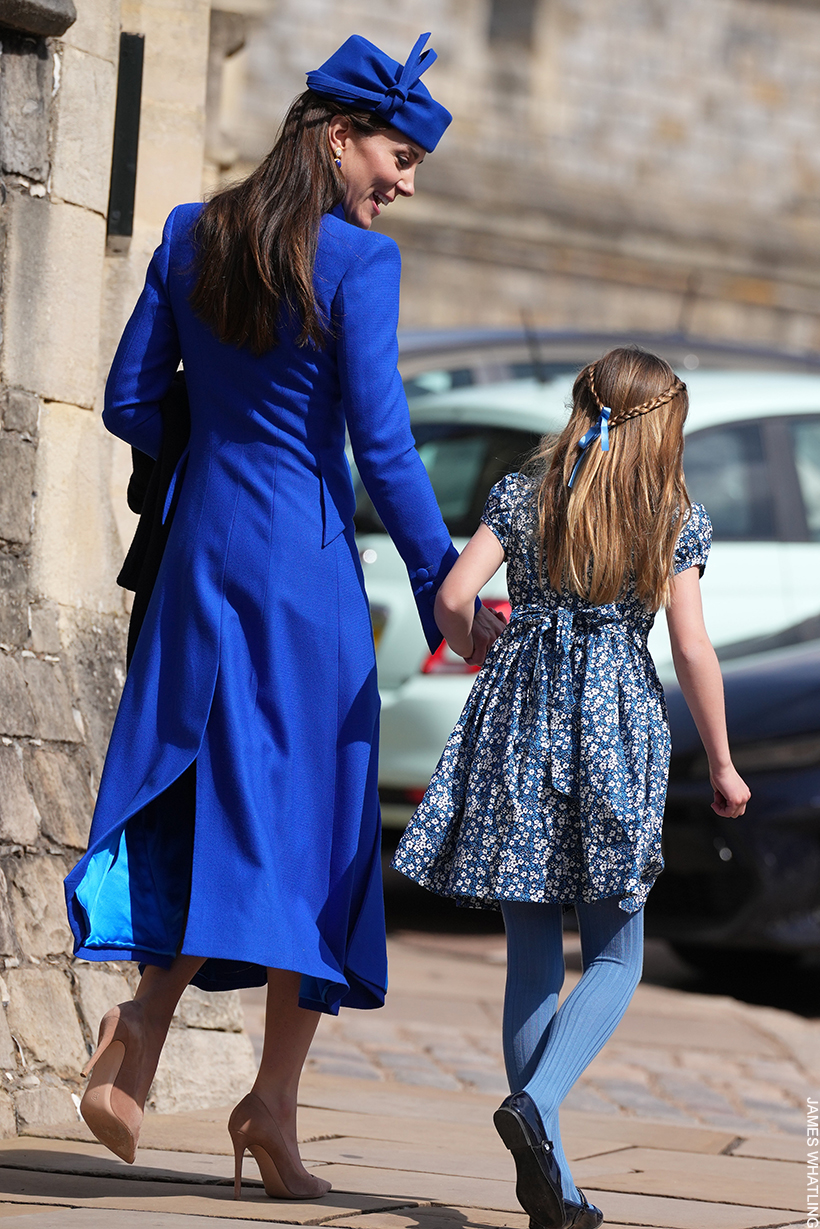 It looks like King Charles and Queen Camilla also got the matching memo too. Both wore blue ensembles.
Other royals opted for more colourful frocks! I'm liking the bold pink hue of Zara's dress.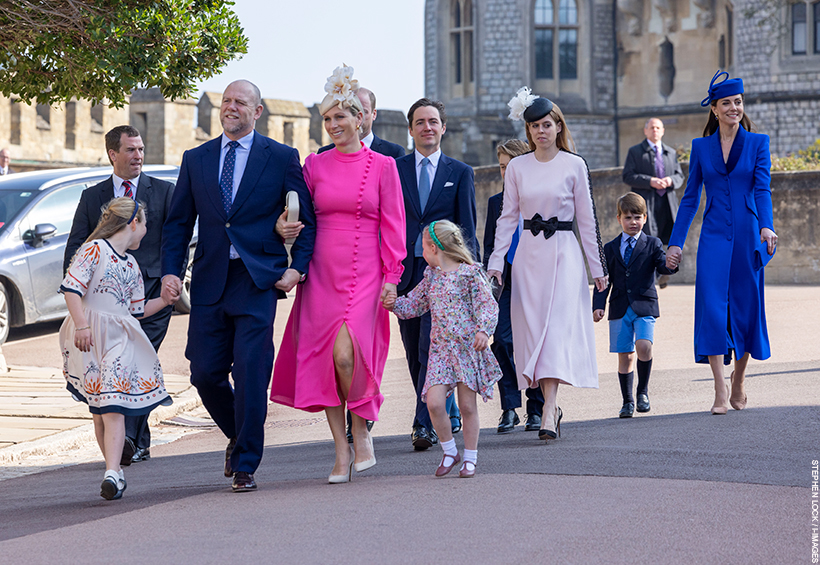 This Easter marked the first since Queen Elizabeth's passing in autumn. I expect it's the first time the whole family has gathered at the chapel since the late Queen's committal and interment following the State Funeral last year.
OK, on to Kate's outfit now.
Kate's blue Easter Sunday outfit:
Kate chose a striking blue hue for the Easter Sunday service. As I wrote in the opening of the article, the cobalt coat dress is by Catherine Walker & Co.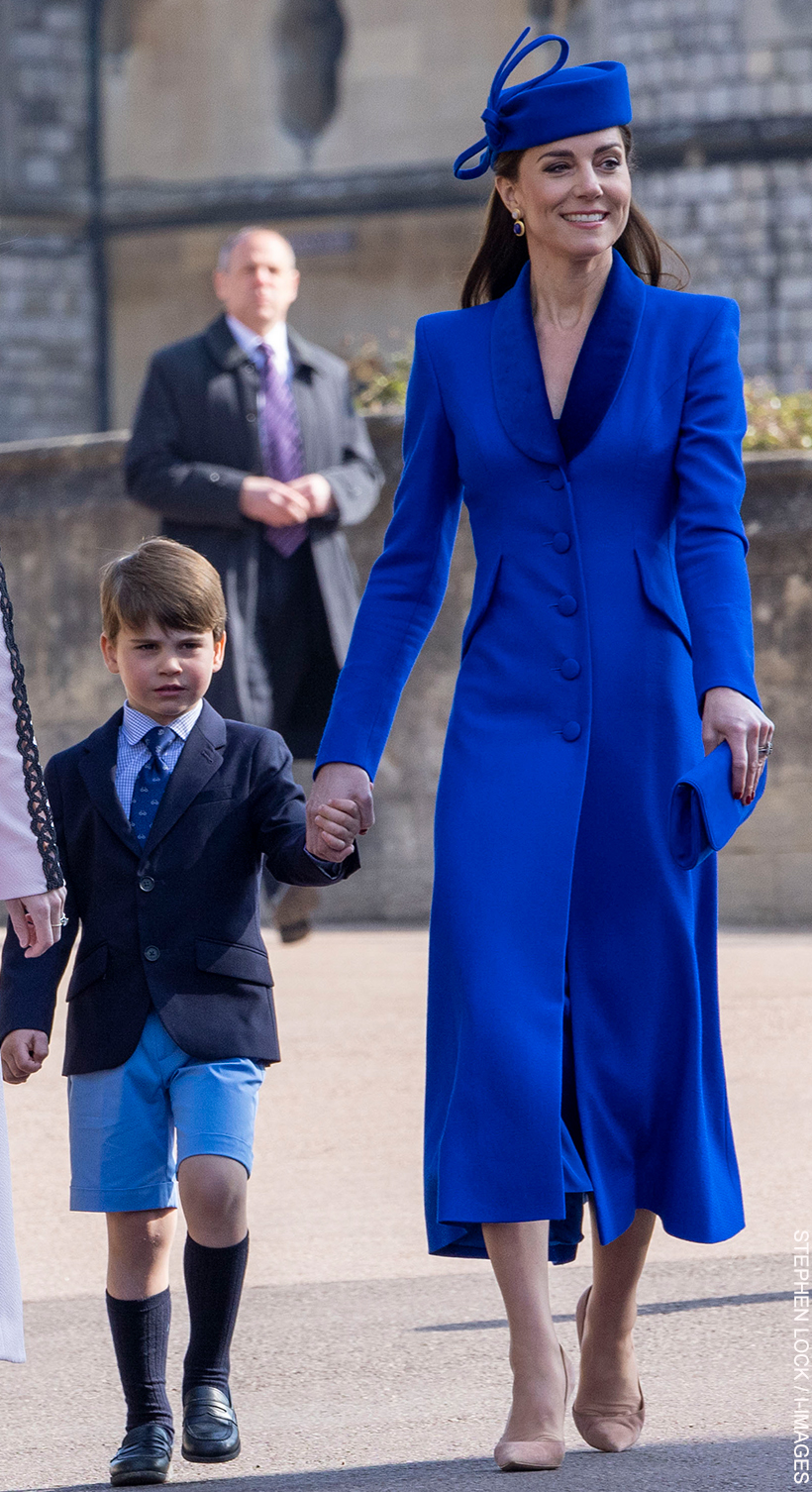 It's bespoke design—the atelier created it especially for the princess. You can see it combines elements of the Magda (L) and Mayfair (R) designs in the company's online lookbook.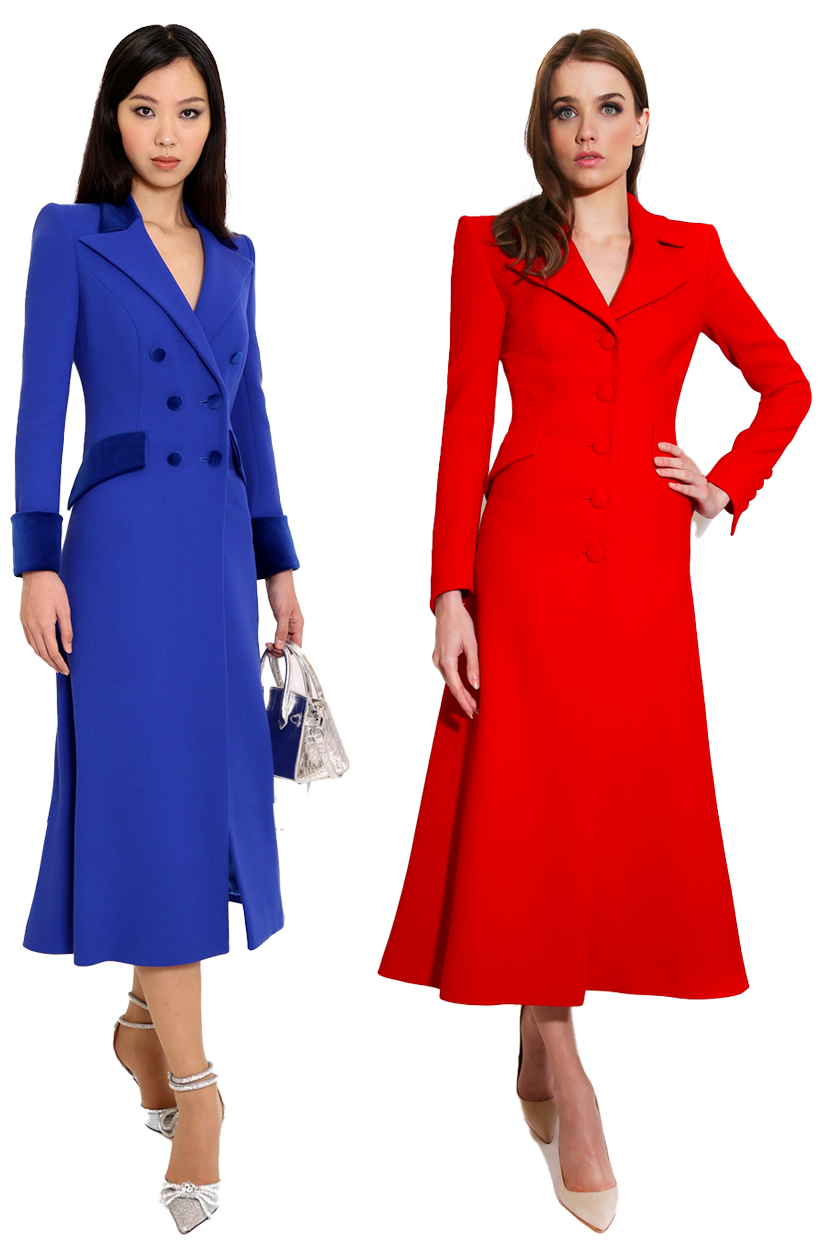 The coat dress features flap pockets, large covered buttons, a mid-length flared skirt and a blue velvet trim around the collar for an extra touch of elegance.
If you wanted to commission a similar coat, you'd need to contact Catherine Walker and Co. for information. The company offer consultations in their London store and online.
Kate has had a long-standing partnership with the Catherine Walker design house since joining the royal family. She regularly wears the label for official engagements and overseas tours. The late Catherine Walker was a renowned designer favoured by Princess Diana for her elegant and timeless pieces. Following her passing in 2010, the brand continued under the leadership of her widower, Said Cyrus, and the design team has continued to create stunning pieces in her legacy.
Kate's worn the blue coat once before, to last year's Commonwealth Day Service at Westminster Abbey.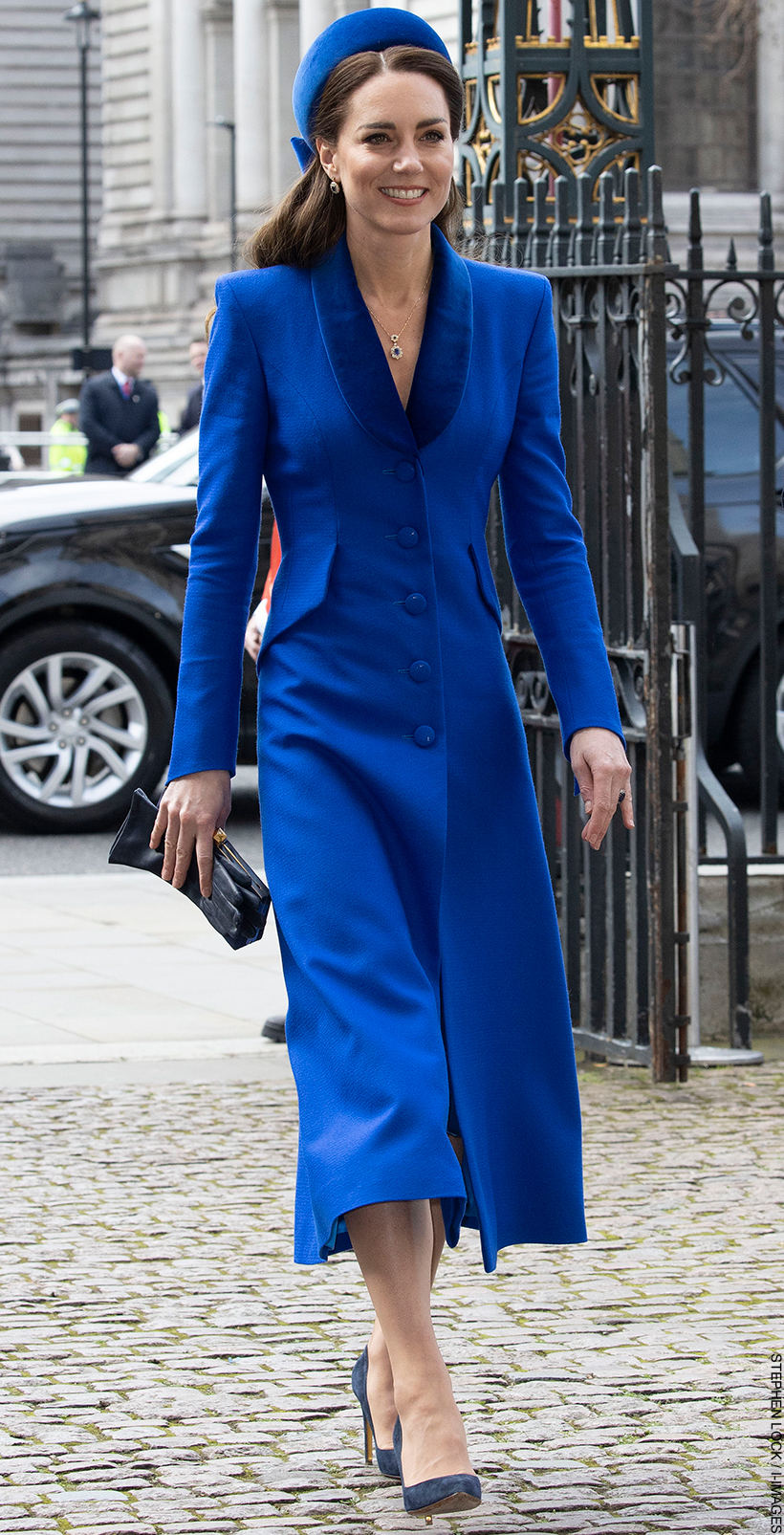 This year, the Princess gave the coat a fresh new look by pairing it with different accessories, including a new clutch bag in a coordinating shade of blue: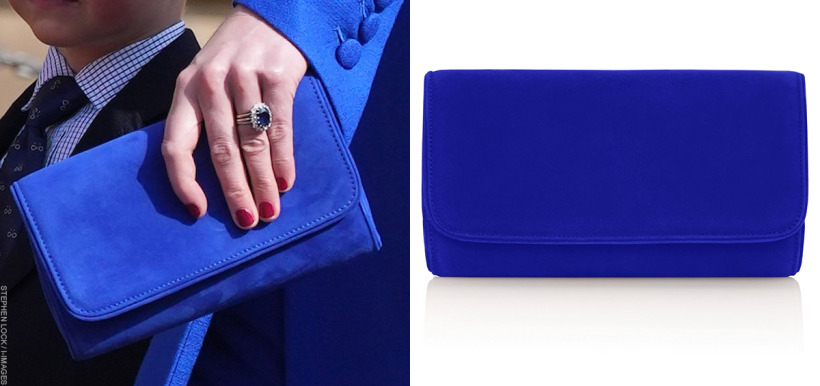 It's the Emmy London Natasha Clutch in Cobalt.
The elegant handcrafted clutch is made from soft kid suede and features a soft neutral oyster suede lining, a metal magnetic popper fastening and a zipped interior pocket that provides ample space for essentials. Each clutch bag comes with a detachable 50cm chain, which Kate never uses.
This is the 14th Natasha bag we've seen Kate carry! She owns the accessory in every colour from red to green to pink to navy. It's easily her favourite clutch.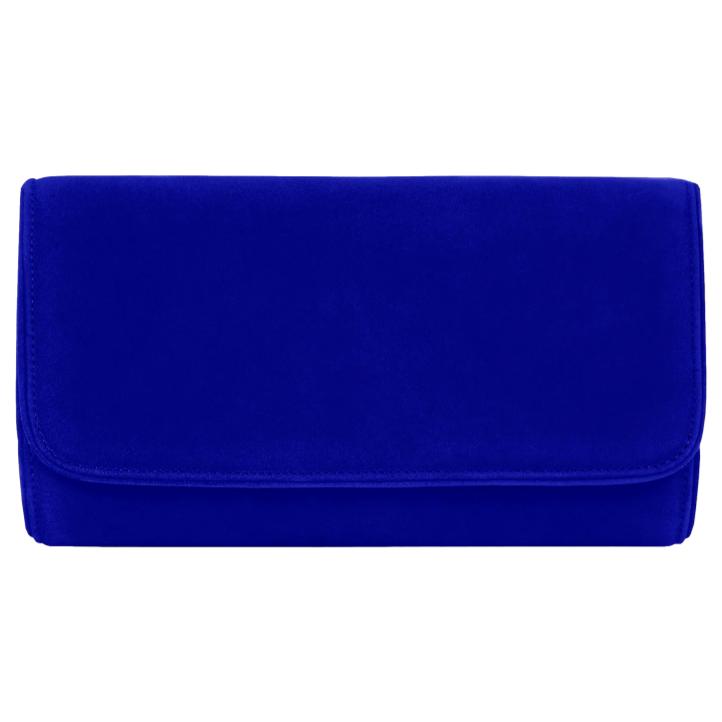 EMMY LONDON NATASHA CLUTCH
Get ready for summer occasions with the Emmy London Natasha clutch bag, the perfect accessory for weddings, races, and more. Elevate your ensemble with this luxurious, handcrafted kid suede clutch, available in a variety of vibrant colours.
Emmy London is a small dedicated team headed up by husband and wife duo Emmy & Dickie. The company creates beautiful shoes and accessories designed to make women look and feel amazing. To date, we've seen Kate wear 14 pairs of Emmy London shoes too.
While taking a closer look at the bag, I noticed the Princess painted her nails in a contrasting bold shade of red. It was quite the surprise—I don't think I've ever seen Kate sport a coloured manicure in the 12 years I've been writing about her on this site!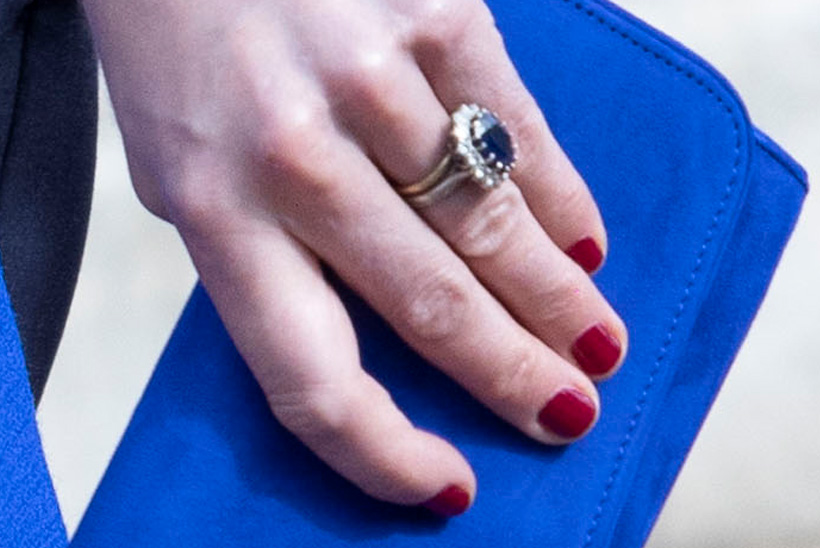 It is a departure from her usual neutral and clear nail shades.
So… why now? Perhaps the rumours about 'royal protocol' were true, that royal women were 'banned' from wearing coloured nails? Did the Queen dislike brightly coloured nails and advise her family members to steer clear too? Has King Charles relaxed this rule? Maybe as part of a wider effort to modernise the monarchy? Or, was it all nonsense and Kate just fancied trying something new? Will she try other colours in future…? We'll have to wait and see.
Let's move on to look at Kate's new hat now. It's the Mayfair Pillbox Hat by Lock & Co.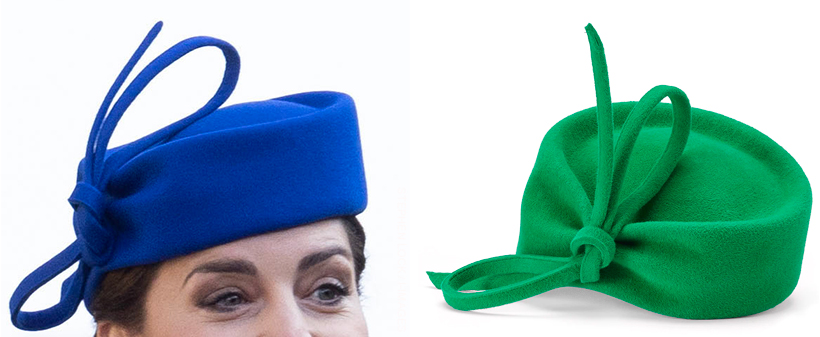 The pillbox hat features a knotted bow in the side.
Kate's worn the design before, in dark green, to the St Patrick's Day Parade in 2022.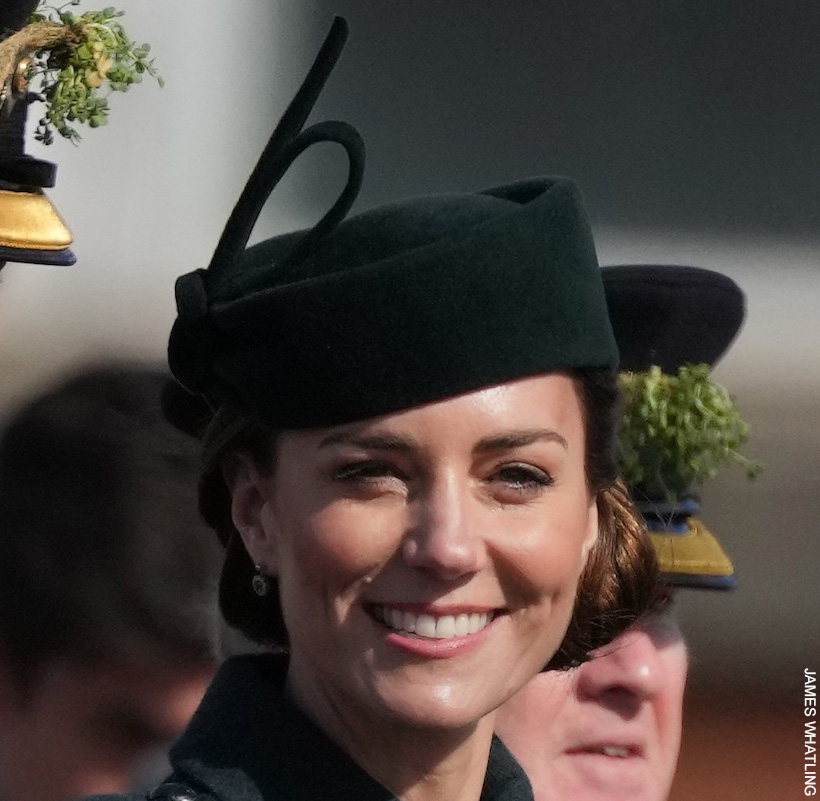 At the time of writing, you can order the the Mayfair hat from Lock & Co. for £825 ($1035/€933) in pink and green. It was previously available in black and leopard print too. Kate clearly had her hat dyed to match her outfit. You can email the company's sales team if you wish to do similar.
Lock & Co describe the pillbox hat as one of their "classic designs" that's "been imagined" for modern tastes. They say the hat is light as a feather and incredibly comfortable to wear—handy if you're planning to wear it for an all-day event.
Lock & Co. is the oldest hat shop in the world, established in 1676, and is renowned for its exceptional craftsmanship and quality. Kate's worn more than 10 different designs from the company since joining the Royal Family in 2011.
Let's look at Kate's drop earrings now.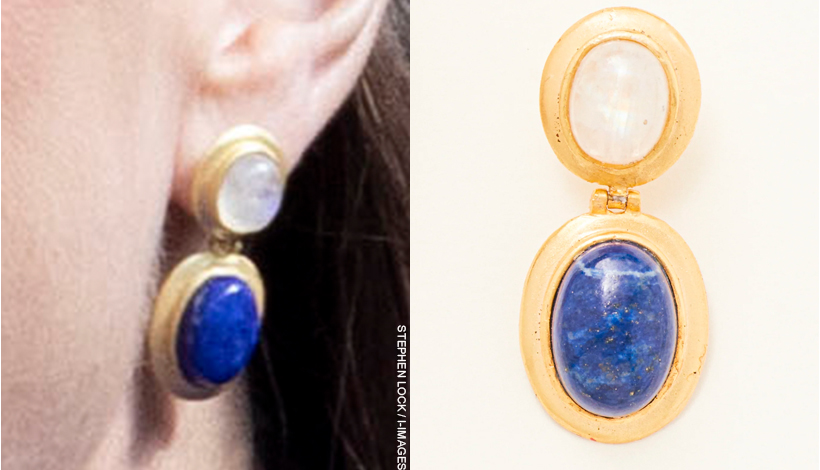 Bojana and Katherine tracked them down, they're by Carousel Jewels.
They feature lapis stone drops suspended from moonstone posts, set in 925 sterling silver and plated with 22 carat gold. They are handmade by talented artisans using ethically sourced gemstones.
At the time of writing, they're available for pre-order for £130 ($165/€149). As the earrings are hand,ade, expect delivery to take around one month.
They also come in an amethyst and rose quartz combination.
Carousel Jewels is a London-based company that specialises in creating handcrafted jewellery. The brand's mission is to create beautiful and unique pieces that are both affordable and of the highest quality. I suspect Kate appreciates the brand's commitment to ethical sourcing and sustainability too—in recent years she's become a quiet advocate for slow fashion, ethical practises and environmentally friendly/recycled materials. These days, it's rare to see Kate wearing clothing from companies that engage in fast fashion. Even when she does wear pieces from high street brands, like Zara or Mango, she'll wear pieces from their conscious collections, reflecting her commitment to sustainable and ethical fashion.
Carousel is a relatively new brand for the Princess. We're only spotted her wear their earrings on one other occasion, at a garden party in 2022 (pictured below).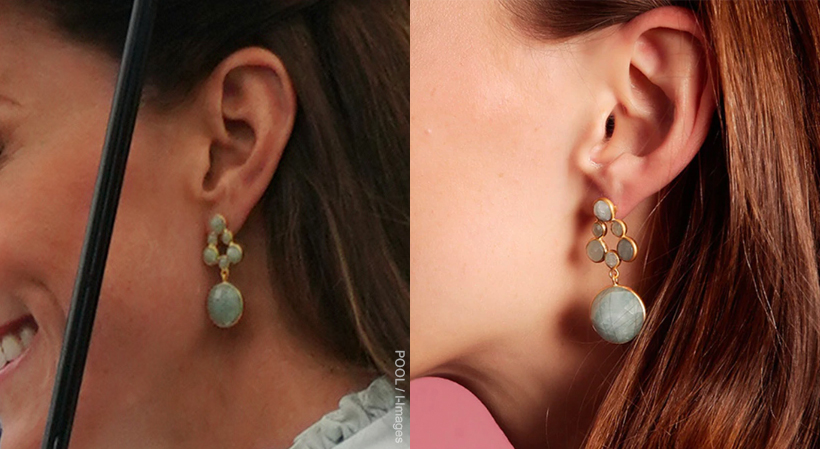 Let's finish up by looking at Kate's footwear.
Kate wore her Gianvito Rossi 'Gianvito 105' pumps in praline suede.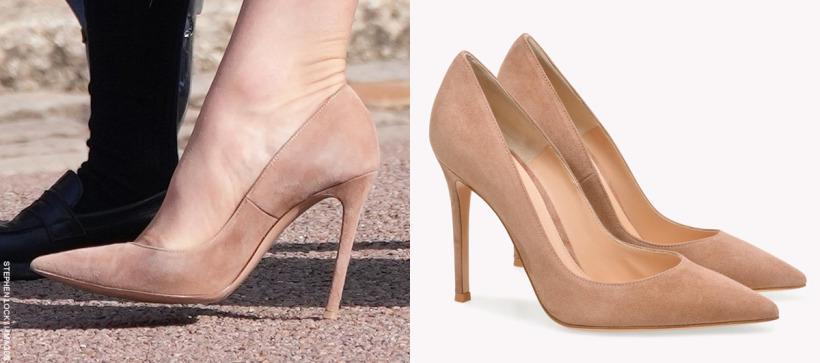 The shoes feature a pointed toe and a slim 105mm heel. The warm pink-beige colour is elegant and versatile, making it perfect for a wide range of occasions. Kate's worn her to 25+ public engagements since 2016, with all sorts of outfits, night and day. The shoes are a staple in her wardrobe.
Recently, I conducted a little research and found that Gianvito Rossi is Kate's most-worn shoe designer. The Princess has worn 20 pairs of his shoes to more than 130 public engagements to date. She owns this exact shoe—'the Gianvito 105'—in at least nine different colours—all pictured below.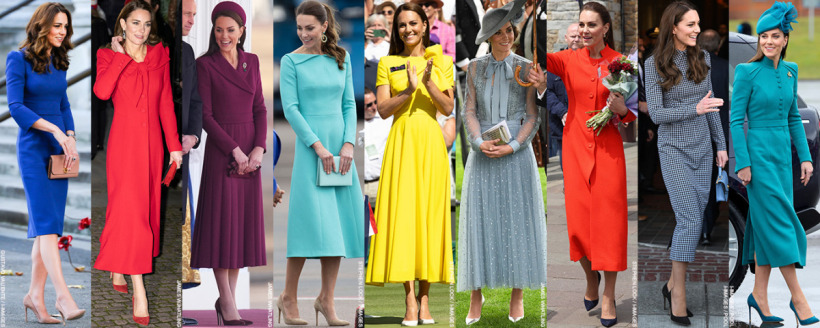 Shown in praline suede, red suede, burgundy suede, bisque suede, white leather, metallic silver patent leather, midnight blue suede, black suede and teal suede.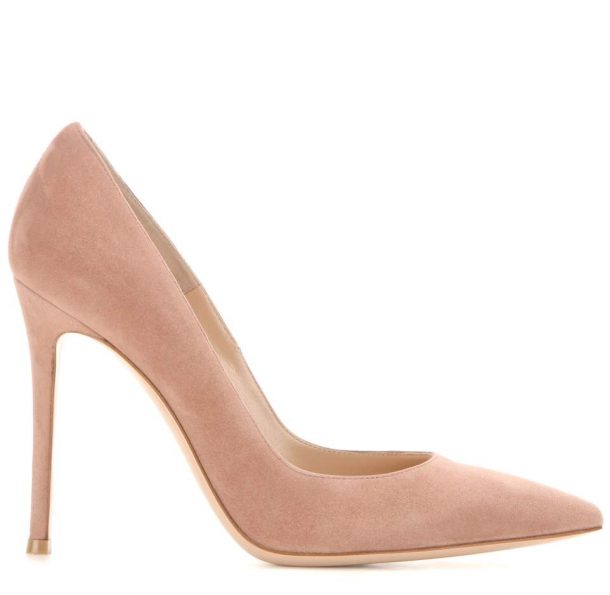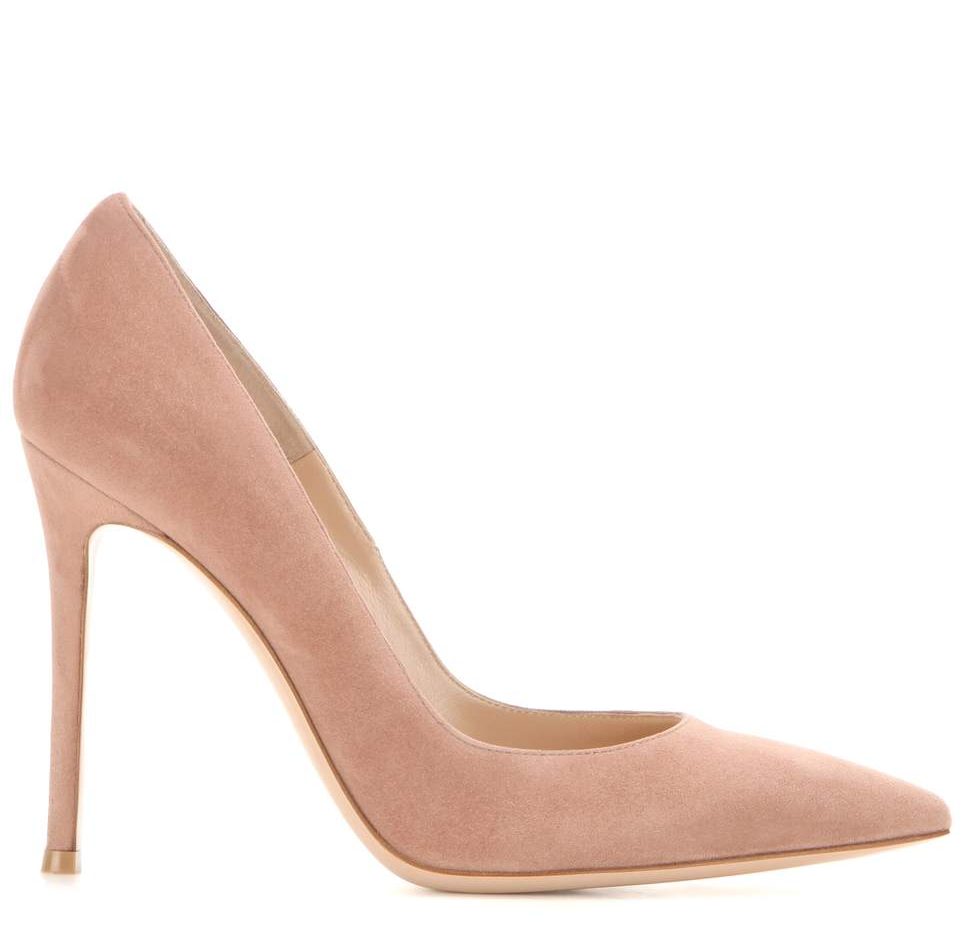 GIANVITO ROSSI 105 PUMPS IN PRALINE
These are Kate's go-to heels. The Princess has mastered the art of finding heels that are both stylish and practical. This beautiful shade will match anything and everything in your wardrobe.
Gianvito Rossi, who learned his craft from his father, the renowned shoe designer Sergio Rossi, is known for his perfectionism when it comes to fit and comfort. His shoes are handmade in Italy using the finest materials and are designed to be both stylish and practical.