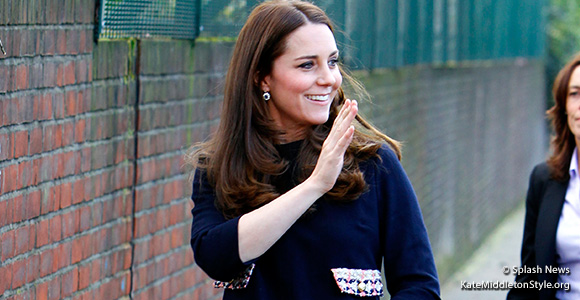 The Duchess of Cambridge attended her first official public engagement of 2015 today (January 15th), at a primary school in West London.
Kate officially named The Clore Art Room at Barlby Primary School, in Ladbroke Grove.  As you may recall, the Duchess is Royal Patron to The Art Room Charity.
Kate was scheduled to attend the official opening of the Art Room back in October, but was unable to attend due to her severe morning sickness.
During her visit today, HRH met with students from Barlby Primary School and nearby Oxford Gardens Primary School.  She spoke with students who attend The Art Room facility at Barlby.
The Duchess also took part in a round table discussion with a number of people involved with The Art Room charity, including ex-students, education professionals, a child and adolescent psychiatrist, famous potter Grayson Perry (who is the charity's Patron) and Dame Vivien Duffield, Chair of the Clore Duffield Foundation.  The guests spoke about the power of art as a therapeutic intervention, and discussed the ways in which children learn and achieve through art.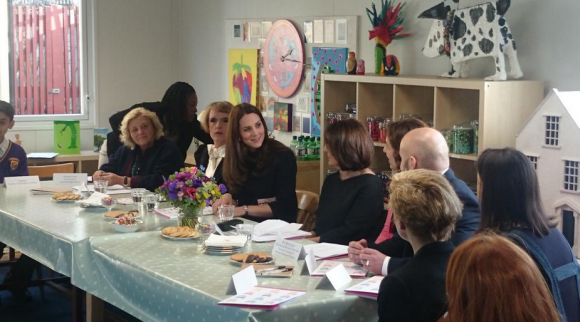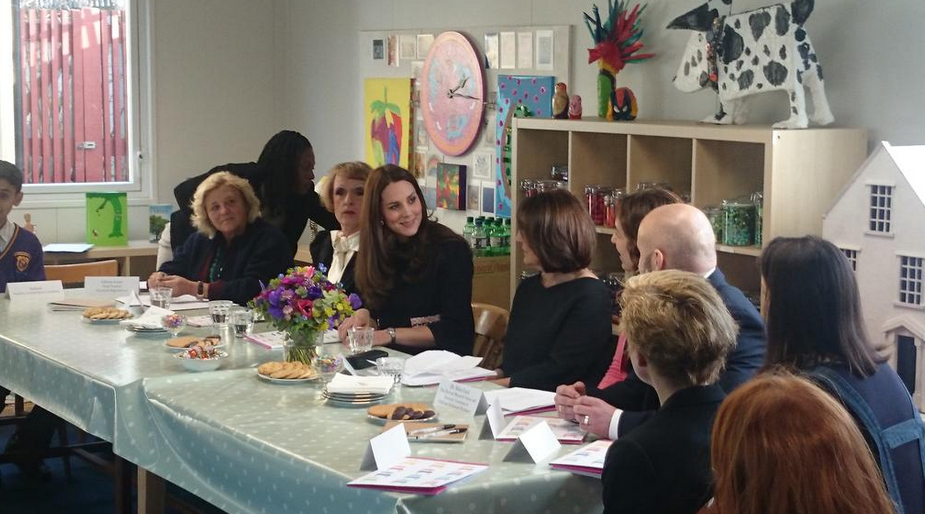 Kate's outfit today:
Kate wore a navy blue dress today by Madderson London, a luxury British womenswear and maternity wear label.
Specifically, Kate wore the brand's "Naomi" statement shift dress.  It features tweed trimmed pockets and hemline detailing.
The Madderson London website crashed as soon as journalists made the announcement on Twitter (and still remains down), but another website called Pinstripe and Pearls also stocked the dress.  Here's how they described the piece:
Channel the big 1960s trend of the season in the Naomi shift. The navy wool comes from Hainsworth, a heritage British mill that clothed the soldiers in the Battle of Waterloo.  The designer has trimmed it with French tweed to transform a simple silhouette into something special. Add heels or this season's knee-high boots. Fully lined.
The dress retailed on Pinstripe and Pearls for £450 (around $680 USD).
Kate carried her Mulberry London Bayswater clutch bag in black today and wore her suede Episode Angel pumps.
Kate added a little bling to her outfit by wearing her Cartier Ballon Bleu watch and her Sapphire & diamond earrings (thought to be adapted from a pair worn by Princess Diana).
About The Clore Art Room –
The Clore Art Room offers therapeutic support to pupils of Barlby School and neighbouring Oxford Gardens School. Open 5 days a week, its highly trained practitioners work with small groups of children aged between five and 11 years old in 1 hour 45 minute sessions. Each week, up to 104 children are able to access the Art Room's methodology in sessions designed to provide students with confidence, self esteem and independence through creativity and self-expression. From September 2015, The Clore Art Room hopes to extend the provision of this unique intervention to other Primary and Secondary Schools in the Borough.
Today's official naming ceremony also sought to celebrate the partnership with the Clore Duffield Foundation, whose generous support has facilitated this important new early intervention provision for West London.
For more information about The Clore Art Room, The Duchess's Patronage and the events from today, please refer to The Art Room's press release here.