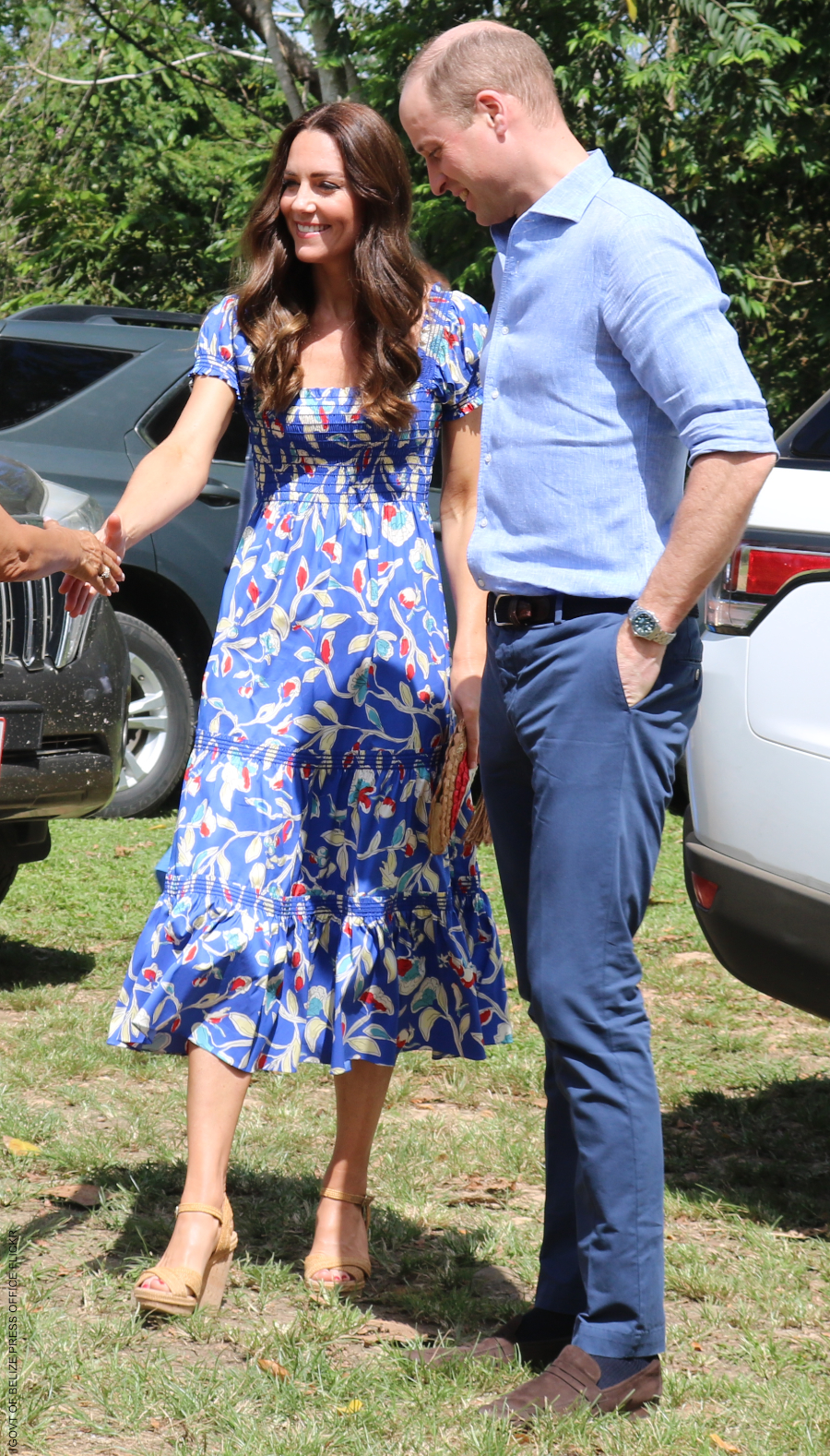 Sunday 20th March 2022—The Duke and Duchess spent their first full day in Belize. The couple visited the country to mark the Queen's Platinum Jubilee. Kate coped with the 30+ degree heat by wearing a blue summer dress by American designer Tory Burch.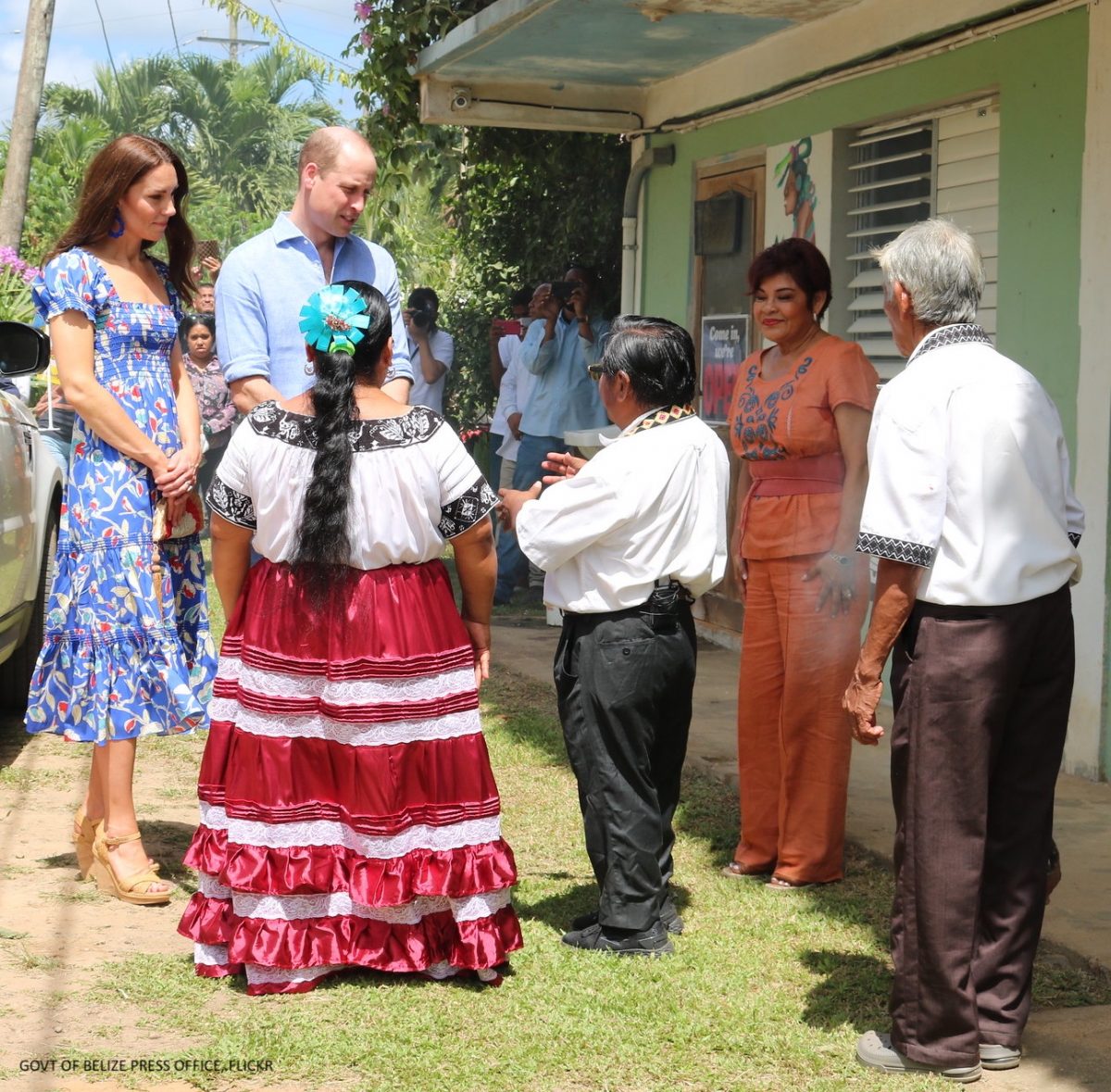 She also sent fans on a trip down memory lane by accessorising with an 11-year-old clutch bag and 10-year-old wedges! As usual, you'll find a full rundown on Kate's outfit further down the page ⬇️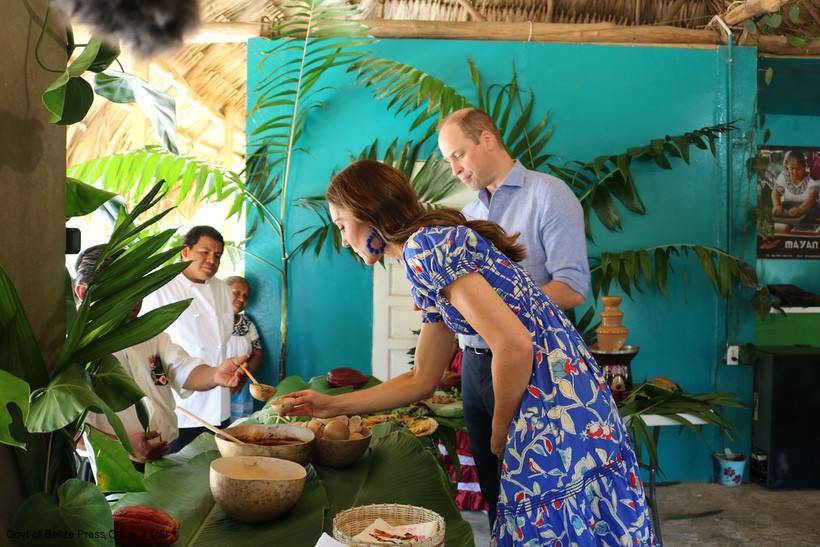 The Duke and Duchess began the day with a visit to the family-run Che'il Cacao Farm before heading to the Che'il Chocolate Factory nearby.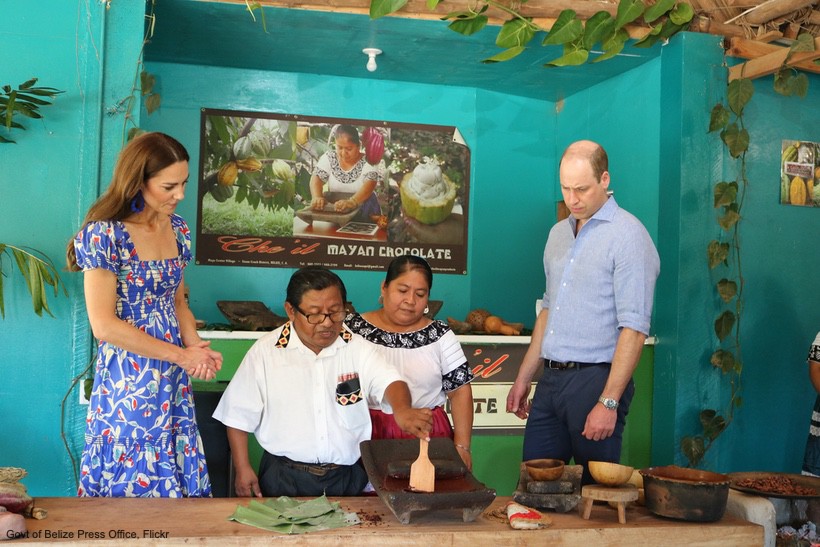 The couple toured both locations, watched demonstrations, were given samples to taste and learned more about the process of chocolate-making.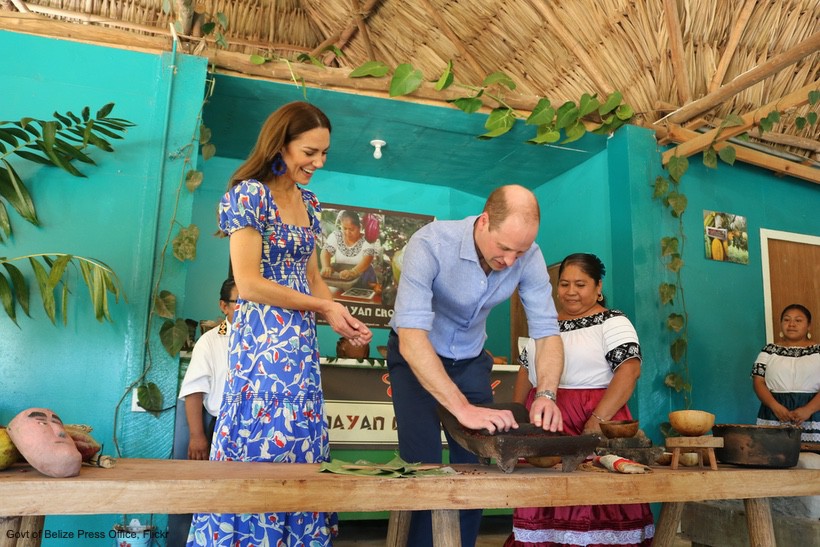 There were plenty of opportunities to get stuck in: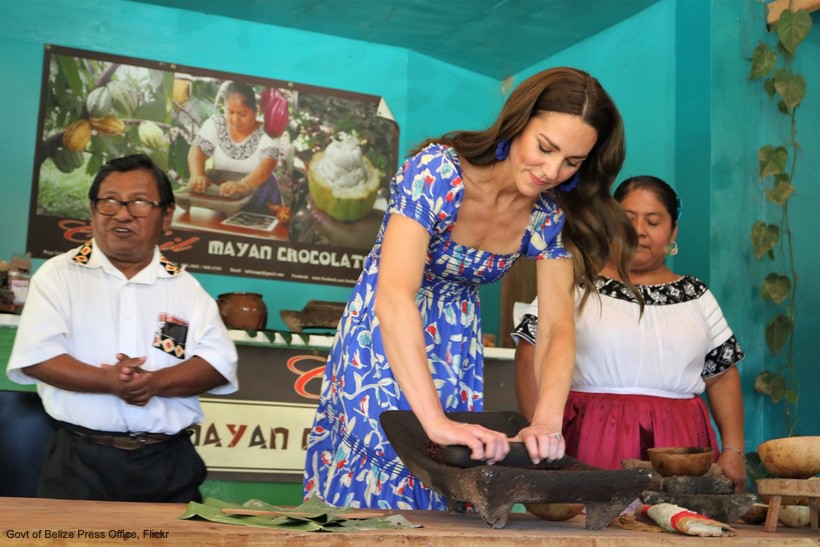 The pair learned how cacao and chocolate are important to the country's Maya community. The cocoa bean has been an integral part of Mayan culture for thousands of years.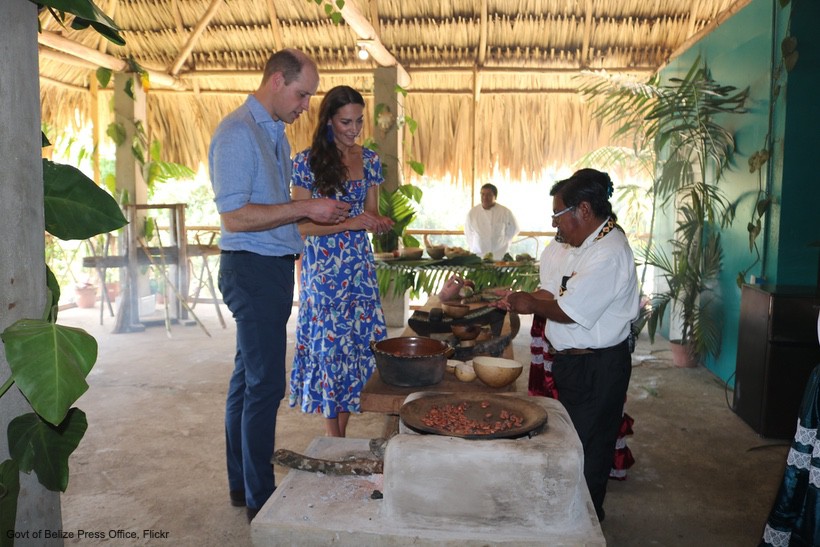 The ancient Maya invented chocolate. The raw chocolate bean is called cacao. And we grow it right here […] Some experts say Belize is the "Cradle of Chocolate", meaning it was first used here. Maya kings consumed large amounts of chocolate as did the average Maya citizen thousands of years ago. […] A Maya chocolate pot has been found that is over 2600 years old. […] Evidence suggests that the Mayan had chocolate at every meal, breakfast, lunch and dinner.

Belize.com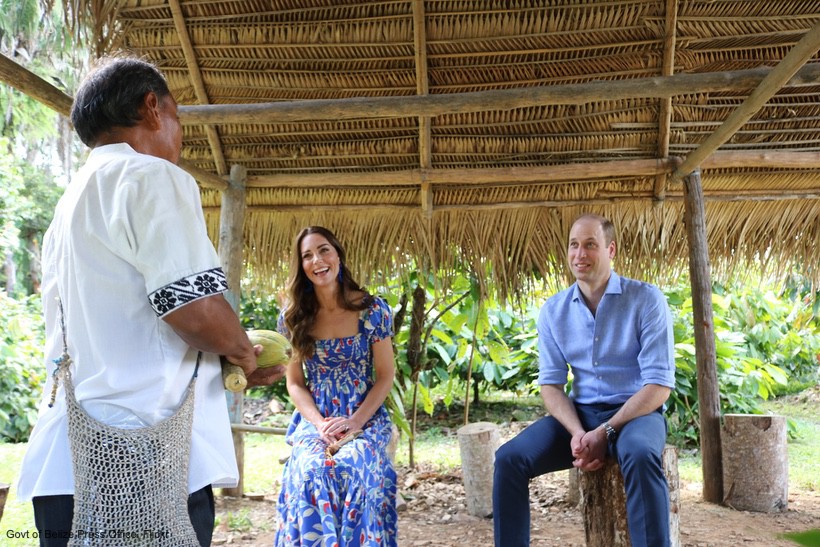 The pair met with many locals during their visit.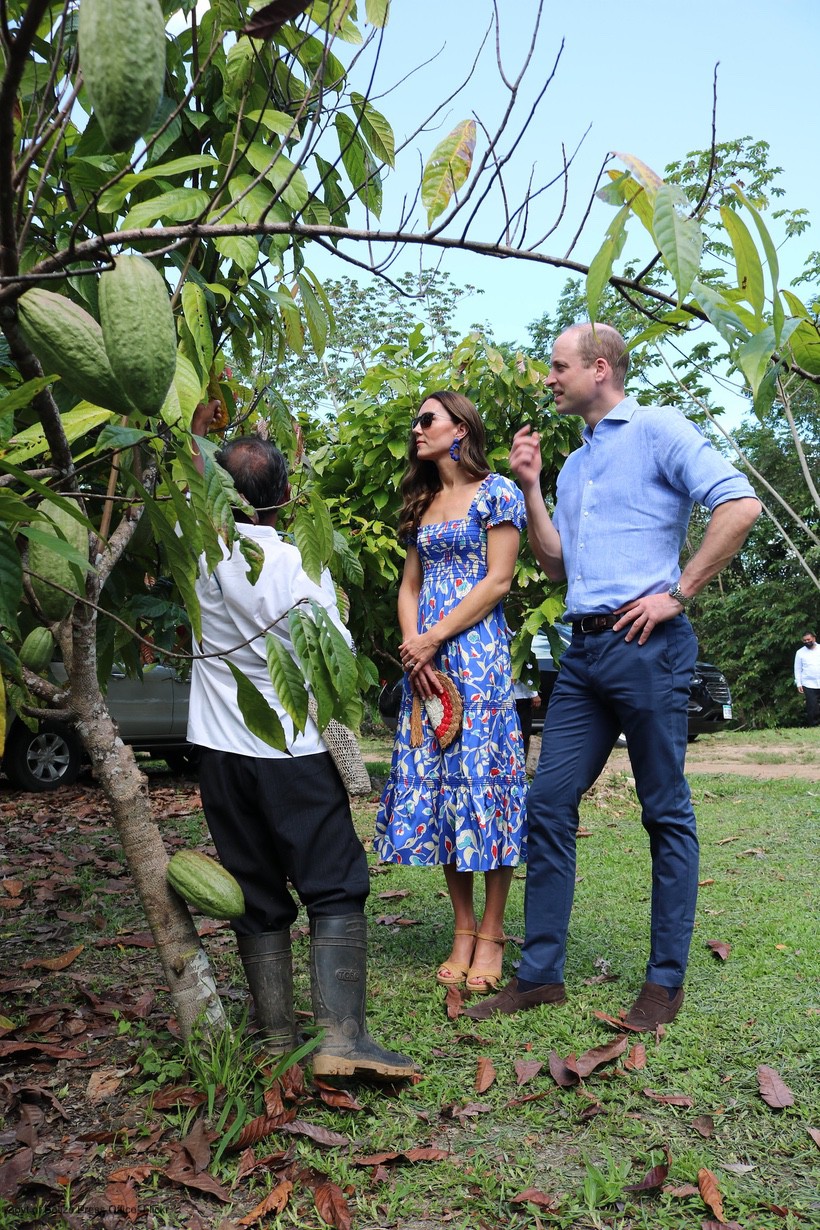 William and Kate were scheduled to visit a different cacao farm originally. The trip was cancelled at the last minute due to protests. (More on that here.)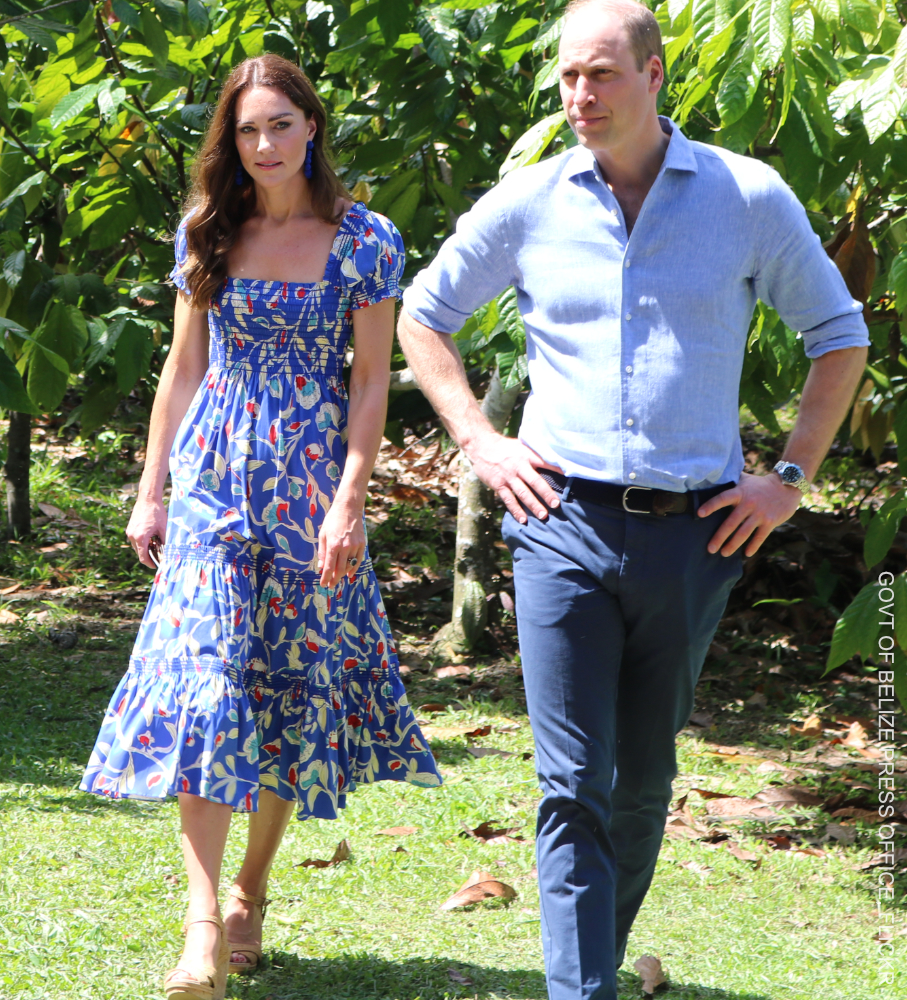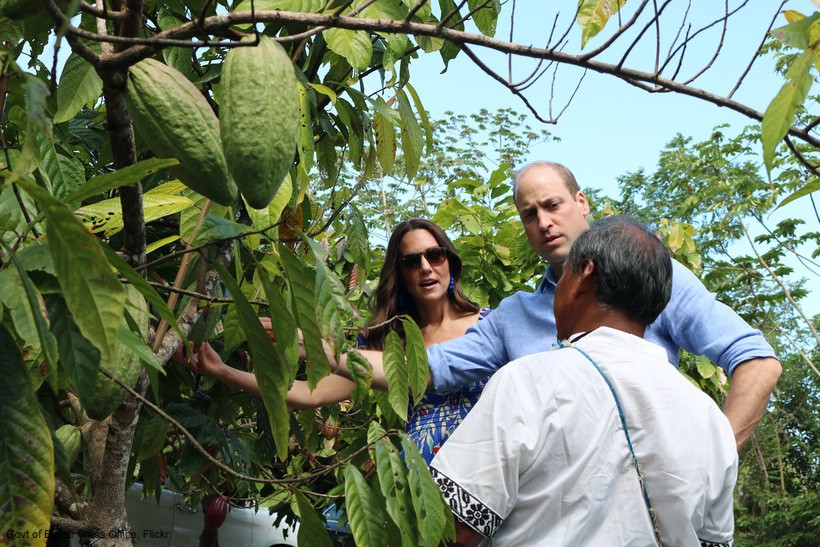 Next, the Duke and Duchess visited the coastal village of Hopkins in southern Belize.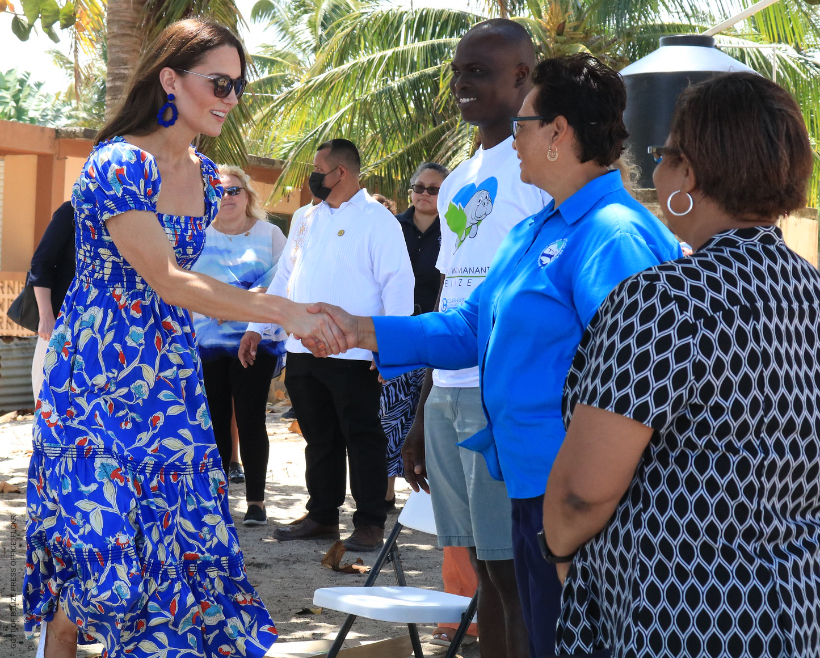 The couple experienced the food, music and dance of the Garifuna culture.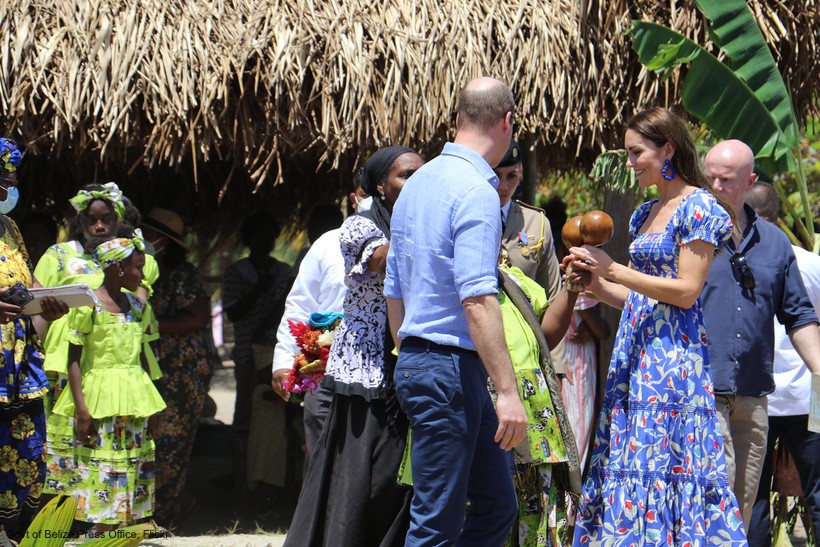 The visit began with a welcoming festival. Here's Kate being handed a pair of maracas:
The pair joined in with the dancing. Skip to around 27 seconds to see their excellent moves!
Then, William and Kate both helped plant a tree to mark the Queen's Platinum Jubilee—the 70th anniversary of Her Majesty's accession to the throne.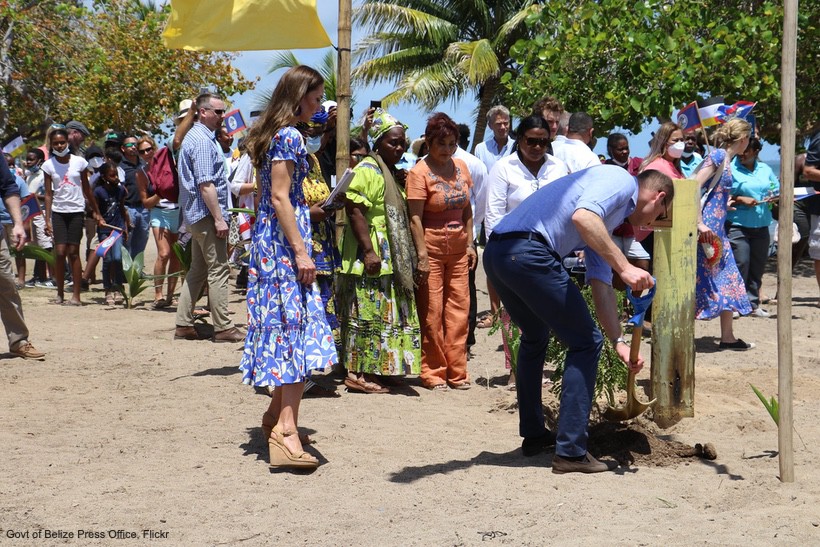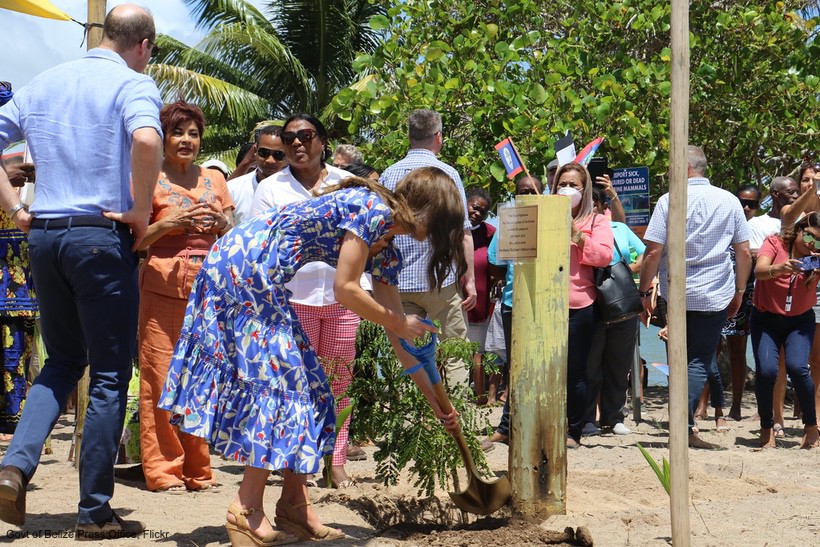 After, the two royals spoke with conservationists on the beach.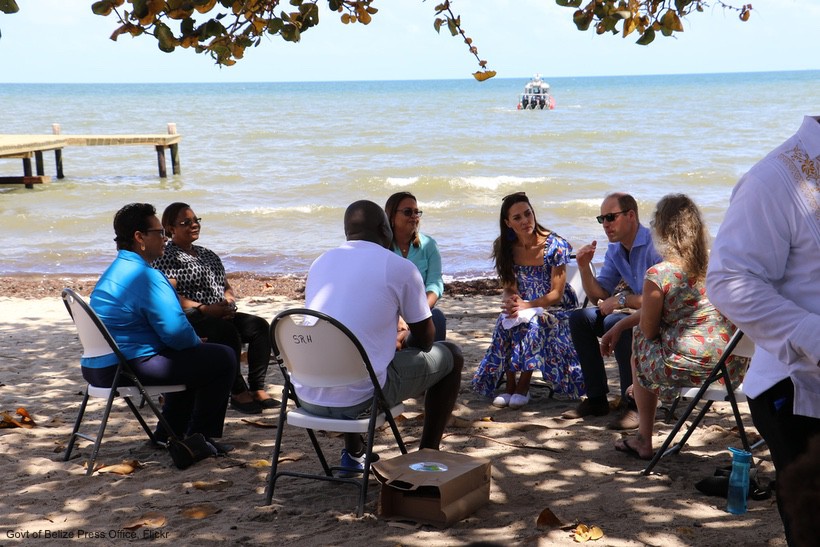 They heard about Belize's leadership in marine conservation, Hopkins' rich marine environment and the biodiversity in the area.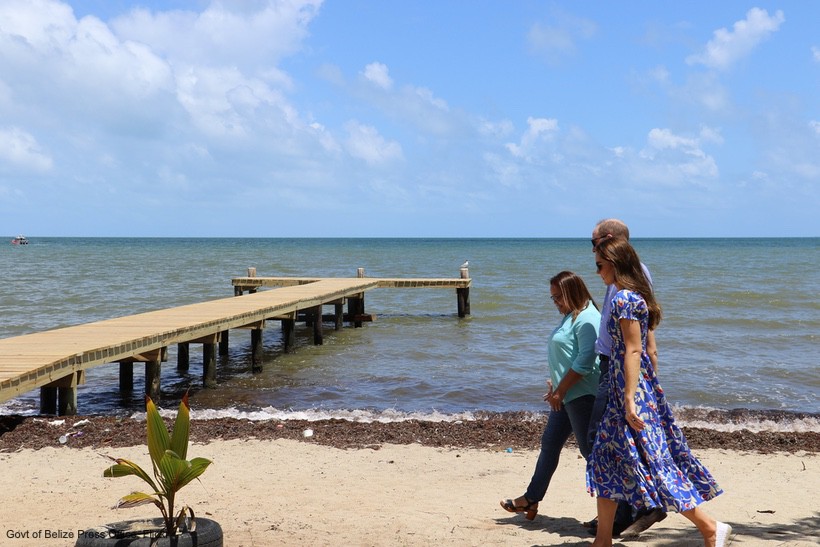 The day ended with a beach walk.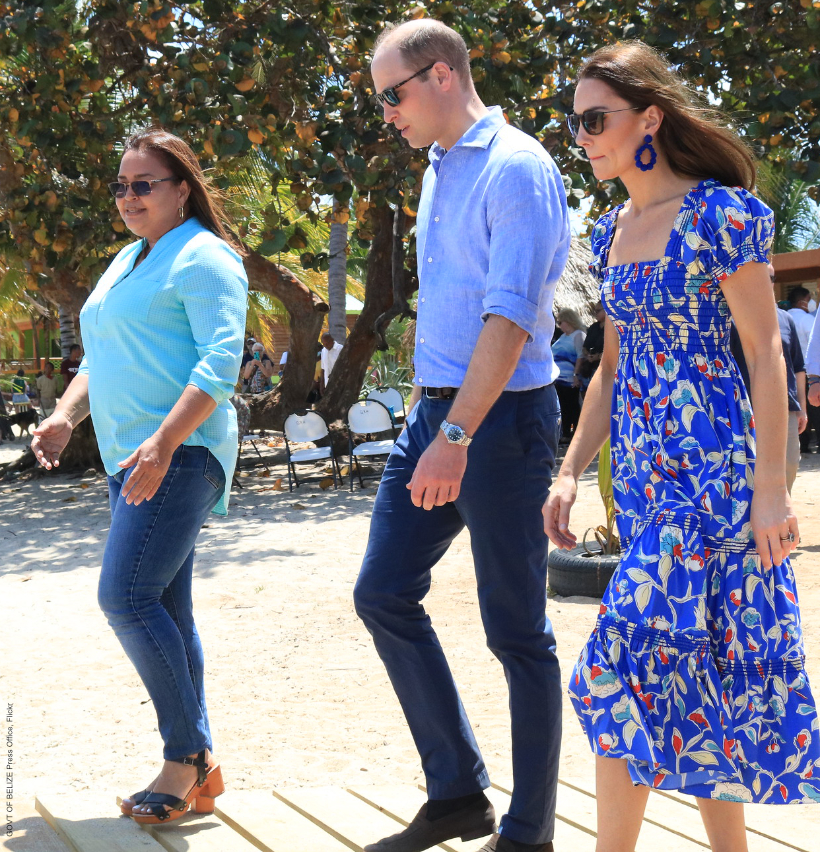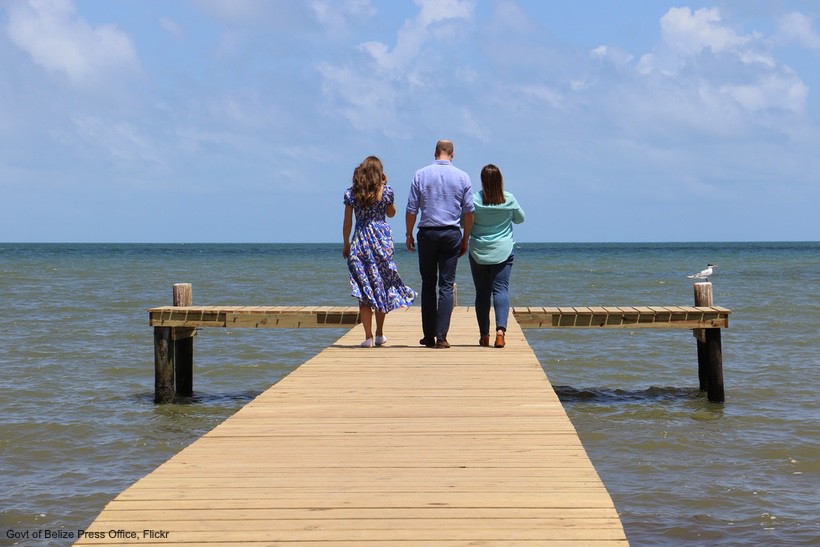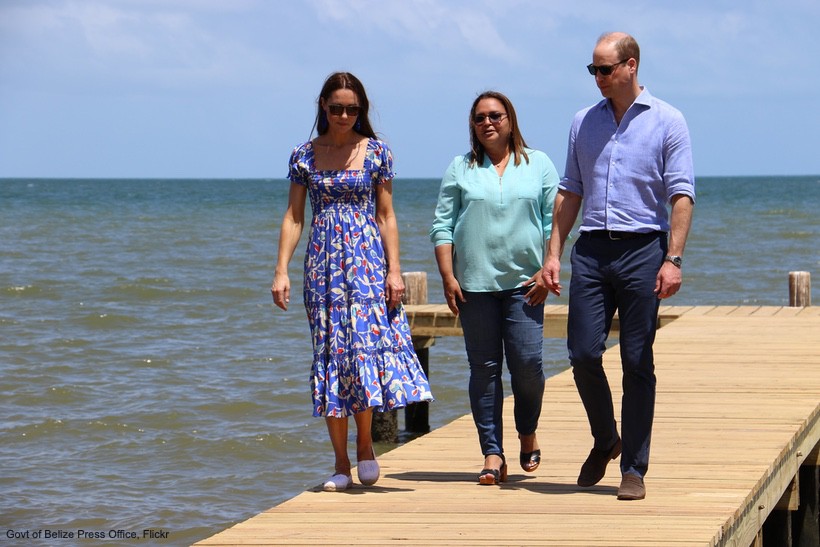 Let's take a look at Kate's outfit now.
Kate's outfit:
I'll start by saying that it was lovely to see the Duchess dressed in a casual outfit. Her blue floral summer dress, wedged sandals and sunglasses have made me pine for hot sandy beaches. I think I need to book a holiday! And didn't the vibrant colour photograph beautifully in each location? Here's a look at the front and back of the dress:
The dress is by American designer Tory Burch. It's the American designer's 'Painted Roses' smocked midi dress in blue. (Thank you to Middleton Maven for this speedy ID!)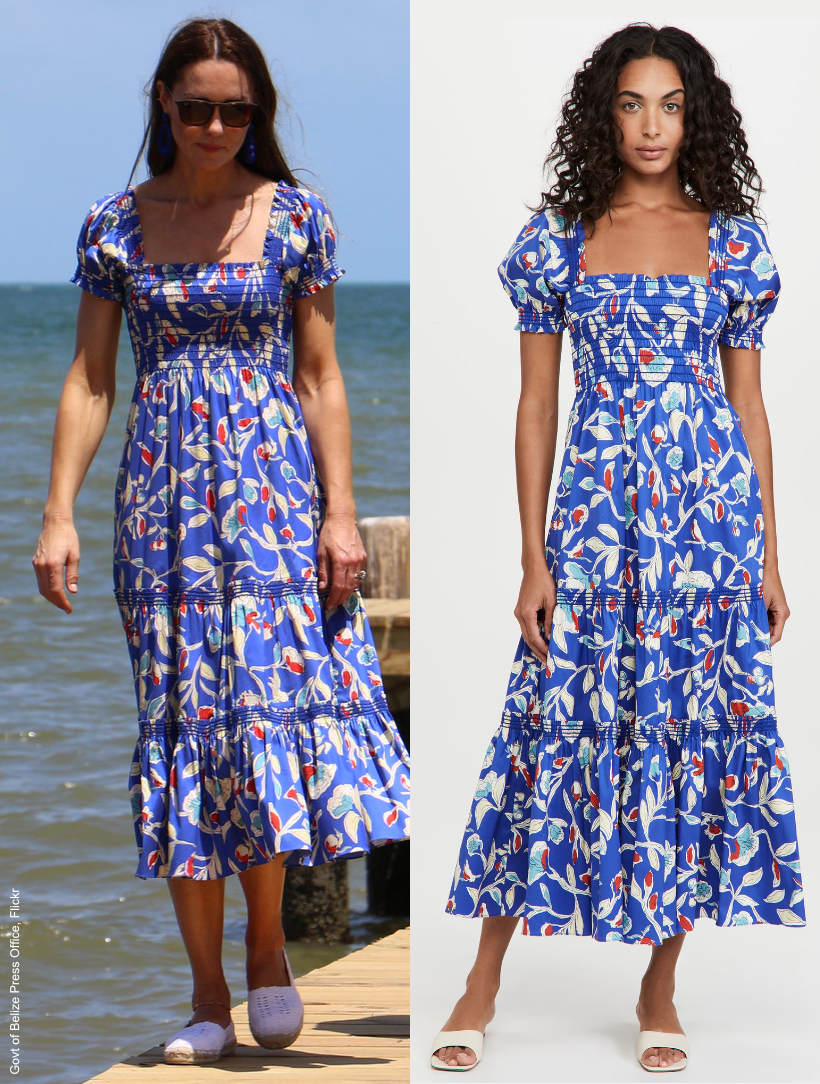 The piece is made from a mid-weight stretch poplin fabric printed with a red and blue floral design. It features a square neckline and back, tiered seams, short puff sleeves with elastic cuffs, a smocked elastic bodice and is finished with pockets!
The piece was available at Shopbop for $478 USD and MyTheresa for £455. But it's sadly sold out now. I've checked a number of retailers. However, you can still hire the dress from Rent The Runway.
Update: A rep for Tory Burch told me in an email that they won't be restocking the dress. Yet, when I checked their website, it shows the dress with a 'coming soon' notice… interesting!
The same rep did tell me they regularly reissue the smocked midi in other prints and designs though. I found this one at FarFetch: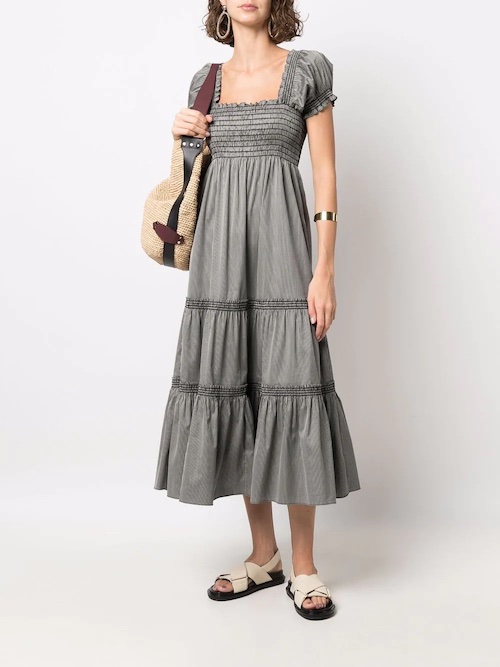 Tory Burch Smocked Stripe Print Midi Dress
SAME DRESS, DIFFERENT PRINT! Copy Kate's style in this smocked dress by Tory Burch. It features the same figure-flattering shape, just updated in a new grey stripe print for 2022. Perfect for casual days and holidays.
Note: FarFetch does offer other currencies/worldwide delivery
The Duchess chose to wear a vibrant blue hue for two days running. I'd say on both occasions, she chose the vivid colour as a nod to her host country—it is prominent on Belize's flag (see above William's shoulder in the photo below: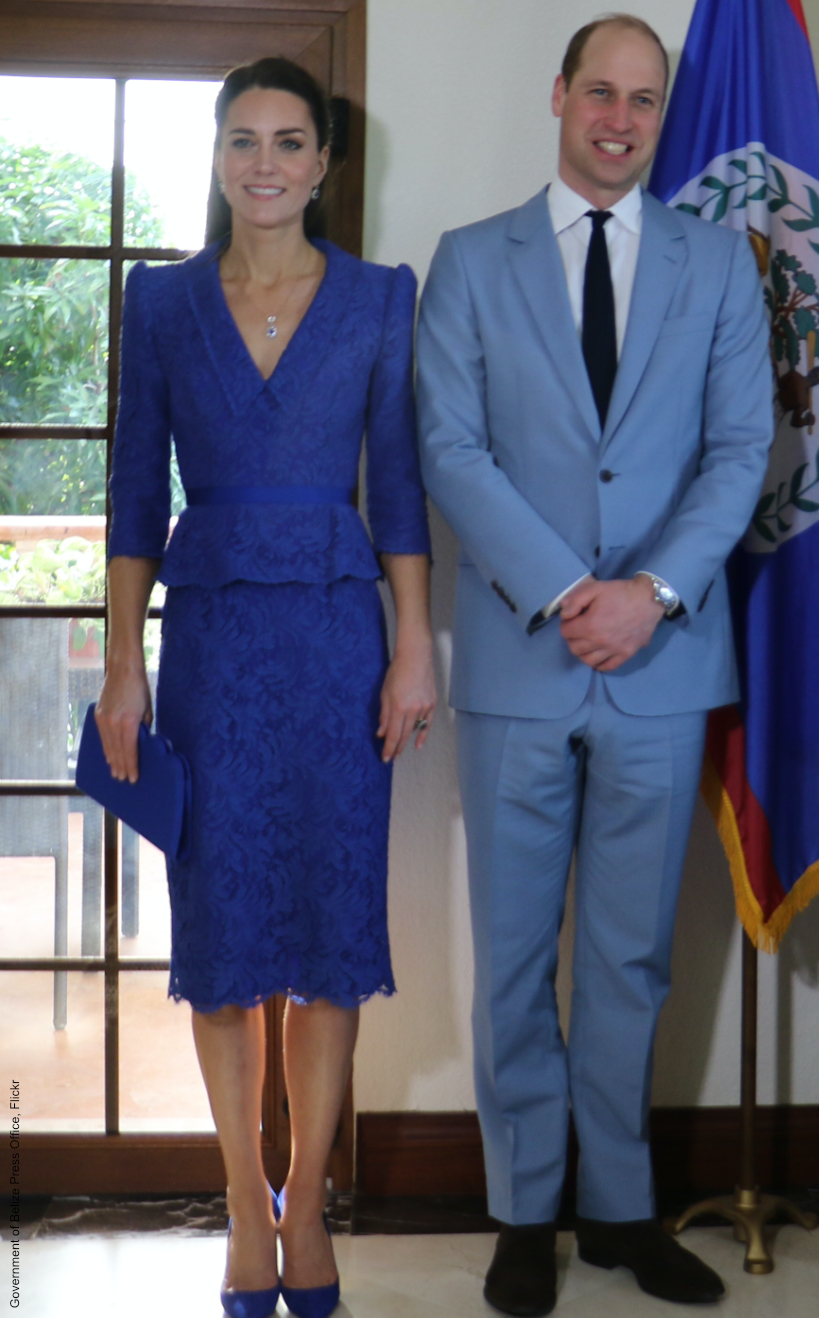 Did you notice the red and white flowers on Kate's dress too? (see below) I won't surprise you to learn that both colours are found on the Belizean flag. 🇧🇿
Kate paired her blue floral midi dress with a few familiar accessories. You might have spotted her fan-shaped clutch? It's by Anya Hindmarch.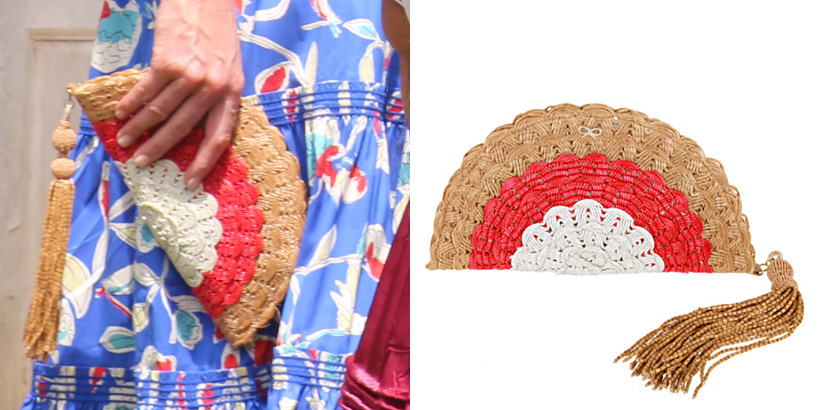 We first saw Kate carry the bag in Ottawa, Canada during the 2011 tour. Three years later, she carried the clutch in public for a second time, to the Wimbledon Men's semi-finals in 2014. The Belize trip marks its third public outing!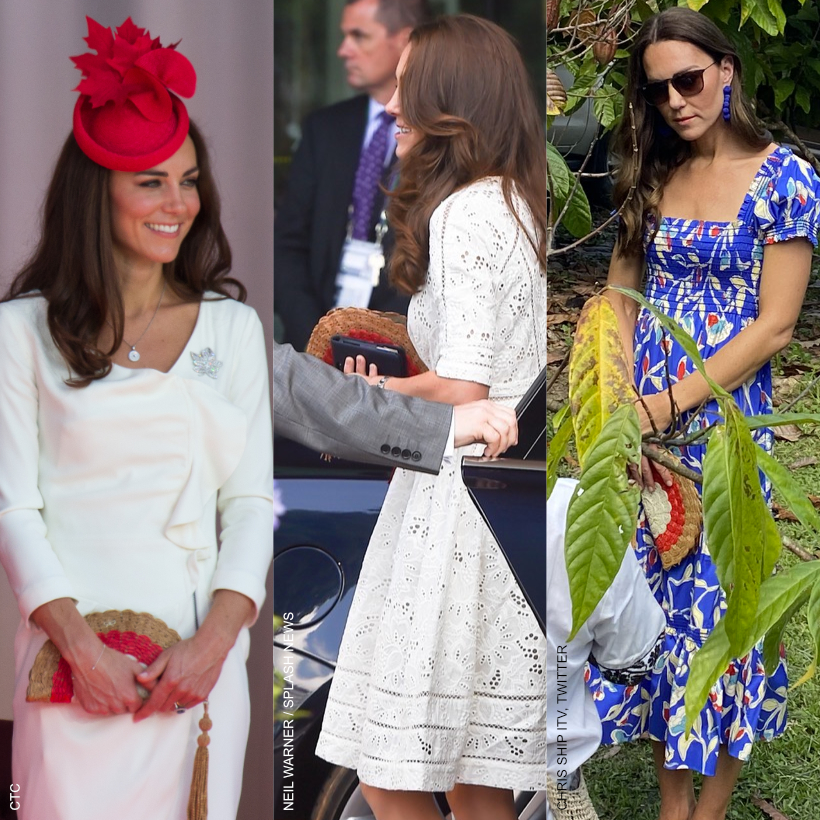 The bag features a large tassel and is made from woven straw in three colours: natural, red and white. As you might expect, the piece is no longer available (it's at least 11 years old!) Hindmarch does sell a semi-circle shaped straw bag in her current season collection though. The fun piece is decorated with two eyes!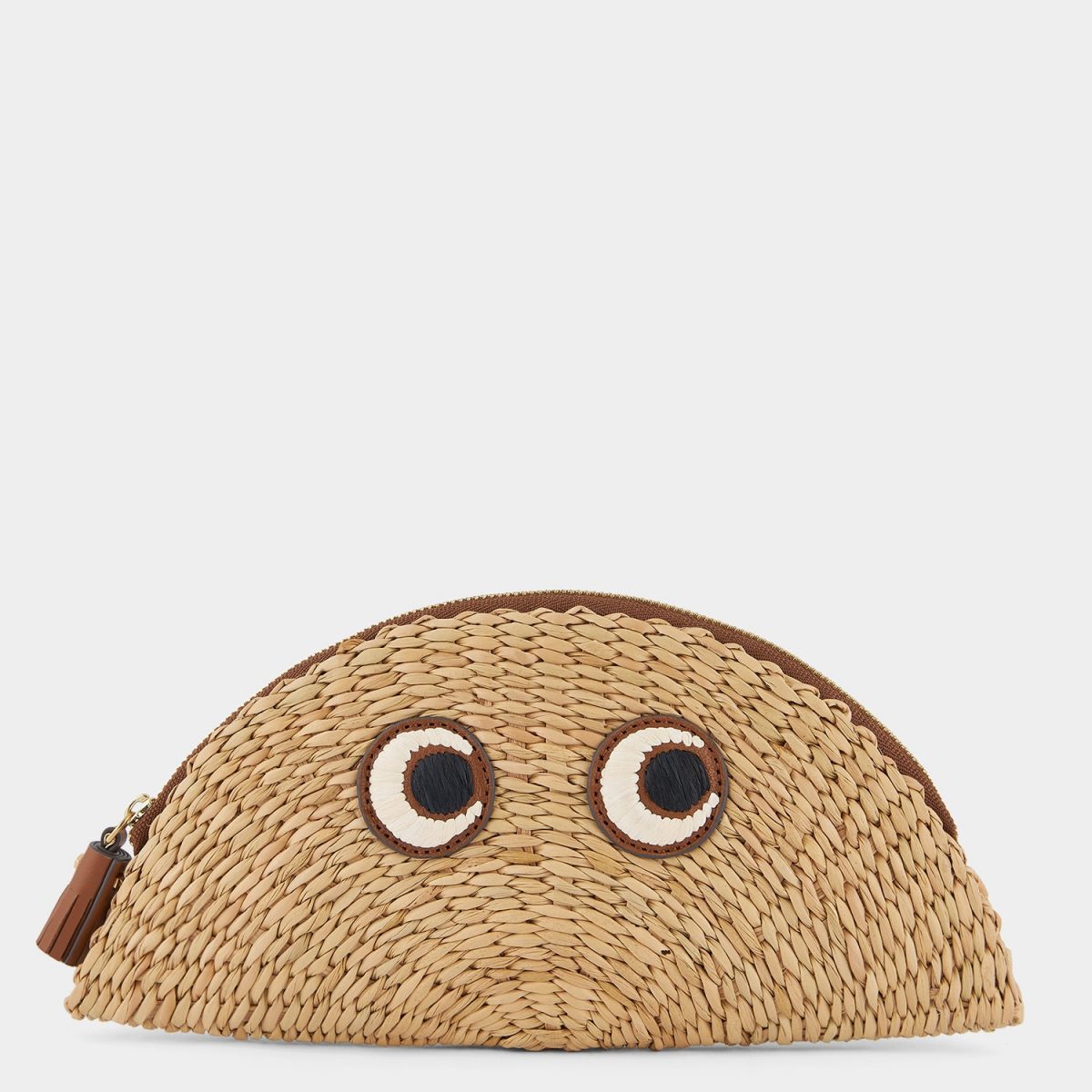 GET THE LOOK: Anya Hindmarch Eyes Clutch
New Season! Sadly, Kate's original red, white and straw woven fan clutch is no longer available. Anya Hindmarch does sell this quirky semi-circle clutch in her current season collection though! The fun piece features two eyes on the front.
If you followed Kate's style between 2012 and 2014, her cork wedges will feel familiar. They're the Minx style by Stuart Weitzman.


The Duchess debuted them in public at a polo match in 2012 before wearing them on a handful of engagements on the Diamond Jubilee Tour in the same year. We saw them again in 2014 during the Australia Tour (pictured below in Sydney). This is the first time we've seen her wear them since!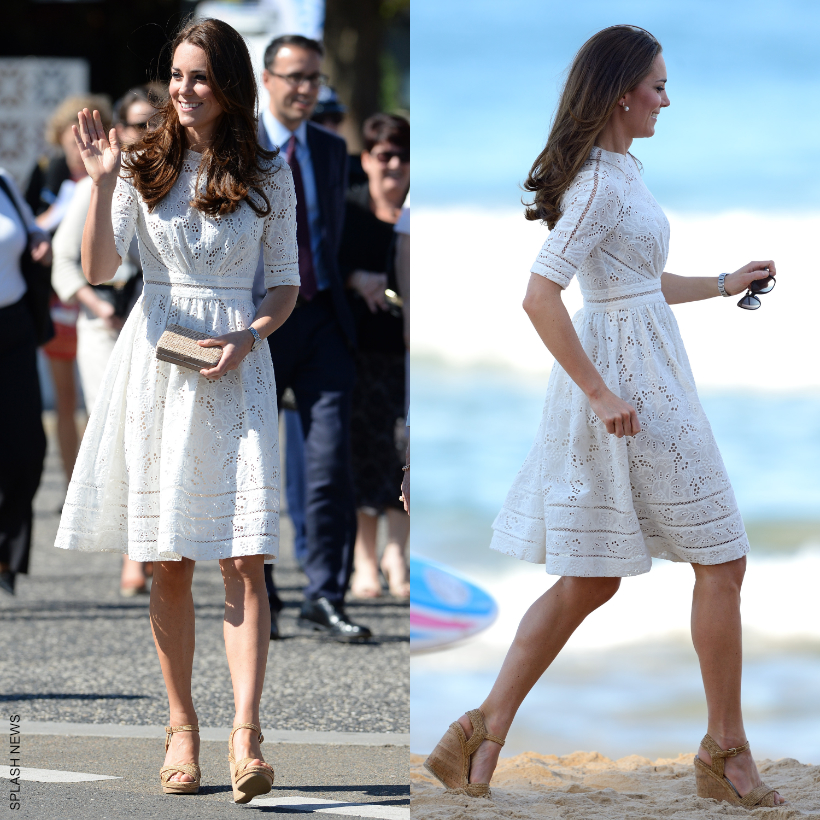 The camel-coloured wedges feature a braided leather strap at the ankle with an adjustable buckle closure and a cork platform wedge heel. The shoes are made in Spain and are lined with leather.
Again, the shoes are long sold out, though eBay does have a few listings if you really need to own the exact pair (otherwise, check out the Mirela espadrille wedges by the same Weitzman at Nordstrom. They're good alternative).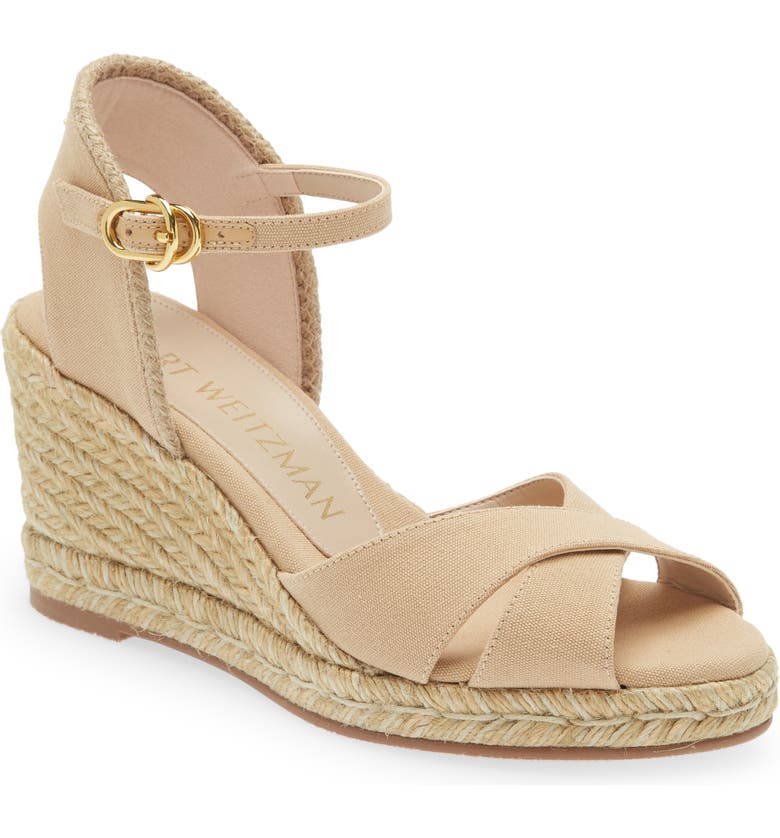 GET THE LOOK: Stuart Weitzman Mirela Espadrilles
New season! Sadly, Kate's cork-heeled Minx wedges are long sold out. If you'd like to steal her style, you could try the Mirela Espadrilles from Stuart Weitzman's most recent shoe collection instead.
Let's take a look at Kate's sunglasses now. They're the Chris RB4187 style by Ray-Ban. (Thank you to UFO No More and Data Duchess for helping me with this information.)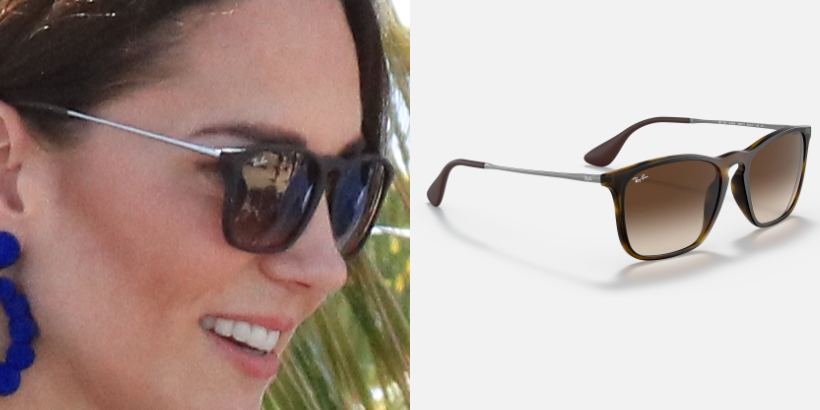 The stylish sunglasses are unisex, designed with square lenses.  They're crafted with a gummy and rubberised frame finish for a unique textured feel.   They have tortoiseshell frames and brown gradient lenses.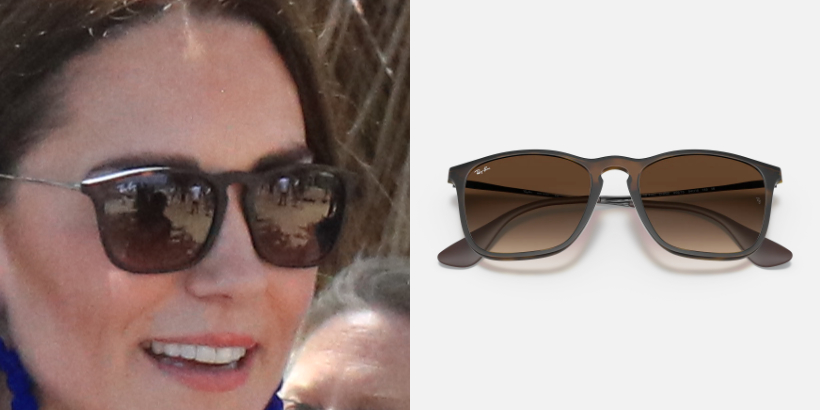 The Duchess has worn the sunglasses in public on a number of occasions since 2018. Here's Kate carrying the sunglasses during a visit to Battersea Park in 2020.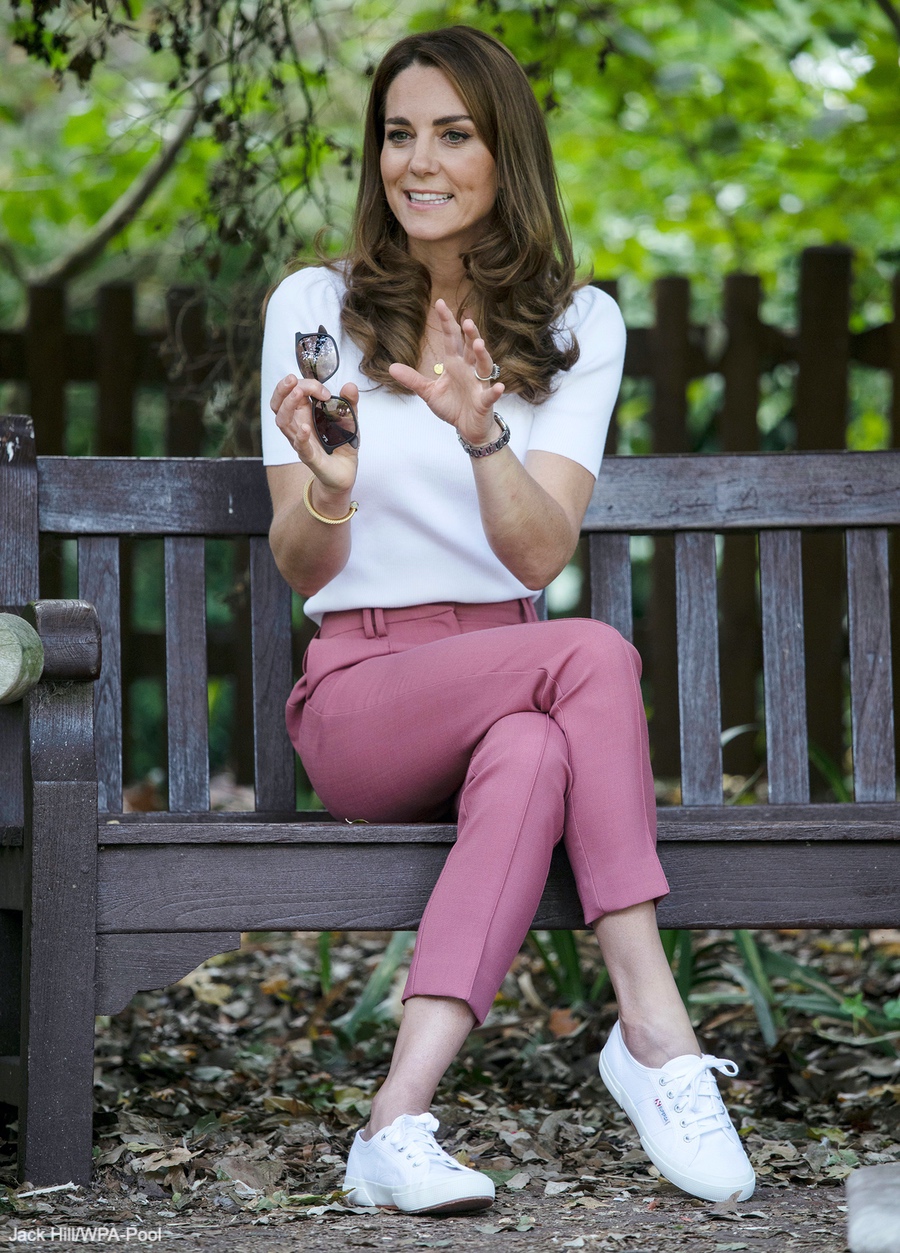 The sunglasses are widely available to buy, should you happen to need a new pair. Get them from Ray-Ban UK, Ray-Ban USA, Sunglasses Hut UK, John Lewis and Frames Direct.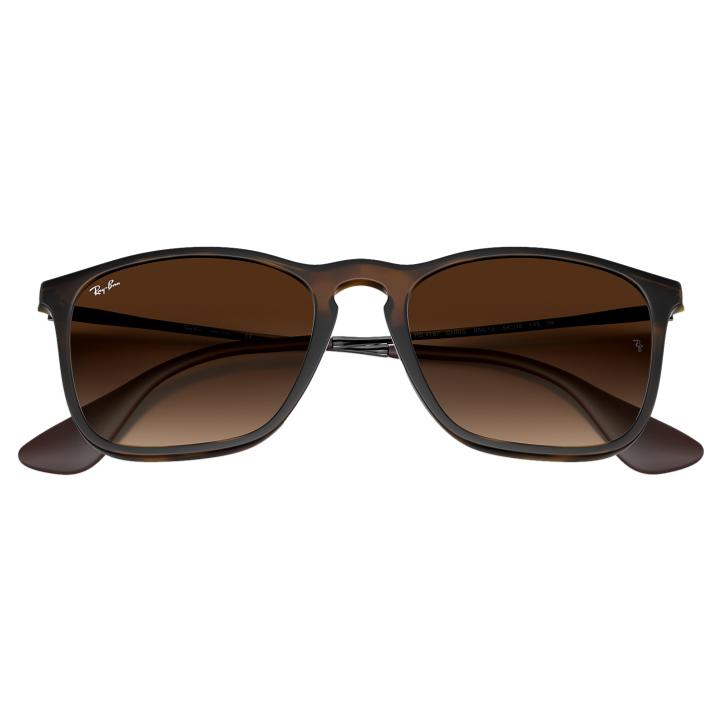 Ray-Ban Chris Sunglasses
EXACT MATCH! Kate is faithful to Ray-Ban sunglasses, she owns several pairs from the company. The 'Chris' is the newest style in her collection. Planning a trip to the Caribbean? You might want to add these to your shopping list…

Note: Rest of world delivery available too.
Kate's blue statement earrings are by the French brand Sézane, they're the "Charlie" style. (Thanks to (Royal.Family.93 on Twitter for finding the earrings.)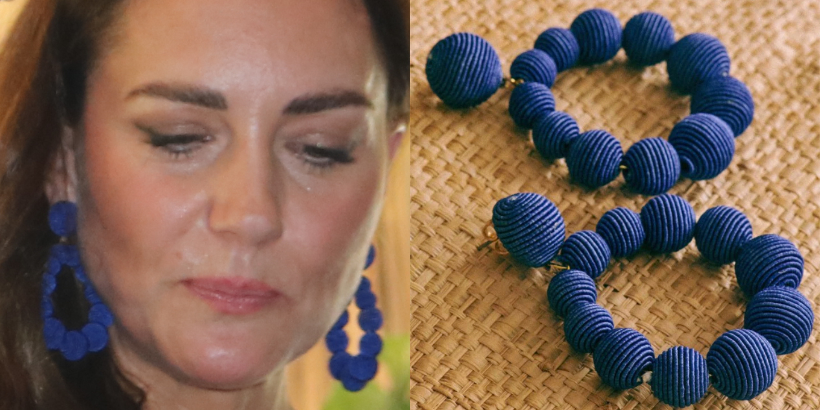 We haven't seen the Duchess wear them before. They're made from resin beads, blue thread and brass. RRP: £55 / $70. They're still available to buy in several colours, including the blue worn by Kate. UPDATE: I think they're now sold out & listed as 'coming soon.' However, other colours remain in stock.
On the beach, Kate changed into a pair of flat white espadrilles by Stella McCartney (Thanks to Heaven for finding these). They're the Hestia style.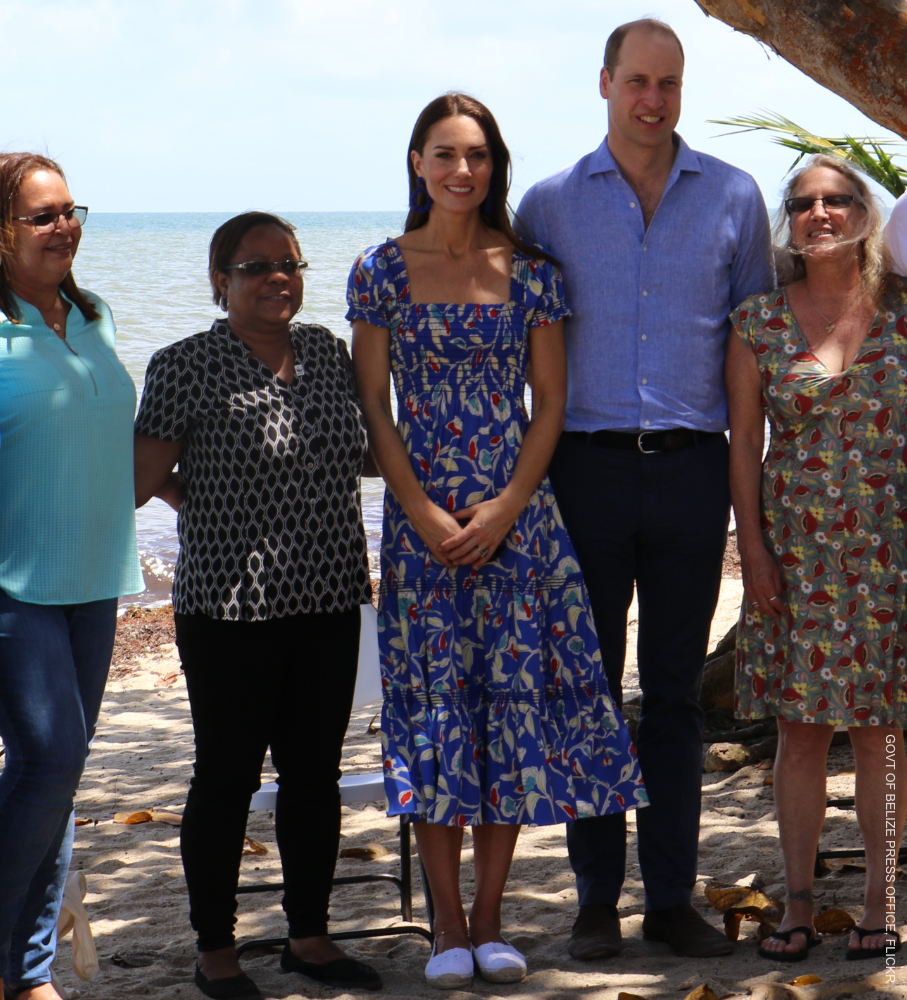 The shoes are woven from breathable raffia and feature a round toe with a jute cap at the front. They come with a gold anklet chain, which is removable. Kate opted to keep the chain on her shoe.

RRP: $436 at Net-A-Porter, now sadly sold out.