In November 2014, The Duchess of Cambridge attended a SportsAid "next athlete" workshop at the GSK Human Performance Lab in Brentford, West London.  Kate wore a purple dress by London-based fashion designer 'Goat.'
Specifically, Kate is wearing Goat's Vreeland dress in Iris.  This dress sold out within hours of her stepping out in it.
The dress is described by Goat as follows:
The light crepe fit and flare Vreeland dress is classic and ultra-demure. The collar and buttons on the top combined with the belted waist and skirt create an uncomplicated yet complimentary shape. The dress has buttoned cuffs, a self belt with colour matched buckle, and concealed side zip closure. 100% wool.  Made in Britain.
DIANI boutique also stocked the dress in an alternative colour – a lovely petrol blue:
Here's how DIANI described the Vreeland shirt dress:
With its uncomplicated yet complimentary shape, the lightweight fit and flare Vreeland Shirt Dress is a timeless and classic piece. Dress down with boots or up with heels. Features include fold-over collar, button up front, belted waist with buckle, buttoned cuffs and concealed side zip closure.
Where to buy Kate's Goat Vreeland dress:
Sadly, the dress is now out of stock everywhere.  If you'd like to get Kate's look, Goat sell a number of beautiful dresses in varying shades of blue and purple.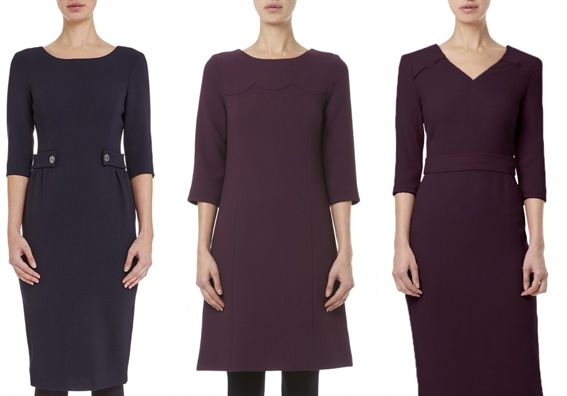 From left to right:
Manhattan in Navy Blue
Vanity in Blackcurrant
Bentley in Blackcurrant
Kate and Goat:
Kate has worn Goat clothing on a number of occasions since 2013.  She has worn the label's Scarlett dress, Washington coat, Violetta dress and Redgrave coat, just to name a few.