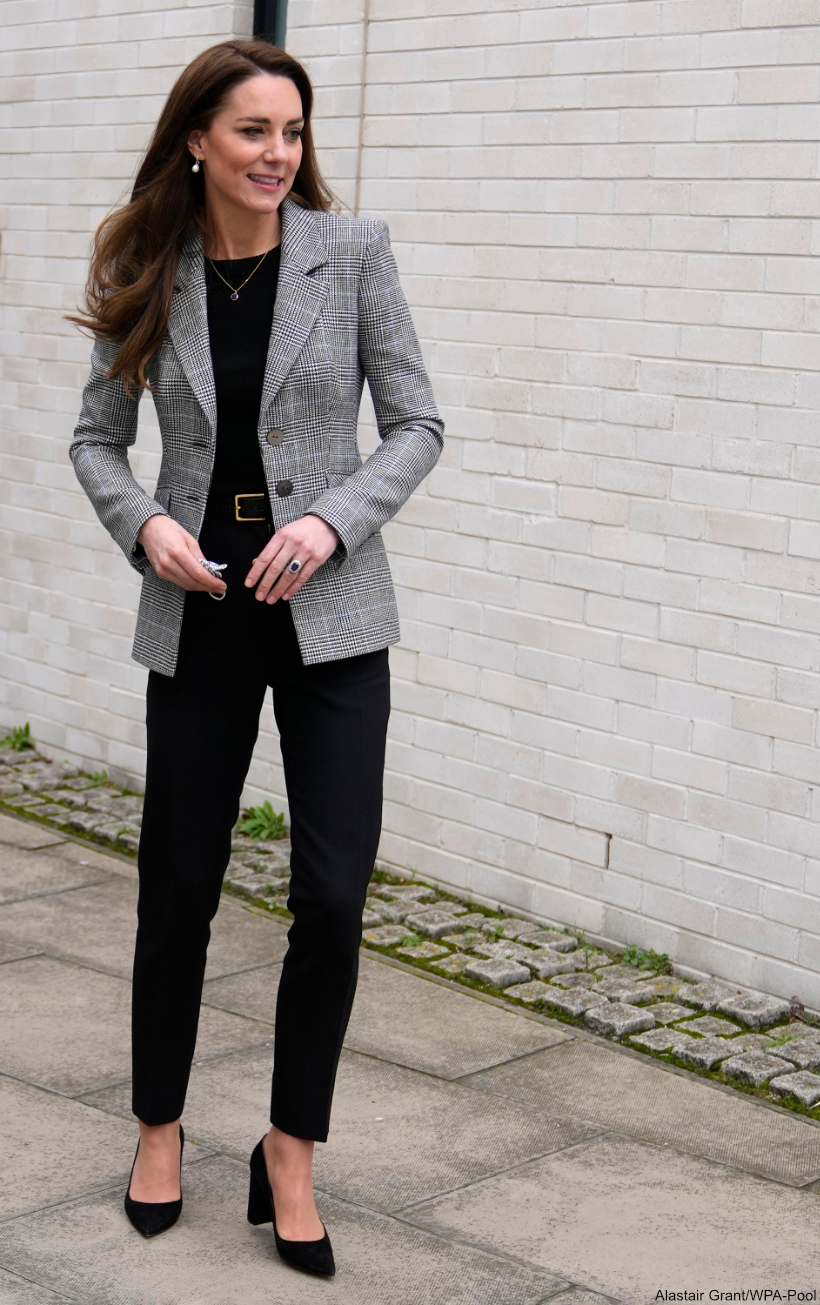 Kate nailed workwear chic during her visit to PACT (Parents and Children Together) on February 8th 2022. The Duchess opted for a tone-on-tone look by wearing a glen check blazer over a black top, black trousers and matching accessories. The result was a polished ensemble that I'm sure will create a wave of copycat looks among professionals.
PACT is a community-led social support project. It runs several different initiatives to support and empower parents in order to improve the health and development outcomes for young children.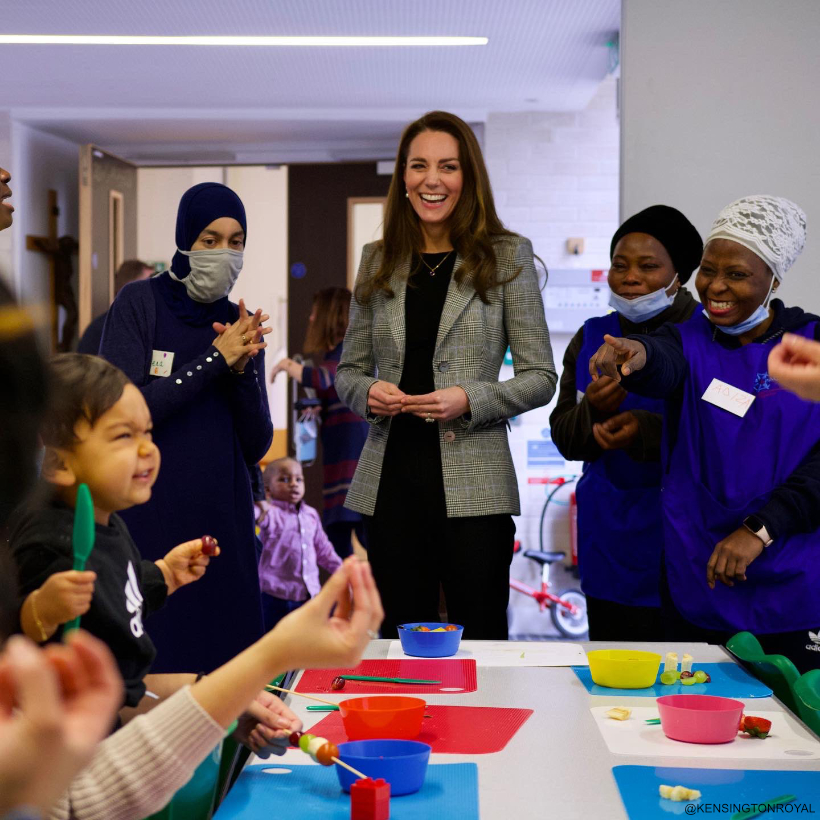 Kate visited PACT's MumSpace group in Southwark, London.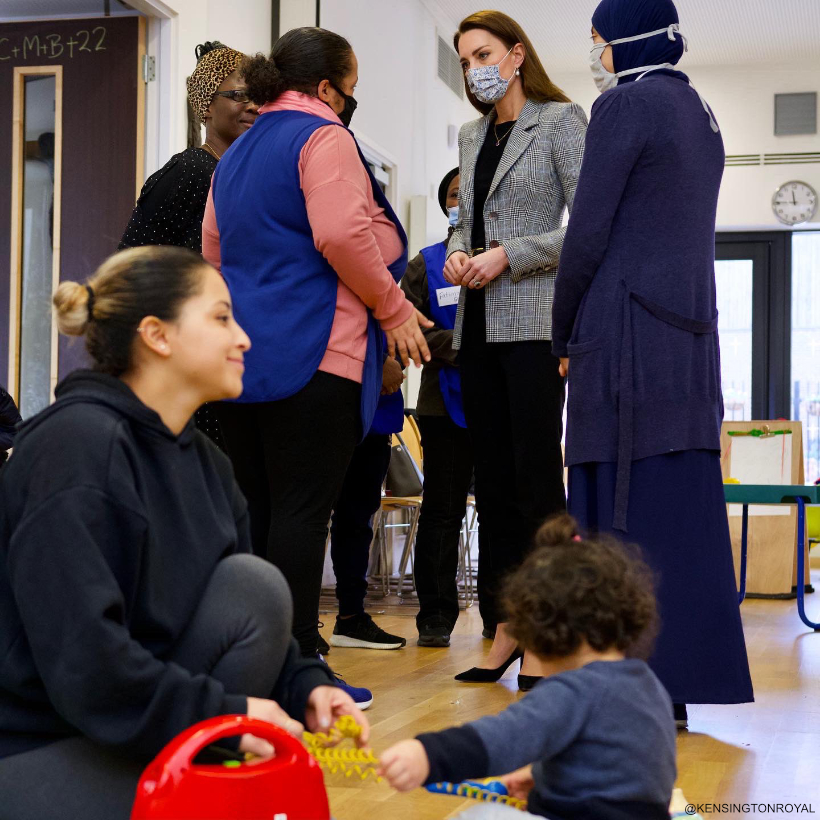 MumSpace is a safe and supportive community for parents to share experiences, make connections and access services. MumSpace aims is to help combat feelings of isolation and improve mental wellbeing so parents can give their children the best start in life—we know this is an area Kate is passionate about and has been the focus of her royal work in recent years.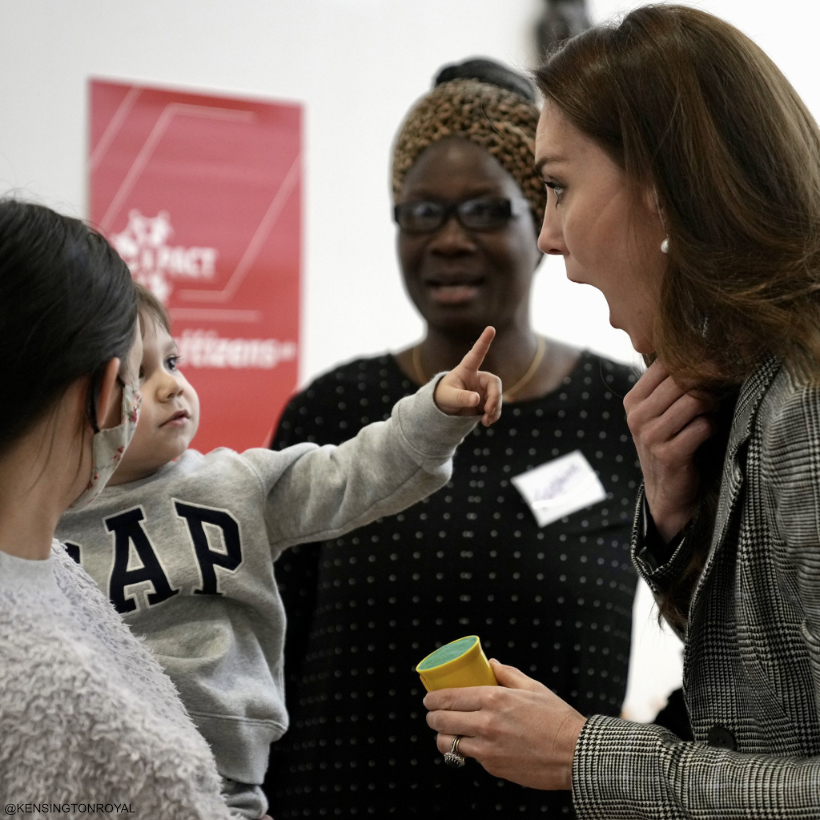 During Kate's visit, she met MumSpace volunteers and attendees, plus a Health Visitor who regularly attends the group. She also joined in with a cooking workshop for parents and children.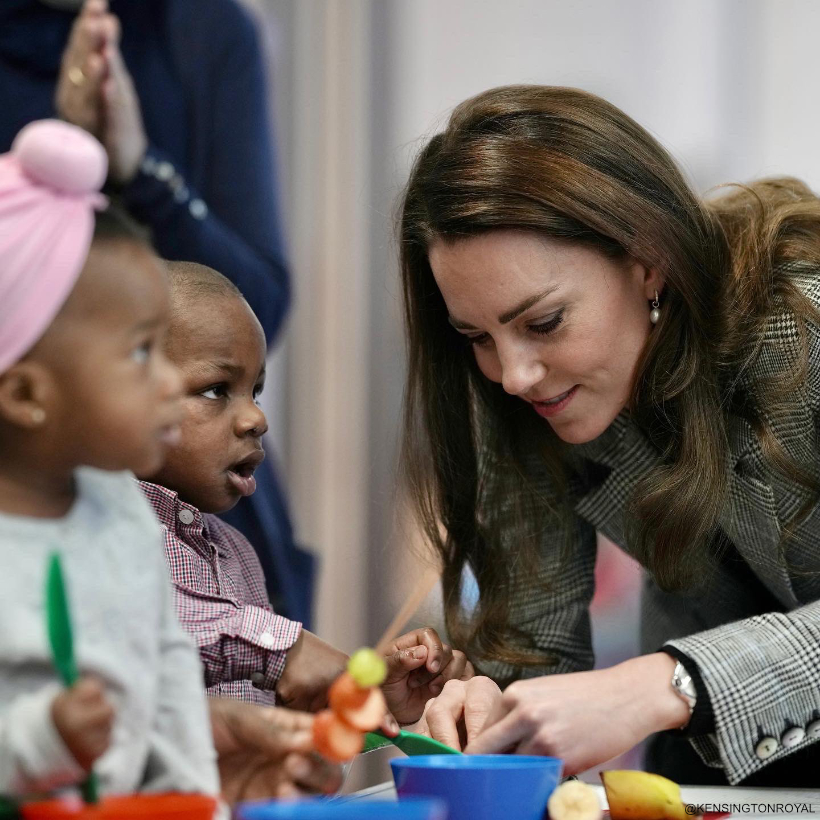 Let's discuss Kate's outfit from the visit.
Kate's outfit from the PACT visit:
Kate chose a black-on-black look for the visit to PACT. As I've reported before, Kate's worn quite a few tonal looks recently.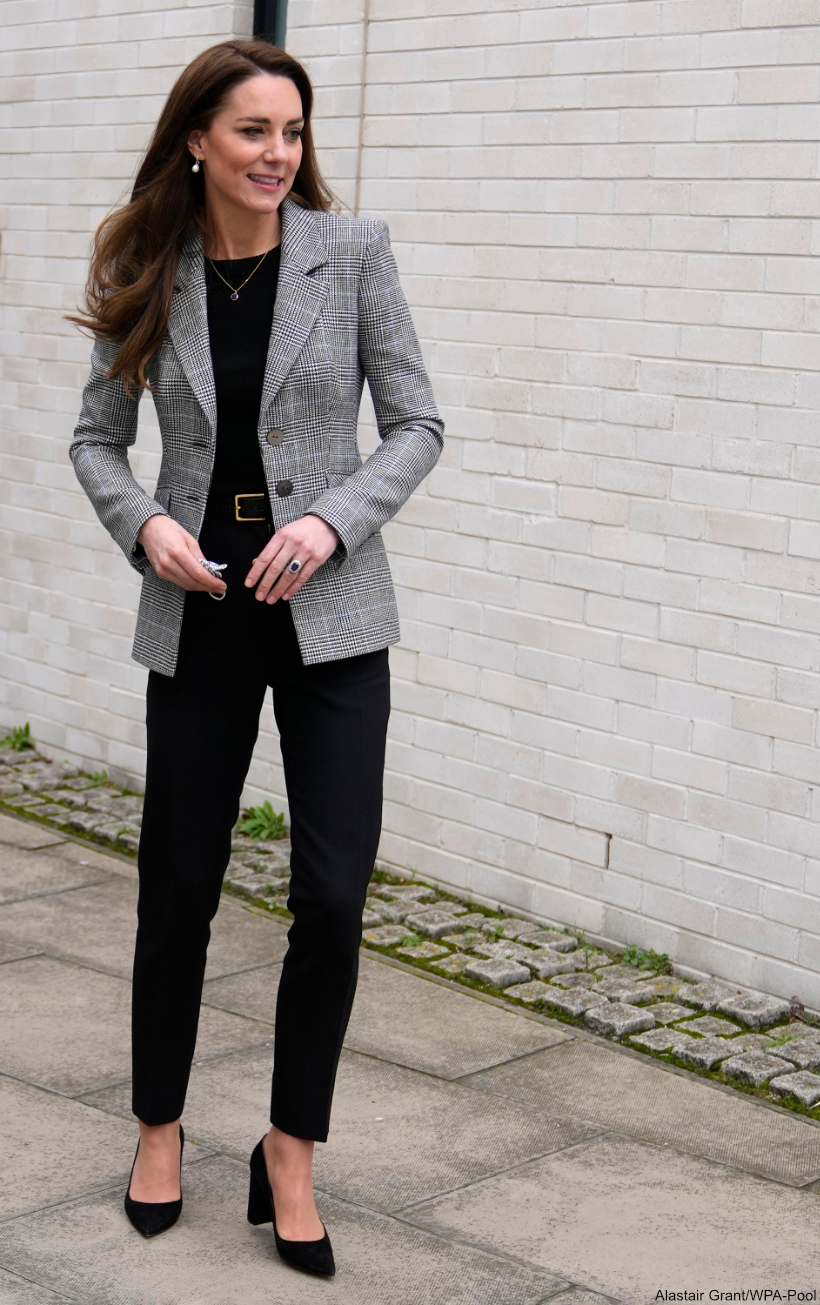 Blazer
The smart blazer features a Glen (also known as a Prince of Wales) check design in black and white. A light blue thread runs throughout. There's also a notched lapel collar, single-breasted button front closure and four buttons on the cuffs. It looks like the buttons are all made from mother of pearl.
According to one fan (Chrissy, via Middleton Maven), the piece is by Catherine Walker. I'm not sure how Chrissy came across this information and I haven't been able to verify it. I assume Chrissy read it somewhere (some news outlets are reporting the jacket is by Catherine Walker, but they might have taken the information from royal fans on Twitter, as they so often do!) Or perhaps she emailed Catherine Walker/has contacts at the atelier?
Of course, Catherine Walker is a label Kate is very familiar with. She owns many bespoke pieces from the company. Catherine Walker has sadly passed on now. Her husband and business partner Said Cyrus still oversees the business in Chelsea, London.
Sweater
Under the blazer, Kate wore a black sweater. It's could be this one by Boden: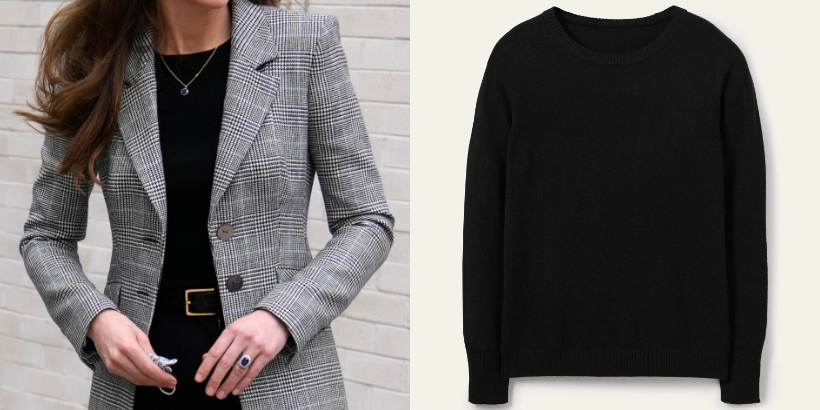 It's difficult to say for certain, of course. It's a good match though (thank you to Bojana for the suggestion.) I lightened the picture of Kate to show the ribbing around the neckline for comparison purposes: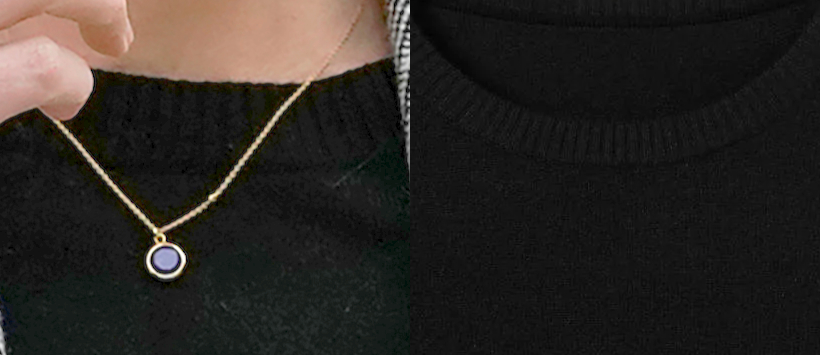 The piece is made from 100% cashmere, certified by the Good Cashmere Standard, sourced from free-to-roam goats from Inner Mongolia. Boden describes the shape as "semi-fitted". The elegant knit comes in a whopping nine more colours.
You can buy the piece from bodenusa.com for $170 or boden.co.uk for £115 (other countries and currencies available too—there's a dropdown box at the bottom of the page).
Boden is a relatively new brand to appear in Kate's workwear arsenal. The Duchess started wearing clothing by the company to royal engagements a year or two ago. We've seen her in 7-8 other pieces to date. It's clear why Kate likes Boden. The British brand is known for its use of bright colours, eye-catching prints, flattering fits and good tailoring.
Trousers
Kate wore a pair of black cigarette trousers to visit PACT. Bojana thinks they're the L.K. Bennett Frieda style.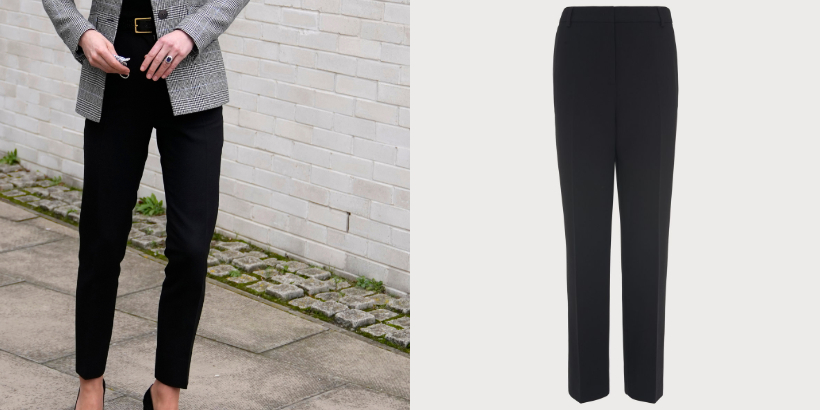 The Data Duchess notes that it's likely Kate has worn the slim-legged trousers on several occasions before (previously unidentified). Plus, she owns them in blue too (shown below):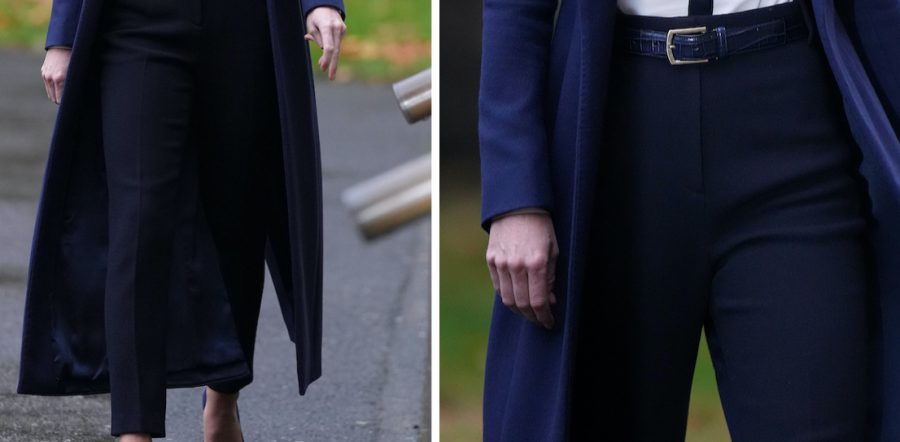 The classically tailored trousers are crafted from a stretch crepe fabric. They have a straight leg and feature traditional tailoring details.
If you'd like to add the smart trousers to your workwear wardrobe, you're in luck. They can be purchased for £75 from L.K. Bennett (Was £125) in black and £62 in midnight blue.
Of course, L.K. Bennett is a brand synonymous with Kate and her style. The Duchess has worn the British brand's clothing, shoes and accessories constantly since joining the Royal Family in 2011.
Belt
Kate added her black Anderson's Croc-Effect Leather Belt to the trousers. This chic belt features a croc-effect design and a shiny gold buckle.

Each belt is handmade in Italy by Parma leather Artisans who use a 100-step process to craft these beautiful accessories. Anderson's is fifty-year-old a family-run business.
Kate's worn the belt on a handful of occasions since 2020.
Want to add this belt to your accessory collection? It's still available at Net-A-Porter for $160 USD / £98 GBP. (Again, Net-A-Porter accept different currencies and ship to many different countries, you can use the selection tool on the top left of their website if required.)
Heels
Kate donned her trusty black block-heeled pumps by Gianvito Rossi. They're the Piper 85 style. The Duchess added them to her shoe collection in 2019. I believe this is the thirteenth time she's worn them to date (publicly, of course.)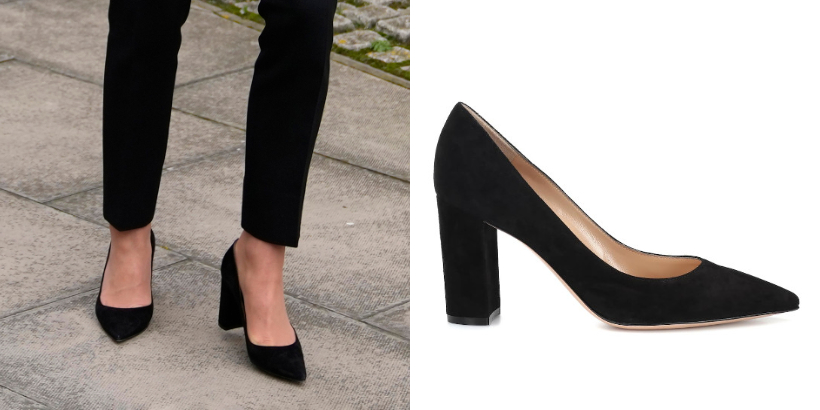 The shoes are made from black suede and feature a pointed toe. The block heel measures in at 85mm.
These shoes are also still available to buy. Get them from Net-A-Porter for £490 GBP / $695 USD. Net-A-Porter ship worldwide.
Gianvito Rossi is one of Kate's go-to footwear designers. The Duchess owns over ten pairs of his heels and sandals. The designer concentrates on quality above all else. His shoes are made in his own Italian factory.
Jewellery – Earrings
Kate finished her outfit with subtle jewellery that enhanced her polished and professional look. She wore her pearl drop earrings by Annoushka. The Duchess has owned the earrings since 2012 and has worn them to 60+ public engagements to date. They're one of her most-worn pairs of earrings.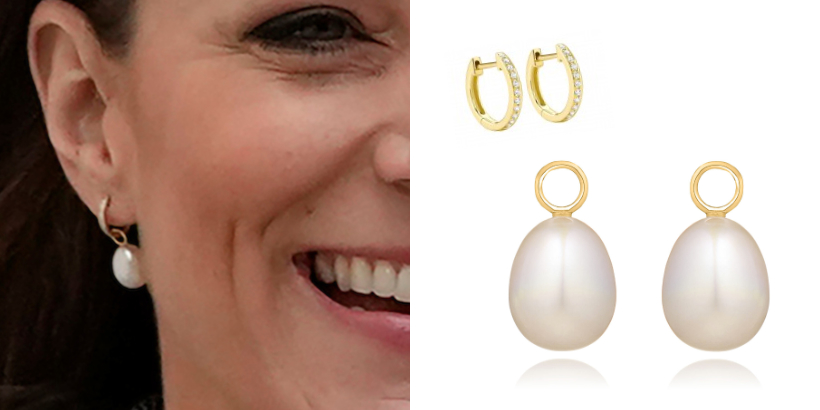 They're known as the Baroque Pearl Earring Drops and feature two white freshwater pearls suspended from 18ct yellow gold rings (white gold also available).
Kate suspends the pearl earring from a pair of Kiki McDonough hoops that she owns.
Anybody hoping to buy Kate's earrings will be happy to read that they're still available to buy at Annoushka.com for £395 (approximately $495 USD -worldwide delivery available too.)
The British brand is run by Annoushka Ducas, one of the country's leading fine jewellery designers and previous founder of Links of London. (A giant jewellery retailer in the UK and a brand Kate wore a handful of times during the early years of her marriage.)
Necklace
Let's take a look at Kate's gold and blue gemstone necklace now. It's by Astley Clarke. It's the jeweller's Round Stilla Pendant.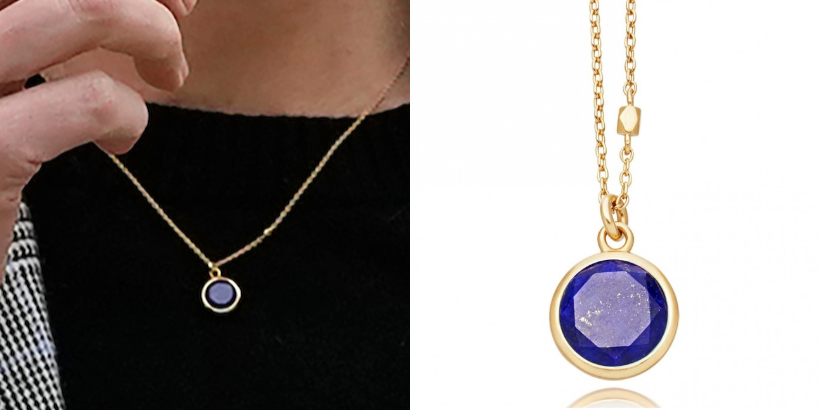 The pretty necklace features a hand-polished multifaceted blue lapis lazuli gemstone hung from a demi-fine gold chain made from 18ct vermeil.
We've seen Kate wear the necklace on six other occasions (publicly, to date) since its debut in January 2021. Due to the timing and frequency of wear, many suspect it was a 39th birthday gift from a loved one.
This is another item in Kate's ensemble that is still in stock! You can buy it from Astley Clarke's website for £160 / $220.
Watch
Kate also wore her Cartier Ballon Bleu watch. You can just see it poking out of her sleeve here:
The Duchess wears the stainless steel timepiece in the 33mm size. It features a distinctive blue cabochon on the watch face. Kate's worn the piece frequently (to over 100 engagements) since 2014.
At the time of writing, the watch is widely available. Buy it from Goldsmiths.com for £5,100 GBP or Jomashop.com for $5,575 USD.
Rings
Last but not least, Kate wore her usual trio of rings: her sapphire engagement ring, her Welsh gold wedding band and her white gold and diamond eternity ring.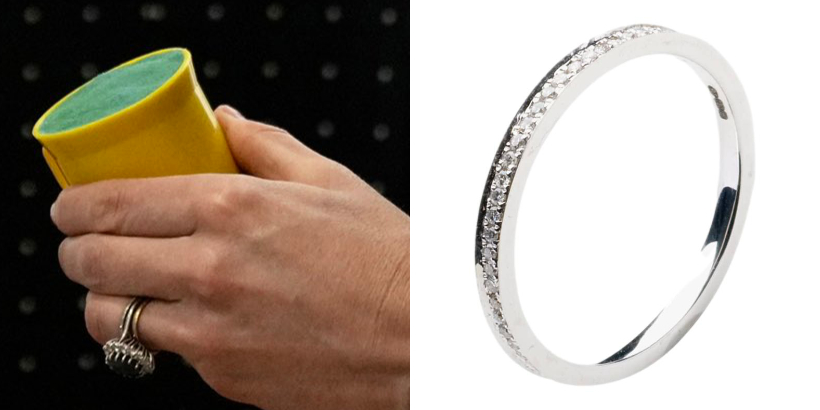 Her thin diamond eternity ring is by Annoushka (the same designer as her earrings). It's known as the Eclipse style. Kate's been wearing the ring since 2013. It's assumed Prince William purchased the item of jewellery for Kate following Prince George's birth.
The ring is made from 18ct white gold, hand-set with 0.23ct diamonds and finished with a high polish treatment.
If you're in the market for a similar piece, you may be interested to know it's still available to buy from Annoushka.com for RRP £1,500 in the UK and $1,900 in the USA.