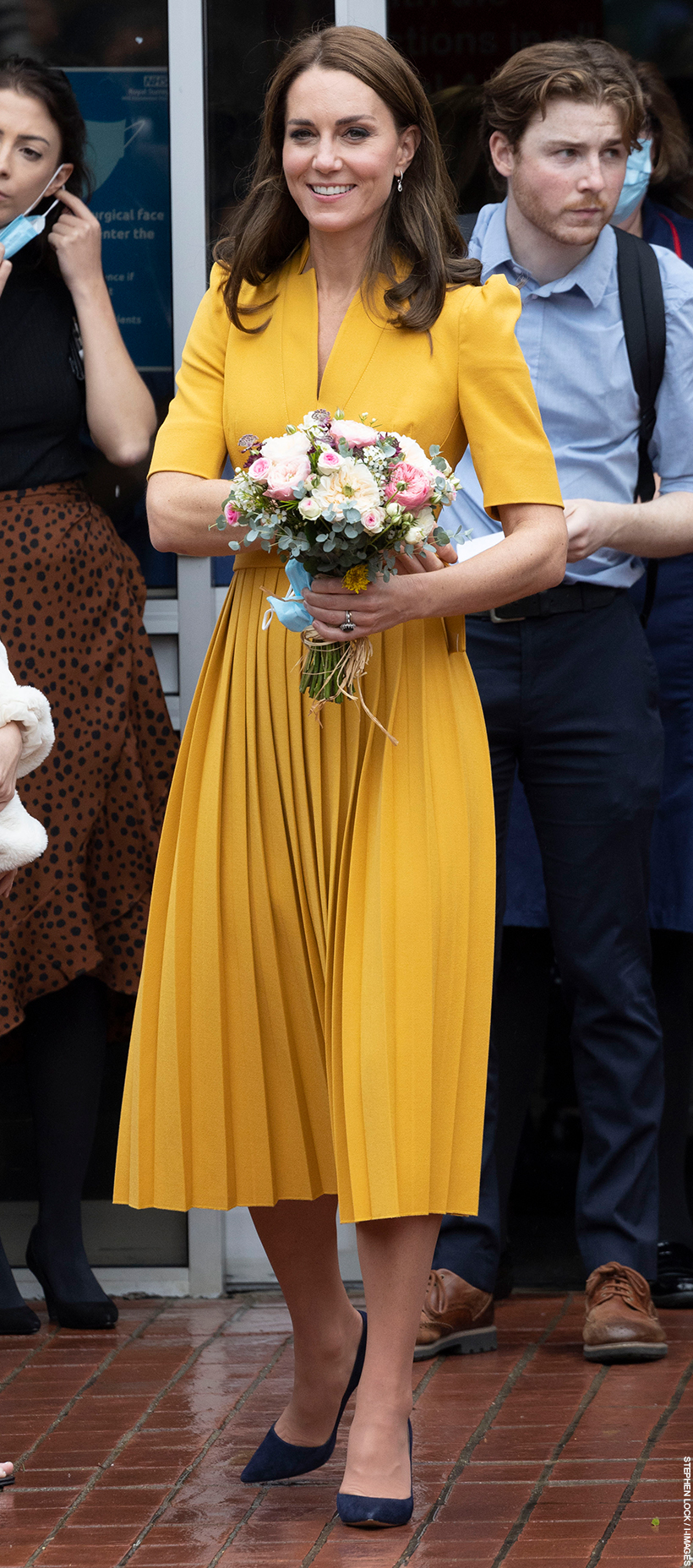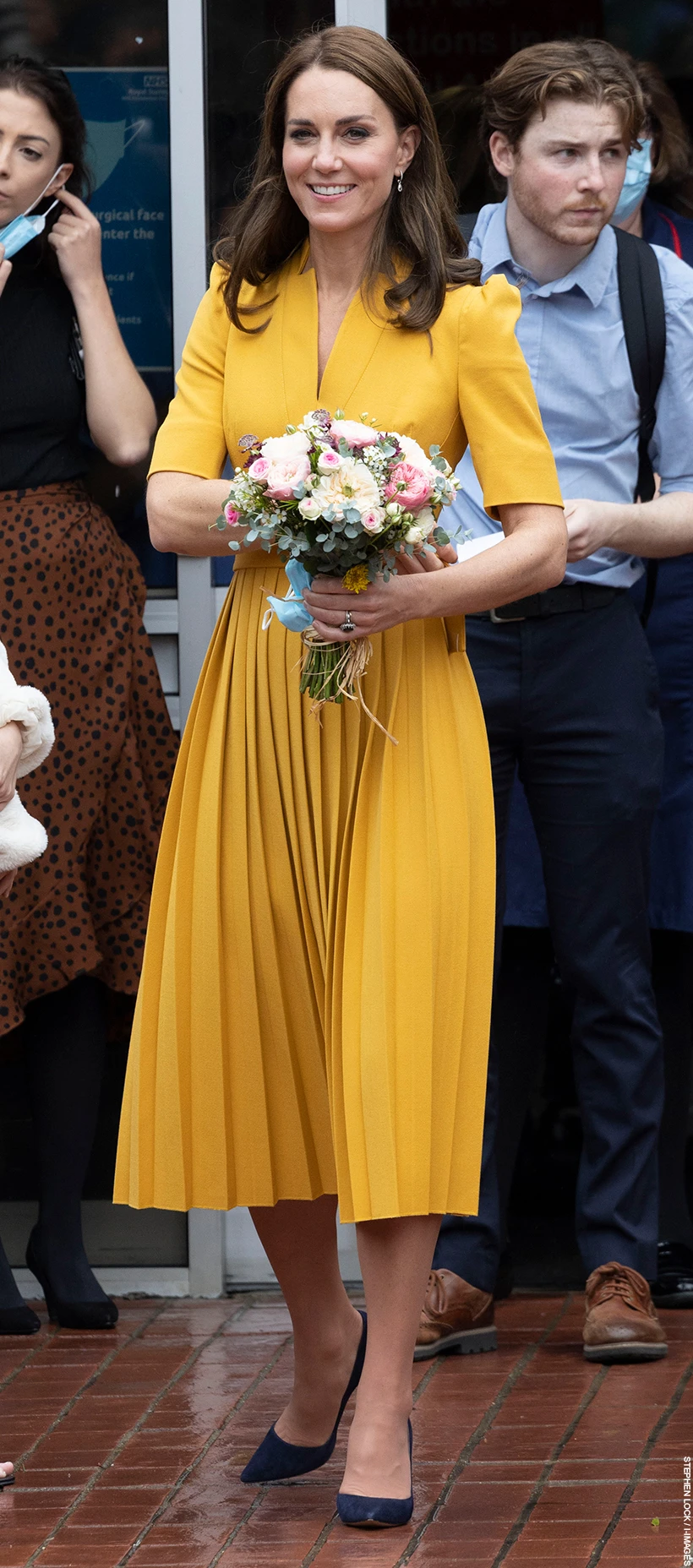 Kate Middleton looked like a ray of sunshine in Guildford on Wednesday. The Princess wore a bold yellow dress by Karen Millen during a visit to Surrey County Hospital's maternity unit. She travelled to the hospital to learn about the holistic support it provides to pregnant women and new mothers.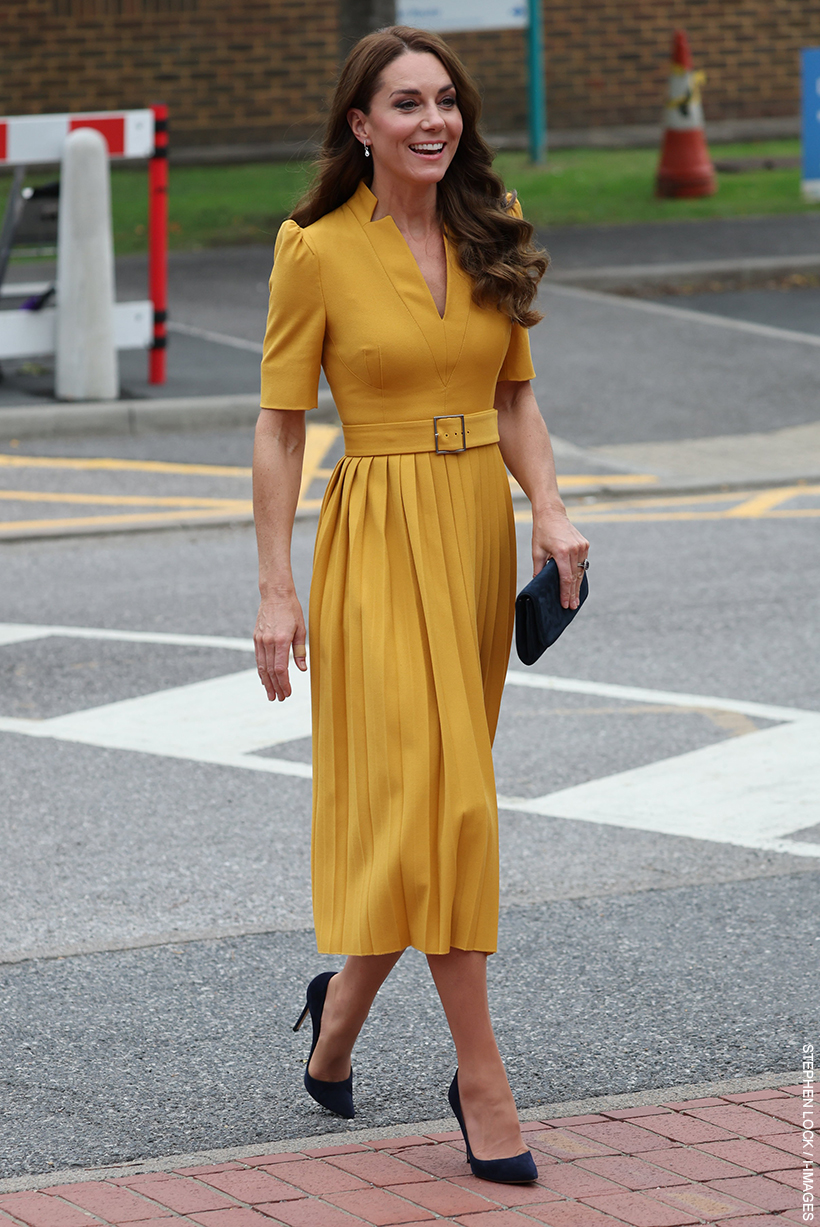 A lot of Kate's work has focussed on this area since she became a mother herself. It's clear she wants to help bring awareness and attention to maternal mental health and shine the spotlight on the initiatives that help give children the best start in life.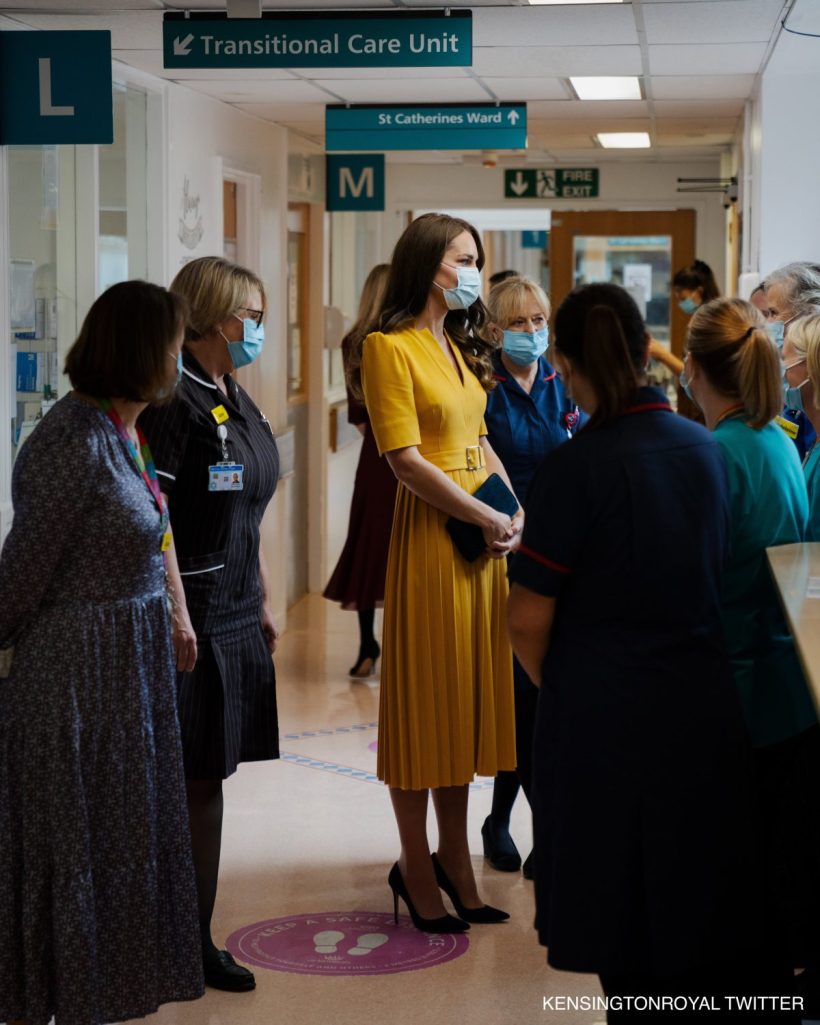 In the last few years, the Princess has set up a centre for early childhood, conducted roundtable meetings with experts, met midwives and nurses, chatted with mothers and much, much more.
A little about Kate's visit today, via People:
Upon arrival at the hospital, which delivers and cares for around 3,000 babies each year, Kate met staff from the unit's Jasmine Team, which helps the one in five women affected by mental health illnesses during pregnancy and the postnatal period. She heard how the team collaborates with local services to provide tailored care and spoke with a mother who benefited from the support.

Kate also heard how staff implemented a plan for mothers to work with the same team of midwives throughout their pregnancy.

People
During the visit, Kate urged new mothers to consider their own mental and physical health:
The Princess… said it was too easy for mothers to think "I don't have time" or "my child comes first" at the expense of their own mental and physical health.

Telegraph
Kate told of the pressure she and William felt in choosing their children's names, knowing how many people were waiting to hear the announcements.
She also joked how she considers four-year-old Prince Louis her baby. "But he's a big boy now. It just feels like yesterday". She added.
Kate also spent some time in the hospital's Special Care Baby Unit, a special department for the care and treatment of newborn babies that are ill or were born prematurely.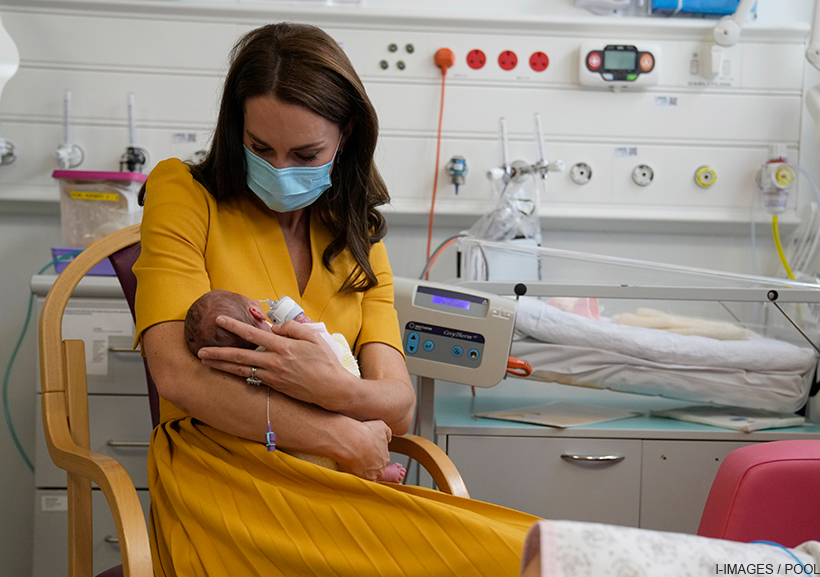 Kate cuddled one of the hospital's newest arrivals, baby Bianca. Kate cradled the infant, who was born prematurely at 35 weeks and is being looked after by hospital staff and her mother Sylvia.
Some hours after the visit, Kate's team posted the following statement to Instagram:
With a focus on maternal mental health, alongside pioneering overnight facilities, Royal Surrey County Hospital ensures women and their families feel safe, supported and have the best chance of developing those all-important early attachments which are so crucial to ensuring their babies grow and thrive.

It was lovely to meet some of the new mothers and their babies who are supported by such a brilliant team at the hospital.

Catherine, Princess of Wales via Instagram
Let's move on to the fashion portion of the post and look at Kate's bold yellow dress now.
Kate Middleton's outfit today:
As I wrote in the opening paragraph, the Princess chose a bold yellow dress by Karen Millen—a premium British fashion retailer that specialises in tailoring, coats, and evening wear. The piece is called the 'Forever Dress'.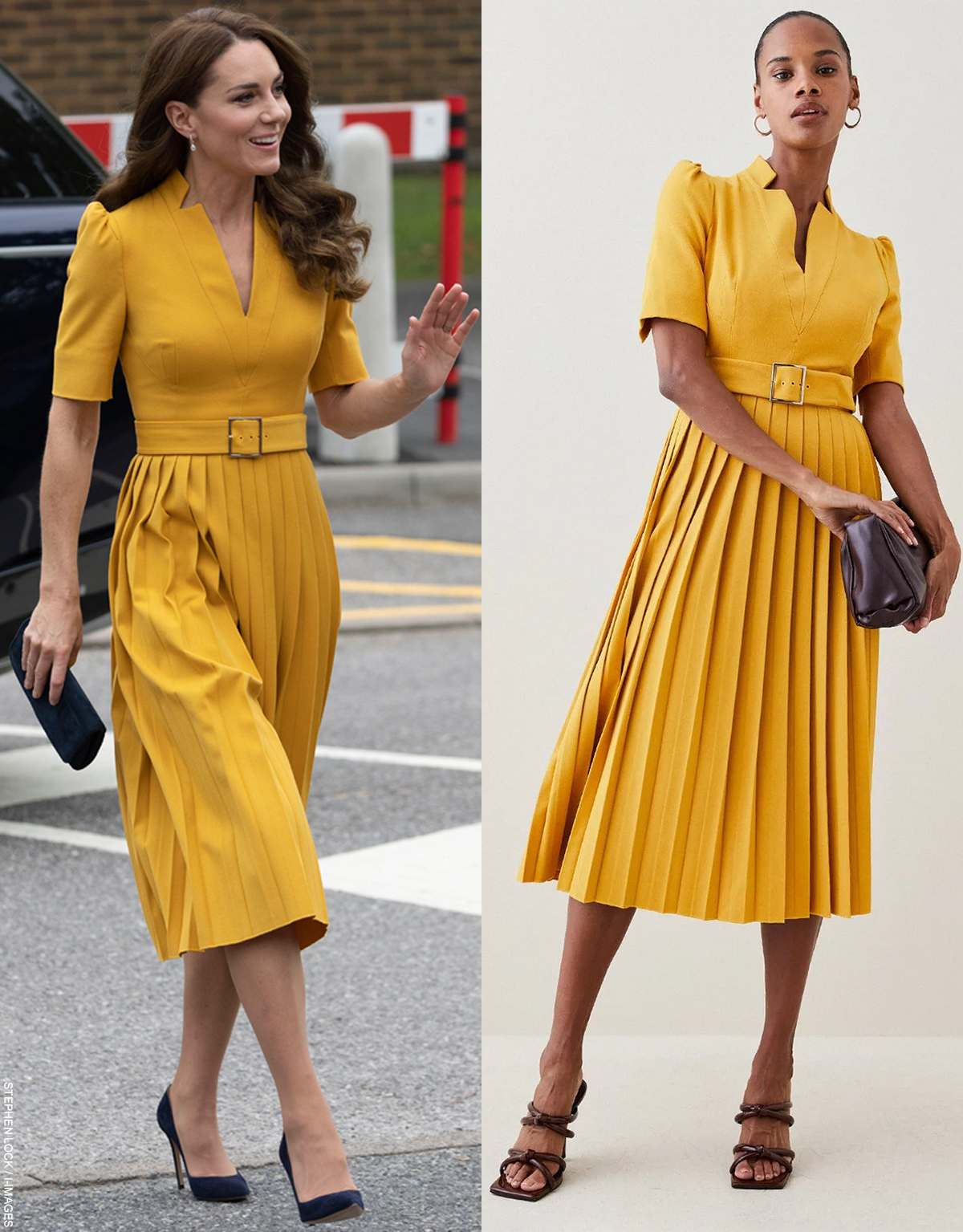 I quickly identified the dress myself! By sheer coincidence, I had been on the Karen Millen website looking for 'RepliKates' only hours before the engagement.
The frock features a knee-length skirt with pressed pleats, a unique notched neckline and above-elbow sleeves with and enhanced shoulders. It comes with a matching belt, which Kate opted to wear (often, the Princess will remove the belt that's issued with the dress and swap with one from her own closet).
It looks like the dress is quickly selling out in the Ochre yellow, only limited sizes remain. RRP: $300.80 / £175.20. (Other currencies and worldwide delivery available.). There's also 15% off with the code DRESS for a limited time.
The Forever pleated dress comes in a range of other colours—some of them actually remind me of designs Kate's worn in the past.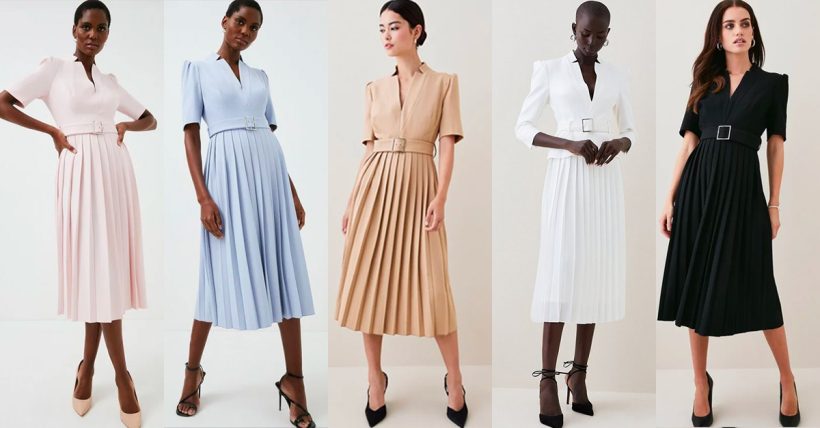 It wouldn't surprise me to see her wear another one of these in the future, perhaps the blue, pink or white. (We know she repeatedly buys multiples of clothing, accessories and shoes that she likes!)
Karen Millen sell other iterations of the Forever Dress—with different skirts, belts, sleeves, necklines, zips, etc etc.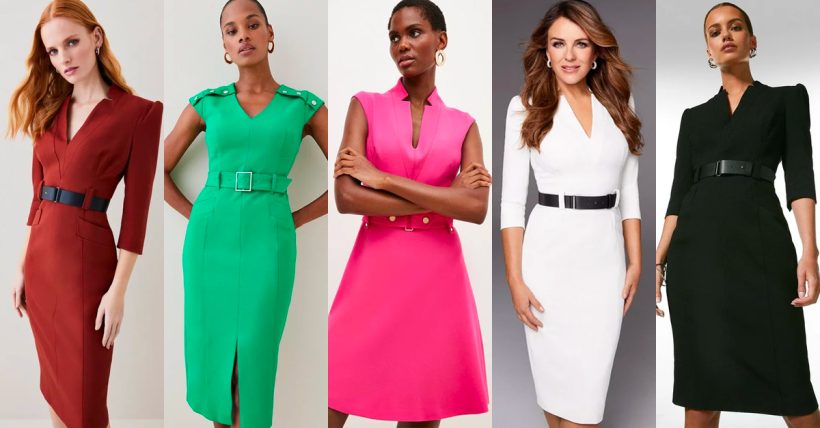 By sheer coincidence, the Prime Minister chose the Karen Millen Favourite dress for the Conservative Party Conference today. She wore the design in 'rust' with the midi pencil skirt, shown above left.
Karen Millen was a former staple of the British high street with shops up and down the country. The designer departed from the company in 2011. In 2019, internet retailer Boohoo purchased the brand out of administration, closed the bricks and mortar stores and took it online only.
Kate paired the dress with new earrings (new to us, anyway!) Another item I've identified myself today, wahoo! They're by jeweller Emily Mortimer. They're the Hera Diamond Pear Drops in white gold.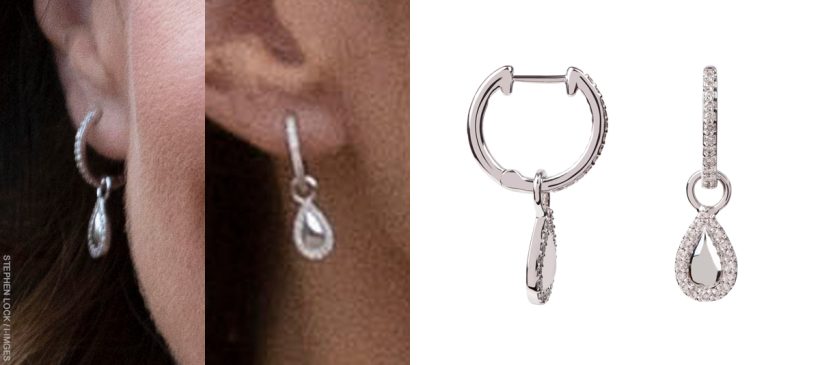 The designer later also confirmed the ID via email.
The earrings feature pear cut drops made from polished white gold surrounded by sparkling round cut diamonds. The detachable drops hang from sparkly diamond encrusted white gold hinged hoops.
The white hold and diamond earrings cost £795. There's currently a 4-6 week wait for delivery due to their popularity. Click here to view.
If the name 'Emily Mortimer' sounds familiar, it might be because of the Duchess of Sussex. Meghan wore two designs by the British jeweller in 2019. The Gold Hera Studs and the Nova White Gold and Topaz Earrings.
Today, I learned Emily Mortimer worked closely with Kiki McDonough before setting up her own business—Of course, Kate's frequently worn Kiki's designs over the last 11+ years. The Princess owns 21 items by the jeweller—18 pairs of earrings and 3 necklaces.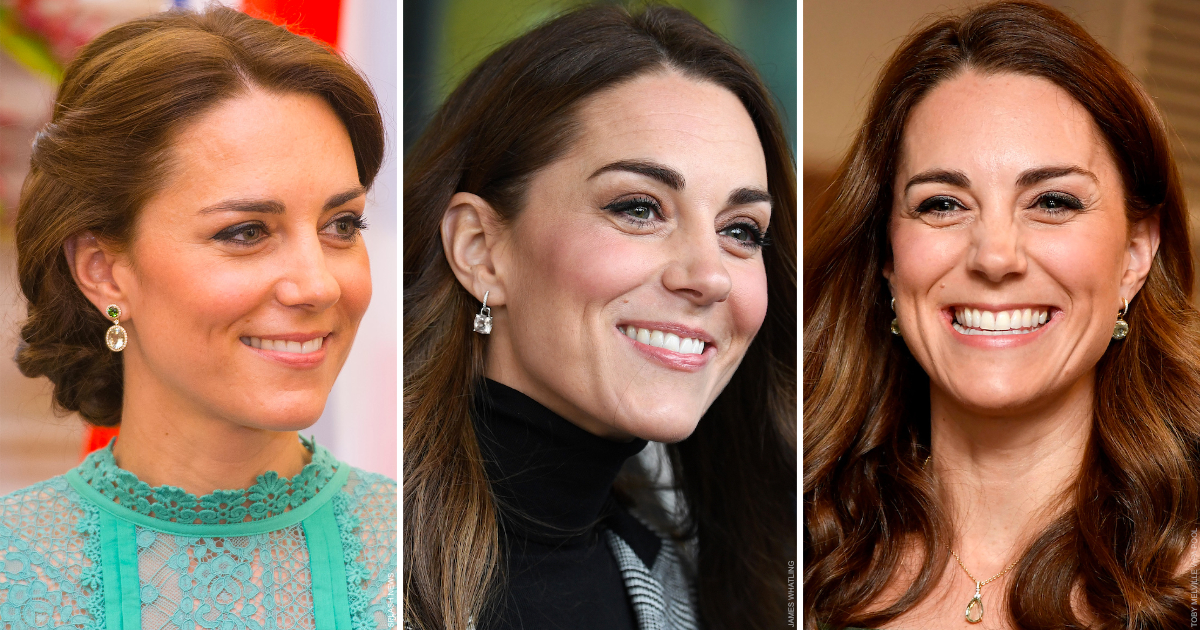 (Above, Kate wearing various Kiki McDonough pieces.)
Emily spent five years working for Kiki McDonough in London. In an interview, Emily says Kiki taught her a "high amount about every aspect of jewellery design but especially working with coloured gemstones."
Today, Emily Mortimer designs versatile and vibrant gemstone jewellery. Her is known for its playful yet sophisticated design aesthetic. The company is based in London.
Let's take a look at Kate's navy bag now. The Princess carried her Emmy London Natasha clutch in midnight blue: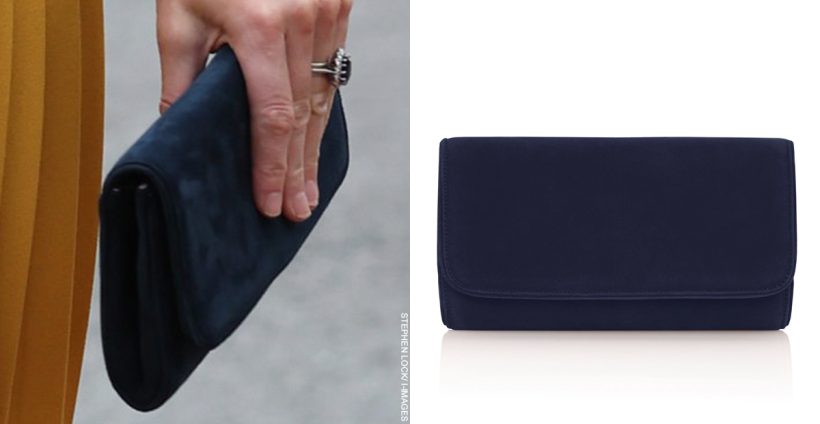 The bag features a secure magnetic popper, removable chain strap and large fold-over flap.
Emmy lines the spacious bag with soft neutral oyster suede fabric. Inside, there's a zip pocket for essentials. The flap secures with a magnetic popper. The bag comes with a removable chain strap, which Kate has detached.
EmmyLondon.com sells the Natasha bag for £395 / $420 (other currencies and locations available using the country switcher option on the top left of the website).
This is only the second time we've seen her carry the item in public. (The first time was at the COP26 Receptions in 2021).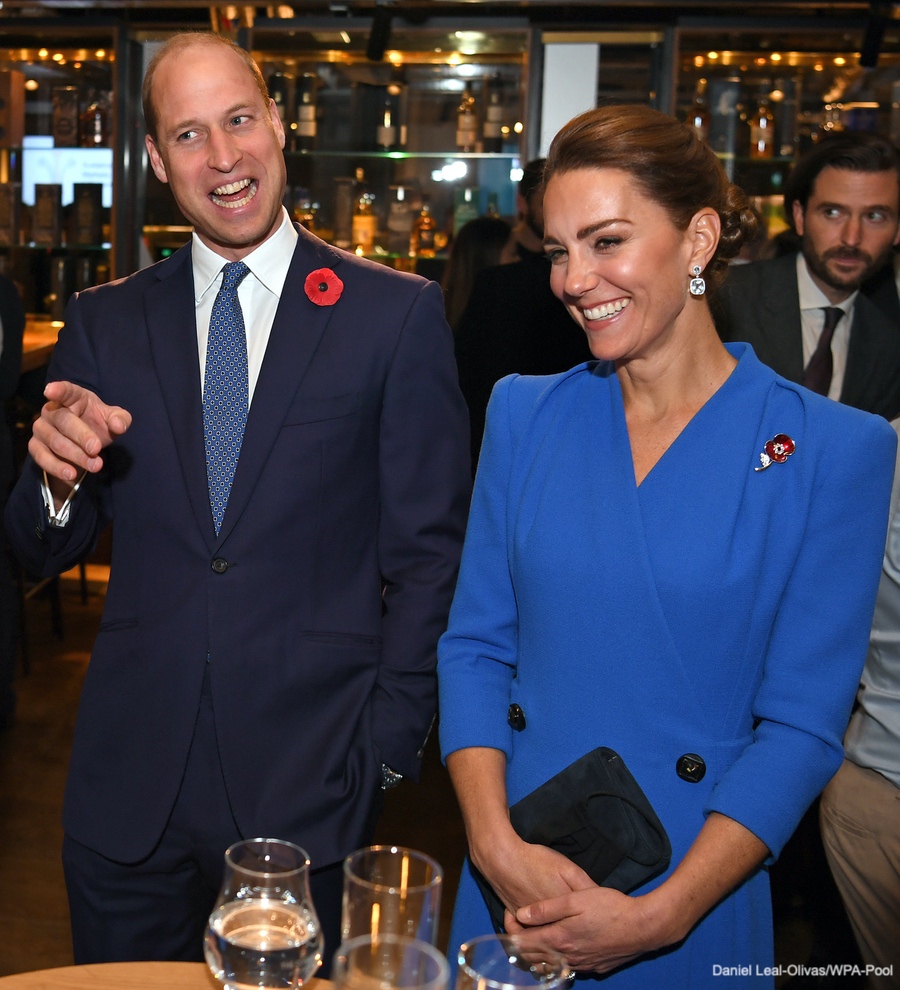 It comes in 11 other colours too.
I think we can safely call Emmy London one of Kate's favourite brands. Over the last 11 years, I believe we've seen her wear 13 pairs of shoes and carry 12 clutch bags from the company.
Emmy London is a luxury shoe accessories brand with a boutique in Chelsea, London. Emmy Scarterfield, the Creative Director and designer at Emmy London, is a self-confessed shoe obsessive. After graduating from London's prestigious Cordwainer's College (fellow alumni include Jimmy Choo and Linda (LK) Bennett and Rupert Sanderson), Emmy kick-started her design career at Marks and Spencer before heading to Milan to design for Giorgio Armani and Bottega Veneta.
Speaking of shoes, Kate chose a pair by another one of her go-to designers, Gianvito Rossi. They're the Gianvito 105 style in navy suede: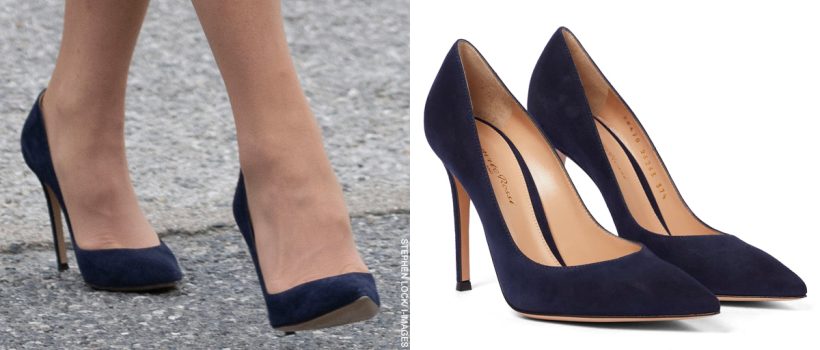 The blue shoes feature a pointed toe and 105mm stiletto heel. They're made in Italy from high quality suede. The official colour name is "Denim".
Kate first debuted the blue heels during a visit to Cardiff, Wales, for the Queen's Jubilee celebrations in June.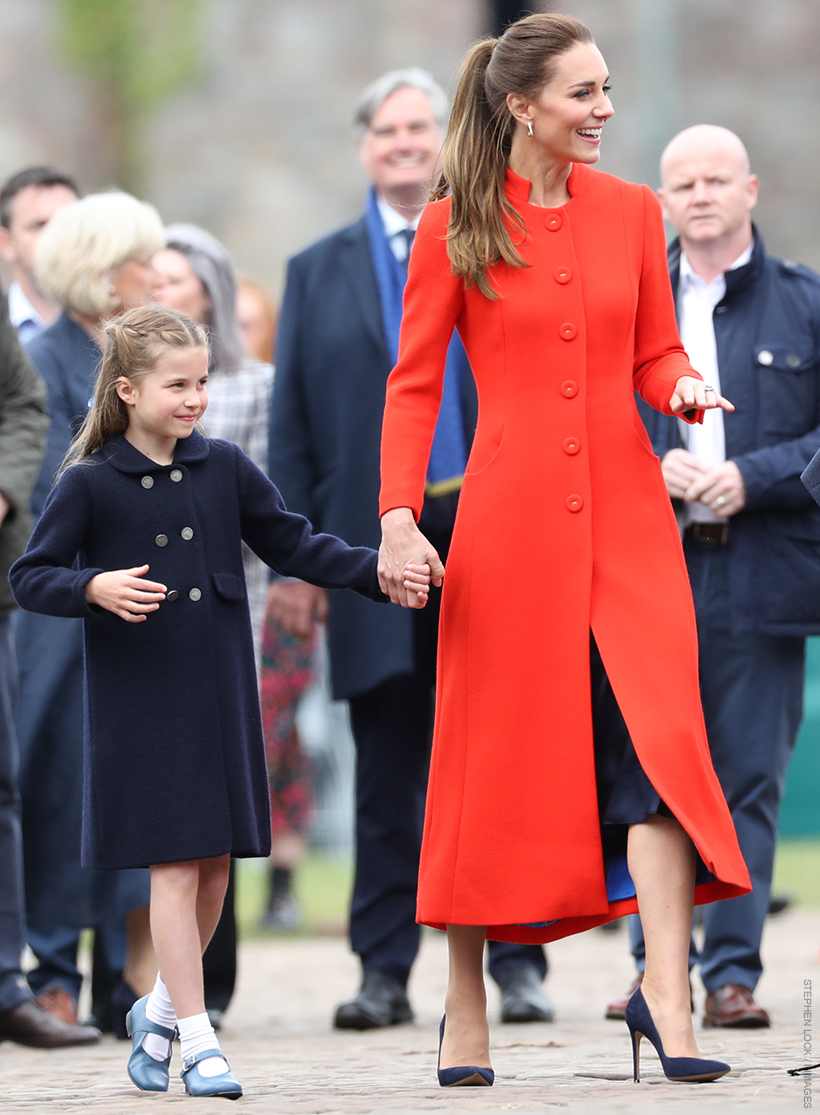 For anybody in the UK/Europe, French department store Printemps sells the heels for £60 cheaper than their competitors, Net-A-Porter and Farfetch (£500 vs £560). MyTheresa sell them for £530.
In the USA, you can buy the blue suede heels from MyTheresa for $695 or Net-A-Porter for $725.
Sorry, I haven't had time to check other locales.
Kate owns the shoes in seven other colours, including praline, bisque, black, burgundy, and silver.
Gianvito Rossi has shoemaking in his DNA: he's the son of acclaimed footwear designer Sergio Rossi. According to Forbes.com, Gianvito Rossi "built his eponymous shoe brand with a devotion to purity of design." Italist Magazine says that "a Gianvito Rossi shoe emphasises the simplicity of structure and thoughtful approach to the feminine silhouette." I think these qualities must draw Kate to the designer. I've lost count of how many pairs of Rossi shoes Kate has worn. It must be over 15 pairs now.