Kate Middleton traded her royal residence on the Windsor Estate for the halls of High Down prison in Surrey on Tuesday.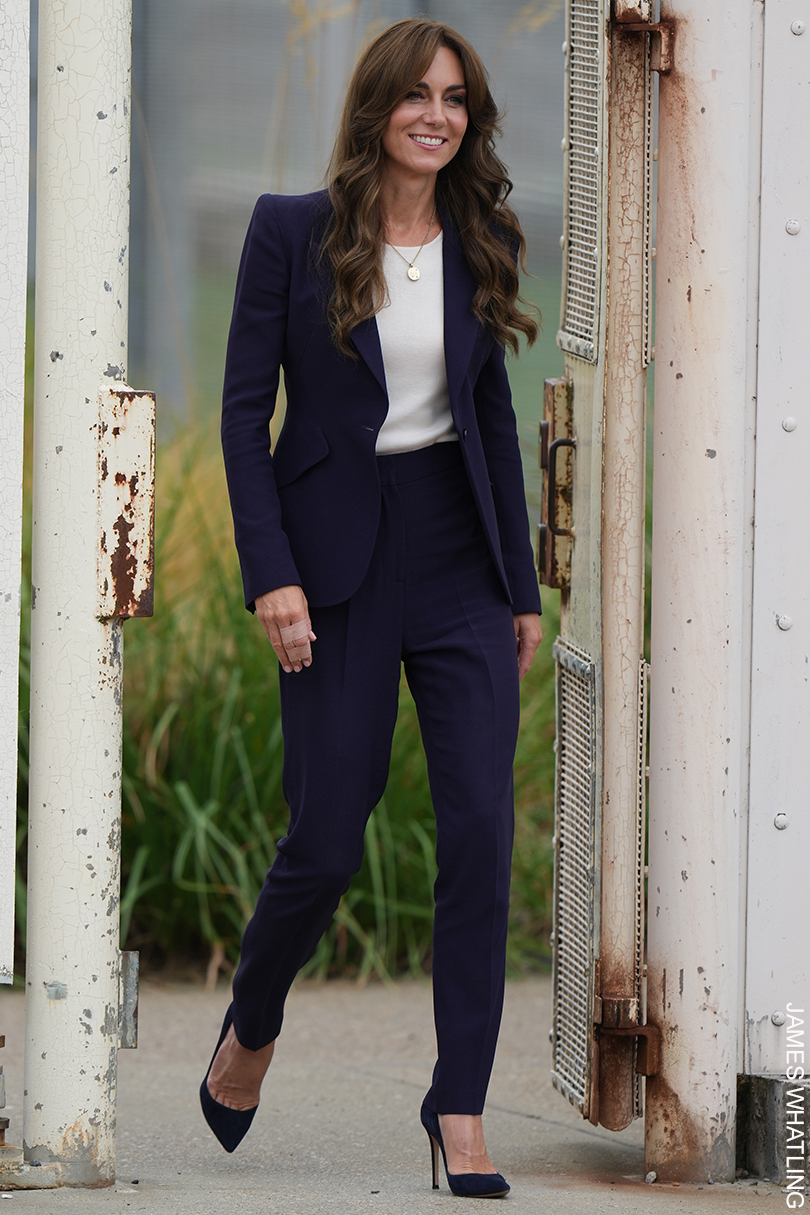 Dressed elegantly in a tailored Alexander McQueen suit, Gianvito Rossi heels and a gold necklace by Daniella Draper, the Princess of Wales visited the prison to explore how The Forward Trust charity helps inmates break the cycle of substance abuse.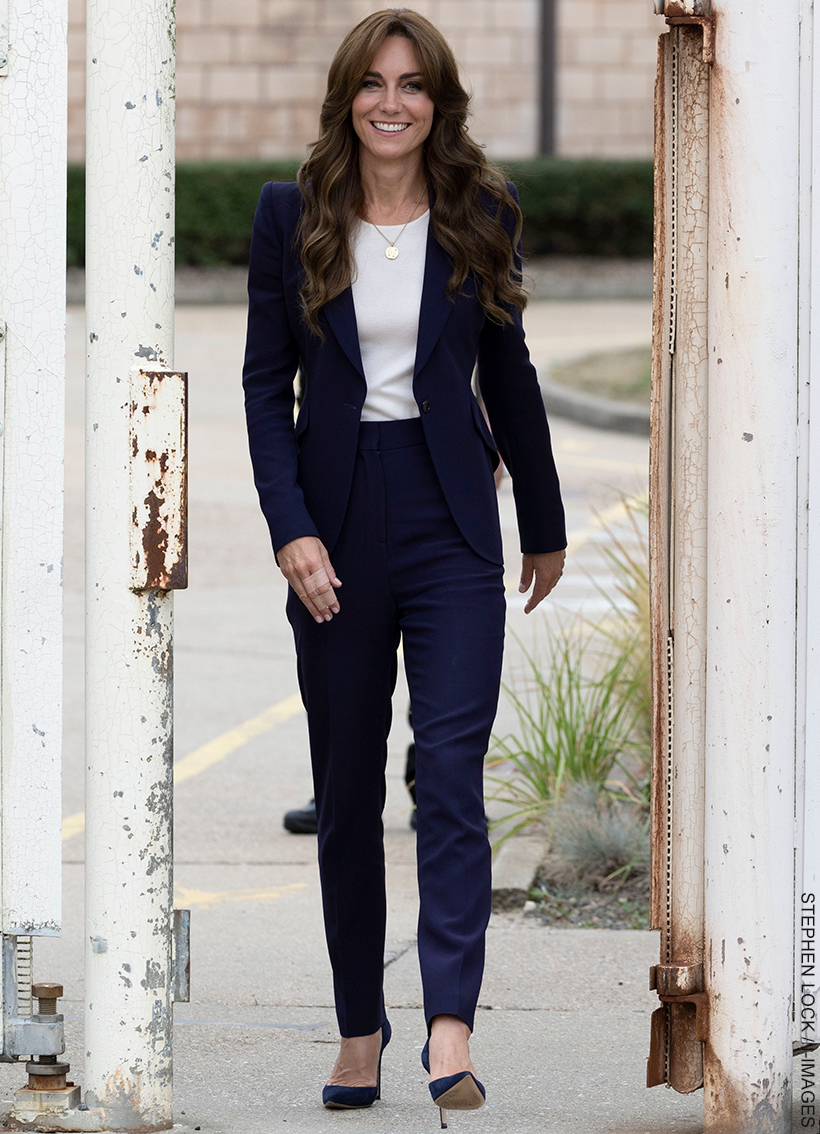 Kate sported an injured hand during the visit, but she didn't let it get in the way of business! Despite having two of her fingers taped together, she grinned through the pain and shook hands with those she met.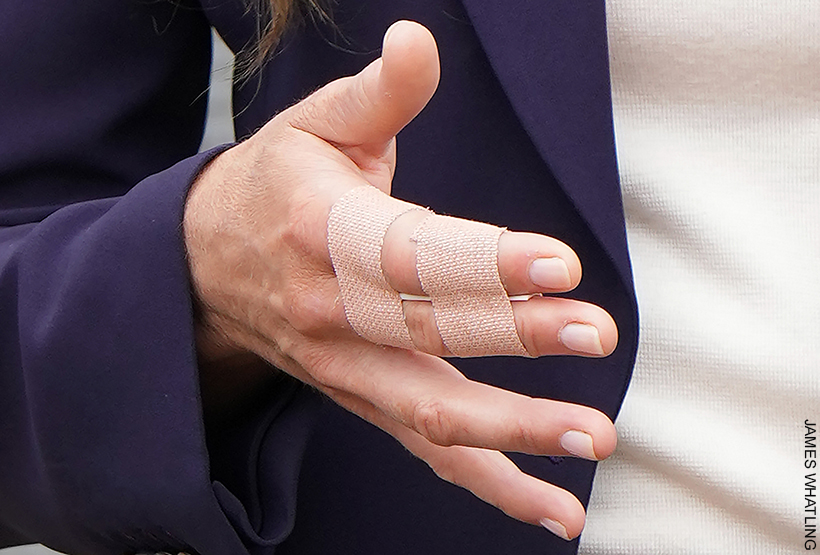 A palace spokesperson confirmed the Princess hurt her hand by playing on the trampoline at home with her children. They confirmed it's not broken, and it's just a minor injury [source].
Earlier this year, Kate revealed that she often jumps on the trampoline before school with her children, in a bid to "squeeze" some exercise into her day.
Kate, who is Patron of The Forward Trust, began her visit by shadowing a family to understand the challenges they face during prison visits.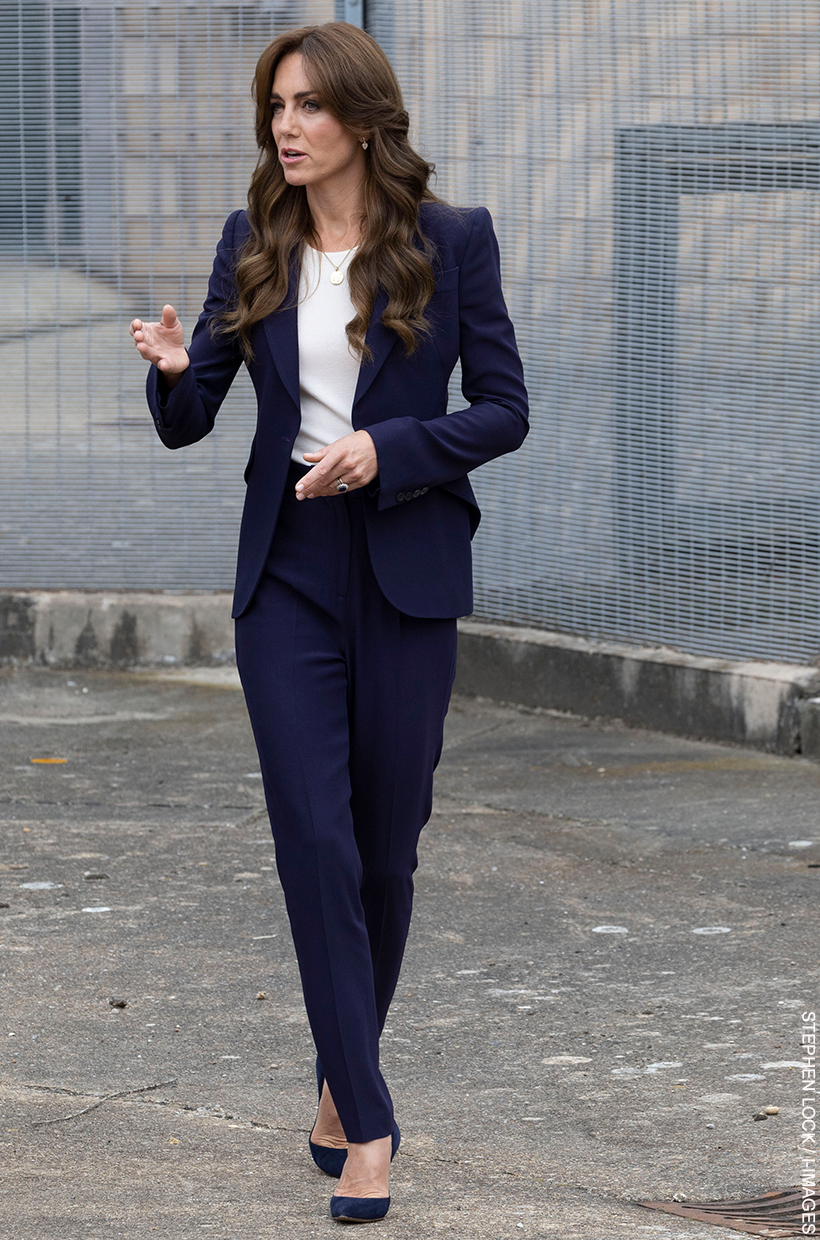 She looked into how these experiences, often fraught with strict security protocols, impact not just the inmates but their families as well. In particular, she noted the recent steps the prison has taken to make the visits less intimidating for children.
Prior to her visit inside the main prison, Kate sat on a chair while Penny, a skilled drug detection dog, showcased her expertise. With a cheerful smile, the Princess observed as Penny diligently checked her and other volunteers for contraband.
Kate received a demonstration of what the dog does if it detects drugs. Impressed, Kate commented, "amazing. It's incredible, it's very calm and controlled. It's not intimidating."
Next, Kate held intimate conversations with inmates taking part in The Forward Trust's programs.
The Forward Trust tailor the programs to meet the needs of the men who reside in the prison. Programs include The Bridge, an intensive abstinence-based programme, Stepping Stones, a low to medium intensity intervention for those whose alcohol or drug consumption is at harmful or dependent levels, and Family Ties, a course of workshops focused on restoring healthy communication and trust between loved ones.
These face-to-face discussions gave the Princess an in-depth look at how the charity and prison collaborate to provide the support needed for addiction recovery.
Before her departure, Kate dropped by The Clink, an innovative on-site restaurant that serves as a training school for inmates interested in hospitality. There, she met with alumni of The Forward Trust, learning how the charity has been a lifeline for them in both prison and community settings.
Kate's relationship with The Forward Trust dates back to 2021 when it merged with her former patronage, Action on Addiction. Action on Addiction was one of Kate's first patronages back in 2012.
Some of you will remember Kate's appearance nearly two years ago at BAFTA HQ for The Forward Trust's 'Taking Action on Addiction' campaign launch. The then-Duchess delivered a keynote speech and met with supporters and beneficiaries of the charity. (Plus, she looked fabulous in an all-scarlet ensemble, one of her best looks to date, in my view!)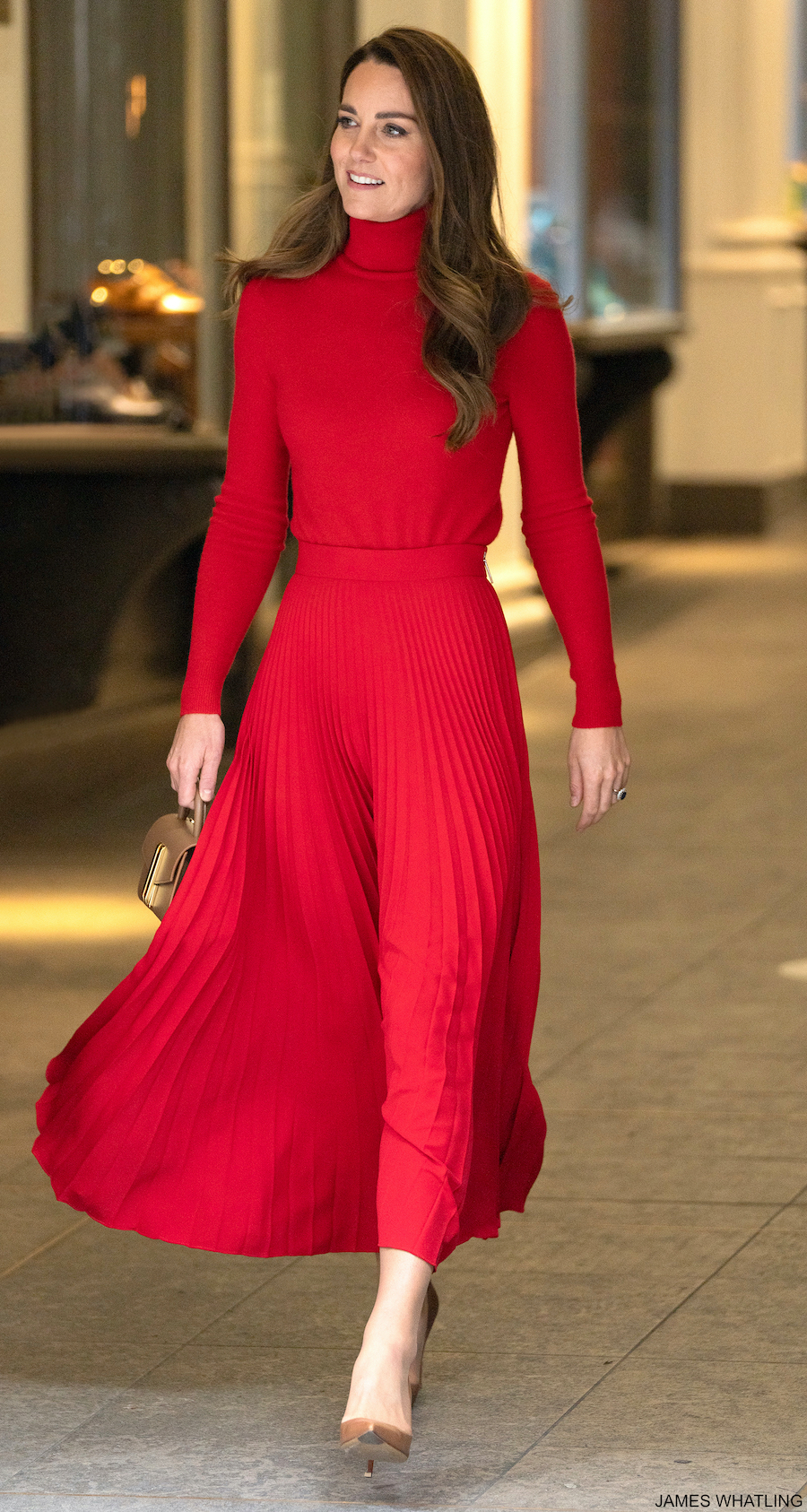 Just last year, Kate filmed a supportive video message for people struggling with addiction, released to coincide with Addiction Awareness Week, a campaign led by The Forward Trust.
Kate's visit to HMP High Down comes ahead of the 2023 campaign, which will run from the 29th of October to the 4th of November.
I believe this is Kate's first visit to a men's prison. The Princess has visited several women's prisons before, plus she has supported projects associated with supporting ex-prisoners.
Many of our long-term readers will recall Kate visited HMP Send in Woking in 2015. She visited the same prison again in January 2020.
In 2016, she visited HMP Eastwood Park to meet with women prisoners and hear their stories.
In June, the Princess officially opened 'Hope Street', a pioneering residential community for women and their children, designed to offer an alternative to imprisonment for women. The project allows children to stay with their mothers in a homelike setting with ongoing support.
Kate's conducted extensive work in the areas of addiction, mental health and early childhood development over the last 12 years. Her passion for early childhood development seamlessly connects to her work with prisons and addiction centres. Understanding that experiences before age five can significantly shape adult lives, she advocates for early intervention as a way to break cycles of addiction and criminality.
Let's move on to the fashion portion of our post now and look at Kate's gorgeous suit.
Kate's outfit at the prison:
The ever-elegant princess selected a dark two-piece suit by Alexander McQueen for the prison visit today.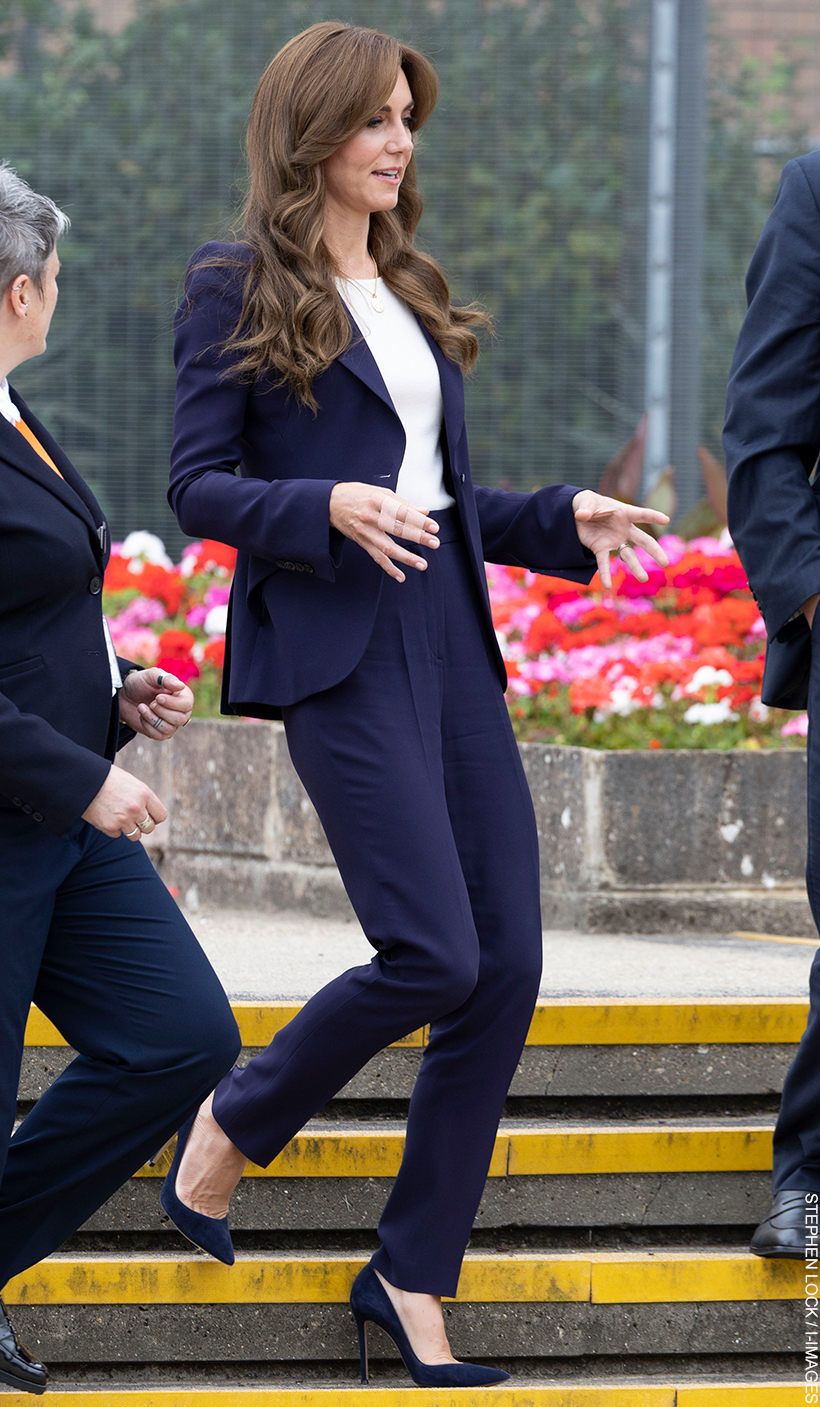 We think the Princess owns the suit in seven different hues: black, pink, navy, white, ivory, red, amethyst. I'm not 100% certain if she wore the navy or amethyst version at the prison.
In some photos, the suit looks navy. But in those photos, her cream knitted top looks stark white and overexposed. In other photos, the cream top looks darker, and the suit looks amethyst. I think the colour is hard to ascertain due to the lighting and different photographer's camera settings.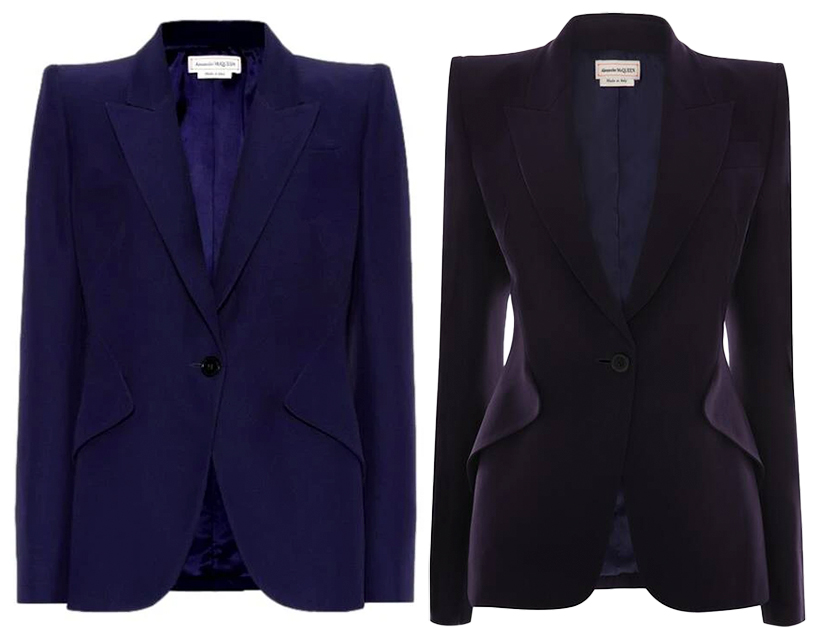 The Princess first wore the blue version of the McQueen suit to meet some of the Royal Navy at Windsor castle in September 2022. We suspect she wore the 'amethyst' version of the suit in Boston during her visit to the country for the Earthshot Awards last winter.
The jacket features strong, padded shoulders, angled flap pockets and a nipped in waist. Kate wears the matching straight leg trousers.
You can buy the McQueen jacket and matching trousers from AlexanderMcqueen.com in black, light, ivory or orchid pink at the time of writing.
Unfortunately, I do not know anything about the knitted top Kate wore under her suit.
I can tell you about her earrings though, they're by Kiki McDonough. They're the Lauren Leaf earrings. They're crafted from 18ct yellow gold and feature intricate pavé diamonds.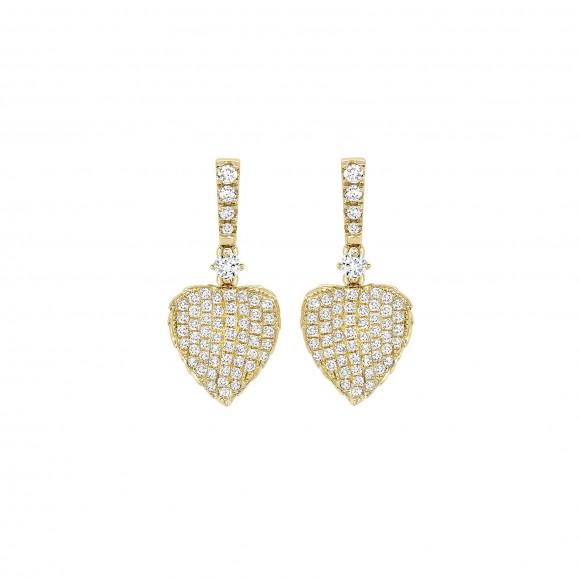 These versatile earrings have graced Kate's ears in more than 30+ public engagements since their debut in 2015, solidifying their status as one of her most-worn jewellery items.
I think it's fair to say Kate is a devoted fan of Kiki McDonough jewellery. The Princess owns 21 pieces by the jeweller—18 pairs of earrings and 3 necklaces. That's far more than any other designer in her jewellery box!
You can purchase the gold Lauren leaf earrings from Kiki's website for £2,300 (around $2,800 USD).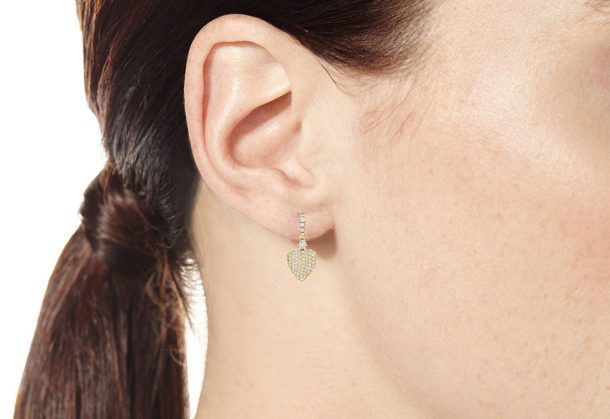 KIKI MCDONOUGH LAUREN LEAF EARRINGS
Elevate your style with these exquisite 18ct yellow gold earrings adorned with dazzling pavé diamonds. Perfect for attending a special event or adding a touch of sophistication to your everyday look.
Kate wore her personalised Midnight Moon pendant by Daniella Draper with her suit. The Princess has owned this necklace since 2020. It's engraved with her children's initials, G, C, L.
The 100% recycled gold necklace is set with sparkling diamonds. The initials are hand engraved.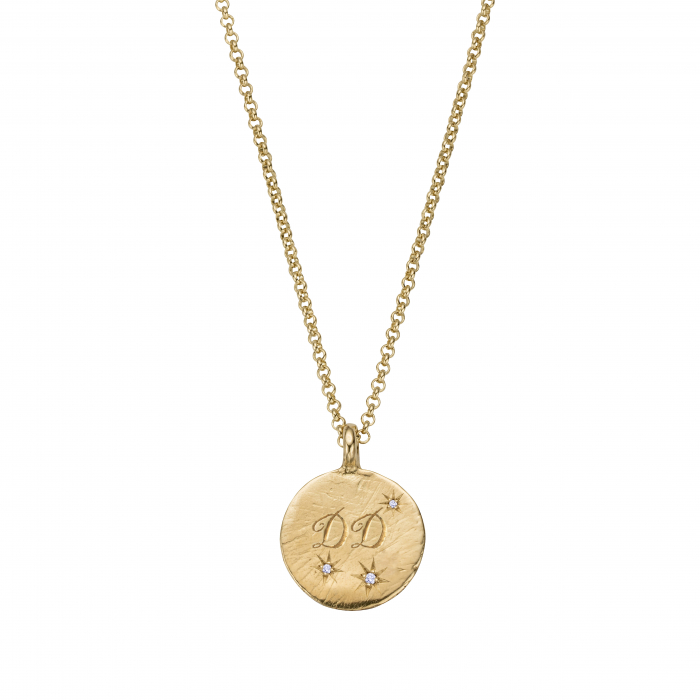 It costs £1,300 and is handmade to order in Lincolnshire. Orders take up to two weeks to fulfil.
It's a favourite piece, Kate's worn it 10+ times in public to date.
The Princess seems quite fond of Daniella Draper's jewellery. She's added several items to her collection in recent years. The British designer crafts all her pieces from recycled metals. Her high quality, timeless pieces draw inspiration from nature, history, travel, and romance. The brand is an independent family-run company, with a commitment to preserving and protecting the natural world.
Let's look at Kate's heels next. They're a pair we've seen on the Princess plenty of times before—the 105 pump in navy by Italian designer Gianvito Rossi.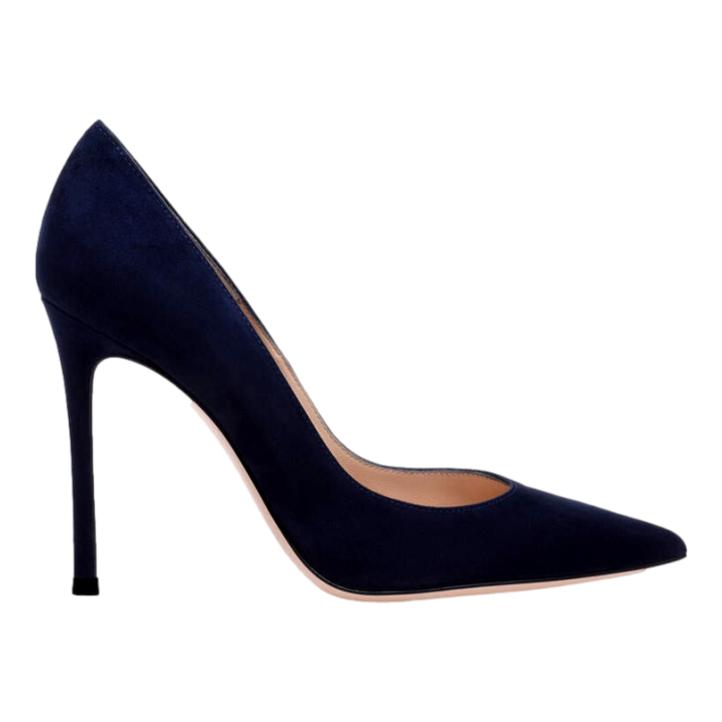 The pumps feature a pointed toe and a 105mm stiletto heel. They're made in Italy from high-quality suede and leather.
Kate first wore the navy blue 105 pump during a visit to Cardiff, Wales for the Queen's Jubilee celebrations in June 2021. This is the eighth time we've seen her wear them in public to date.
Want to copy Kate's effortless style? The suede heels can be purchased from various retailers: Net-A-Porter, Farfetch and MyTheresa.
EXACT MATCH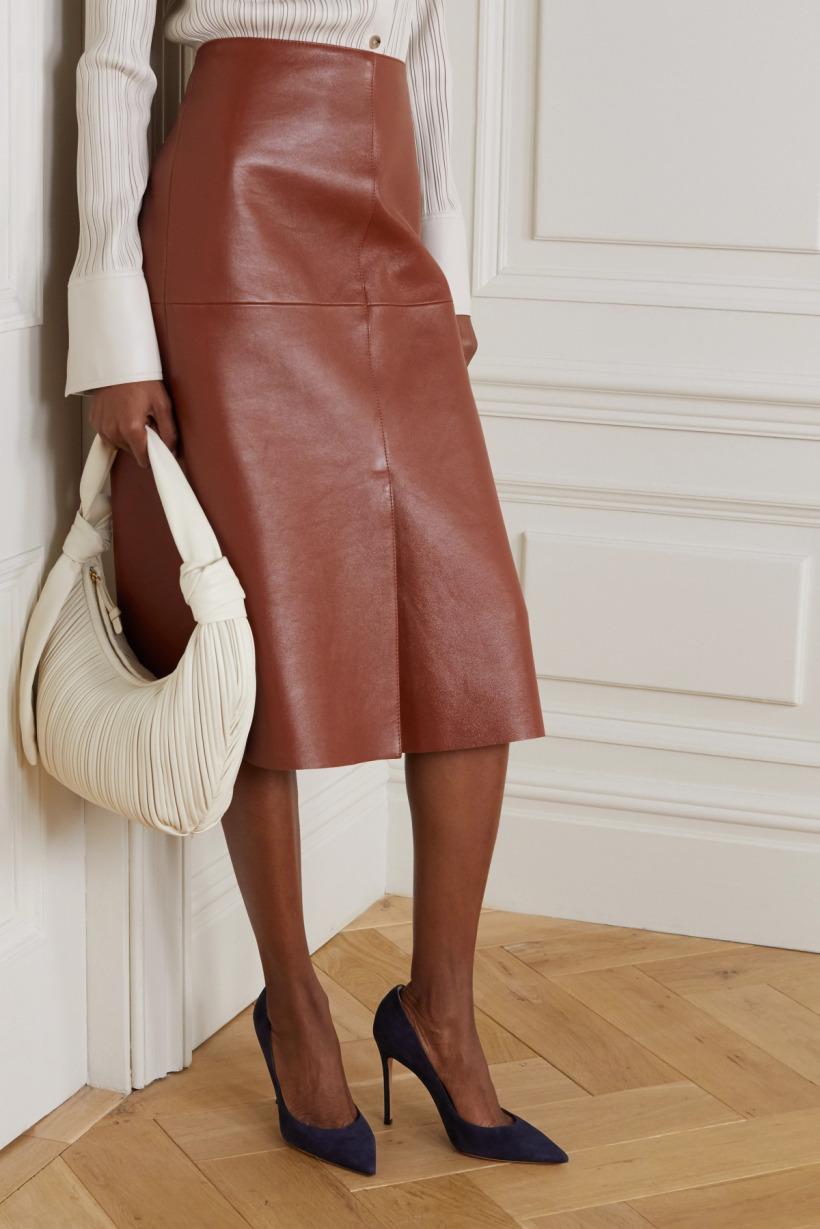 Gianvito Rossi 105 Pumps in Navy Suede
Step up your shoe game with Gianvito Rossi's midnight-blue pumps, the perfect contemporary yet versatile alternative to classic black styles. Hand-finished in the label's Italian factory, these smooth suede pumps boast a cushioned leather footbed for ultimate comfort. Whether you're pairing them with tailored office wear or skinny jeans for a night out, these pumps will elevate any outfit.
I think it's safe to say Gianvito Rossi is one of Kate's go-to footwear designers. The Princess owns 20 pairs of the master shoemaker's heels, boots and sandals. Rossi's iconic Gianvito 105 style is a clear a favourite: we believe the Princess owns it in nine colours!
The designer, Gianvito Rossi, is the son of acclaimed footwear designer Sergio Rossi. Known for his devotion to purity of design, Gianvito Rossi has built his eponymous shoe brand with a thoughtful approach to the feminine silhouette.