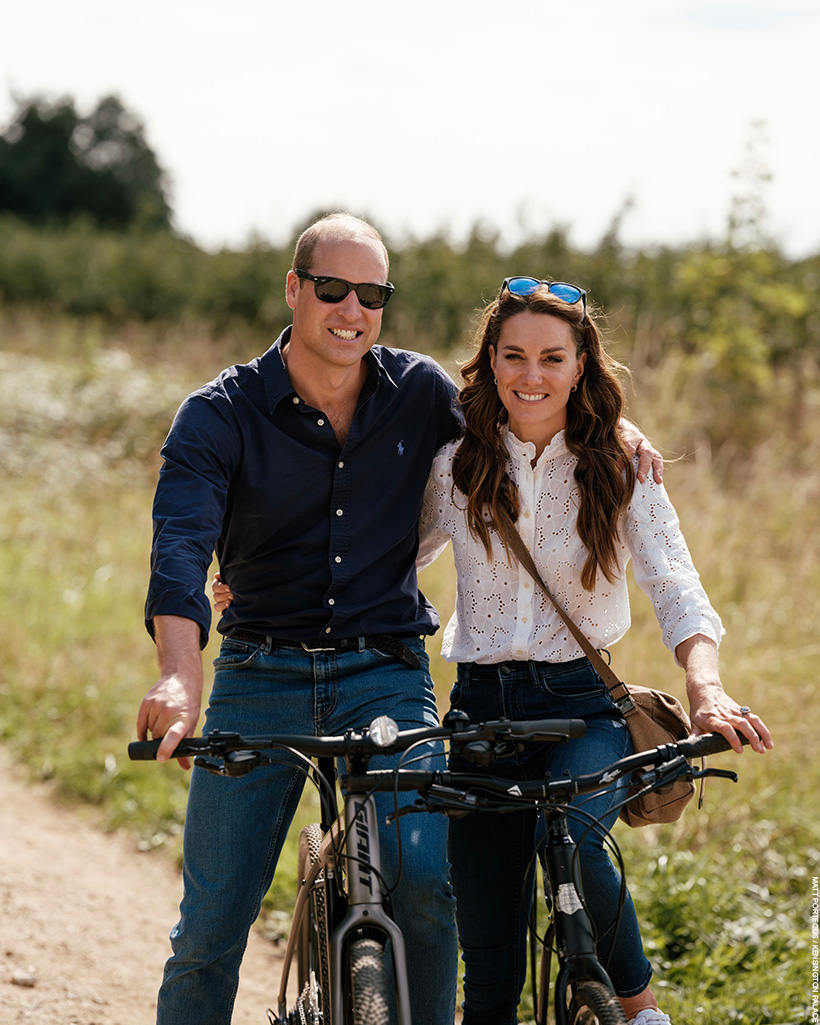 This morning, William and Kate shared a gorgeous new photo celebrate their 12th wedding anniversary. In the photo, William and Kate are perched on their bikes with their arms wrapped around each other's backs as they pose with grins.
Kate's dressed casually—we'll get to her outfit in a moment—with sunglasses resting on her head. William's got his sunglasses pulled down over his eyes. The Princess's long hair is in loose waves, which adds to the photo's informal vibe.
The bright and carefree photograph was snapped by Matt Porteous. It appears to be from the shot on the same day as the family's Christmas Card released in December and the Mother's Day pictures released by the Palace last month (all pictured below).
The photographs were taken last year, at the family's home in Norfolk. As you can see, William and Kate are wearing the same outfits in each picture.
Let's take a look at Kate's outfit in detail:
Kate's Outfit in the Anniversary Photo:
The Princess of Wales wore a relaxed and casual outfit for the photo session. She paired a white broderie anglaise blouse with dark jeans and matching sneakers.
The shirt is by M.i.H. It's called the 'Mabel' shirt.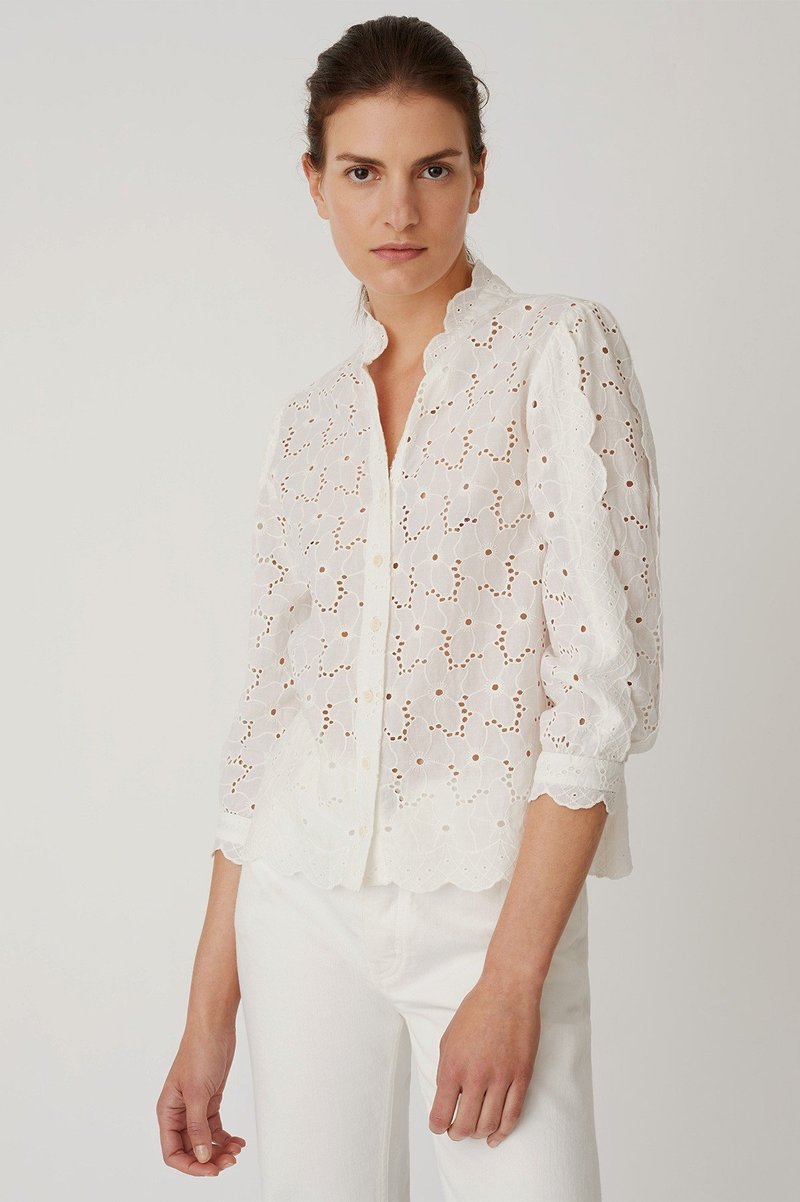 The light and summery piece features a floral broderie anglaise floral print. It's finished with a scallop trim on the neck and slightly puffed sleeves. The shirt is made of 100% cotton.
Kate first wore the item in May 2019, to visit her Back To Nature Garden at the Chelsea Flower Show (below). In June 2020, she brought it back for a video call with volunteers around the UK to mark Volunteers Week.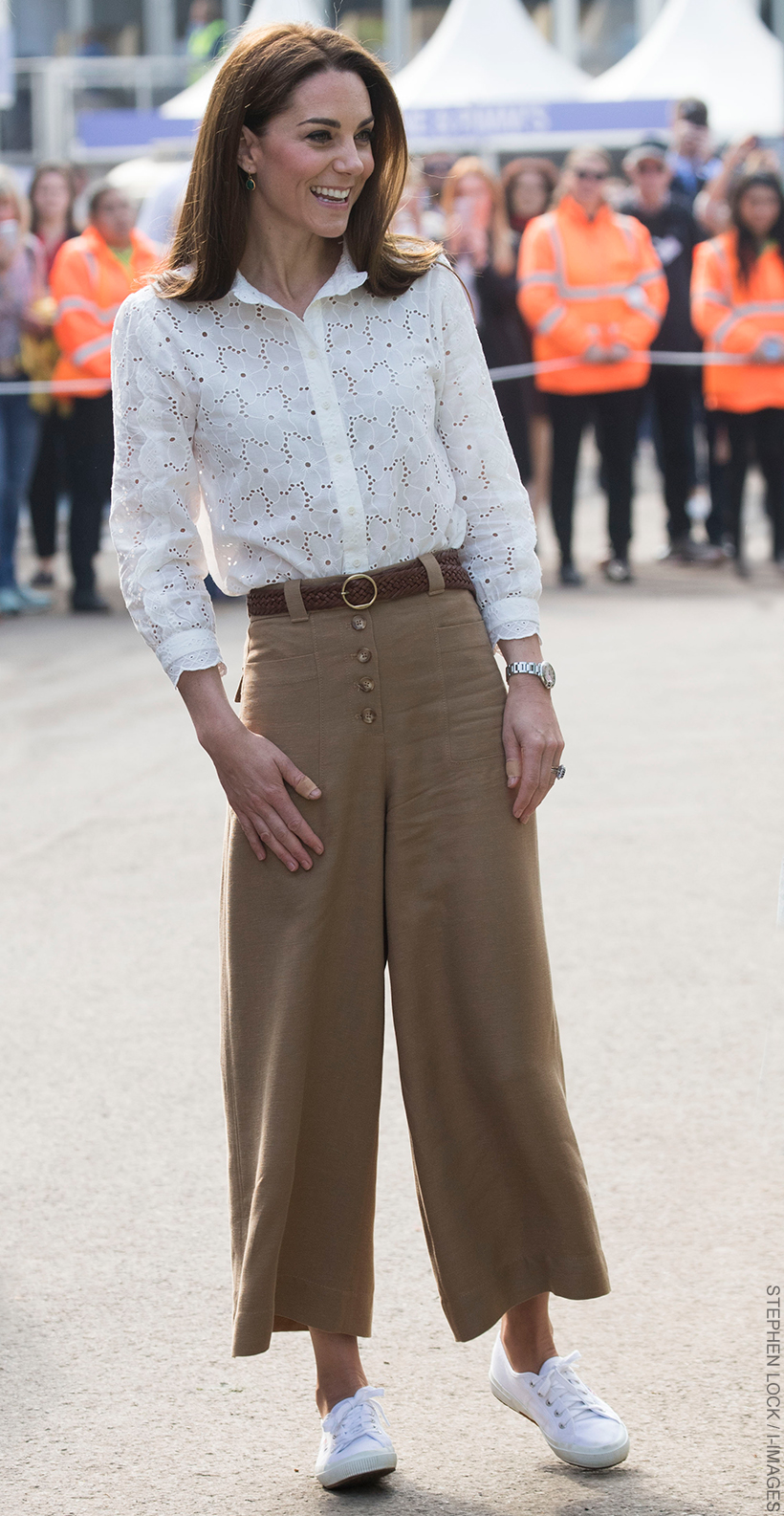 Unfortunately, the blouse is long sold out. Though, I have found a pretty good alternative at Boden UK / Boden USA for anybody who wants to copy Kate's look and translate it for their own wardrobe.
GET THE LOOK: Boden UK / Boden USA
M.i.h Jeans is a denim brand that was founded in London in 1969. The brand was relaunched in 2006 by Chloe Lonsdale, the goddaughter of the original founder, and has since become known for its high-quality, stylish denim designs. In addition to selling denim, M.i.h sells other ready-to-wear items, like blouses and shirts.
I believe Kate's only ever worn one other item (in public) from M.i.h, a striped pullover.
Unfortunately, I can't tell you anything about Kate's jeans. They look quite similar to pairs I've found at Paige and Frame. They really could be from anywhere…
I thought the jean's button might be able provide some clues/indication of the band but I'm coming up with nothing, unfortunately.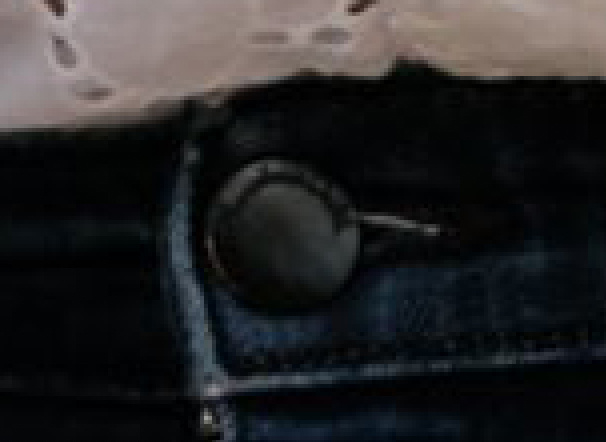 What do you think? Is that the brand's name written at the top of the button in a cursive font? Or just a reflection?
Let's move on to Kate's sunglasses now. They feature black frames and blue lenses. I wonder if they're the limited edition Team GB SailGP Sungod Sierras that she wore in Plymouth last summer?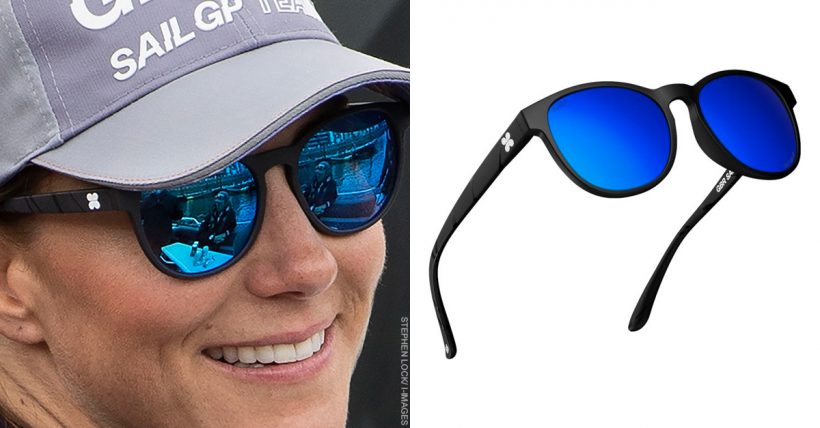 Don't quote me on that. But the thicker nose bridge, blue polarised lenses and white branding on the arms look similar, don't they? And if the posed photos were also taken last summer, she'd clearly have the sunglasses to hand, so… Maybe?
You can just catch a glimpse of Kate's bright white Superga Cotu Classics at the bottom of the photo. We know she's wearing these sneakers because we can clearly identify them in the other pictures from the photoset. (Shoes pictured below on another occasion, last year).

They're the Princess's most-worn casual shoe. She's worn them to 12 or 13 public engagements since 2016.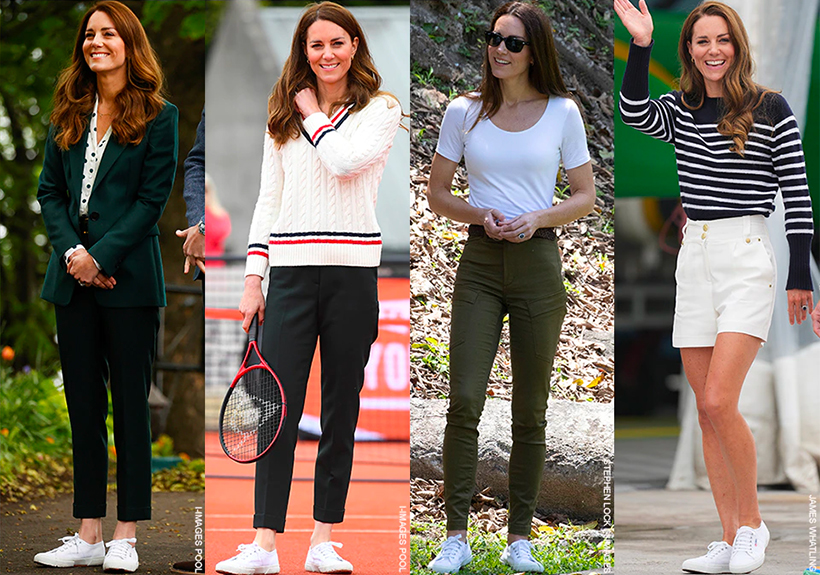 The crisp white trendy trainers are made from a strong cotton canvas upper on a vulcanised gum sole. They're fully breathable and made from pure cotton.
The 2750 is Superga's signature shoe. It has numerous celebrity and royal fans! The late Princess Diana wore the same shoe in navy when she visited Angola in 1996. Kate also wears the style in forest green.
If you want to buy the sneakers, you're in luck. The company stock them season after season. You'll be in good company, I bought a pair too 🙂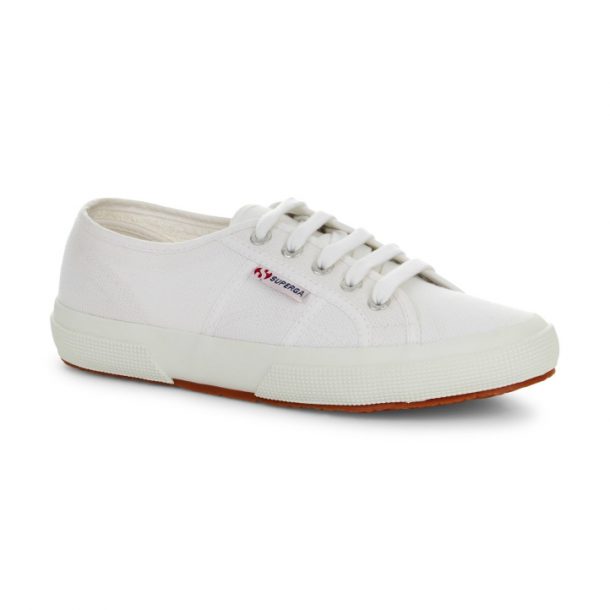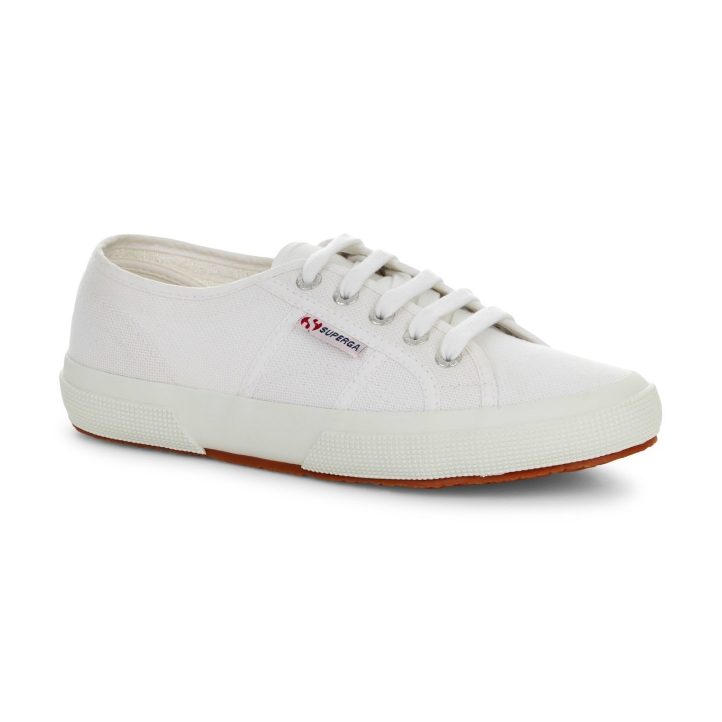 AS SEEN ON KATE: Superga Cotu 2750 Classic
The Superga Cotu Classics are Kate's most-worn sneakers. The Princess has worn the shoes with a rainbow of colourful outfits over the last five years. In addition to skinny jeans and sportswear, Kate's used her white sneakers to give formal items like dresses and suits a casual edge.
Superga is an Italian footwear brand founded in 1911.
Let's look at Kate's gold hoop earrings now. They're the Chain Huggie Hoops from Orelia London (pictured below on another occasion).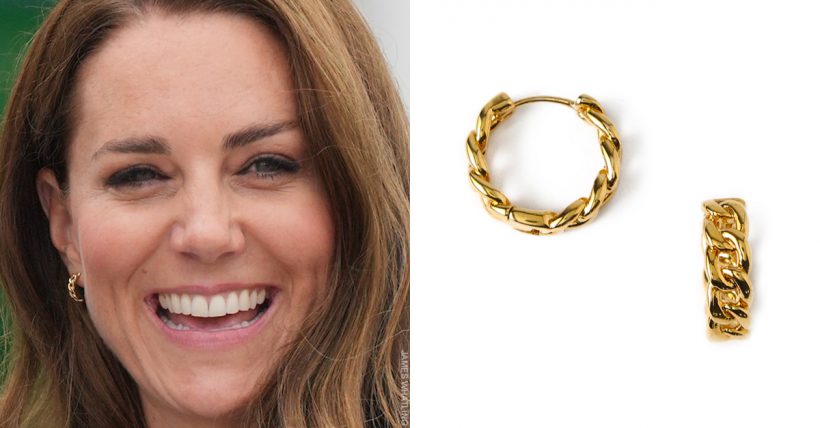 Kate debuted the earrings in February last year. The Huggie Hoop gold chain earrings are made from brass and plated with gold. They retail for an affordable £18.
At the time of writing, they're still in stock. You can order a pair from orelia.co.uk. I believe the company offer international shipping.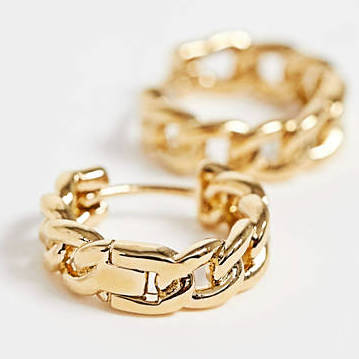 AS SEEN ON KATE: Orelia London Gold Huggie Hoops
Finally, a pair of affordable earrings in Kate's jewellery box that we mere mortals can afford! Most of us can only dream of the baubles Kate usually wears (think royal heirlooms and glittering diamonds) but these are definitely doable. A just £18 / $24, it's a no-brainer.
TBC: Kate's slouchy crossbody bag. It feels familiar… I wonder if she's carried it before? I'll keep investigating.
Get the look: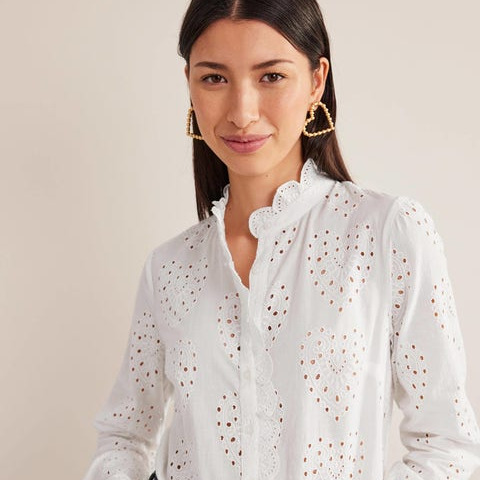 BRODERIE BLOUSE
BODEN
Buy from Boden UK
Buy from Boden USA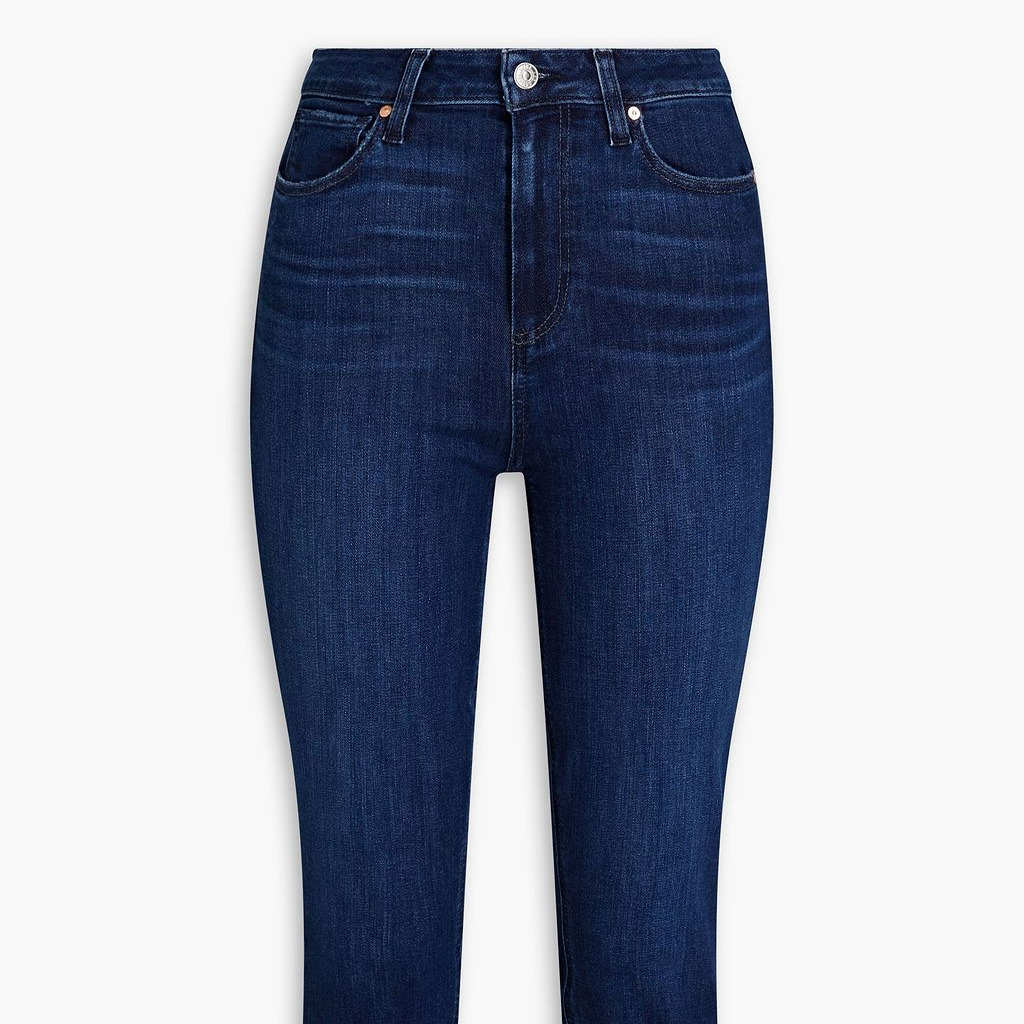 BLUE MARGOT JEANS
PAIGE
Buy from REISS
Buy from Rue La La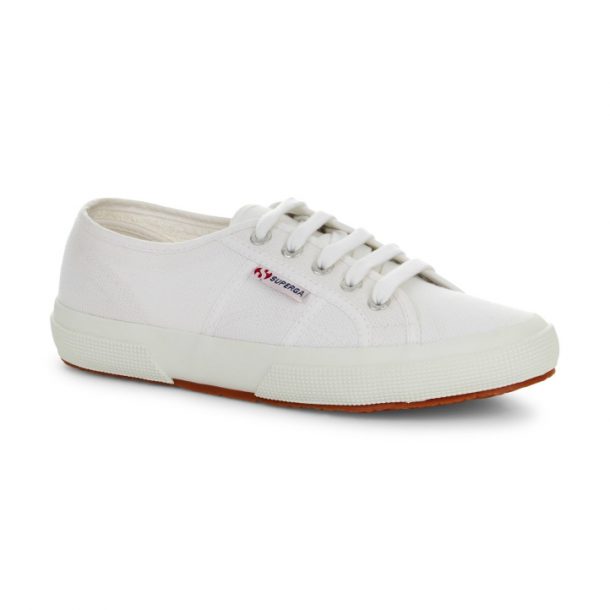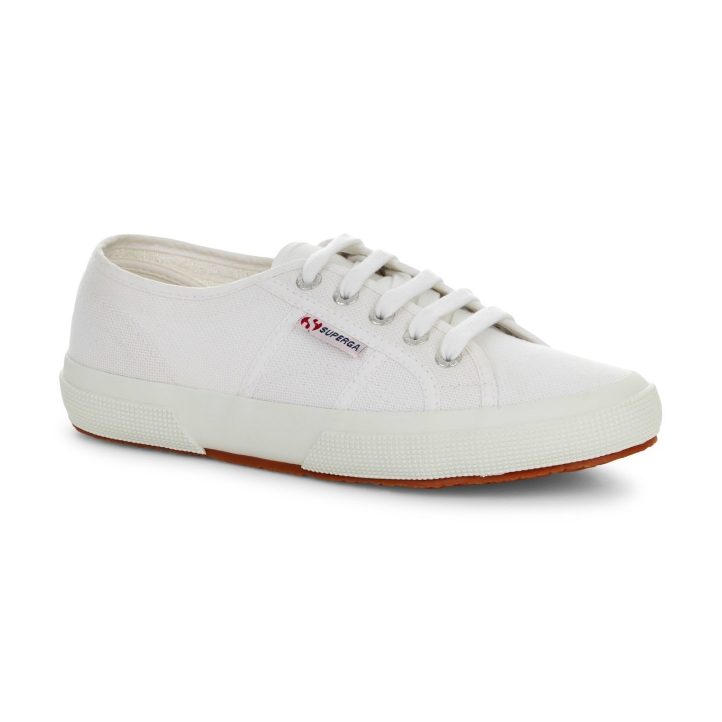 2750 COTU CLASSICS
Superga
Buy from Superga.co.uk
Buy from Zappos
Featured image: Matt Porteous / Kensington Palace