The Stuart Weitzman Corkswoon wedges have been a noteworthy part of Kate Middleton's wardrobe since she first sported them in July 2012 during the Olympic Torch relay event at Buckingham Palace.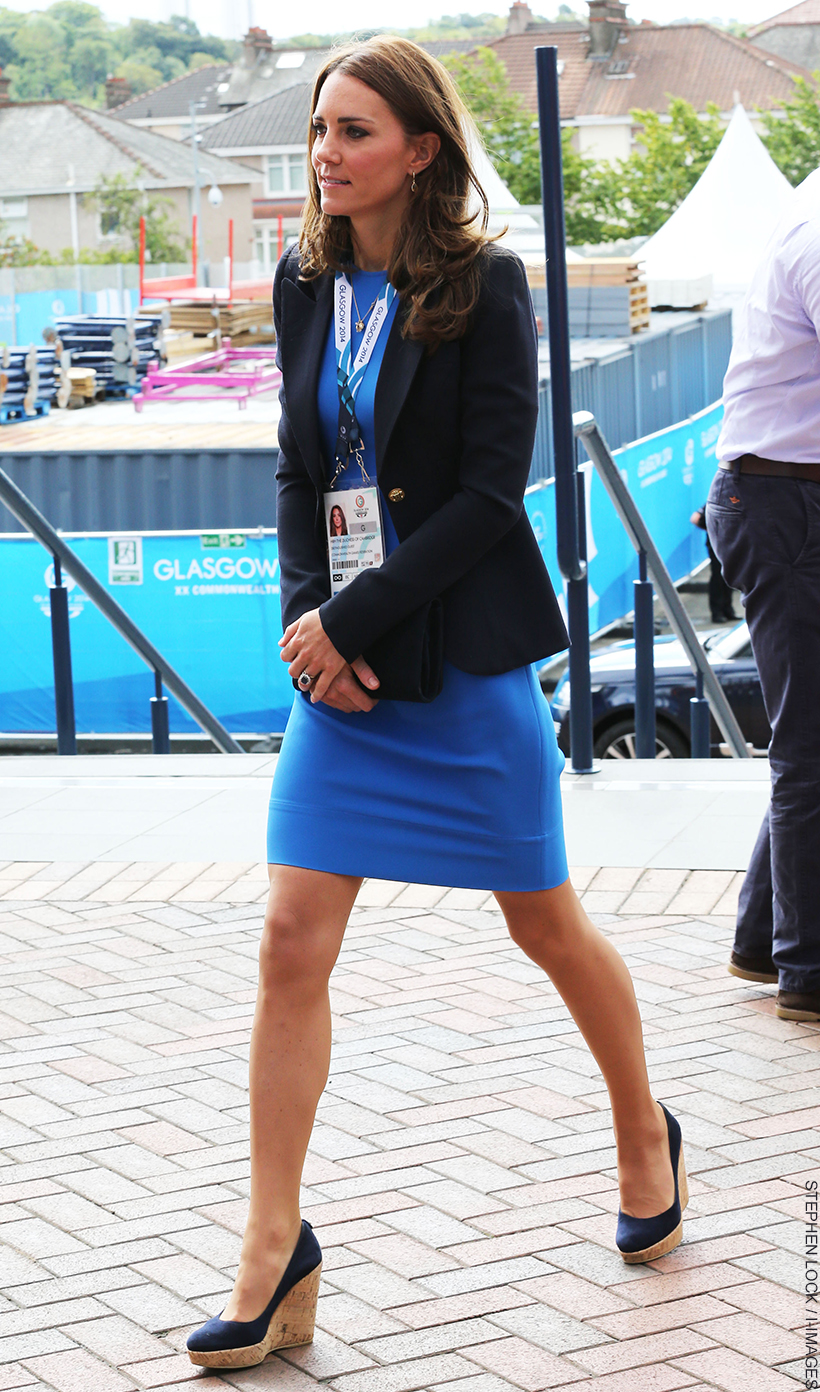 Kate notably wore the cork wedges throughout the 2012 London Olympics and has chosen them for more than a dozen appearances since then. Pictured above, the Princess wearing the wedges during the 2015 Commonwealth Games in Glasgow.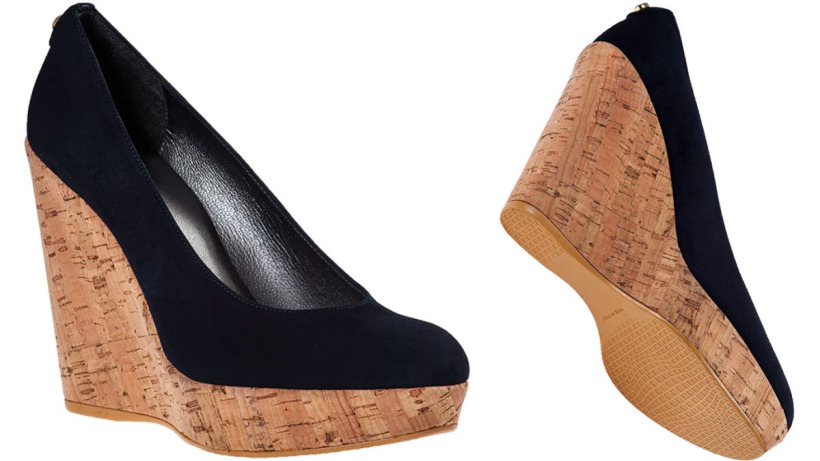 Kate has showcased the versatility of the Stuart Weitzman Corkswoon wedges by pairing them effortlessly with both smart and casual ensembles, ranging from skirt suits and skinny jeans to formal and casual dresses, highlighting their adaptability across various occasions.
About the Stuart Weitzman Corkswoon Wedges:
The Stuart Weitzman Corkswoon wedge has a heel of approximately 4.5 inches, a 1.25-inch platform and a rubber sole. They are made in Spain. The blue colour that Kate wears is crafted out of suede and has a leather footbed.
Stuart Weitzman add extra padding under the Corkswoon's insole to cushion the bottom of your foot, making their wedges super comfortable to walk around in (we think that's why Kate loves them so much!) The wedge heel is high, but the platform and special graded design ensures your foot maintains a comfortable pitch at a natural angle, so the wedges are wearable all day long.
Where to buy Kate's Stuart Weitzman wedges:
Stuart Weitzman discontinued the Corkswoon wedge in 2016. If you'd like to copy Kate's style, you can often find new and used listings at eBay.
RepliKate – Get the look:
I have another fabulous option if you're wanting to copy Kate's cork wedges. They're from the same designer, Stuart Weitzman. The 'Rinna' Suede Wedges: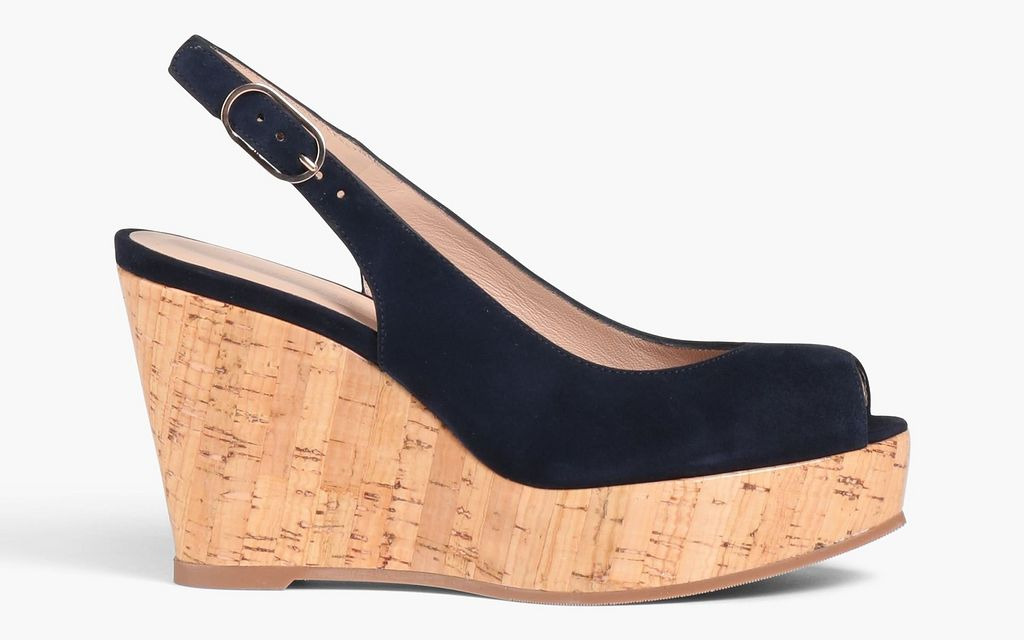 They're a great alternative to the discontinued Corkswoon, though they feature an open toe and slingback closure. They're listed as a bestseller at The Outnet.
See if your size is in stock here.
Also find in pastel blue at Yoox!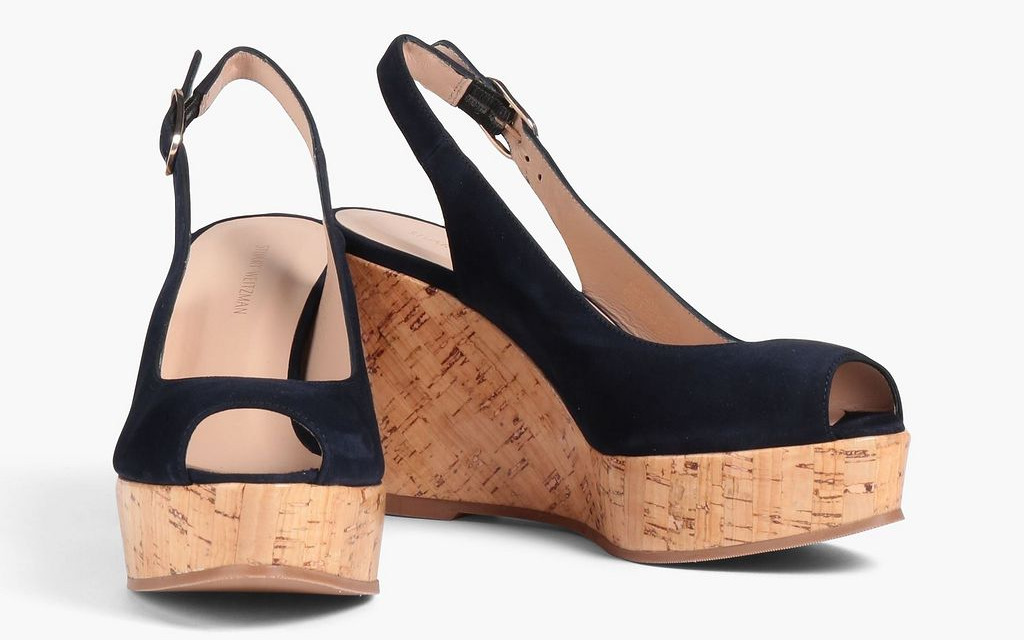 Corkswoon Review from a Kate fan!
I ordered the Corkswoons (finally, after 3 years!) and they are worth every penny but even better when on sale!

— Hayley S. via our Facebook page
Kate Middleton & Stuart Weitzman:
Kate has worn a number of wedges and boots from Stuart Weitzman – including the Minx and the Zipkin styles. She also carries Stuart Weitzman's "Raz" clutch bag in four different colours. It is thought that Kate purchases her Stuart Weitzman pieces from Russell & Bromley. (I haven't confirmed this, but I suspect R&B is the exclusive UK stockist of the brand).
About Stuart Weitzman:
Stuart Weitzman, born in 1941, began his foray into shoe design at his family's Massachusetts shoe factory, later advancing his brand in 1986, post his education at the University of Pennsylvania. Known for his innovative designs, he created the buzzworthy "million dollar" shoes for Oscar nominees, utilising eclectic materials like cork and 24-karat gold. Despite a few ownership changes, with the brand being sold to Coach in 2015 for $574 million, Weitzman's legacy continues to resonate through the high-end shoe industry, with his creations cherished globally for their blend of style and comfort.