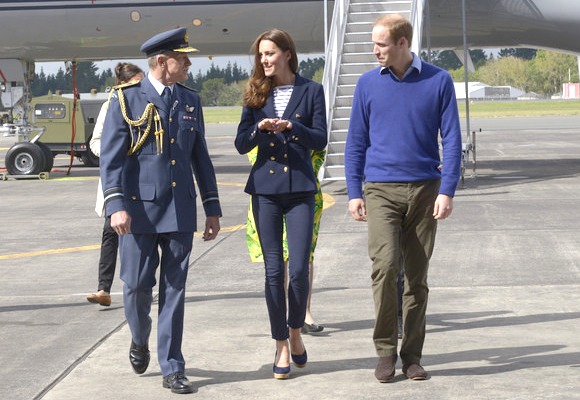 On Friday 11th April, William and Kate spent day five of the 2014 Royal Tour in Auckland, visiting an Air Force base and racing boats.
The day began with the royal pair arriving at the Whenuapai Air Force base to chat with air force families in a hangar next to the runway.  During the visit, William chatted with base personnel and admired the aircraft on site.  Everybody shared their experiences and exchanged stories before leaving.
Shortly after, the royal couple arrived at Auckland Harbour, where they had lunch in the harbour before racing each other in yachts.  You may recall that William won a similar dragon boat race during their tour of North America in 2011.
Before sailing off William and Kate posed for photographs with other team members:
Once finally in their boats, the couple raced twice, with Kate's team winning both times.  Apparently Kate even gave a cheeky "victory salute" to William as she sailed past him.
William was not gracious in defeat, according to Victoria Murphy of The Mirror.  We was overheard saying "we were sabotaged".  He then told an onlooker that he let Kate win declaring, "I wanted a quiet night."  (See video below for confirmation this might actually be true!)
After the race, William and Kate took a short trip on a 'Sealegs craft', described as "an amphibious marine craft."  The royal couple looked pretty happy out at sea.
After, the couple were presented with a mini version of the Sealegs boat for George (see below), according to Sealegs chief executive David Glen, the mini boat is "absolutely bespoke.  It was finished yesterday".
Kate's outfit:
Kate's look was very familiar for those of us who have been following her style for some time.  She often wears breton striped tops, skinny jeans, blazers and wedges.  Her Sebago Bala deck shoes also made a comeback today.
Kate's breton striped top is from a British brand called ME + EM.  The company make clothing here in the UK and in Europe too.  The Breton top originally sold out, but the company keep reissuing it, probably because it's a popular piece.  (At the time of writing – June 2015 – the top is available in a number of colours).


Kate's striped t-shirt is made from lyocell cotton and features a scoop neckline, three quarter length sleeves and ruched detailed to the bottom hem.  It retails for £48 and the company deliver worldwide.
Kate also wore a pair of navy blue skinny jeans, which are a pair she regularly wears from Zara.  The style is called 'Molecule Slim Fit" but they are no longer for sale in the store.  Kate's military blazer is also a Zara piece.  It is sold out currently, but Zara are very good at reissuing items, so it's worth checking back if you like the style.  The jeans did retail for £79.99 (approx $134).
Kate wore two different pairs of shoes today, both familiar to many of us.  She wore her Stuart Weitzman Corkswoon wedges to the air hangar and harbour before changing into her Sebago Balas for the boating race.  You may recall Kate wore this same shoe during the 2011 dragon boat race too.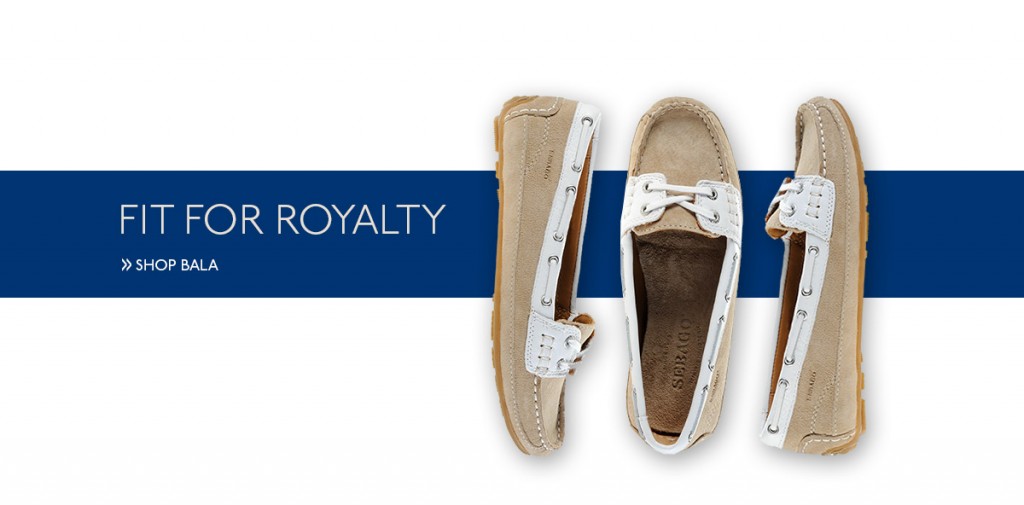 Susan from What Kate Wore believes the duchess was wearing a pair of Ray-Ban Wayfarer Folding Classics.  Some pictures clearly show the glasses folded up in Kate's back pocket, and others show the Ray-Ban logo.
Finally, Kate wore her Kiki McDonough Grace earrings during the events.
More fun tidbits worth noting:
According to William, the pair were feeling competitive about the boat race, "a bit of healthy competition" he clarified.
William also joked that people are "touting" their babies as potential partners for baby George, the country's future king.  According to Victoria Murphy of The Mirror one couple introduced their baby daughter Emily to William, noting that she is just nine days younger than George.  The couple told William that their daughter would be "well paired" with George in the future, and fortunately William "could see the funny side."
Emirates Team New Zealand have this wonderful video from today's boat racing event, complete with interviews with the team, who say they were asked by William to let Kate win!