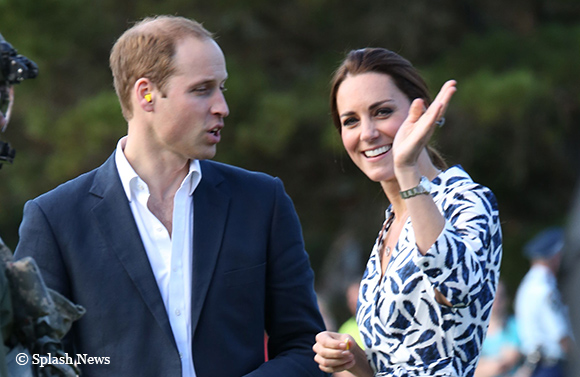 On day eleven of the royal tour, William and Kate left baby George at Admiralty House with his nanny as they headed out for another day jam-packed full of events.  The couple visited Winmalee, which is located 80km west of Sydney and in the local government area of the City of Blue Mountains.
William and Kate met residents who were devastated by a bushfire last spring.  In the space of a few hours, £52 million (approx $87 million USD) of damage was caused.  248 properties were completely destroyed.
One lady really welcomed the royal visit and spoke highly of William.  From The Express:
"Miranda Hansen, a widow who lost the home she built brick by brick with her husband over 14 years from 1968, also spoke to the couple.

"The Prince just said that they were very sorry that I lost my house," she said. "He said that when my house is rebuilt they are going to come back for a cup of tea with me. Isn't that lovely? They are really lovely people."
Shortly after meeting residents, the pair headed over to Winmalee Guide Hall for morning tea and a chat with around 200 members of the local emergency services.  They also planted a Eucalyptus Summer Red flowering tree at the hall. 
According to locals, William and Kate then posed for a photo with the Girl Guides, who all shouted "Princess" instead of "Cheese", making William and Kate giggle.
From the Guide Hall, the couple headed over to Echo Point, Katoomba, a famous beauty spot in the region that offers "an incredible panoramic view of some of the world's most incredible scenery" according to The Mirror. Here's a gorgeous picture of the couple at the Echo Point:
At Echo Point, William and Kate met Aboriginal Elders who offered gifts: a possum fur cloak for Prince George, and a kangaroo skin cloak for William and Kate to share. They also enjoyed the views of The Three Sisters (an unusual rock formation) and Jamieson Valley, which were untouched by the bush fires.
Next, it was onto Narrow Neck Lookout, to watch young people on a training course abseil down the cliff.    During the visit, William peered over the edge of a very steep cliff face down into the Jamieson Valley below.
According to The Express, William showed no fear as he stood 18 inches from the edge, despite the 100 metre cliff face drop in to the valley below.  From The Mirror's live blog:
"Tim Williams, of the Blue Mountains Adventure Company, said: "He was calm on the edge. He didn't worry about the safety briefing to stay a distance back.

He just stepped up to have a cool look over. It's just his military training, I guess."

Mr Cooper said the duke, who did abseiling as part of his mountain rescue training, was keen to have a go himself down the 15 metre drop to the ledge below.

"He said he would love to come back another time without so much attention and do some abseiling himself. He seemed quite confident and eager to have a go.

"She was keen to have a go as well, but she acknowledged that she was not appropriately dressed. She had a lovely dress and some high-heeled shoes. On another day and in a different context I imagine she would be more than happy to have a go."
William and Kate met waiting members of the public before departing the Blue Mountains by helicopter. Kate petted somebody's dog, and collected gifts from waiting fans, including a boomerang. Before getting on board the helicopter Kate, who now had her hair tied up, gave a thumbs-up to a pilot.
Later in the day, Prince William met the Australian Prime Minister Tony Abbott at Admiralty House.  Tony Abbott tweeted the following photograph from the meeting:
http://twitter.com/TonyAbbottMHR/status/456705425606324224/
Kate's outfit:
Kate wore a black, white and navy blue ikat batik print dress by designer Diane Von Furstenberg. The dress is described as "a lightweight structured crisp cotton" dress, with "no stretch".
The dress is also described as being a 'true wrap style', having a subtle flare skirt and three quarter length sleeves.  The UK DVF website currently has the dress in stock at the time of writing.
Kate also wore her Stuart Weitzman Corkswoon Wedges, her sapphire and diamond earrings, thought to have previously belonged to the late Diana, Princess of Wales and her Mappin & Webb Fortune Necklace.  Kate also wore her Cartier Ballon Bleu watch and carried her Stuart Weitzman Muse clutch bag.