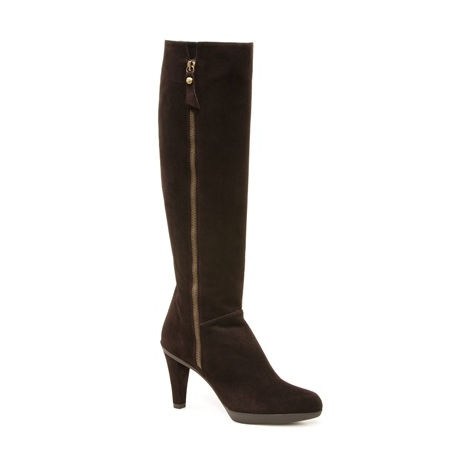 Kate Middleton has worn the Stuart Weitzman Zipkin boots in cola brown suede on a number of occasions in public.  She wore the chic and stylish boots to the Cheltenham Festival in 2013:

She also wore the brown suede boots during a visit to Copenhagen in Denmark two years before:

About the Stuart Weitzman Zipkin boots:
Stuart Weitzman describe the Zipkin as an 'up-to-the-knee boot" with a "functional statement zipper" to the side.  These gorgeous suede boots feature a comfortable leather footbed and a practical rubber sole. The three-inch heel also features extra padding under the insole for added cushioning.  The high quality boots are made in Spain, as you'd expect from such a luxury brand.
Buying the Zipkin boots:
Sadly, Stuart Weitzman no longer stock these boots.