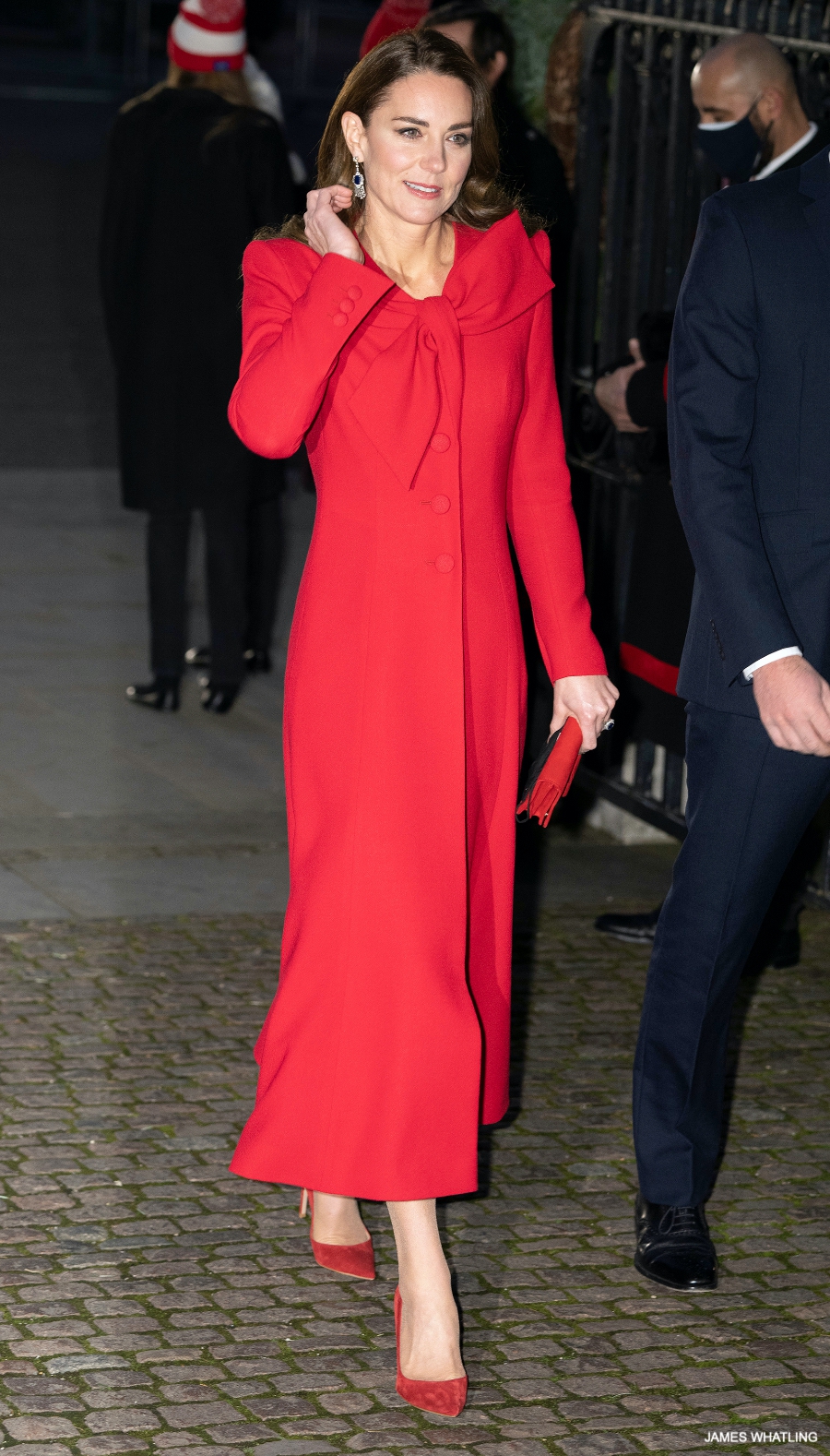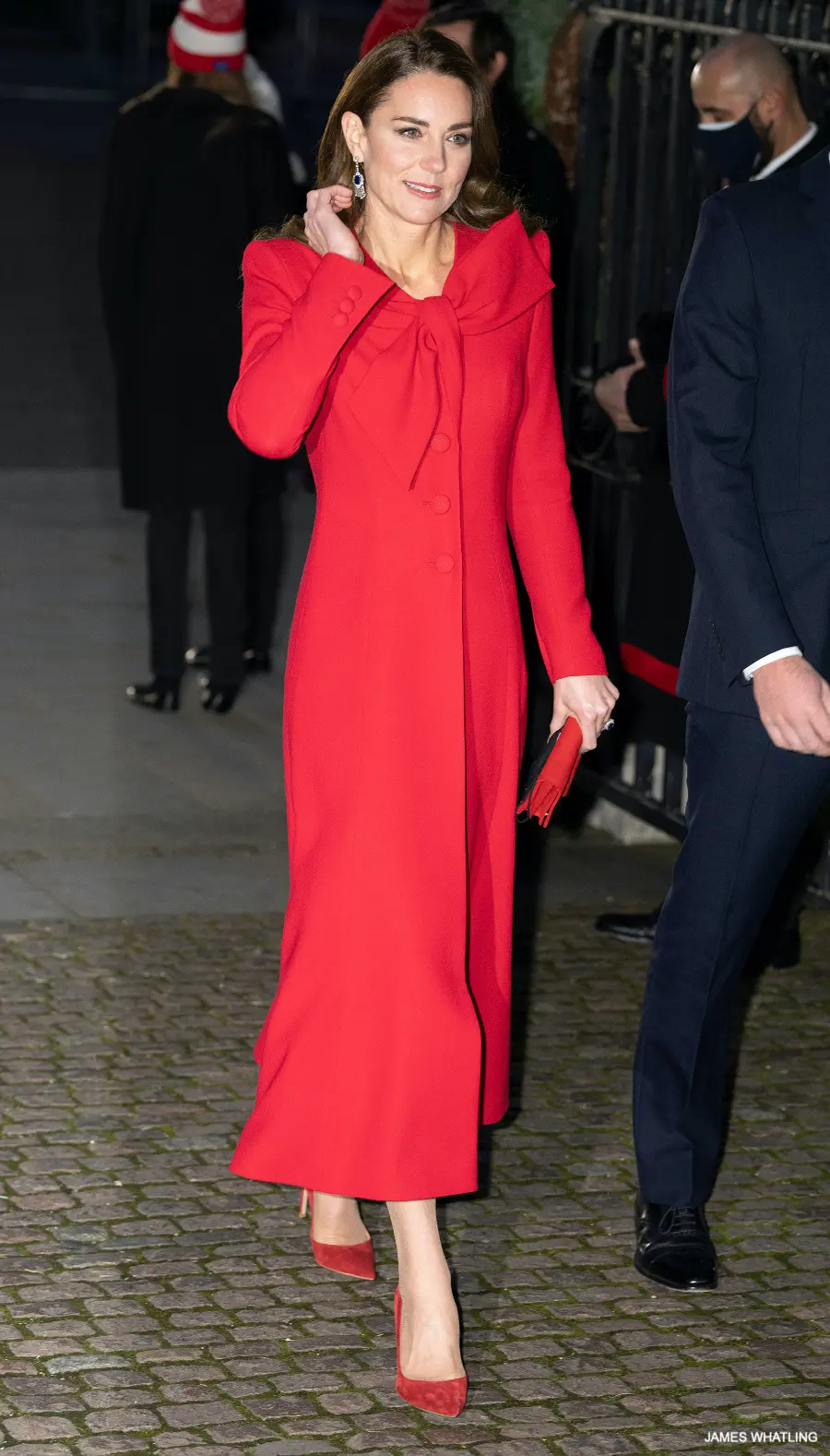 We know that Kate loves literal dressing. On tour? She'll dress in the host country's national colour. Attending a military-themed engagement? You know she'll wear epaulettes. Hosting a Christmas carol concert? Yep, she'll come dressed in a festive hue and topped with a bow like a gift (see below).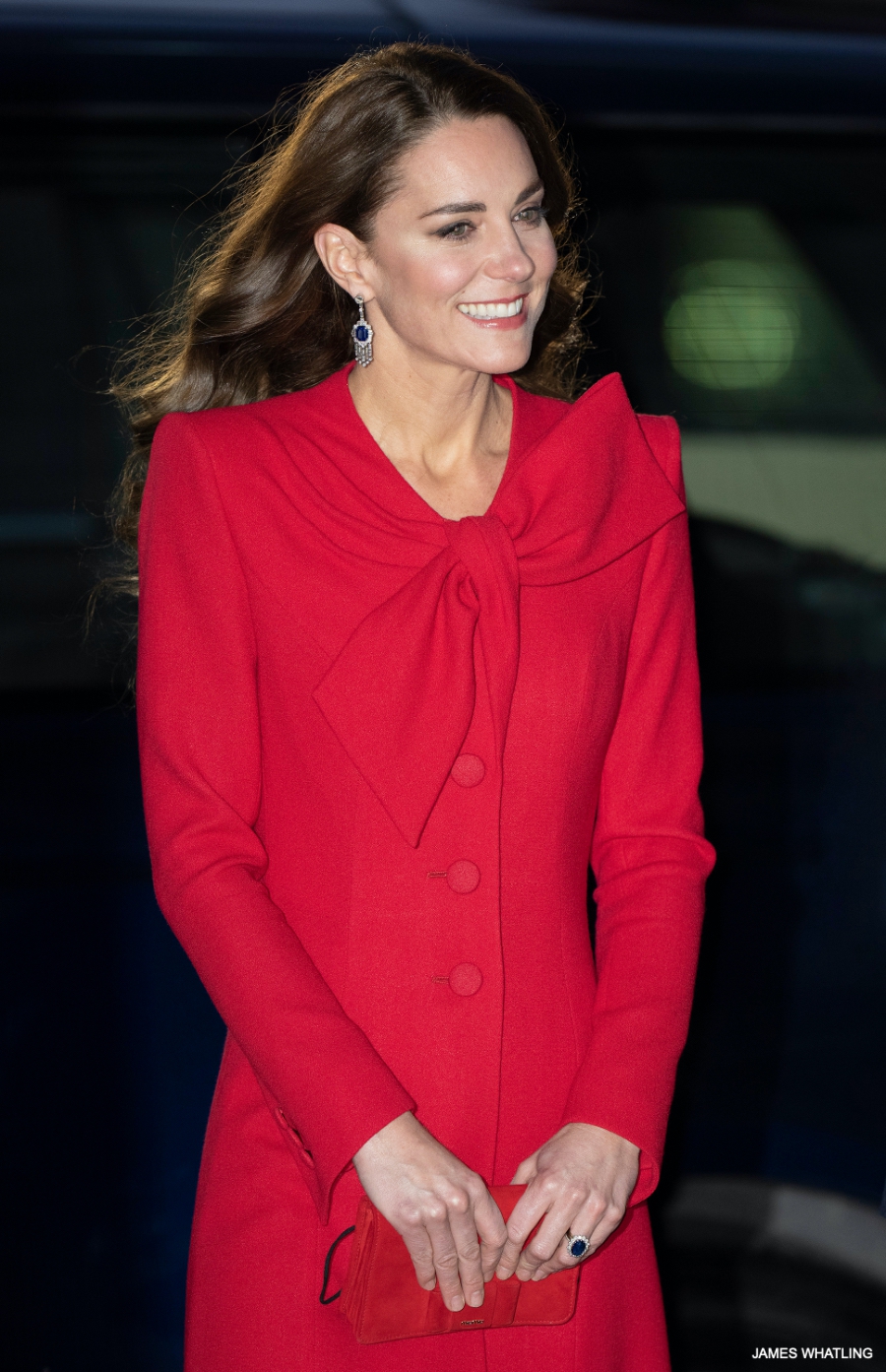 Kate wore her red bow-topped coat dress to host Royal Carols: Together At Christmas at Westminster Abbey in London on the 8th of December 2021. The garment is by Catherine Walker (I'll go into more detail about this piece later in the post).
William and Kate on their way into the abbey. With carolers. And reindeer. It doesn't get any more festive than this: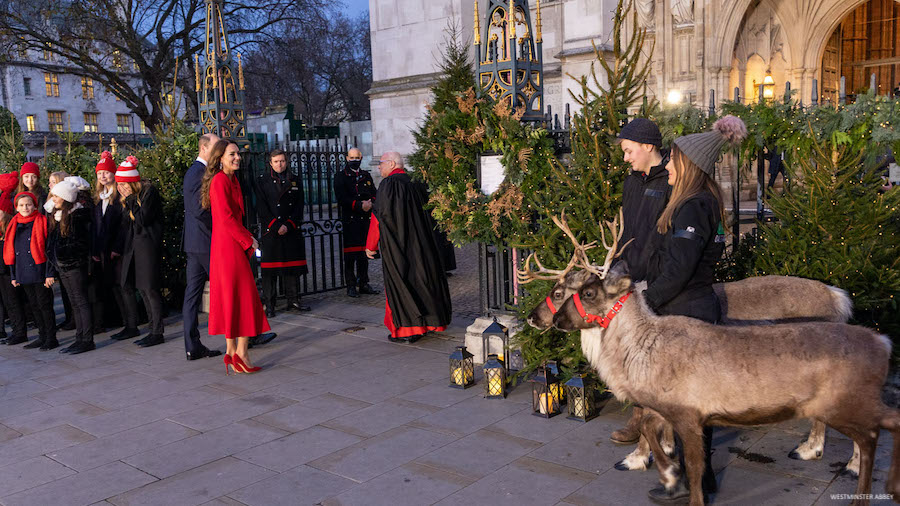 Kate filmed the community carol concert as a one-off TV special that was broadcast by ITV on Christmas Eve.
The Duchess spearheaded the project with The Royal Foundation, the charity she co-leads with Prince William.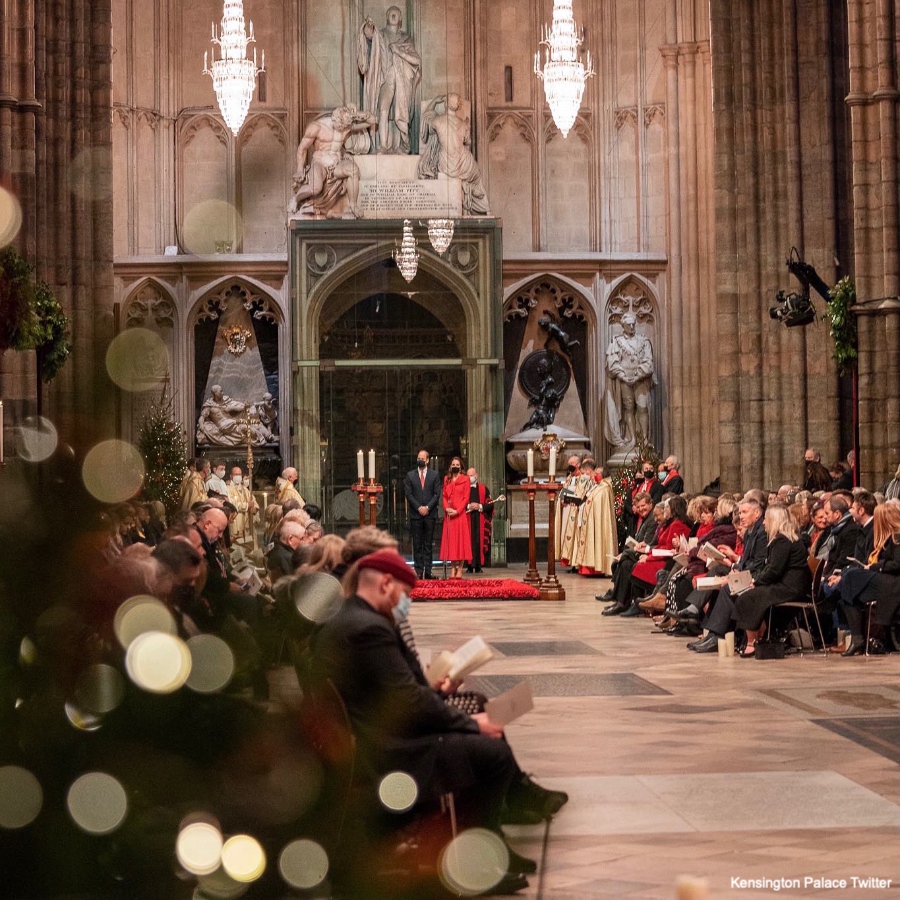 She wanted the concert to reflect upon the challenges communities have faced during the pandemic and celebrate those who've gone the extra mile over the last 18 months.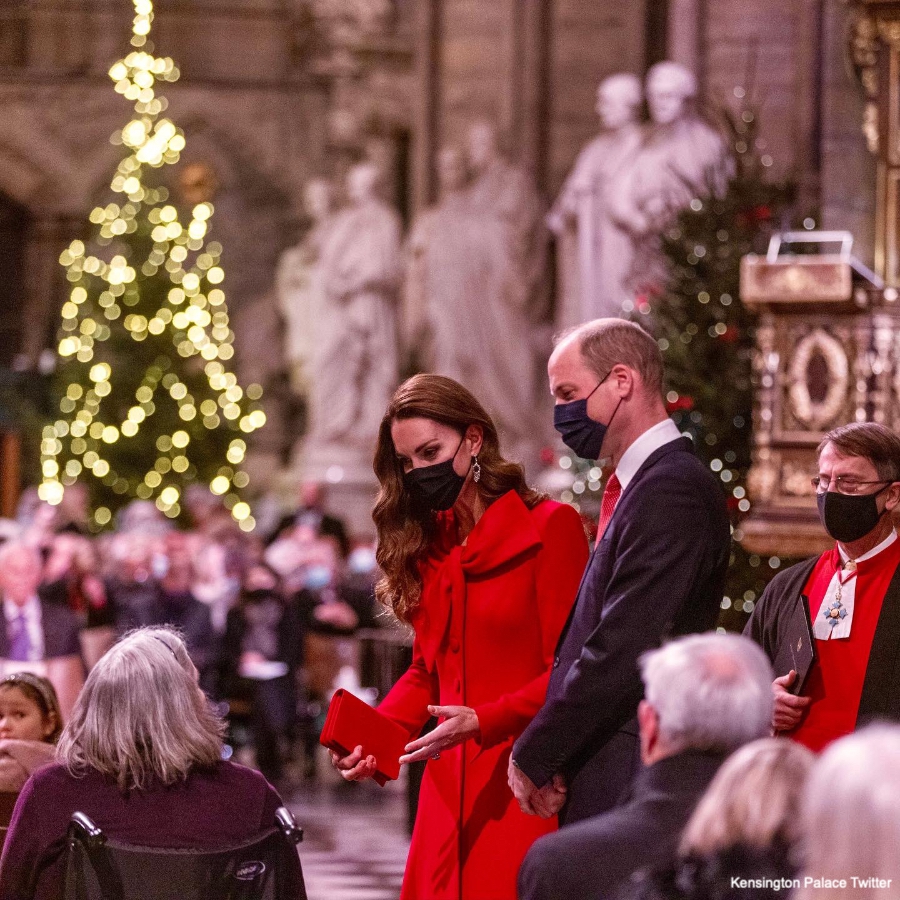 Westminster Abbey's world-famous choir sang the festive carols, along with pop stars Leona Lewis and Ellie Goulding. Thoughtful readings were given by Prince William, Paralympian Kim Daybell, actor Tom Felton and broadcaster Kate Garraway.
Kate surprised everybody by accompanying Tom Walker on the piano as he performed a song during the concert. You can watch the beautiful performance below:
Tom spoke to the Daily Mail about the experience and how it came about. The two have met at various charity events in the past, including one where Kate heard Tom perform his song 'Leave A Light On' live. Later, she asked Tom to perform the song at her carol concert. He explained that he had a new Christmas song that might be better suited (the one the pair eventually performed). Kate loved it and expressed a keen interest in accompanying him on piano . The pair took part in secret rehearsals, before recording the performance for the show.
Tom was impressed with Kate's piano playing. He said that "she absolutely nailed it" before adding that he was "surprised at how great she was at keeping time, because she had to start the song off and lead it." He called her an "amazing musician." You can read the full quote/interview here.
Representatives from Kate's charities and patronages made up the audience. The couple spent up to 15 minutes mingling guests before the concert, including 6-year-old Mila Sneddon.
You may recognise Mila from Kate's Hold Still project. Mila featured in one of the final 100 portraits chosen by Kate's judging panel and exhibited on the National Portrait Gallery. The two spoke on the phone last summer before meeting in May 2021 (pictured below).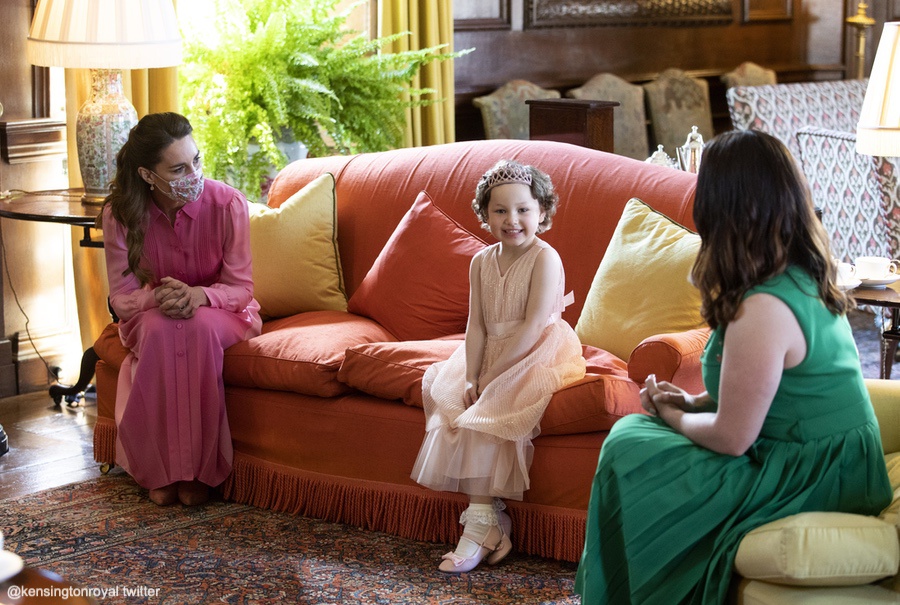 A number of royals attended the service too, including the Countess of Wessex, Princess Beatrice, Princess Eugenie and Zara Tindall. Kate's parents and siblings also watched on from the audience (below, Kate shares a joke with her family as she walks around the Abbey.)
Kate wrote a letter for the carol service's programme, which you can view in full on Westminster Abbey's website, here.
Welcome to 'Together at Christmas' – a very special Carol Service at
the end of what has been another extraordinary year. Thank you all so
much for travelling the length and breadth of the country to gather today.
The COVID-19 pandemic has presented us all with countless and
previously unimaginable challenges. We have lost loved ones, seen our
frontline workers placed under immeasurable pressure, and we have
experienced heart-wrenching isolation from those we hold most dear.
Alongside this, we have seen how communities have come together
to support those most in need. And through our separation from others,
we have been reminded just how powerful human connection is to us all.
Just how much we need one another. And how loving and feeling a sense
of belonging to one another can provide comfort in tough times. The
importance of simply being together.

In our roles, William and I are so fortunate to meet and spend time
with phenomenal people across the country who day-in day-out support
individuals and families. And over the past two years, we have been
truly inspired by countless people who have brought their communities
together through simple acts of love and kindness. This Carol Service is
our small way of recognising the inspiring contribution so many of you
have made. Thank you.

Christmas is a time when we can reflect on the past, listen to one
another, focus on the relationships that nurture us and build our
resilience, so we can look forward to a brighter shared future. My hope
is that this Service creates a moment for us to do this together.
Over the next hour we will celebrate the power of this time of year.
And I wish you all the very best for the year ahead.

Catherine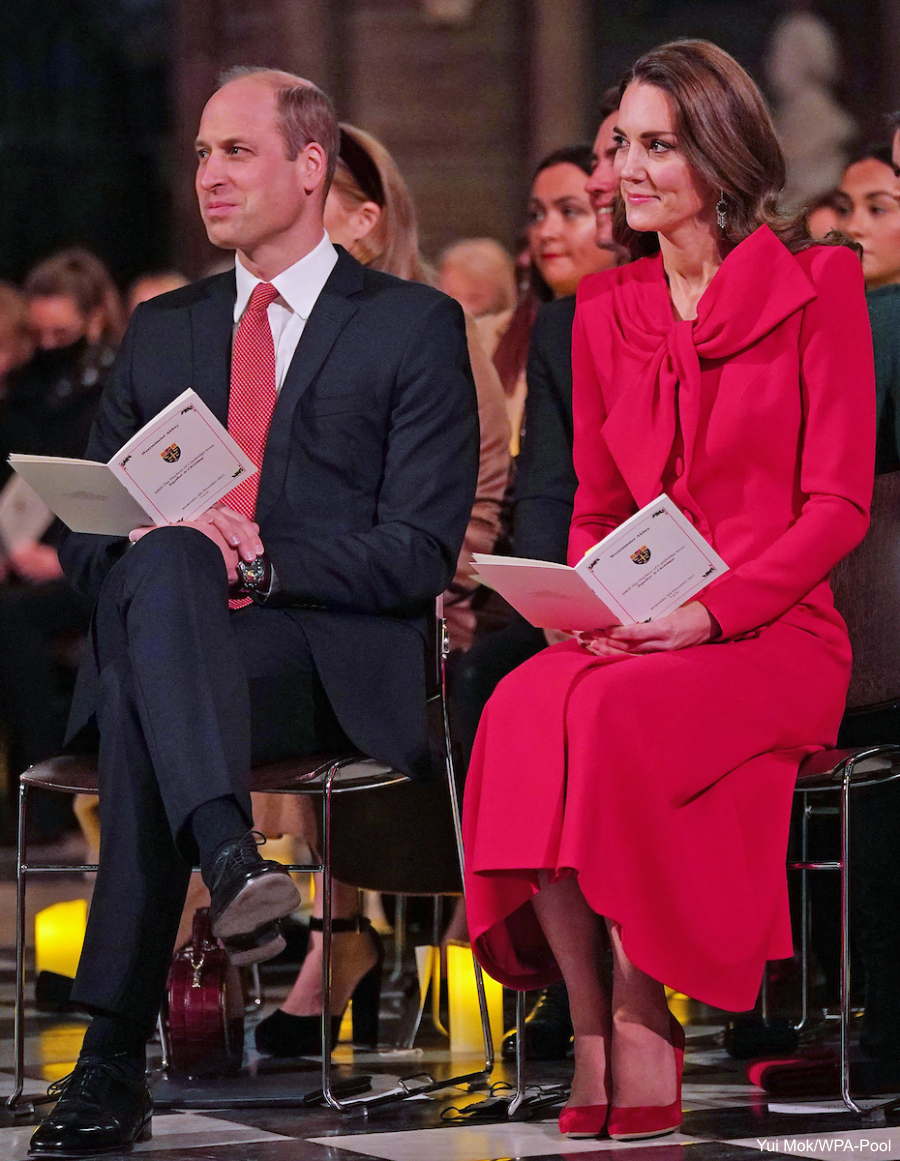 Update: Kate visited Westminster Abbey on the day before the concert wearing a rather festive red cardigan. She helped with preparations and filmed some to-camera pieces for the show. Read more on this page.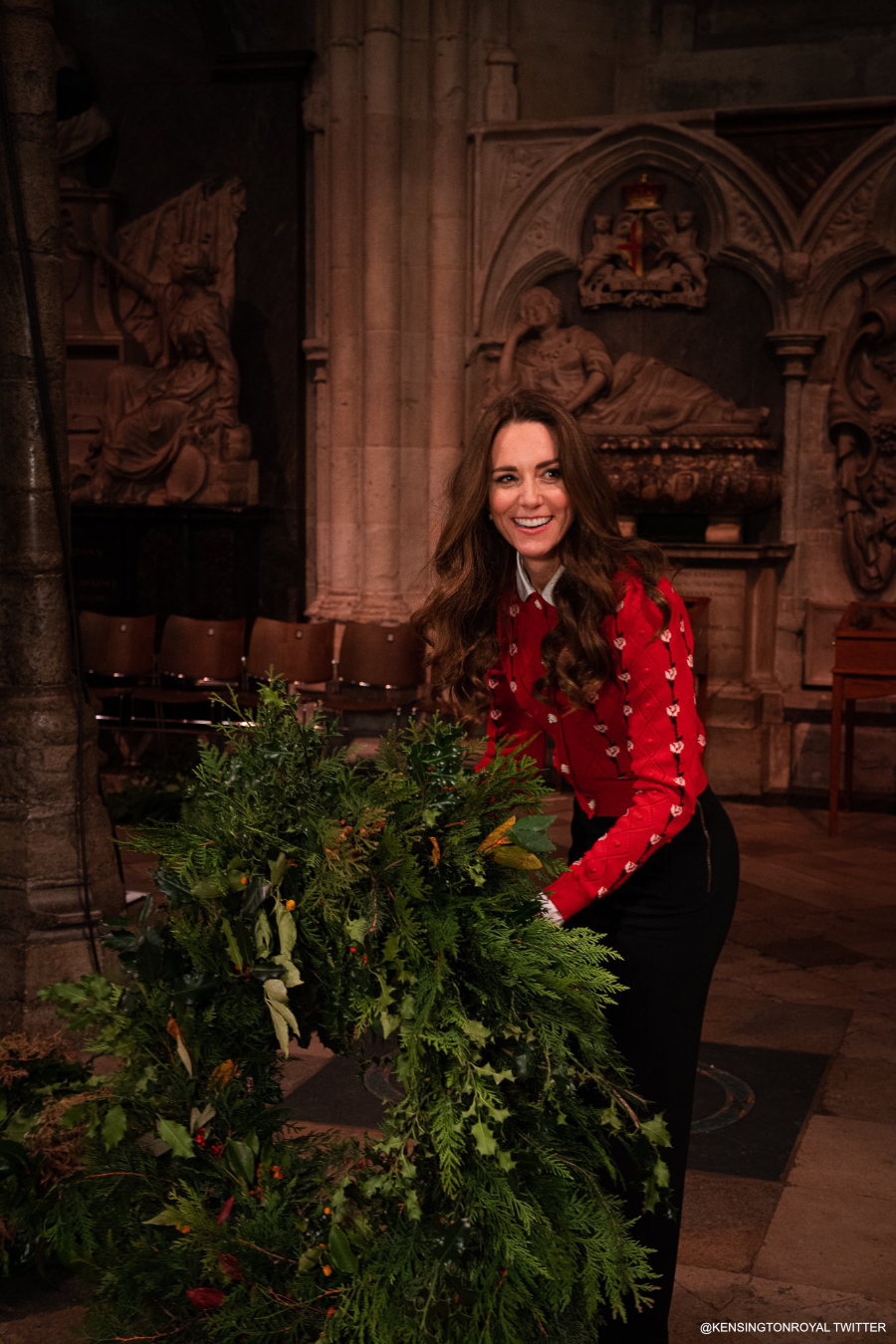 Video: Kate arriving at the carol concert and chatting with guests:
Late's take a look at Kate's festive red outfit now.
Kate's outfit at the Carol Concert:
As we mentioned in our opening paragraphs, the Duchess wore a red coat dress topped with a bow. It is by Catherine Walker. It's aptly named the Beau-tie coat dress.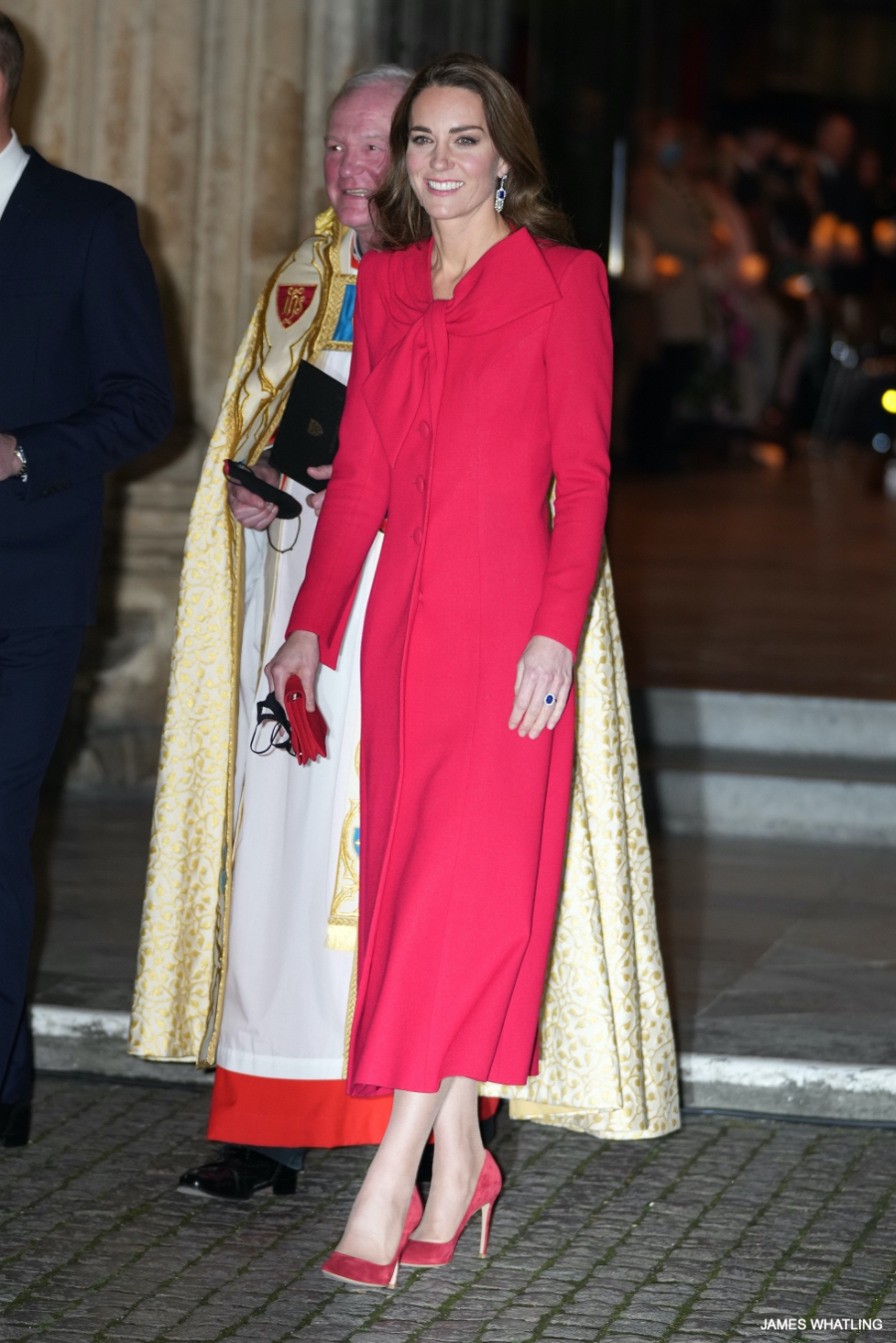 If the garment feels familiar, it's because she wore the exact same piece in black to Prince Phillips funeral earlier in the year.
The scarlet red coat dress is from Catherine Walker's Autumn Winter 2020 collection. It's made from wool and features two soft pleats at the shoulder that tie into a bow. On Instagram, the company referred to the garment as a "Christmas dress".
Kate has frequently worn Catherine Walker clothing since joining the Royal Family in 2011. She owns many coats and dresses from the designer. (Did you know, Princess Diana wore a lot of Catherine Walker clothing too—apparently over 1,000 outfits from the French-born designer!)
Pictured above: Kate in various Catherine Walker creations: a red coat on day one of the New Zealand and Australia tour in 2014, in a scalloped white coat during a visit to Westminster Abbey to mark the National Day of Reflection in 2021, marking the Centenary of the Armistice at Westminster Abbey in 2018 and at a service marking the Centenary of the Battle of Passchendaele in 2017.
Catherine Walker, who has sadly passed on now, was a self-taught designer and one of the only couturiers living and working in Britain. Her husband and business partner Said Cyrus still oversees the atelier in Chelsea, London.
Kate paired the red coat dress with a pair of glamorous sapphire and diamond fringe earrings. They originally belonged to the Queen Mother (who rarely wore them, according to this royal jewellery blogger).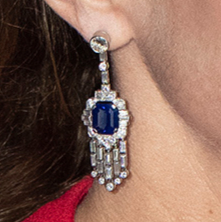 Sadly, little is known about the earrings or their origins. Kate's worn them once before, to the 100 Women In Hedge Funds event at the V&A Museum in 2015. She paired them with her red floral Erdem dress (pictured below).
Kate's red heels from the carol concert ought to feel familiar, she's owned them for some time. They're by Gianvito Rossi. They're the Italian designer's signature 'Gianvito' shoe. They're made from red suede, have a 105mm stiletto heel and an elegant pointed toe.
The red suede shoes are the epitome of chic! We assume Kate loves them too: she owns the style in at least nine different colours and heel height combinations!
Pictured above: Kate wearing the Gianvito 105 pumps in five different colours!
According to the Data Duchess, this was Kate's seventh public wearing of the red pumps. She first wore them to the Order of the Garter service in 2016 (see below).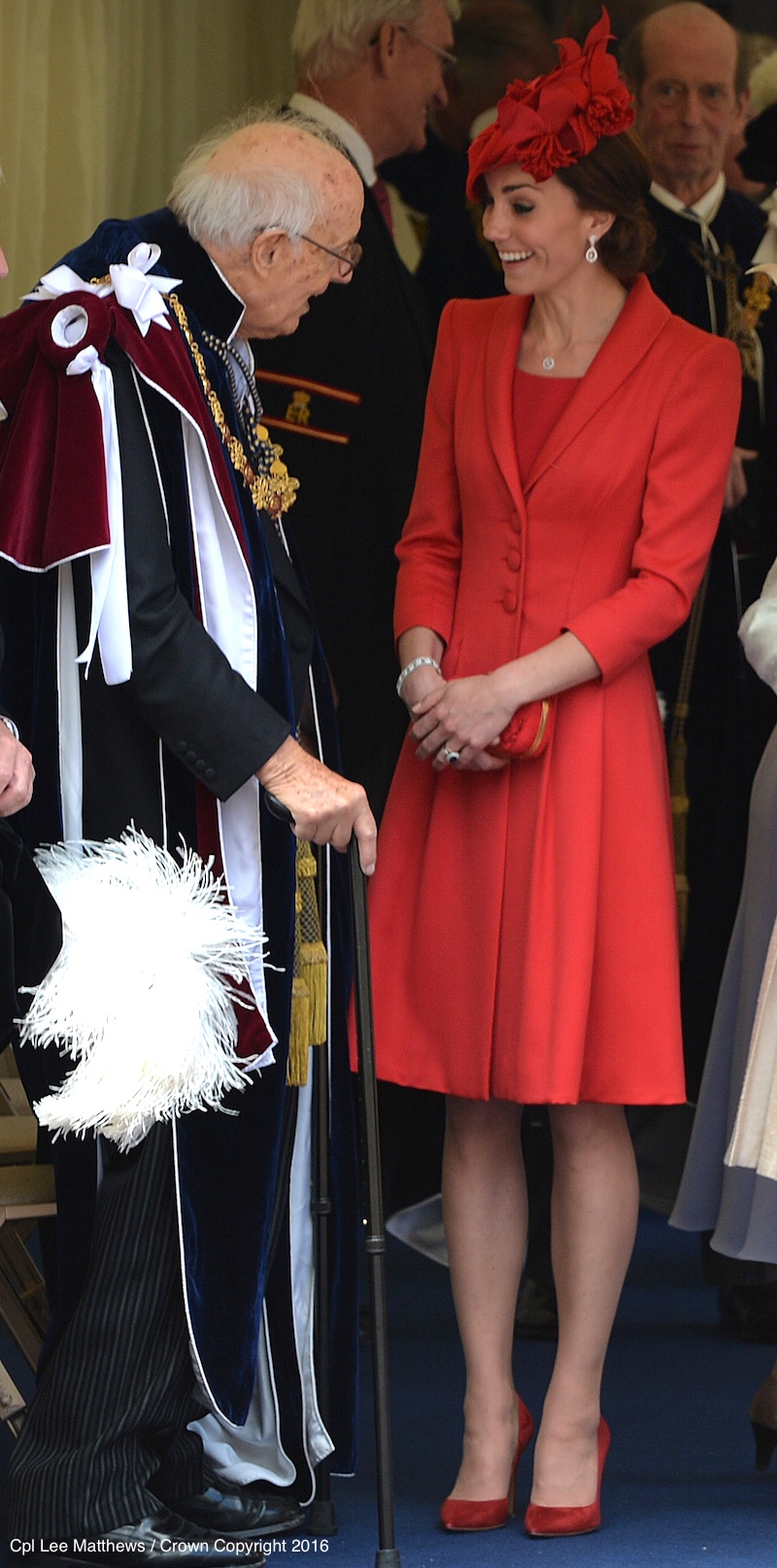 We know lots of our readers love these sleek shoes by Gianvito Rossi—they're perennially popular on our blog. If you're looking to own a pair, you'll find them in various colours at Net-A-Porter, MyTheresa and on Gianvito Rossi's own website. Note: The darker red shade worn by Kate isn't available to purchase at the time of writing, only a brighter 'tabasco red'. As I've mentioned a few times in the past, I think it's a fair bit cheaper to buy from Net-A-Porter than Rossi's site, due to delivery charges. (N-A-P offer free delivery). But do double-check this for yourself first.
Finally, Kate carried her red suede Miu Miu bag. The piece features a distinctive bow detail on the front.
The elegant bag was crafted in Italy using plush crimson coloured suede. It can be carried as a clutch or it can be worn on the shoulder using the attached gilded silver chain strap. It has a mirror on the inside and three large compartments for storing essentials. A little gold label with the brand's name, 'Miu Miu', sits on the front of the bow.

The Duchess first carried the bag in September 2016, during a visit to Vancouver in Canada. (Aside: this is one of my all-time favourite Duchess looks! I love this dress.)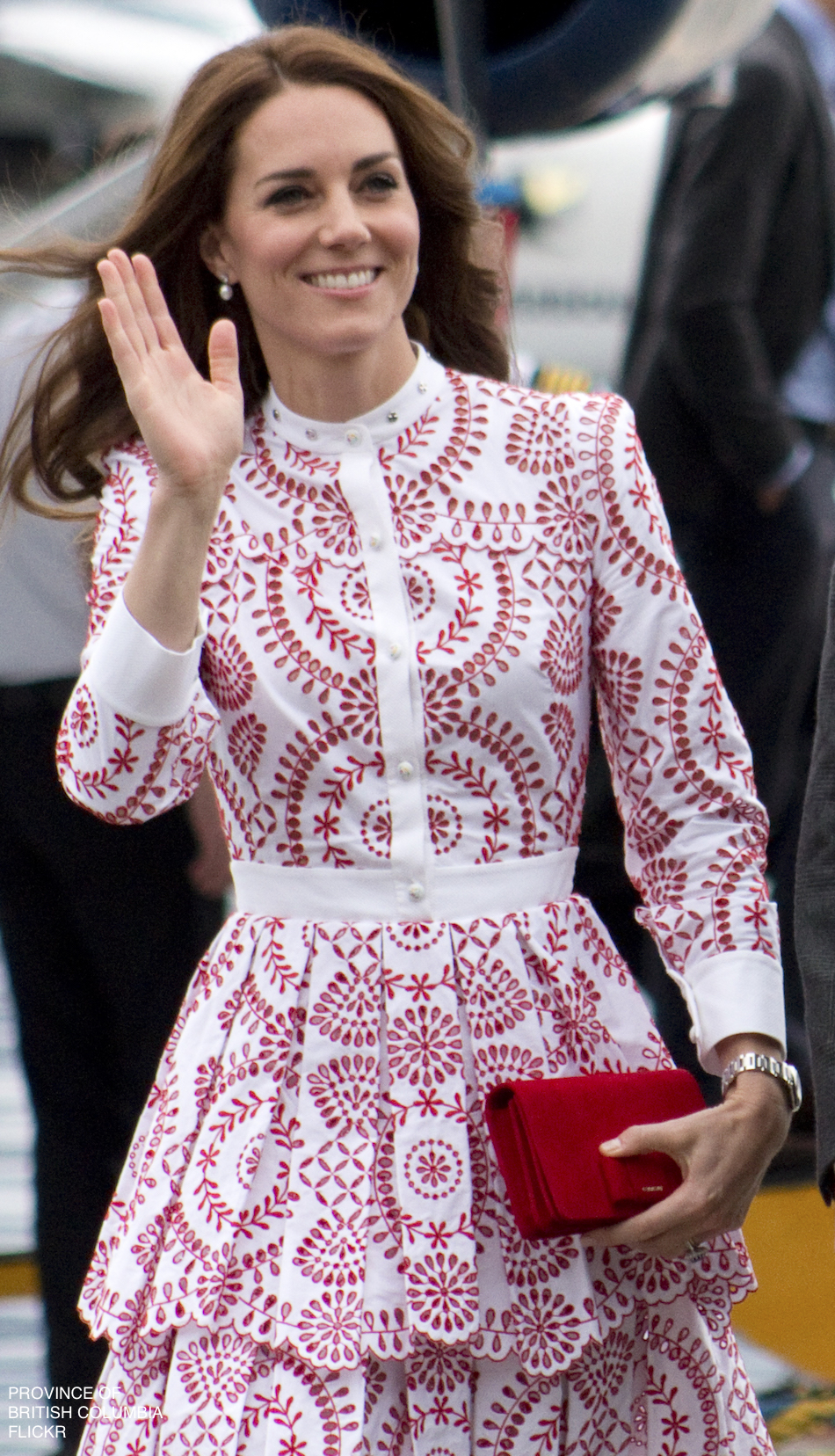 The red bow bag retailed for £640 GBP / $895 USD at Net-A-Porter. Sadly, it's no longer available to buy. (Browse current season Miu Miu bags at FarFetch.com.)
Miu Miu is a clothing line founded by Miuccia Prada in 1992. The company is a subsidiary of the famous Italian fashion house, Prada. The brand's edgy, provocative style sets it apart. In addition to the red bow bag, Kate's worn a couple of other pieces by Miu Miu.
Above: Kate wearing a tartan coat by Miu Miu on Christmas Day in 2017. The second picture shows Kate wearing a festive red rose cardigan by Miu Miu in an introduction video she filmed for the carol service.