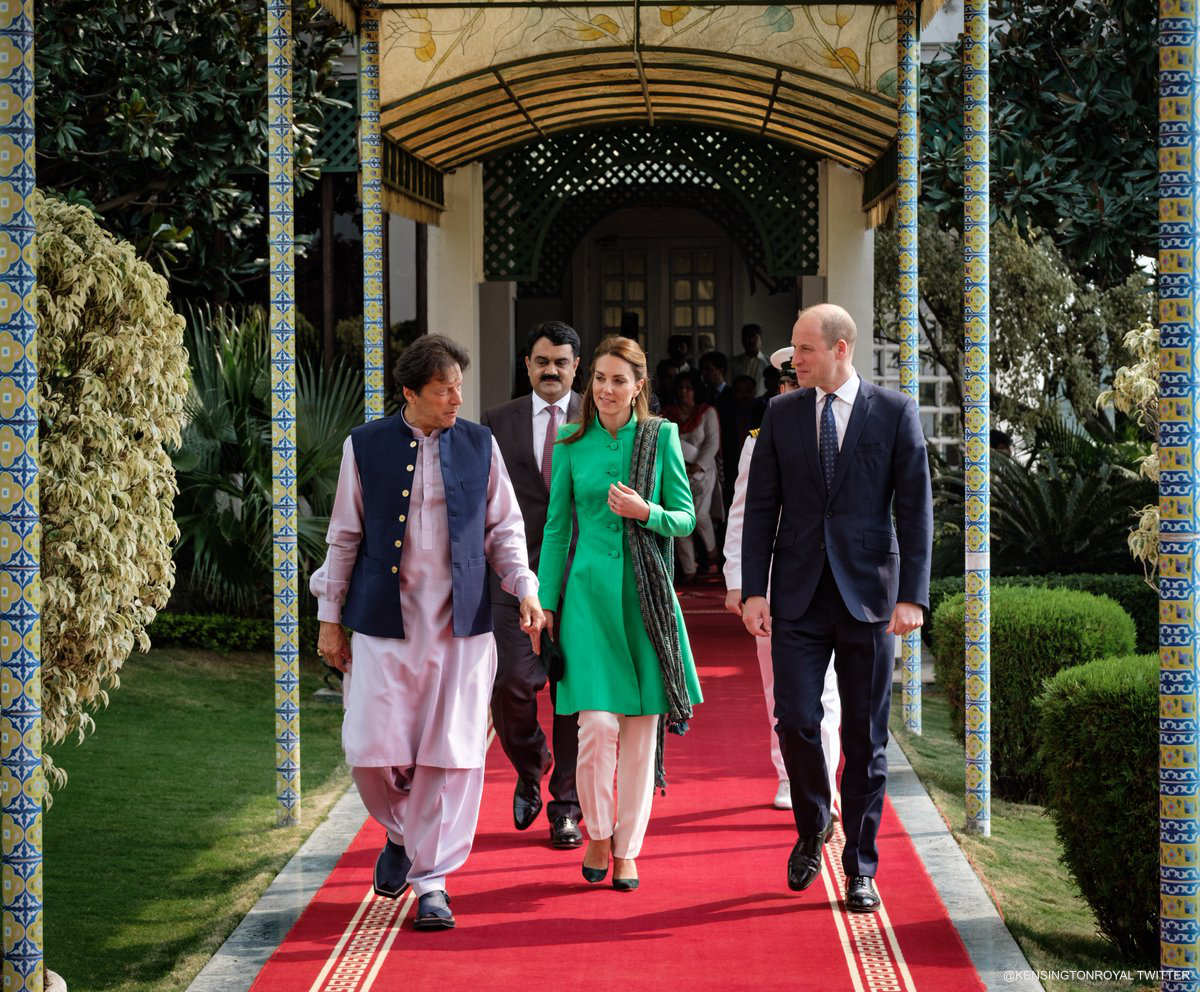 After an outfit change, Kate carried out an afternoon of engagements in Islamabad, Pakistan (15th of October 2019).
The couple spent the morning in the city, touring a school and visiting a national park. We've covered that in a different blog post, which you can read by clicking here.
Of course, William and Kate are visiting Pakistan at the request of the Foreign and Commonwealth Office. They arrived on Monday (14th) and will leave on Friday (18th).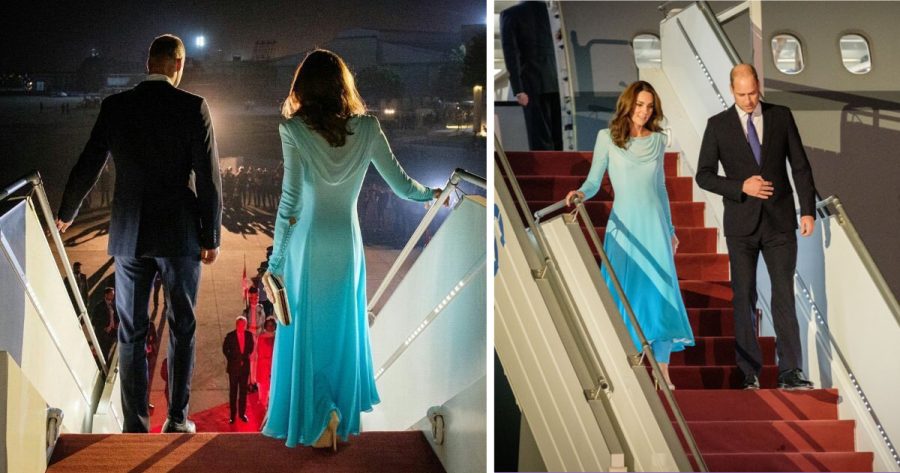 For the afternoon engagements, the Duke and Duchess travelled over to the Aiwan-e-Sadr Presidential Palace. Here, they met with the President of Pakistan, Dr Arif Alvi and his wife, the First Lady Mrs Samina Alvi.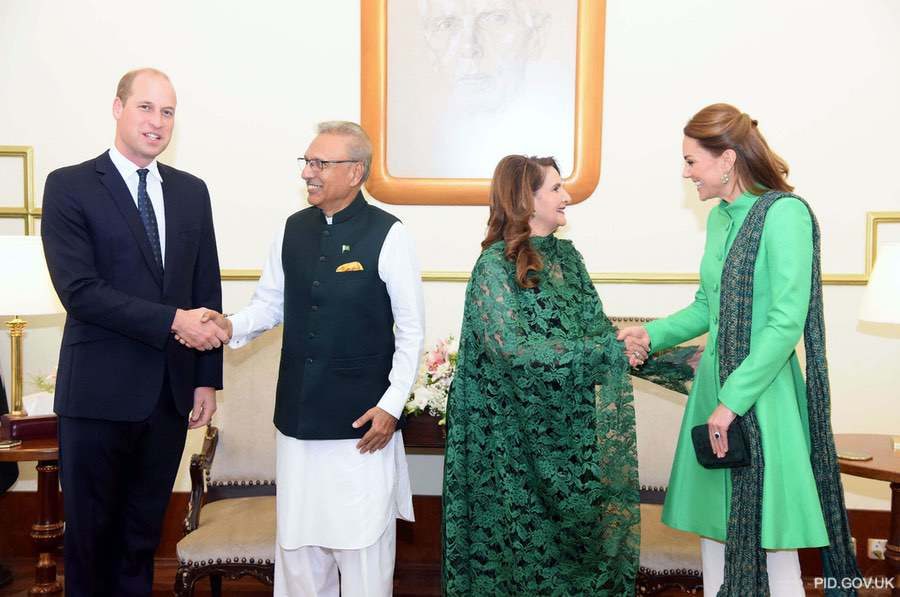 After, they travelled over to the Prime Minister's Official Residence.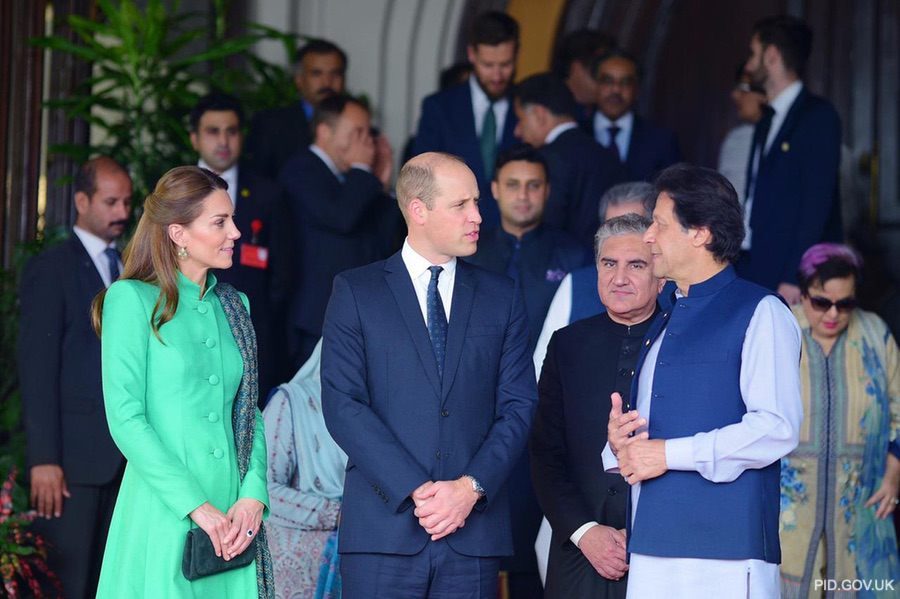 Here they met Prime Minister Imran Khan.
William and ex-cricketer Imran Khan share a little history. An excerpt from the Evening Standard newspaper explaining the relationship:
The Pakistani leader's ex-wife Jemima Goldsmith was one of the closest confidantes of William's mother Diana and the future Pakistan leader, then one of the world's great all-rounders, would often play cricket with William at the Goldsmiths' family mansion in Richmond Park in south-west London.

The 67-year-old former Pakistan captain even confided to the 11-year-old prince that he would one day be the country's prime minister.

He said today after meeting William and Kate: "When I went with my mother to see a Test match my cousin was playing and he scored a century and I told my mother I wanted to be a Test cricketer."

"I never realised how difficult it was to eventually become one. Similarly, when I told you (William) that I wanted to succeed (as Prime Minister) – I didn't realise it would take me 22 years."

Evening Standard
The couple enjoyed a private lunch with the Prime Minister before meeting with British High Commission staff privately.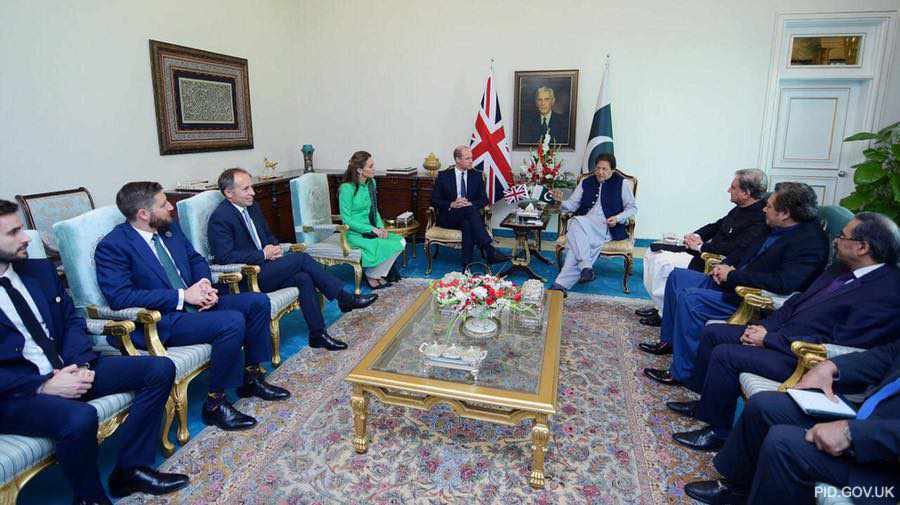 Later, Kate attended an evening reception at Pakistan's National Monument. As she changed outfits for the occasion, I have covered that engagement in a different blog post. Read it by clicking here.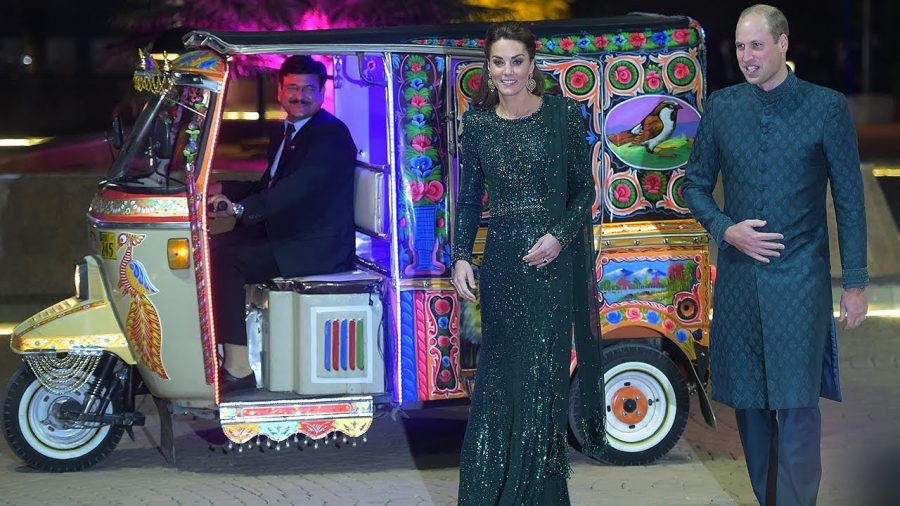 Kate's outfit:
For the second part of the day, Kate changed into a green and white ensemble.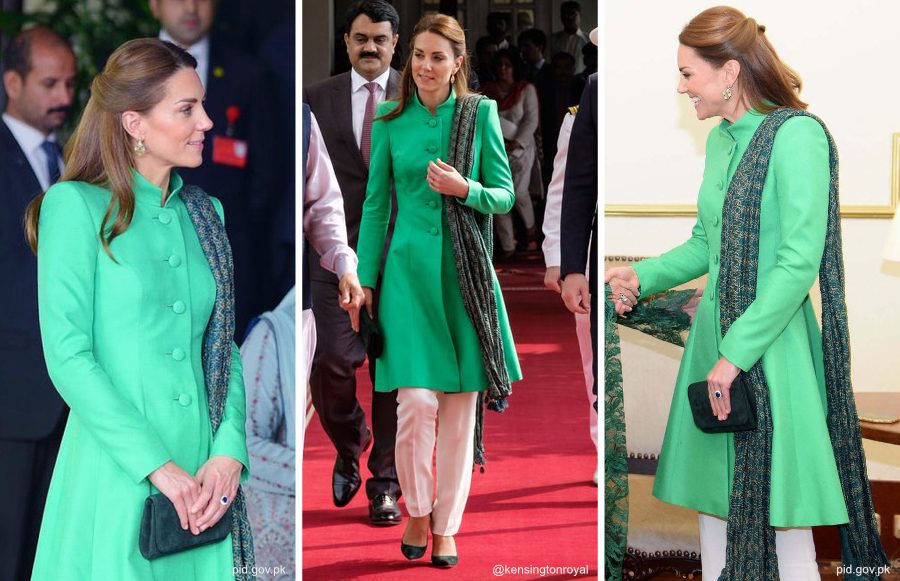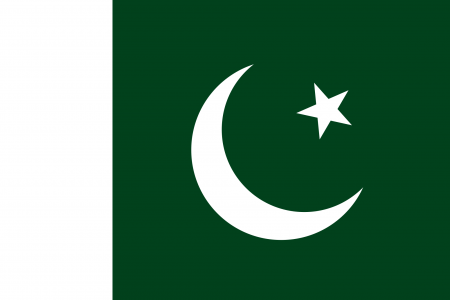 Of course, green and white are the colours of Pakistan's national flag. Green is also culturally significant to many Muslims, as the colour has a number of traditional associations in the Islamic faith (the official religion in Pakistan).
Kate's vibrant green coatdress is by Catherine Walker. It's reminiscent of pieces she's worn by the designer in the past. (Left, Berlin, 2017. Right, Garter Day, 2016).
Of course, Kate wore the British designer for her arrival into the country too.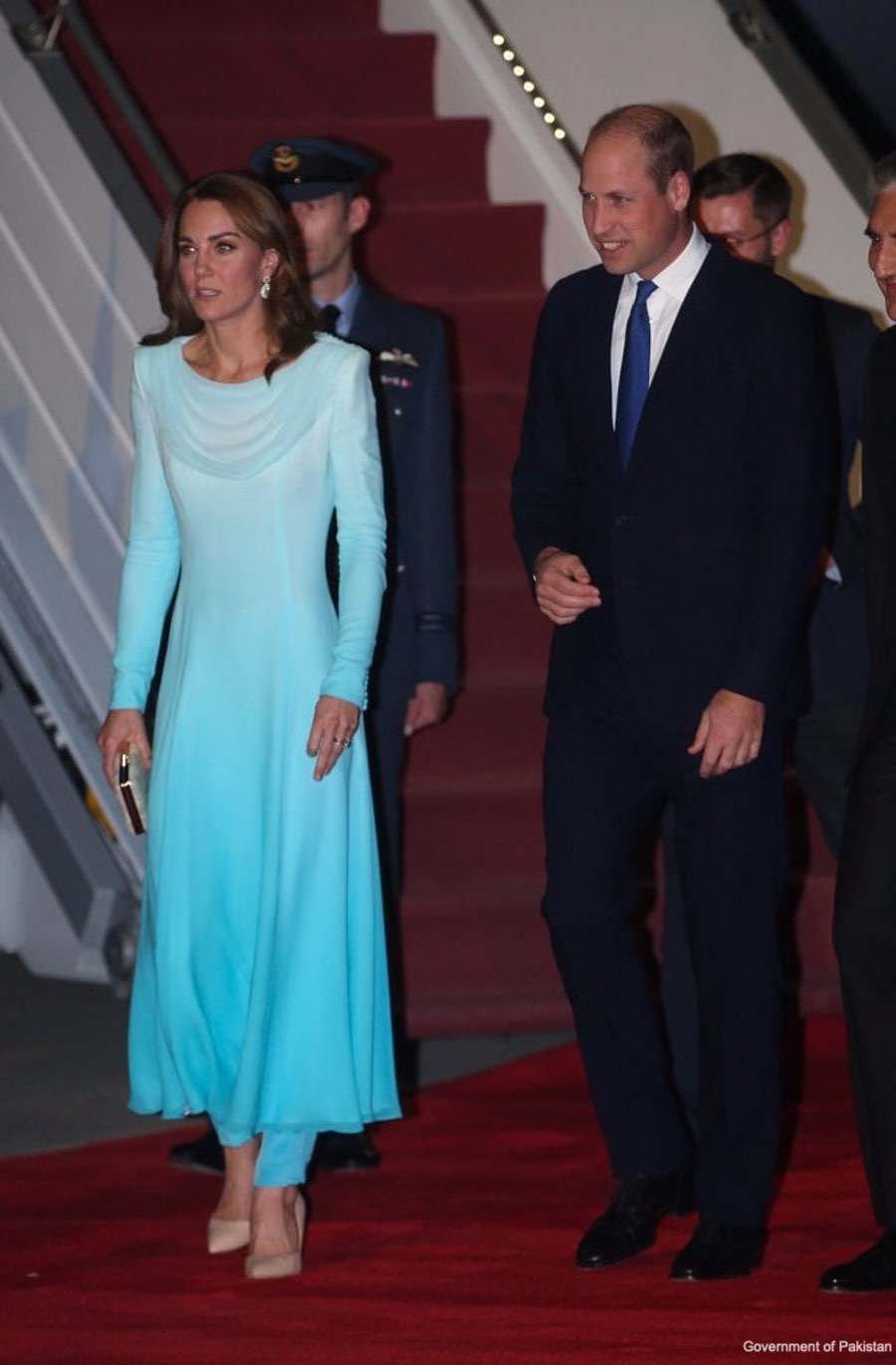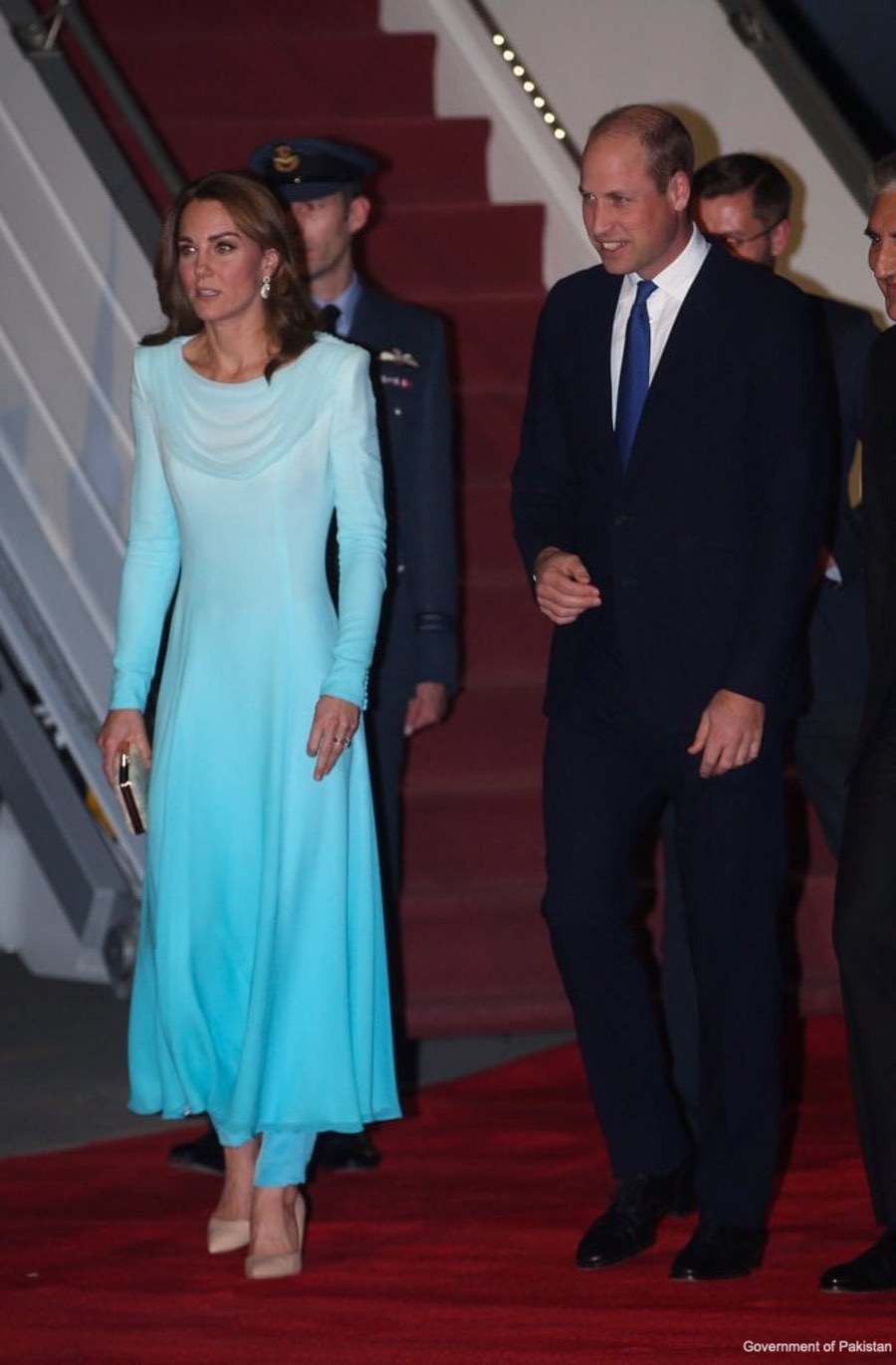 Underneath, she wore a pair of white trousers by Pakistani designer Maheen Khan. Of course, Kate wore a blue outfit by Maheen Khan for the morning's engagements.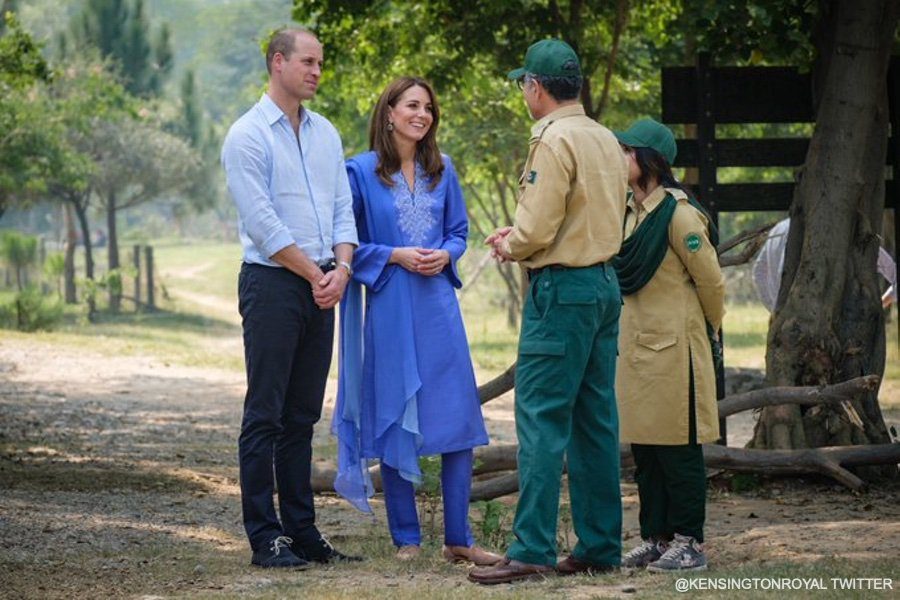 Kate's dark green scarf (or dupatta) is from another Pakistan-based company, Bonanza Satrangi. The chiffon piece costs just $11! It features an intricate gold design and tassel detailing.
On social media, the company say they're "overjoyed and truly humbled" that Kate chose to wear their scarf.
You might recognise Kate's green earrings. She wore them visiting the Aga Khan Centre earlier this month (pictured below). They're by Zeen, another Pakistani brand.
If you recognised the earrings from the Aga Khan visit, you'll know the handbag and shoes too. She wore them at the same time. They're by Emmy London.
Specifically, Kate carries the Natasha clutch (the old style, without the gold piping around the edge) and the Rebecca pumps. Both are in the colour "Greenery", a deep forest green suede.
A look at the bag/shoes at the Aga Khan Centre:
Your verdict:
Do you like seeing Kate wearing a western-take on traditional Central and South Asian clothing? What about the colour? It was certainly a vibrant shade of green! I personally LOVE the Emmy London pumps and bag – they're always a favourite. Let me know your thoughts in the comments section below.
Join us on Facebook and Instagram too!
Catch up with all of our tour coverage on this page.