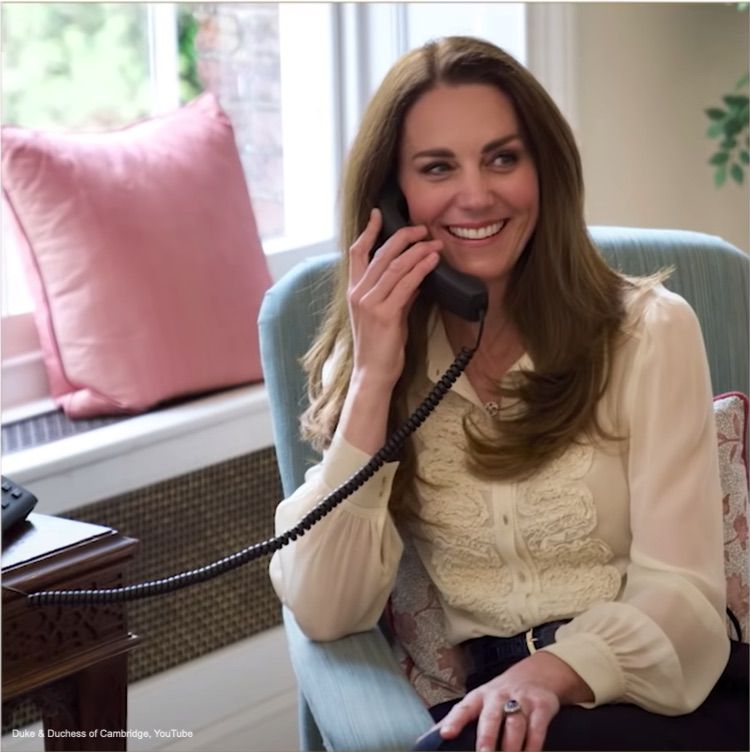 On the 5th of May 2021, The Duke and Duchess of Cambridge (William and Kate) launched a new YouTube channel. A snazzy video accompanied the announcement on the couple's official social media channels. You can watch it below:
The video features clips from previous engagements and a couple of funny quips from the pair. The video opens with William joking "you've got to be careful with what you say now because these guys, they're filming everything". Kate laughs and says "I know!!!" Near the end, there's an outtake from the St Patrick's Day video released back in March. The Duchess corrects William's pronunciation, telling him there's no need to roll his Rs (William is attempting to speak a few words of Irish).
A day later, Kensington Palace uploaded a second video to the channel. It features Kate chatting with Mila, one of the Hold Still project finalists. (If you're not a regular reader, Hold Still is a photography project that Kate spearheaded with the National Portrait Gallery during lockdown last year. You can learn more on this page.) The video is set to photographs and graphics that illustrate the conversation. It opens with Mila saying "Good morning, your Royal Highness". Kate chuckles and says "Good morning. My goodness me, you're so polite, Mila!". Watch below:
Before lockdown, Mila's family made the difficult decision to isolate in two different households to shield the youngster, who was just four months into her chemotherapy journey for acute lymphoblastic leukaemia. Every day, Mila's dad Scott and big sister Jodi would visit Mila at the window. Mila's mum took a photograph of one of these visits and submitted it for the Hold Still project. In summer last year, the judging panel selected the photo as one of the final 100 images that would enter the exhibition. The photo:
During the phone call, Kate thanked Mila for submitting the photograph before the four-year-old decided to turn the conversation to princess costumes. Kate had to admit she wasn't wearing a princess costume before asking Mila her favourite colour. "Pink" was the reply. Kate promised to wear a pink dress when they meet in future. (She has a few good ones to choose from!)
Kate also chats with Mila's mum Lynda. She talks about lockdown and how it came with a silver lining for Mila's treatment. The two then speak about the Hold Still project. The video ends with Mila announcing she knows Kate's children's names and Kate explaining that Louis is "so big now" and enjoys playing on his scooter. "He's very quick, I can't keep up with him", she adds.
Kate's chat with Mila took place in Autumn last year. It is just one in a series of telephone calls with Hold Still finalists that the palace will release on YouTube over the coming weeks. Kate wanted to speak with some of the finalists to find out more about the stories behind their photos.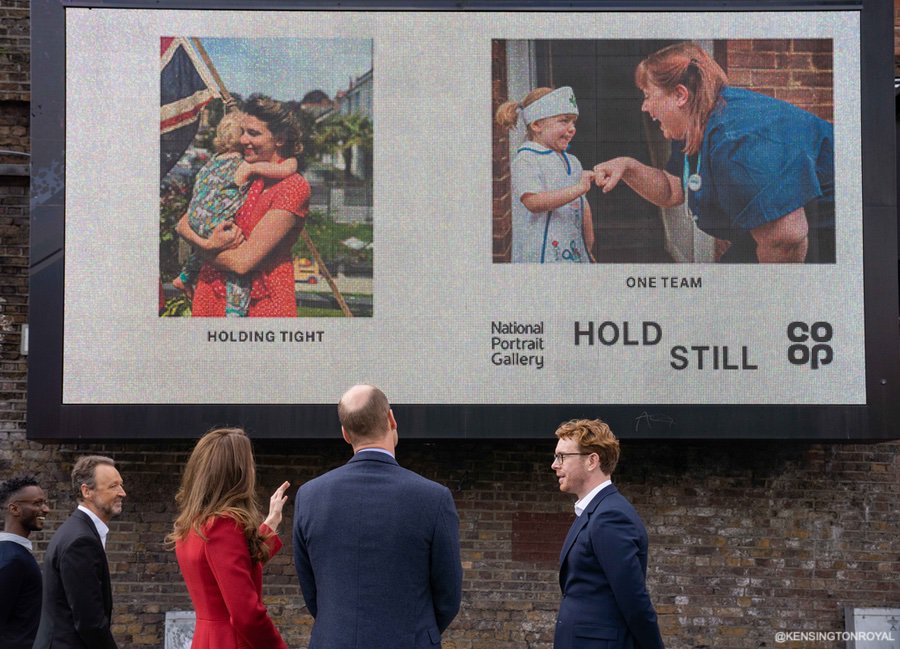 The video coincides with the launch of the Hold Still book, which will be released on the 7th of May.

Updated – 10th May 2020. Kensington Palace have uploaded a second video, showing Kate having another phone conversation with a mum and daughter whose photo appears in the book. Kate chats with Niaz Maleknia and her daughter Romy. Romy is the subject of a photo titled 'cancelled.' Romy is one of the thousands of students whose exams, proms and graduations were cancelled in 2020.
In the video, Romy told Kate about her experiences of the pandemic. They also spoke about Covid-19's impact on the mental health of students.
Kate's outfit:
Kate's wearing a cream ruffled blouse in three photos released with the videos. Did the piece immediately feel familiar? That's probably because Kate wore it in her engagement portrait eleven years ago!
Yes, the blouse is over a decade old! Anybody following Kate's style for that long will remember the blouse is from Whistles. It actually dates back to around 2008/2009. It is made from 100% silk. Below right: I show a slightly different blouse—this is the blouse reissued by Whistles after the engagement photos were released (it is the only stock photo I can find!). Whistles named the updated version of the blouse after Kate.
You may notice that the reissued blouse differs slightly from the original worn by the Duchess. The newer blouse has a mandarin collar and the buttons are concealed behind the placket. Kate's blouse features a pointed collar and visible buttons. The updated piece was described as an "ivory woven silk blouse with a frill detail a the centre front, finished with an eyelash trim." It retailed for £125, though the original only cost £95.
"It seems Middleton made a savvy sartorial choice, as Jane Shepherdson, chief executive of the chain [Whistles], explained: "Whistles is known for its vintage inspired silk blouses, which are currently best sellers in its stores," adding: "We are delighted that Catherine chose to wear Whistles in her engagement photographs."

Telegraph
It's hard to tell for certain, but it looks like Kate is wearing her High Waist Sports Luxe trousers by Jigsaw in the photos (RRP £130). The navy blue trousers feature a seam detail on the front. They're woven from a soft, breathable viscose mix fabric with a hint of stretch. Kate's worn the navy blue trousers on a number of public engagements since 2018.
Belt: TBC.
Kate's necklace is by Mappin & Webb. It's the Empress style Kate has sported on many occasions in the past. It's made from 18ct while gold and 0.40 carats of round brilliant-cut diamonds. RRP: £2,000.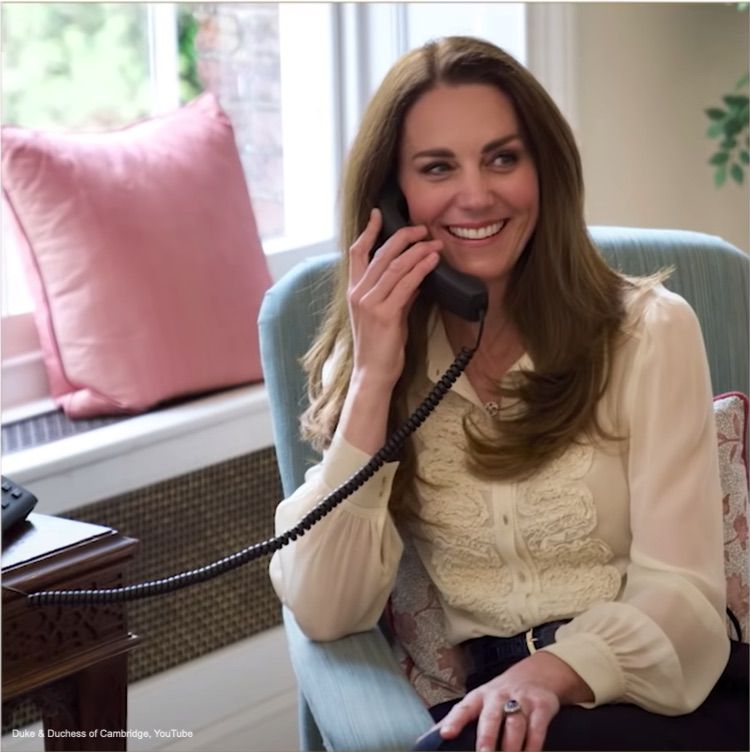 Finally, let's take a look at Kate's earrings. It looks like they're the diamond and pearl "Jubilee Earrings" on loan from the Queen. You can read a little more about them on this page. Pictured below right, Kate wearing the earrings during a previous engagement.