Kate Middleton owns a red and green plaid coat by Miu Miu.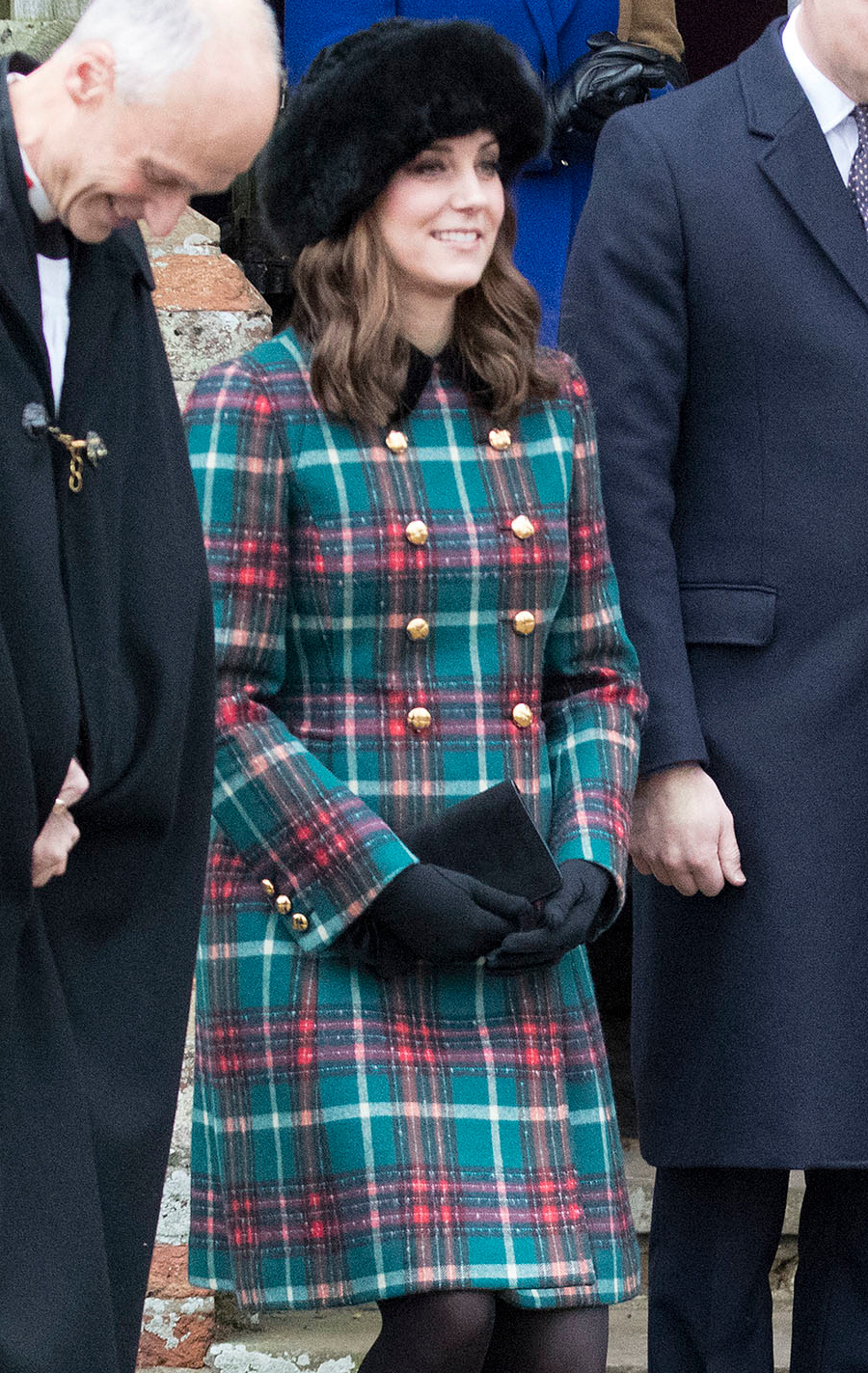 The then-Duchess wore the festive checked coat on Christmas Day in 2017.
I think it'd be a shame if we never see the Princess wear this red and green tartan coat again—it's the perfect festive piece. (I know Kate is approximately 5 months pregnant with Prince Louis in the photo above, but that shouldn't stop her wearing the garment in public again. She's worn two other coats from her pregnancy in recent years, since giving birth.)
About Kate's plaid coat:
This exquisite coat boasts a timeless tartan pattern in rich green and deep red hues. The double-breasted design is elevated by gleaming gold buttons, while the velvety black collar adds a touch of sophistication. Tailored to perfection with a flattering A-line silhouette, it exudes an air of understated elegance, perfect for those chilly city strolls or countryside escapes.
The coat was available on Net-A-Porter.com, this is how the site described the plaid coat:
Embrace this season's 'haute heritage' trend with Miu Miu's double-breasted peacoat – it has been expertly tailored in Italy from a luxurious wool-blend. Woven with a traditional tartan pattern, it has a velvet-trimmed notch collar, belted back and inverted pleat. It's fully lined and has a buttoned vent that can be adjusted for ease of movement.

Net-A-Porter
Where can I buy Kate's coat?
It's an older season piece that, unfortunately, is no longer to buy.
I've checked eBay and similar sites and I've not found any pre-loved options to share with you.
GET THE LOOK:
From the Scottish Highlands to the streets of London, tartan's timeless charm never fades. Want to make like Kate and wear tartan this winter? Here are my suggestions to give your wardrobe that high-end tartan twist:
1. House of Bruar Harris Tweed Notch Coat in Blackwatch
2. House of Bruar Tweed Raglan Coat in Vintage Black Stuart
3. Holland Cooper Knightsbridge Coat in Red Tartan
4. House of Bruar Plaid Coat in Royal Stuart
Has the Princess worn anything else from Miu Miu?
She has indeed. Kate has worn Miu Miu on two other public occasions. We've spotted her with a red bow clutch from the brand, which she's carried times in public to date, and a rose print cashmere cardi that she wore for a VT filmed for her Christmas carol concert.
About Miu Miu:
Miu Miu is a high-end fashion brand launched in 1993 by Miuccia Prada. It serves as the younger, more playful sibling to the iconic Prada label. While Prada often leans towards minimalist luxury, Miu Miu is known for its more whimsical and irreverent style.
The brand frequently mixes retro influences with modern sensibilities, making it a hit with fashion-forward crowds. With an eye for detail and a penchant for setting trends, Miu Miu has carved out a niche for those seeking a dash of youthful exuberance in their wardrobe.