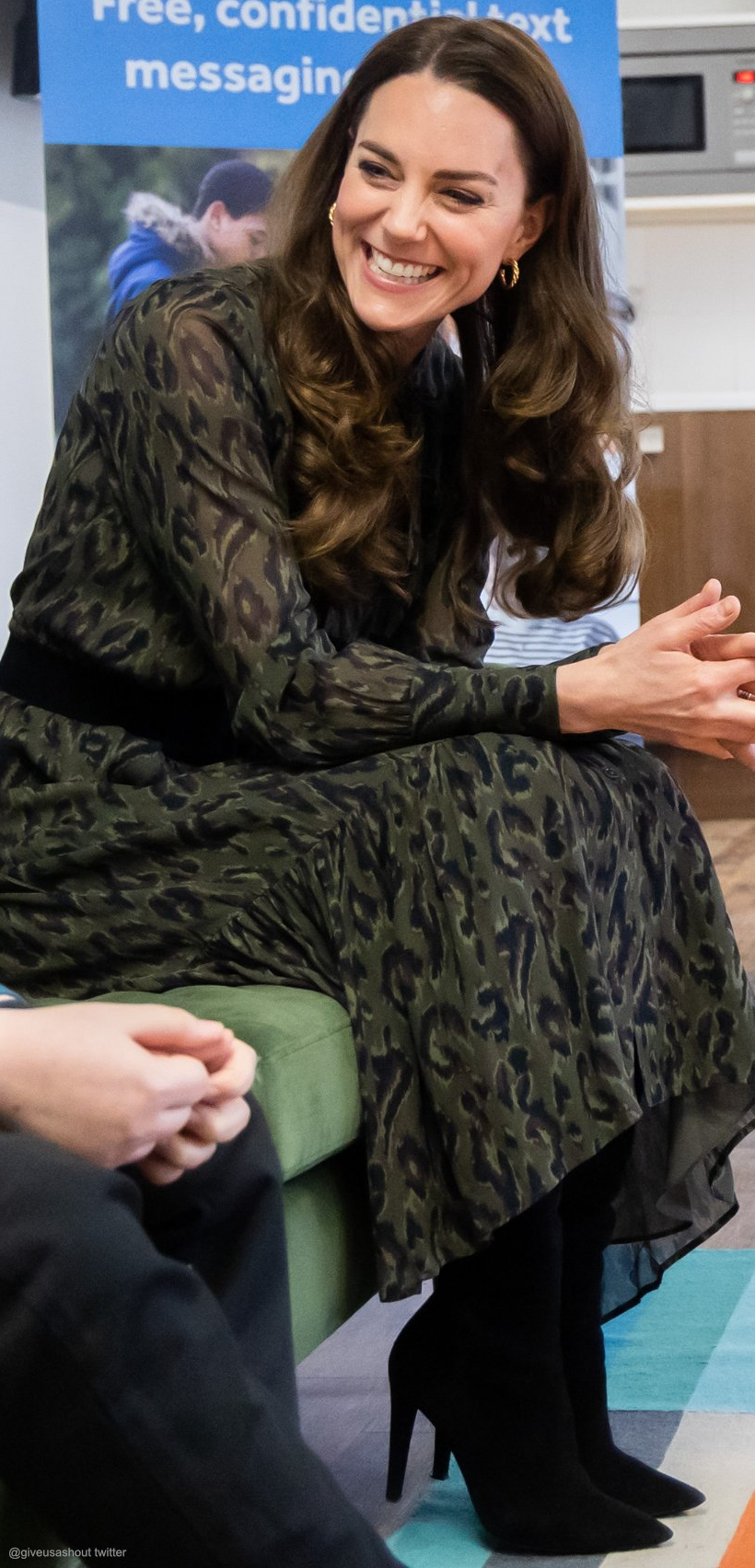 The Duchess of Cambridge visited SHOUT volunteers on the 26th of January 2022. She wore a midi-dress and knee-high boots in seasonably appropriate dark tones. (As usual, full outfit details are in the second half of this post.)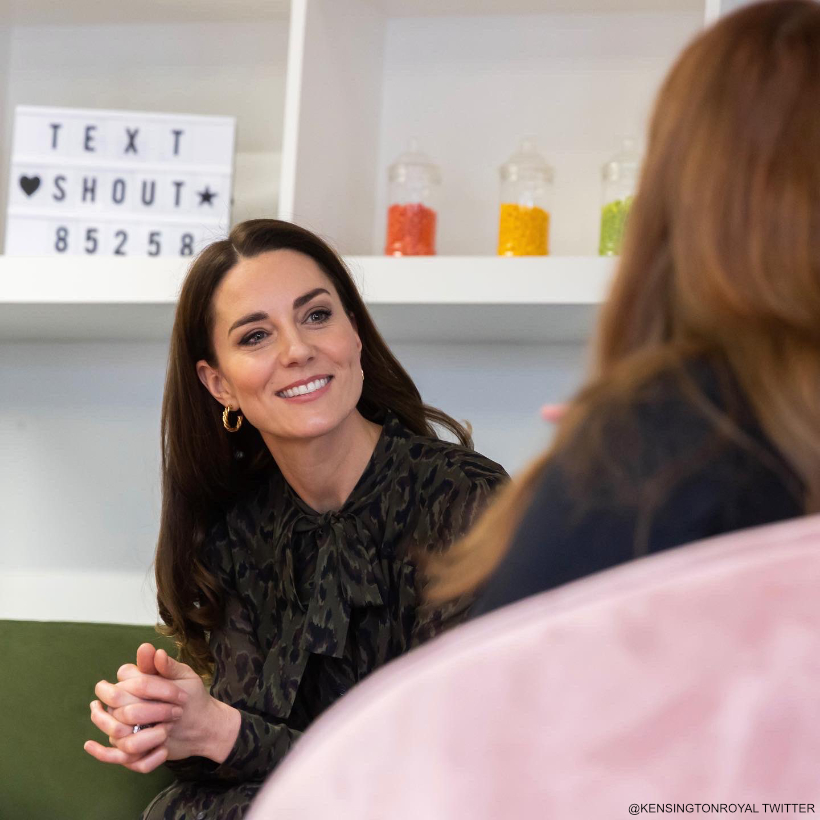 SHOUT is the UK's only 24/7 text messaging service for those struggling to cope with their mental health. The charity is staffed by thousands of trained volunteers who provide support to people in immediate distress. Kate's visit marked the mental health text support service reaching one million conversations.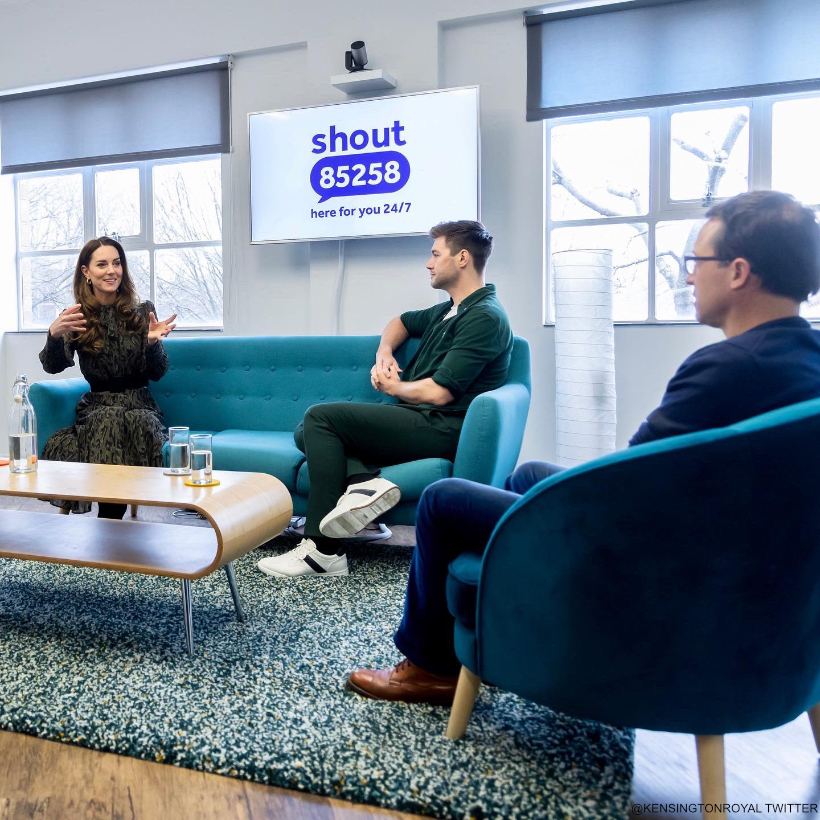 SHOUT has taken part in one million conversations with over 400,000 children, young people and adults across the UK. The charity found conversation numbers increased by 140% over the pandemic and are continuing to rise. They are looking for more volunteers to join their service.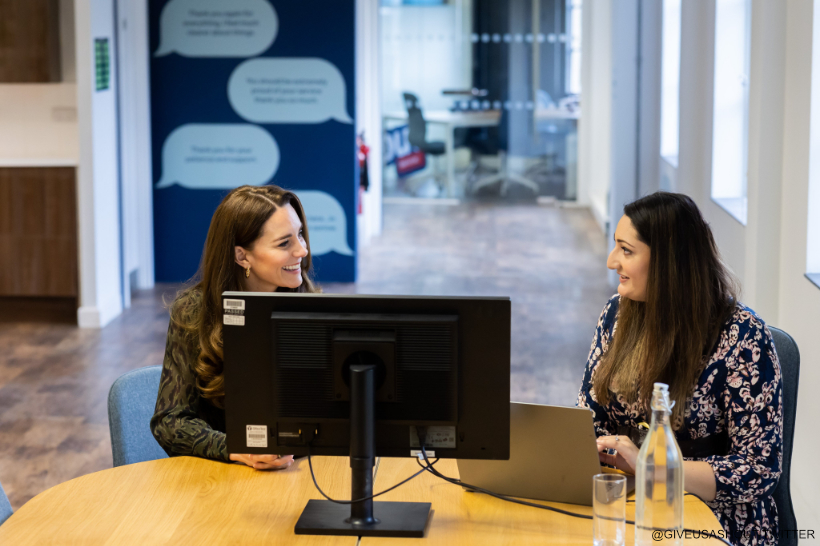 By texting 'SHOUT' to '85258' a Texter will be put in touch with a trained Crisis Volunteer (CV) who will chat to them using trained techniques via text. The service is designed to help individuals to think more clearly and to take their next steps to feeling better.

giveusashout.org
The Royal Foundation developed SHOUT as part of the Heads Together campaign. (As you may remember, the Royal Foundation is William and Kate's official charity. The couple launched Heads Together—confirmed to have been Kate's idea—with Prince Harry in 2017).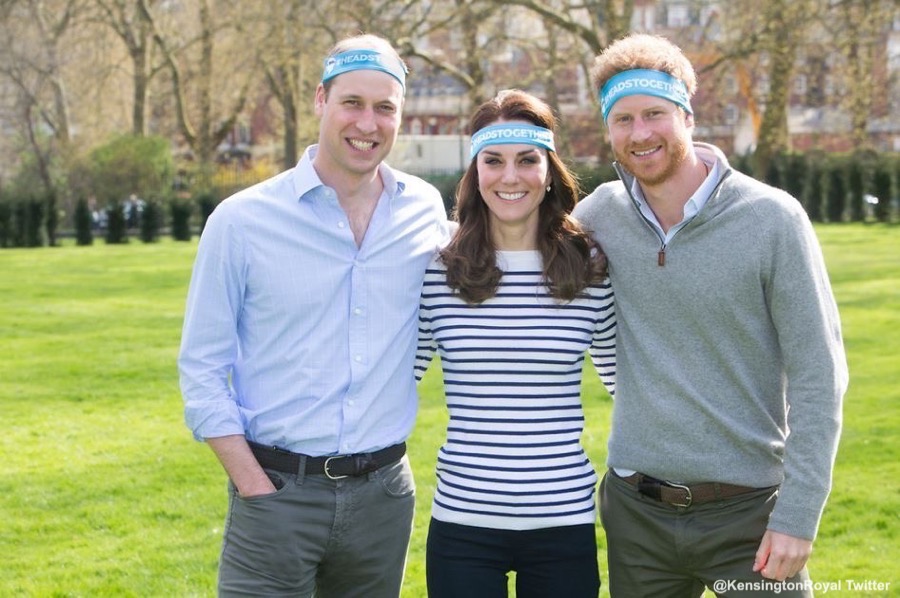 During her visit to SHOUT, Kate helped the charity thank volunteers, fundraisers, staff and trustees for their work over the last few years. She spoke with Selena, Alexis and Angus, three of SHOUT's dedicated volunteers.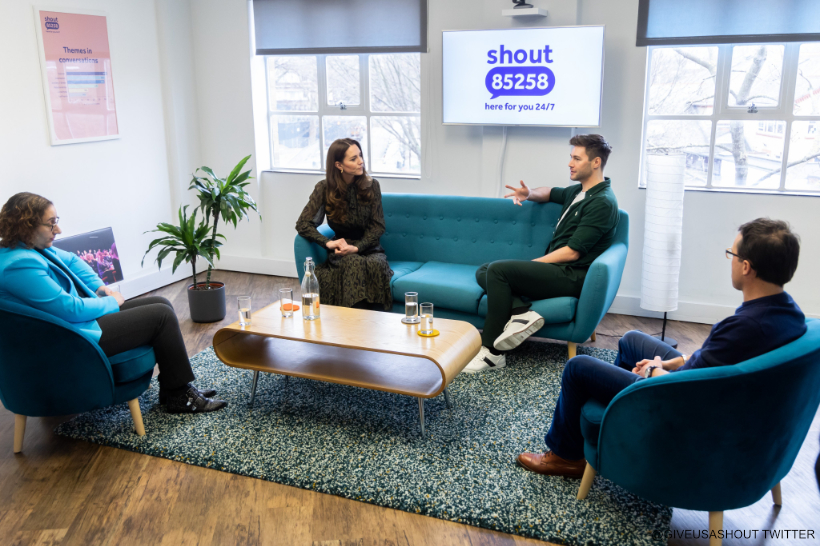 She also spoke with Leo who slept outside in his garden for an entire year to raise money for SHOUT.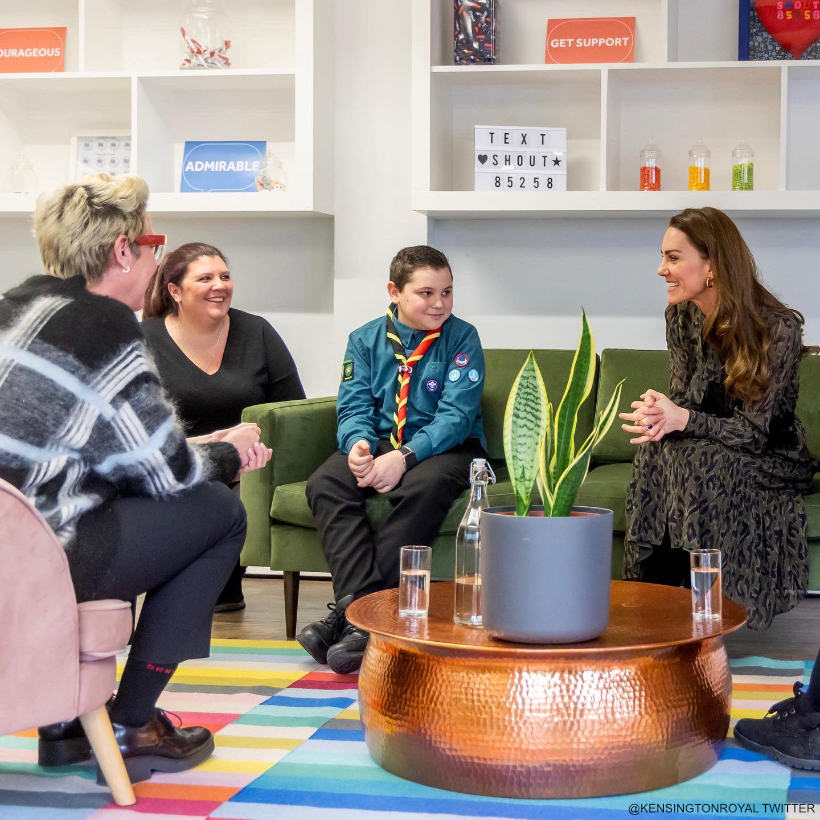 The youngster raised £8,000 for SHOUT by sleeping in a hammock—come rain or shine—for 365 days. He had a tarpaulin for shelter and a sleeping bag. Kate was impressed as he relayed his story, "no way…" she declared. Leo credits the Scouts and the hammock itself for inspiration! He's planning a new fundraising challenge for the autumn. You can hear part of their chat in the video below (at 2:22)—
Kate also met fundraiser Cassie who took part in SHOUT's 360,000 Steps in September Facebook Challenge. Cassie texted SHOUT last summer and found the service helpful in a moment of crisis. She wanted to pay it forward and raise some money for the charity so they can help others too. Cassie found the step challenge gave her something to focus on and a purpose. She enjoyed creating videos of her walks and uploading them to social media every day. (That's Cassie below, on Kate's left.)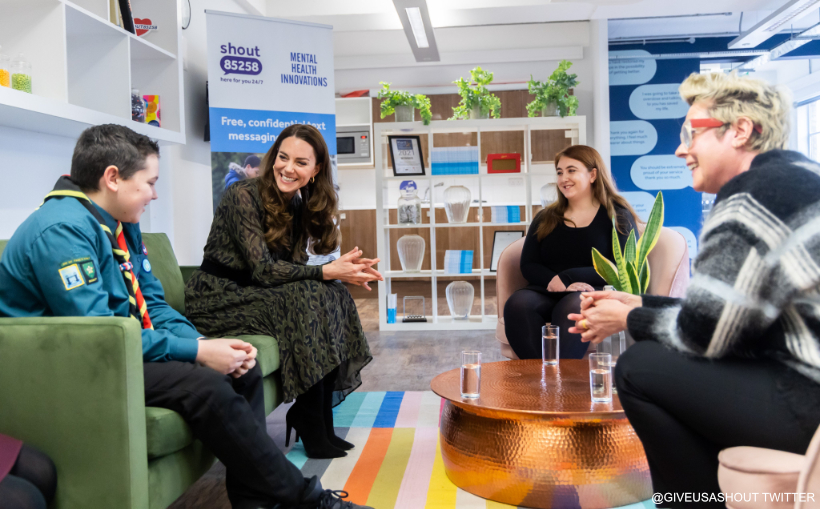 This is Kate's fourth engagement with SHOUT. Due to the pandemic, she conducted virtual visits with the charity in 2021 and 2020. In 2019, she attended the SHOUT Crisis Volunteer celebration in person.
SHOUT is a free, 24/7 confidential text service is for anyone struggling to cope. 35% of people who use the service are under the age of 18 (based on a post-conversation survey.) Text SHOUT to 85258 to start a conversation.
Let's take a look at Kate's outfit now.
Kate's outfit:
Kate's ensemble had to strike the right tone for the visit, where serious issues like suicide and depression were discussed. She chose a dark green dress that featured a subdued brown and black leopard print. It is the Sammy dress by American designer Derek Lam. (Thank you to Emily Collins for this ID.)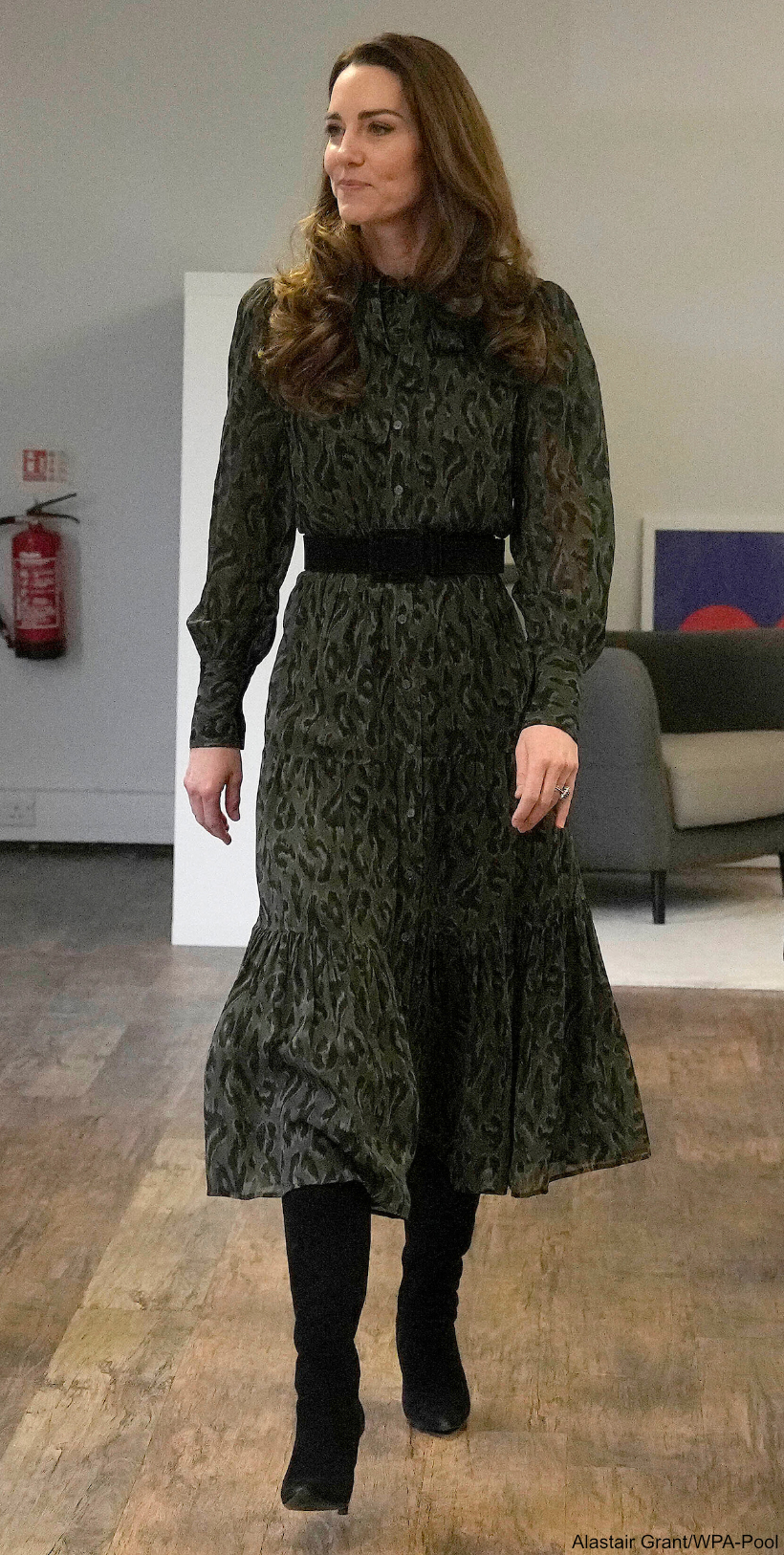 The green leopard print dress is from Derek Lam's 10 Crosby collection. It features everything Kate loves: a pussy-bow tie at the neckline, a button-down front, cuffed balloon sleeves and a mid-length hem. The piece is made from chiffon, has a nipped-in waist (which Kate belted) and features a tiered skirt.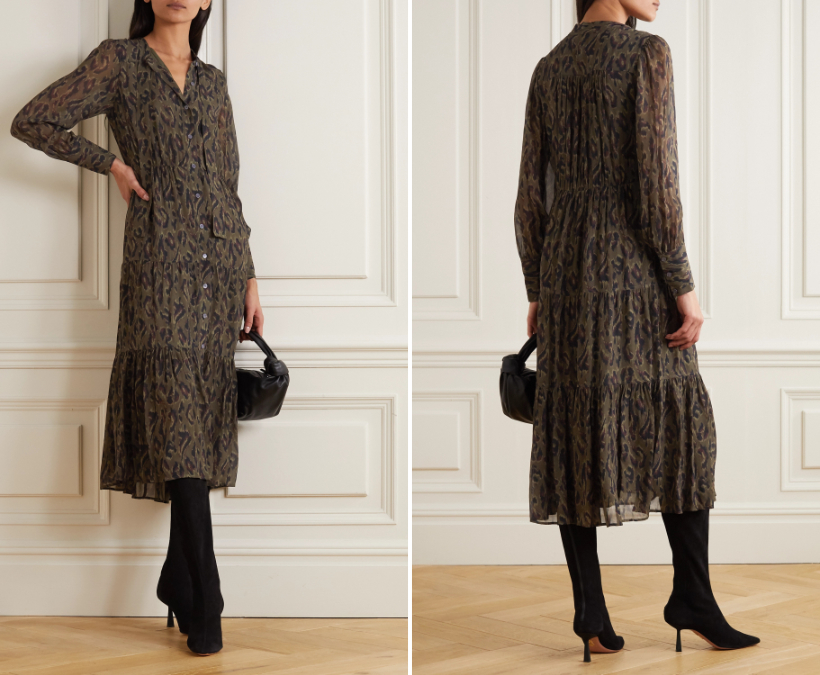 The dress retailed at Net-A-Porter UK for £510 (that's around $685 USD at today's exchange rate. I'm not sure how much the dress retailed for on their US site, the listing was not active when I checked.)
As you'd expect, the piece is sold out (pretty much everything Kate wears sells out immediately). You can find listings on eBay, though.
Derek Lam was the creative director for ready-to-wear and accessories at TOD's between 2005-2010. It's likely unrelated, but the Duchess does have at least three TOD's pieces in her closet (two pairs of shoes and a bag).
Kate hasn't worn Derek Lam clothing before. The designer is making moves to be more conscious by including eco-friendly materials in his pieces; this could be why Kate selected the Sammy dress from his line. (I have reason to believe Kate is subtly promoting sustainable fashion. A lot of her newer pieces are from slow and sustainable brands, or those striving to use greener materials and processes in their manufacturing.) Or, she could have simply spotted it on Net-A-Porter and liked it, of course!
Wild theory time: the rumours she's visiting the US later this year are true and she's been scouting American designers. Maybe? Probably not. Likely just a coincidence.
Kate wore the mid-length dress over her black suede heeled boots by Ralph Lauren Collection (another American brand 😉).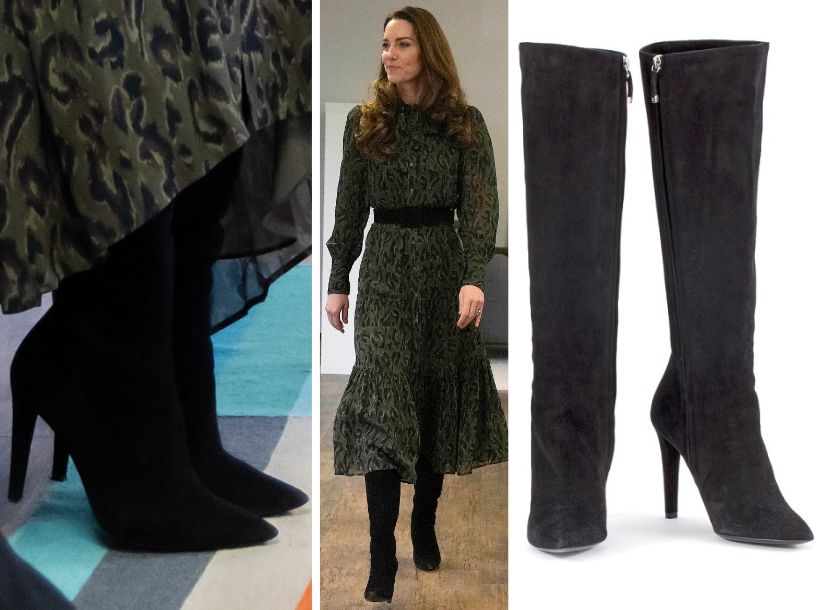 The boots feature three-inch heel and a zip on the side. Sadly, the boots are from an older season and are no longer available to buy—Kate started wearing them in 2018. This eBay listing gives an RRP of $1100.
Ralph Lauren is a brand Kates wears with some regularity. We have seen her in at least three sweaters, two tops, two blouses, two dresses, a blazer, a jacket and a pair of pumps from the brand over the past decade.
It looks like Kate cinched her green dress with this black suede belt by Parisian brand ba&sh, the 'Betty Buckle' style. (Suggested by Middleton Maven, looks like a good ID to me!) You can just about make out the square buckle on the photo of Kate below—

The tonal belt is rendered in black suede. It doesn't have a hook, but ba&sh say the fastening system holds it in place all day.
The belt is listed for sale in camel too, and Google searches turn up listings for the piece in yellow, green, mushroom, oyster, purple—plus other colours(suggesting it's a staple piece that the brand brings back in new shades every so often.) The piece is currently available in three sizes at ba-sh.com and Bloomingdales.
It looks like Kate has worn the belt before, the eagle-eyed Data Duchess on Twitter suspects Kate wore it in the 2019 television special, 'A Berry Royal Christmas.' Screenshots below courtesy of Emma:

We haven't seen Kate wear any other clothing or accessories from ba&sh before, but they do have a sustainable offering, so I wonder if we'll see Kate in some of their pieces in the future.
According to Vogue Business, ba&sh launched in 2003. At first, they had success with french wholesale, then luxury goods company LVMH (Louis Vuitton, Emilio Pucci, Givenchy, etc) acquired a large stake in the company in 2015. Over the last few years, they've expanded internationally by translating the French 'je ne sais quoi' to a global audience.
Kate brought back her ASOS earrings for the visit to SHOUT. They're the brand's Gold Twist Hoops.
They're made from 14k gold plated brass and stainless steel. The earrings are still available on the ASOS website for a very affordable $14.50 / £10. UPDATE: they're now sold out again, unfortunately.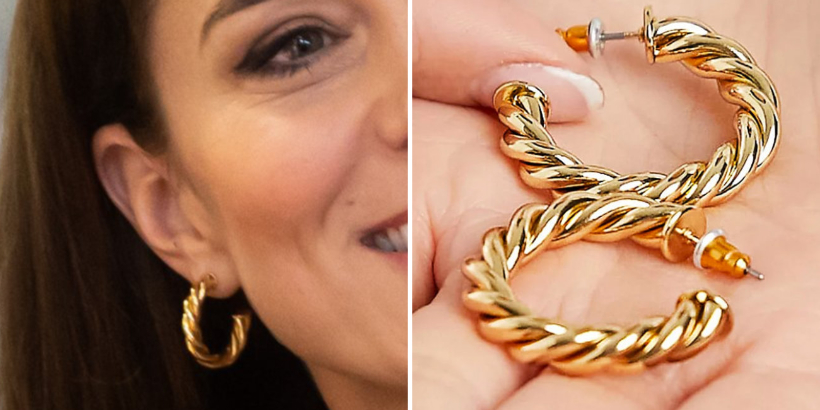 The Duchess added the open-ended gold hoops to her earring collection in 2021. She's worn them on three other occasions, pairing them with bright red and pink outfits. Here's Kate wearing the earrings with a red sweater in October 2021, for a visit to the Forward Trust.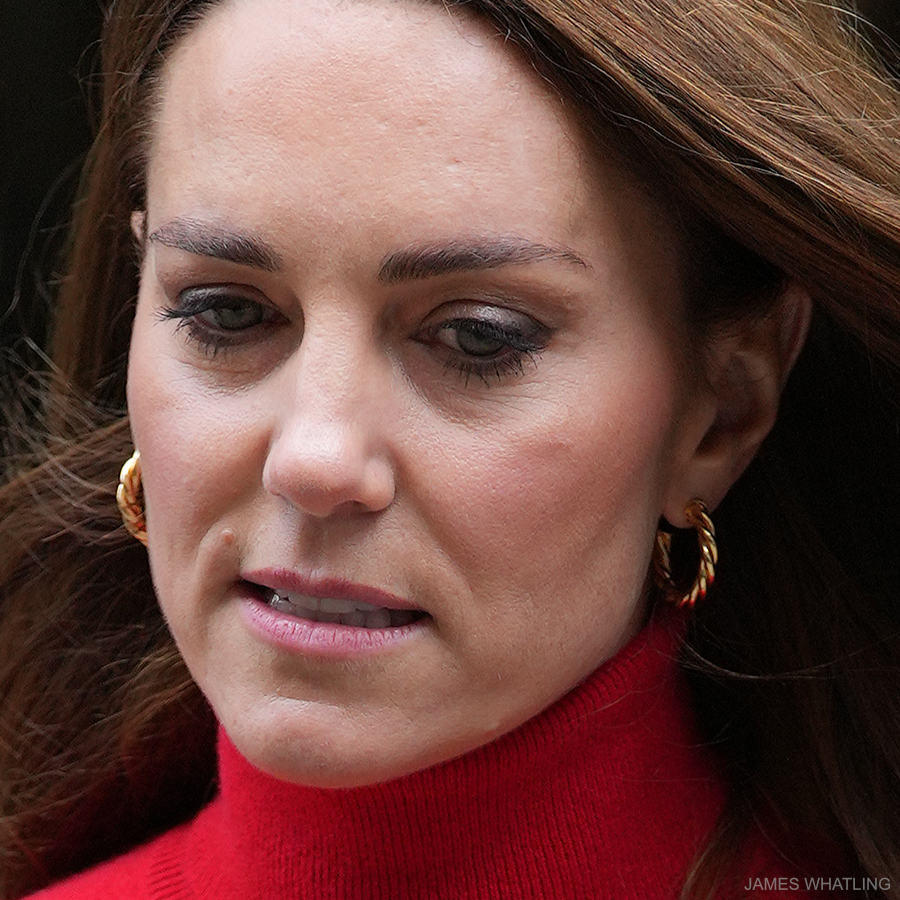 ASOS is an online-only fashion retailer headquartered in London. The company sells hundreds of brands in addition to its own ranges. In addition to these earrings, Kate's worn ASOS's house maternity line previously (pictured below), so we know she's shopped with the platform at least twice! I'd bet some of her other (non-maternity) dresses are from ASOS too—they stock lots of brands she's worn in the past: Ghost and Faithfull, for instance. Of course, we'd never know this for certain! It's just a theory.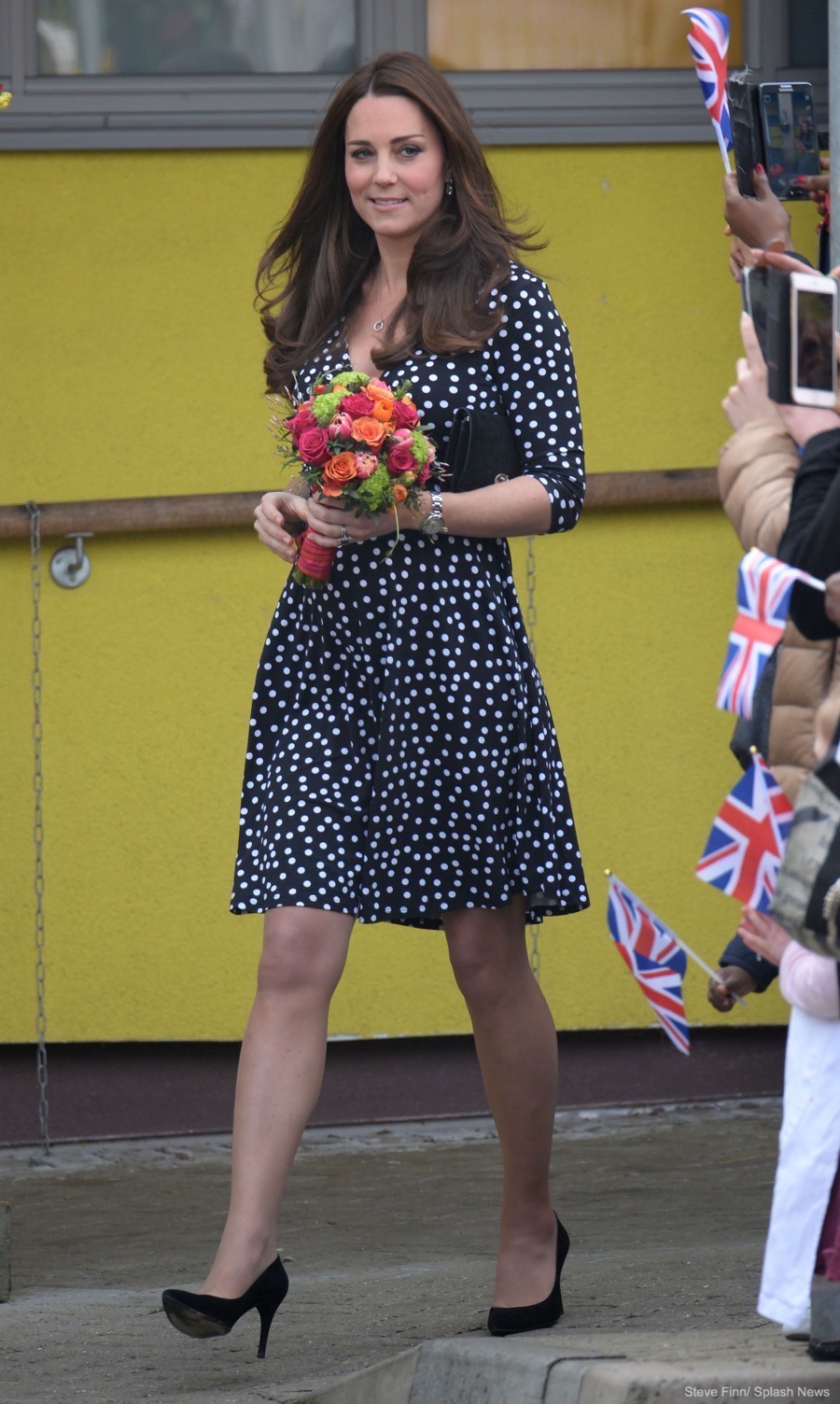 And that concludes the post! Do you have any thoughts on Kate's outfit? I love reading comments left here, so do add one! Otherwise, come say hello on Twitter if you use the platform.