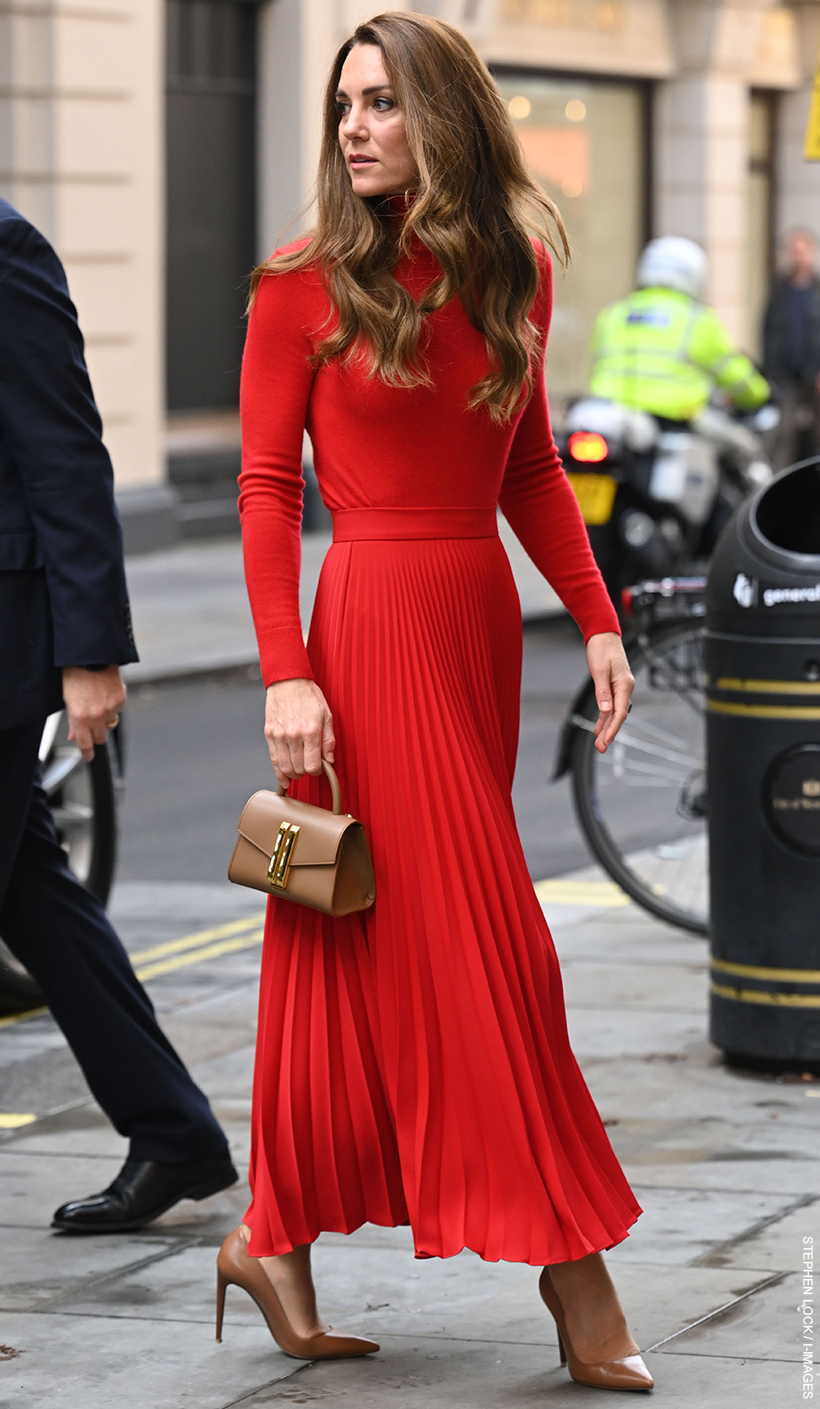 19th October 2021—Dressed in an all-red ensemble, Kate delivered a keynote speech at an event hosted by The Forward Trust.
The event, which took place at BAFTA HQ in London, launched the charity's new 'Taking Action on Addiction' campaign. During her speech, Kate implored people to break the stigma surrounding addiction. She reminded us that the journey towards addiction is "multi-layered and complex" and that "no-one chooses to become an addict", adding that "it can happen to any one of us."
Her speech in full:
"Addiction is not a choice. No one chooses to become an addict. But it can happen to any one of us. None of us are immune.

"Yet it's all too rarely discussed as a serious mental health condition. And seldom do we take the time to uncover and fully understand its fundamental root causes.

"The journey towards addiction is often multi-layered and complex. But, by recognising what lies beneath addiction, we can help remove the taboo and shame that sadly surrounds it.

"As a society, we need to start from a position of compassion and empathy. Where we nurture those around us, understand their journey, and what has come before them."

"The pandemic has had a devastating impact on addiction rates. And families and children are having to cope with addiction in greater numbers than ever before.

"We know that over one and a half million people across the UK who did not have substance misuse prior to lockdown, may now be experiencing problems associated with increased alcohol consumption.

"Around two million individuals who were identified as being in recovery, may have experienced a relapse over the past 18 months.

"And almost one million young people and children are showing an increase in addictive behaviour since the pandemic began.

"Yet, there is hope. Over the last ten years, I have had the privilege of meeting many incredible people who have lived through the harsh realities of addiction. Through their own hard work, and with the help from communities and charities, such as The Forward Trust, lives really are being turned around.

"These are stories of healing, of hope and recovery, that can inspire us all.

"I fully support The 'Taking Action on Addiction' campaign to improve awareness and understanding of addiction. The campaign will show us that, not only do many people recover from addiction, they can go on to prosper."

The Duchess of Cambridge
The launch event was compered by presenting duo Ant and Dec.  Most of my British readers will know of the pair—they host a few popular television shows here in the UK.  Ant has openly spoken about his own struggles with addiction. Kate seemed a little underprepared when she bumped into the twosome, which created a funny moment, luckily caught on video:
I think Kate jokes that she feels like she's about to do "some kind of trial", referring to the Bushtucker Trials in Ant and Dec's hit show I'm A Celebrity Get Me Out Of Here.
Kate met with both supporters and beneficiaries of the charity.
The launch of the campaign coincides with Addiction Awareness Week, which runs from 18th to 24th October.
Addiction Awareness Week aims to provide a platform to highlight the challenges of addiction, to engage with people and families affected, and to raise public awareness.
The Forward Trust is a charity that empowers people to break the cycles of addiction or crime and move forward with their lives. They deliver a large and diverse range of addiction, employment, and mental health services nationally.
The Duchess became Patron of The Forward Trust earlier this year, a month after they formally merged with another charity, Action on Addiction. Royal watchers who have followed Kate since the twenty-tens will remember the palace announcing Action on Addiction as one of Kate's first Patronages in January 2012.
Over the last ten years the Duchess's experience working with addiction charities has helped lay the groundwork for her understanding of the complexities of mental health and has informed much of her work on the early years. Experiences in early childhood, before the age of five, are proven to have significant impact on adult lives, including resilience and the ability to cope with adversity.

Kensington Palace
Kate's outfit:
The Duchess attended the campaign launch event wearing a bold red ensemble. She paired a turtleneck knit with a long pleated skirt.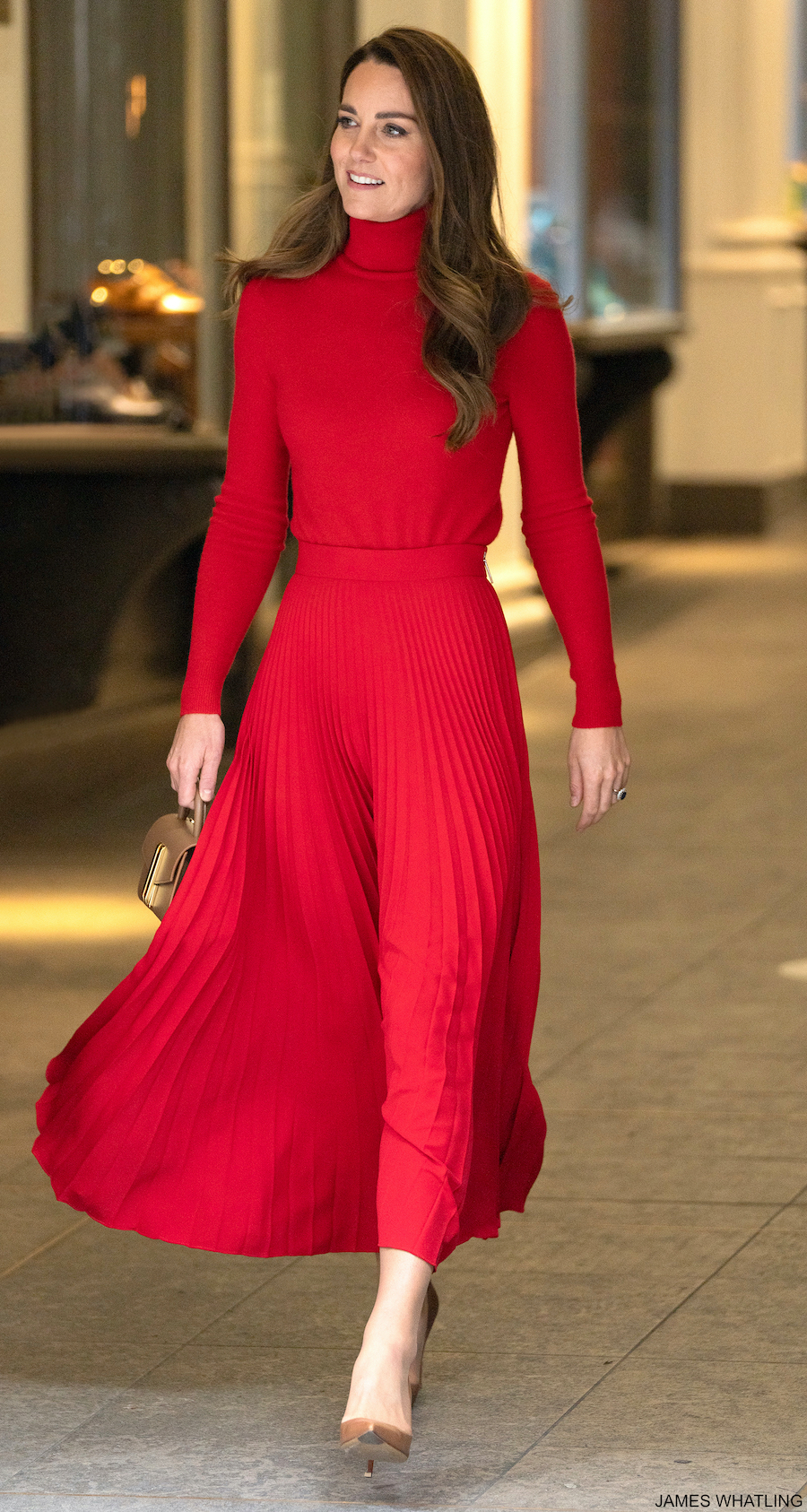 The top is by Ralph Lauren. (Found by ID the Royal Fashion Police and Chrissy via Middleton Maven on Instagram.) It's the Slim Fit Cashmere Turtleneck Jumper from the brand's sub-label Polo Ralph Lauren. The top is described as "cut for a slim, streamlined fit". It features a ribbed hem, a ribbed roll neck and long sleeves with rib-knit cuffs. It's made from cashmere.
Kate wears it in 'Martin Red', but it comes in black, chic cream and stadium grey heather too. RRP £225.
Correction: in an earlier version of this post, I linked a different sweater by Ralph Lauren Collection. They look pretty similar, if not identical to me though.
Let's take a look at Kate's red pleated skirt now. It's by Scottish designer Christopher Kane. (Suggested by Mari and the Data Duchess on Twitter.)
You can tell they're the same skirt by the long silver zip at the hip. I also share a third picture, the same skirt with a red zip:
This is likely to be from a different production run. The red-zipped skirt is available to buy now. The silver-zipped version was from earlier in the year.
The highwaited skirt features flowing sunray pleats. It's made from 100% polyester. The crystal fringe embelishment is detachable. Kate has removed it from her skirt.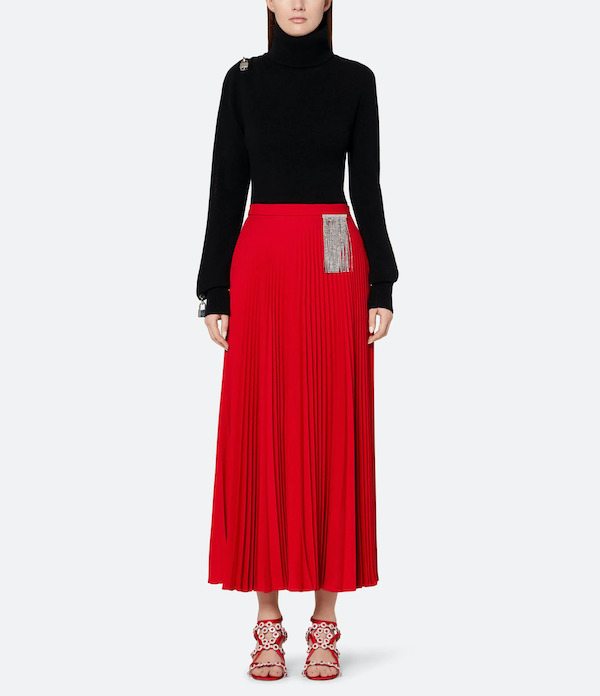 If you wish to purchase the skirt, you're in luck! It's still in stock at christopherkane.com ($1,039 / £845. Other currencies available too, the designer offers worldwide shipping).
Kate chose tan accessories to complement her red ensemble (something she did earlier this year and last year too). It's the Nano Montreal bag by London-based brand DeMellier.
The micro-bag features a removable cross-body strap and a tubular top handle. It is made from a soft and smooth cowhide leather and finished with a subtle shine. It features gold hardware and a gold double-bar embellishment. Inside, it's lined with black cotton.
All DeMellier's leather goods are handcrafted by skilled artisans at a family-owned factory in the South of Spain. The company manufacture the bag in a number of colours, Kate carries it in 'deep toffee'. Love the bag? You'll be happy to read that it is still available to buy (£295 / $395 – other currencies available too).
On to Kate's shoes. They're the Celia style by Ralph Lauren Collection. The Italian-made shoes feature an elegant pointed toe, a four-inch heel and a padded leather insole.
The Celia pump is a signature style for Ralph Lauren, the company sells the shoe in a number of colours, fabrics and prints. I believe Kate is wearing an older colourway called 'pastel brown', which features a neutral-coloured lining and a darker, striped heel. However, in the current season collection, there's a 'gold brown' version with a red lining and matching gold brown leather heel. (You can zoom in on this photo to see the stripes on Kate's heel.)
Kate wore a pair of open-ended hoop earrings with her red ensemble. They're from ASOS. The 14k gold-plated earrings feature a twist design. They're very budget-friendly at just £10 / $14.50.
They're still available to buy in the US but listed as 'sold out' in the UK, unfortunately. (Of course, ASOS deliver internationally, I haven't checked their availability in other countries.)