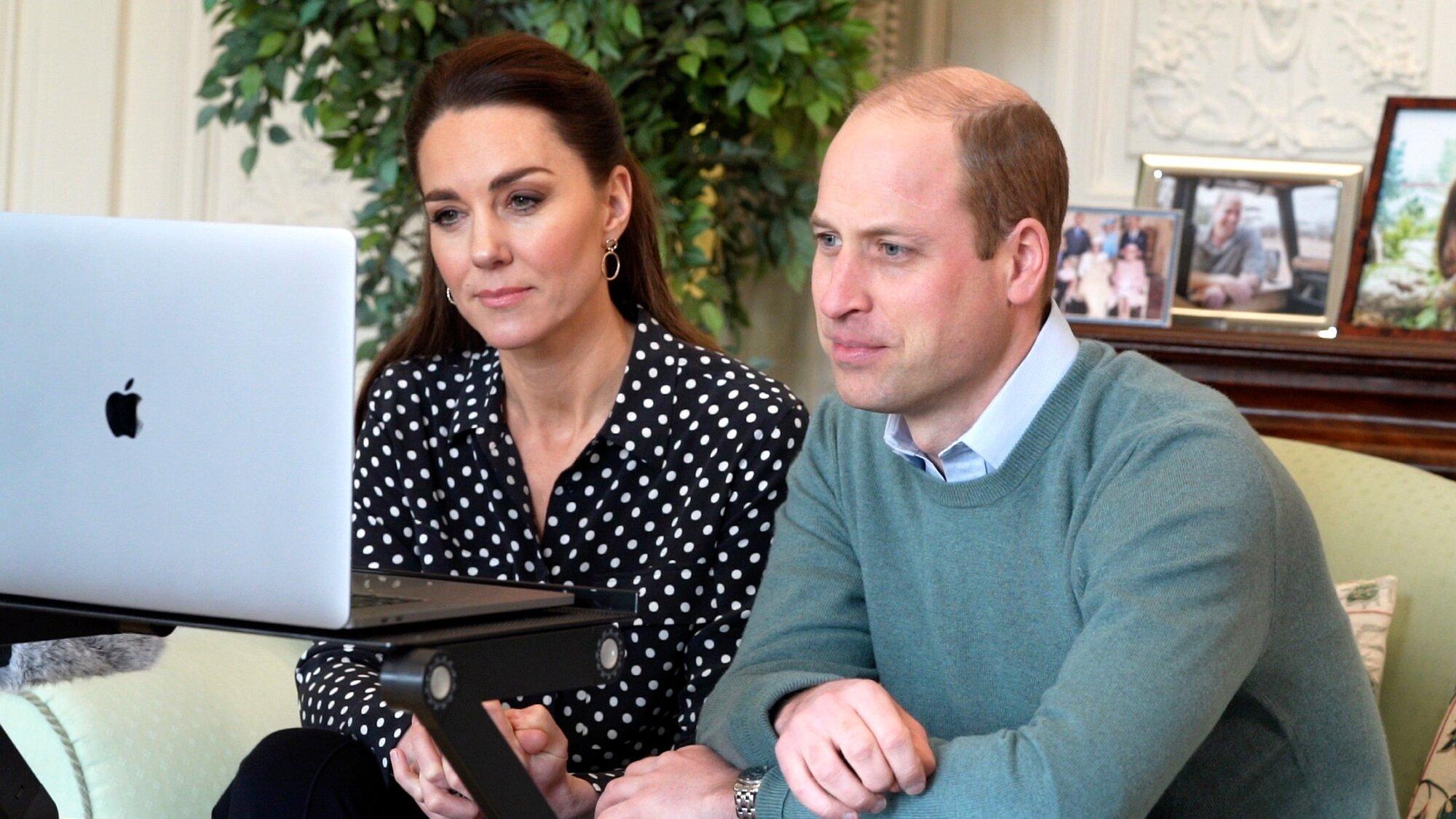 MARCH 5th 2020—Kensington Palace shared a new video of William and Kate. The video shows the couple speaking with a family whose 12-year-old son used the SHOUT 85258 text service when he was at crisis point. The boy's parents told William and Kate that they have "no doubt" that the service saved his life:
The text message [to Shout 85258] was sent by Jack [name changed], a 12 year old who had begun experiencing severe anxiety during the pandemic. Unbeknown to Jack's loving and supportive parents, things had become so difficult for him that one evening he decided to end his life.

It was while Jack was standing on a bridge that he sent Shout a text message that would help him to find the help he needed.

Jack's parents only knew how serious the situation was when the police contacted them to let them know that their son was safe […]

Jack agreed with the Duke that having a conversation with Shout over text, rather than talking out loud, made it easier to be open about difficult emotions.

giveusashout.org
SHOUT is a mental health support service developed by The Royal Foundation (the couple's official charity) as part of the Heads Together campaign. William, Kate and Harry (who was part of The Royal Foundation at the time and cofounded it with his brother before Kate married into the Royal Family) spearheaded the Heads Together campaign. It was a big focus for the trio over several years.
Above: the Duke and Duchess of Cambridge speaking with volunteers from Shout in May 2020. Kate speaking to a child at a Heads Together event in April 2017. The couple at a celebration held for volunteers in November 2019. The couple with Prince Harry at the launch of the Heads Together campaign. Kate delivering a speech at a briefing in January 2017. William and Kate at a marathon training day for Heads Together.
SHOUT is a free, 24/7 confidential text service is for anyone struggling to cope. 35% of people who use the service are under the age of 18 (based on a post-conversation survey.) Text SHOUT to 85258 to start a conversation.
Kate's outfit:
In the video, Kate's wearing her polka dot blouse by French brand Equipment. It's the Slim Signature Silk Shirt in Eclipse/Brilliant White. It features double chest pockets, a button-down front, a spread collar, long sleeves, button cuffs and a shirttail hem.
If you'd like the buy the blouse, you're in luck! Equipment still sell the shirt today. You can purchase it from the company's own website, Nordstrom and six other retailers (which you can find listed on this page). It also comes in a tan colour named 'Safari'.
The Duchess first debuted the spotty shirt in September 2019, during a visit to learn more about the Family Nurse Partnership at Evelina London's Sunshine House in London (left). A year later, Kate wore the blouse during her official visit to Ireland (right). This is the blouse's third outing (for a public engagement, she may wear it frequently in private).
Equipment is known for its iconic silk shirts and cashmere sweaters. To date, this is the only piece Kate has worn by the brand during a public engagement.
Kate's wearing her Twisted Circle Drop earrings by the British high street brand, Accessorize. The gold-tone earrings feature a hoop drop pendant with a twisted design. They're made from 100% brass and retailed at Acccessorize for just £5 GBP.
The Duchess first wore the earrings in March 2020, during a visit to Ireland. She's worn them on multiple occasions since. Pictured below, Kate during a video call marking Volunteers' Week (left) and during a video message for her Hold Still photography project (right)
Accessorize is a stalwart of the Great British high street. The 36-year-old company say they're "dedicated to offering accessories that enable all women to express themselves" and feel confident. Accessorize support the community and work with charities that support women, plus they're on a mission to improve their sustainability efforts and make conscious choices.
Kate owns several pairs of earrings from Accessorize which she's worn frequently over the last few years.
Pictured above: Kate wearing Accessorize's Simple Filigree Short Drop Earrings for an engagement at RHS Wisley in September 2019. Kate wearing the company's Filigree Bead Drop Earrings in Mumbai, India during the 2016 tour. Kate wearing the Polly Petal Earrings for a visit to Hampton Court Garden in July 2019.