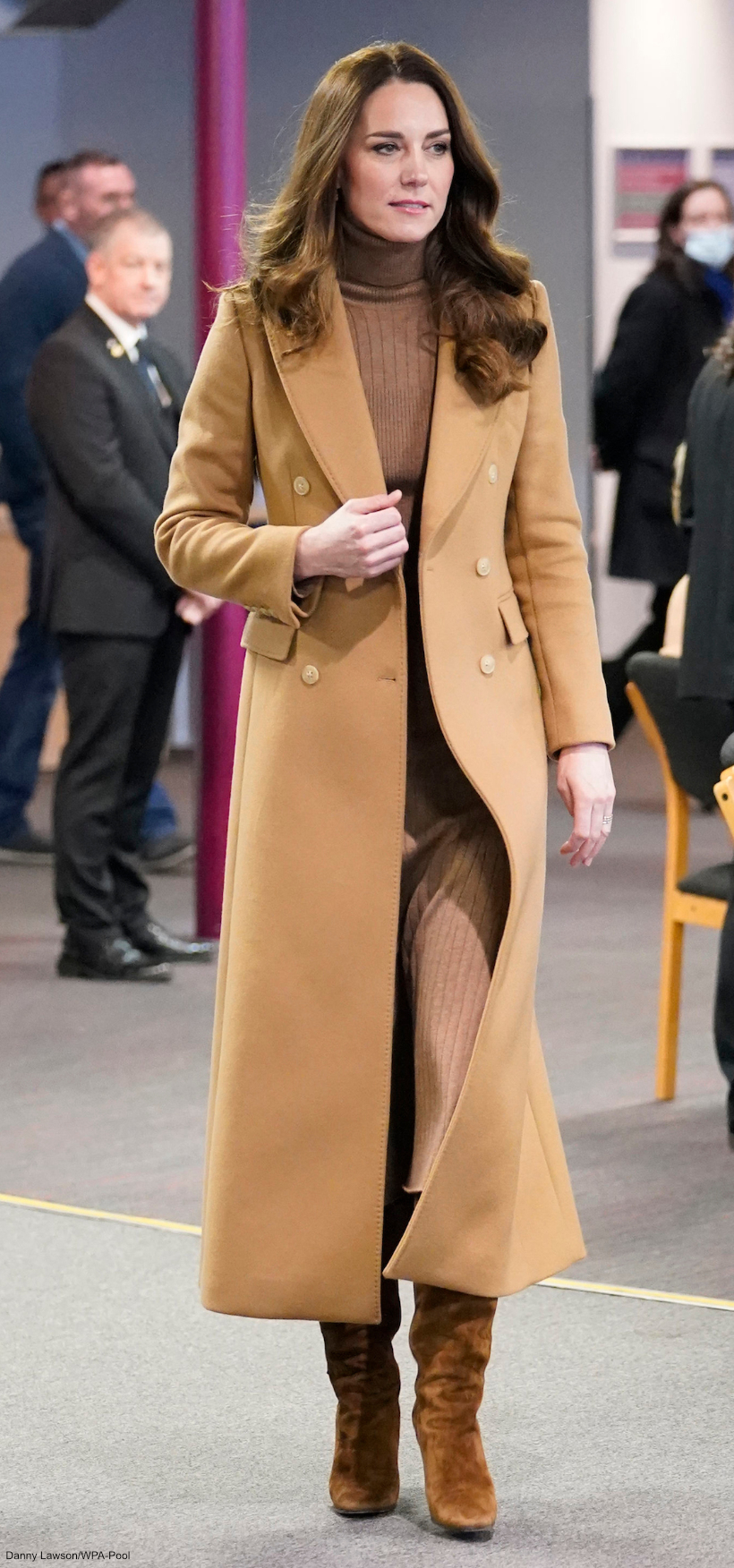 Kate dressed top-to-toe in brown for a visit to Lancashire on the 20th of January 2022. The Duchess wore a warm shade of camel, layering a classic coat on top of mélange knit separates. She finished her chic outfit with a coordinating pair of suede boots. (As usual, I'll dig deeper into Kate's outfit in the second half of this blog post.)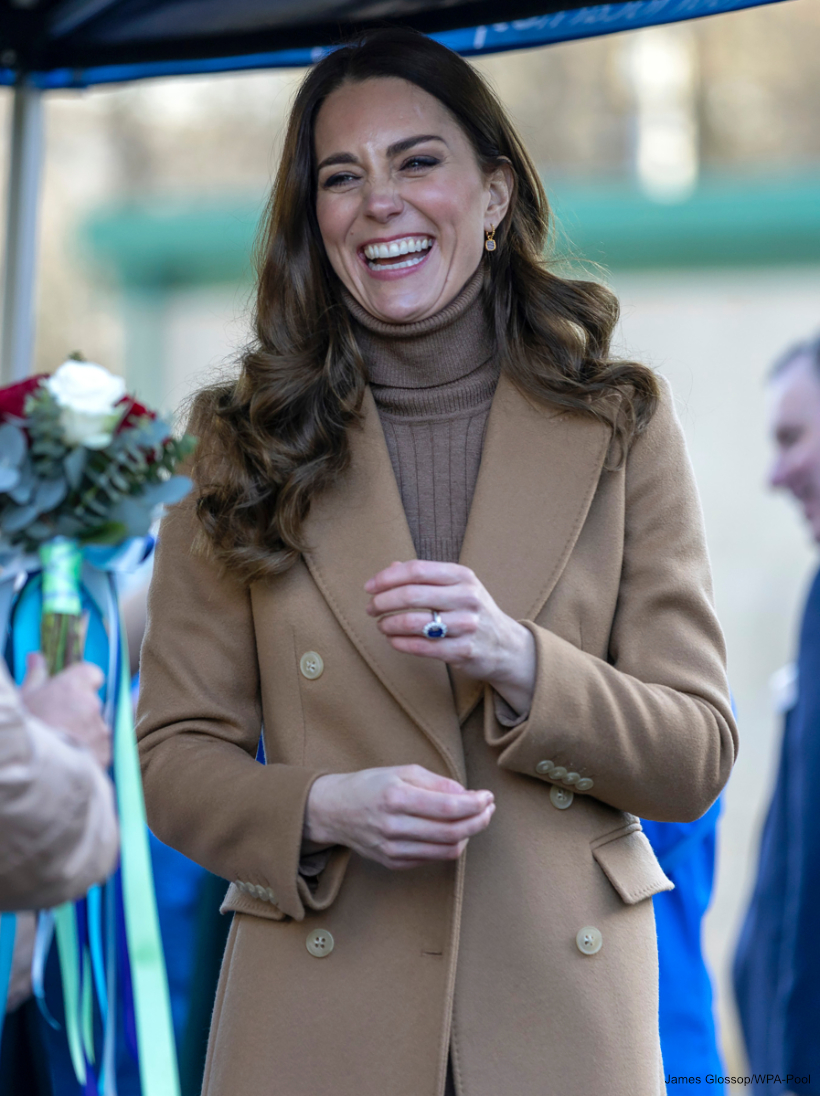 William joined Kate for the visit. The two royals wanted to champion mental wellbeing and support during the pandemic. Their first stop: Clitheroe Community Hospital. At this location, the pair heard about the unique challenges faced by rural health providers over the last 18 months.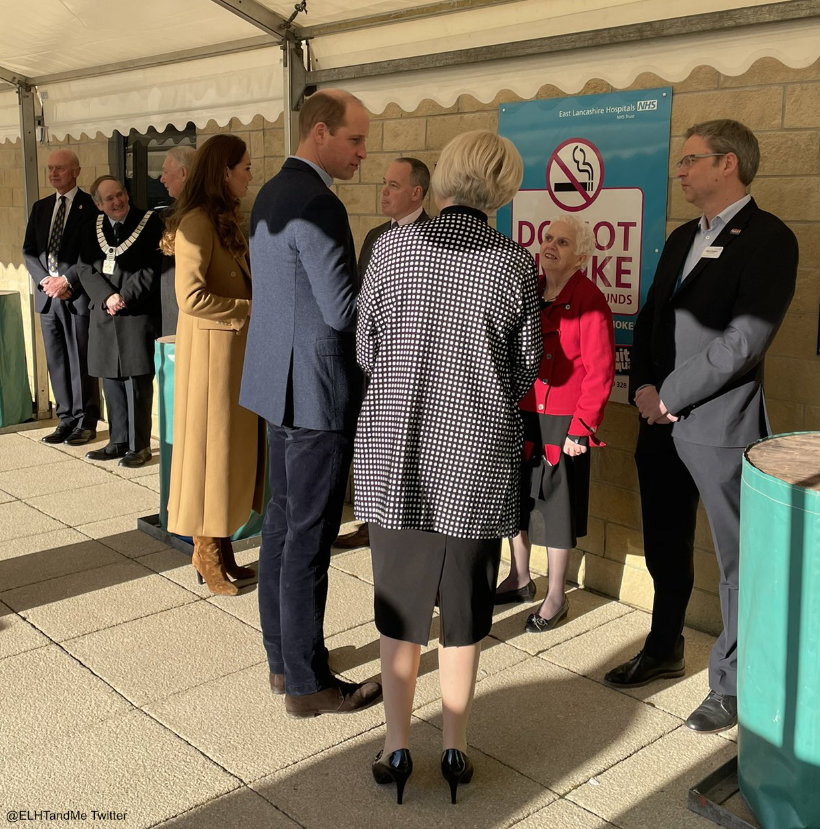 They learnt about the role NHS Charities Together played in supporting the mental health of the frontline workforce during the pandemic. Of course, William and Kate became joint Patrons of NHS Charities Together in December 2020.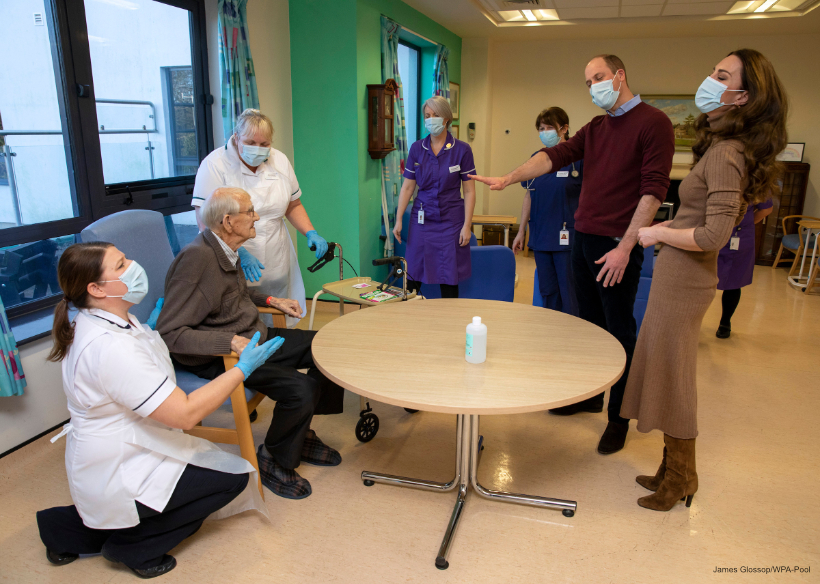 During the visit, William and Kate spoke with patient Bill Taylor—according to the CEO of the East Lancashire Hospital NHS Trust, Bill "charmed the Royal couple with stories about his life and care".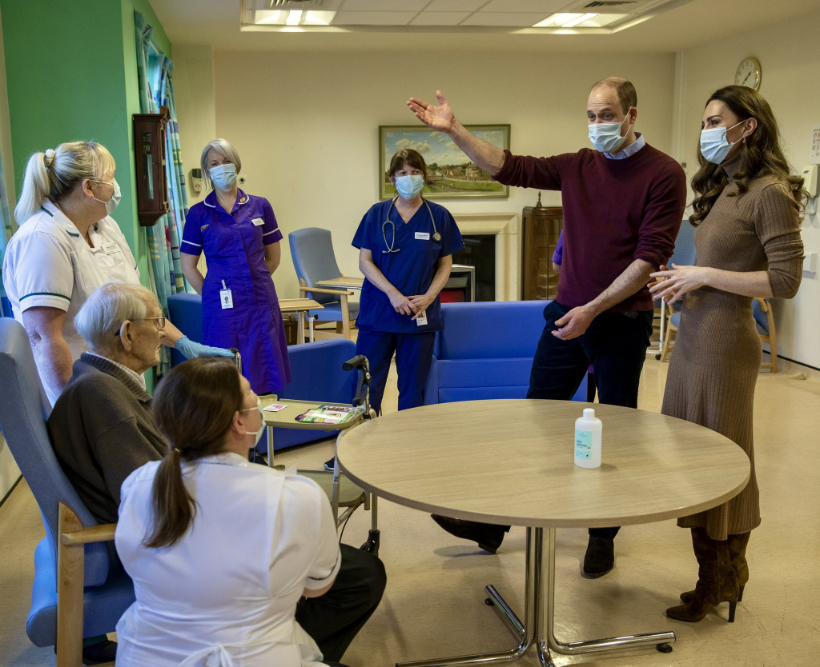 William and Kate sat around the table with a group of NHS workers who bravely spoke about the impact the pandemic has had on their health and wellbeing.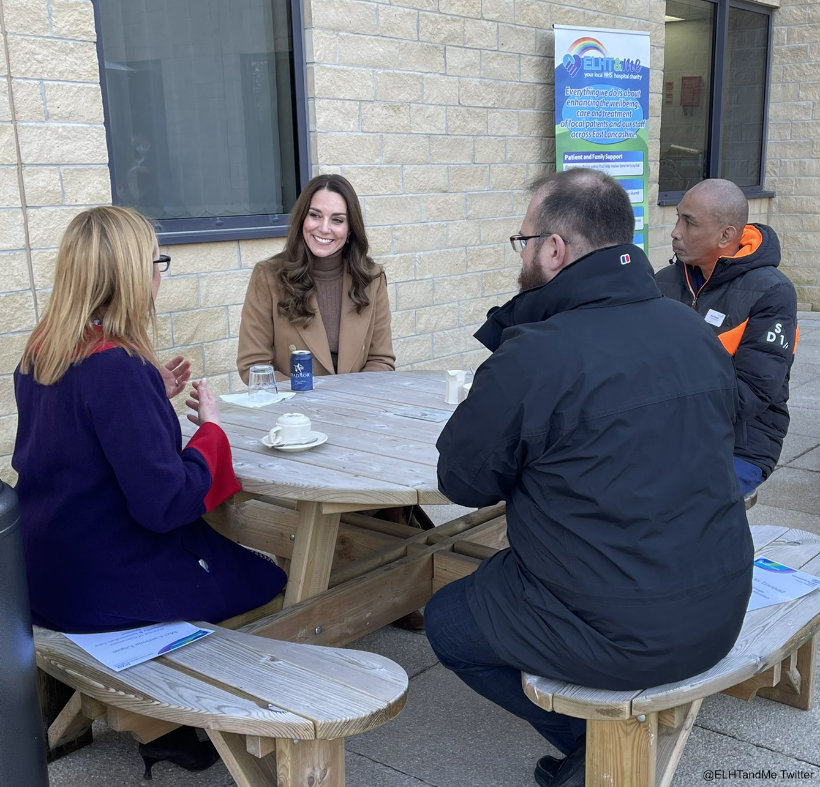 And the pair were introduced to a therapy dog.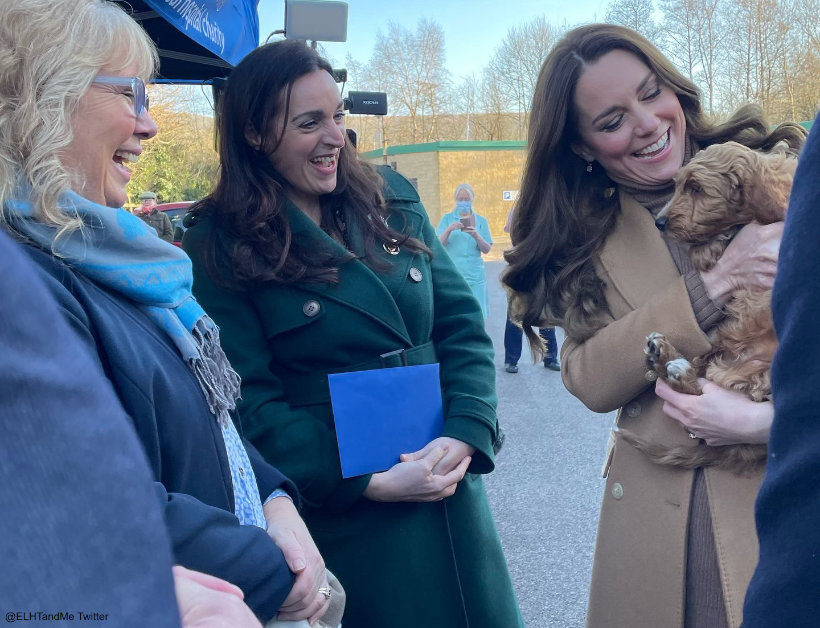 The pooch coordinated beautifully with Kate's coat—something she remarked upon at the time!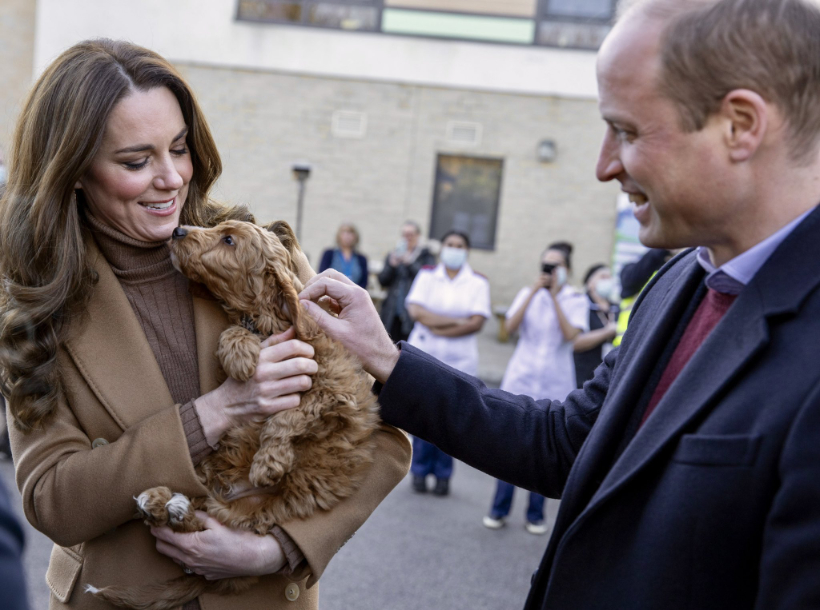 Staff at the hospital had been suggesting names for the puppy in a private Facebook group. Kate unveiled the winning name during her visit: Alfie!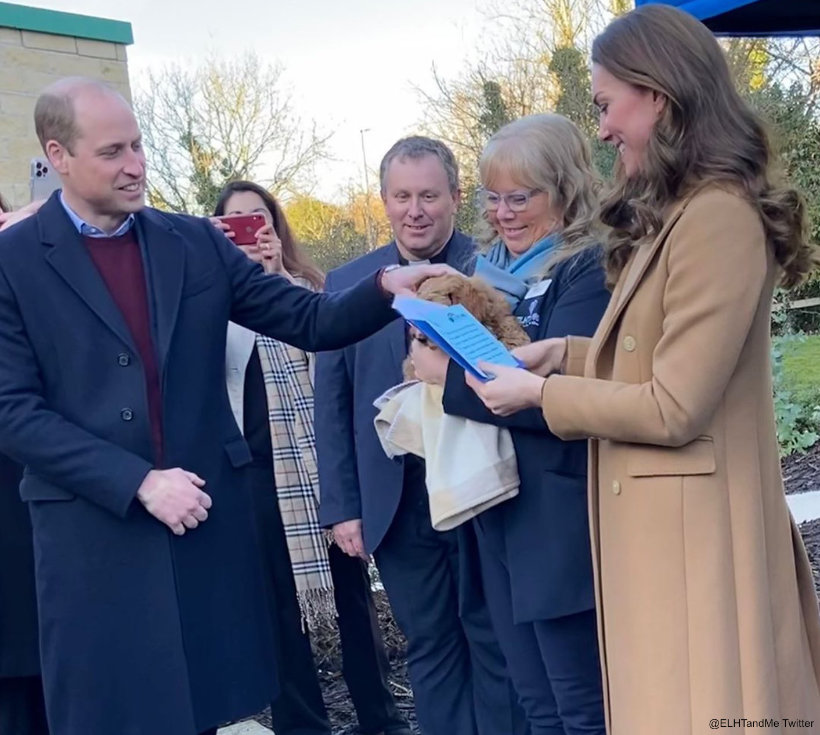 Isn't Alfie cute? The Kensington Palace Twitter account asked a very serious question: "who do you think Alfie, the therapy dog preferred?" The Duke or the Duchess? Haha.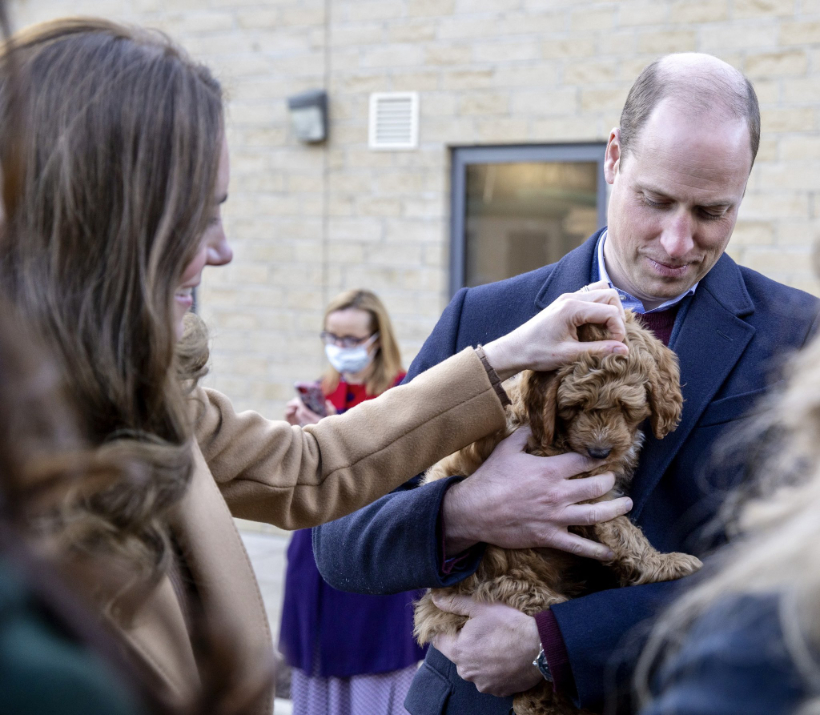 See video footage from the hospital visit below, Kate starts cuddling the puppy at 3 minutes into the video, William at 3m 26secs:
The couple's second visit took place at Church on the Street in Burnley, a small charity that supports people struggling with homelessness, addiction and mental health issues. It is run by Pastor Mick Fleming.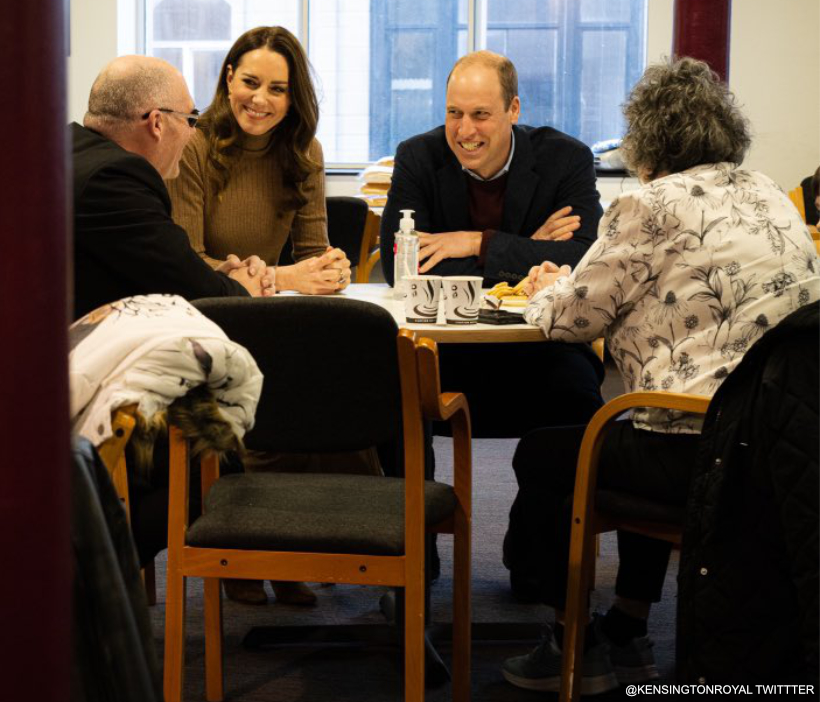 Paster Mick set up Church on the Street (COTS) in 2019.
COTS started outside a McDonald's in Burnley, with a suitcase filled with butties, coffee and clothes. Now, we work across the North West to make sure everyone's got the support they need, whether it's food, funeral support or just a friendly face.

cots-ministries.co.uk
Pastor Mick is a reformed drug dealer who has spent time in prison. He's overcome his difficulties and now helps others on the streets in Lancashire. His organisation helps to provide much-needed basics like hot showers, food, cleaning clothing, mental health support and advice.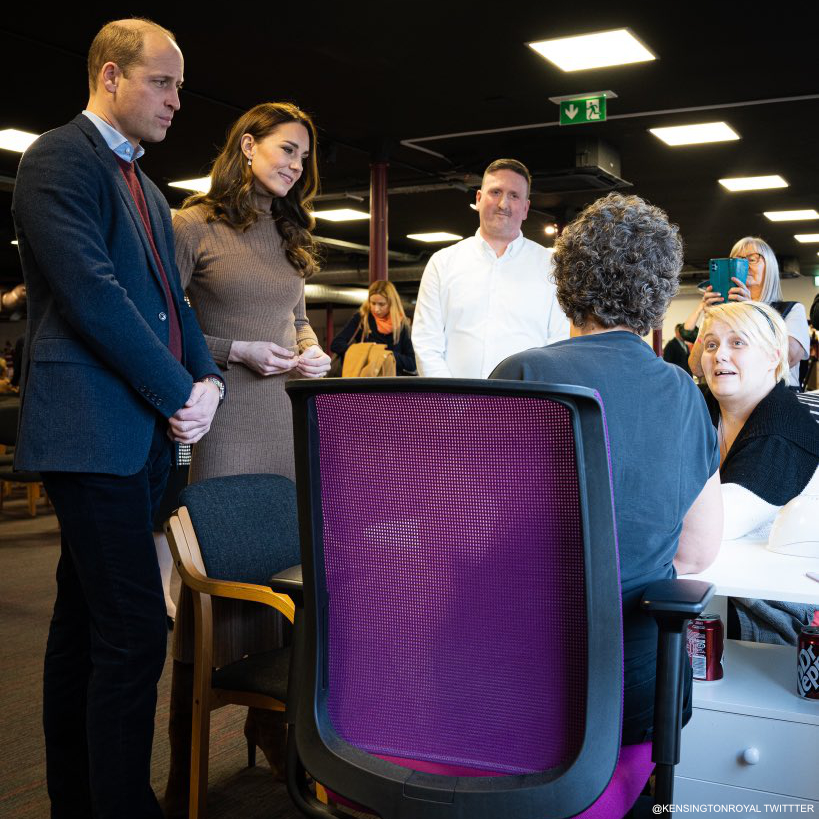 Church on the Street occupies a former gym. The charity has an open-door policy and provides a safe space for up to two hundred people at a time. They hold recovery groups and provide counselling, plus host church services on Sundays, led by Pastor Mick.
Pastor Mick aims to build relationships with repeat visitors and support those in need, helping them to change their circumstances. Mick is hoping to expand the support he provides and is currently in discussion with local authorities, external support agencies and the NHS.
While at COTS, William and Kate met Mick, volunteers and staff to hear about their motivations for working with Church on the Street. The pair also met with some of the service users to hear about their experiences first-hand.
William spoke with 11-year-old Deacon Glover who lost his mother last year. The Prince, who of course lost his own mother at age 15, told the youngster, "I know how you feel". The pair spent 15 minutes talking, William assured the boy "it gets easier".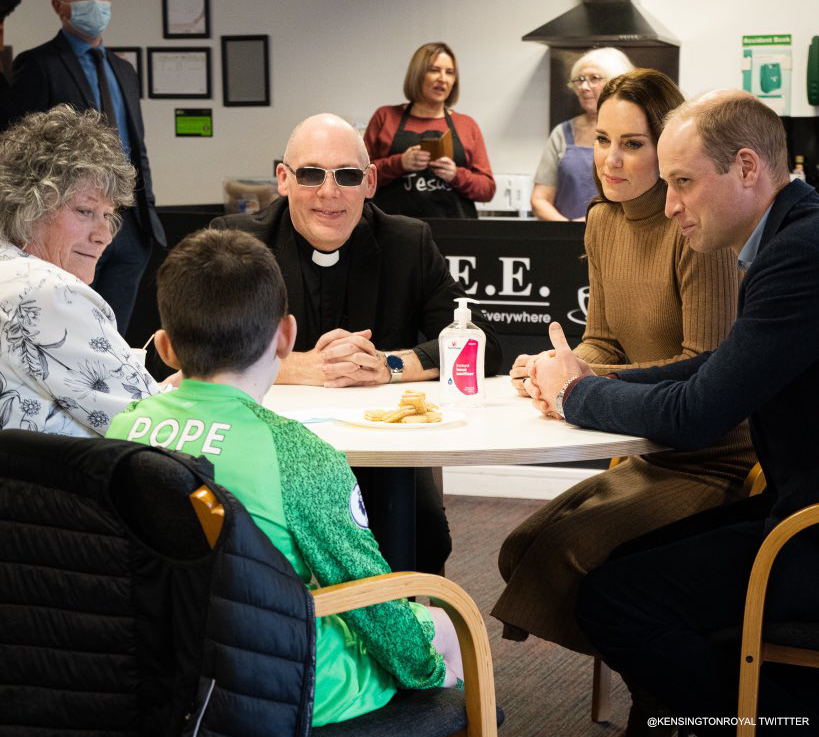 Before leaving, the Duchess spoke with Trudi and Alastair Barrie before holding their baby daughter Anastasia. William shouted, "don't give my wife any more ideas".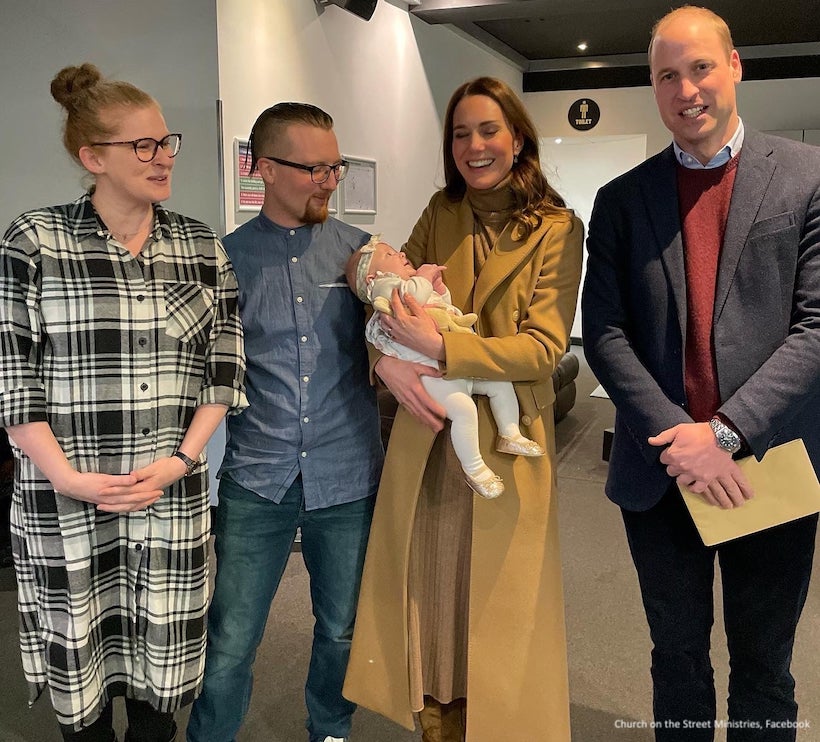 Watch video footage from the COTS visit below, hear William's quip about the baby at 3m 26secs:
Let's take a look at Kate's outfit in closer detail.
Kate's outfit:
Kate wore a stylish camel brown co-ord set by The Outnet's in-house brand, Iris & Ink.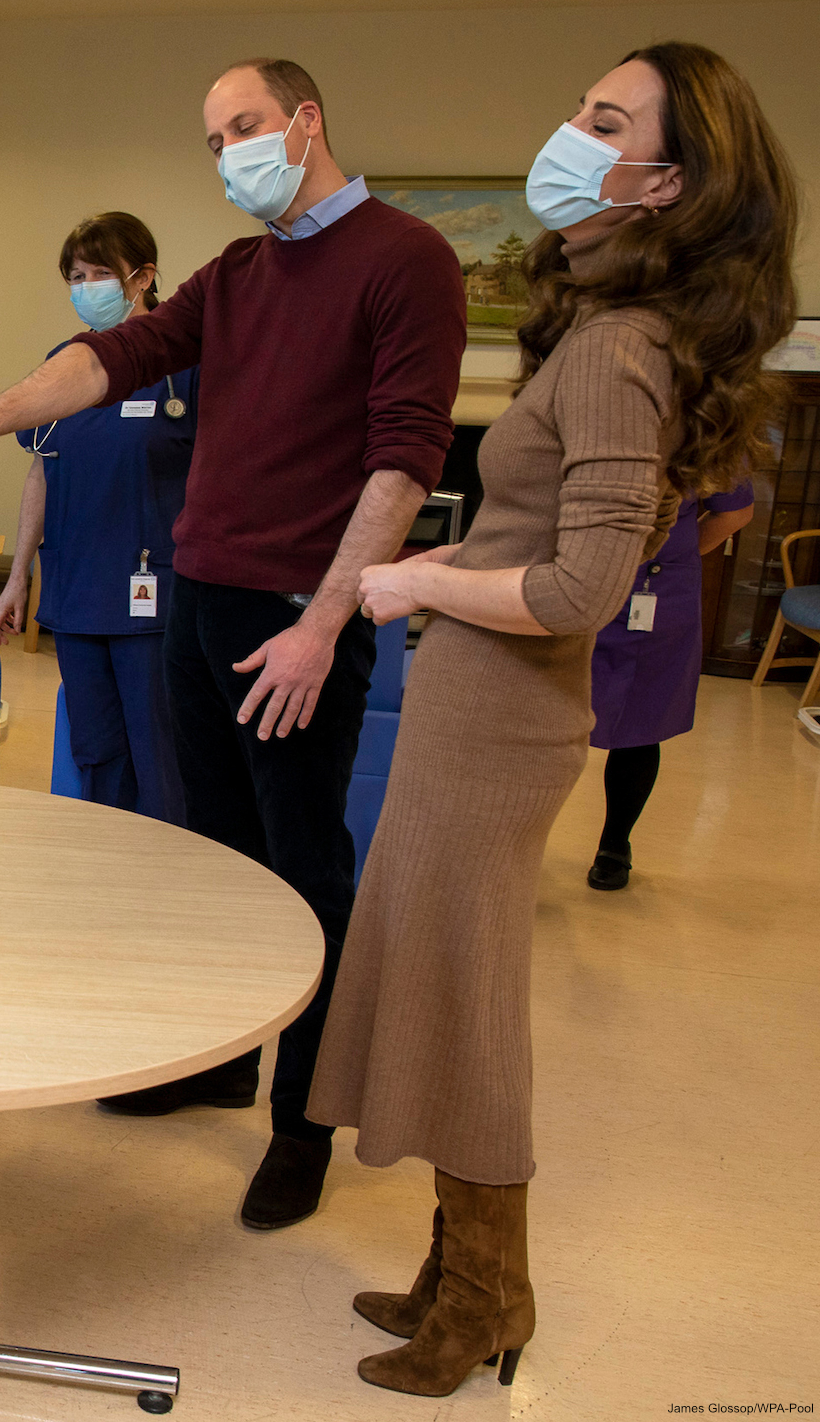 She wore the Ernestine skirt and the Éloise sweater (pictured below). Both pieces are made from a mid-weight knitted fabric crafted from super soft merino wool mixed with a hint of elastane for stretch.
The skirt and the sweater feature unique contrasting ribbed sections. The skirt is mid-length with a fluted hem, which creates a flattering silhouette. The sweater is finished with a cosy roll-neck. Both items can be worn together or separately. (I bet the sweater would look great tucked into mid-wash blue jeans.)
In the title of this post, I wrote that the outfit is 'familiar.' That's because Kate owns both pieces in green too:
She wore the top and the skirt together in a video released to mark Remembrance Week in November 2021. Originally, we assumed she was wearing a sweater dress until the separates were identified.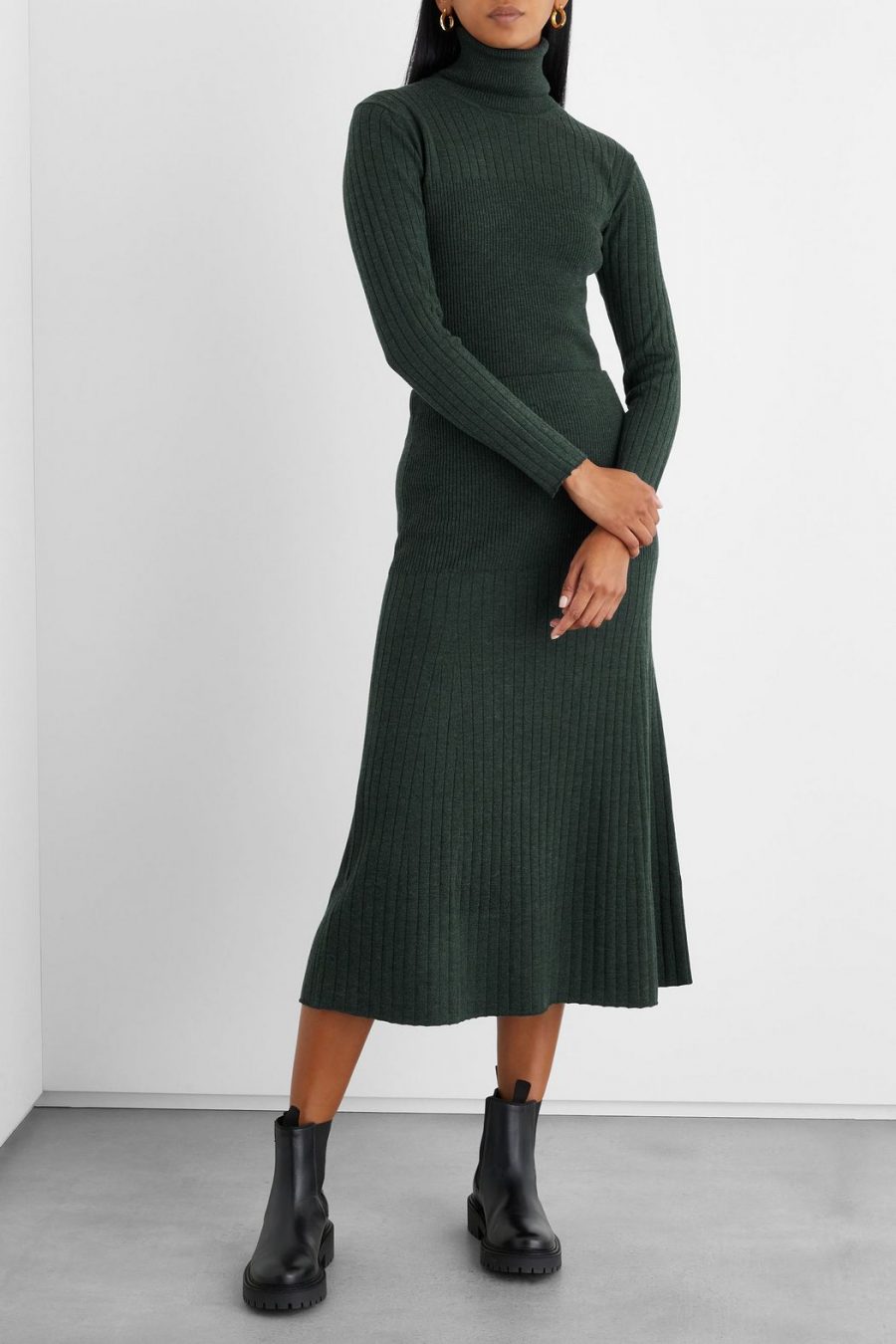 Both skirts sold for $215 USD / £165 GBP. The sweaters cost $190 / £145. Sadly, Kate's camel-coloured top and skirt have now sold out at The Outnet (though Iris & Ink's Fall/Winter 2021 offering has other turtlenecks in the collection).
The Outnet is a London-based online retailer known for stocking previous season goods at a hefty discount. They're part of the Yoox Net-A-Porter group. The Outnet launched Iris & Ink in 2012. The luxury brand became known for its timeless essentials and refined silhouettes. The Outnet relaunched Iris & Ink a decade later with a new commitment to sustainability. This is one reason why I suspect we'll see Kate wear more of their pieces in the future.
Kate's coat will feel familiar to our regular readers. She's worn it to four different public engagements now. The long camel brown coat is by Massimo Dutti.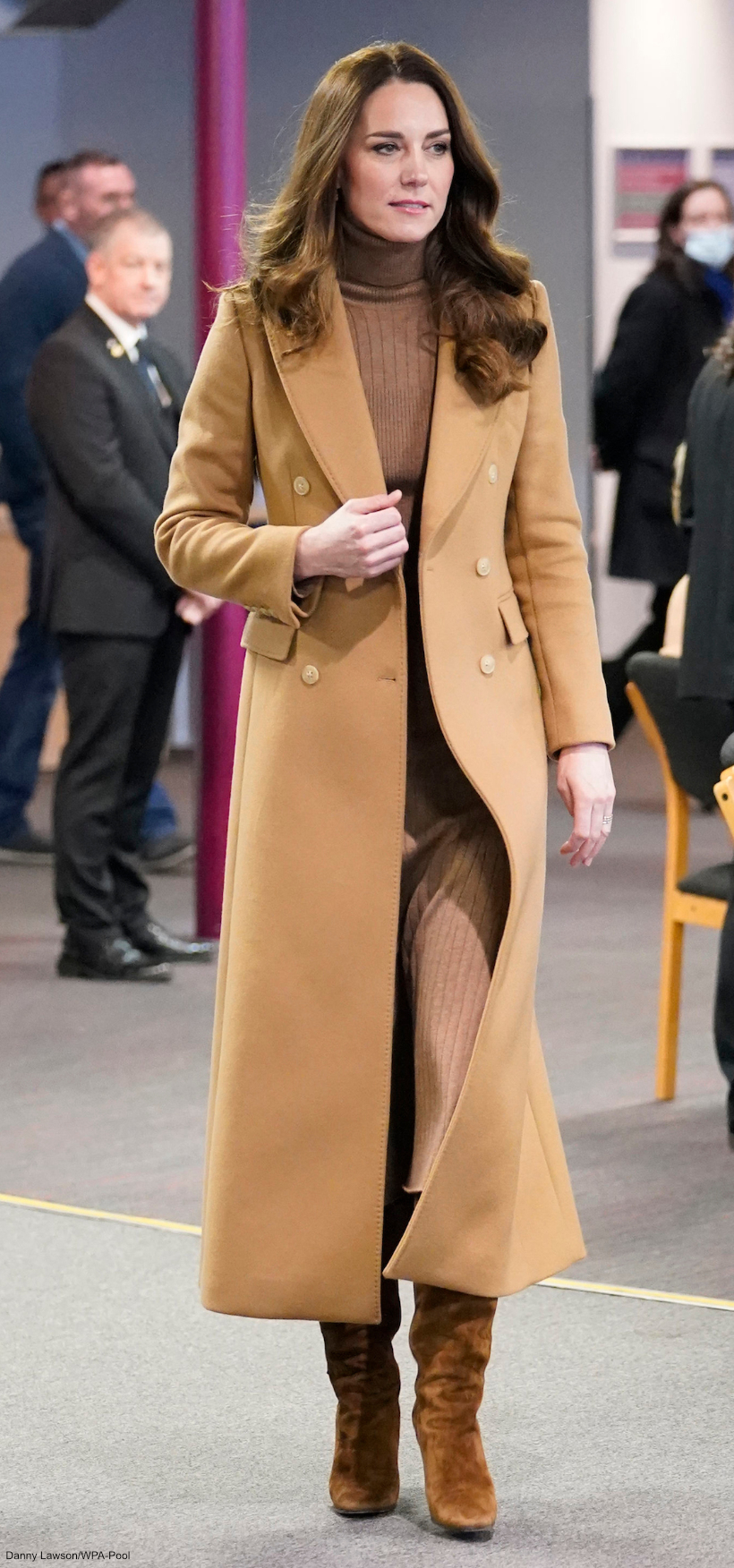 It features peak lapels, a double-breasted button fastening, two flap pockets, long sleeves, buttoned cuffs and a back vent. Plus, it is lined. IT's made from a wool and cashmere mix fabric and tailored for a slim fit. Massimo Dutti released the coat as a 'limited edition' piece.
Kate added the Massimo Dutti coat to her closet in 2020. For its maiden wear, she styled the piece with a contrasting black outfit and accessories. On the following three occasions, she chose complementary shades of brown (tan/camel).
Sadly, the coat is no longer available to buy. They do stock a camel-coloured wool coat in the current season collection though, you can find it here. However, it is shorter, is not double-breasted and has a belt tie at the waist. Otherwise, I do quite like this double-breasted wool coat at Marks & Spencer if you're looking for something similar. Or this tan coat by Monsoon. It is on sale, a good bargain if your size is in stock.
Massimo Dutti is a Spanish brand (though you'd be excused for thinking it was Italian from the name). They're part of the Inditex group, which owns Mango and Zara too.
Kate's worn these pink and gold earrings before too. They're her Mini Pyramid Charm Hoops by Missoma. The earrings feature a hand-cut Rhodochrosite gemstone set in 18ct gold vermeil on Sterling silver. A repeating pyramid design decorates the hoops. RRP: £85 / $110.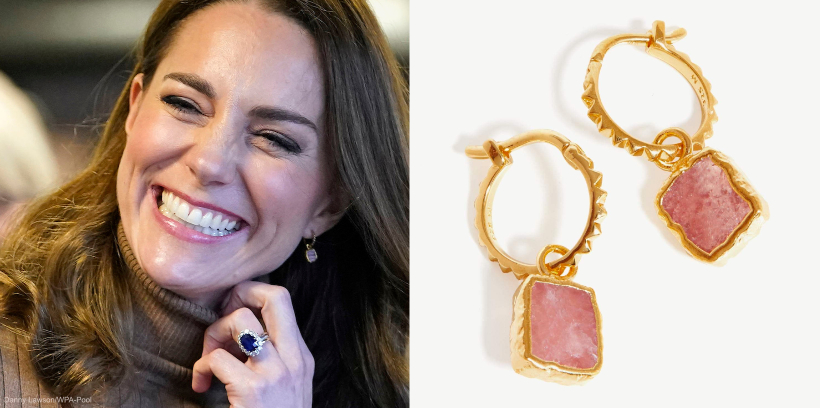 Kate's worn the earrings a handful of times since 2020, she often pairs them with a pink outfit.
It looks like they're currently out of stock. I would keep checking their website if you like the earrings as I'm sure Missoma restock them from time to time. (Though don't hold me to this!) If green is more your colour, the company also sells the same design with amazonite stones. They're currently available here.
London-based Missoma design and create demi-fine jewellery. The company was founded by two sisters and their mother. The brand is named after the three women: Michelle, Sophie and Marissa.
Let's take a look at Kate's brown suede boots now. They're not an item we've seen her wear before:

They appear to have a black heel and a black sole with a zipper down the side. Unfortunately, they are get to be identified, though a few royal fans think they might be from Saint Laurent (as suggested by Palace Avenue & Middleton Maven on Twitter).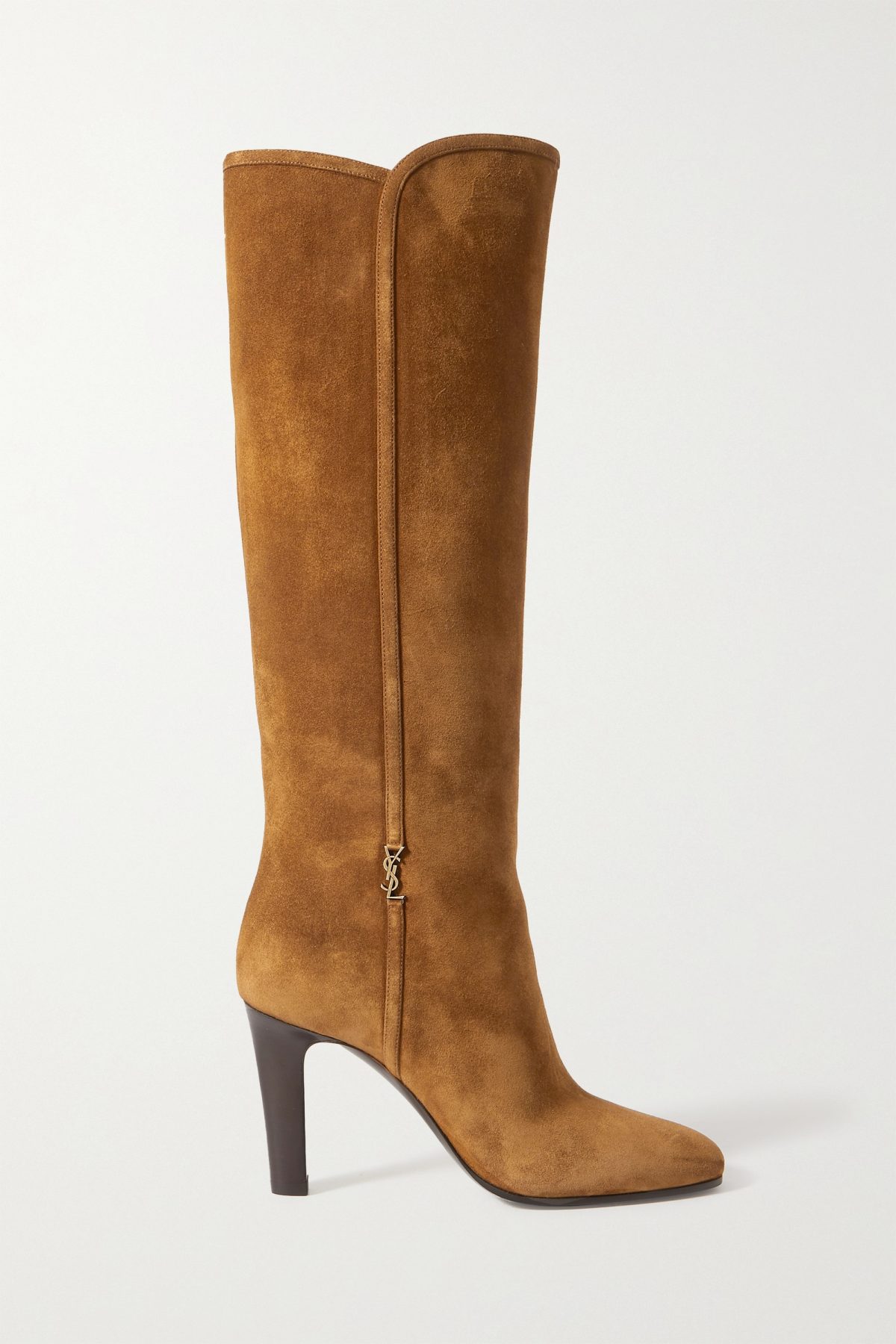 They could be the Jane 90 style or the Lady 95 style. They're very similar and it's hard to tell without better quality photos. Hopefully, Kate will wear them again so we can find out for certain!