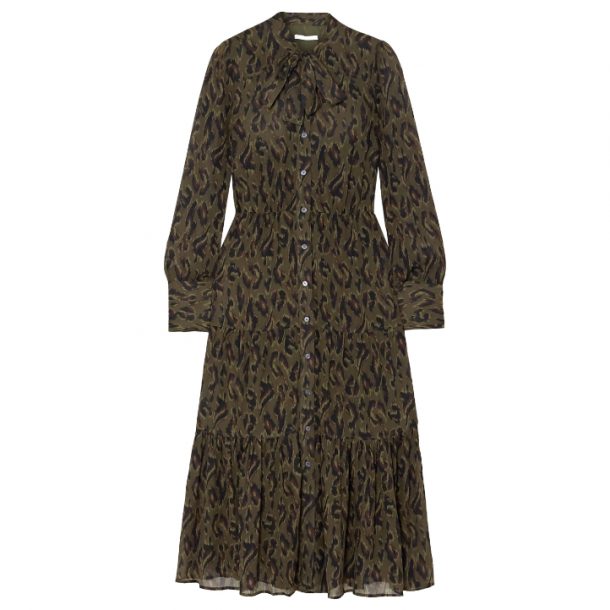 This green leopard print dress by Derek Lam ticks all of Kate's style boxes: it is mid-length, features cuffed sleeves, has a button-down front, is made from chiffon and features a pussybow neck-tie—all elements she loves in a dress! It was no surprise when she wore the piece to visit the SHOUT mental health text charity on the 26th Jan 2022.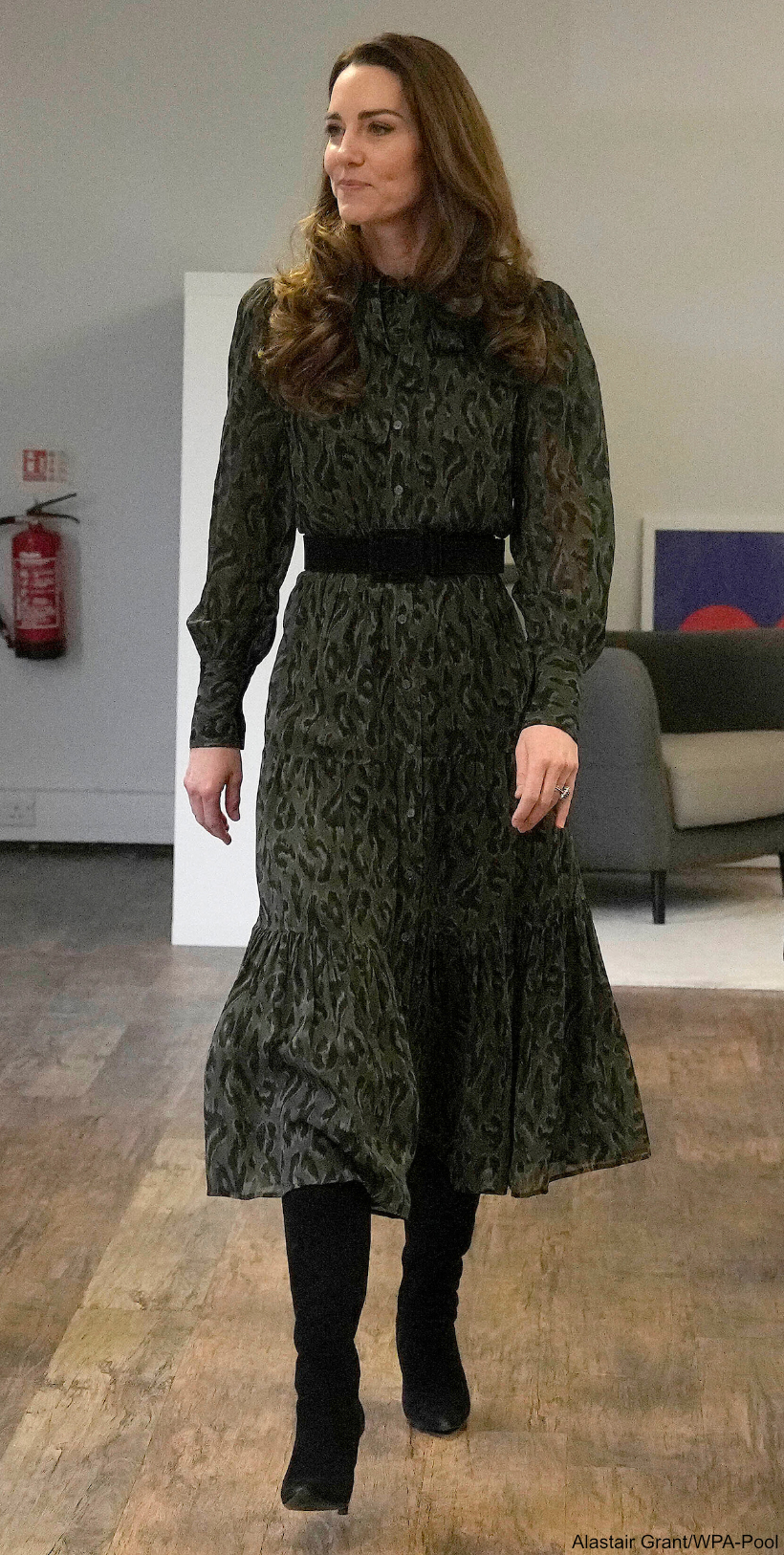 The Duchess accessorised the dress with a pair of black boots by Ralph Lauren, a coordinating belt by BA&SH and a pair of gold hoop earrings by ASOS. The piece is from the American designer's 10 Crosby line.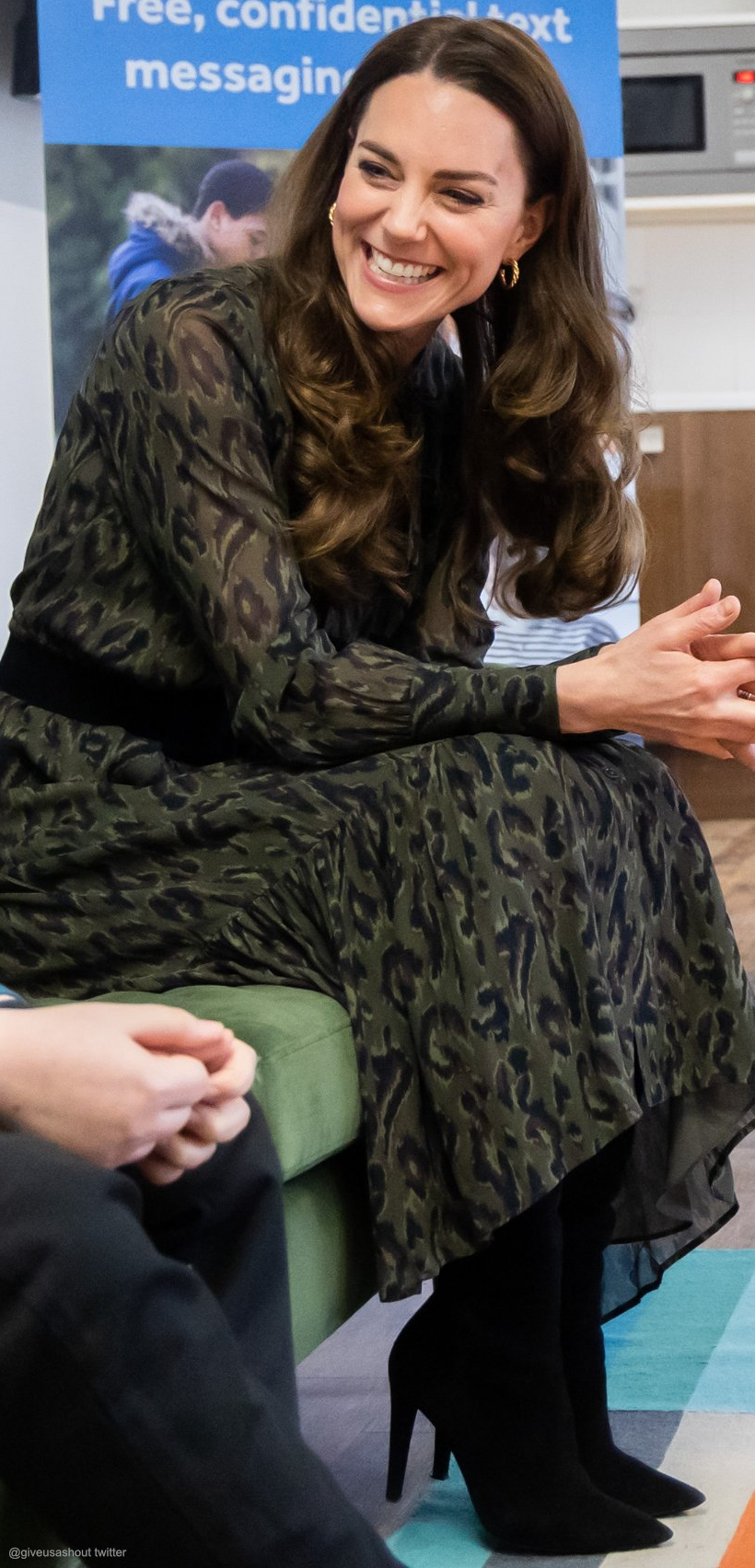 About Kate's dress:
The dress is made from floaty chiffon and features long cuffed sleeves, buttons down the front, a nipped-in waist and a tiered skirt. The piece is a dark shade of army green that is printed with black and brown leopard spots.
Net-A-Porter's editor says the piece will "work equally well for business meetings or dinner dates".
Buying the dress:
Sadly, the dress is sold out at all retailers. The RRP at Net-A-Porter UK was £510.
There is a listing for the dress on eBay at the time of writing. It might be worth checking out the auction site if you're keen on the dress. Otherwise, you can browse more Derek Lam clothing at Net-A-Porter.com.
About Derek Lam:
Derek Lam is a Chinese-American fashion designer. He was Tod's creative director for ready-to-wear and accessories between 2005 and 2010. Likely unrelated, but Kate owns two pairs of shoes and a handbag by TOD's.
We've never seen Kate wear Derek Lam's own line before.
The designer was born in California, is Kate shopping for American designers ahead of a visit to the country later this year? (It's rumoured she might visit the US for the Earthshot Prize at the end of 2022). Probably unlikely, but you never know!
Another reason why Kate might have chosen the dress (aside from the fact she just liked it, of course) is the designer's commitment to sustainability. Lam is incorporating non-chromed leather, eco-viscose, recycled cashmere, recycled polyester and raw-eco materials into his collections. This appears to be a big area of focus for the Duchess fashion-wise at the moment. We've definitely seen her wear a lot more slow and conscious fashion brands in recent months.