I am SO excited for the tour, which officially kicks off tomorrow.  According to Kensington Palace, William and Kate will board their flight tonight and arrive in Mumbai tomorrow morning.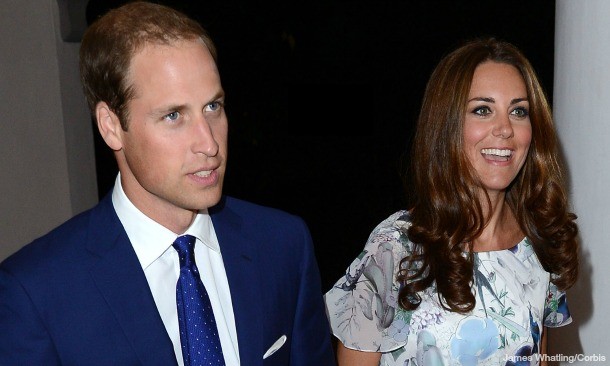 Anna from My Small Obsessions checked outbound flights from Heathrow and believes the couple will arrive in Mumbai tomorrow at 11:10am local time.
So, that's:
5:40 am UTC / GMT
6:40 am in the UK
1:40 am EDT
22:40 pm PDT
Obviously, I cannot confirm if the flights or timings are correct (and neither will the palace or the press for security reasons).  But that's our best guess!
The scoop on what Kate's packed:
Rebecca English is the Royal Correspondent for the Daily Mail newspaper and she is currently in Mumbai ahead of the tour.  She has spoken with a palace source who has revealed some inside information about the designer labels Kate has been considering.
According to the source, Kate's been "deliberating outfits" from labels including Christopher Kane, Roksanda Illincic, Erdem, and Madderson London.
Interestingly, the first three of those labels are renowned for their use of bright colours and gorgeous patterns, something many of us associate with India.  Below, I've chosen a look for Kate from each brand: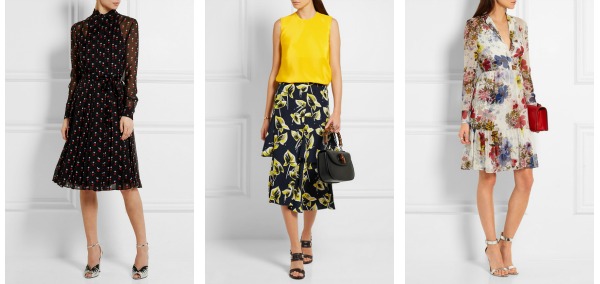 Left: I love this heart print dress from Christopher Kane.  I think the shape is very "Kate" and the light chiffon fabric might suit the hot country.
Centre:  I chose this look from Roksanda Illincic, I do hope we'll see Kate in some bright colours!  This is a top and skirt combo.  Kate tends to opt for dresses, but she did wear separates on the Jubilee tour in 2012!
Right: I'm showing a floral print dress from Erdem that I adore.  I think Kate would wear it buttoned up.  Again, the light fabric would suit the climate.  According to Net-A-Porter, this dress combines two big trends together, Folky Seventies and Victoriana.
Of course, regular readers will recognise all of the brands mentioned by Rebecca English's palace source.  Kate's worn clothing from all of those labels on numerous occasions: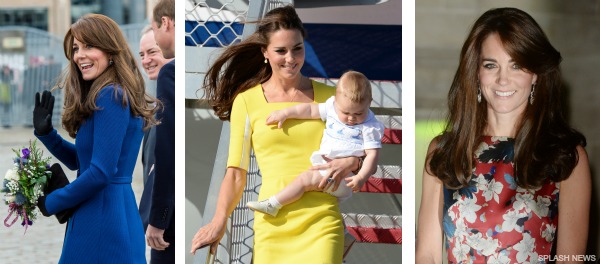 From left to right:  Kate in a bright blue Christopher Kane coat in Dundee, Scotland last year; Kate wears a bright yellow Roksanda dress in Sydney; Kate opted for a red floral dress by Erdem for the 100 Women in Hedge Funds Gala Dinner last year.
As for Kate's shoes, apparently she's considered pairs from Russell and Bromley, Gianvito Rossi and Jimmy Choo.  Again, all familiar brands for regular readers.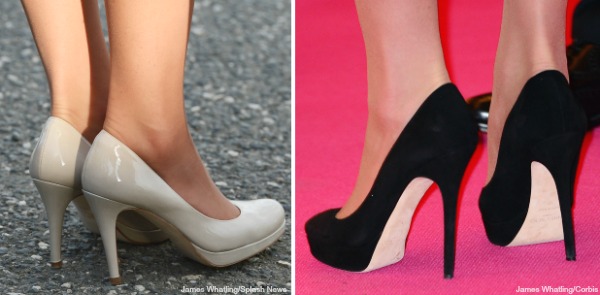 Left: Kate wearing the Park Avenue heels from Russell and Bromley; Right: Kate wears the Jimmy Choo Cosmic platforms.
Will Kate don a sari?
In her series of tweets this morning, Rebecca English also revealed that Kate will not wear the formal traditional dress in either India or Bhutan next week, so it's unlikely that we'll see her don a sari, unfortunately.  However, Kate will "pay tribute to local designers in her fashion choices" according to Ms English's source:
"The Duchess will use a couple of the engagements during the tour to pay tribute to local style and to local design talent"
As you'll recall, Kate's done this on previous Royal Tours.  She wore several dresses from Canadian-born designer Erdem while visiting the country in 2011: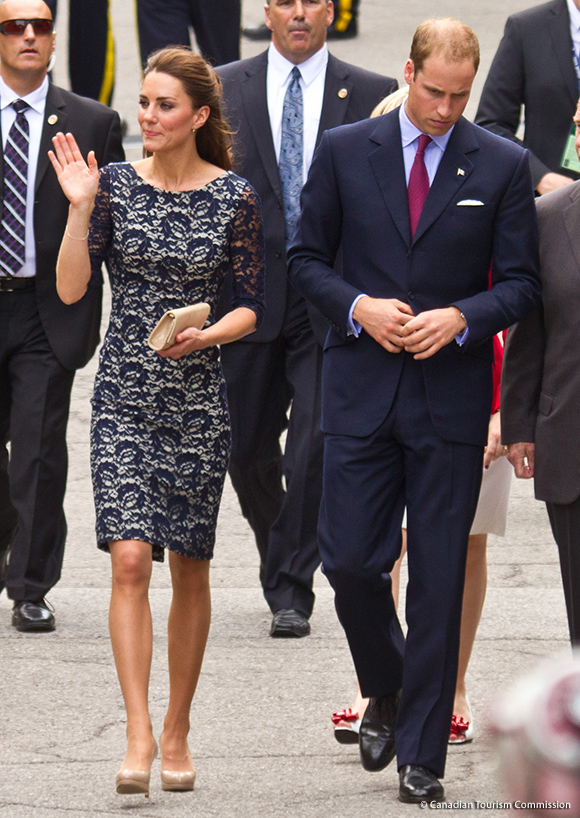 During the Jubilee tour in 2012, Kate opted for a dress by Prabal Gurung, a local designer from Singapore: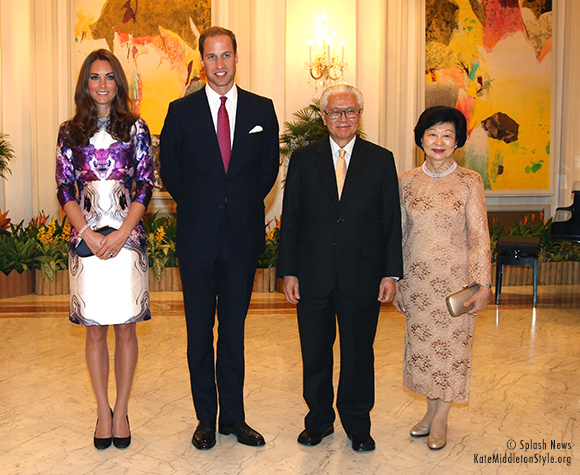 And of course, Kate chose a dress from Indian-born designer Saloni at the reception earlier this week, where she met with students and workers from the country ahead of the tour.

Lovely luggage:
In her tweets, Rebecca English also revealed that the Cambridges purchased "new luggage and rucksacks" from English firm Chapman bags. The company are famed for their "authentically British made bags and luggage".  
I'm not certain which pieces William and Kate have chosen, but here are two of my favourites from their website: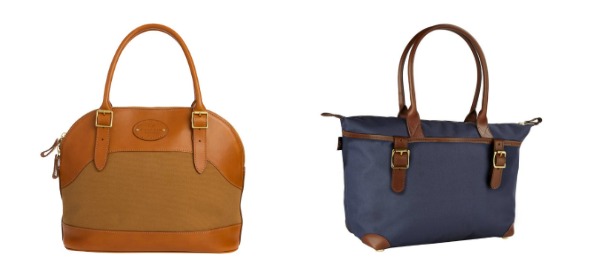 Interestingly, Sophie, the Countess of Wessex visited Cumbria last year and met with John Chapman, who owns the company.  At the time, the company's Chief Executive mentioned that they were "delighted" to receive a visit from Sophie and that they hoped the visit would help boost their company's profile locally, nationally and overseas. I'm pretty certain news about Kate carrying their bags during the Royal Tour will also help to achieve their aim.
Dinner with the Indian Prime Minister
Earlier this week, Kensington Palace revealed a new tidbit of information about the tour.  William and Kate will have lunch with the Indian Prime Minister Narendra Modi on Tuesday.  I'm assuming this information was released quite late for security purposes.
If you'd like to familiarise yourself with the tour itinerary, click here for my comprehensive article.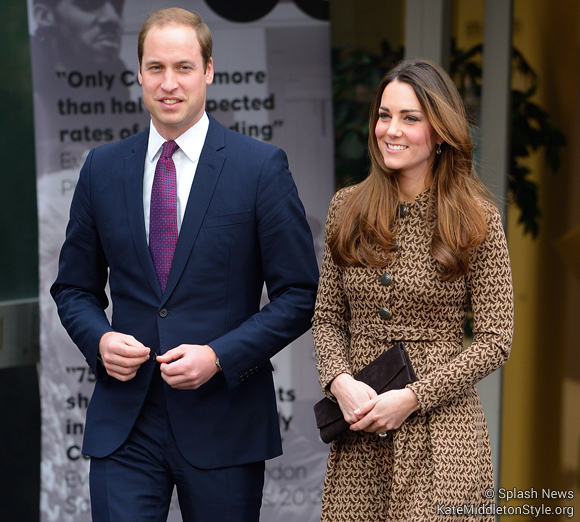 Following along with the tour:
Yesterday, the UK government published a press release ahead of the Royal Tour.  It contains a brief summary of the couple's itinerary, but there isn't any new information included.  However, at the bottom of the page, there's a list of social media accounts to follow and hashtags to use, so you follow along at home.
If you're busy next week, or the time zones make following along difficult, simply sign up for my newsletter to receive an email summary each day.  I'll be sending the email each day at approximately 8pm GMT (so that's 9pm in the UK) 4pm EDT / 1pm PDT.
[mailchimpsf_form]
Of course, you can also follow me on Twitter and on Facebook for live updates too.