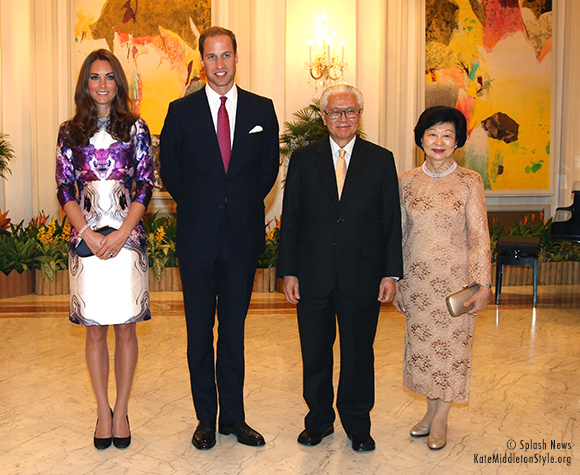 After this afternoon's arrival in Singapore and a whistle-stop tour of the Botanic Gardens, the Duke and Duchess of Cambridge rushed back to their hotel room to change outfits before attending at welcoming ceremony, reception and state dinner at the Istana Presidential Palace.
The first task on the itinerary was an inspection of the guard; Prince William sprung into action while Kate watched from the sidelines.  We share some excellent photographs taken by Paul Harrison @SkyNewsRoyal:
After, the royal couple attended the State Dinner and Prince William gave a speech.  He thanked Singapore for their involvement in the Olympics, congratulated their athletes and joked about meeting more Aston Villa fans during his stay in Singapore.
During a toast given at the dinner, Kate drank water instead of wine.  This naturally sent the media's tongues wagging about a possible pregnancy!  Of course, in retrospect we know this was completely untrue!
Kate's outfit:
Let's get down to business!  Kate kept things local by wearing a Singaporean-born designer, giving a nod to her host country.  Her dress was a ready-to-wear piece by Prabal Gurung's Spring/Summer 2012 collection:
The wool-silk dress is largely cream with a vibrant, purple floral pattern swirled over the top.  It features a bateau neckline, three quarter length sleeves and a full silk lining.  The exquisite dress retailed at Browns department store for £1,770 but was recently reduced to £710 in the sale.
Here's a look at the dress in more detail, courtesy of the Browns website:
With the dress, Kate wore her diamond bracelet and earrings (saw for the first time with her purple Issa dress in Canada), which we believe were given to her as a wedding present.  She also wore her black Prada pumps and the Anya Hindmarch "Maud" clutch bag.
Shop Prabul Gurung: