Today the Duke and Duchess of Cambridge arrived at Changi International Airport in Singapore to kick off day one of their royal tour on behalf of the Queen's Diamond Jubilee.  The couple were running about 15 minutes late at the airport, before they quickly rushed over to Singapore Botanic Gardens where an orchid was named "Vanda William Catherine" in their honour.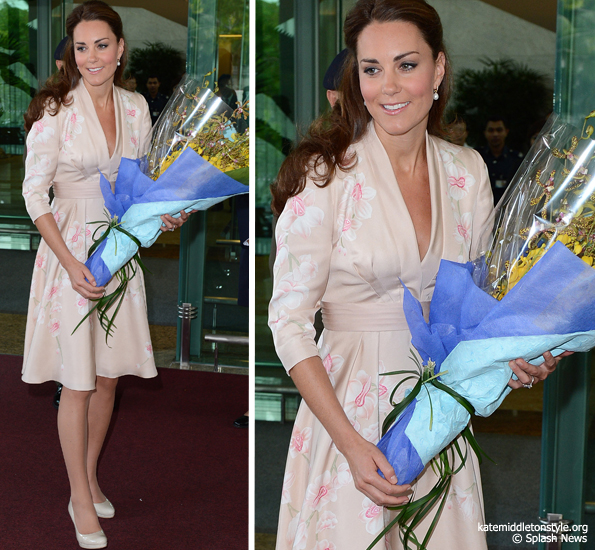 While visiting the Botanic Gardens, William and Kate viewed an orchid that was named after the late Princess Diana;  the orchid was chosen for her ahead of a planned visit to the country in 1997.  Sadly, the visit never took place due to her tragic death weeks earlier.
Here's a picture of Kate and William touring the National Orchid Garden: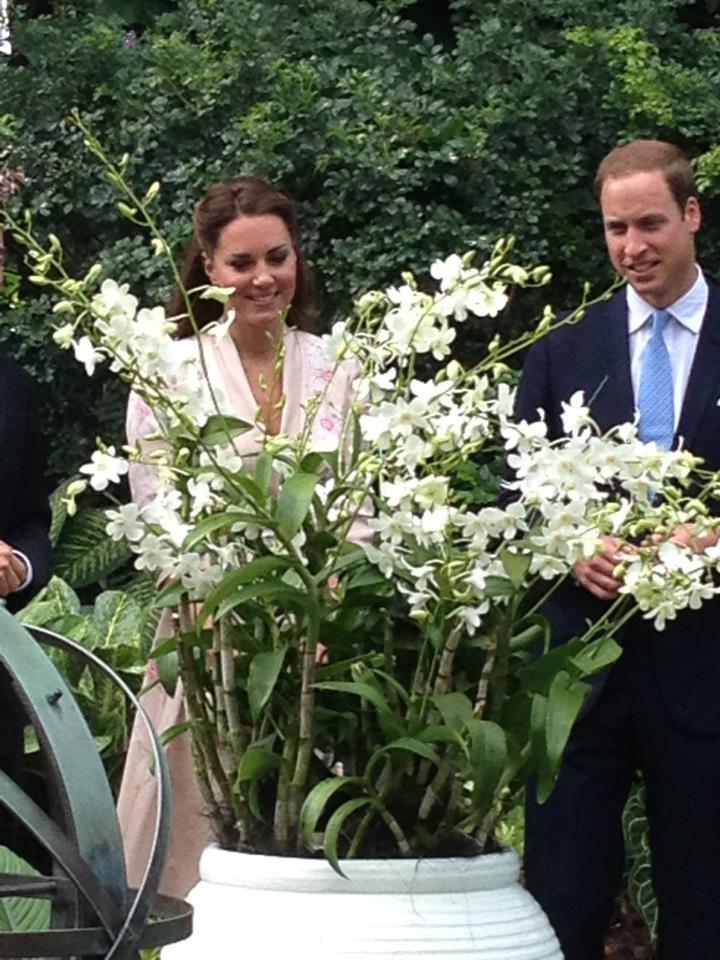 Image copyright:  @MNDSingapore  – MND Singapore on Twitter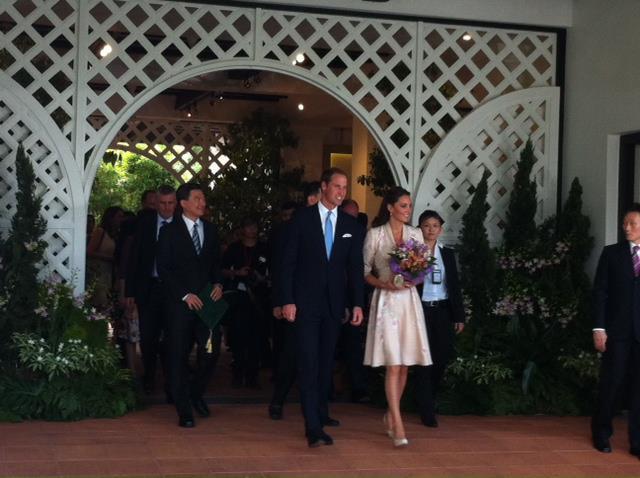 William and Kate leaving the Botanic Gardens.
Image copyright: @STcom – The Straits Times – Twitter
Kate's outfit:
As this is meant to be a style blog, we better get down to business and talk about Kate's clothing! Kate wore a silky pink knee-length dress with an orchid pattern, which some reporters described as 'kimono style.'  The dress was created by one of Kate's favourite designers, Jenny Packham.  Incidentally, Jenny Packham is showing her Spring 2013 collection at NY Fashion Week today at 1pm (New York time.)
Here's a look at Kate courtesy of Royal correspondent for Five News @SimonVigar5: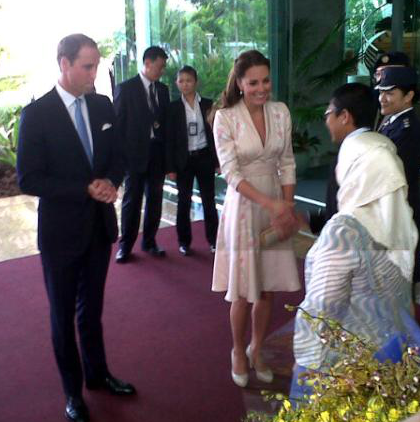 Kate's wearing her Russell and Bromley Park Avenue shoes in off-white.  For more details, click here.
Jewellery Queen Anna from My Small Obsessions confirms that Kate is wearing her Annoushka pearl drop earrings, hooked onto Kiki Mcdonough hoops.
Tidbits from the tour:
Royal firsts:  According to Georgina Brewer from ITV News, visiting Singapore is a first for Kate.  Further, Buckingham Palace aides revealed that The Duchess has never been to any of the places she is to visit during the tour.
Keeping it in the family:  While in Singapore, the royal couple will be staying at Raffles Hotel.  In a press release on their website, the General Manager of Raffles Hotel Singapore said that the hotel are "delighted" to host the Duke and Duchess during the Diamond Jubilee celebrations.  The Queen and Prince Philip also stayed at Raffles during their State Visit to Singapore.
Global superstars:  During a press briefing, Britain's high commissioner to Singapore Antony Phillipson described Will and Kate as "a couple who are global superstars".
Quotes:  The senior parliamentary secretary for the Ministry of Defence Maliki Osma and his wife Sadiah Bte Shahal met Will and Kate at Changi airport.  Sadiah presented Kate with a bouquet of yellow flowers, and told ITV News that:
"They are such a lovely couple, so affable. Kate was asking me about my children, what their ages are.

We talked about the UK and particularly about shopping at Bicester. I said I've been there and I love it and she said she does as well. She said it's great how everything is so contained. 

She also asked me about the flowers I gave her, she said they are very unusual and what are they.

I said I'm not sure but I think they're two types of orchids."
Join us in just under two hours when Kate and Will are to attend a State Dinner given by the President of Singapore at his official residence, the Istana.  The Duke will be invited to inspect a Guard of honour, before paying official calls on the President and Prime Minister.  Following the meetings, Kate and Will are to join a reception of guests before taking their seats for dinner.  After, William will give a short address on behalf of The Queen before Singapore's president gives a welcome speech.
Update: Missed out on any day of the tour?  Want to refresh your memory and view Kate Middleton's style throughout the tour?  The check out Grazia's gallery of images & stories here.