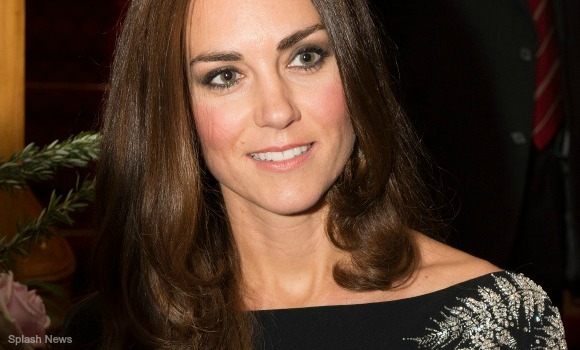 On day four of the 2014 Royal Tour, William and Kate spent the morning in Blenheim laying commemorative wreaths and visiting an aviation centre.  In the evening, they headed back to Wellington to attend a State Reception at Government House, hosted by Governor-General Sir Jerry Mateparae. During the evening, Prince William unveiled a portrait of his grandmother, Her Majesty The Queen.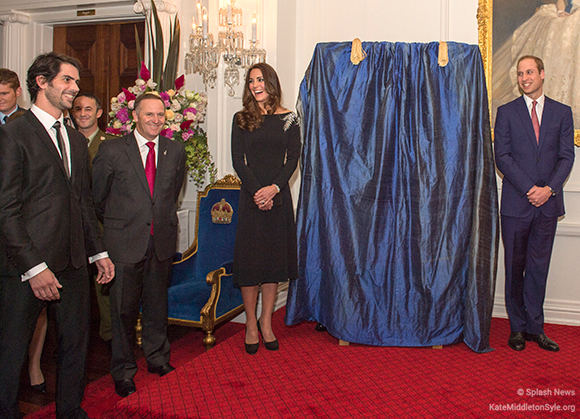 The painting depicts The Queen in a regal blue dress wearing the same Fern brooch that Kate wore earlier in the week, on day one of the tour. The picture was painted by New Zealand native Nick Cuthell, who travelled to London and spent an hour with The Queen, who sat for photographs and an initial sketch.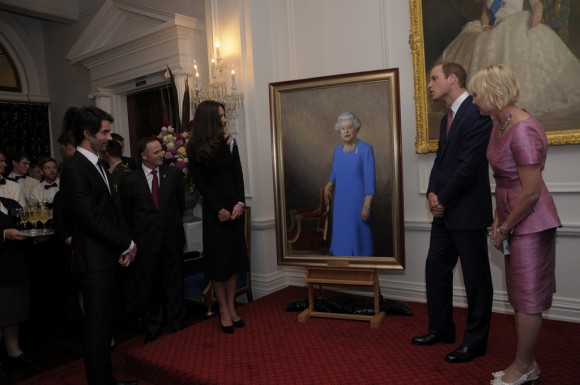 At the event, Prince William also gave a short speech, which he began in Maori.  In the speech, William also jokes about how vocal baby George is.  The full speech via The Daily Mail:
He said: 'Rau rangatira mā o Aotearoa, tēnā koutou katoa.'

Translated this meant: Distinguished people of New Zealand, greetings to you all.

He continued: 'Thank you also for hosting Catherine, George and me during our time in New Zealand. I hope that George doesn't keep you up! He's at his most vocal at 3am, as you may have noticed – I swear I heard him doing the haka this morning. He's a bonny lad and you'll be pleased to know that he's currently preparing for life as a prop forward!

'I cannot tell you how happy I am to be back here in God's Own Country – as I have learned to call it – and this time with my wife and son.

'When I returned to New Zealand for the first time as an adult in 2005, I came mainly to watch the All Blacks against the British and Irish Lions – the best way to be introduced to this sports-passionate nation.

'In subsequent visits, my affection and admiration for New Zealand has only deepened. '

He continued: 'On this visit, I have no doubt that it will be Catherine – and not just me – who falls for New Zealand.

'The qualities that New Zealanders share in common with one another – warm-heartedness, generosity, neighbourliness, openness, an instinctive sense of justice and freedom, to name just a few – are qualities that I suspect – given your modesty – you may take for granted. But they are qualities for which New Zealanders are admired the world over.'

Turning to his grandmother's portrait he added: 'Her Majesty is portrayed wearing her silver fern brooch, which provides a simple but clear reminder of Her Majesty's deep affection for the people of New Zealand.

'Kia ora tātou katoa (Greetings to us all).'
After the unveiling, William and Kate worked the room, mingling with other guests.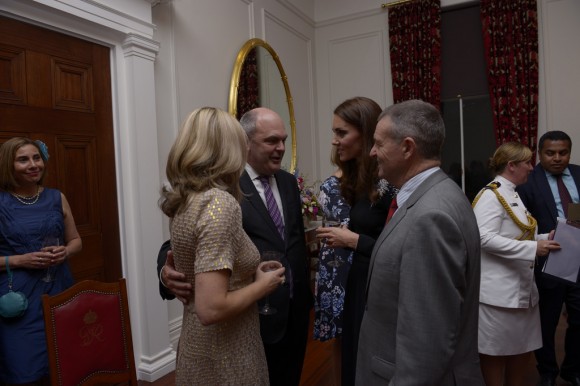 According to The Mirror, before the State Reception William met with the leader of the opposition, David Cunliffe and the Prime Minister John Key. Each meeting lasted around 20 minutes and William mentioned the miserable weather several times.
Kate's outfit:
Kate wore a stunning black dress that hit the calf. The dress was a bespoke piece by one of the Duchess' go-to designers, Jenny Packham.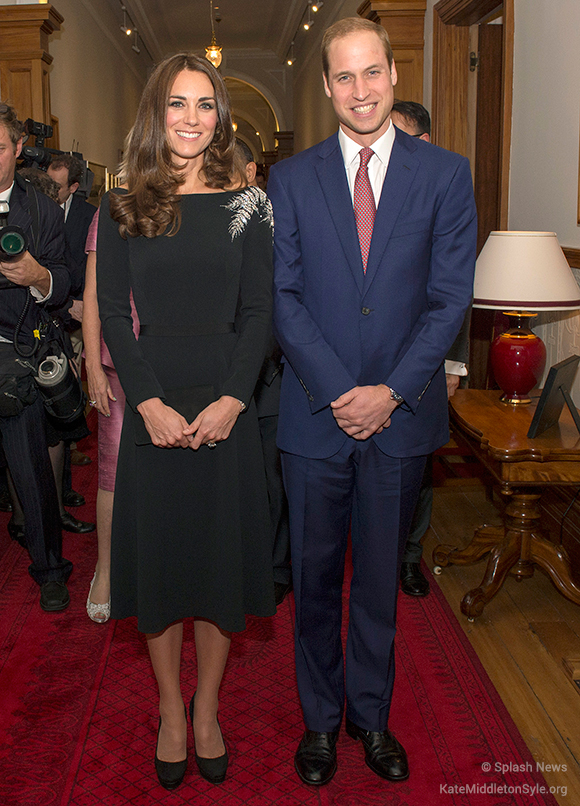 The dress had been customised with hand-stitched beading in the shape of silver ferns, the national emblem of New Zealand. Susan from What Kate Wore refers to the dress as having a 'modified bateau neckline'.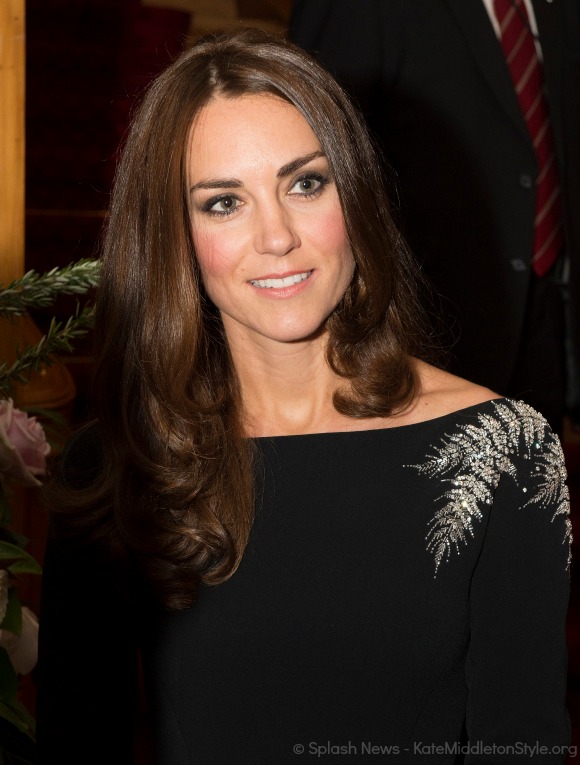 The Duchess opted for her black Jimmy Choo Cosmic pumps for the evening's events and carried a matching black suede envelope clutch bag.  Specifically, the Bayswater clutch by Mulberry.