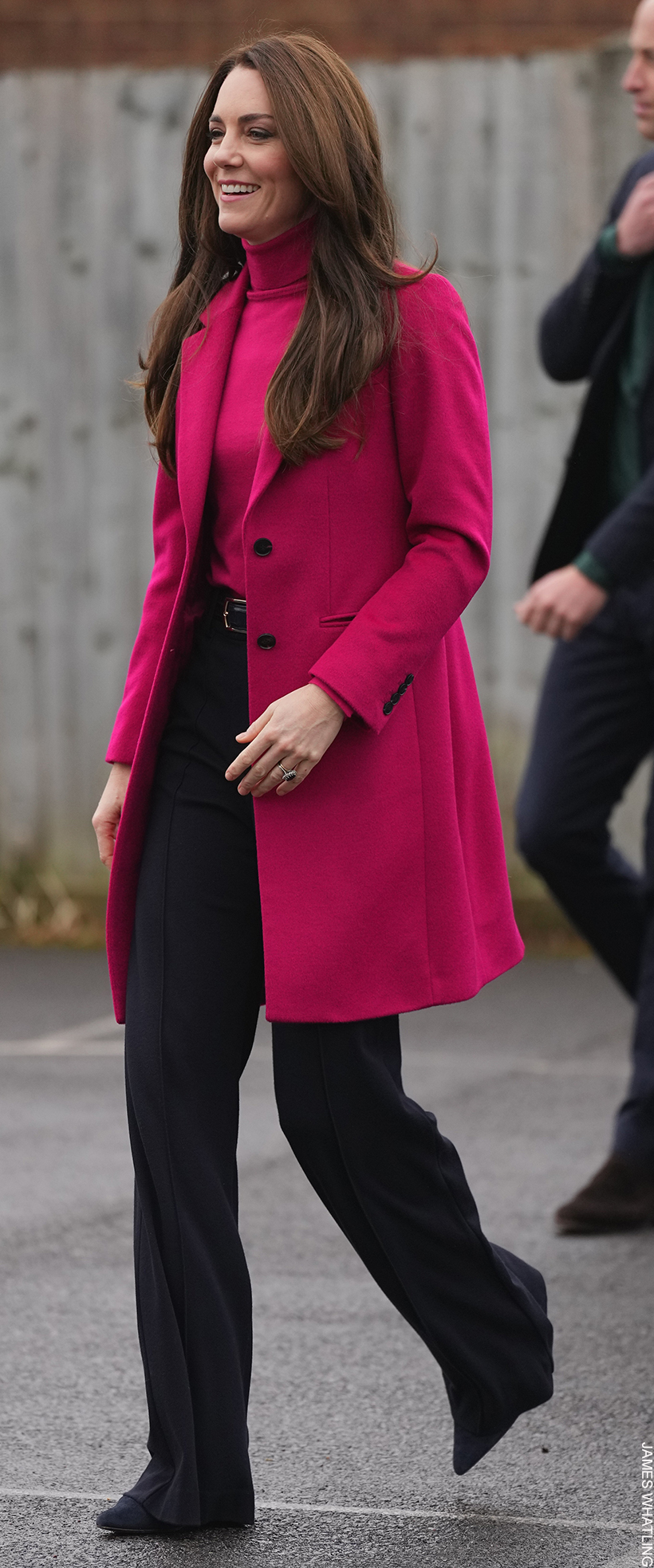 On Thursday morning, Kate Middleton stepped out in a bold and bright fuchsia coat and matching roll neck sweater from Hobbs London during a visit to Foodshare, a foodbank in Windsor, Berkshire. The cheery colors were a welcome sight on a dreary January morning as the Princess arrived at the charity to learn more about the organisation and how it supports individuals and families living in the local area.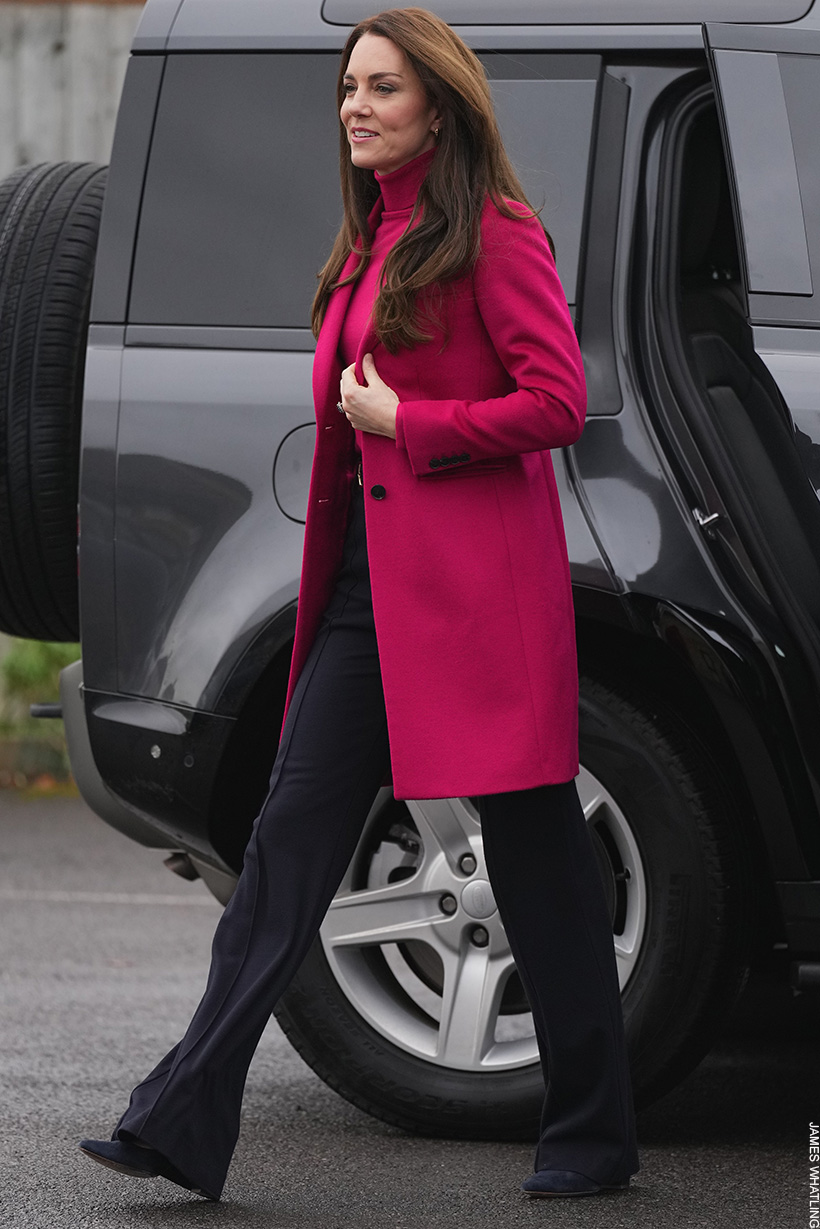 The Prince and Princess met volunteers, toured the premises, learned more about the charity's work and packed food parcels during their visit.
At one point, William jokingly chastised Kate for "too much nattering". You can watch the funny moment at about 40 seconds into the video below:
Let's look at Kate's outfit in detail now.
Kate Middleton's Outfit at Foodshare Windsor:
The Princess remixed garments from her wardrobe—as opposed to wearing something new–for the food bank visit. A wise idea to avoid criticism and negative headlines, especially amidst the cost of living crisis. Let's start by looking at the coat. It's by Hobbs London. The Tilda Coat in fuchsia pink.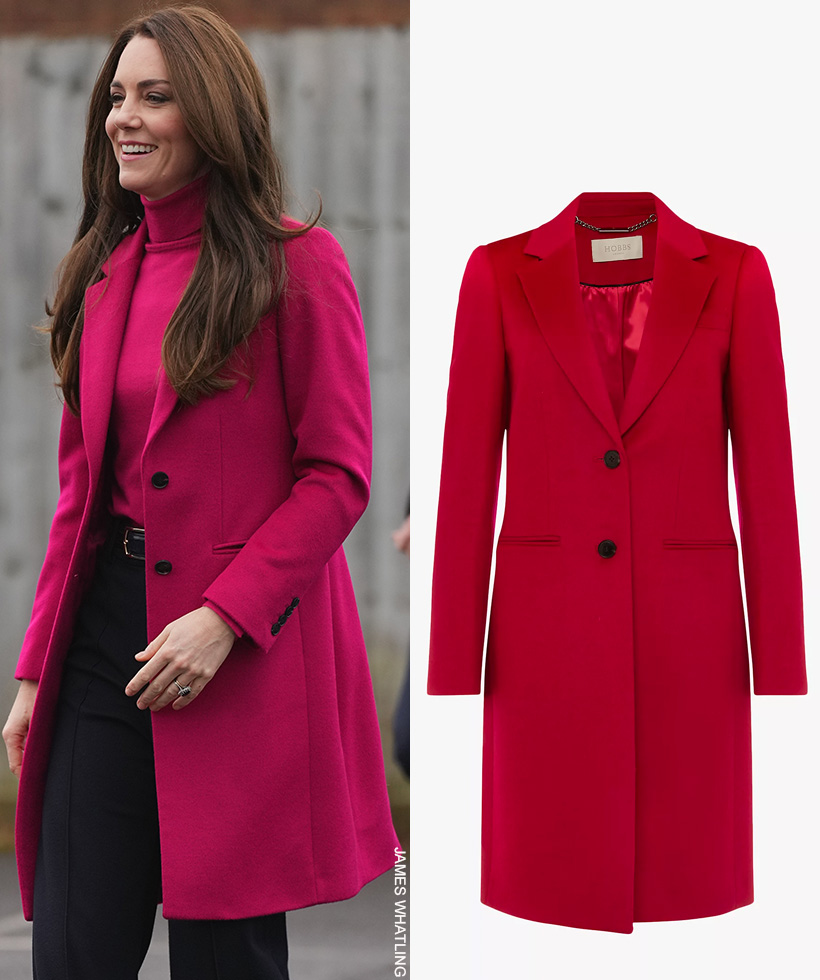 The 100% brushed wool coat features a single breast closure with two Hobbs London branded buttons, slit pockets, a back vent, notch lapel, seam detailing and collar. It's lined and is finished with a melton felt undercollar. Inside, there's a handy ticket pocket, so you can keep your phone and wallet accessible. The brand call it "immaculately cut".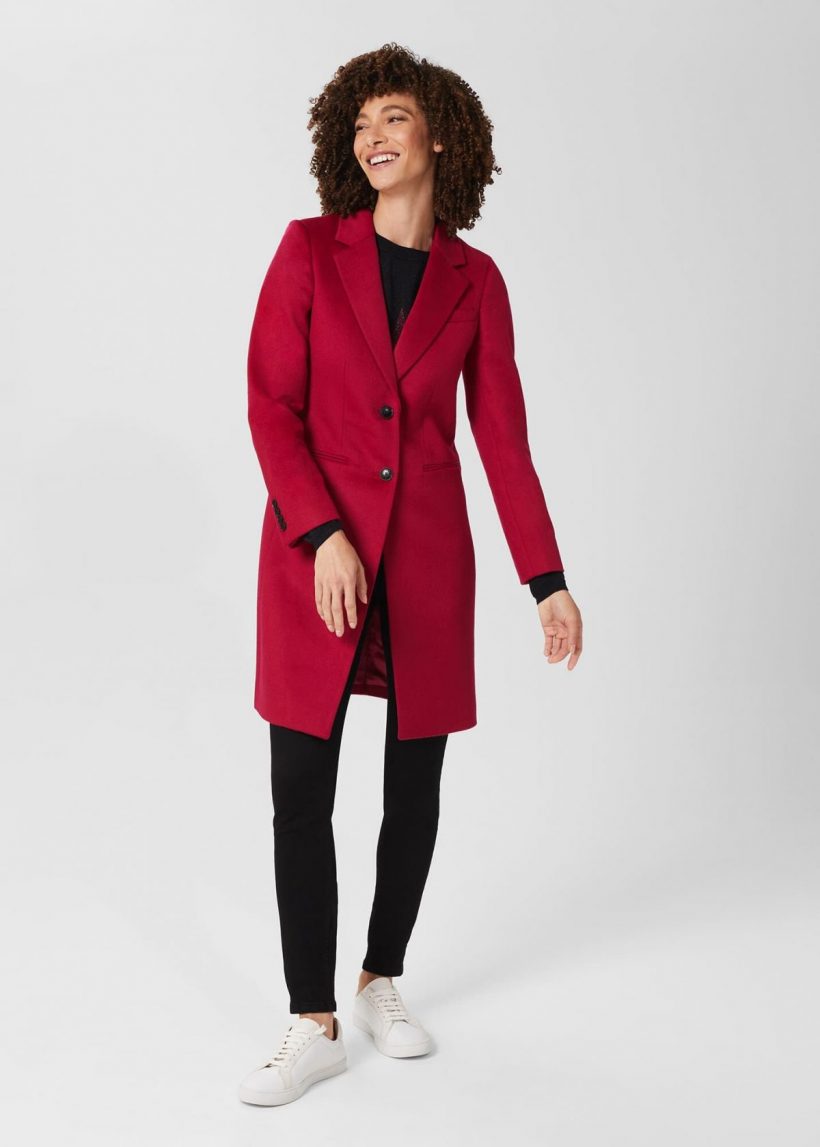 Hobbs London say they used wool in their designs because the material is naturally warm and biodegradable. The lining is made from recycled polyester, which helps to reduce landfill.
I expect Kate is consciously selecting garments that are kinder on the planet—most of her wardrobe is made from eco-friendly and recycled materials, or from slow fashion companies these days. I think her commitment follows William's work with The Earthshot Prize.
The Tilda is a staple piece for Hobbs London, the company re-release the feminine coat in new colours each season.
The fuchsia colour worn by Kate is still available at John Lewis in size 8.
Otherwise, you can copy the Princess's look by purchasing it in a variety of other colours including Rhubarb Red, Camel, Black, Navy, Dark Green, Cobalt Blue, Deep Ochre, Grey Multi, Clay and Warm Plum. Click here to browse.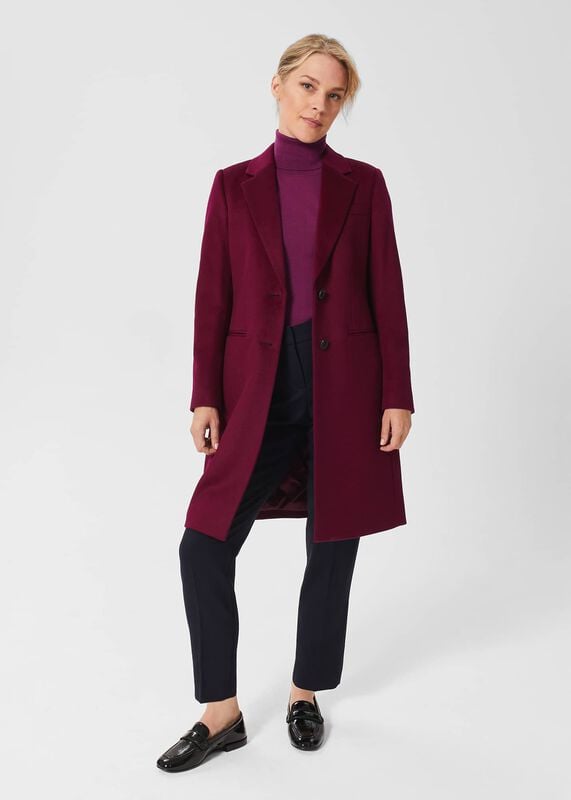 GET THE LOOK
Hobbs London Tilda Coat, Various Colours
Recreate Kate's polished look with the elegant Tilda coat by Hobbs London. The timeless silhouette and beautiful tailoring ensure it'll be your go-to coat for years to come. It comes in a variety of colours—sadly, they no longer stock it in the pink shade worn by Kate.
If the coat looks familiar, that's because the Princess has worn it once before, in 2021, to take part in a science lesson at a school in Harrow, London (pictured below).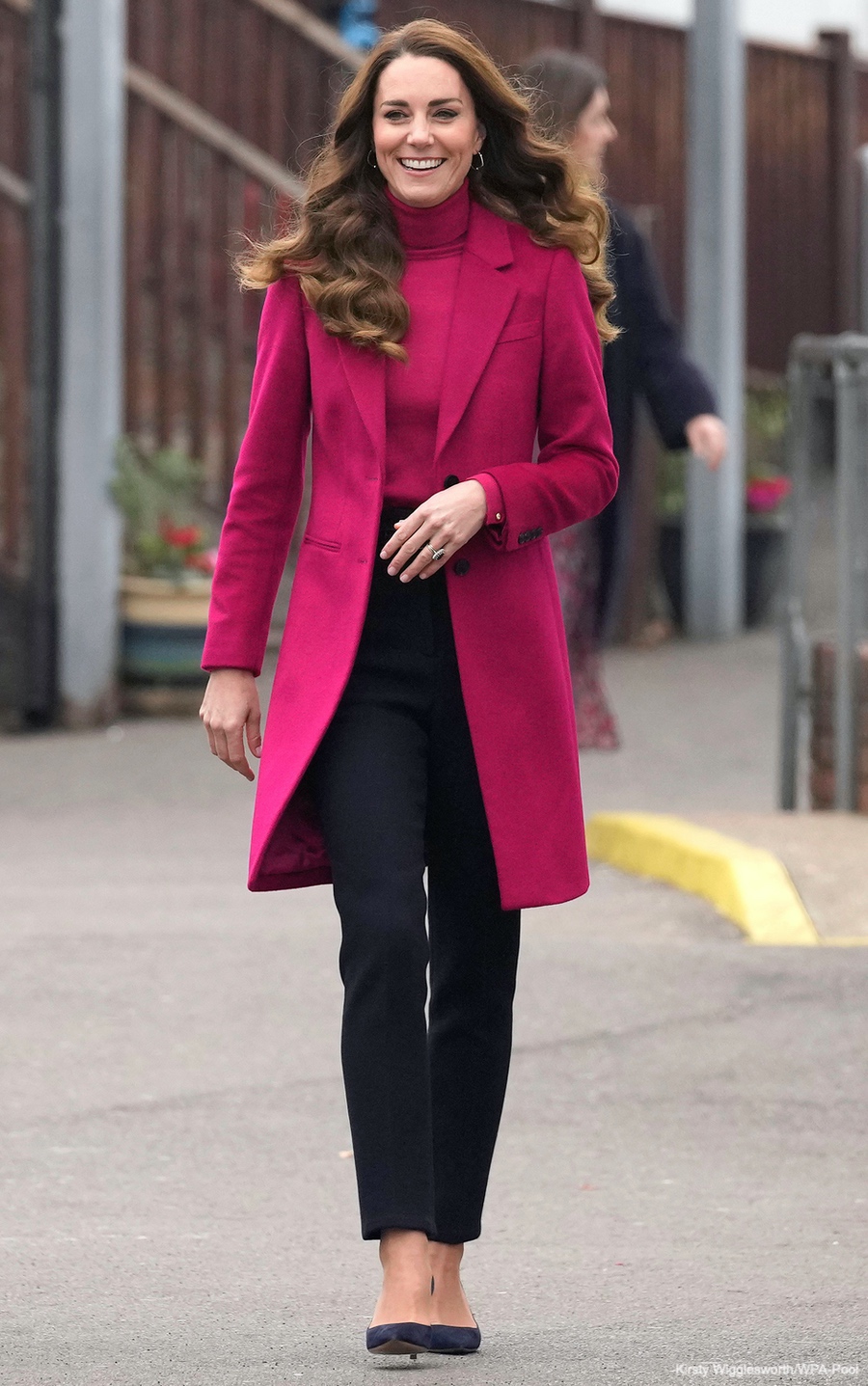 On both occasions, Kate wore a roll-neck knit in the same hue underneath the coat It is also from Hobbs London. The company call it the Lara sweater in granita pink.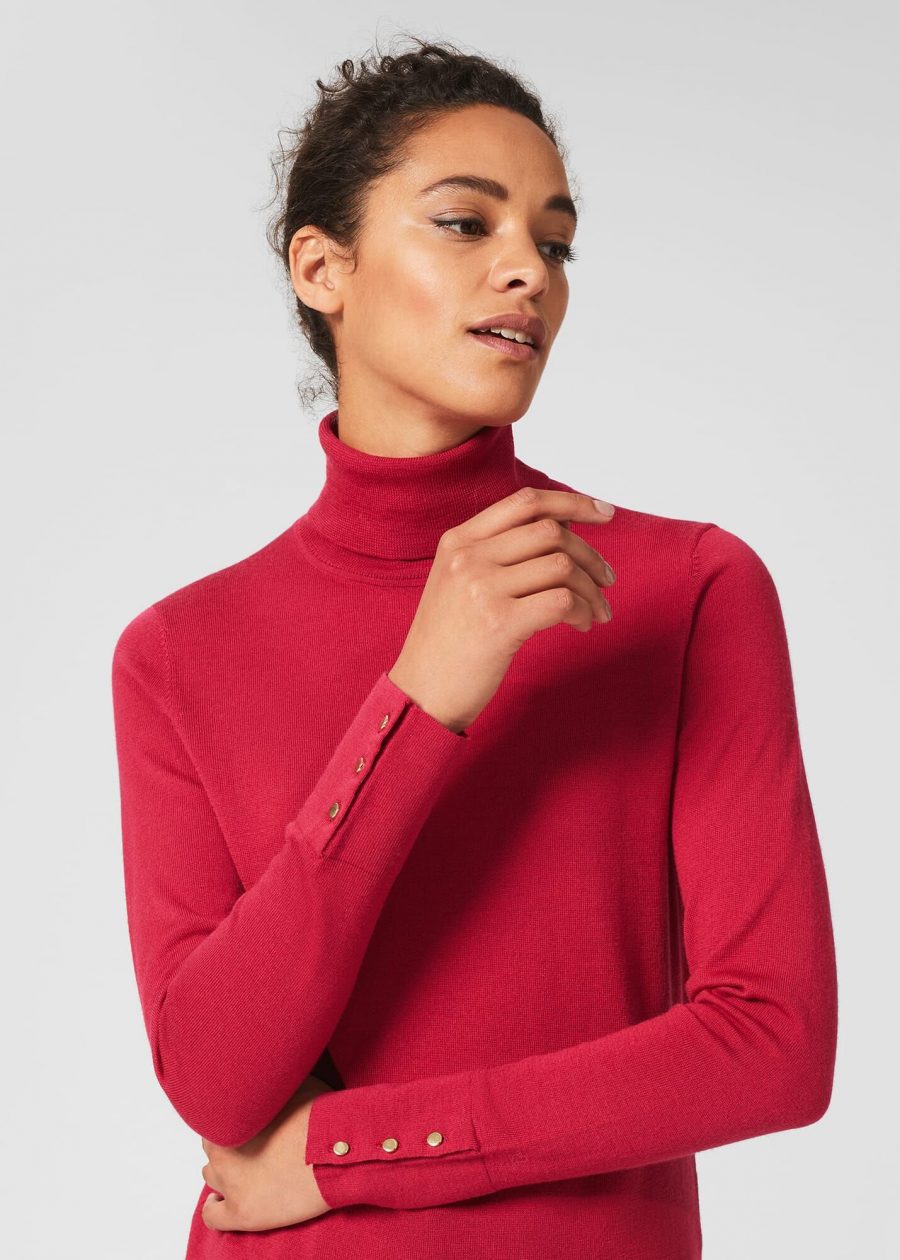 (We know she's definitely wearing this piece because saw the buttons on her sleeve cuff during the school visit in 2021.)
The garment is made from soft merino wool certified with the Responsible Wool Standard. It features a rib design throughout and gold-tone buttons on the sleeve cuff.
At the time of writing, Hobbs London still stock the Lara sweater in extra small size only (plus it's on sale). There are more sizes available in charcoal grey and black.
Hobbs London is a womenswear retailer founded in the 1980s. They're synonymous with timeless British style and known for feminine tailoring. Kate's worn quite a few pieces from the company over the last 11-12 years—including shoes, tops, dresses and bags. But it's their coats she favours most, we've spotted her in 7 different designs since 2011.
Kate paired the pink knit and coat with navy items on her lower half—a pair of wide-leg trousers and navy block heel pumps.
The trousers—described by puddle pants by some fashionistas—are from Jigsaw. They feature a wide waistband, belt loops and welt pockets.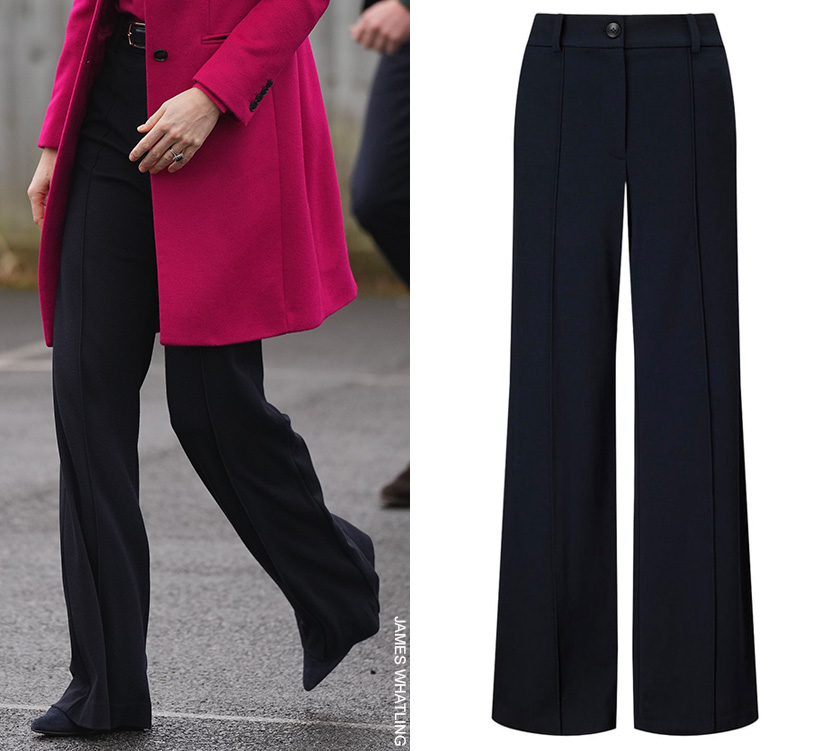 The fabric is woven from a soft, breathable viscose mix that contains a hint of stretch.
The Princess debuted the long blue trousers in 2018. She's worn them on a handful occasions since. Sadly, they're no longer available to buy.
Jigsaw is another British brand. The upmarket fashion retailer sells womenswear and accessories with a sophisticated and elegant aesthetic. The company position themselves between high street and high end.
Kate doesn't wear the brand too regularly, but has been spotted in a couple of their pieces over the years. Fun fact, she worked part time as an accessories buyer for the chain in 2006.
The Princess wore her long trousers over a pair of navy block heel pumps. They look like the Emmy London Josie shoes in midnight navy suede. She's owned the blue shoes since 2019 and has worn them to more than ten public engagements to date.

The elegant pumps feature a pointed toe and an 85mm stylish block heel. The shoes are crafted from midnight blue suede and feature a padded insole for maximum comfort.
The shoes are handmade from 100% suede and leather by skilled Portuguese artisans.
Emmy London is based in London with a workshop in Portugal, where the shoes are artfully and impeccably crafted by hand using only the finest materials.
The shoes can be purchased from Emmy's website for £425. Expect a four week turnaround.
Emmy is obsessed with attention to detail. Her creations balance beauty and comfort. The slow fashion brand work with small runs and offer made-to-order styles, plus they pay attention to sustainability, both in their production and sourcing of materials.
Kate's clearly a fan of Emmy's designs. We've spotted the Princess wearing thirteen pairs of the designer's shoes and carrying eleven of her clutch bags over the last decade plus.
Let's look at Kate's jewellery now. She finished her look with a pair of small hoops by Orelia London. The Chain Huggie Hoop Earrings in gold.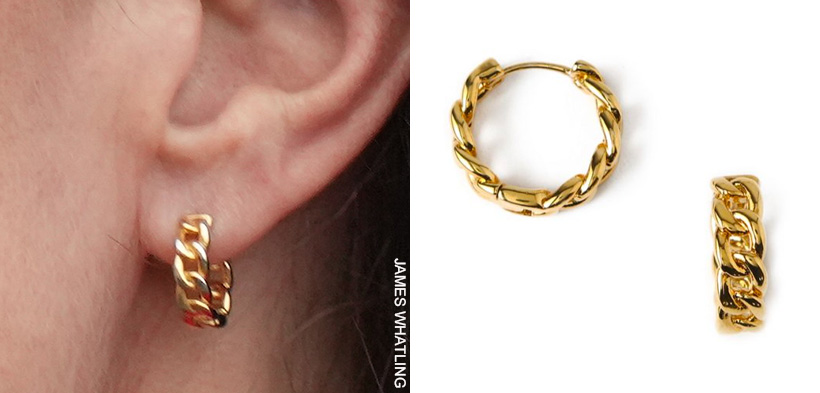 The brass and gold-plated earrings are finished with an anti-tarnish coating.
The affordable earrings are still available to buy and cost just £15.
Orelia say the Huggie Hoops will add a little "street style bling" to your wardrobe. They recommend stacking them with other hoops or studs from the collection.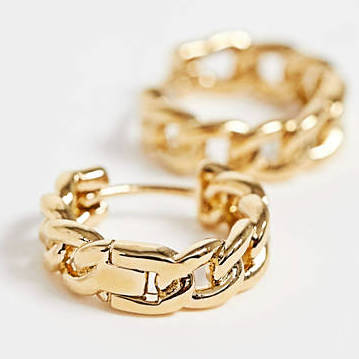 Exact match! Finally, a pair of affordable earrings in Kate's jewellery box! Thankfully, these gold-plated chain huggie hoops by Orelia London are accessible to us mere mortals! Most of us can only dream of the baubles Kate usually wears (think royal heirlooms and glittering diamonds) but these are definitely doable. A just £18 / $24, it's a no-brainer.
Kate's worn the hoops fairly regularly since 2021.
Orelia London is based in Brighton, England. The company prides itself on creating beautiful, fashionable, and good quality yet affordable jewellery. We're yet to see the Princess wear anything else from the brand—we've only spotted her in these earrings to date.