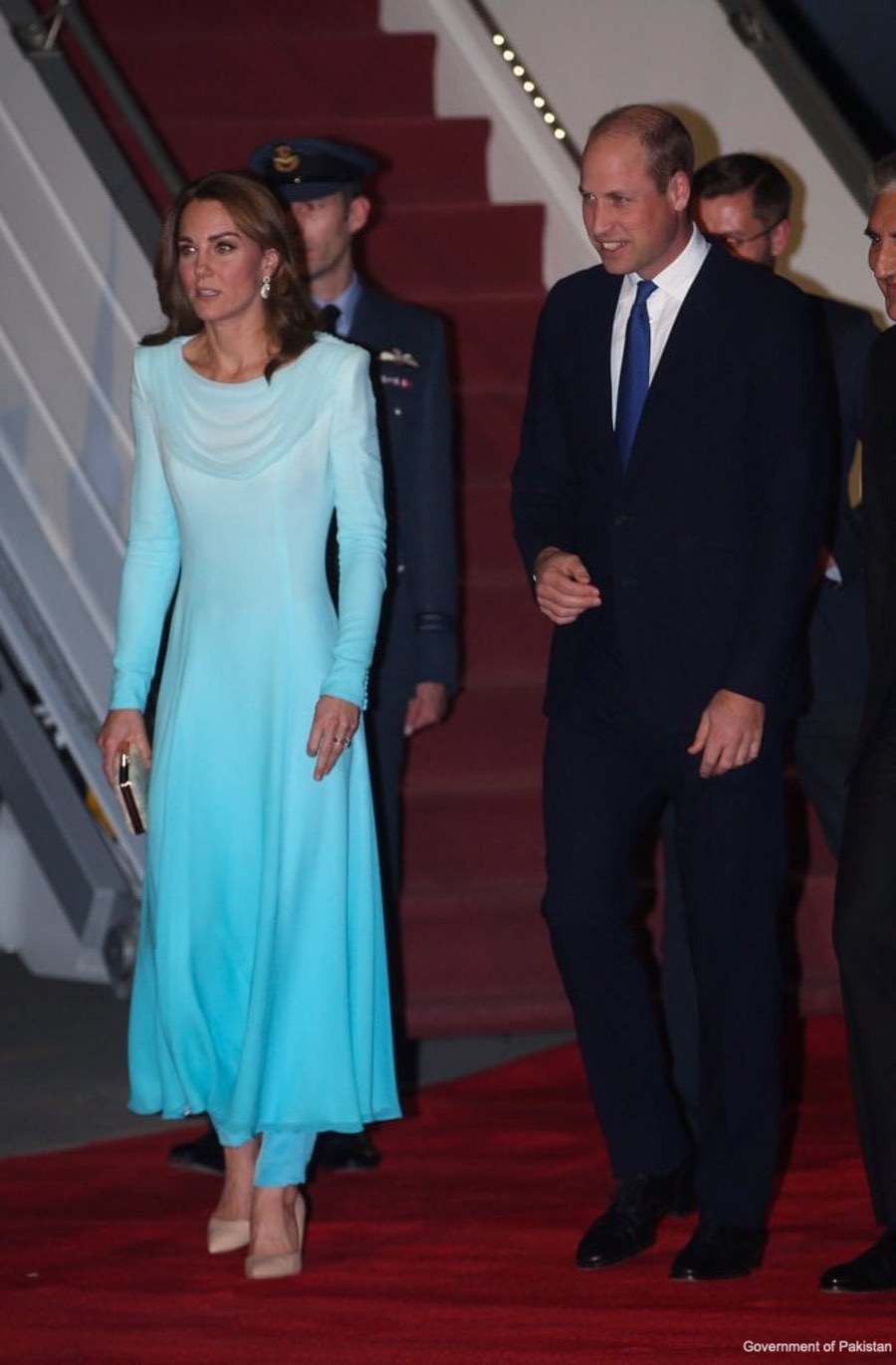 Late evening on the 14th of October 2019, the Duke and Duchess of Cambridge (Prince William and Kate Middleton) landed at the Nur Khan airbase near Islamabad, Pakistan's capital city.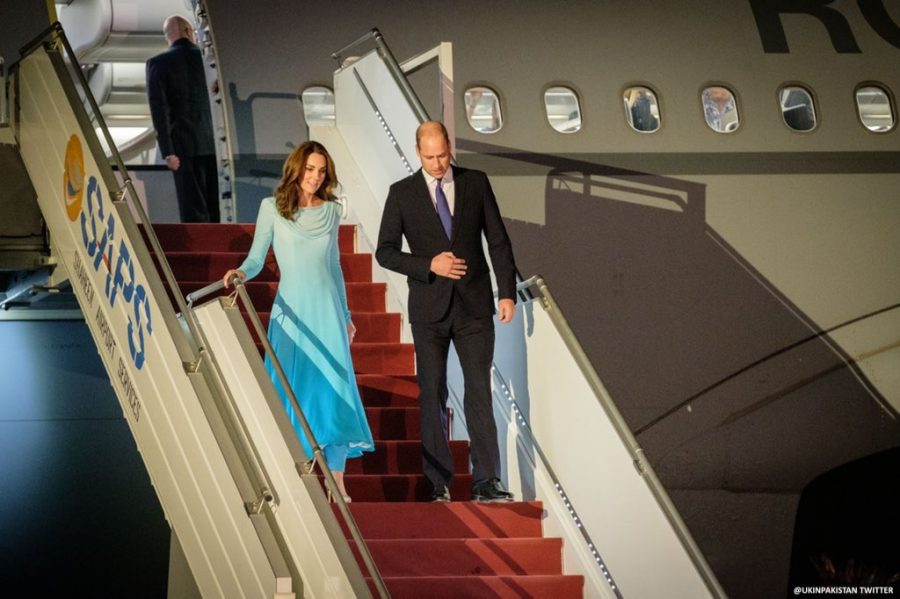 The couple will be in the country until the 18th of October, touring Pakistan at the request of The Foreign and Commonwealth Office.
A little preview of the tour itinerary from the Palace's official press release:
Whilst The Duke and Duchess's programme will pay respect to the historical relationship between Britain and Pakistan, it will largely focus on showcasing Pakistan as it is today – a dynamic, aspirational and forward-looking nation. From the modern leafy capital Islamabad, to the vibrant city of Lahore, the mountainous countryside in the North, and the rugged border regions to the West, the visit will span over 1000km, and will take in Pakistan's rich culture, its diverse communities, and its beautiful landscapes.

Royal.UK
Upon their arrival, dignitaries including Pakistan's foreign minister Shah Mahmoud Qureshi met William and Kate from the plane.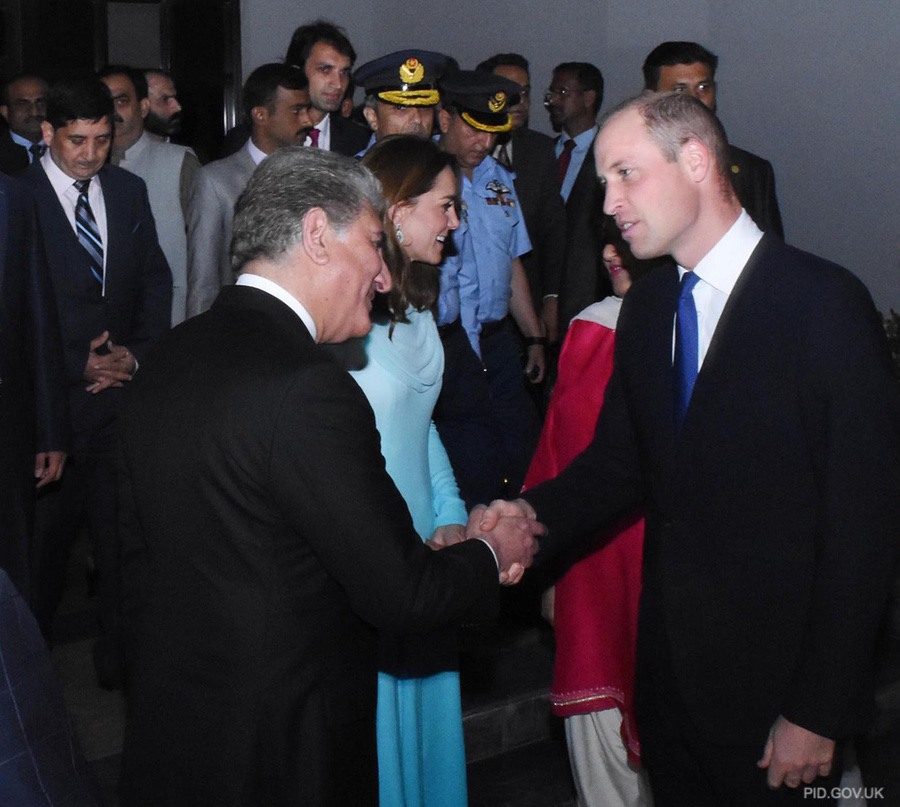 Two young children in traditional Pakistani outfits greeted the royal couple and presented Kate with a bunch of flowers.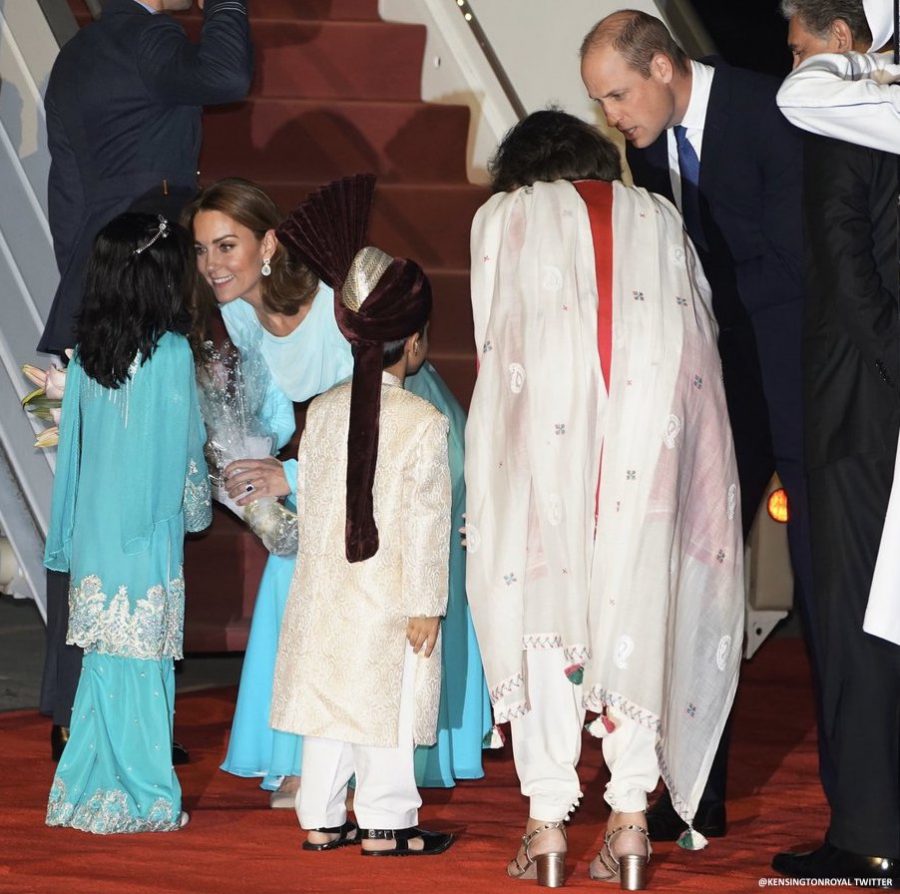 Kate's outfit:
The Duchess wore a custom made outfit by Catherine Walker & Co., a design atelier based in Chelsea, London. If you look closely, you'll spot that she's wearing a pair of trousers under the long dress/tunic.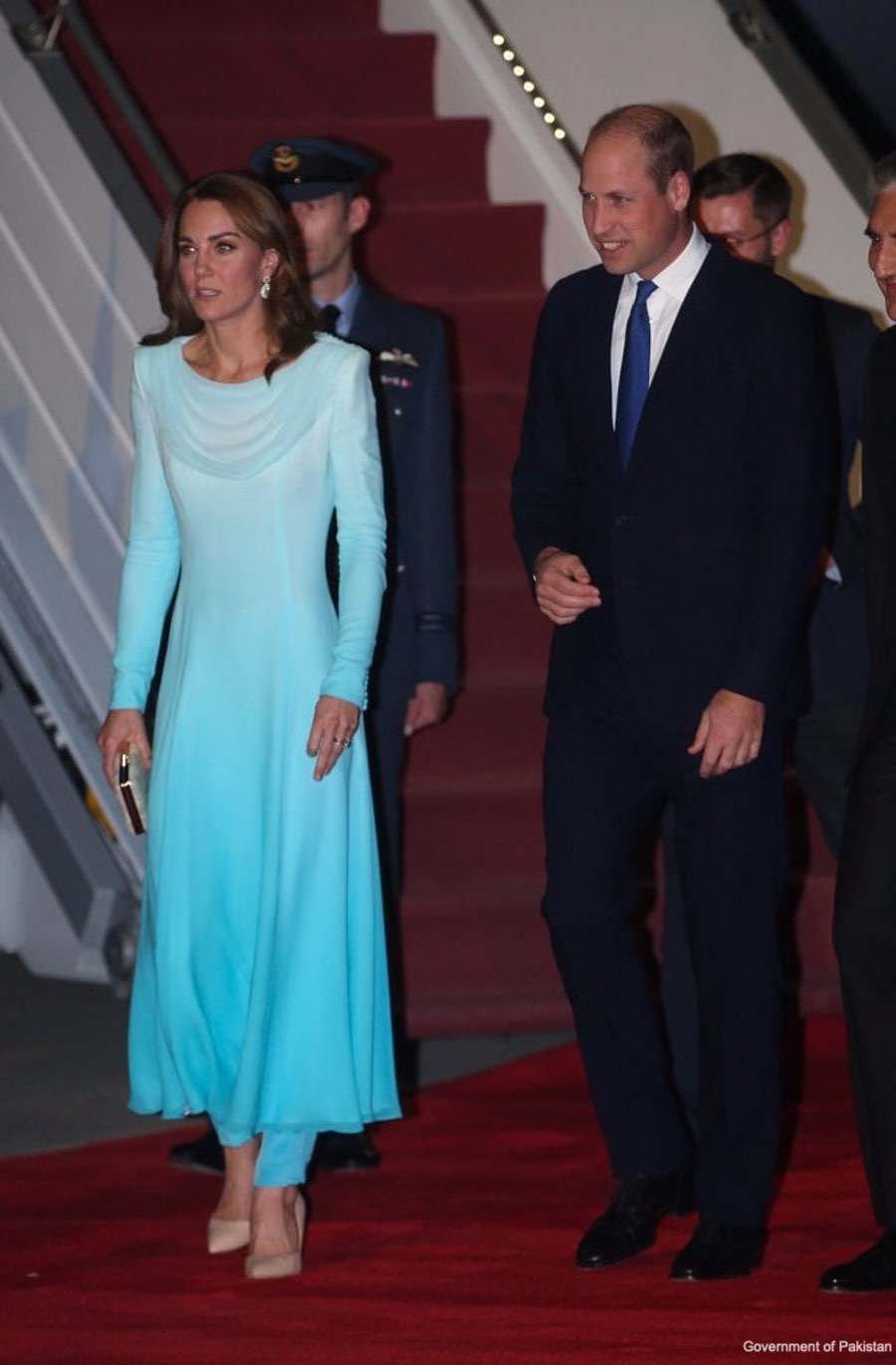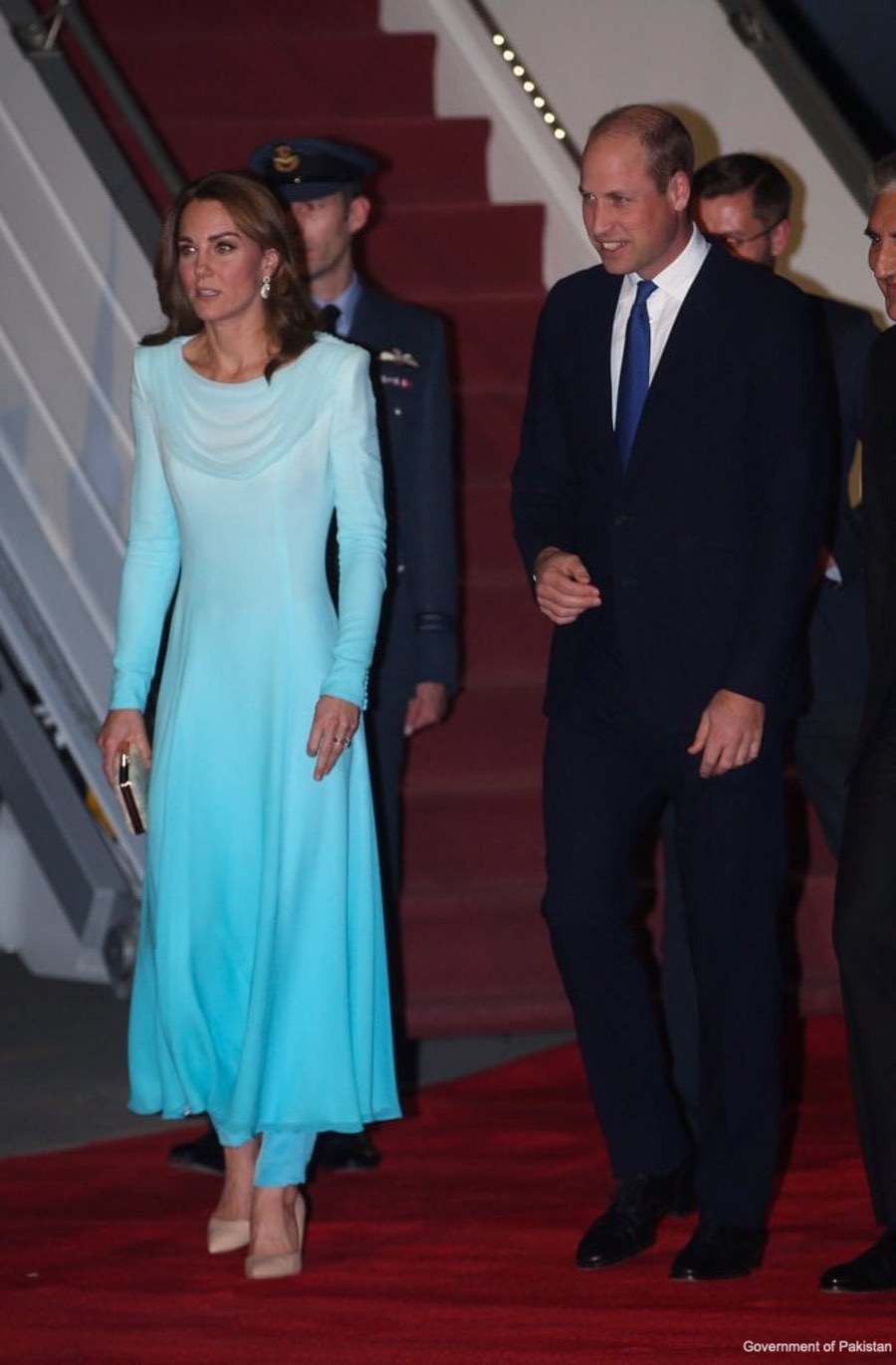 This is a traditional outfit known as a 'shalwar kameez'. It's worn across some regions in South and Central Asia, including Pakistan. This lovely lady on Twitter describes Kate's ensemble as having a "western twist". I thought that was an apt way to describe the look!
Kate's shalwar kameez features a long tunic-dress in a blue ombre fabric. It has draping detail across the front and back and covered buttons along the sleeves. Kate's wearing tailored trousers underneath.
Prince Diana wore a similar look (in a similar colour) when she visited Pakistan in 1996. That outfit was also by Catherine Walker.
A few people on Twitter asked why Kate chose the aqua/blue colour for her arrival outfit. (Often, she'll wear a colour that has significance, for example, a national colour.) Of course, it might be a reference to the outfit worn by Princess Diana during her visit to the country, pictured above.
It could be a nod to the Pakistan Air Force who operates the airbase where William and Kate's plane landed. The organisation's emblem, flag and official colours include a similar sky blue colour.
Or…. maybe, Catherine Walker & Co. took delivery of this nice blue fabric on the day Kate visited, and she liked it? Haha!
Kate wore/carried two accessories from Pakistani brand Zeen. She wore a pair of Beaded Chandelier earrings that cost only $10 USD (around £8 GBP).
And the brand's Cream Gleam clutch, which retails for around $29 (£23).
Zeen is a womenswear line from Cambridge, a Pakistani company with a 40+ year history. You might remember that she wore this pair of earrings by Zeen a few weeks ago during a visit to the Aga Khan Centre in London?
Finally, Kate finished the look with her Rupert Sanderson Malory pumps in nude leather. Rupert Sanderson is a British luxury shoe designer.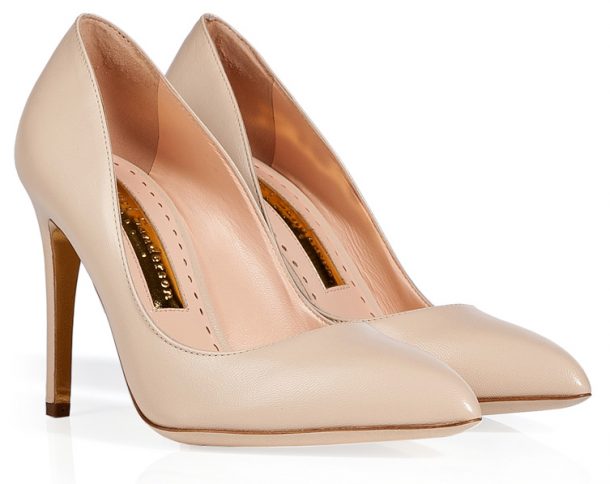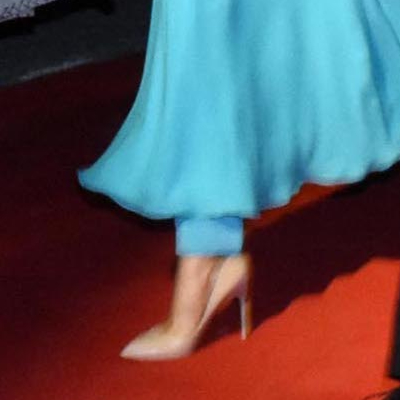 The Duchess owns the Malory style in blue suede too.
Your verdict:
As always, I love to hear from you guys. Do you like the colour and the ombre print? What about the Diana link? Are you pleased she wore a British designer or were you hoping for a piece from a Pakistani designer? Let me know in the comments below.
Come and join us on Facebook. There's nearly 100,000 of us ready to chat about Kate! Pssst.. we're on Twitter too!