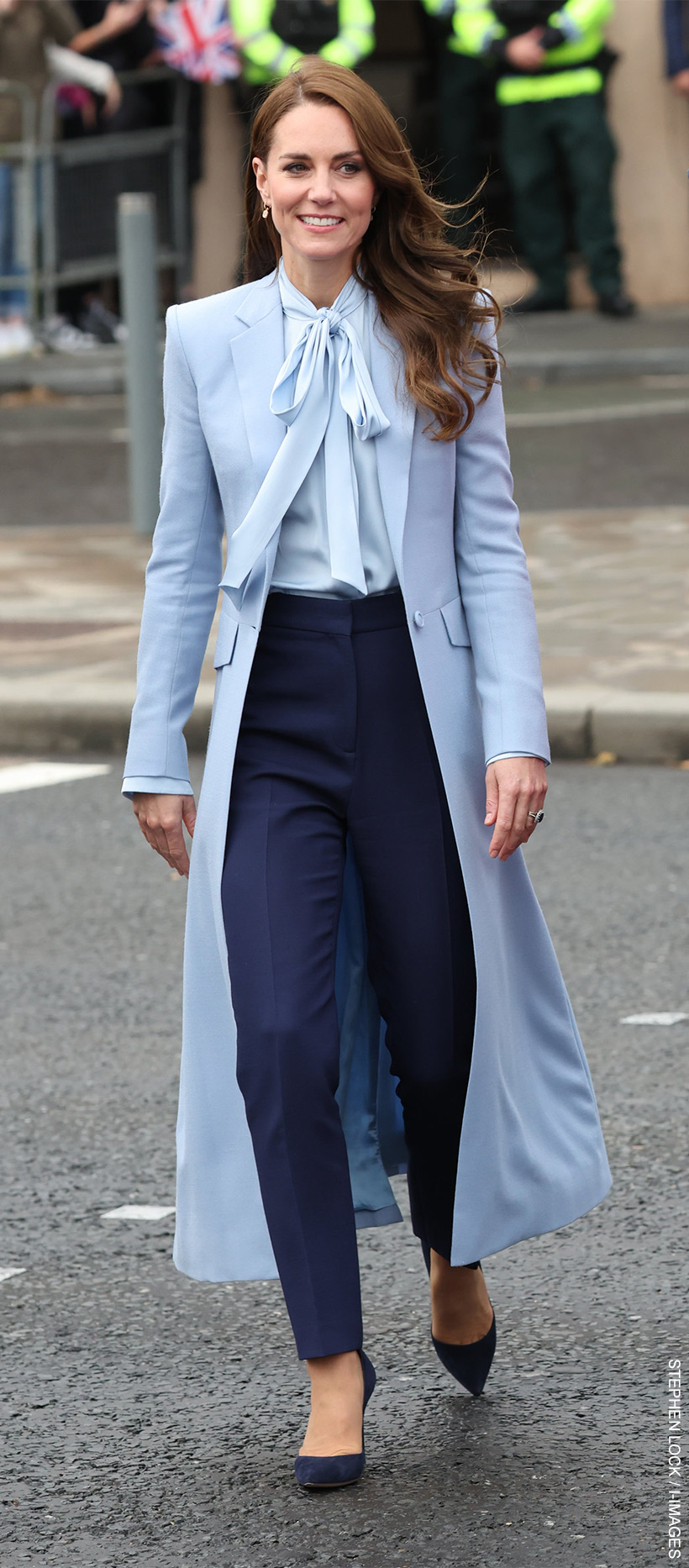 Kate Middleton chose a tonal blue outfit for a visit to Belfast on Thursday, 6th October 2022. She wore a powder blue full-length coat over a matching blouse with navy trousers and accessories.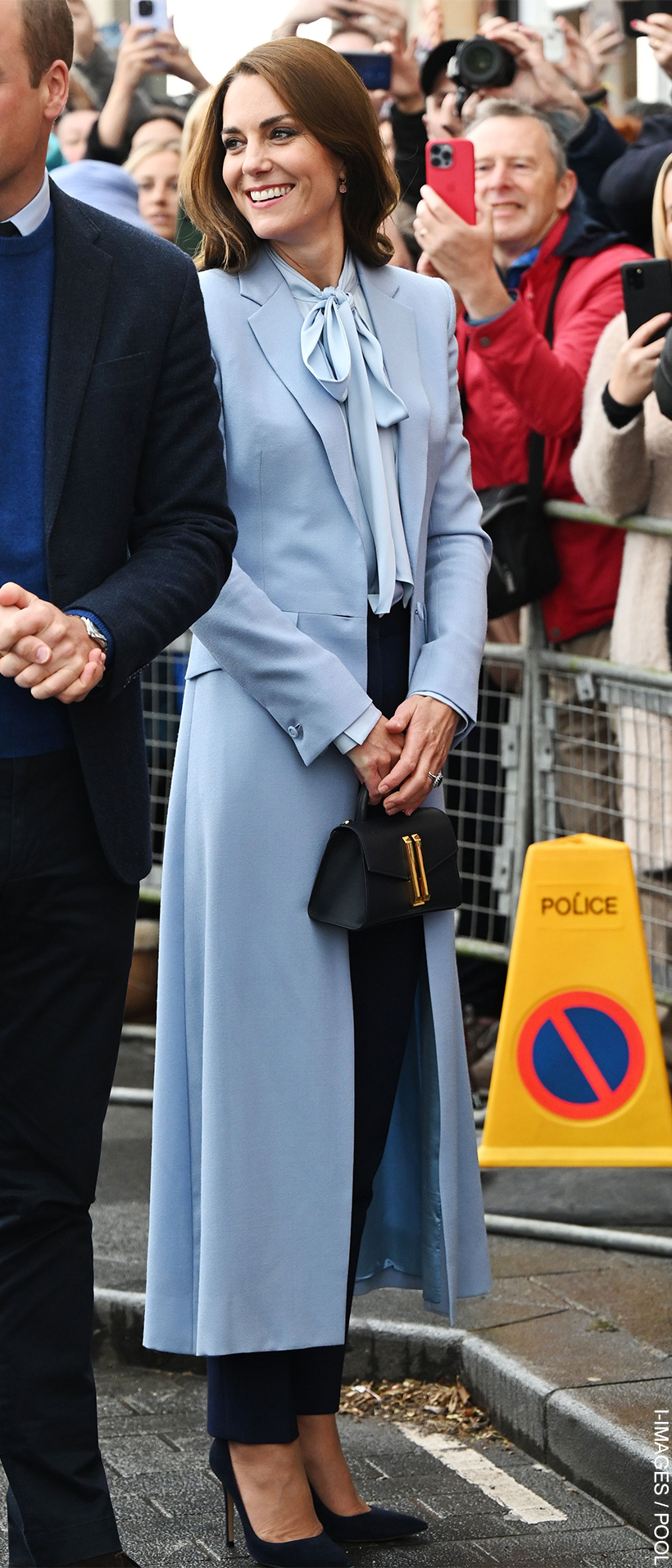 She visited Northern Ireland with her husband William—it was the couple's first visit to the region since receiving their Prince and Princess of Wales titles following the Queen's passing a month prior. The couple spent the day visiting cross-community organisations that provide services and support people from all backgrounds.
Their trip began with a visit to PIPS, a suicide prevention charity. The organisation provides crisis support for those who are considering, or who have at some point considered, ending their own lives.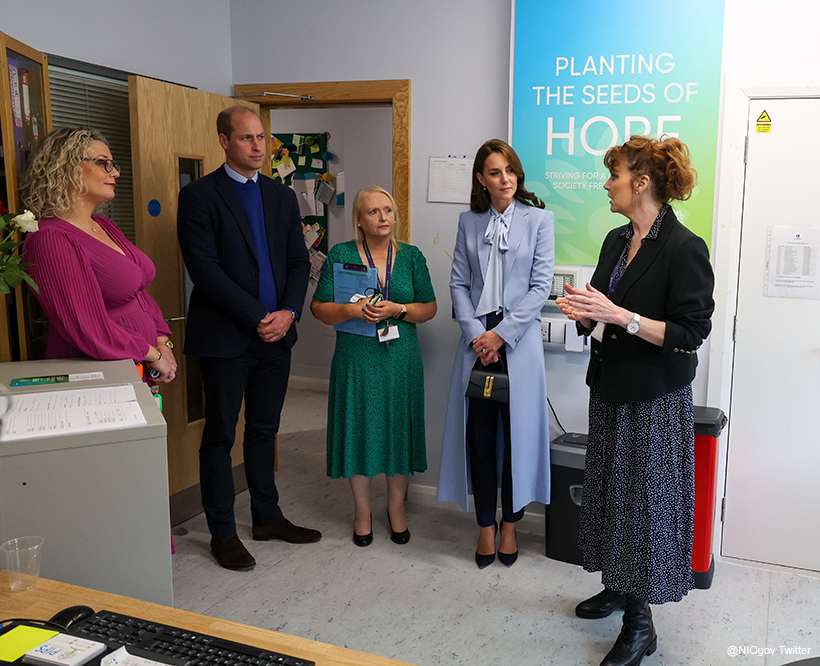 PIPS delivers suicide prevention and bereavement support services, counselling, and therapies across Belfast and throughout Northern Ireland.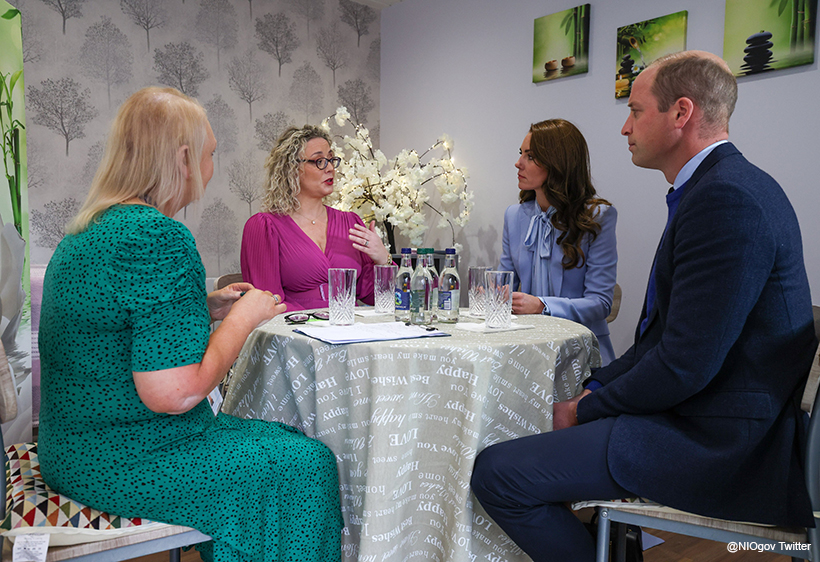 Their Royal Highnesses chatted with PIPS staff and counsellors and learnt more about the organisation's initiatives to remove barriers to support those with suicidal thoughts.
William and Kate heard first hand about techniques PIPs use to help children in need.
The royal couple also joined in with an art therapy session during their visit and helped to pack 'Little Boxes of Hope'—support packages given to children following their time with the charity to assist their ongoing recovery.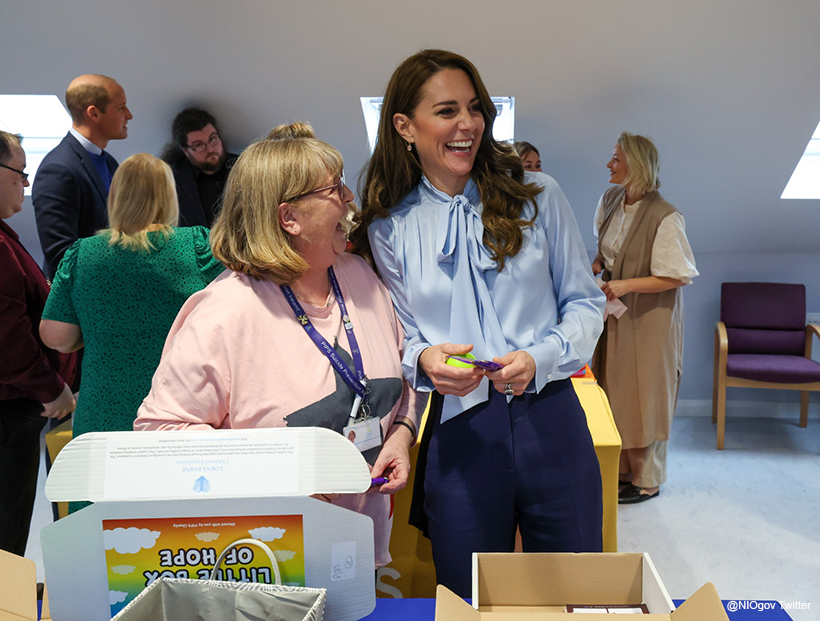 Before moving on to their second location, William and Kate conducted a brief walkabout to meet locals:
Next, a visit to the recently opened 'Trademarket'—an outdoor market selling a range of street food and drink, plus magazines, clothing records, gifts, art, etc.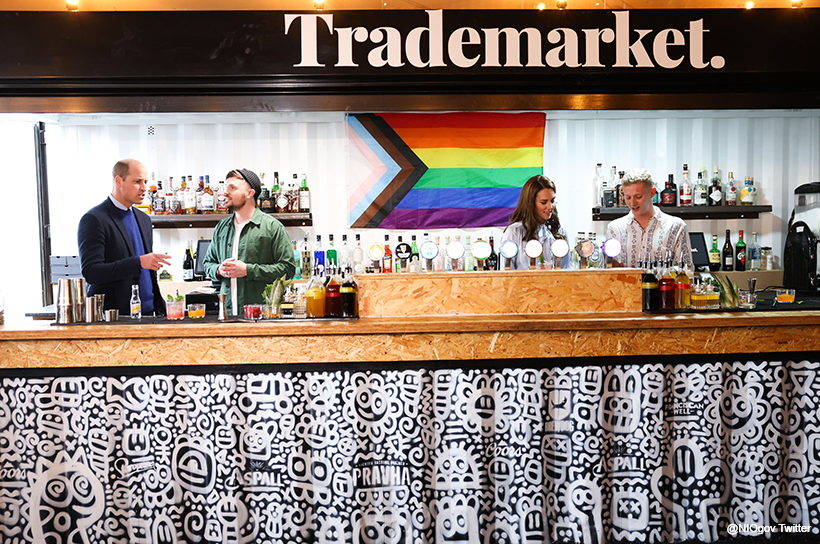 Here, the pair chatted with vendors and learned how Kainos, a Belfast-based software company, support the project and work with young people in the local community.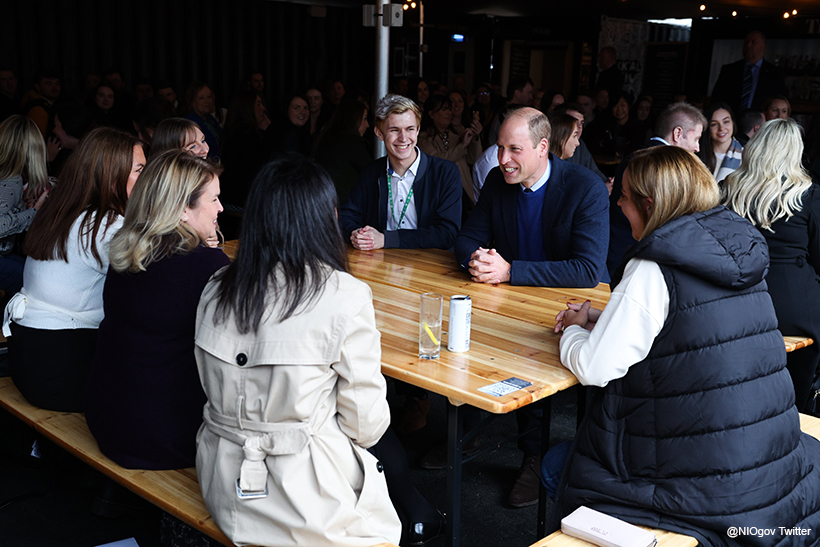 The pair received a lesson in cocktail making.
The competitive duo went head-to-head to see who could mix a drink the fastest.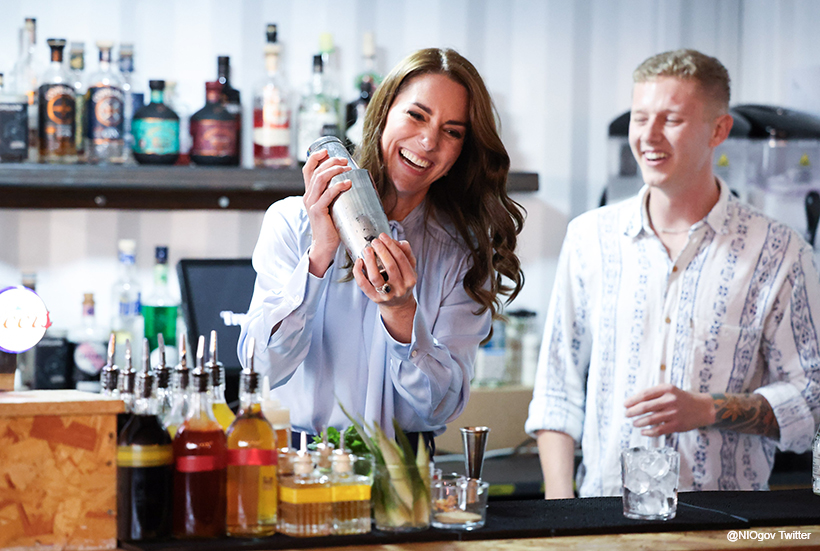 William won! You can watch below (from around the 1 minute mark!)
Then, the Prince and Princess visited Carrick Connect in east Antrim. The youth charity received The Queen's Award for Voluntary service earlier this year. The organisation provides support to young people experiencing social or emotional difficulties.
The royals heard about some of Carrick Connect's projects, including their mentor service created to help young people develop strategies for coping with life.
Kate donned a pair of blue gloves and had a go at making protein energy balls.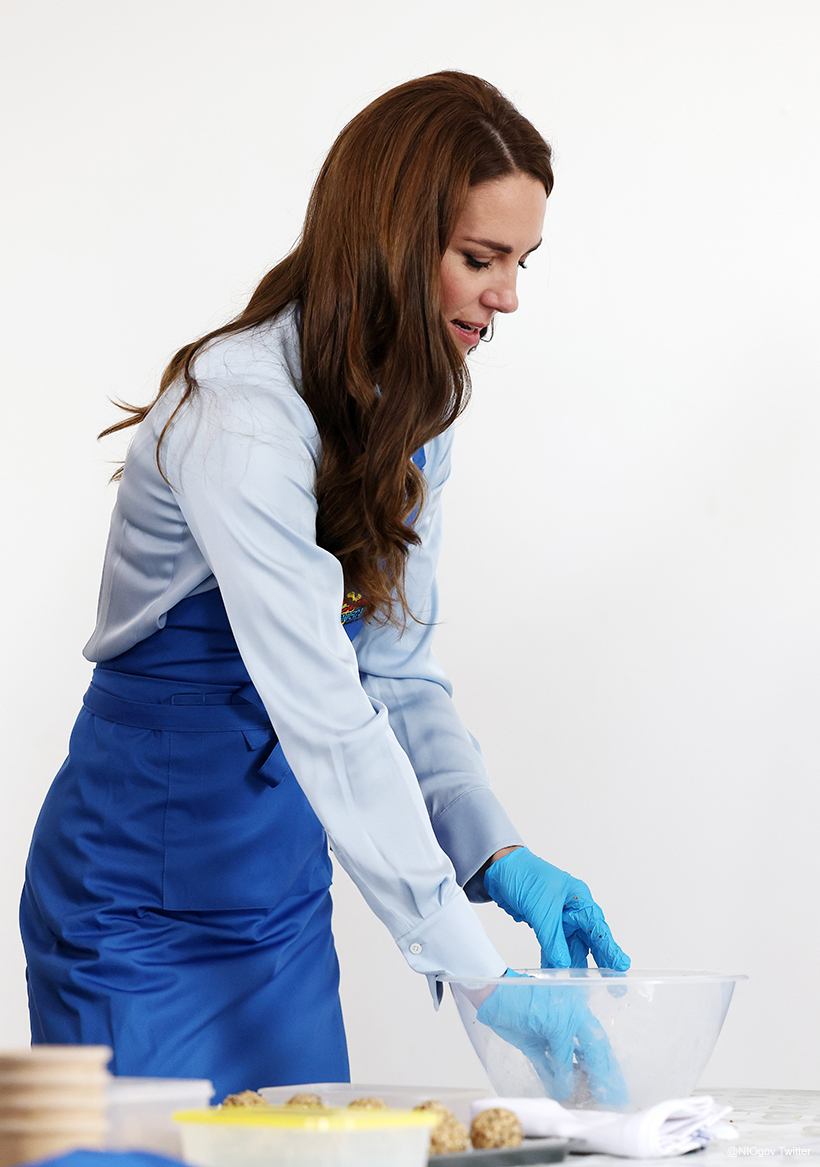 She also held a baby: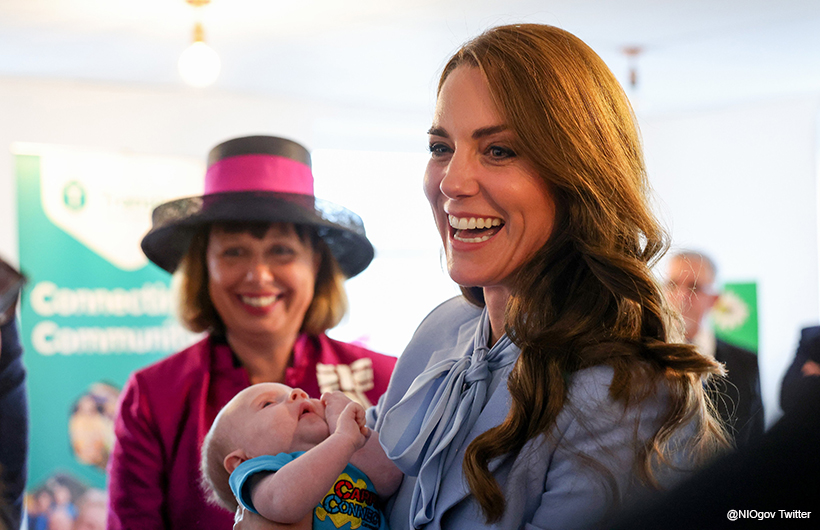 See the sweet moment on video:
Outside, the pair met with local people along the town's seafront, against the backdrop of Carrickfergus Castle.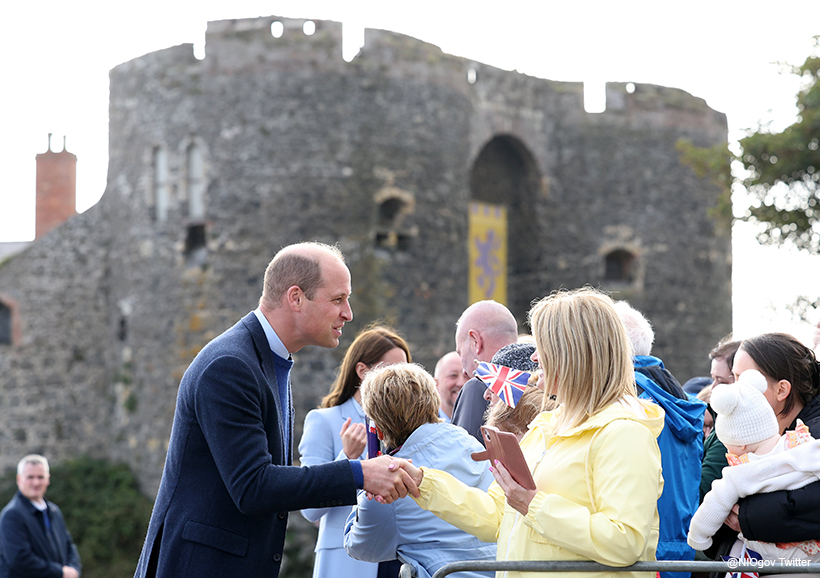 Some of you might recall Queen Elizabeth granted William and Kate the titles 'Baron and Baroness Carrickfergus' on their wedding day.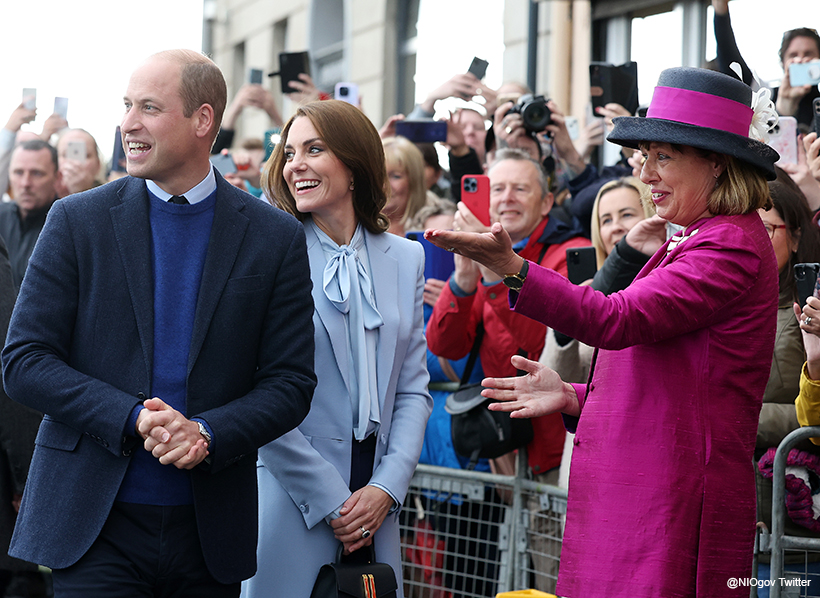 It was the pair's first official visit to the town.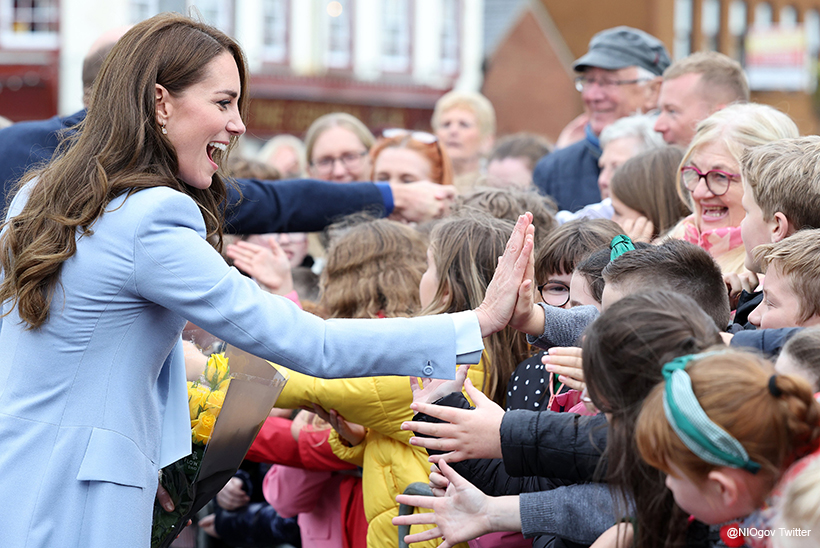 Kate's outfit:
As I wrote in the opening paragraph, Kate chose a blue-on-blue ensemble for her visit to Northern Ireland.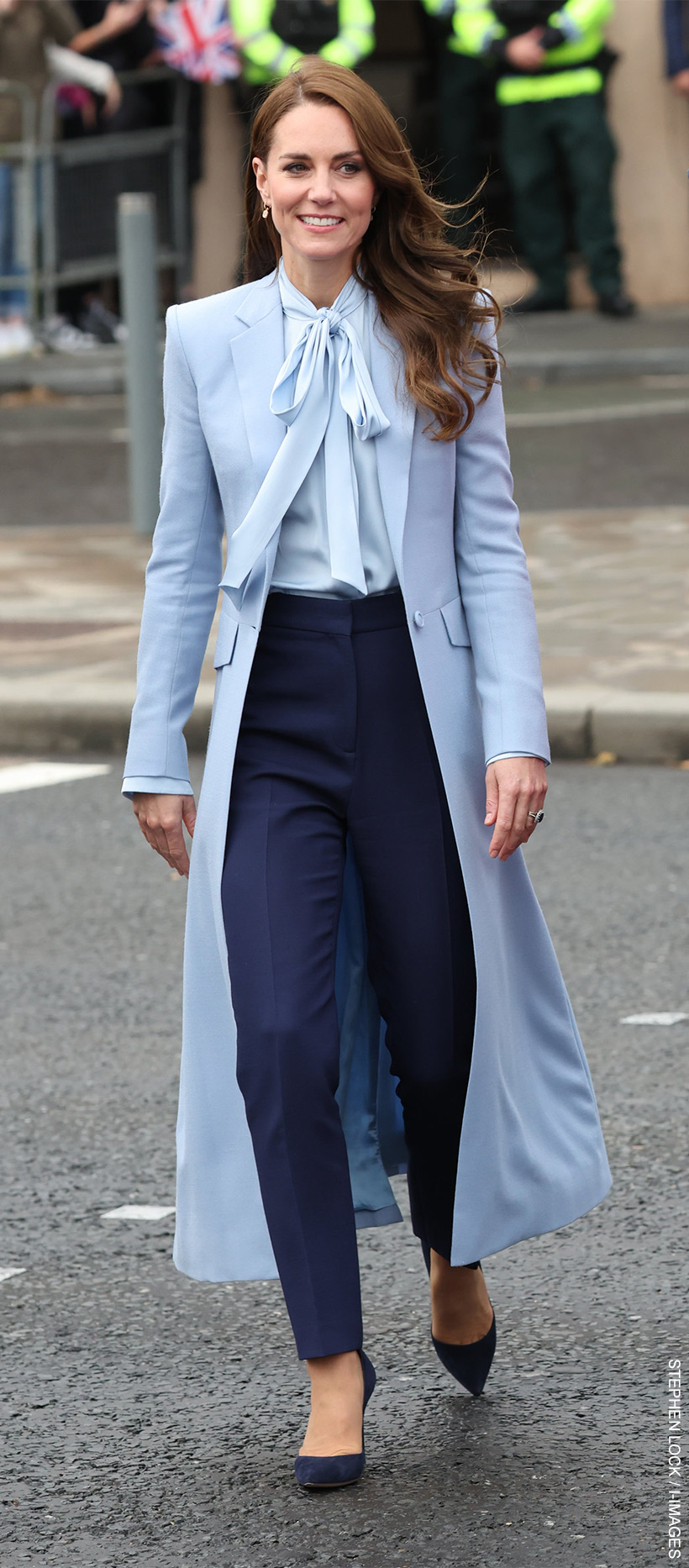 I'd guess Kate chose the sky and navy blue tones because they're significant to Belfast and Northern Ireland—both feature on the city of Belfast's flag. The Northern Irish Assembly uses a similar shade of blue in their emblem, too.

Interestingly, the colour blue represented Ireland and its patron saint, St. Patrick, for hundreds of years, though it's green that's most associated with the island today.
Let's look at each individual item now, starting with Kate's powder blue coat. Sadly, we don't know who designed the piece. Catherine Walker confirmed it's not one of their designs (Kate commissions lots of coats from this company). I suspect it'll be Sarah Burton for Alexander McQueen piece.
Kate's worn the garment once in public before, to visit Cambridge earlier this year.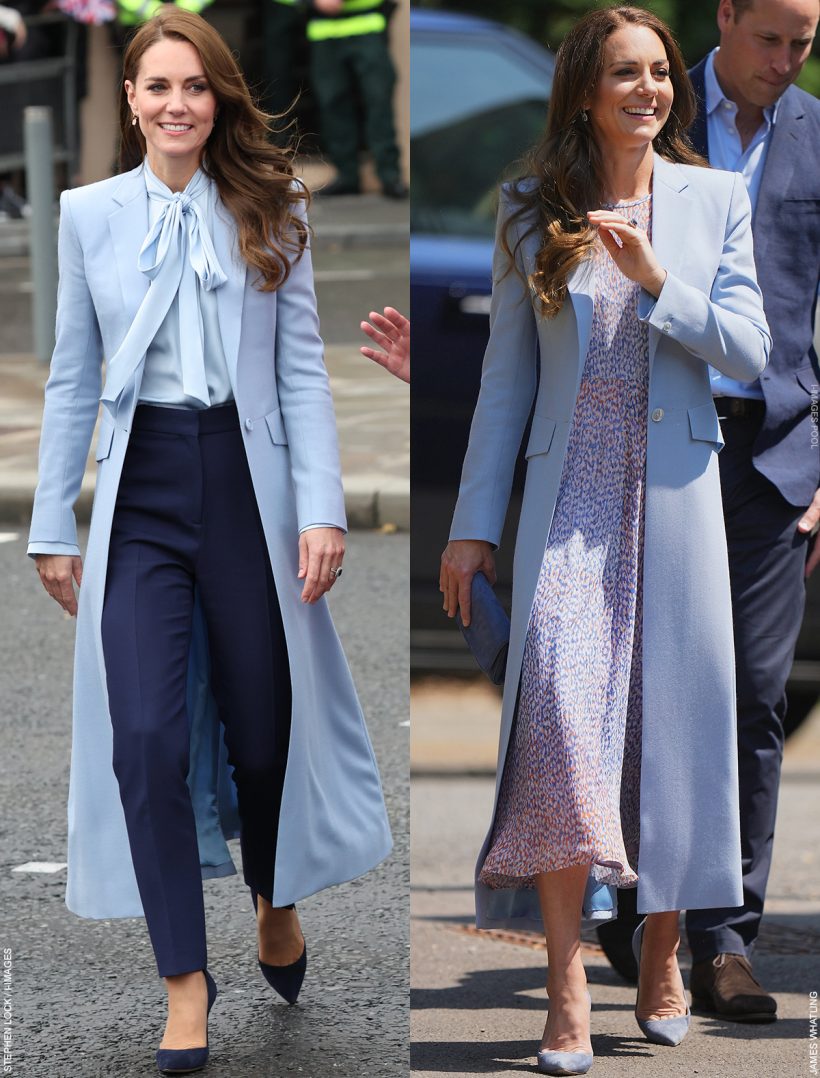 The long coat features a notch lapel collar, long sleeves, and a single button closure plus flap pockets.
On Twitter, Lady Parky noticed Kate has swapped the buttons on the coat. In June, it looks like the coat had mother-of-pearl buttons. In October, they were fabric-covered.

Let's look at Kate's pretty soft blue blouse now. It is from Winser London. RRP: £295.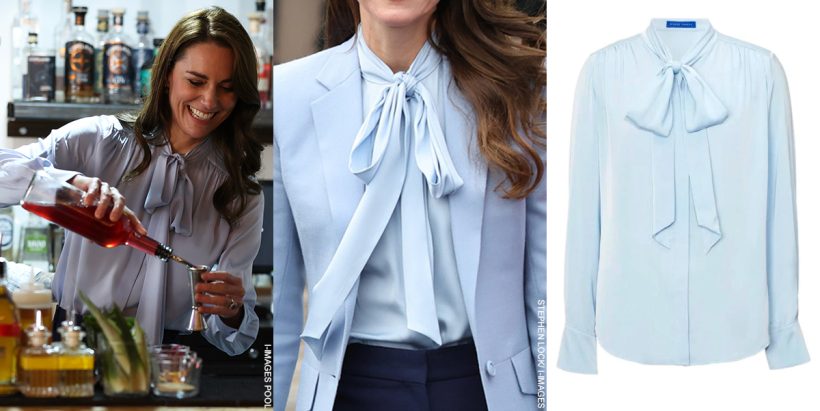 The long-sleeved piece features a removable bow tie at the neckline and long cuffed sleeves. It's made from silk with a touch of elastane for comfort. Winser describe the piece has having an "elegant, relaxed, generous fit."
The ultimate bow blouse as featured in Vogue and Harper's … Designed in our exclusive silk fabric with a touch of stretch our tie can be worn in a variety of ways, tied into a fashionably glamorous pussy bow, softly draped at the front, tied around the waist.

Winser London
Winser London is a new brand for Kate. To the best of my knowledge, she has not worn an item from the company, in public, to date. Winser's inventory is very much in line with Kate's polished-professional aesthetic. I expect we'll see her wear more from the company in time.
The blouse appears to be a staple for Winser. They sell it in eight other colours.

The brand's also stocked at Harvey Nichols (though the soft blue blouse worn by Kate is not listed, unfortunately)
Kim Winser founded her namesake company in 2013. She sells timeless investment designs made from beautiful fabrics, designed to be collected and loved, not just bought.
Kim Winser received an OBE for services to the British fashion industry in 2006. She began her career with Marks & Spencer, rising thought the ranks to serve as Director of Womenswear. Winser also served as CEO at Pringle of Scotland and Aquascutum before working with Agent Provocateur and advising Net-A-Porter, overseeing their expansion across Europe, Asia and the Middle East.
The company's official website also cites Kim Winser as working with "HRH The Prince of Wales to support his youth enterprise, The Prince's Trust."
On to Kate's blue trousers now. I think the Princess could be wearing the L.K. Bennett Frieda Cigarette Leg Trousers in navy. We suspect she owns them in both blue and black.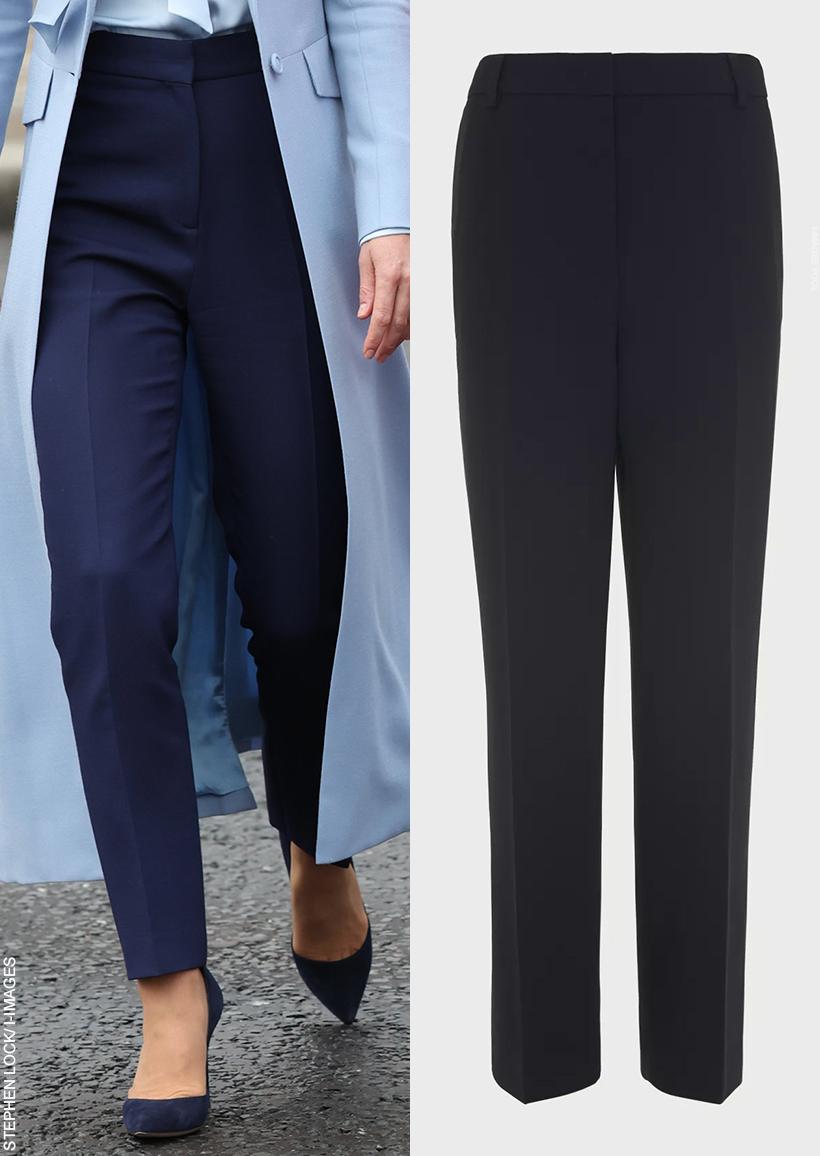 I checked Kate's trousers from all different angles on Getty Images, and the pockets and belt loops do seem to match up. But I can't say for certain.
Kate's worn lots of L.K. Bennett clothing over the last decade, so it's a good possibility.
L.K. Bennett is a British brand, founded in Wimbledon, London in 1990. The company is known for its vibrant prints, elegant shapes and wearable designs.
Let's move on to Kate's small blue handbag how. It's the DeMellier Nano Montreal bag in Navy.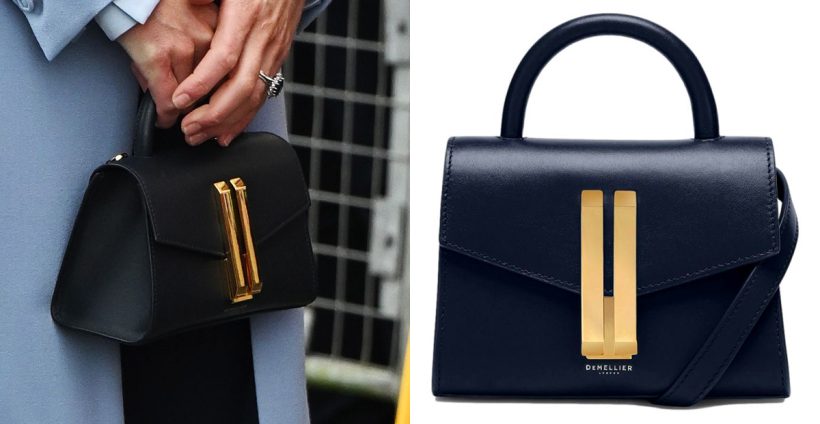 The small bag has a sleek tubular top handle and a flap closure decorated with DeMellier's signature double gold bar design. It's made from smooth leather and lined with black cotton.
Kate first publicly debuted the bag during the Jubilee celebrations earlier this year.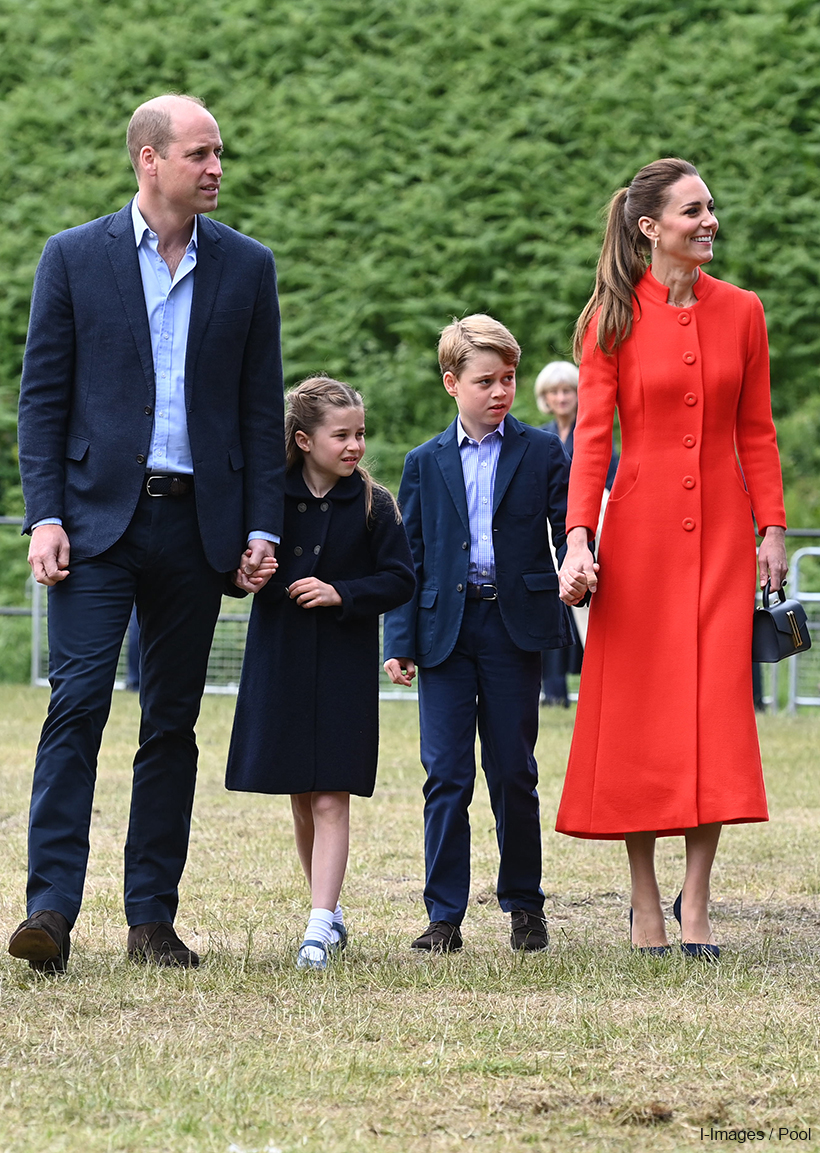 The bag retails for £295 GBP / $395 USD at DeMellier.com – click to view. You can pre-order now for delivery in mid-October.
Kate owns the same bag in toffee brown, too.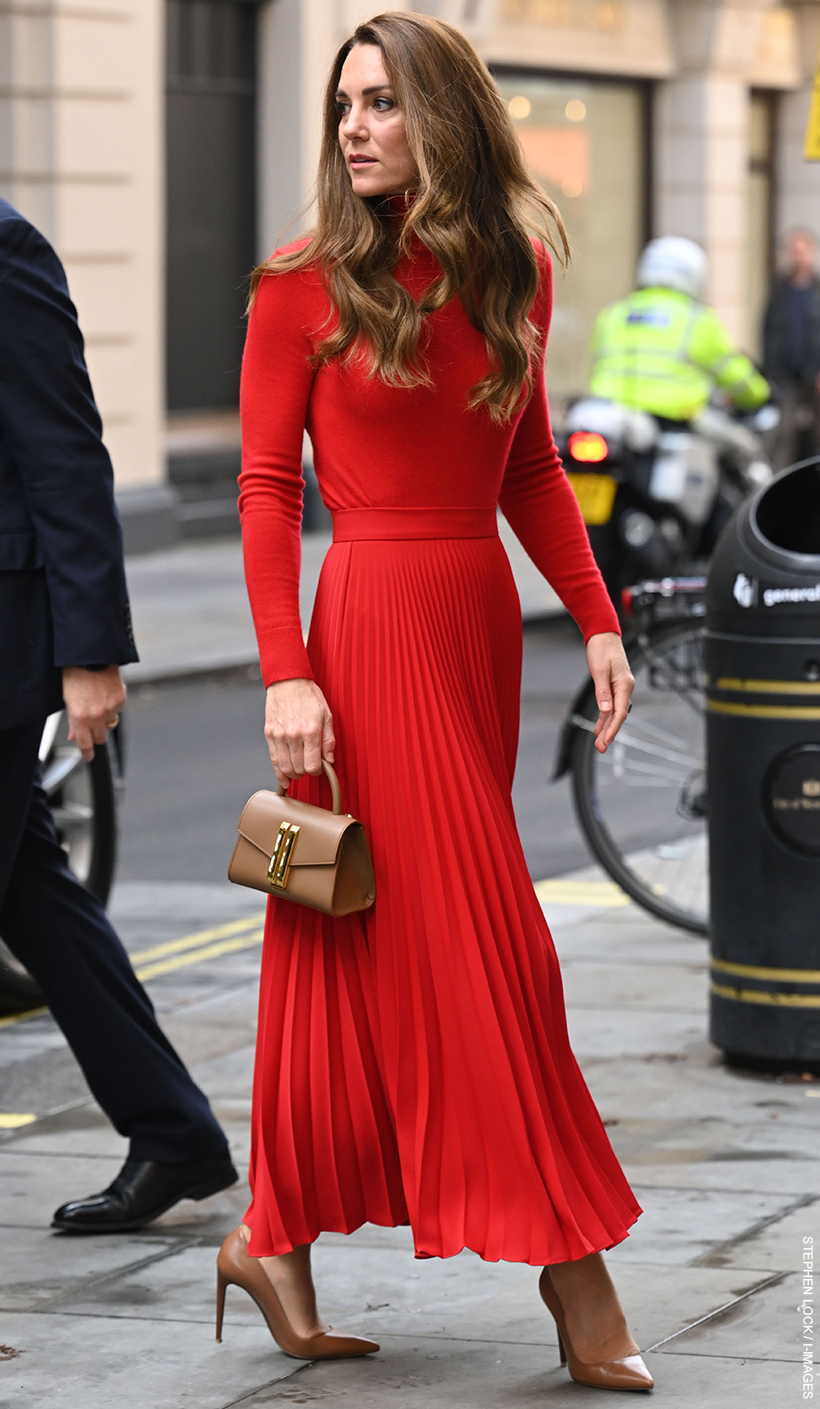 DeMellier (formally Milli Millu) is the brain child of Mireia Llusia-Lindh. The former management consultant launched her handbag line in 2010.
The bags are crafted in a small, family-owned factory in Spain using carefully sourced leather materials that are byproducts from the meat industry. The company orders limited runs to avoid waste.
DeMellier have funded over 350,000 vaccines for children around the world with their 'A Bag, A Life' initiative with the international children's charity SOS CHILDREN'S VILLAGES (yep, the same charity has visited a couple of times!)
Kate wore her navy blue Gianvito Rossi 'Gianvito 105' heels. The shoes feature an elegant pointed toe and a stiletto heel. They're crafted from navy suede.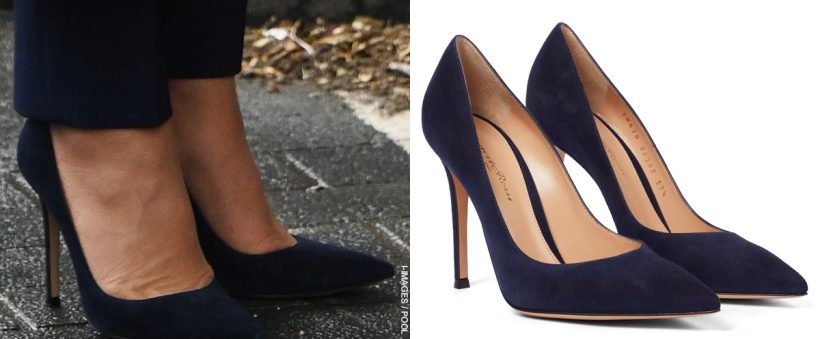 For those in the UK/Europe, French department store Printemps sells the heels for £60 cheaper than their competitors, Net-A-Porter and Farfetch (£500 vs £560). MyTheresa sell them for £530.
In the USA, you can buy the blue suede heels from MyTheresa for $695 or Net-A-Porter for $725.
Sorry, I haven't checked the prices for other countries.
Kate owns the same shoe in seven other colours. I think we can safely say it's one of her go-to styles!
Forbes say Gianvito Rossi's classic designs "transcend trends and time".
"Rossi, with his disciplined design palette, has found himself in step with women who are looking for shoes they can actually wear. Shoes they will love for years."

Forbes
Finally, let's look at Kate's earrings. They're the Missoma Rhodochrosite Pyramid Hoops.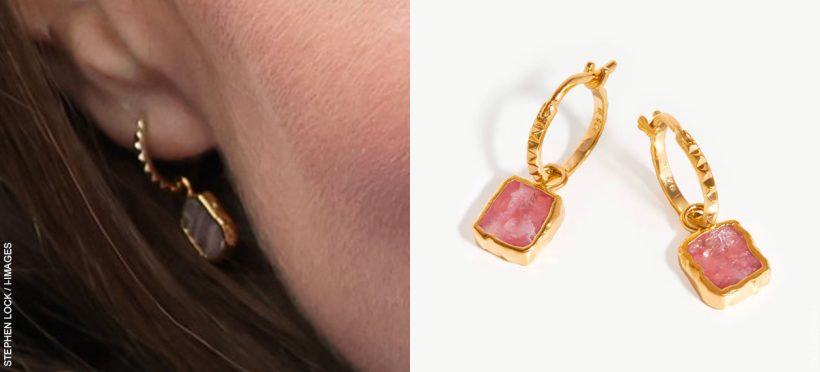 This is the seventh time Kate has worn the gemstone earrings in public. They feature pink hand-cut rhodochrosite stones suspended from gold vermeil hoops decorated with a repeating pyramid pattern.
Missoma stock the earrings for £85 / $110 (other currencies available too). Click to view.
Missoma is a responsible jewellery brand with unique pieces designed in-house. The company say they offer "contemporary statement, delicate and personalised jewellery for the everyday women."
Harper's Bazaar credit Missoma's "high-fashion appeal [and] seriously affordable prices" for its rapid growth and overnight popularity.
According to an interview with Coveteur, Founder Marisa Hordern began making jewellery around the kitchen table with her mum as a hobby. She started selling to small boutiques before expanding to larger department stores. The Missoma brand grew organically after gaining traction with magazine editors and earning a host of celebrity (and royal) fans!
The brand's name comes from the first letters of Marisa, her sister Sophie and their mother Michelle's names.
GET THE LOOK: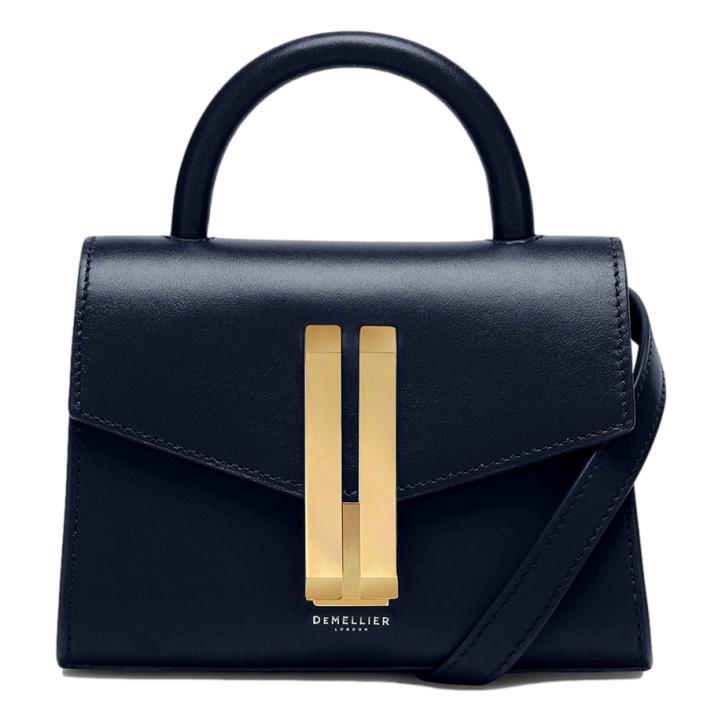 DEMELLIER 'MONTREAL' NANO BAG
Want a beautiful structured bag with a flawless design that's highly stylish and sustainably/ethnically made? Your search is over. DeMellier's Montreal Nano checks all the boxes.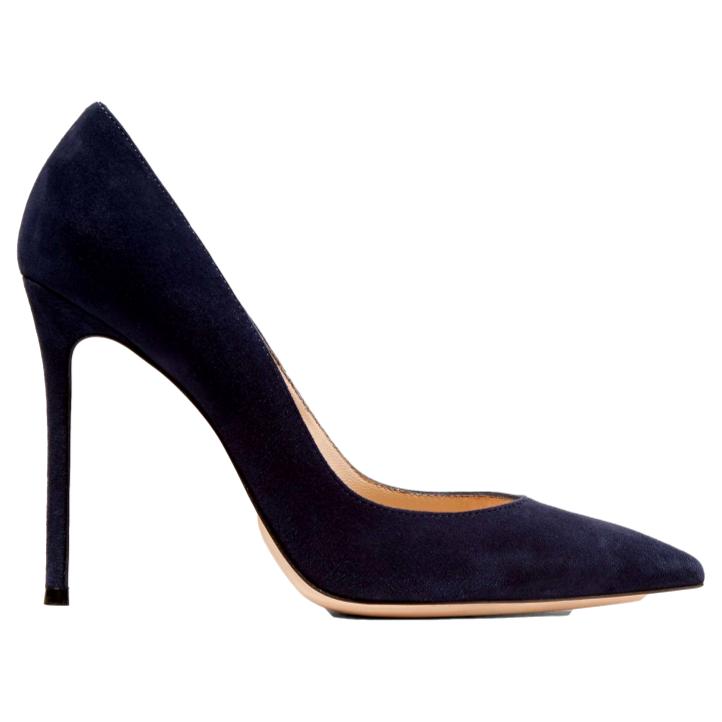 GIANVITO ROSSI 'GIANVITO 105' PUMPS
Elegant, feminine heels with a truly timeless design. Gianvito Rossi crafts these luxury heels from sumptuous suede. Reports say the Gianvito 105s are so comfortable they can be worn all day—something I bet Kate can attest to. She wore hers for HOURS in Northern Ireland.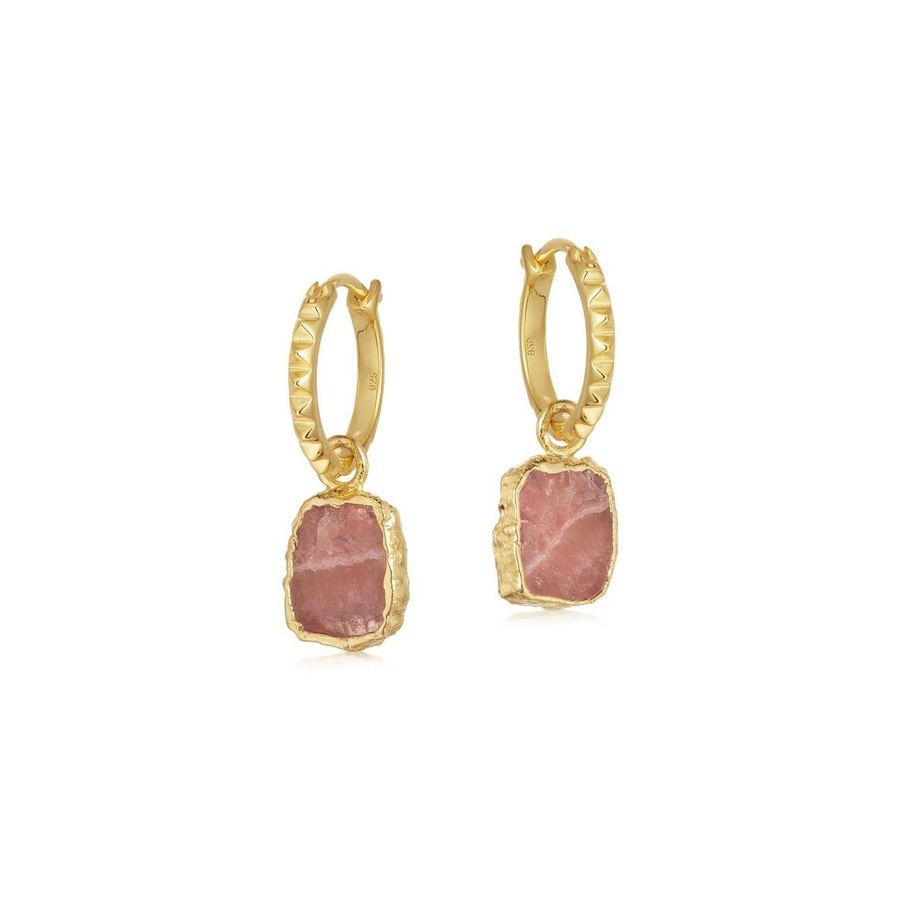 MISSOMA 'PYRAMID HOOP' EARRINGS
Handcrafted earrings with delicate pink gemstone charms suspended from gold vermeil hoops. Pared back and elegant. Wear desk to dinner, or for special occasions.