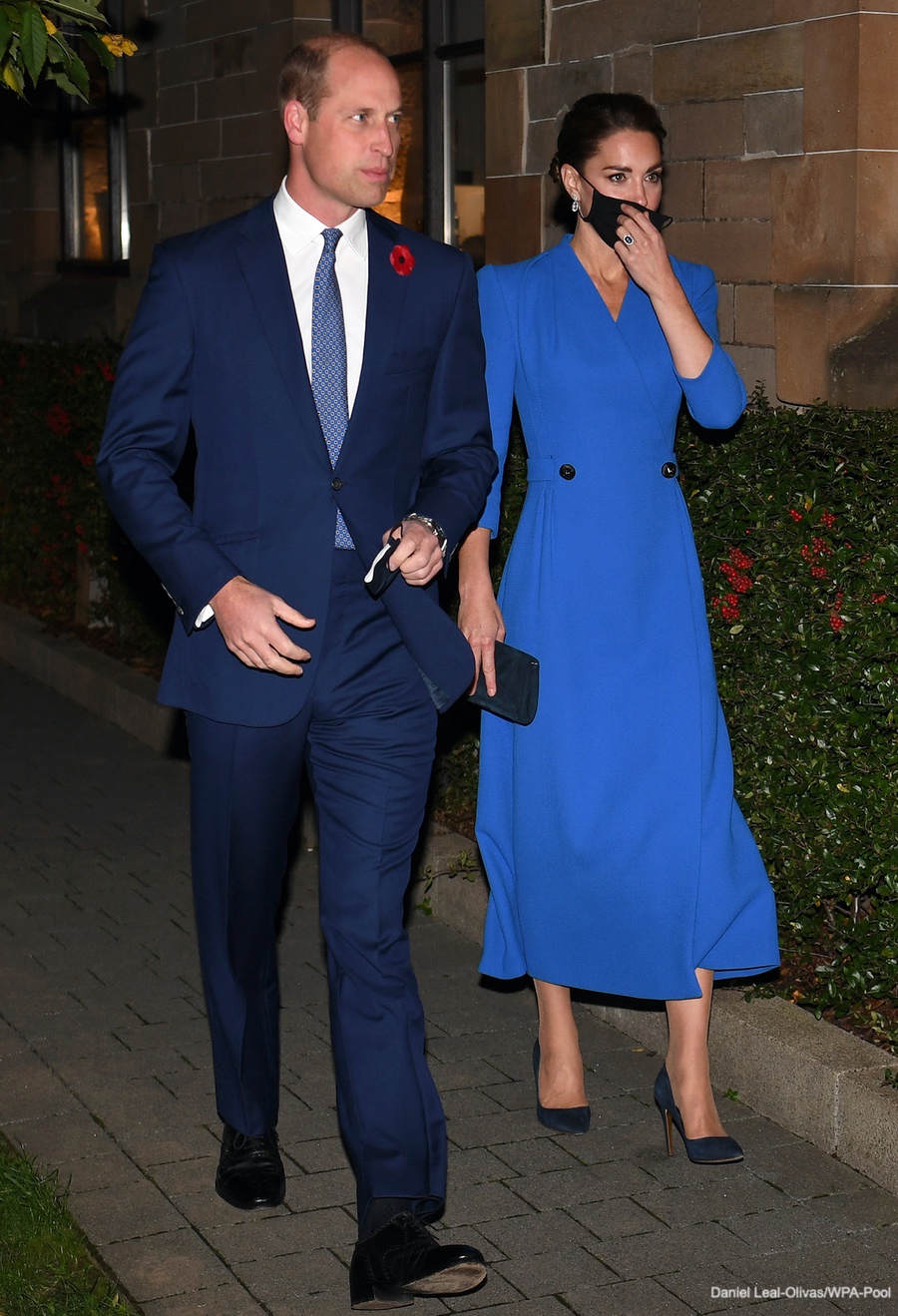 Monday, November 1st, 2021–William and Kate attended two receptions on the first day of the COP26 climate change summit in Glasgow, Scotland.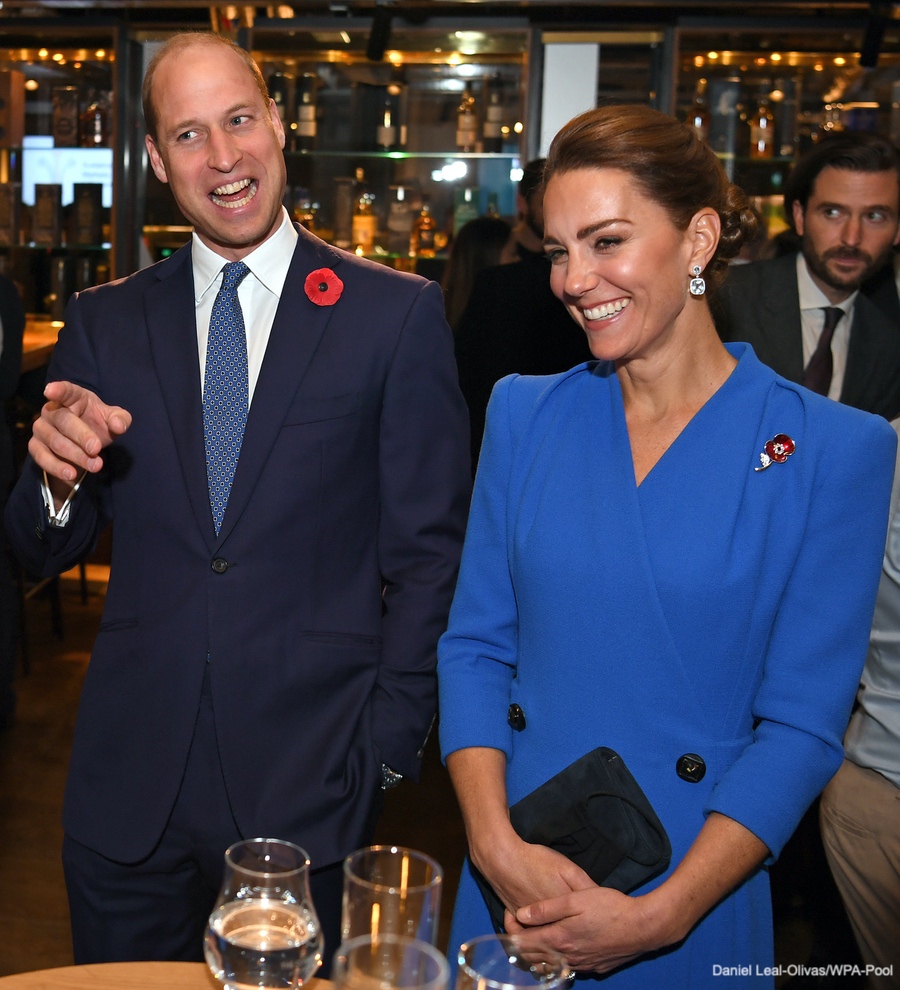 The first reception took place at the Clydesdale Distillery. Kate co-hosted the event with Prince William and his father, Prince Charles. The three royals invited key members of the Sustainable Markets Initiative and the winners and finalists of the first Earthshot Prize Awards.
Prince Charles launched The Sustainable Markets Initiative at Davos in 2020. It calls on communities, businesses, investors and consumers to take the urgent and practical steps required to transition to more sustainable practices.
Earthshot, spearheaded by Prince William, is an annual competition awarded by The Royal Foundation. Each year, five winners are awarded £1m each for their contributions to environmentalism. This was the first time Prince William had been able to meet this year's Prize finalists in person.
Next, Charles, William and Kate travelled over to the nearby Kelvingrove Art Gallery and Museum for a second reception. They were joined by Camilla (the Duchess of Cornwall).
This dinner reception marked the end of COP26's opening day. World leaders, including Boris Johnson, Joe Biden and Justin Trudeau, attended the reception. 
The evening included an address from Queen Elizabeth, who sadly could not attend the event in person (she was under doctor's orders to rest at home):
COP26 is the global United Nations climate change summit. It brings world leaders together to discuss the global response to the climate crisis. The event takes place over two weeks. COP stands for Conference of the Parties and this year's meeting is the 26th meeting, hence the name COP26.
Earlier in the day, the Duchess had attended another COP26 event. She'd visited a local Scouts troop to learn about sustainability.
Kate's outfit:
For the two receptions, the Duchess chose a coat dress by Eponine London. A full-length picture of Kate wearing the piece: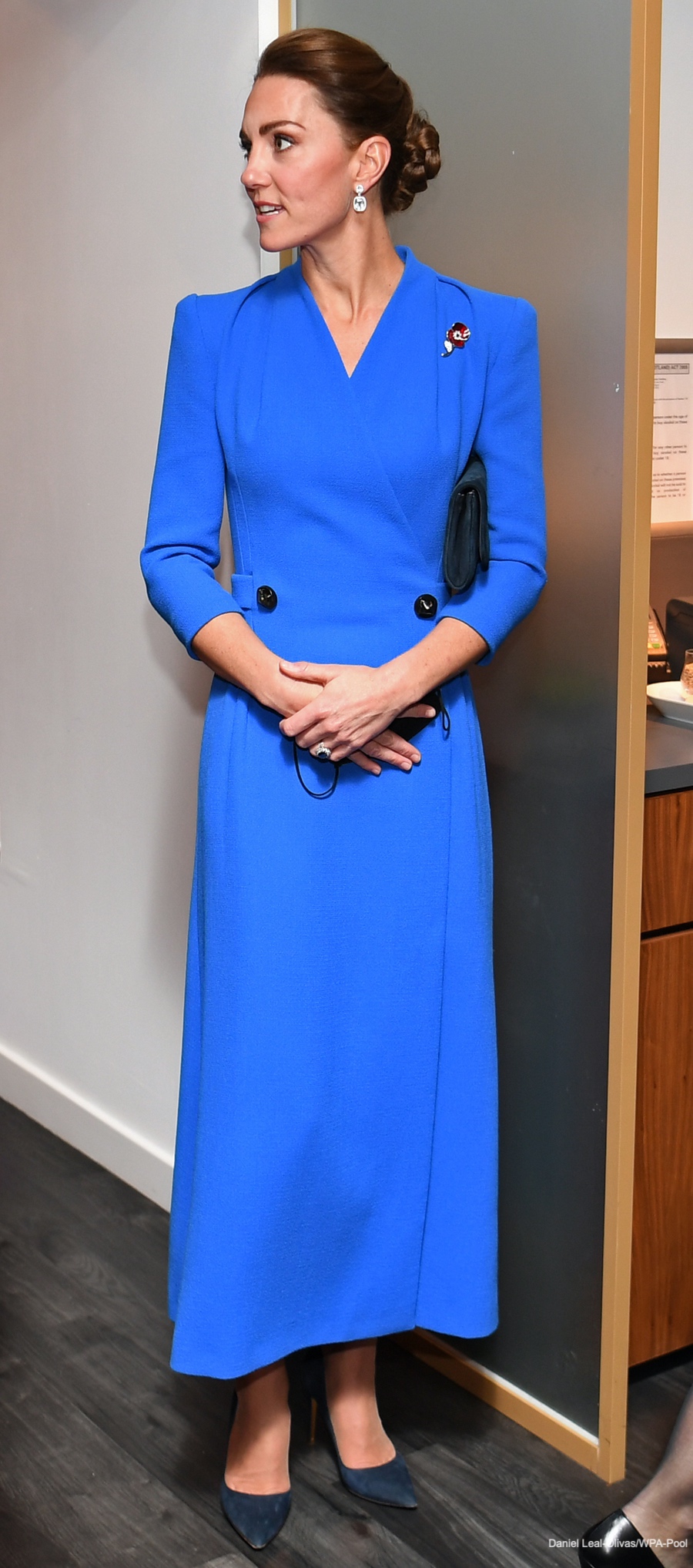 The cobalt blue coat dress is from the company's Spring/Summer 2020 collection according to Vogue.com. My theory is that Kate had the garment made for an event that ended up being cancelled due to the pandemic —hence why we're just seeing her wear it now.
In the same article linked above, Vogue suggests Kate opted to wear Eponine London to the climate change conference because the brand has "eco-credentials":
The tailored blue dress was handpicked from Eponine's spring/summer 2020 collection, no doubt for its eco-credentials: the brand produces all its pieces in its London-based studio using locally-sourced wool and recycled materials.
This is more than likely. We've noticed Kate champion sustainable fashion on more than one occasion recently (usually to an event with an environmental focus).
Let's take a look at Kate's clutch bag now. On Twitter, Elizabeth confirmed that it's by Emmy London (she wrote to the brand and asked). It's the company's Natasha clutch in midnight blue suede (£350 GBP / $360 USD). Emmy London describe the piece as "elegant". The handcrafted bag features a zipped pocket inside and a secure magnetic popper.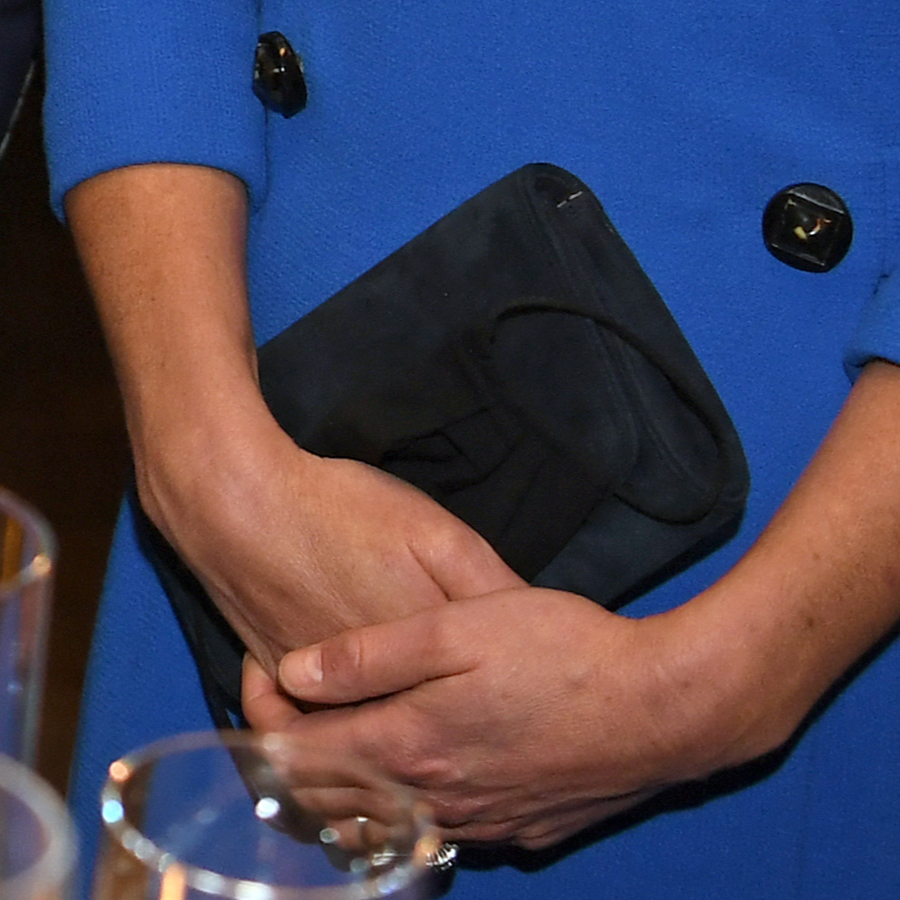 Emmy London describe themselves as a "slow fashion" brand with a focus on sustainability. Most pieces are made-to-order; Emmy do not carry a lot of stock to avoid waste. The company's products are handmade in a family-owned workshop in Portugal and hand-finished in London.
We haven't seen the Duchess carry the piece before but a fellow Kate fan noticed Pippa owns the same piece, so she may have borrowed it. Or she's simply had the piece made to match her various pairs of blue suede pumps.
Kate must really like the Natasha clutch, she owns it in five or six other colours!
Kate's heels are by Rupert Sanderson, they're the Malory pumps in navy suede. The Duchess has been wearing them for a good few years (since 2016, I believe).
The blue suede shoes have gold detailing on the inside of the 100mm heel. The shoes are currently in Sanderson's 'Archive shop' for £315 GBP / $362 USD. Here's how they're described on the designer's website:
Crafted from luxurious navy suede, Malory is a timeless style that will seamlessly pair with any well-edited wardrobe. Created with comfort and style in mind, it is set on a 100mm heel. The dark blue hue will see you stylishly from desk to dinner.
Finally, Kate added a bit of bling to her blue outfit with a pair of earrings by jewellery designer, Kiki McDonough.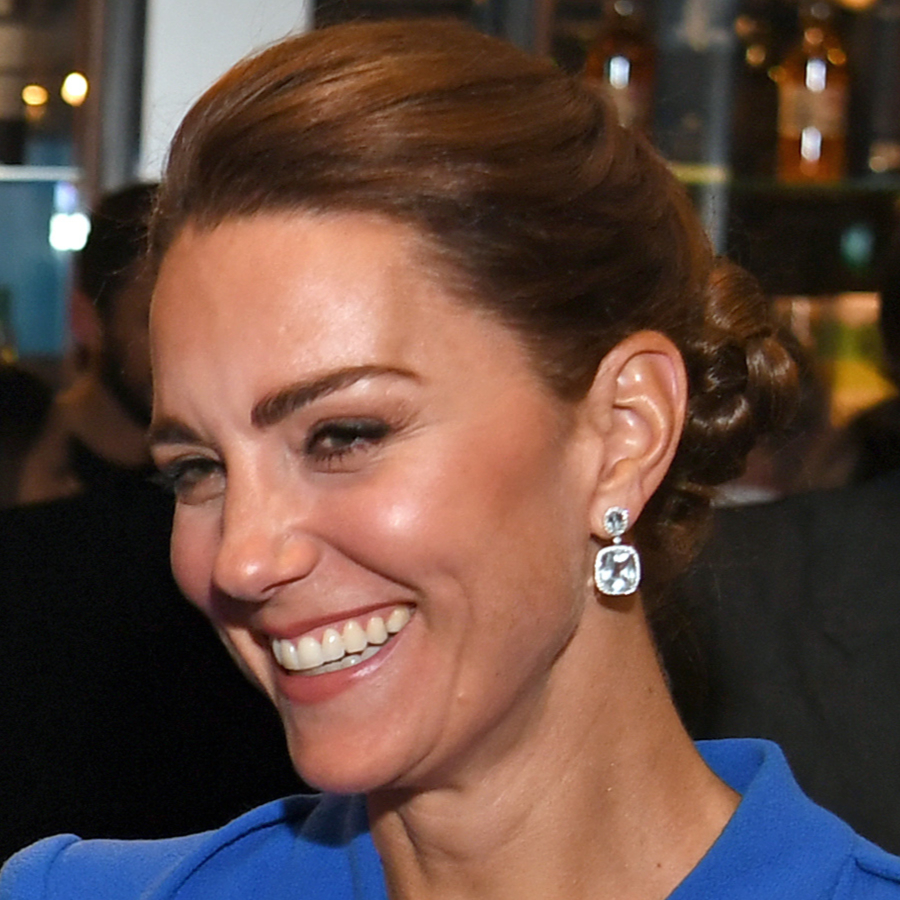 They're the designer's topaz and diamond drop earrings. The oval and cushion-cut stones are surrounded by diamonds and set in 18ct white gold. You can still buy the earrings, they cost £3,500 GBP.
Kate first wore them during a visit to Luxembourg in 2015 and has worn them on a handful of occasions since. The Duchess often wears Kiki's colourful jewellery, she owns many pairs of earrings and necklaces from the designer.