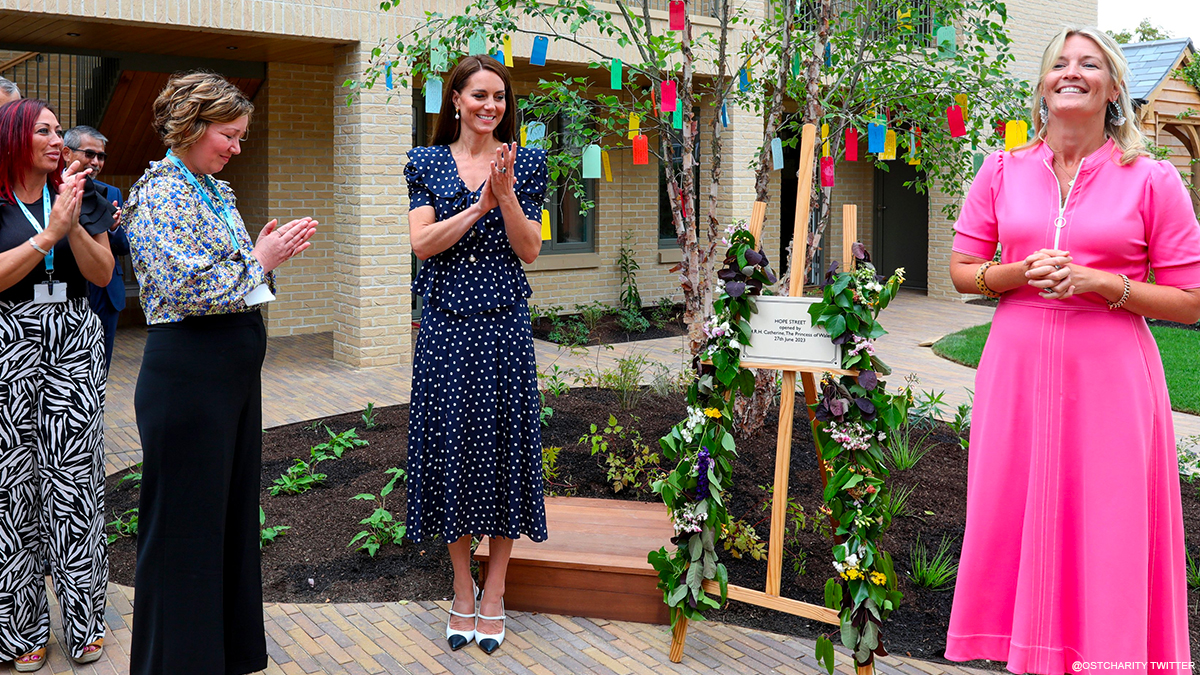 Kate Middleton looked splendid in a sophisticated blue polka dot dress by Alessandra Rich at the official opening of Hope Street in Southampton today.
Hope Street is a pioneering family-friendly residential community developed by the charity One Small Thing.
The Hope Street project has been designed to offer an alternative to imprisonment for women, allowing children to stay with their mothers in a homelike setting with ongoing support. It features communal and private spaces, a 24-hour hub, as well as on-site creche and play areas for children.
The initiative is designed to transform women's and children's experience of the justice system. The idea is to prevent the trauma of mothers being separated from their children due to involvement in the justice system, instead providing a safe and nurturing environment.
The project is being closely monitored by The University of Southampton, The Prison Reform Trust and EP:IC. Its goal is to prove that a compassionate and supportive approach can transform the lives of women in the justice system, hopefully offering a new blueprint that can be adopted nationwide.
One Small Thing's vision is a justice system that can recognise, understand, and respond to trauma. Our mission is to redesign the justice system for women and their children.

One Small Thing
During the visit, Kate toured the new facility, learned about the support that residents will receive, and engaged with the staff, supporters, and partners who have driven this pilot program over the past six years.
She heard more about Hope Street's mission to prevent the trauma of mothers being separated from their children within the justice system and listened to women who have had first-hand experience of the justice system.
She also left a handwritten note on the facility's 'Tree of Hope', which read: "I see you and I am with you. Good luck in all that lies ahead". She signed the note with her name, "Catherine".
Construction on Hope Street began in March 2021 and was completed this month.
The Princess has been raising awareness about the significance of early childhood development for a long time. Today's visit highlights her support for a compassionate and supportive approach to women in the justice system. Through this visit, she reinforced her commitment to creating a supportive, nurturing world for all children and those caring for them, a message that aligns with her long-term campaign, Shaping Us, launched earlier this year through The Royal Foundation Centre for Early Childhood.
Let's look at Kate's outfit in detail now.
Kate's Outfit At Hope Street Today:
The Princess wore a mid-length navy polka dot dress for today's visit to Hope Street. She paired it with two-tone slingbacks and a white bag:
Does her outfit feel familiar? She wore the look to the Wimbledon Men's Finals last year. Here's a reminder: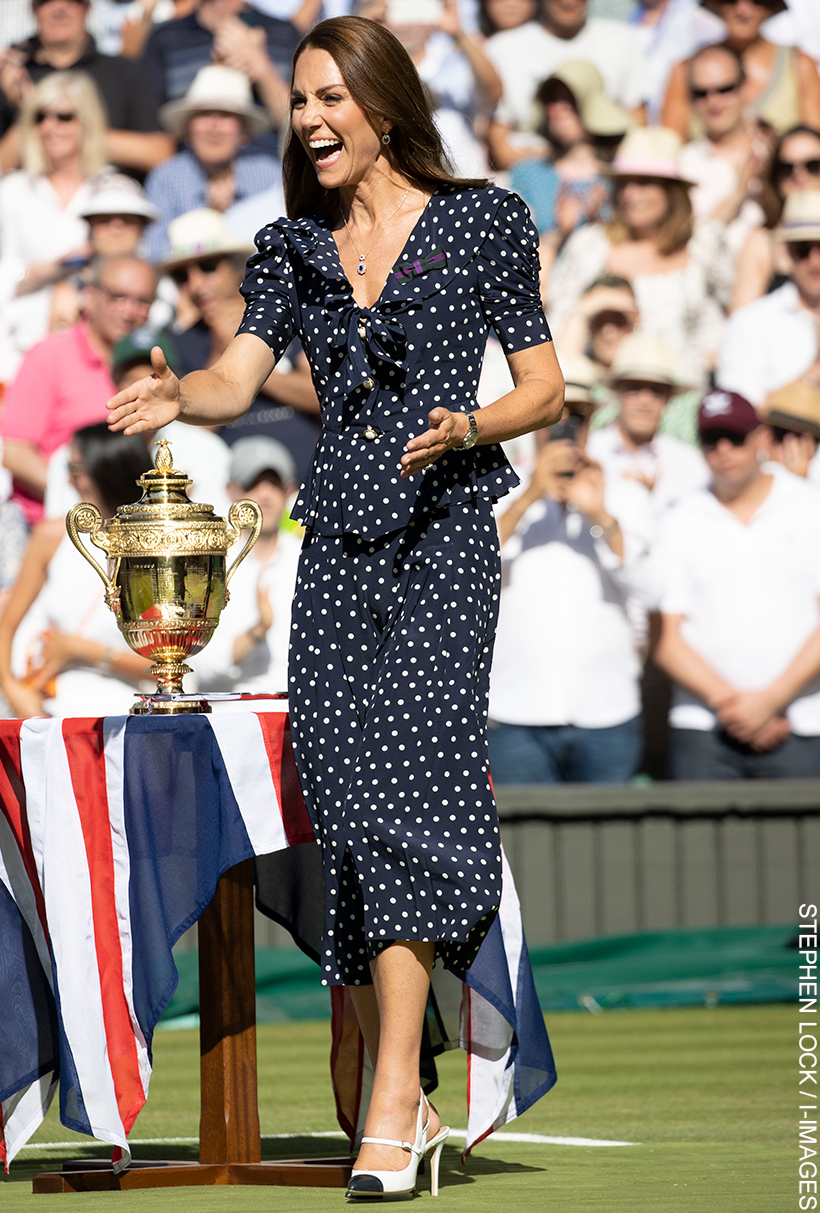 The navy blue polka dot dress is by Alessandra Rich. It's crafted from navy printed silk crepe fabric, features a peplum waist, crystal buttons, and a 1980s-inspired Chelsea collar with a tie.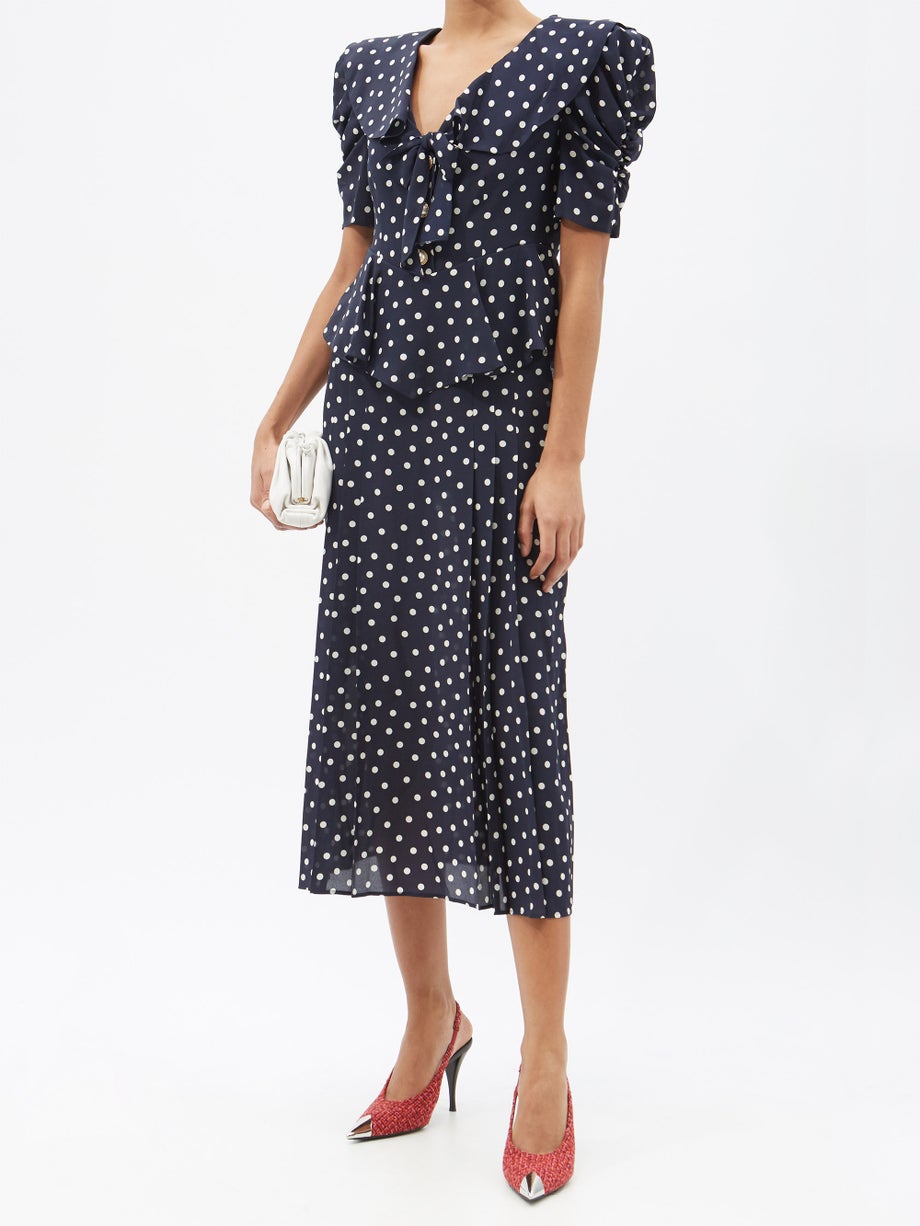 The dress previously retailed for $1,535 USD / £1,335 GBP Matches Fashion. It's from a past season and is no longer available for purchase. SHOP SIMILAR DRESS at Matches.
GET THE LOOK – this almost identical dress, also by Alessandra Rich, is on final clearance at Matches Fashion: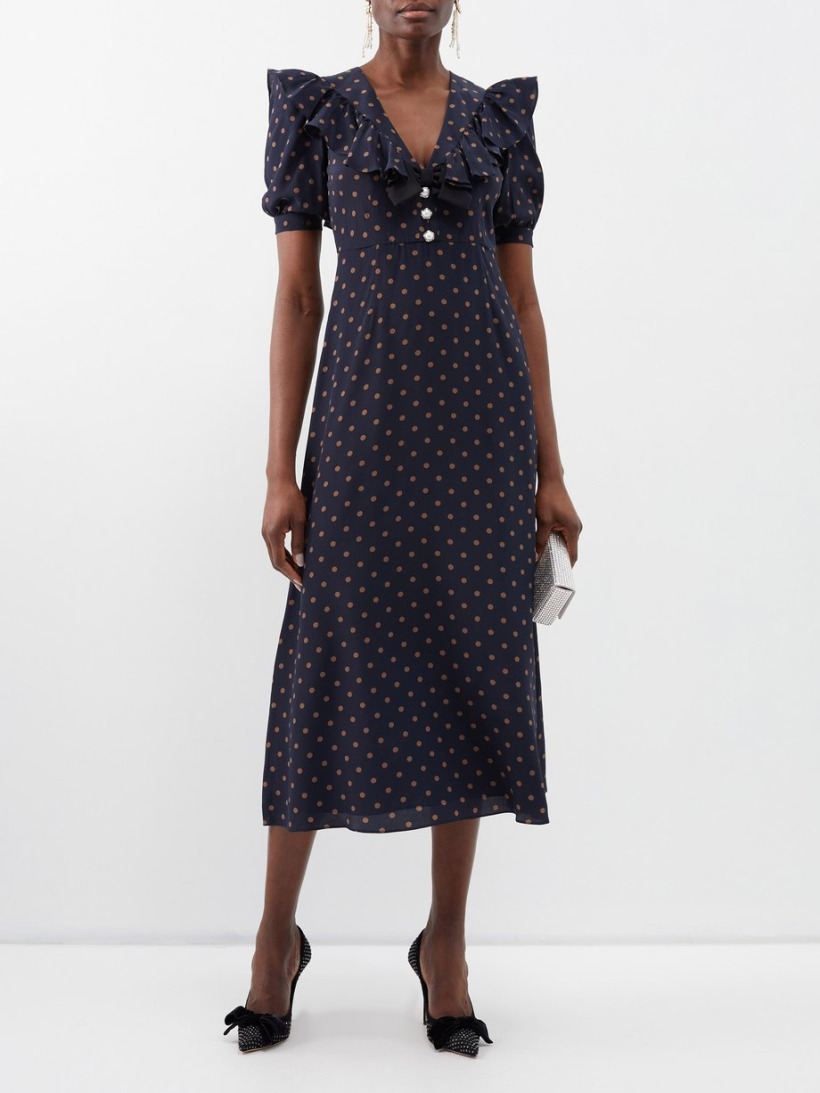 I think it's fair to say Kate is a big fan of Alessandra Rich. She's worn over ten dresses from the designer since 2018.
Speaking of Alessandra Rich, Kate's footwear is by the designer too. She's wearing the Fab Slingback Pumps in white with a contrasting black toe. These two-tone pumps are crafted from leather and feature a contrasting pointed toecap. They also have a Mary Jane-style strap, a mid-size heel (8.5cm) and are made in Italy.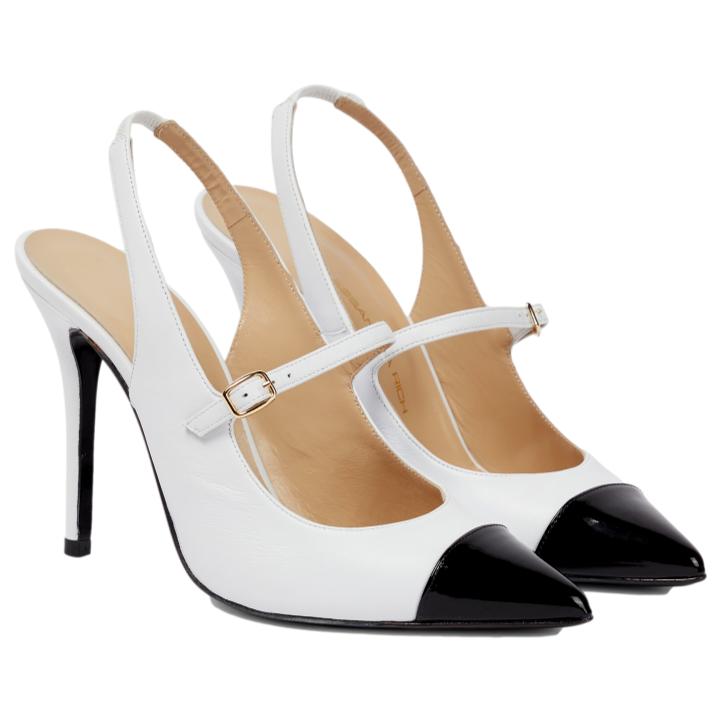 Kate likes the shoes so much she bought them twice – she also owns them in a nude/cream tone.
Sadly, if you want to buy the exact pair, you're out of luck. The shoes are from a previous season and are no longer available. Alessandra Rich currently sell the style in silk satin with a slightly different toe detail. See them at MyTheresa here.
Onto Kate's white handbag. It's Mulberry, the Amberley Small Crossbody. The bag features a flap-over front with tonal white ring hardware and Mulberry's geometric rider's lock closure. She often carries the bag in her hand, having removed the crossbody strap.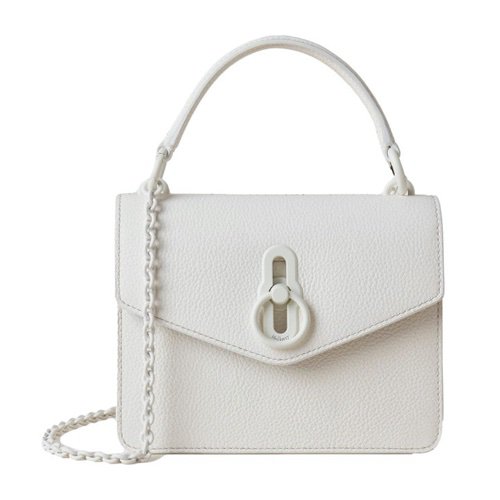 Love this handbag? Feel like it'd complete your outfits this summer? You're in luck! Mulberry have FINALLY listed it on their website. Kate's owned it for two years and this is the first time I've seen it available for purchase. Get it here.
Kate's carried the bag on eight public occasions since its debut.
Mulberry is one of Kate's top handbag brands. I've spotted her with twelve different designs from the British company since joining the royal family in 2011.
Kate finished her sophisticated outfit with a pair of pearl drop earrings by Shyla London: the Chunky Knot Baroque Pearls. The earrings feature a baroque pearl suspended from a chunky knot top finished in a high shine gold. The designer describes the style as "feminine, graceful, and elegant".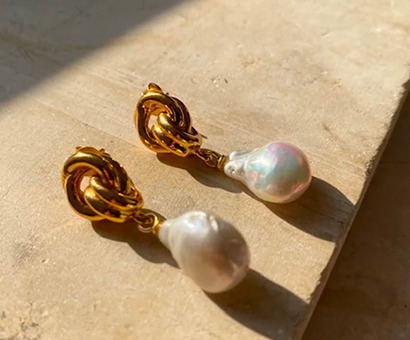 These earrings are made from 22 carat gold on silver and have a retail price of £72—they remain available to buy if you're looking to purchase the earrings.
Kate debuted the pearls during a visit to Boston in 2022.
Shyla London is an eco-conscious jewellery brand that offers versatile, minimalist designs. The brand source their stones naturally and use ethically sourced or recycled metals in their designs. Beyond creating beautiful jewellery, Shyla empowers women in India by teaching them a new craft to support their families. Plus, the brand demonstrates its commitment to sustainability through the use of recycled packaging.