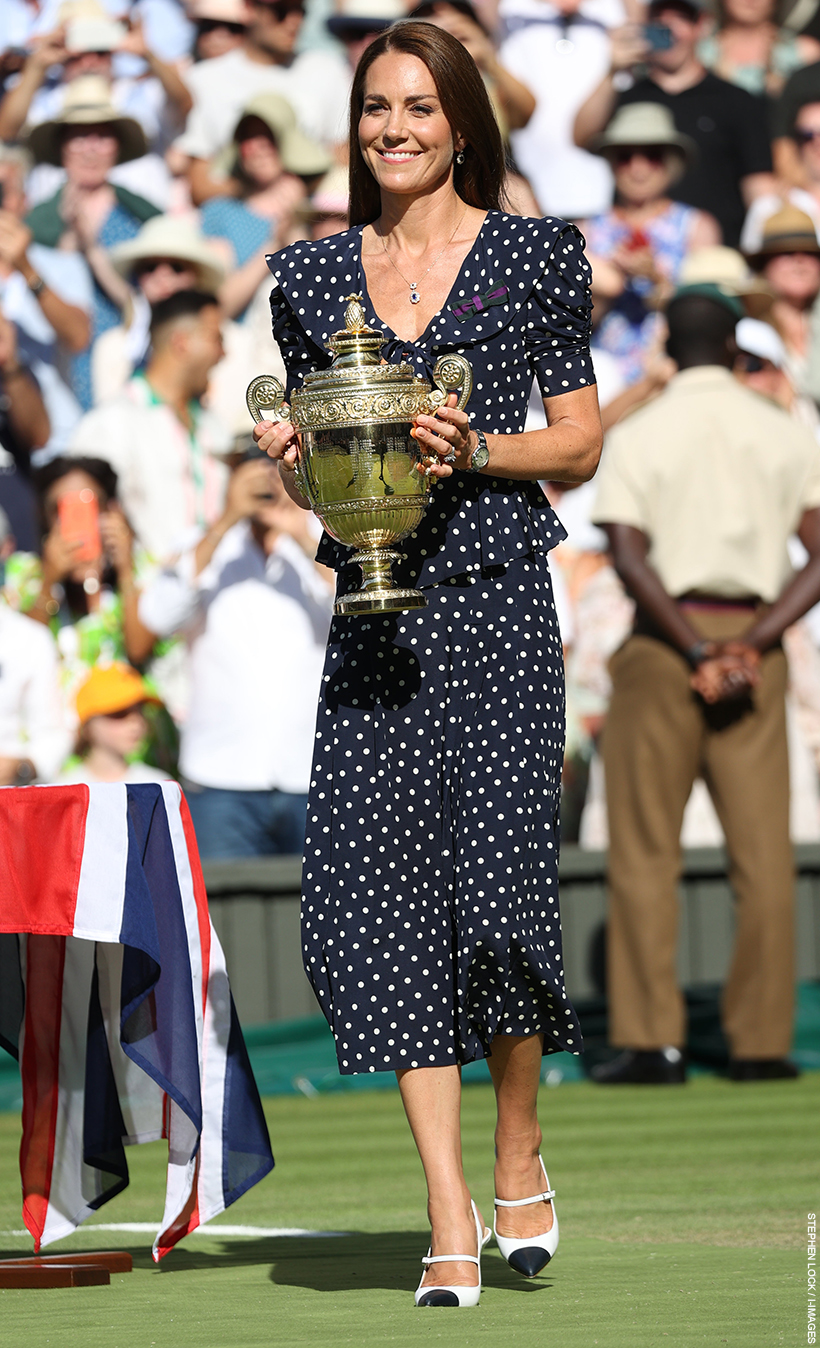 Today, Kate Middleton watched Novak Djokovic win his seventh Wimbledon title. The Serbian player took on Australian Nick Kyrgios in the men's singles final.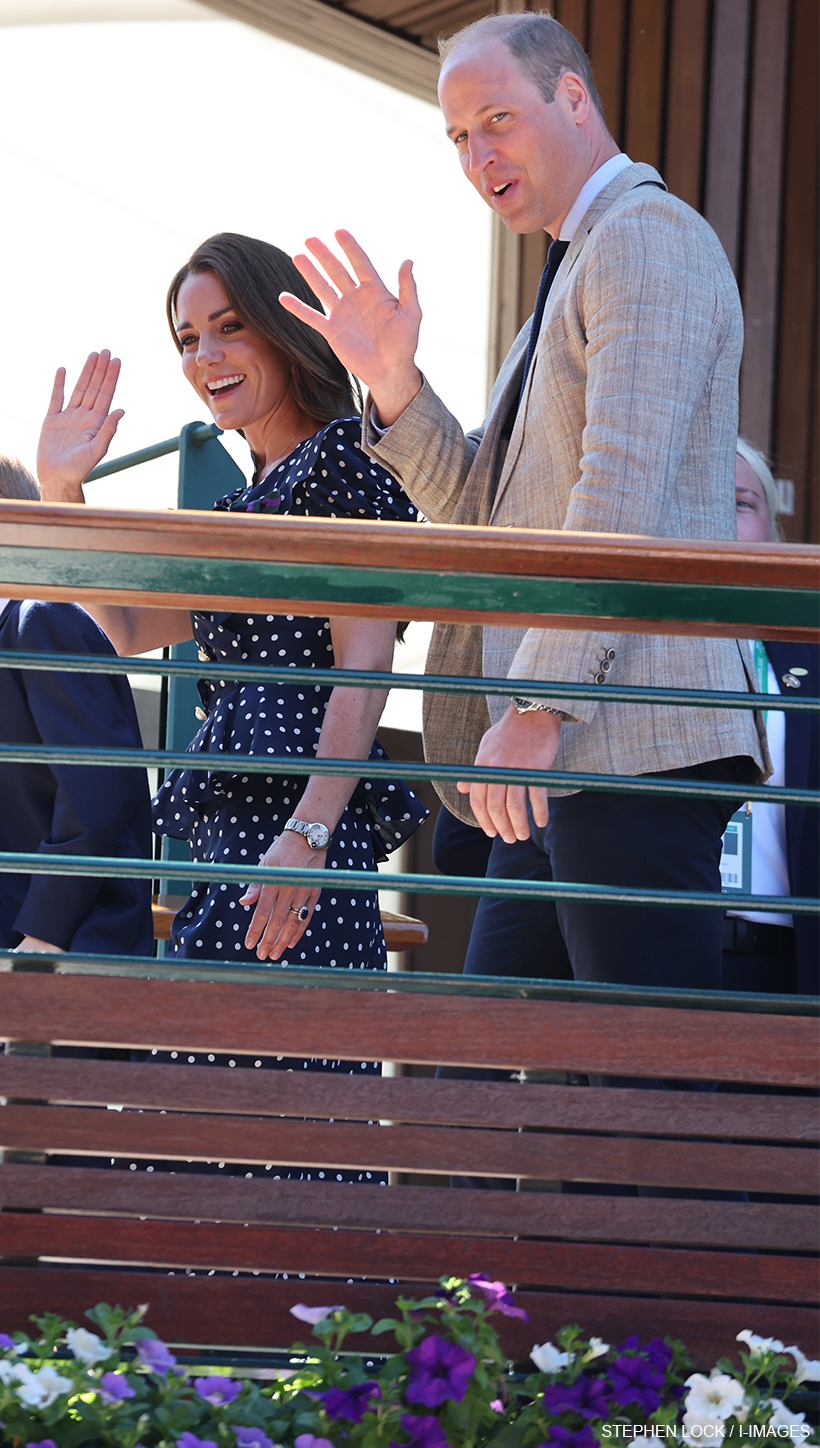 The Duchess wore a navy blue polka dot dress by Alessandra Rich as she watched on from the Royal Box overlooking Centre Court.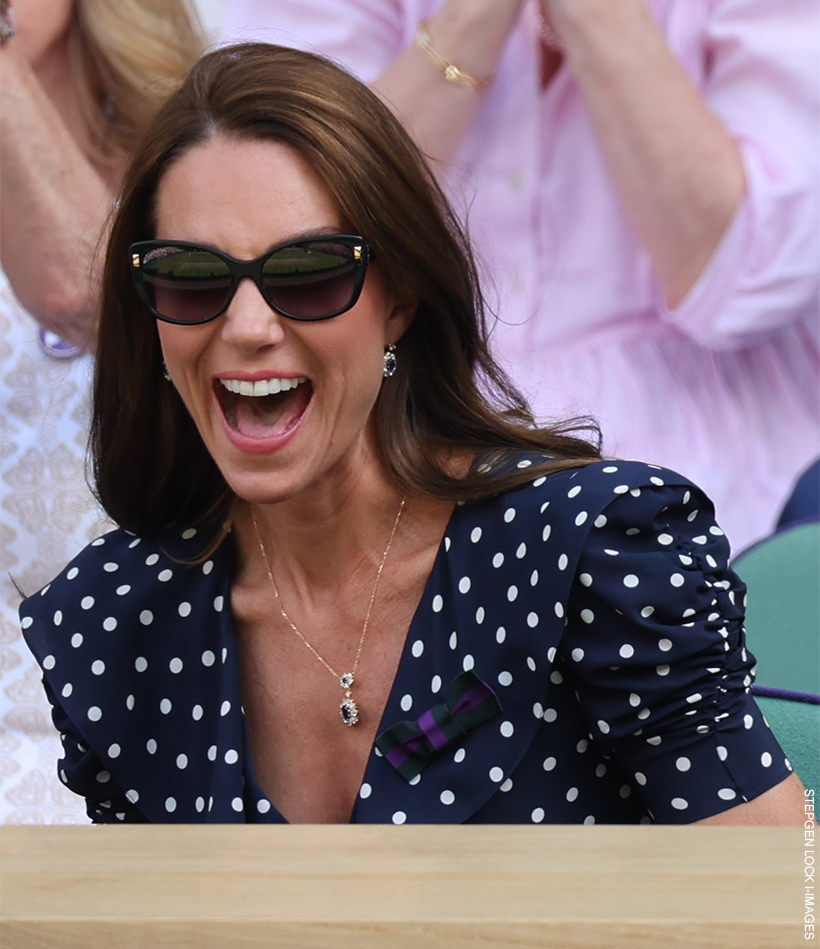 The Duchess attended the final day of the tournament with her husband William and their eldest son, Prince George.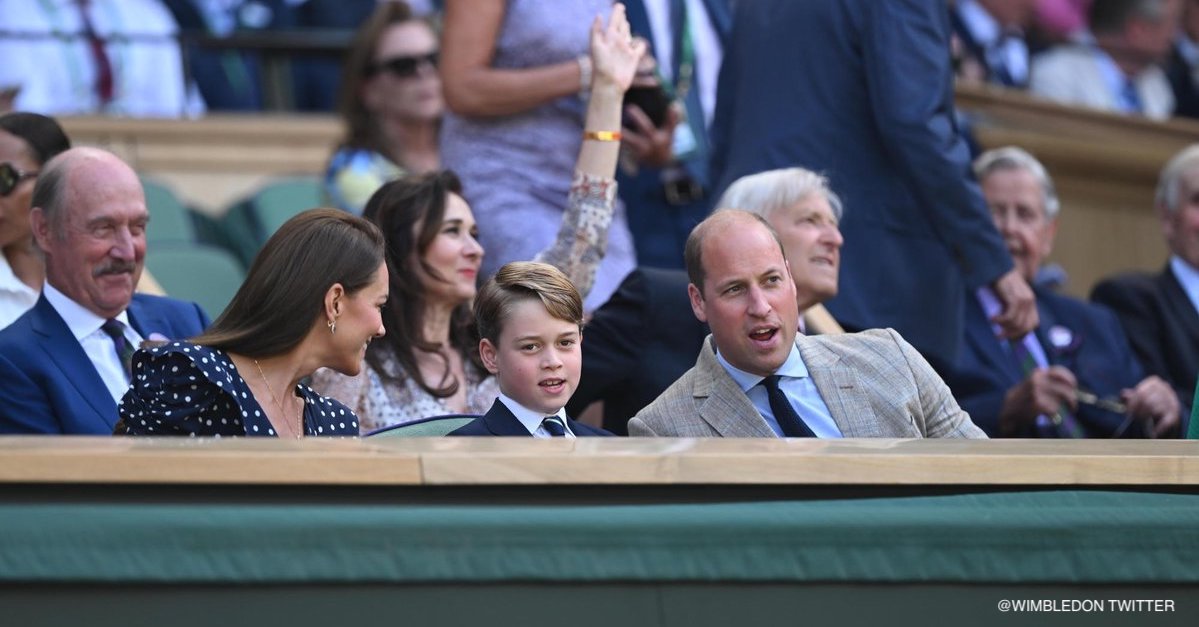 It was Prince George's first time in the Royal Box!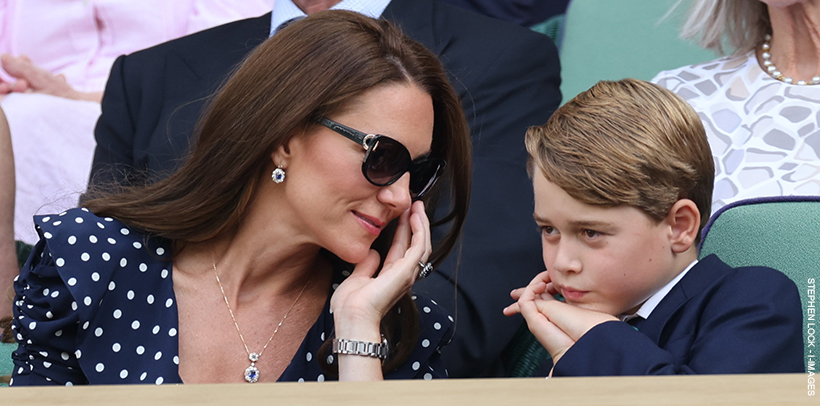 We know the young prince is a fan of the sport—he's been having tennis lessons for years and has even hit a few balls with Roger Federer!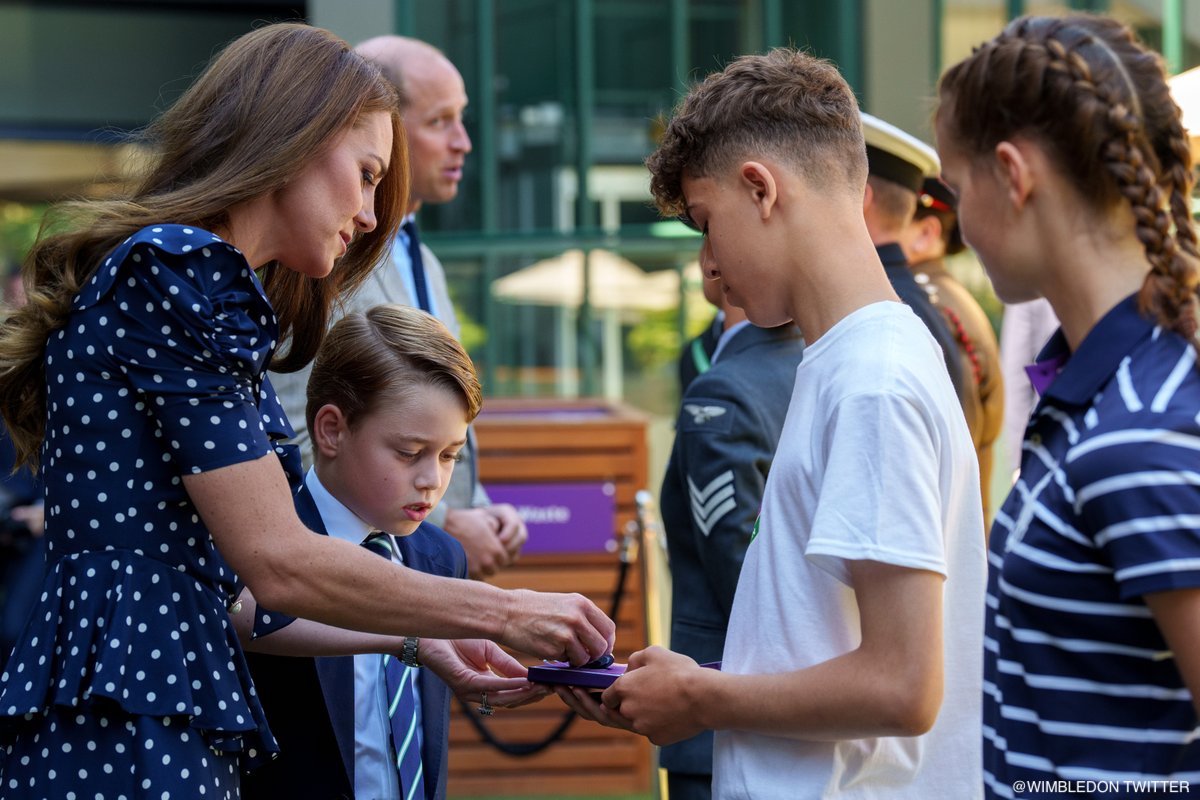 Before play, William, Kate and George met with Wimbledon staff and ball balls/girls. They spoke with Dylan, chosen by Wimbledon to perform the pre-match coin toss ceremony.
The youngster was nominated by the community in recognition of his fundraising efforts for St George's Hospital. I believe he's showing George the special Platinum Jubilee coin commissioned for the ceremony. The coin features the official Platinum Jubilee logo on the reverse.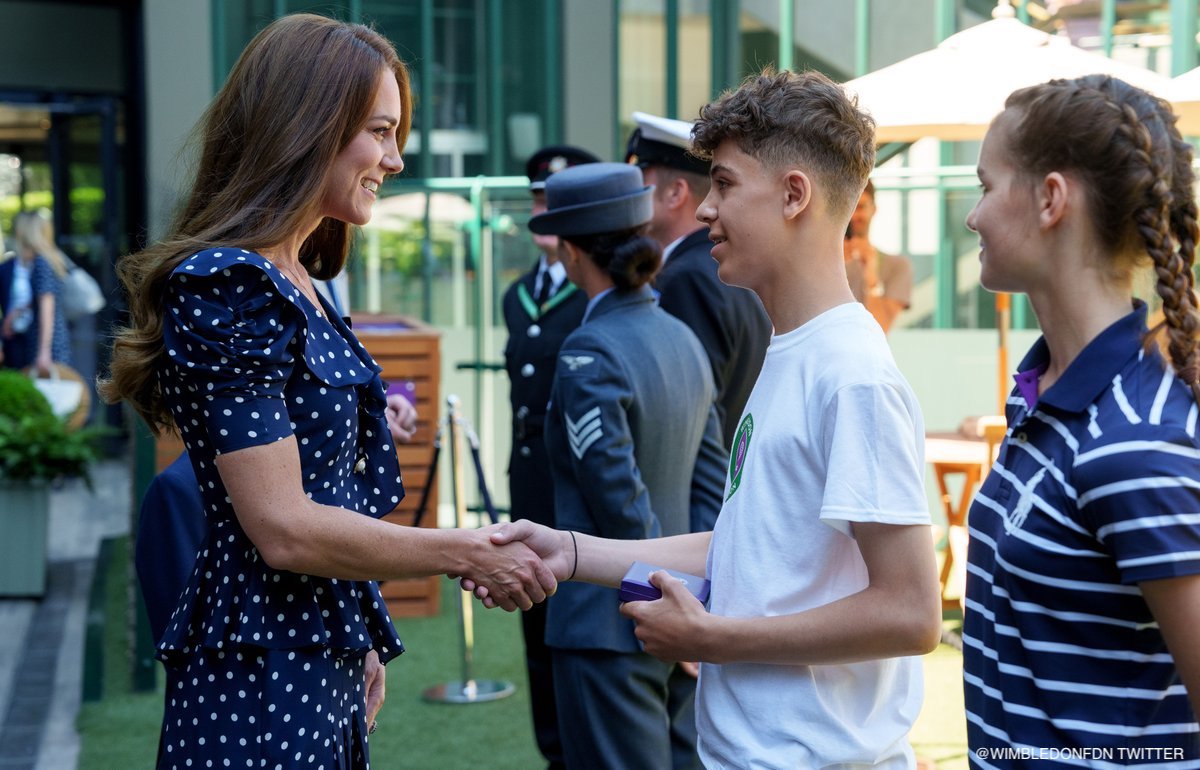 After Djokovic triumphed, Kate presented him with the tournament trophy. She also presented runner-up Kyrgios with a trophy too. (Kate performs this role as Patron of the All England Lawn Tennis and Croquet Club, which she took over from the Queen in 2017.)
This is Kate's third Wimbledon appearance of 2022. She made her debut on Tuesday—the ninth day of the tournament—wearing a blue polka dot Alessandra Rich dress. She attended the thirteenth day of the tournament yesterday, Saturday, wearing her yellow Roksanda Brigette dress. She watched Russian-born Elena Rybakina beat Tunisia's Ons Jabeur to the women's singles title.
Let's take a closer look at Kate's dress and accessories from today:
Kate's Wimbledon Outfit:
For the Wimbledon men's finals, the Duchess opted for a blue polka dot dress by Alessandra Rich. (Huge thanks to Katie for finding this dress so quickly and sharing it with us on Twitter!)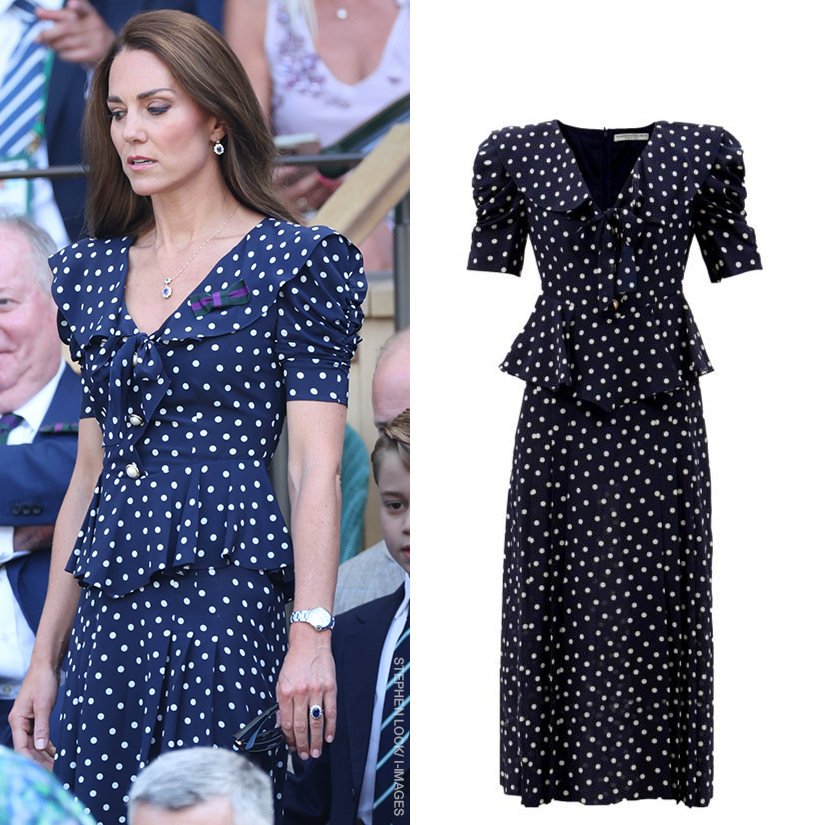 The garment is made from a navy blue polka-dot printed silk crepe fabric. It features a peplum waist, crystal buttons and a 1980s-inspired Chelsea collar with a tie. The dress retailed for $1,535 USD / £1,335 GBP at Matches Fashion. Unfortunately, it looks like the dress is from a past season and can no longer be purchased.
SHOP THE LOOK—Alessandra Rich:
Kate's blue polka dot dress cannot be purchased. Below, I've selected three alternatives from Alessandra Rich if you'd like to copy Kate's style for your next event: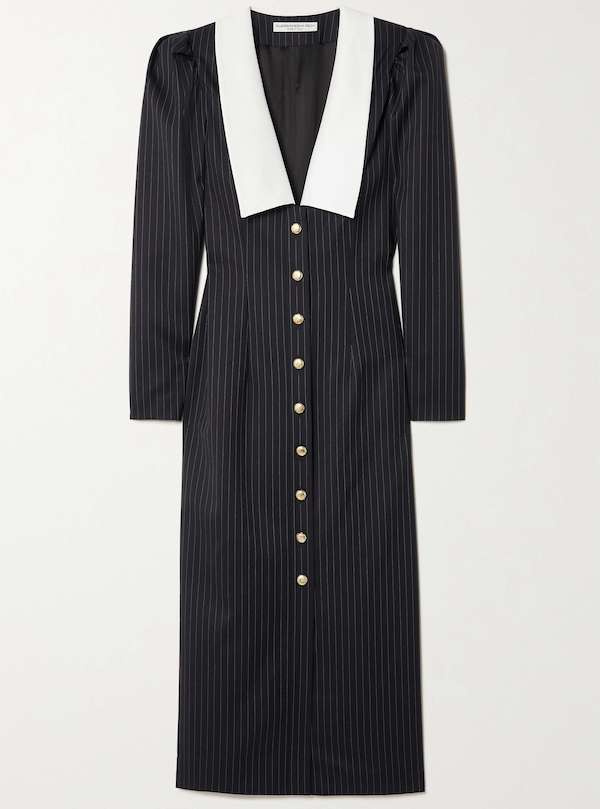 ALESSANDRA RICH
Navy Pinstripe Dress
Click to buy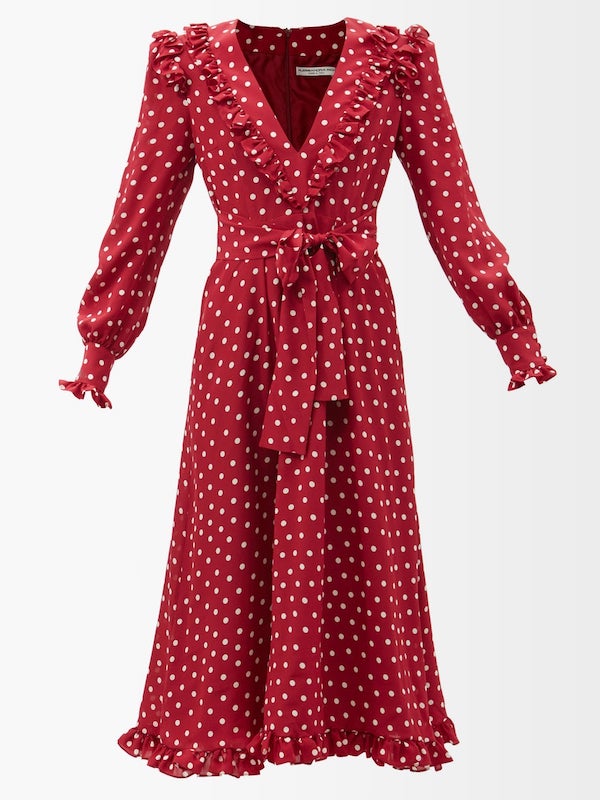 ALESSANDRA RICH
Red Polka Dot Dress
Click to buy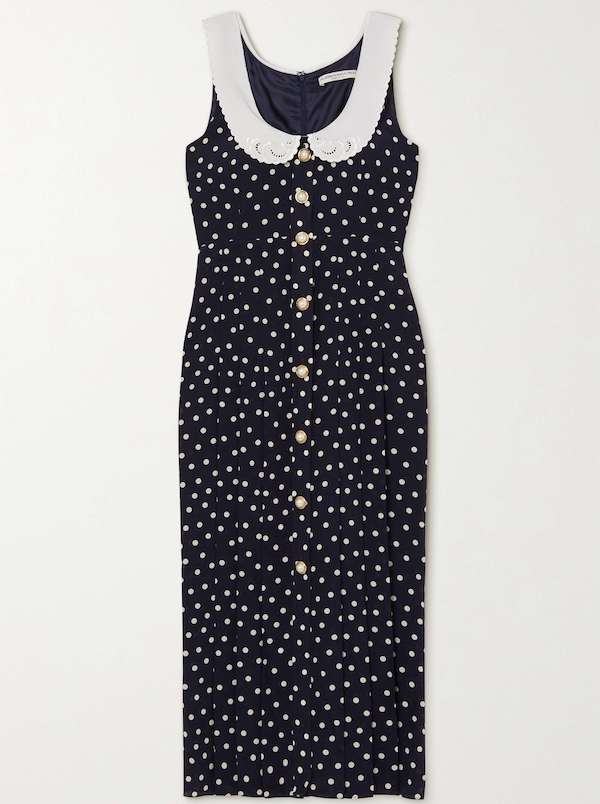 ALESSANDRA RICH
Navy Polka Dot Sleeveless Dress
Click to buy
Alessandra Rich out of your budget? No worries, try one of the following high street dresses instead:
SHOP THE LOOK—Polka Dot Dresses From The High Street
Each of the dresses below has an element or elements from Kate's dress—happy shopping!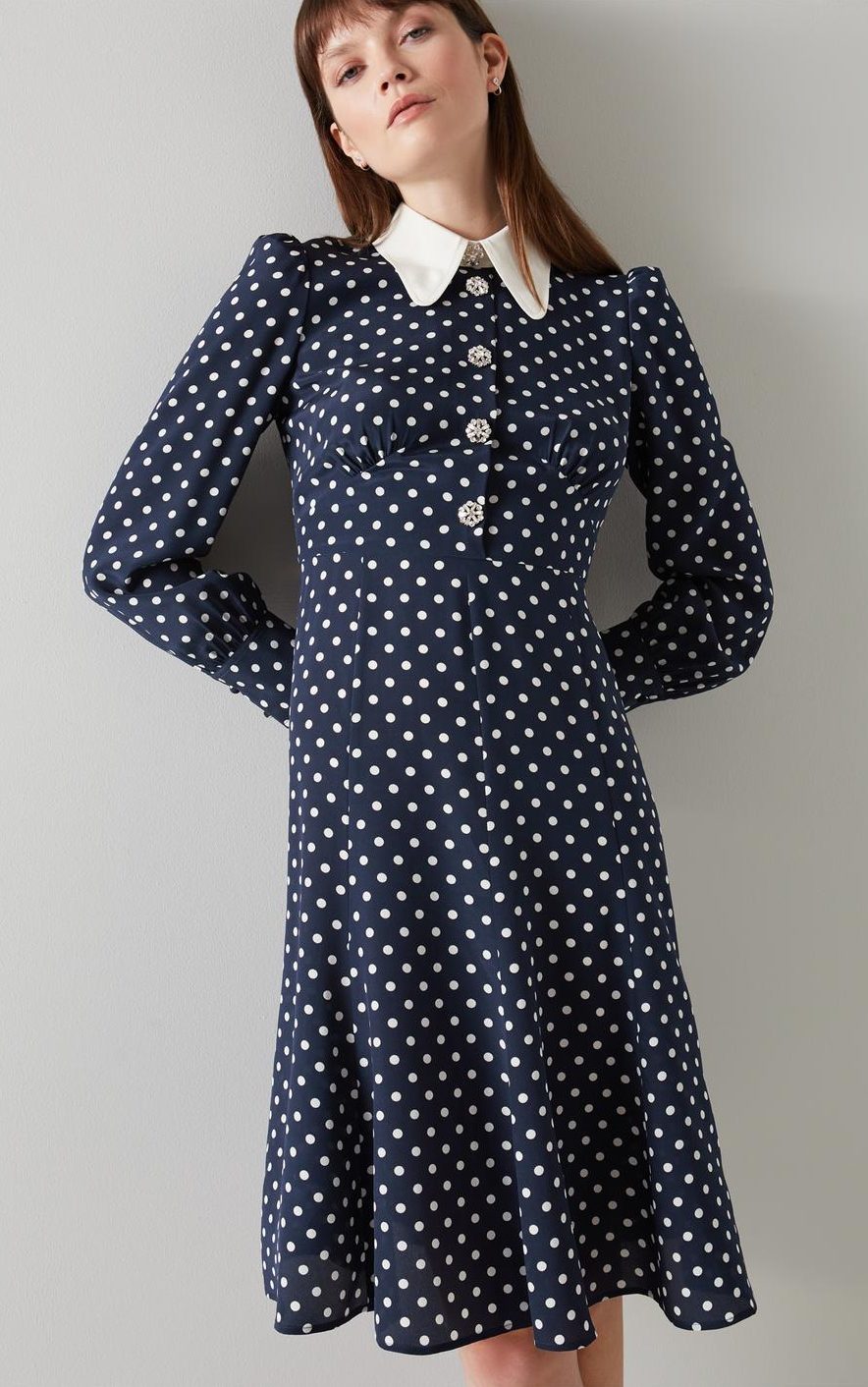 L.K BENNETT
Mathilde Navy & Cream Polka Dot Silk Dress
Click to buy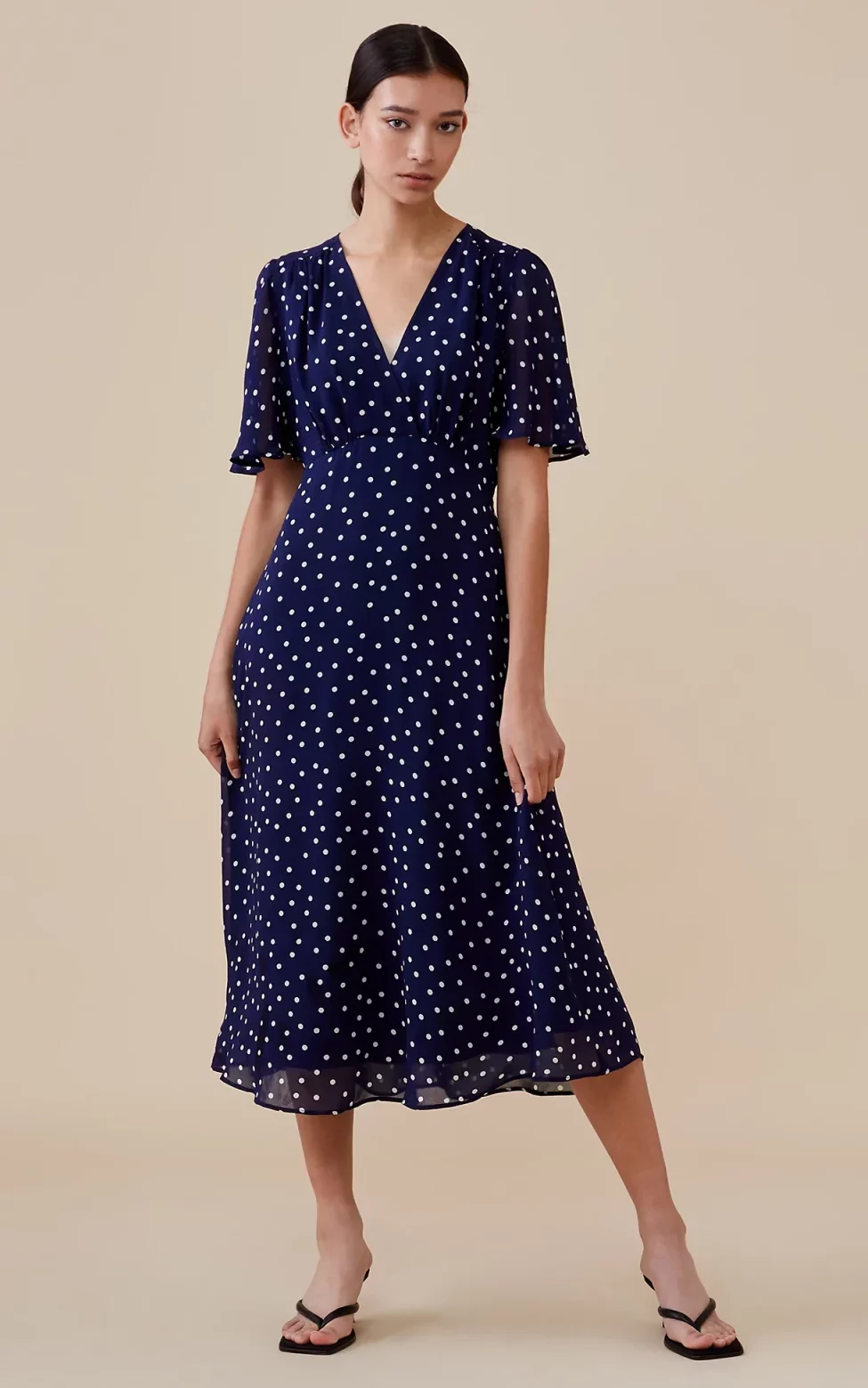 MARKS AND SPENCER
Navy Polka Dot Short Sleeve Midi Tea Dress
Click to buy
TRILOGY
Lily & Lionel Trixie Dress In Navy Polka Dot
Click to buy
If the navy polka dot dress feels familiar, that's because Kate wore a similar design by the designer to leave The Bahamas earlier this year, at the end of the Platinum Jubilee Caribbean Tour.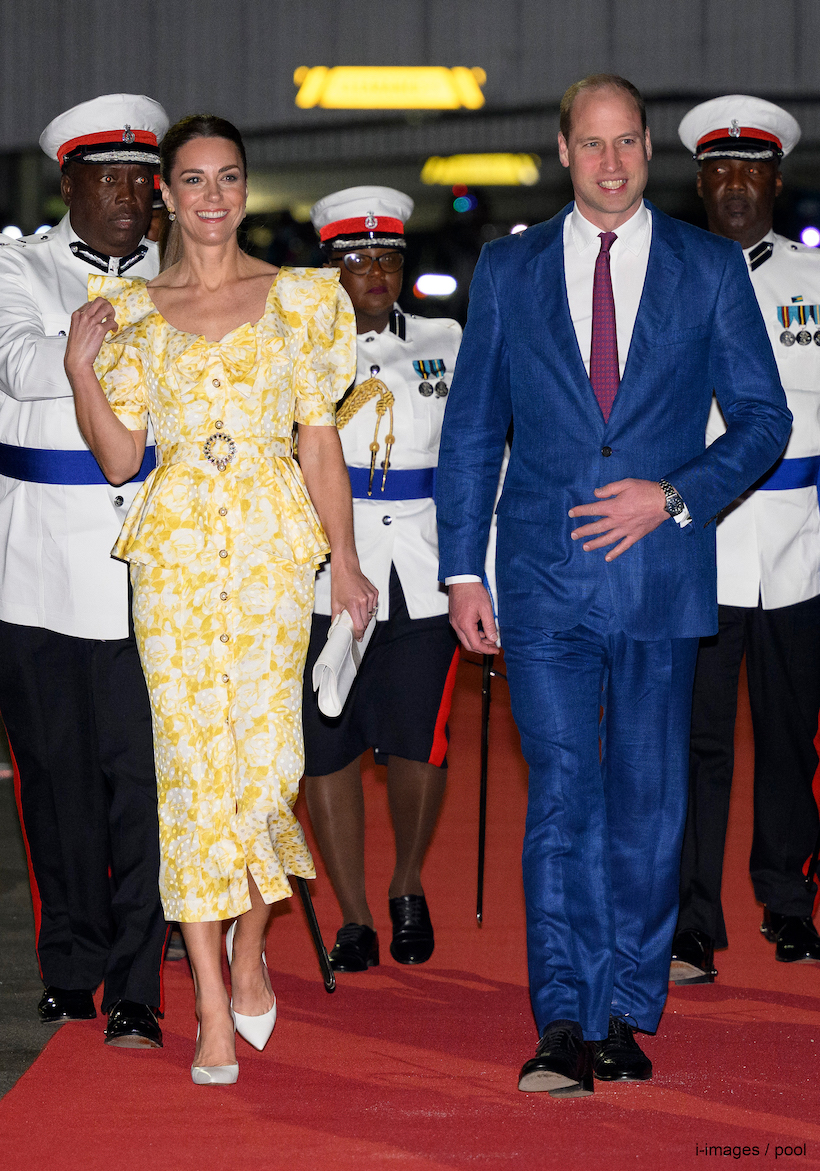 Kate's clearly a huge fan of Alessandra Rich. I make this the tenth dress she's worn from the designer since 2018. A small selection of recent looks below—
In addition, Kate owns an Alessandra Rich skirt and two pairs of slingback heels by the designer—in fact, the Duchess wore one pair of the slingbacks with her navy dress today: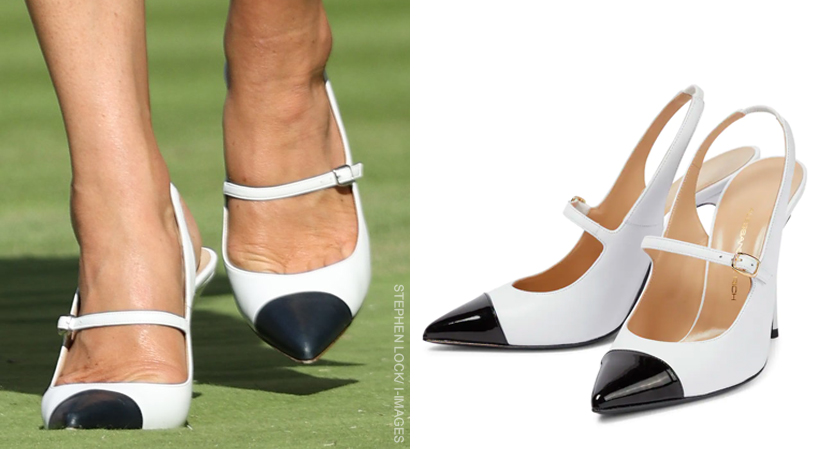 They're the Alessandra Rich Fab Slingback Pumps. They're white with a contrasting black toe. They're known as the 'Fab' pumps.
The two-tone pumps are crafted from leather and feature a contrasting pointed toecap. They feature a Mary Jane-style strap and a mid-size heel (8.5cm). They're made in Italy. The shoes are still available to purchase from MyTheresa.com .
Kate owns the shoes in a nude/cream colour too. Here's Kate wearing them last month: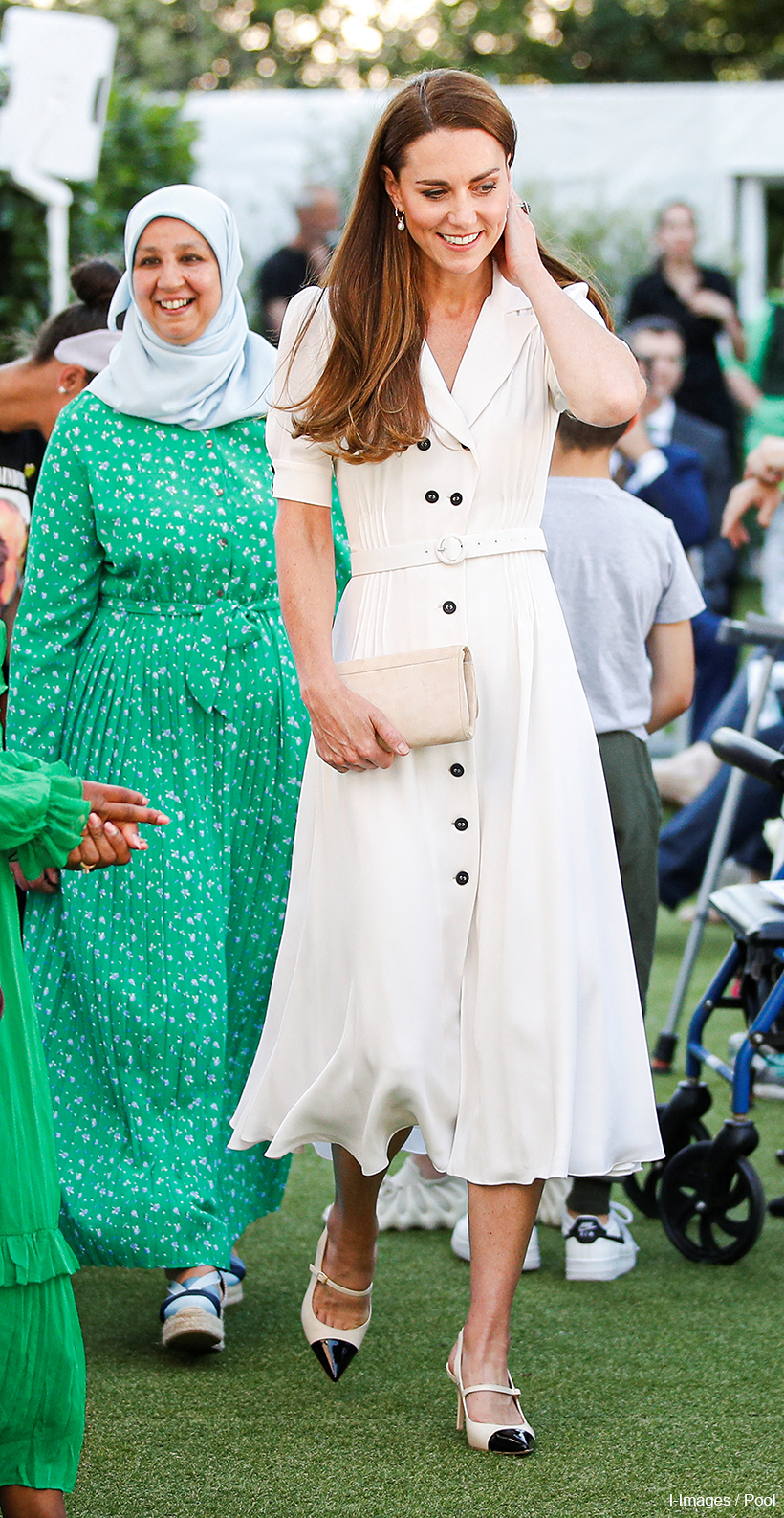 At Wimbledon today, the Duchess wore her sapphire earrings and matching pendant—they contain faceted sapphire stones that are surrounded by diamonds and appear to be set in gold. (Both pictured below on various other occasions).
At the moment, both pieces remain a mystery. It's not known if they're from the same set or were purchased separately. Kate's worn the earrings regularly since 2011—this is the 70th public sighting of the earrings according to the Data Duchess. The necklace hasn't been spotted as often—we've only seen her wear it on five different occasions since 2020.
It was once claimed that the earrings had belonged to Princess Diana and had been reworked for Kate, but this has been disproven.
Let's move on to Kate's sunglasses now. They're by Bvlgari, the 8170 style.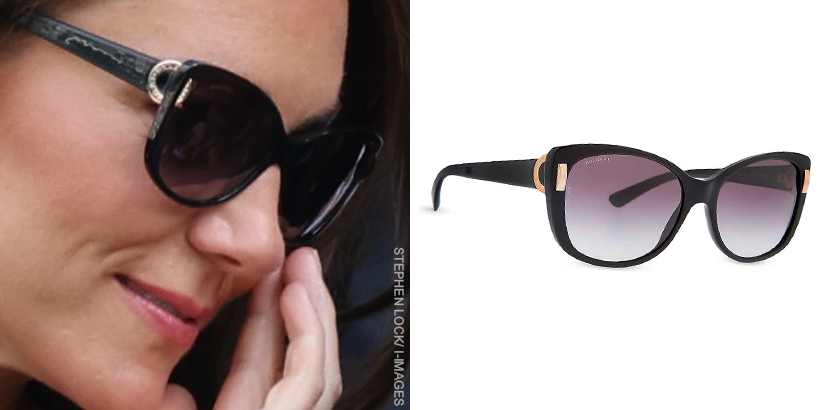 The sunglasses feature grey gradient frames and a unique gold-tone circular detail on each arm that's engraved with the company's name.
We've seen the Duchess wear the black cat-eye style frames twice before, once in 2017 and yesterday, during the ladies' finals.
Unfortunately, You can no longer buy the style. I've handpicked a couple of other Bvlgari cat-eye frames for anybody looking for similar sunglasses, see them below:
SHOP CAT EYE BVLGARI SUNGLASSES:
Finally, let's take a look at Kate's stainless steel watch. It's by Cartier. The Duchess wears the 33mm Ballon Bleu style. She's owned it since 2014.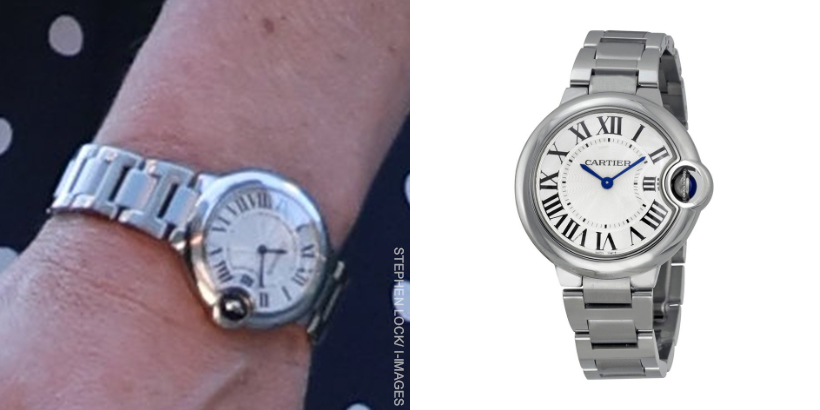 The stainless steel watch has blue hands, Roman numeral hour markers and a blue synthetic spinel cabochon. If you're in the market for a new timepiece, it's still available to buy at Goldsmiths for £5,100.