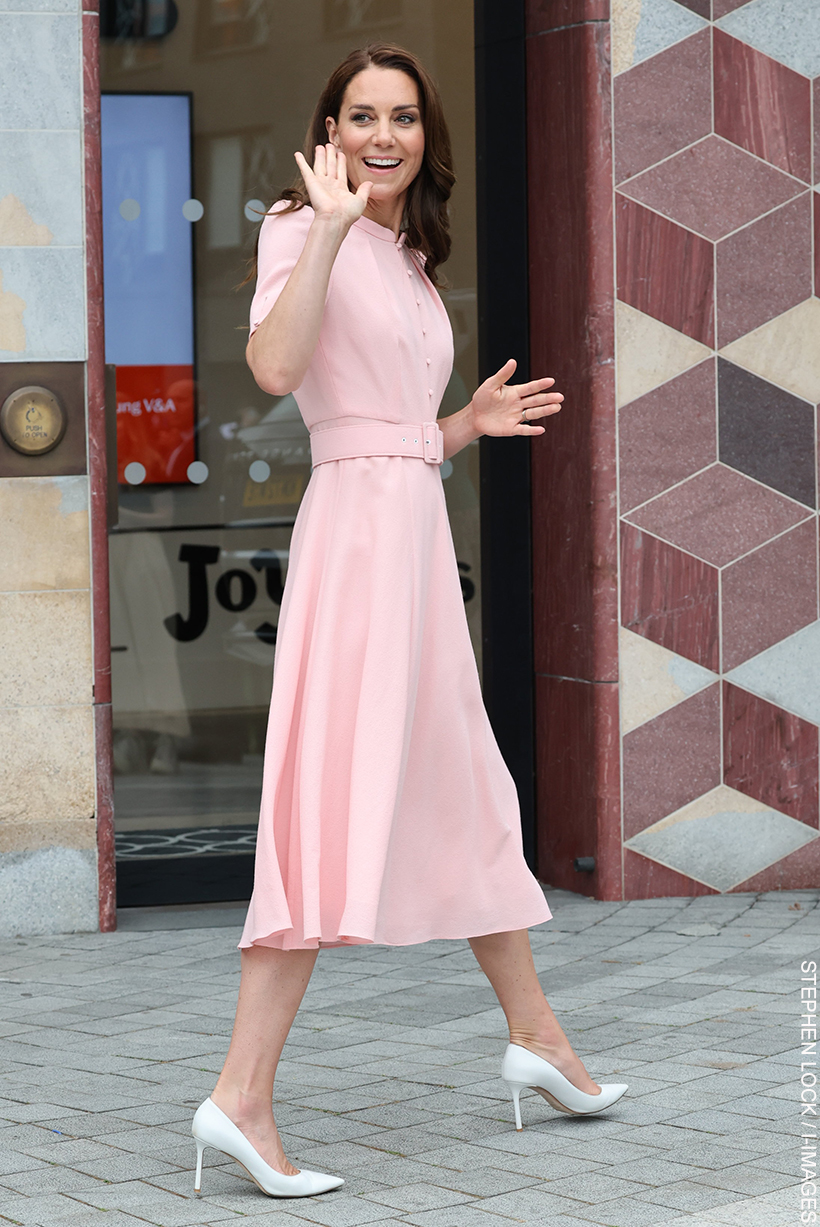 Kate Middleton looked as stylish as ever at the Young V&A Museum this morning.
The Princess of Wales officially opened the newly transformed space, formally the V&A Museum of Childhood, wearing a blush pink dress by Beulah London, paired with white Jimmy Choo heels and sparkling diamond earrings by Mappin & Webb.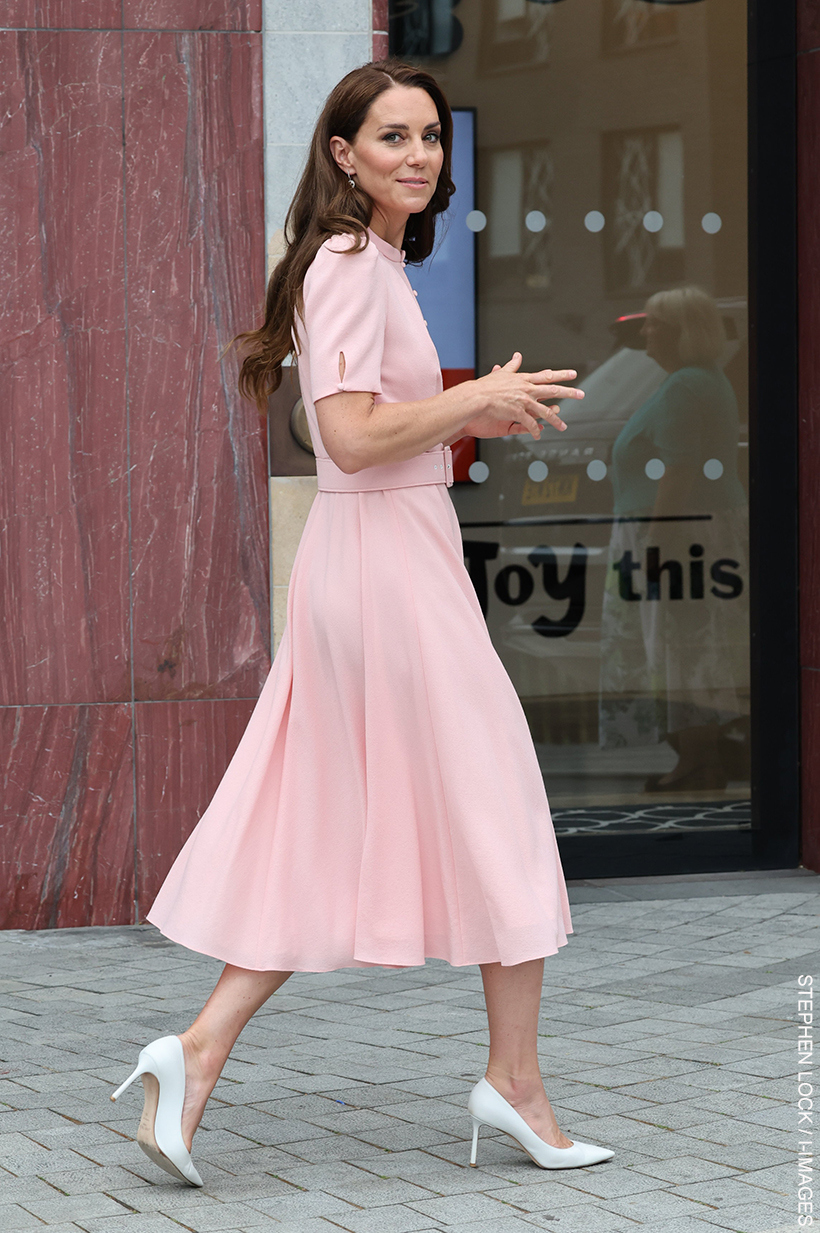 The reimagined museum hopes to inspire the next generation of creative minds when it opens next month. It will cater specifically to young people aged 0-14, focussing on design and creativity.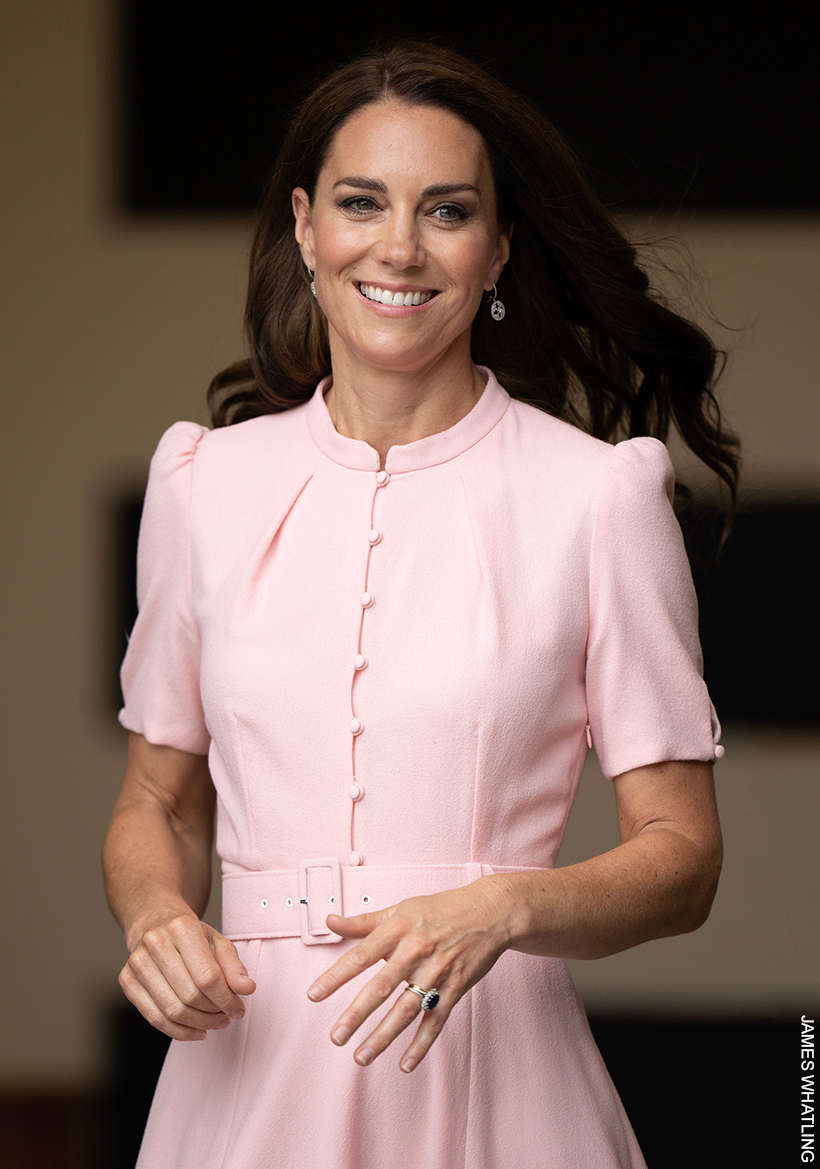 The museum recently underwent a three-year transformation, during which local schoolchildren, parents, and teachers participated in co-design and co-production workshops. They collaborated with architects and the Young V&A team to re-conceptualise the use of the building, design key architectural features, contribute ideas for displays and the exhibition program, and even participate in creating new commissions for the galleries.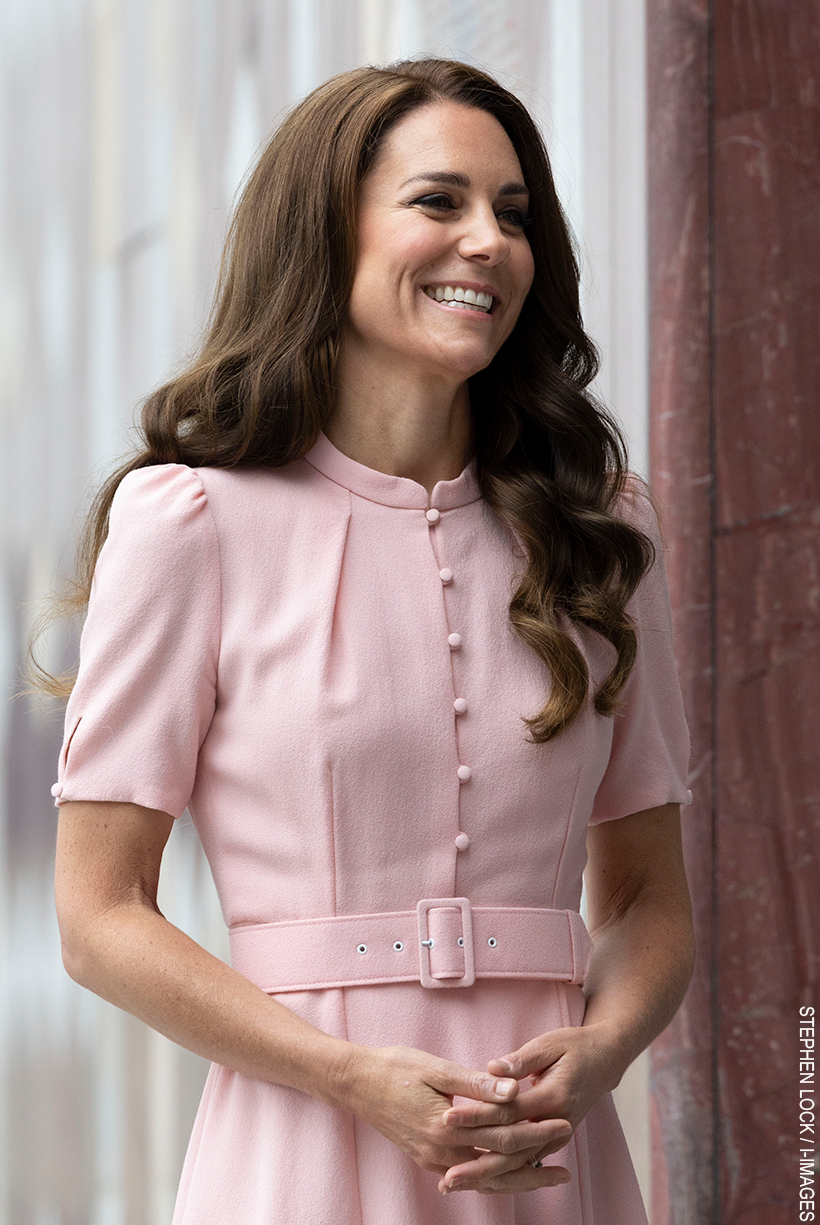 Kate took a tour of the gallery, looking at its remodelled spaces and exhibits. A number of local schoolchildren who participated in the project guided the Princess around the building.
She learned more about the three new galleries, Play, Imagine, and Design, which each cater to specific age groups. The Play Gallery is a sensory landscape for toddlers. The Imagine Gallery is a space for children to express their creativity through performance and storytelling, and the Design Gallery exhibits innovative designs and their societal impacts. Design also houses a working studio for the Young V&A's Designer in Residence and a Studio space that will host workshops and sessions for young people to escape and create.
Additionally, the museum features The Arcade, a space dedicated to exploring the history and process of video and board game design.
Nearly 2000 objects from the V&A's collections are showcased throughout the museum's galleries in engaging and playful ways, aiming to inspire children's creativity.
The museum will open to the public on July 1st, 2023.
According to Hello! Kate took part in a storytelling session during the visit today, and was "inundated with hugs" from local schoolchildren.
Of course, Kate is Patron of the V&A museum. She became the museum's first royal patron in 2018.
Let's take a quick look at Kate's outfit now.
Kate's pink dress & accessories at the V&A:
Kate looked lovely in the blush pink dress. The mid-length frock was an ideal choice for the museum opening. As mentioned above, it's by Beulah London, it's the company's Ahana Dress With Short Sleeves.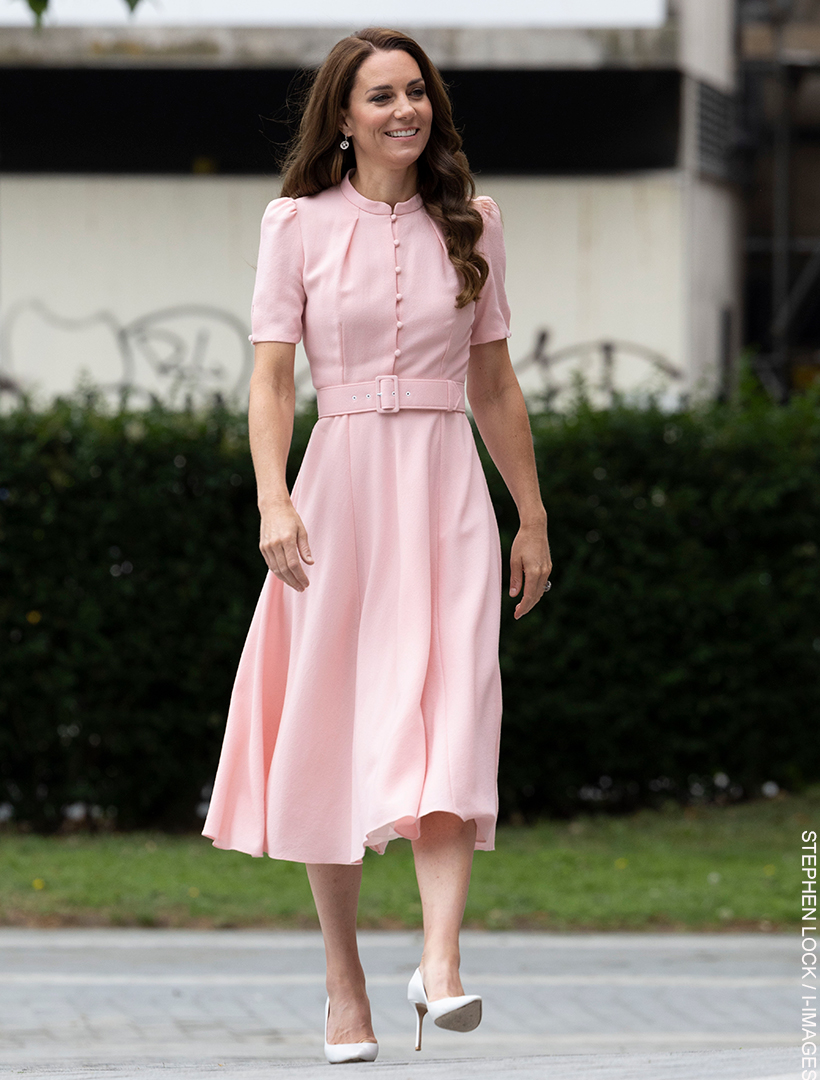 Does it feel familiar? It will to our regular readers. Kate's worn the item before, to the Wimbledon Men's Finals in 2021. A reminder below:
(And yes, that makes it Kate's SECOND Wimbledon re-wear in two days. You might remember the Princess recycled a Wimbledon look yesterday, too.)
The mid-length blush pink dress is crafted from 100% wool crepe and has a fit-and-flare silhouette. It has a short stand neckline, short sleeves and a sweeping skirt that's belted at the waist for a figure-defining fit. The dress also features a charming button front detail​.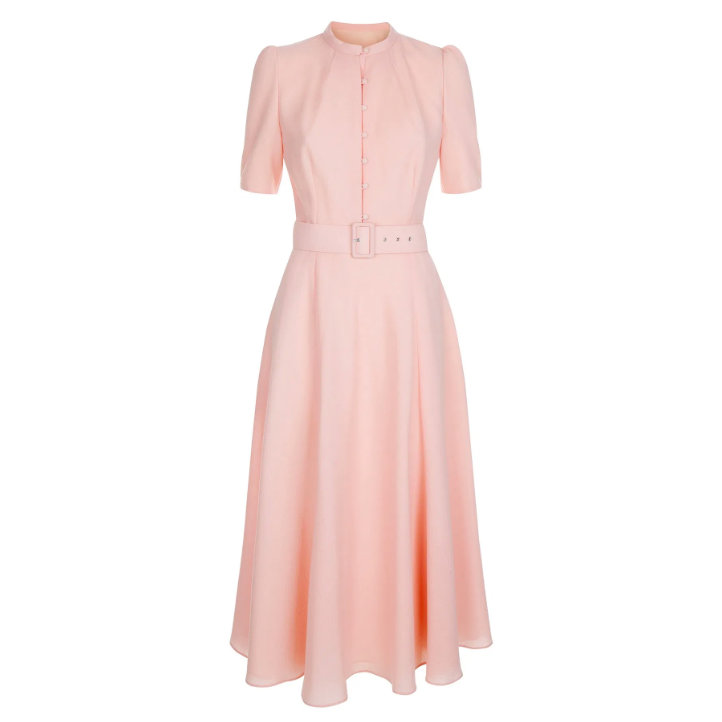 You can buy the dress for £720 from Beulahlondon.com in blush, plus it comes in a handful of colours, including beige, lilac, lemon yellow and navy.
A handful of other royals have worn the short and long-sleeved Ahana dress, including Princess Beatrice, Crown Princess Mary of Denmark and Lady Frederick Windsor, in two colours:
Beulah London is a British fashion brand founded by Natasha Rufus Isaacs and Lavinia Brennan in 2010—the former has several connections to the Royal Family. Natasha is the daughter of the Marquess of Reading, is friends with Kate and married to somebody Kate briefly dated at university. Her father was a close friend of the then Prince Charles, and she knew both Prince William and Prince Harry growing up. It's easy to see why Kate is happy to support Beulah: the company focuses on ethical and sustainable production methods, plus they empower women affected by human trafficking and poverty by providing them with employment and training opportunities.
Kate's worn a handful of Beulah London designs over the last decade or so. Some of the pieces she owns from the brand include the Shibani scarf, Sabitri dress, Calla dress, Papilio coat, and Yahvi dress, among others.
The Princess paired her pink dress with white heels. They're the Romy 85 style by Jimmy Choo. These shoes sport a chic white leather finish with a pointed toe and an 85mm slim heel. You can just make out the logo on the sole of the shoe, below: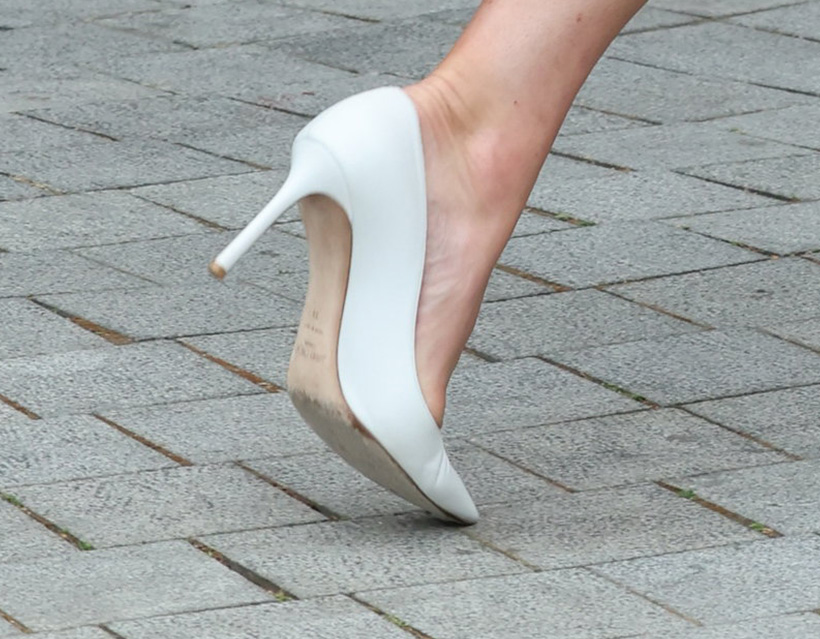 Kate debuted the white pumps in 2021 and has worn them on seven previous occasions in public: twice during the Caribbean tour in 2022, once during the Queen's Platinum Jubilee Weekend in 2022, during a visit to Soho in London in 2023 and earlier this month, during a visit to a Children's Centre in Warwickshire.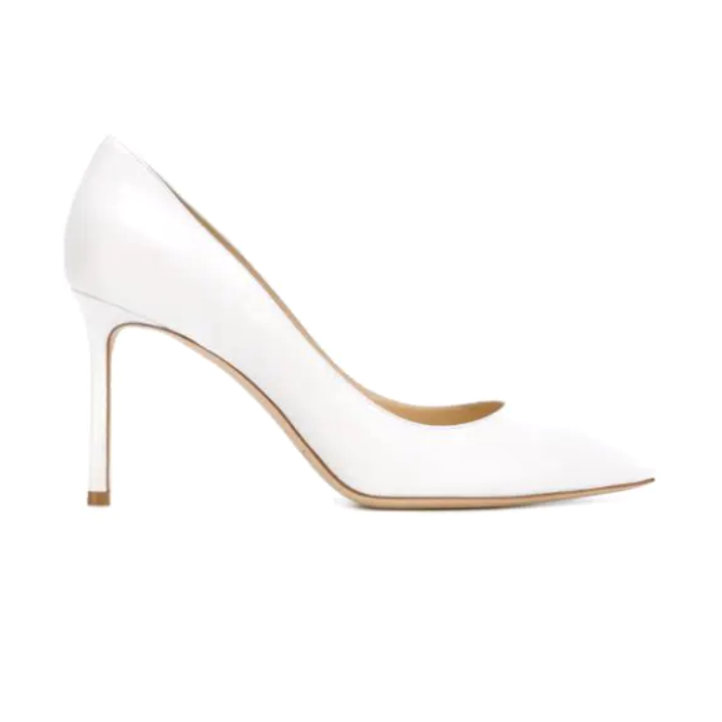 Unfortunately, as of now, Jimmy Choo isn't selling the Romy 85 in white leather. You can find the same style in other colours—including glitter and more—on this page.
Shoemaker Jimmy Choo founded his eponymous brand with Vogue's accessories editor Tamara Mellon in 1996. Since, Jimmy Choo has become synonymous with luxury and style.
It seems the Princess has a soft spot for Jimmy Choo shoes. She's chosen to wear their designs on multiple occasions. In fact, when I was writing a recent article, I found Jimmy Choo ranked as her second most frequently worn heel brand.
Let's finish by looking at Kate's sparkling diamond earrings, they're the Empress drops by Mappin and Webb.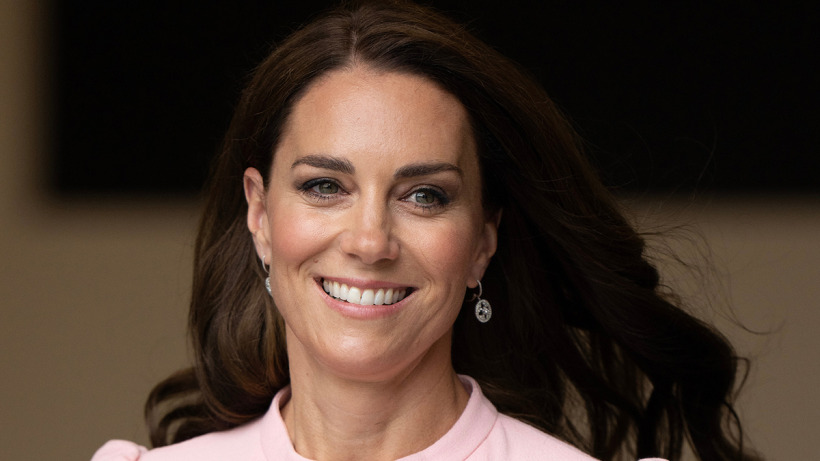 The earrings feature 18ct gold disc drops cut into an intricate design set with brilliant cut diamonds. The Empress design is inspired by an exotic motif that Mappin & Webb originally created in the 1920s for the Empress of Siam.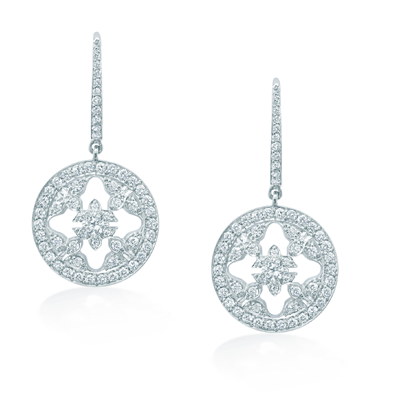 Kate first wore the earrings at Princess Charlotte's christening in 2015, but we suspect they have been part of her jewellery collection since 2014, the year she debuted the matching necklace​.
Kate's worn the earrings to more than 25 public engagements to date, making them one of her most frequently re-worn earring styles.
Unfortunately, the exact style of Empress earrings that Kate wears is no longer available for purchase. An almost identical design retails at Mappin & Webb for £2,500. The stunning earrings are crafted from 18ct White Gold and feature 0.64cttw of diamonds.
Mappin & Webb is a British jeweller and luxury goods retailer, founded in 1775. It holds two royal warrants. Kate has a long-standing relationship with Mappin & Webb and has worn their jewellery on numerous occasions.