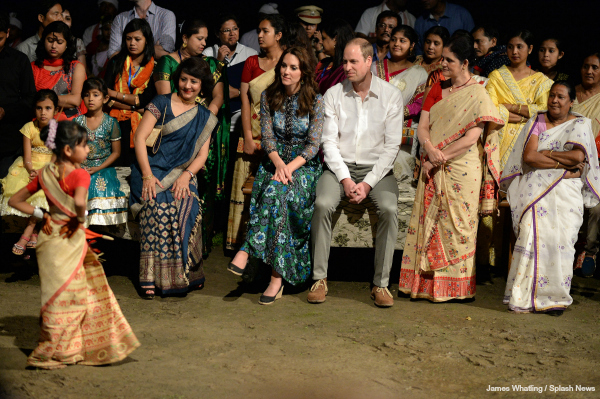 After spending the afternoon lunching with the Indian PM and meeting inspirational women in New Delhi (read about it here), William and Kate visited the Kaziranga National Park, a UNESCO World Heritage Site in the state of Assam.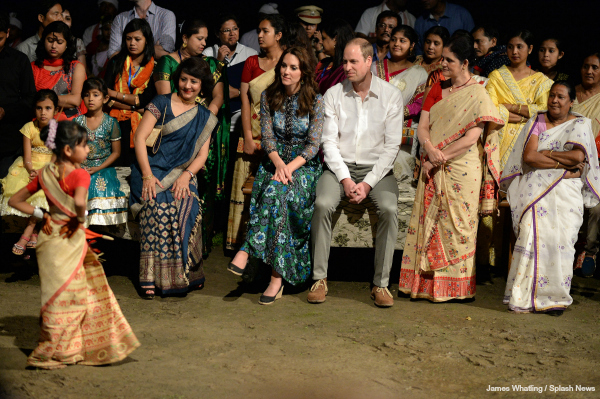 Their visit coincided with the Bohag Bihu festival, the celebration of the Assamese New Year:
"[The festival] unites the population of Assam regardless of their religions or backgrounds and promotes the celebration of diversity."

Via Wikipedia
The festival sounds colourful and vibrant with lots of wonderful traditions.  You can read more about it, and it's importance to the Assamese people by clicking here.
The celebrations took place around a campfire. The Duke and Duchess met with local people and watched a colourful ceremonial dance.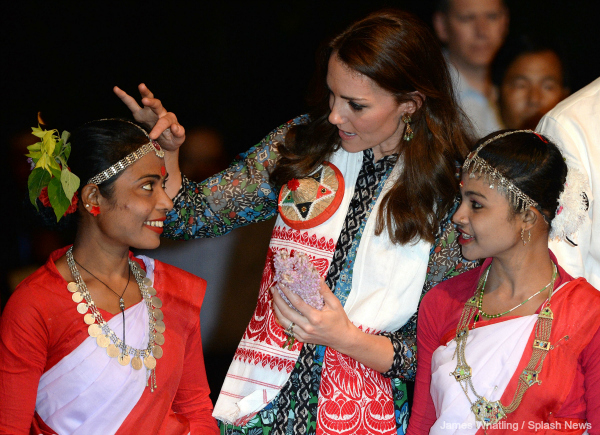 During the visit, William and Kate were charmed by a little boy who seemed to enjoy dancing (though, at one point, he stepped on on Kate's shoes, getting them muddy!)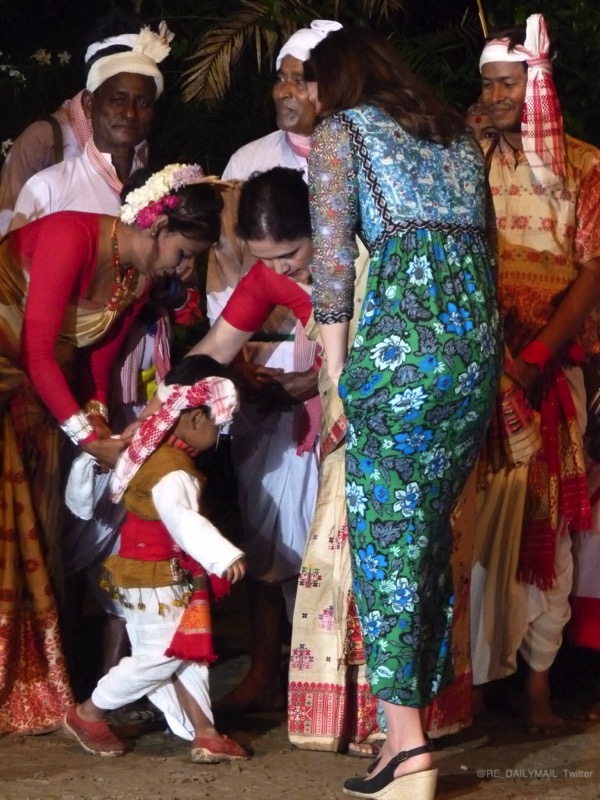 Ranjinee Bhukan, of the British deputy high commission, speculated that perhaps William and Kate were reminded of their own son Prince George, who turns three in July. "They were so happy to see him," said Ranjinee. "They were really watching him. I'm sure they were remembering their little one."

Via Hello Magazine
William and Kate retired for the evening.  The couple stayed in the nearby Diphlu River Lodge.  Here's a picture of one of the cottages from their website: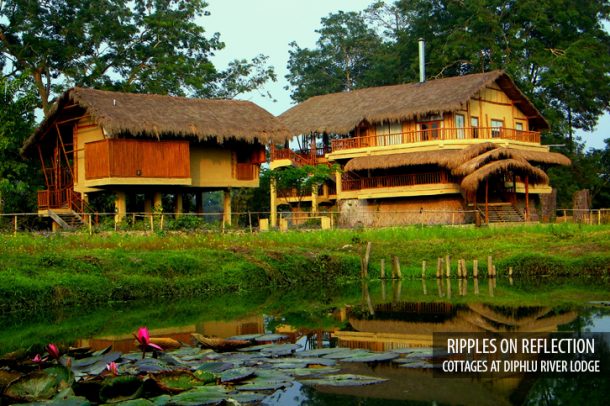 Kate's outfit:
Kate wore a stunning green silk-chiffon and twill maxi dress from American designer Anna Sui.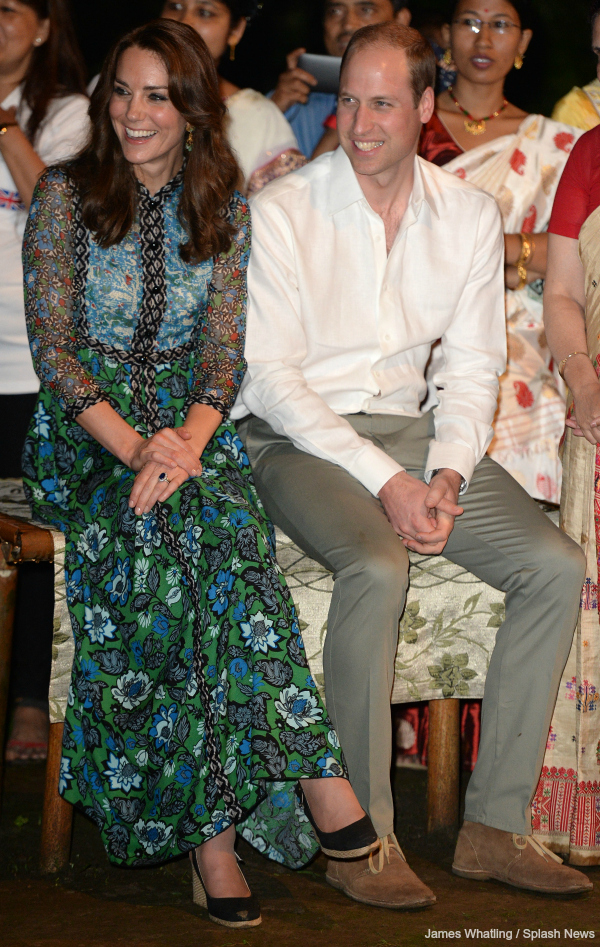 The green and blue dress features floral and animal motifs, making it the perfect choice for the National Park setting.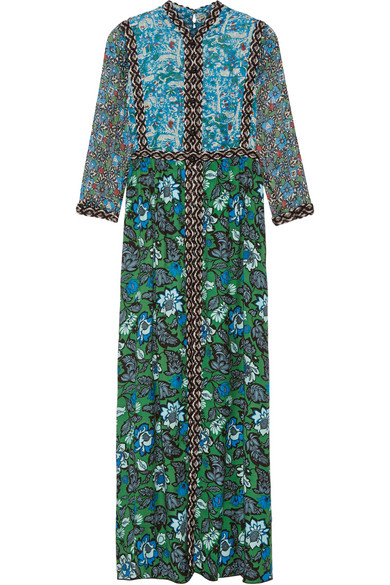 The dress is from Anna Sui's Fall 2015 collection and takes influence from mid-century Scandinavian style and folklore tapestries.
Here's how Net-A-Porter describe the garment:
"Trimmed with tactile embroidery for soft structure, it has an airy crinkled silk-chiffon bodice and pleated twill skirt. Team yours with boots, tempering the sheer finish with a camisole."
The dress cost £805 (roughly $1,145 USD) at Net-A-Porter, though it is now sold out.
Kate paired the dress with her Pied-A-Terre Imperia wedges.   FYI, the company ceased trading somewhere around 2011-2012 and their sister company Dune took over making the shoes.


They're identical in design and can still be purchased today.  They're known as the Karley wedge now.  Sadly, Dune no longer stock the black colour, however, you can choose between gold, navy, cream (which Kate also owns) and bronze.
Here's where to buy:
Dune :

$57 – $95  /  £36 – £60
Other currencies available
Dune deliver worldwide
Gold, Navy, Cream & Bronze
6pm.com – From $49.99 (up to 50% off!)
(Prices correct at the time of publishing, 13th April 2016).
Anna from HRH Duchess of Cambridge Blog recognised Kate's earrings in record time.  They actually date back to 2006.  We have no identification on these as yet, they're a mystery!