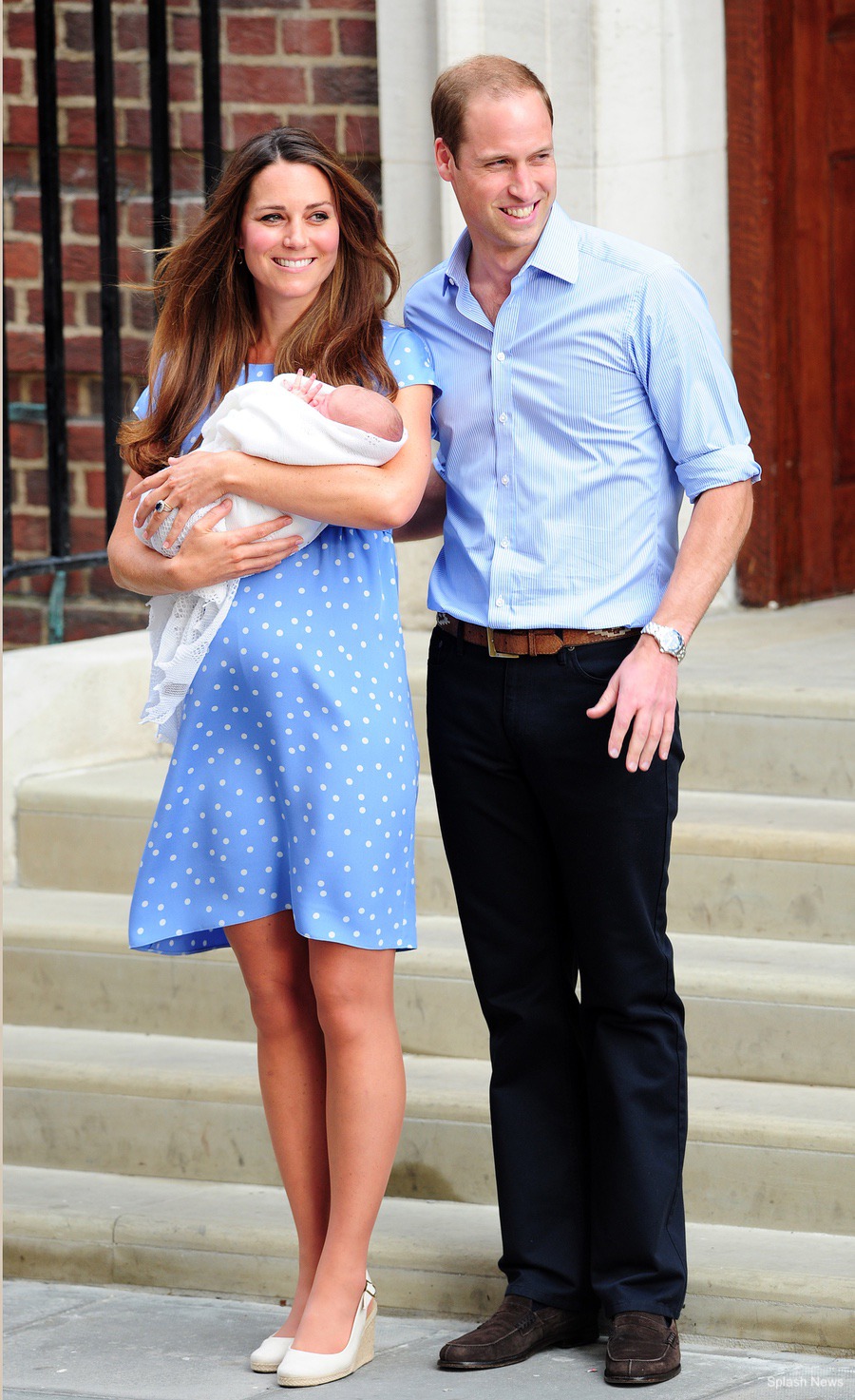 On the 22nd of July 2013, William and Kate welcomed their first baby, a son!  The Prince of Cambridge was born at St. Mary's Hospital in Paddington, London at 4.24 pm London time.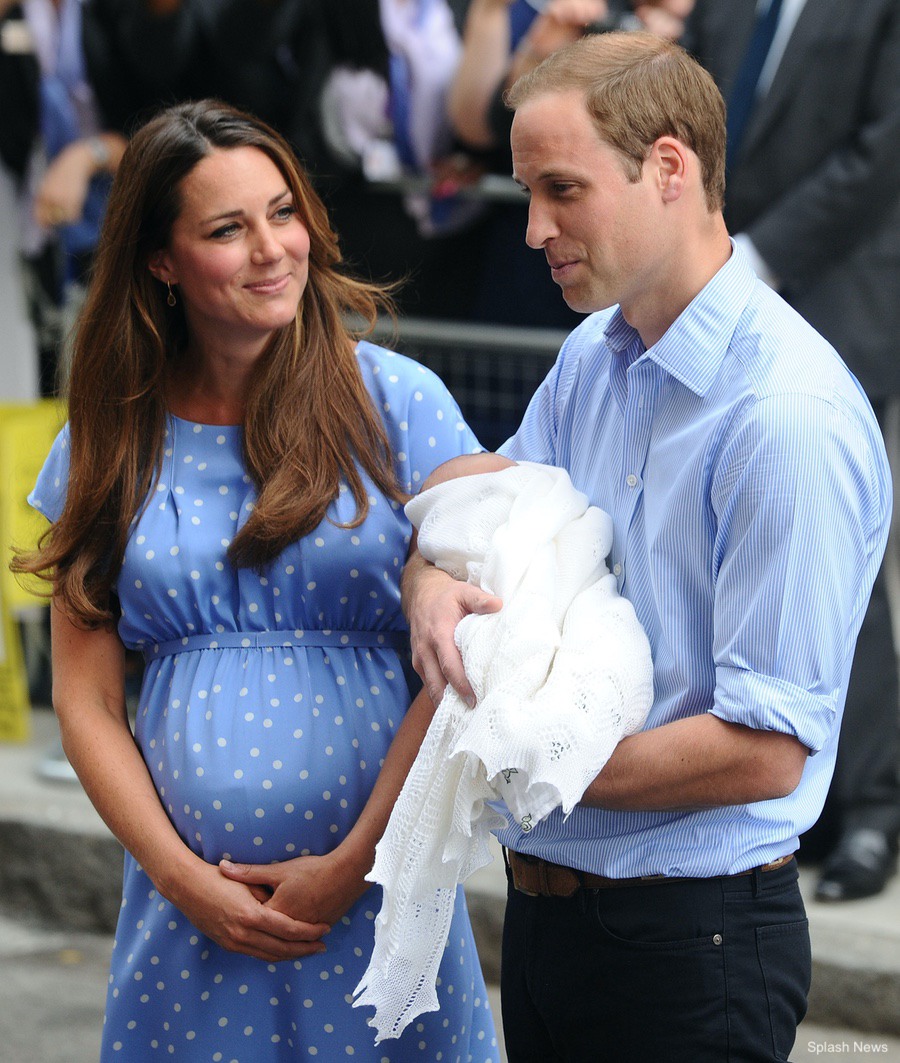 The following day, the couple left the hospital.  Before driving home, the couple took part in a brief photocall to show the new Prince to the assembled media.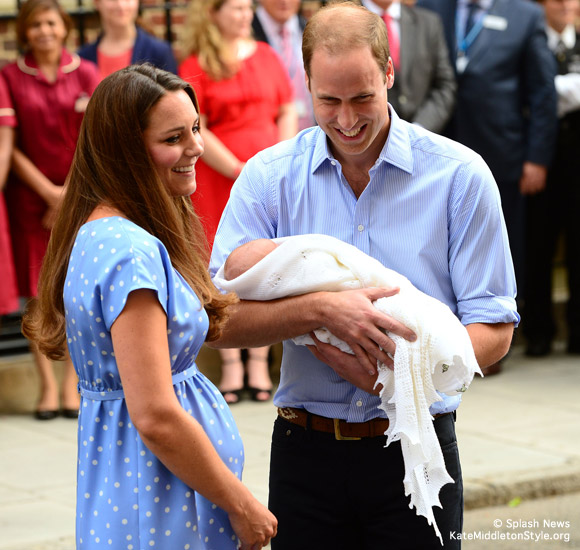 The baby boy is third in line to the throne.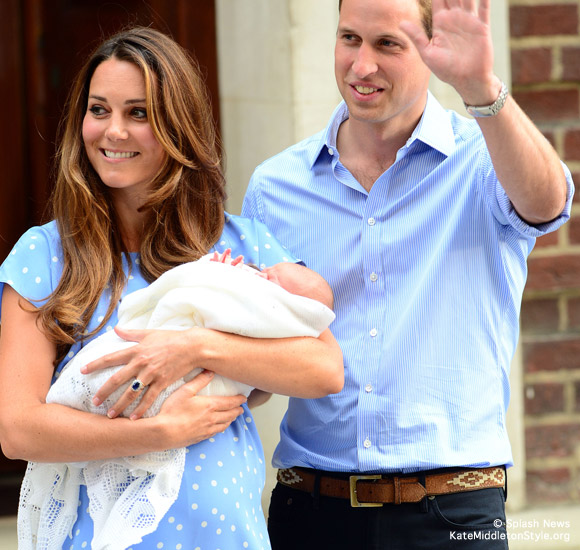 The Daily Mail worked out that he is the heaviest future king born in 100 years.  Dad William weighed 7lb 1.5oz when born in 1982, while grandfather Charles weighed 7lb 6oz.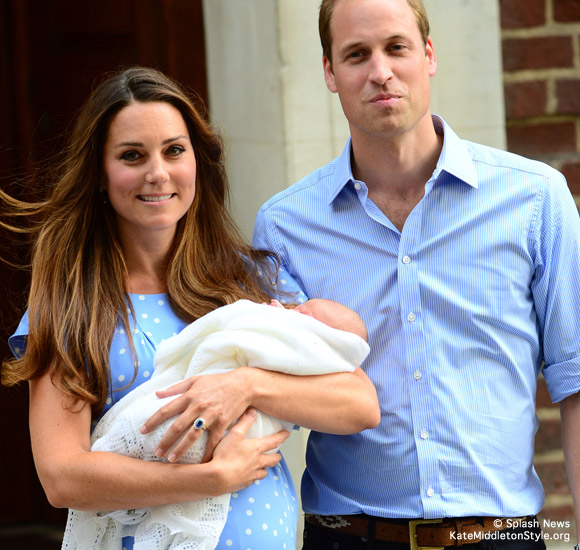 The royal couple left St. Mary's Hospital without revealing the new Prince's name but promised they were "working on it".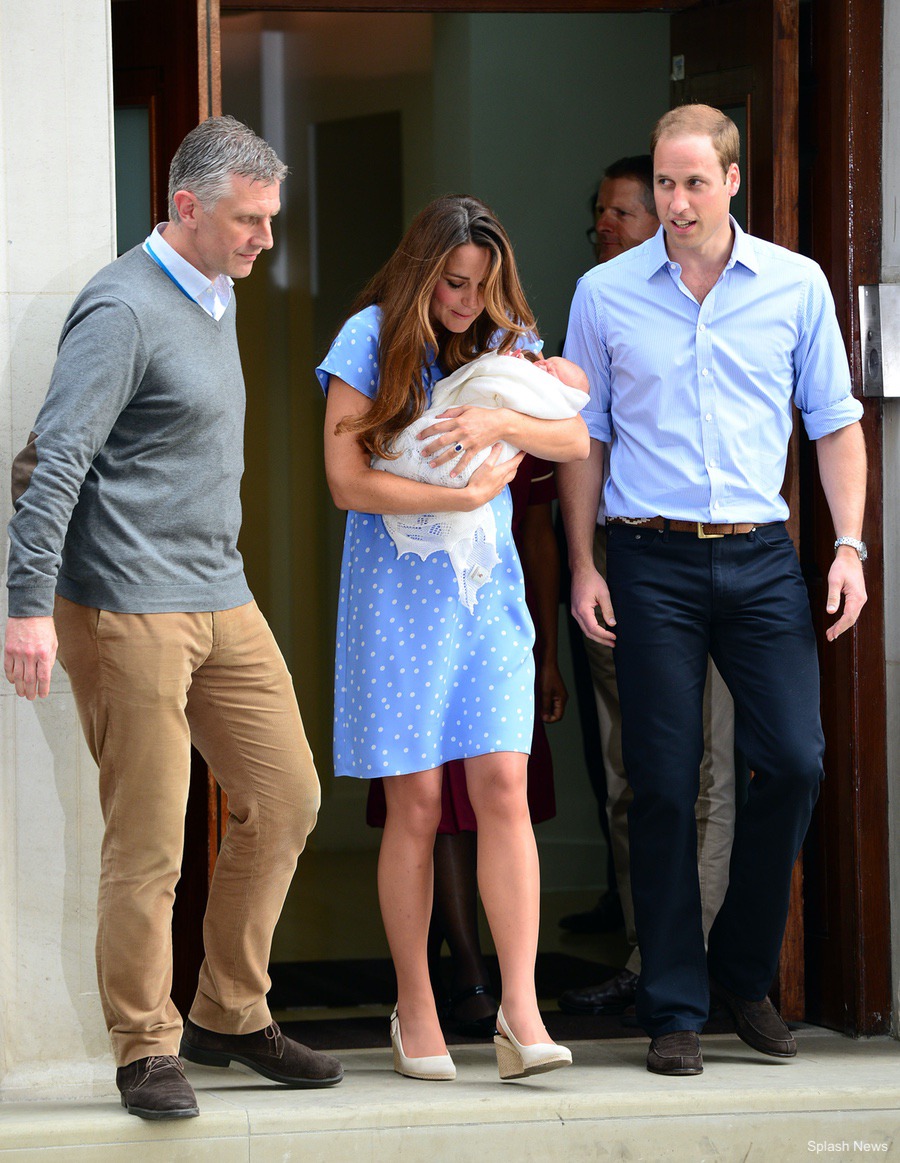 The couple officially announced the baby's name 48 hours later:  George Alexander Louis.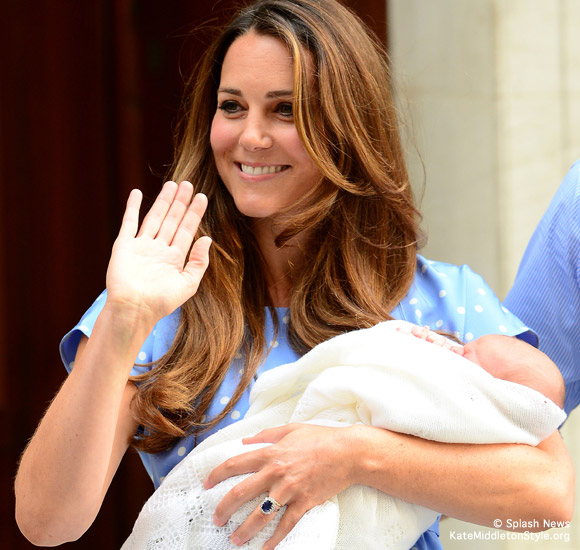 The Duke and Duchess and Cambridge have broken tradition by choosing three names for the baby.  Harry, William and Charles all have four Christian names in total.  Though, Her Majesty The Queen has three names: Elizabeth Alexandra Mary.
A short statement from the Clarence House Twitter account:
The Duke and Duchess of Cambridge are delighted to announce that they have named their son George Alexander Louis.

The baby will be known as His Royal Highness Prince George of Cambridge.
The royal couple made two brief appearances on the Lindo Wing steps.  First, to allow the media to photograph them and the new prince.  During this time, Prince William and the Duchess of Cambridge answered questions from waiting journalists.   They said it was a "very emotional" time, and Kate said other parents will resonate.  William said the baby has "got a good pair of lungs" … and he joked that the baby has Kate's looks. Here's a look at Daddy William holding the baby prince: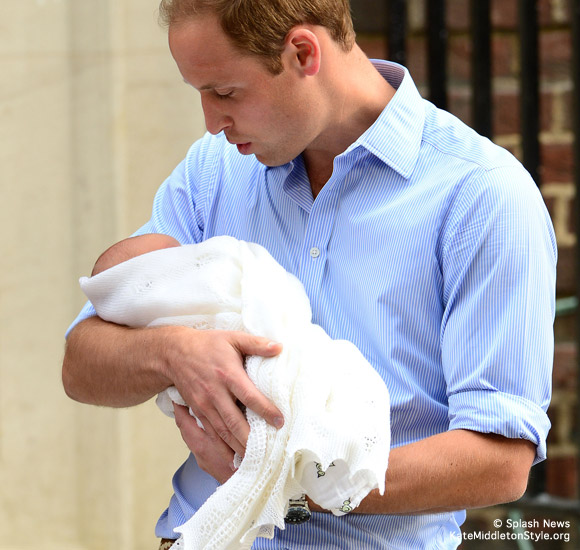 After, the couple went back into the hospital to grab the car seat, before William drove his new family home: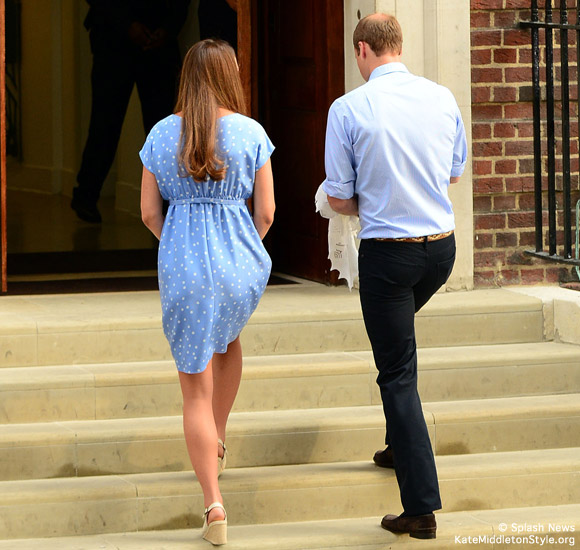 William drove his wife and new baby back to Kensington Palace.  A look at William carrying Baby Cambridge in his car seat: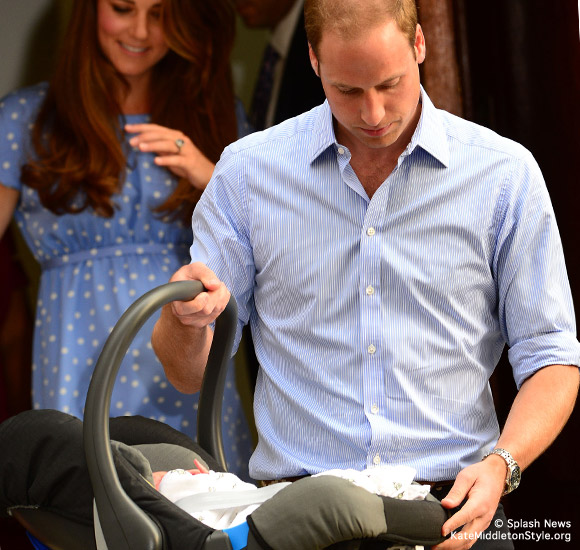 Kate's outfit leaving the hospital:
Leaving the hospital, Kate wore a cornflower blue polka dot print dress.  It's a bespoke piece from British designer, Jenny Packham.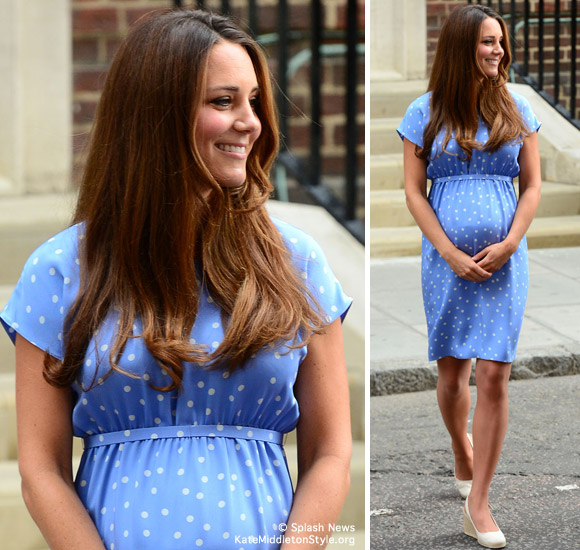 Kate wore her Kiki McDonough Citrine Drop Earrings.  The earrings feature a yellow citrine pear-shaped stone suspended from an 18-carat gold hoop.  Kate wears them fairly regularly.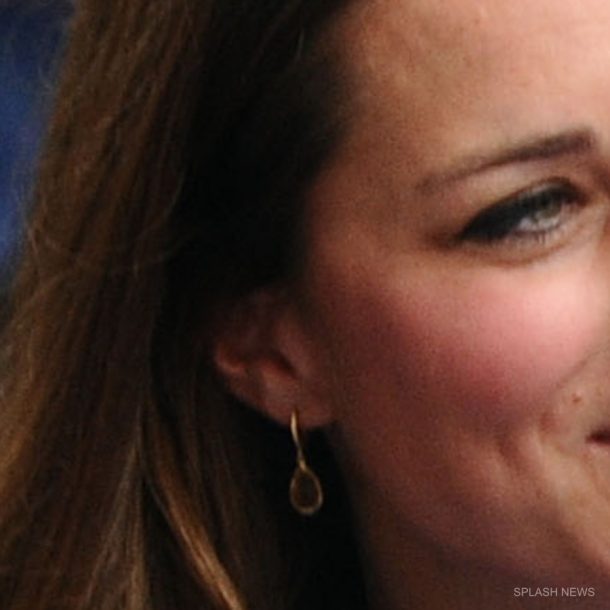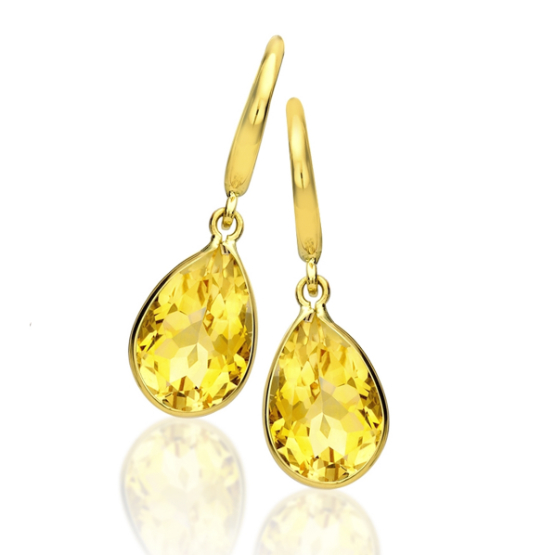 She also wore her Pied A Terre Imperia wedges.  The Duchess owns the shoes in two different colours, black and natural.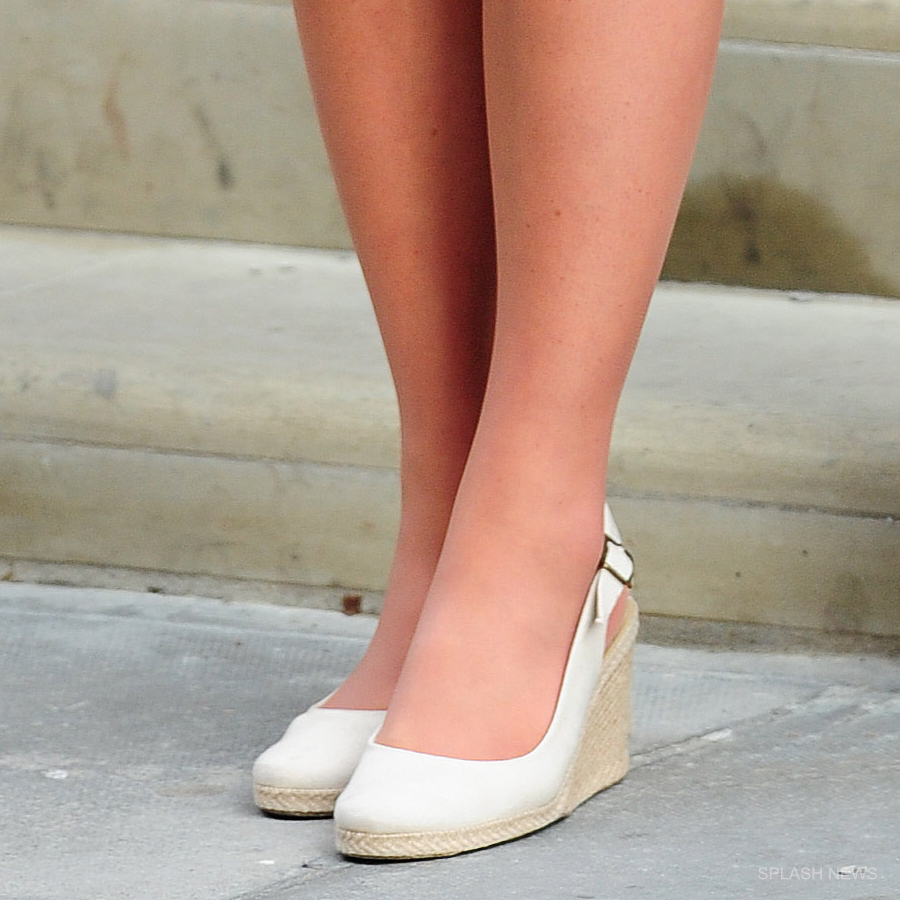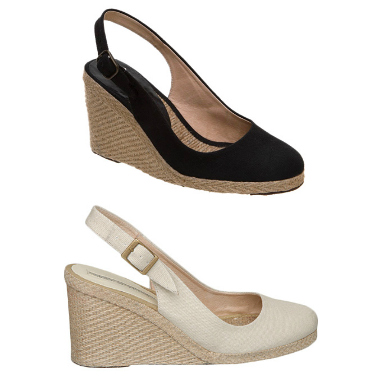 As of 2018, the shoes are known as "KANVAS".  They're now sold by Pied-A-Terre's parent company, Dune London.