Calling all fans of British royalty! The coronation of King Charles III may have passed, but it's never too late to seize a piece of this historic occasion. As a fellow enthusiast, I have diligently explored the internet, seeking the finest souvenirs that honour this extraordinary milestone in British history!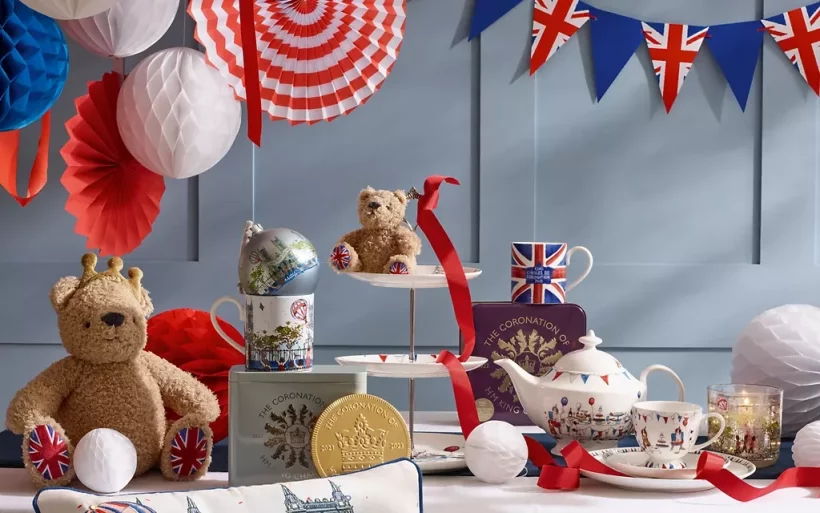 I've compiled a shortlist of my favourite collectible souvenirs below. From elegant teacups to mouth-watering biscuits, let's explore the must-have items for your coronation collection!
Musical Coronation Biscuit Tin, Fortnum & Mason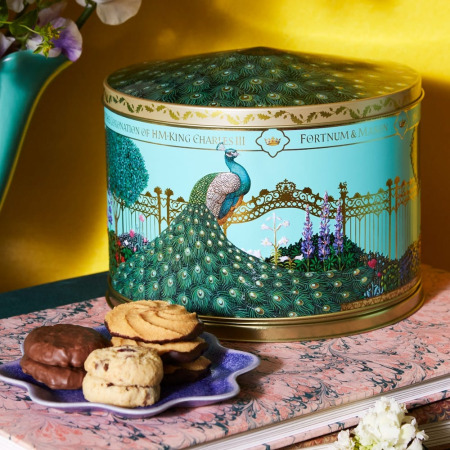 What a delightful way to celebrate King Charles III's coronation! This exquisite tin looks fabulous and plays 'God Save the King' as it spins!
Inside, you'll find a mouthwatering assortment of biscuits, each paying homage to the flavours and ingredients of the Commonwealth. From Fijian ginger and Canadian cranberries to South African macadamia nuts and British clotted cream. The scrumptious biscuits are handmade in Lancashire and will make teatime celebrations truly special.
Coronation Commemorative Two Handle Cup, Fortnum & Mason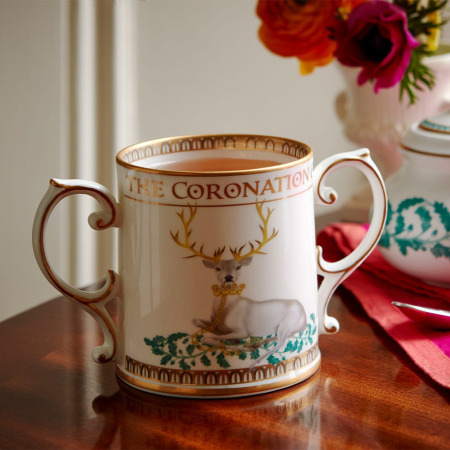 Looking for a truly exquisite collectors' item? I think this Limited Edition Two Handled Cup from Fortnum and Mason's Coronation Collection fits the bill. It's a splendid tribute to King Charles and a fantastic piece to mark the landmark occasion.
The fine bone china cup showcases a majestic White Hart, symbolising royalty and heritage. The collection's elegant tapestry design intertwines camellia sinensis tea leaves with elements from the historic Royal Oak tree, all in regal teal and Fortnum and Mason's signature Eau de Nil hues. The cup, which has been been expertly handcrafted by Royal Warrant holders Caverswall in Stoke-on-Trent, is monogrammed with the coronation date and engraved with an authentication mark. The exquisite collectible is limited to just 250 pieces.
The Coronation of His Majesty King Charles III UK Coin Collection, The Royal Mint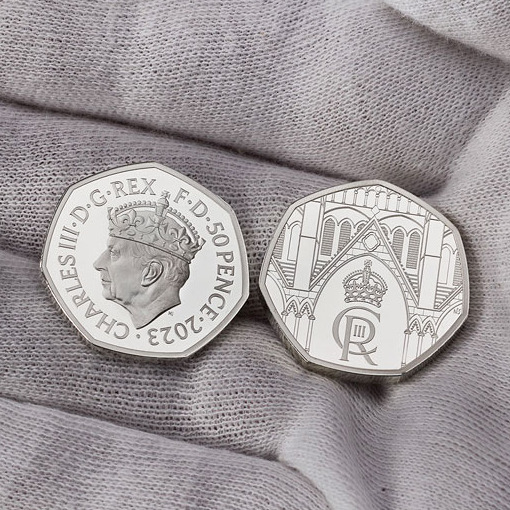 Coin enthusiasts rejoice! The Royal Mint have released a limited edition series to mark the coronation.

The coins feature the world's first official crowned portrait of His Majesty and includes coins from the UK 50p to the Sovereign, each boasting a unique reverse design.
Coronation 1/2 Pint Mugs, Emma Bridgewater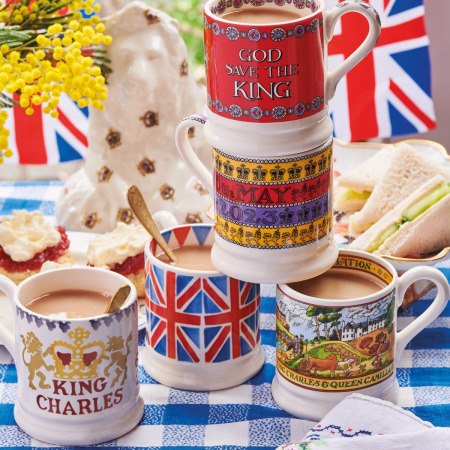 Looking for a keepsake that's practical yet full of personality? The Emma Bridgewater Coronation Half Pint Mugs are a must-have for your collection. Handcrafted and hand-painted in Stoke on Trent, each mug is a unique work of art.
There are five different designs to choose from—which means there'll be a perfect mug for every royal fan. My personal favourite is "King and Countryman" which celebrates the new monarch's love for nature.
Coronation Light Up Candle, Marks and Spencer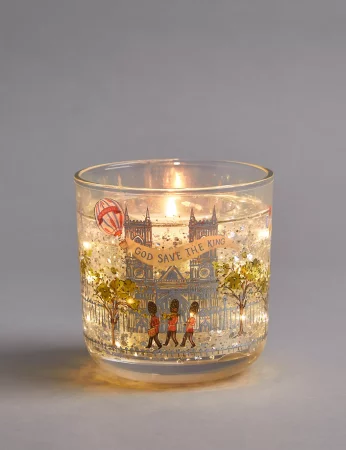 Celebrate King Charles III's coronation in a delightful way with this pretty candle! Adorned with the iconic Westminster Abbey, three King's Guards, and a "God Save the King" banner, it's a charming piece of memorabilia.

It features a zesty neroli, lime, and bergamot fragrance and twinkling LED lights that are cleverly activated by lighting the wick!

A truly enchanting souvenir for royal enthusiasts.
King Charles III Coronation Slippers, Penelope Chilvers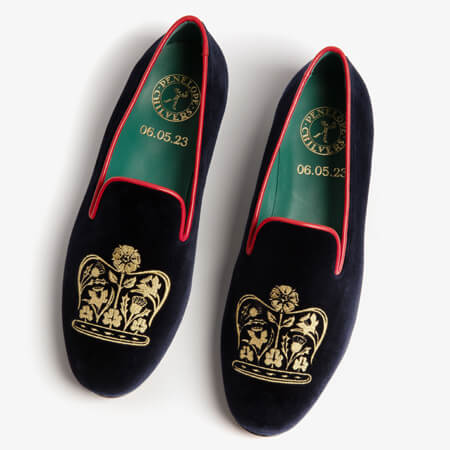 Looking for a luxurious souvenir to commemorate King Charles III's coronation? Look no further than Penelope Chilvers' limited edition slippers. The luxurious slippers come in navy velvet with red leather piping, and feature the Coronation Emblem embroidered in gold metallic thread. Inside, they're lined with goatskin, in a shade of green that matches the King's estate green at Highgrove. It also symbolises Penelope Chilvers' admiration for a King who has campaigned for a greener world for us all. Plus, with £10 from every sale donated to The Prince's Trust, you can feel good about your purchase.

If you follow Kate Middleton's style, you'll know the Princess owns a pair of Penelope Chilvers boots, which she's worn for nearly 20 years.
Large King's Coronation Tote Bag, Harrods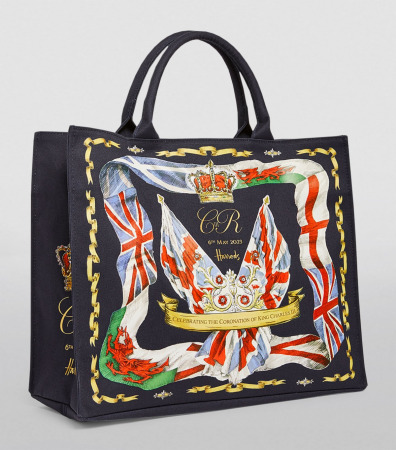 Capture a piece of royal history with this delightful Harrods shopping tote, designed especially for King Charles III's Coronation.

This eco-friendly, recycled cotton tote boasts a striking graphic print and convenient twin top handles. Perfect for commemorating this joyous occasion, you'll be able to treasure this stylish and practical memento for years to come.
King Charles III Coronation Teddy Bear, Harrods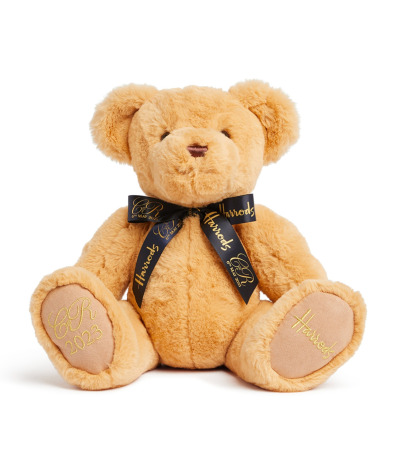 The beloved and iconic Harrods teddy bear joins the royal celebrations for King Charles III's coronation! The regal bear pays homage to the new monarch with exquisite gold embroidery on its paws and a delightful black bow—both sporting the King's cipher and date of the ceremony.
The charming, cuddly keepsake perfectly captures the essence of British heritage.
Coronation King & Queen Royal Stafford Boxed Mug Set, Cath Kidston
This limited edition duo features beautifully hand-painted portraits of His Majesty, King Charles III and his beloved mother, Queen Elizabeth II. Each mug is adorned with crowns, union flags, floral garlands, jewels, and grosgrain ribbons marking the Coronation date.

Made of quality English earthenware, these mugs are timeless pieces of art. Complete your collection with the matching plates and tea towels.
King Charles III Coronation Teacup and Saucer , Harrods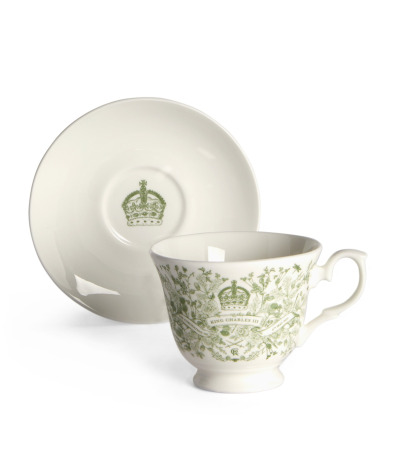 Raise a toast to the King with style and sophistication with this exquisite fine bone china tea cup and saucer from renowned designer Victoria Eggs. It's the perfect souvenir for any royal enthusiast's chinaware collection.
Celebrating the Coronation of King Charles III, you'll love sipping your afternoon tea from this splendid set on the big day. Harrods, ever the purveyor of regal mementos, understands the significance of bearing witness to history in the making, and this elegant floral-printed homeware piece, handmade in Stoke-on-Trent, UK, is a timeless reminder of the occasion.
Gibsons King Coronation 1000 Piece Jigsaw Puzzle, John Lewis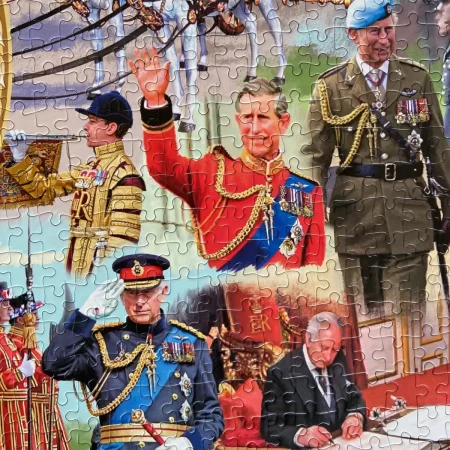 Who doesn't love a jigsaw? Sit and work on this special Coronation puzzle over the Bank Holiday weekend as you wait for the proceedings to begin!
This collector's edition 1000 piece montage puzzle celebrates the beginning of His Majesty King Charles III's reign.
Made from 100% recycled board, it's a sustainable and special keepsake for any royal fan.
Medium Coronation Lewis Bear, John Lewis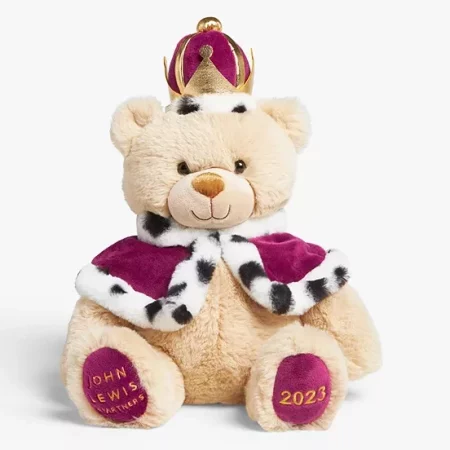 This year, the Lewis Bear has had a regal update to mark the Coronation. The adorable, fluffy bear is a must-have souvenir for royal fans looking to commemorate the coronation. Perfect for kids and adults alike.

According to the company, Coronation Lewis is the best selling edition of Lewis Bear since he was first produced in 2005! He's so popular, John Lewis have already had to limit him to two per household online.
Coronation Tea Towel, Fortnum & Mason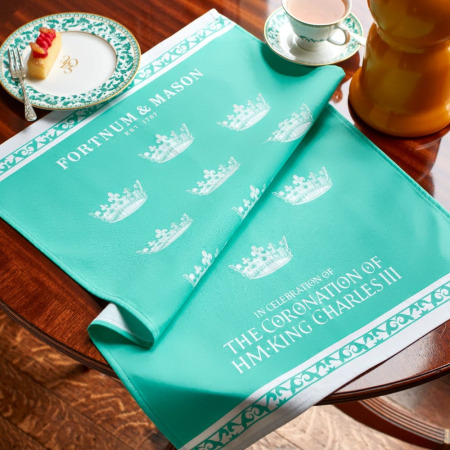 I think it's safe to say this Coronation Tea Towel captures the essence of British History! This striking piece displays thirteen crowns, each symbolising a British monarch since 1707, the year Fortnum & Mason was established. The design represents the company's service to every King and Queen that's reigned during the period.

The tea towel is a lovely keepsake and a stylish kitchen essential. Either use the piece or have it framed and proudly displayed on your wall!

Decorated in Fortnum & Mason's signature Eau de Nil hue and crafted from 100% cotton in the UK, the tea towel is an elegant way to remember the Coronation.
Coronation Spencer Bear Soft Toy, Marks and Spencer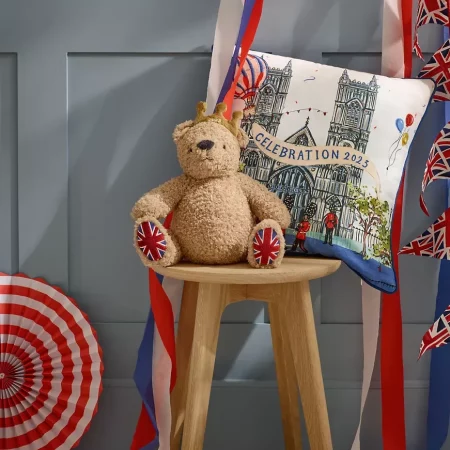 Snuggle up with Spencer Bear. The original M&S mascot dates back to the 1930s. He was revamped with super soft cuddly fur for his grand comeback at Christmas in 2022. This 2023 edition is dressed to impress for King Charles III's coronation, sporting a regal crown and showcasing a patriotic Union Jack design on his paws.
A perfect keepsake for royal enthusiasts of any age!
Pure Cotton Coronation T-Shirt, Marks and Spencer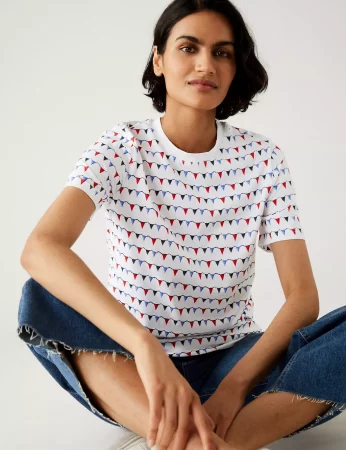 Get into the festive spirit with this Coronation T-Shirt! Made from pure cotton, it offers a comfy everyday fit while showcasing a charming red and blue bunting design.
As part of the M&S Collection, it's the perfect blend of classic and contemporary style. Wear your t-shirt as you watch the historic event unfold!
Pair the tee with your favourite jeans and sneakers for a stylish, laid-back outfit for the Bank Holiday festivities.
Coronation Light Up Cushion, Marks and Spencer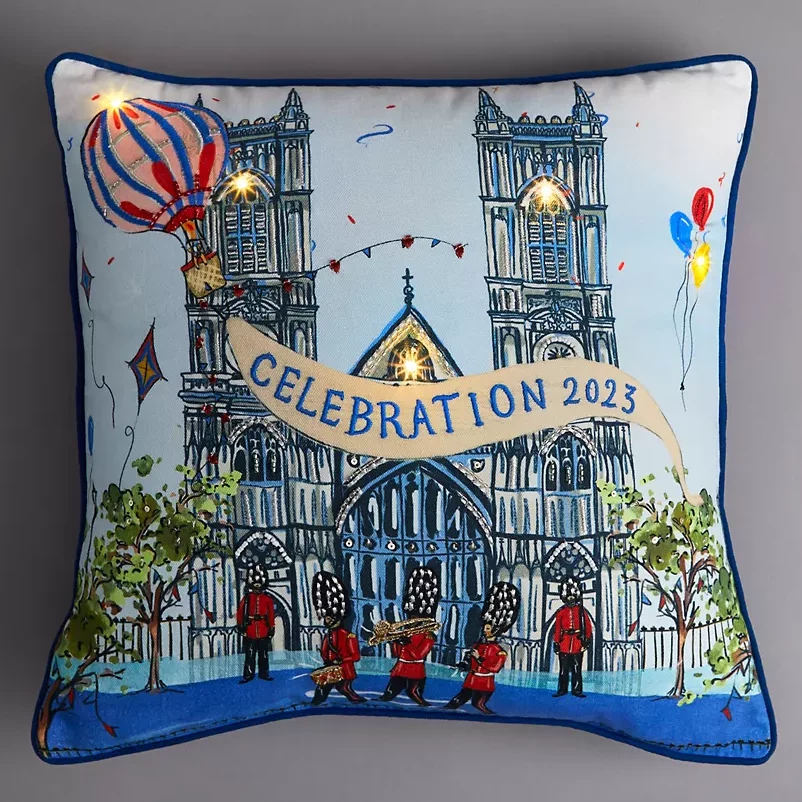 Brighten up your living space with the M&S light-up coronation cushion.
This pure cotton cushion boasts a festive scene, it's beautifully adorned with intricate embroidery and beading.
But wait, there's more—its light-up detail adds a playful touch, making it a standout piece for commemorating King Charles III's Coronation.
Coronation Teapot, Marks and Spencer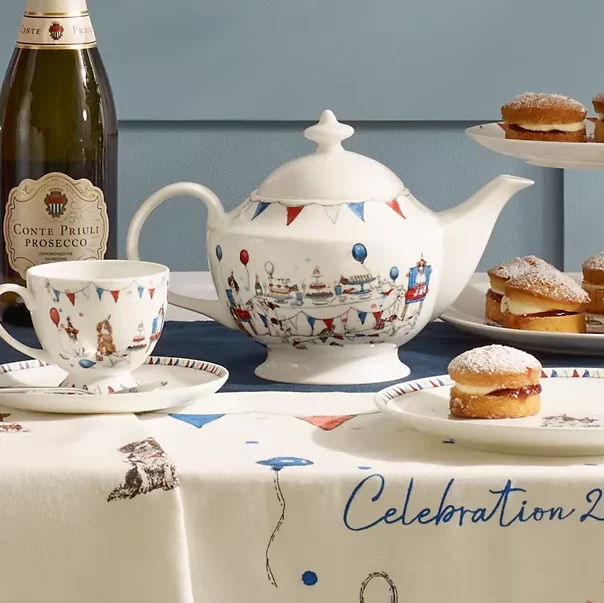 Get ready for a royally charming cup of tea with this M&S Coronation Tea Pot, showcasing delightful pups having a blast at a street party.
The durable bone china teapot is adorned with award-winning artist Eleanor Tomlinson's whimsical ink and watercolour illustrations.
The quirky, canine-themed coronation range includes a matching cup and saucer, side plate and cake stand too.
Spode King's Coronation Plate, Dunelm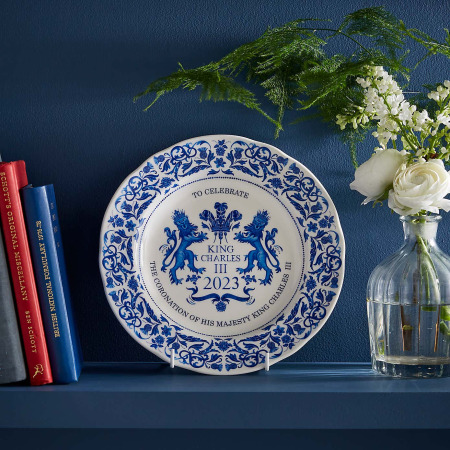 Serve up your coronation treats in style with this commemorative earthenware plate from Spode, decorated with a beautiful blue and white design. It's suitable for use in the oven, fridge, and freezer, and is even microwave and dishwasher safe.

Don't wish to use it on the big day? Put it on display as part of your royal memorabilia collection instead. Coordinating items also available!
Radley 'The Coronation Palace' Bag, John Lewis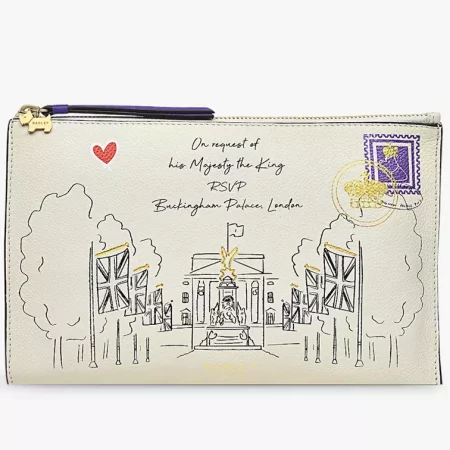 Add a touch of regal charm to your outfit with Radley's Coronation wristlet bag. Part of their celebratory collection, this medium-sized bag is perfect for those who want to join in the festivities. With a wax seal and appliqué postage stamp, it's inspired by an official letter sent to Radley London HQ. Get ready to celebrate the coronation in style with this chic accessory.
18ct Gold Amethyst & Diamond Coronation Locket Charm Bracelet, Annoushka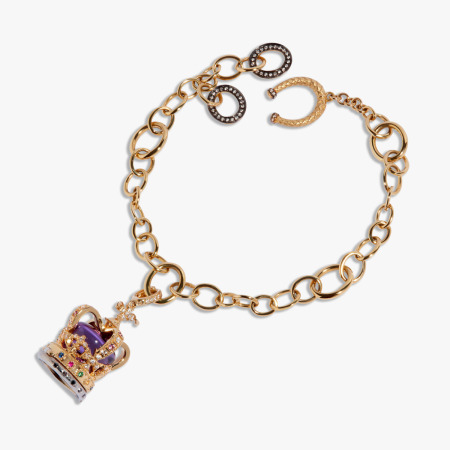 Jewellery aficionados, get ready to be dazzled by Annoushka's exclusive, limited-edition crown locket charm, designed especially to celebrate the coronation.
This incredibly detailed and meticulously handmade 18ct gold and gemstone locket charm is a petite replica of the iconic St. Edwards Crown, which will grace the head of our new King during the momentous ceremony.

The charm hides a secret compartment and only 100 editions are available, making it a must-have royal memento.
As most Kate fans will know, the Princess's eternity ring and oft-worn pearl earrings are by Annoushka.
Ulster Weavers King Charles III Coronation King's Guard Double Oven Glove, John Lewis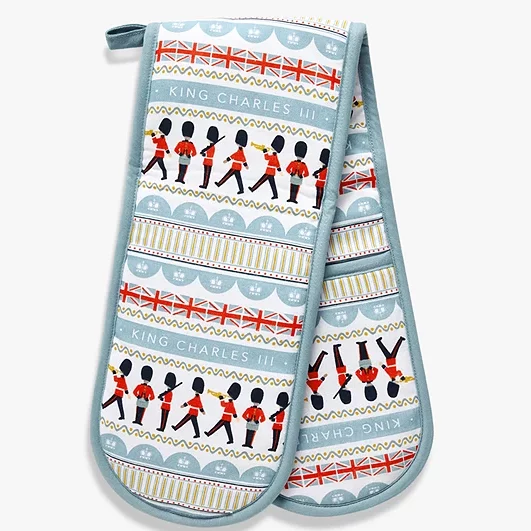 Hear ye, hear ye! Take a look at this amazing Coronation themed oven glove from Ulster Weavers. The design of this glove is perfect for celebrating the coronation of our new King, with its dotted and squiggled confetti-like pattern, and drummers marching in formation, all symbolising the excitement and grandeur of the occasion. Made from 100% cotton, this oven glove also supports Better Cotton's mission to help cotton communities thrive while preserving the environment.
Official Chinaware Commemorative Range, The Royal Collection Trust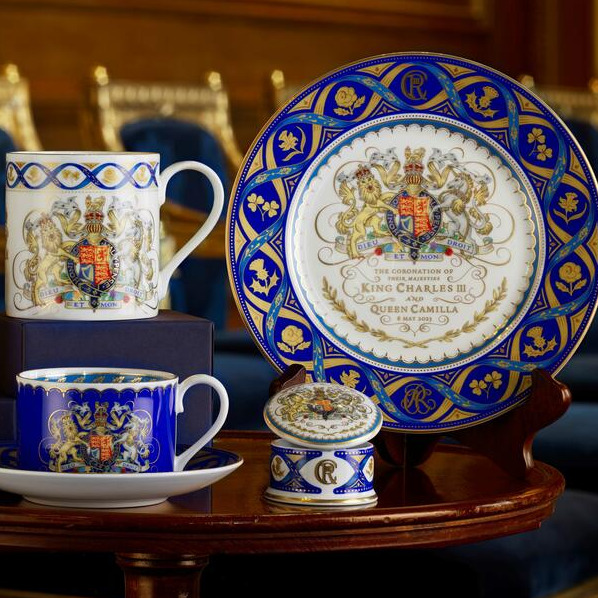 Looking for a way to commemorate the historic Coronation of King Charles III and Queen Camilla with an official souvenir? Look no further than this range of chinaware by Royal Collection Trust, a department of the Royal Household. Crafted by skilled artisans in Stoke-on-Trent, each piece of chinaware features a beautiful design that includes the Royal Coat of Arms and emblems of the four nations of the United Kingdom.
With items ranging from a coffee mug to a dessert plate, this collection is the perfect way to celebrate this momentous occasion in true royal style.
Best of all, with all profits going to charity, you'll not only own a beautiful piece of history, but you'll be supporting a great cause too.