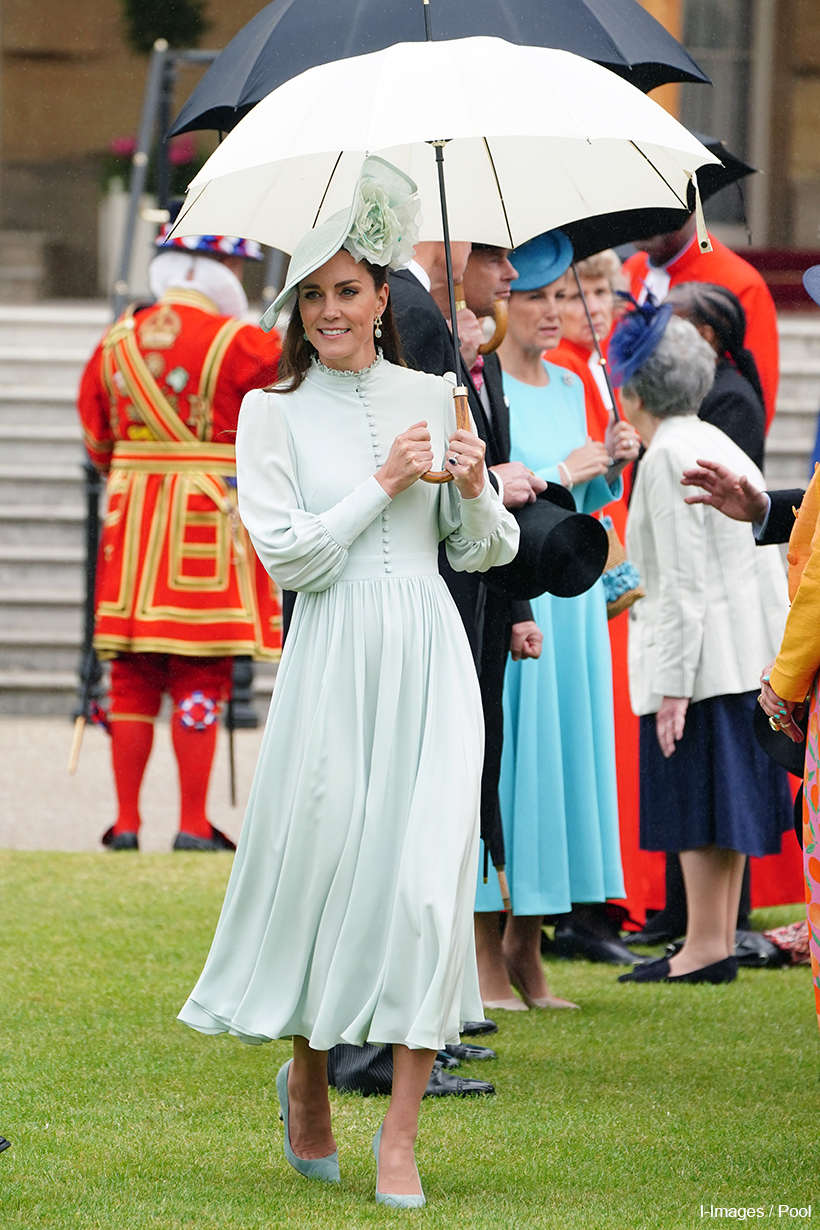 Kate attended a Buckingham Palace garden party on Wednesday afternoon (25th May 2022). She looked like she'd just stepped off the set of a period drama—perhaps Downton Abbey or Bridgerton—in her mint green high-neck dress. (I say that with no ill intent—I loved the look!). The floaty piece featured a pleated skirt and long, cuffed sleeves. According to the palace, a "private dressmaker" created the pastel-coloured frock (full outfit details further down the page, as usual ⬇️).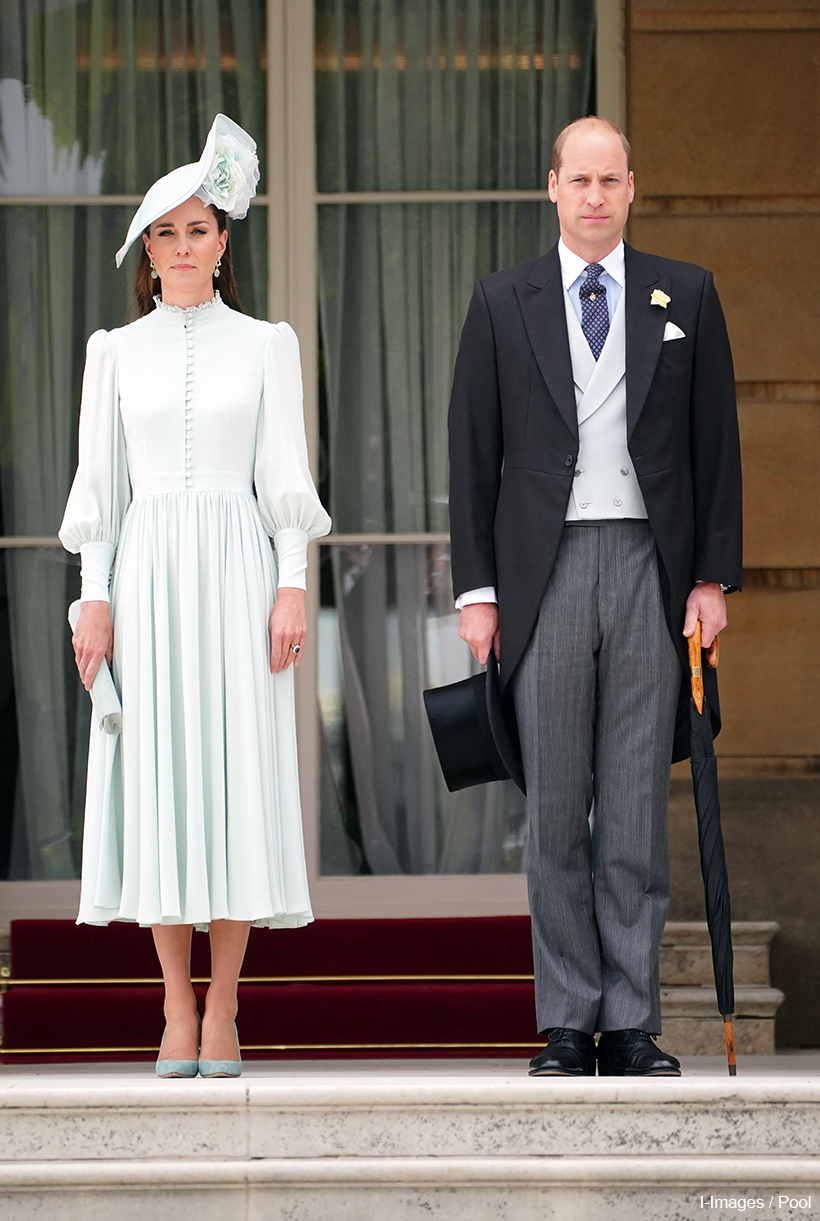 The Duchess accompanied her husband William to the garden party. The pair co-hosted the event on behalf of the Queen along with Prince Edward, the Countess of Wessex, Princess Beatrice and the Duke and Duchess of Gloucester.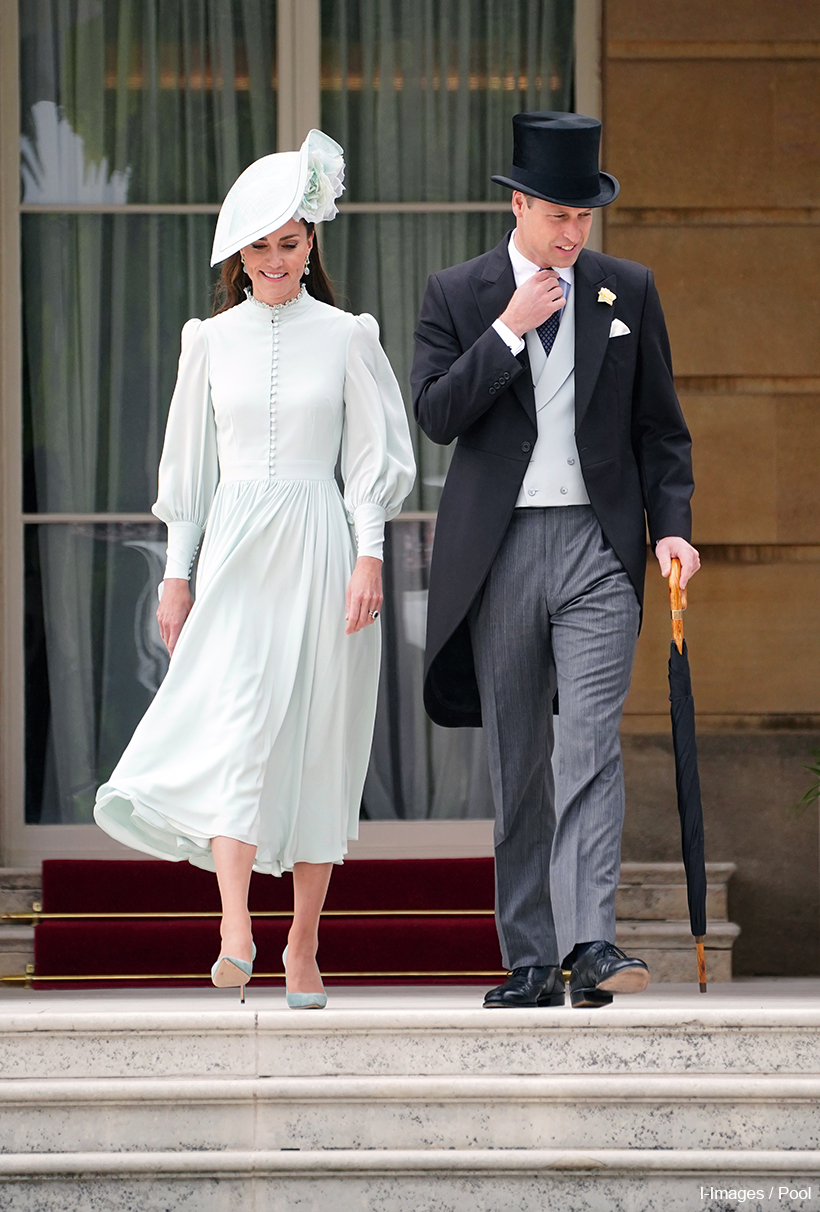 Kate has attended two of the three Buckingham Palace garden parties this year. A fourth and final party will be held in Scotland at the Palace of Holyroodhouse later in the summer.
Here's a look at Kate at her first garden party of 2022, which took place one week prior. The Duchess chose a deep coral pink coat dress by Emilia Wickstead and coordinating accessories for that occasion: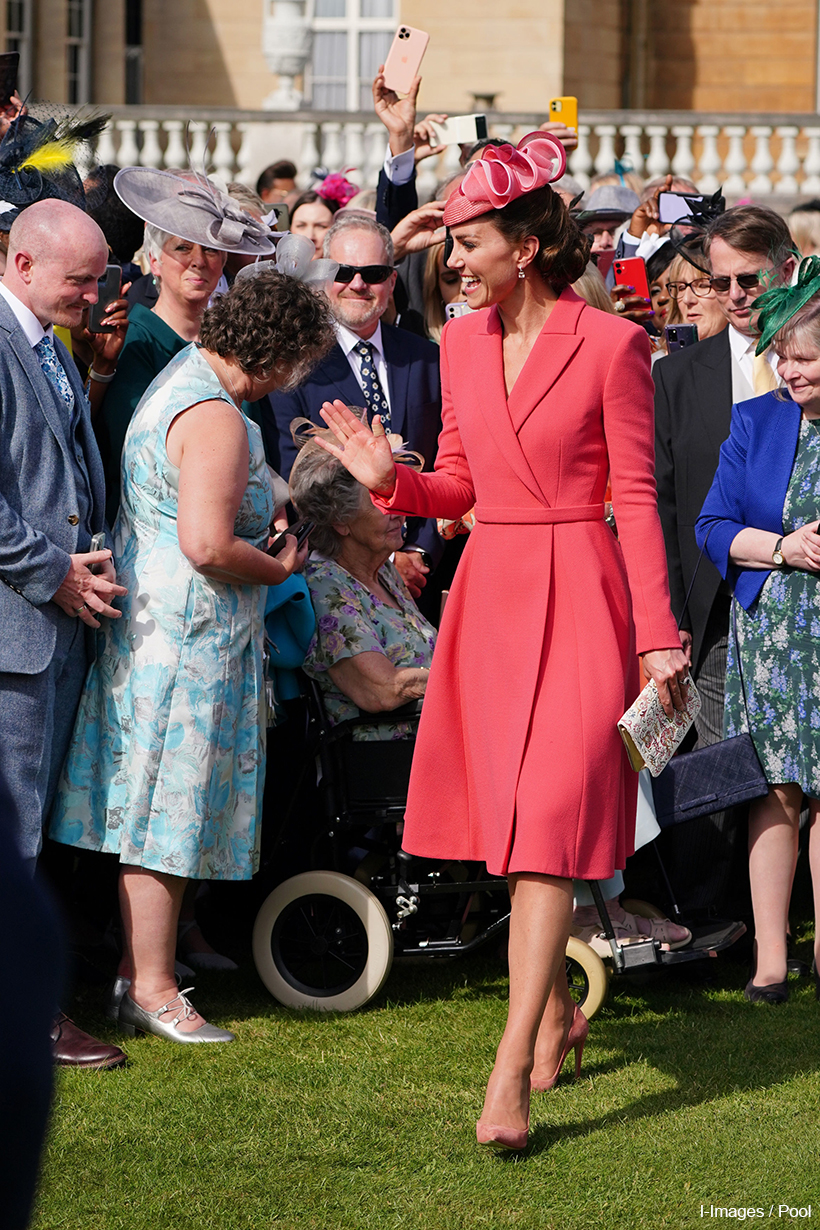 Modern garden parties are a way for the Queen to recognise, reward and celebrate public service. Historically, they were 'presentation parties' attended by debutantes. You can read the full history and information about modern garden parties on the royal.uk website here.
Last week, the sun shined as the royals mingled with guests. This week, the weather was not so kind. Attendees quickly grabbed umbrellas as the rain began to fall.
However, none of the 8,000 guests let the weather dampen their spirits! As the crowd dispersed into corridors, the royals split up so they could speak with as many attendees as possible. As Kate walked up her "lane", she stopped for a chat with Holocaust survivor Manfred Goldberg.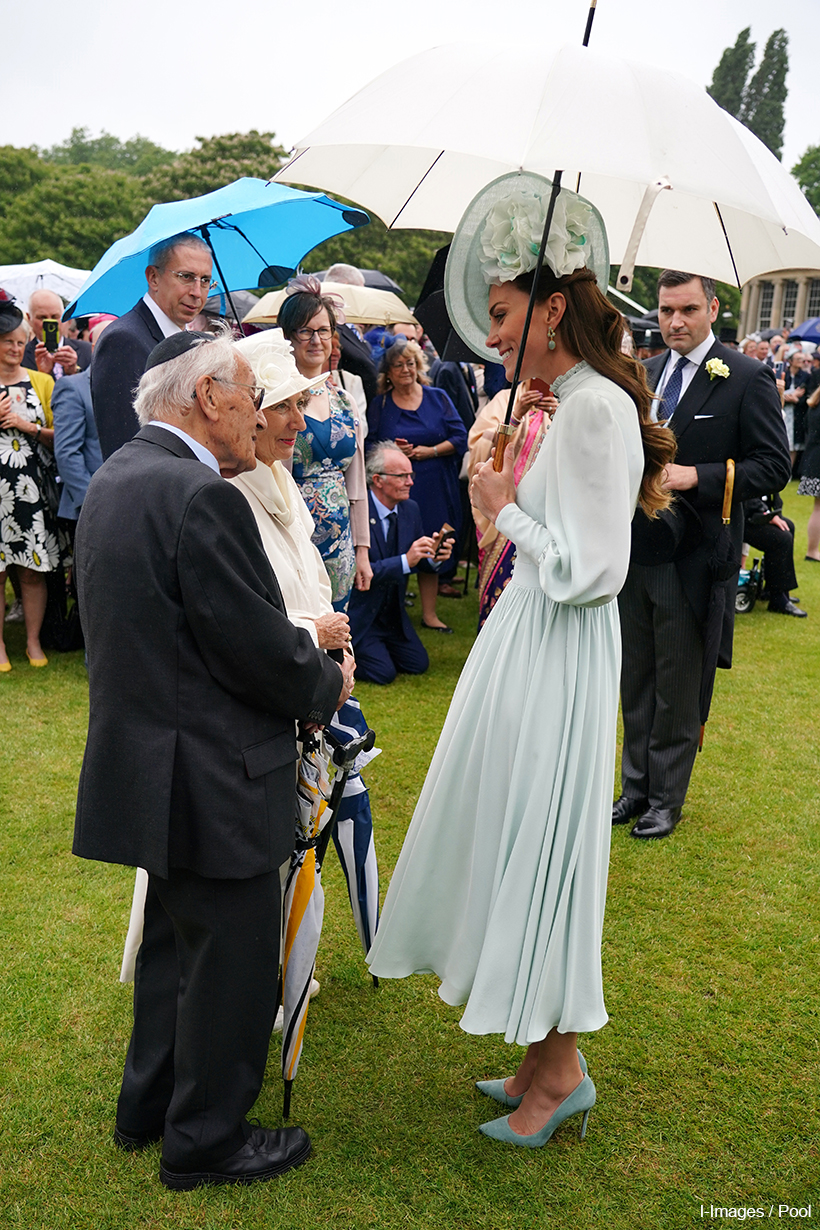 She seemed genuinely pleased to see the 92-year-old. You'll remember the Duchess has spoken with Manfred before. The pair met at the Stutthof concentration camp in 2017 and spoke via Zoom during a call to mark Holocaust Memorial Day in 2021.
Manfred's story is harrowing. Nazis forced him into slave labour in his early teens—he spent years living and working under gruelling conditions, including being sent on a death march. He was finally librated in 1945, before travelling to Great Britain in 1946 to be reunited with his father. He attended university in London and now has a family of his own. His survivor story can be read on the Holocaust Educational Trust website here.
And now, a sharp turn from a difficult subject to something lighter—a look at Kate's fashion choices at garden party.
Kate's garden party outfit:
The Duchess chose an elegant pastel-green dress for the garden party. The piece featured a row of buttons down the front, pronounced shoulders, voluminous sleeves, elongated buttoned cuffs and a floaty mid-length skirt. The dress, described as a nod to the Regencycore trend by some magazines, also featured a high ruffled "pie-crust" style neckline.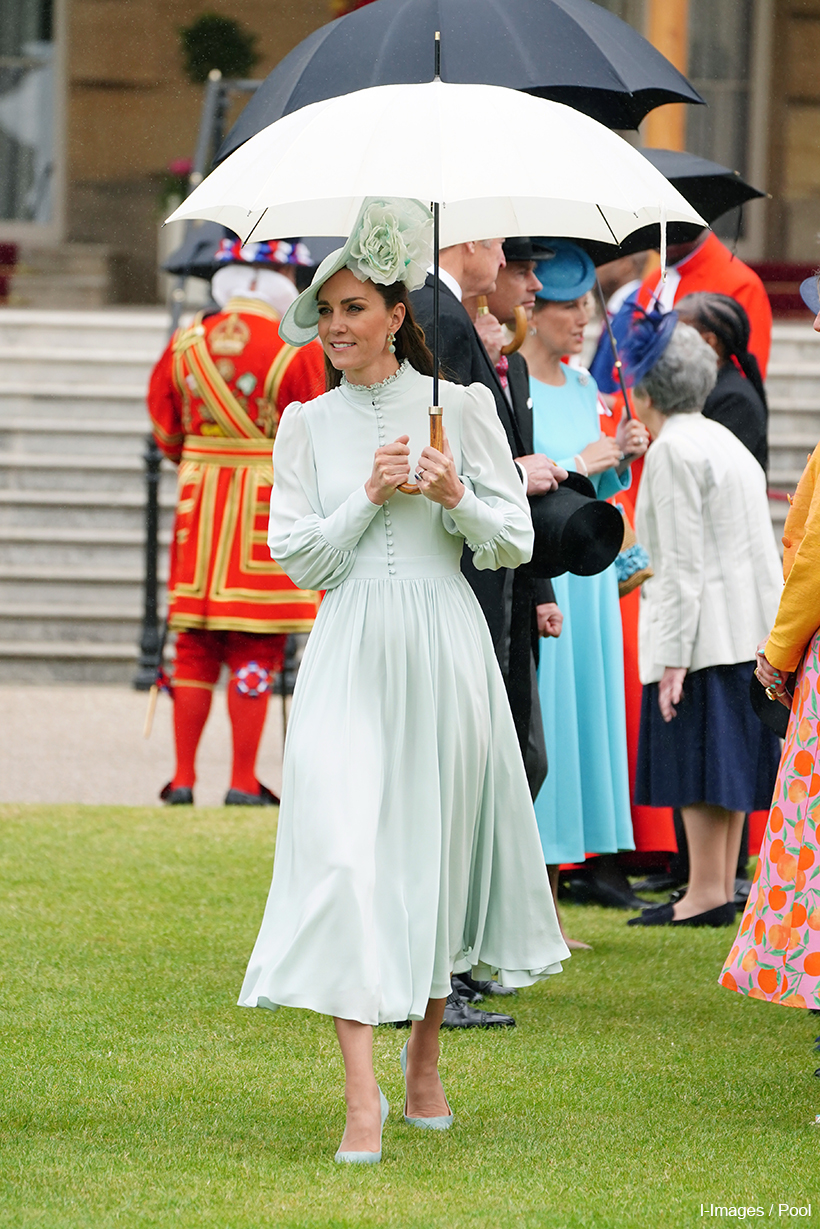 If the frock feels familiar, it's because Kate wore it to an event in 2019 (a reception celebrating the 50th anniversary of Prince Charles's investiture as the Prince of Wales).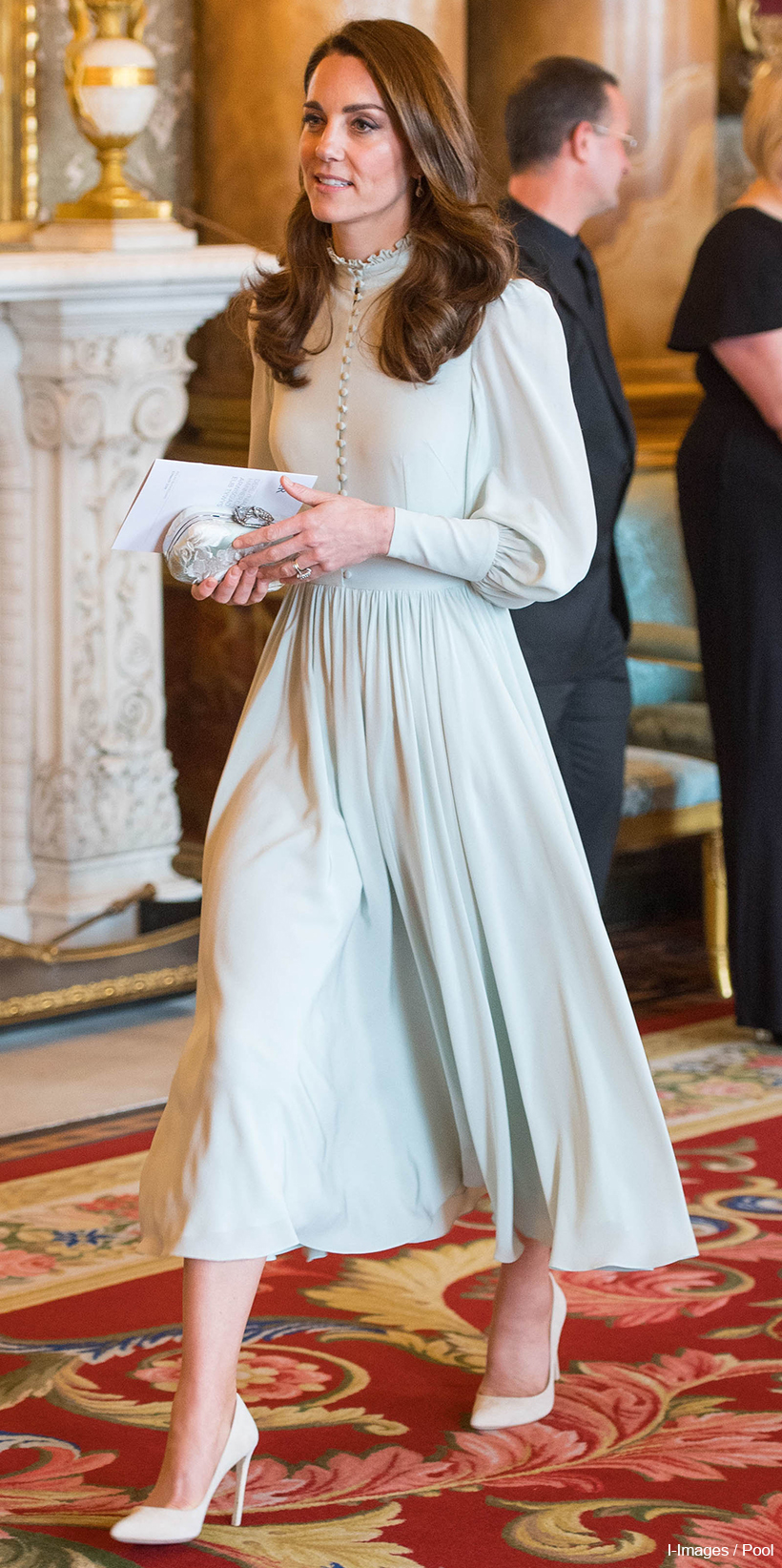 At the time, the palace told journalists it was a custom piece designed by a "private dressmaker."
The palace have fed this line to reporters on a few previous occasions over the last decade—the black coat, yellow dress and peach dress pictured below are all reported to be created by a "private dressmaker" too. The aubergine coat was reported as from "an independent British designer".
Whether the items were created by one or multiple designers/dressmakers, I do not know.
One theory is that Angela Kelly crafted the pieces for the Duchess. Kelly is a designer and dressmaker. She's worked for the Queen as her Personal Assistant and Senior Dresser since 2002. Some speculate that the items may be favours, gifts or simply a creative outlet for Kelly—but who knows?
When Kate first wore the dress in 2019, several fashionistas noted it looks very similar to this creation by Russian designer Ulyana Sergeenko (pictured below). (Thank you to What Kate Wore and her readers for this tip.) The two dresses are not identical, however—you'll note Kate's dress has more buttons and shorter cuffs for starters.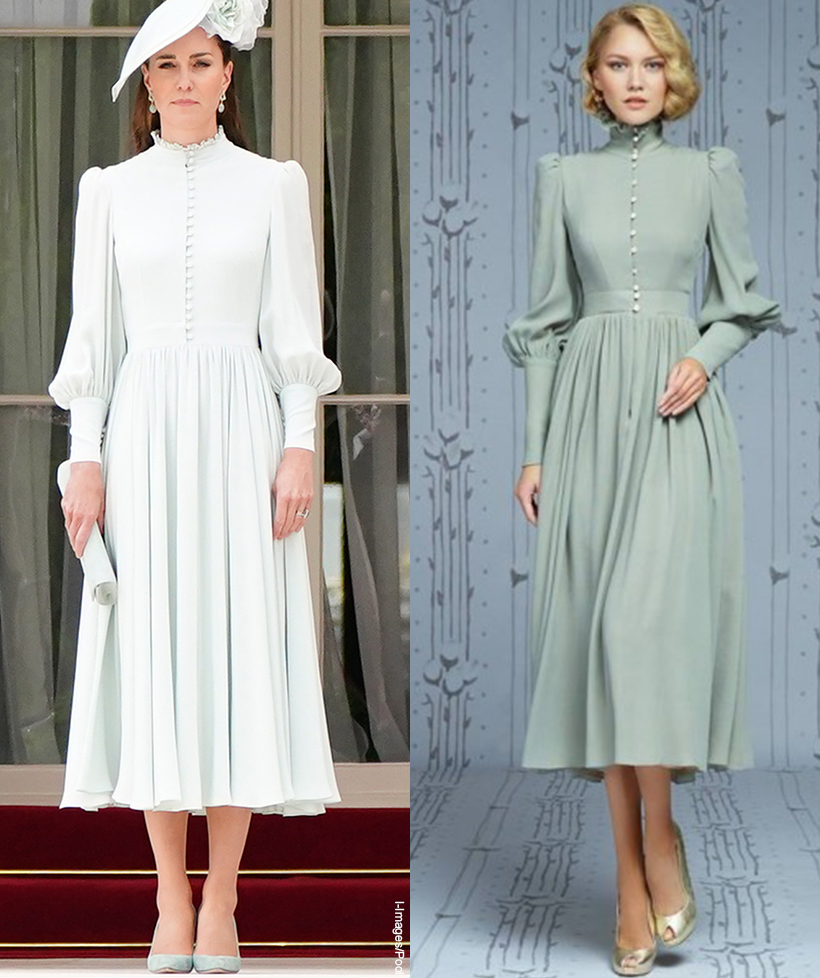 Perhaps Kate privately commissioned the dress from Ms Sergeenko? Maybe she—or a member of her team—found the photo on Pinterest and took it to a dressmaker as inspiration… or something else? It's a mystery!
At the garden party, Kate paired the pastel frock with all-new accessories. She wore a floral-trimmed hat, a suede bag, suede shoes and gemstone earrings that we have not seen before. Let's take a look.
The hat is by Philip Treacy. (Thanks to Gabi for sharing the exact piece on Twitter.)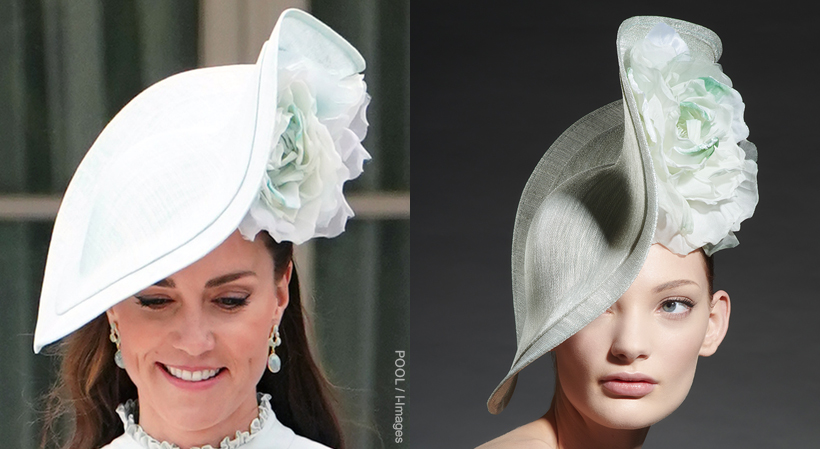 The author of the Royal Hats blog described the piece as a "sinamay double disc design" with a "high sidesweep pinch in which is nestled oversize mint silk handmade flowers".
You can see the hat on Treacy's website, here. It's style number OC 896 from the SS22 collection. (There is also a link on the page to send an enquiry, should you need a similar hat for an occasion this summer.)
Kate owns a similar design from the milliner in yellow tones. You might remember it from Harry and Meghan's wedding in 2018.

It looks like Kate carried the Hobbs Evesham clutch in sage green (thanks Ashley for sharing this ID).
The barrel-shaped clutch bag is made from 100% suede. It features a detachable strap, which Kate removed. (Below, Kate carrying the bag on the left, a stock image on the right.)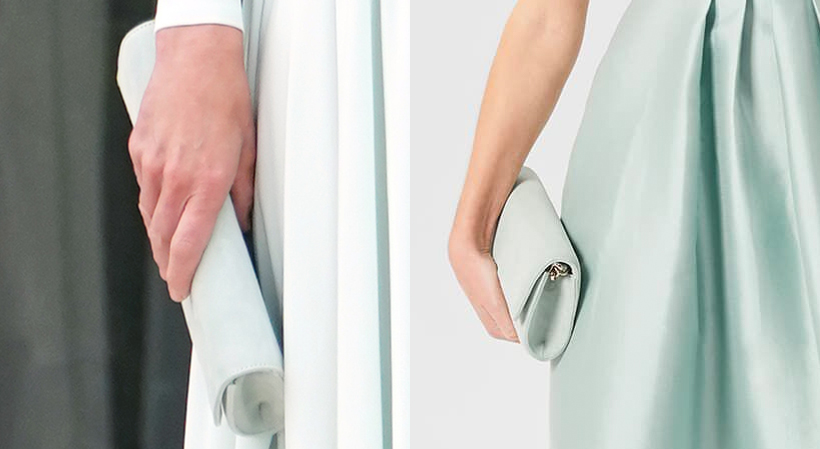 The bag retails for £99 in the UK and $210 in the USA and comes in three other shades: oyster, navy and celeste blue. It's currently still available to buy.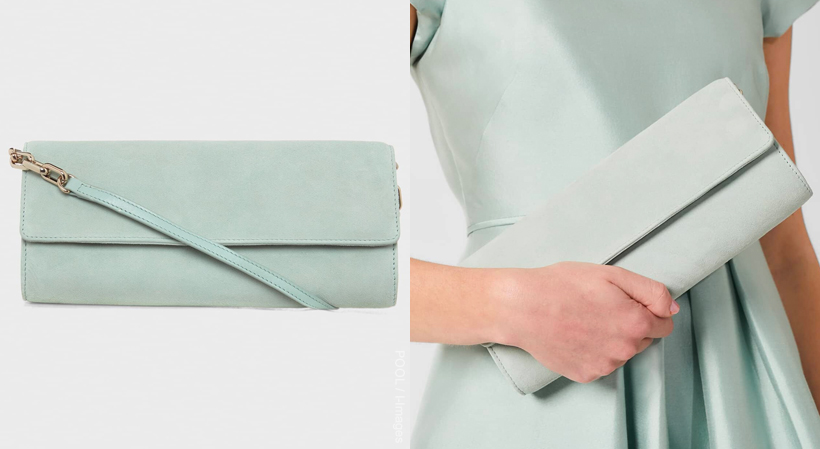 Heaven found a pair of Jimmy Choo Romy 100 pumps that look identical to the shoes worn by Kate. I'd say they are a match.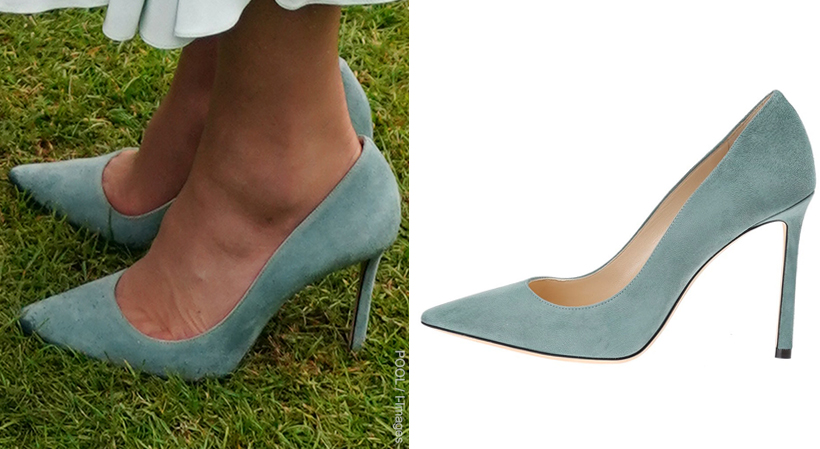 The official colour name is Verdigris. The Italian-made pumps featured a softly pointed toe, a sleek 100mm stiletto heel and are finished with soft leather on the inside.
Unfortunately, the green-blue suede shoes are from a previous season. They retailed for $489 USD / £389 GBP at vitkac.com, a designer department store in Poland. (I can't find them listed for sale anywhere else.)
Finally, let's take a look at Kate's stunning gemstone earrings. They're the 'Aquamarine Delicate Orb Earrings' from a British company called Carousel Jewels (with thanks to What Kate Wore's readers for this info).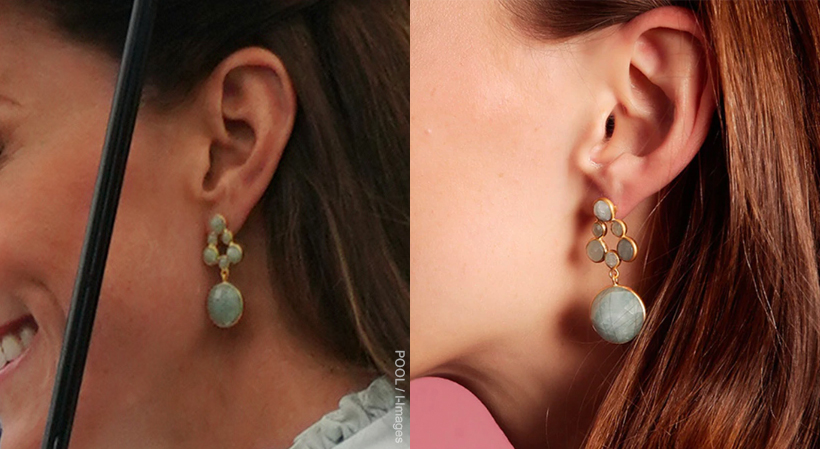 The pretty earrings are made from gold vermeil (gold plated Sterling silver) and aquamarine stones. The upper portion features small aquamarine 'orbs' arranged into a triangle shape. One large 'orb' dangles beneath.
Carousel is another 'conscious' brand for Kate—she's worn several recently. The company employ artisans to handmake their jewellery, one tree is planted for every order placed, the jewellery is shipped in plastic-free packaging and the company only use ethically sourced gemstones.
The handmade earrings retail for $180 USD / £140 GBP. All Carousel's stock quickly sold out after they were identified but the company are accepting pre-orders.
FYI – Heaven identified Princess Beatrice's dress too, it's by Self-Portrait. The piece is no longer available to buy, but there is a listing for it on eBay.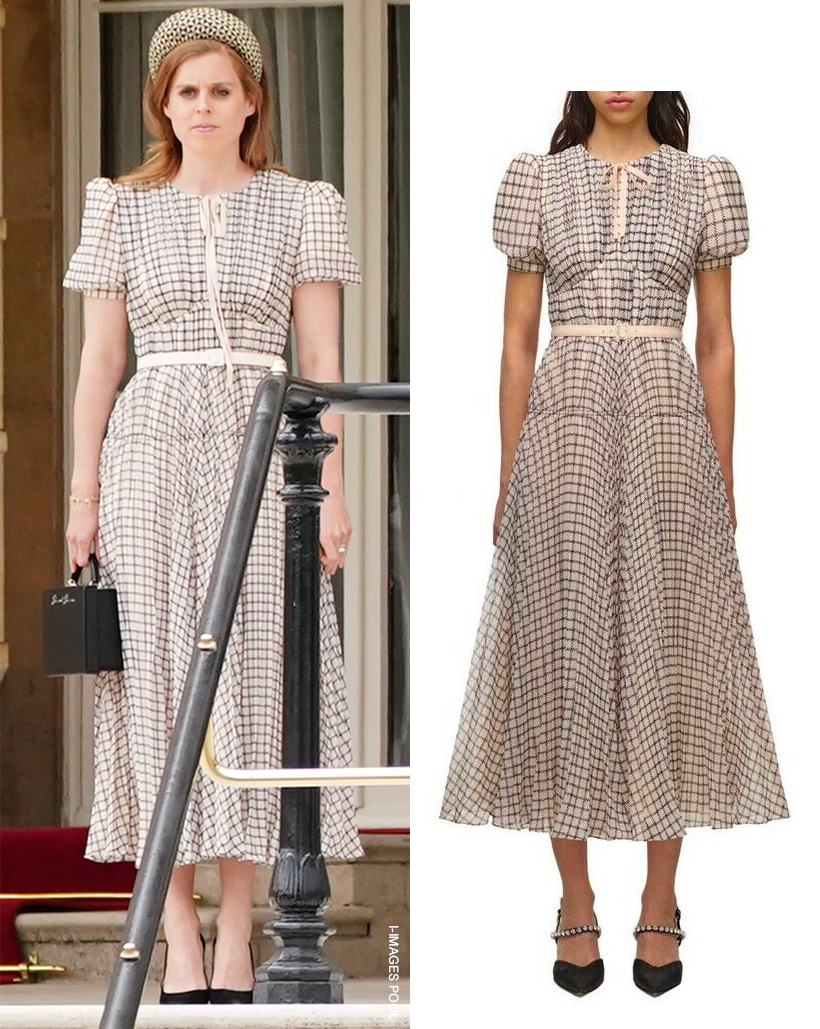 Get the look:
I've found two fab dresses that are perfect for anybody wanting to copy Kate's garden party style this summer: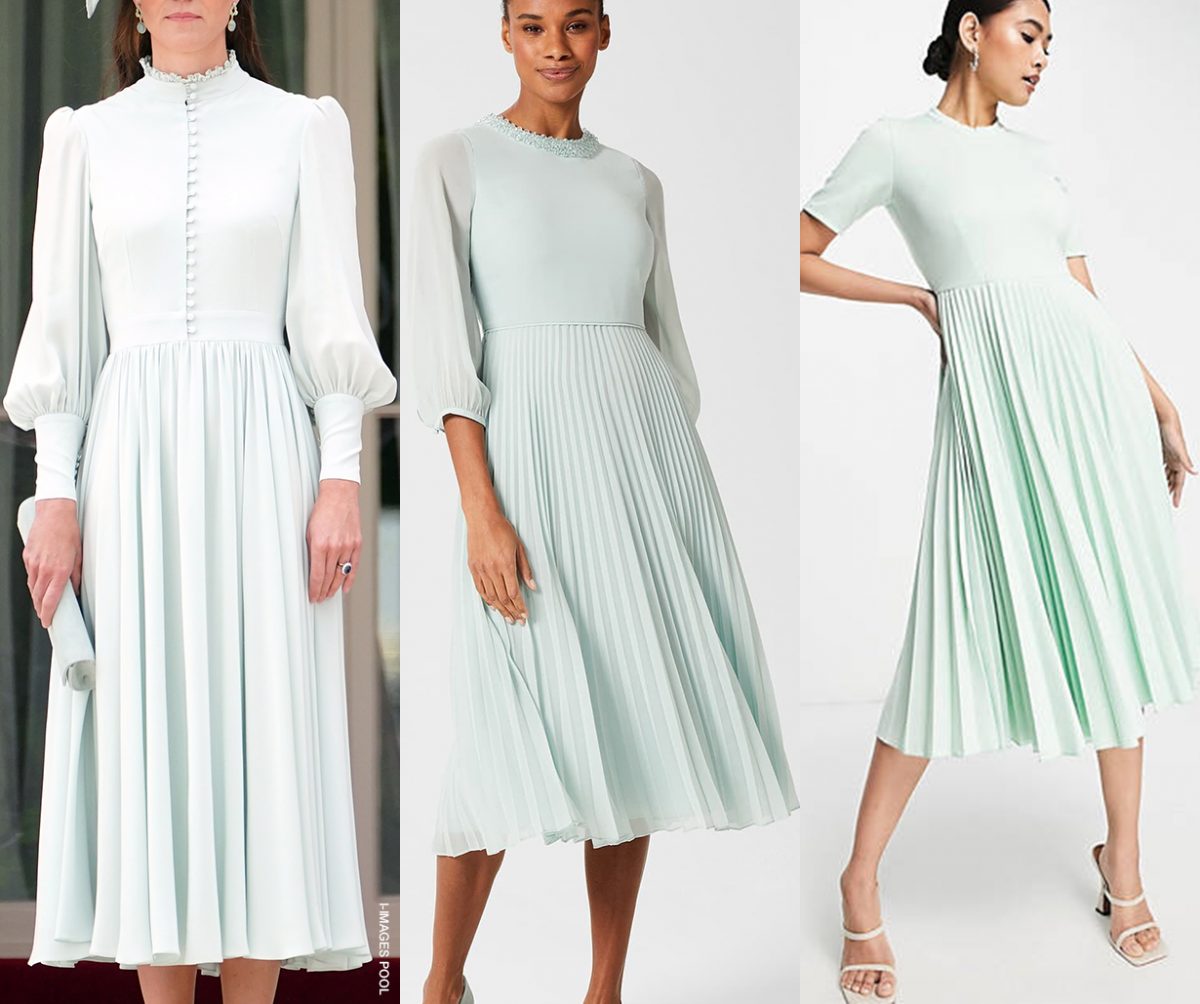 The first is from Hobbs London. If features a fit-and-flare silhouette, a pleated skirt, three-quarter length voluminous sleeves and a beaded crew neckline. I think it's perfect for summer events! It's available for £152.15 (was £179) / $281.25 (was $375) at the time of writing in most sizes. (Prices valid until Sunday 29th May 2022.)
The second mint green dress is by Closet London and is available from ASOS. The pleated dress has shorter sleeves and a high neck. I think it's a very 'wearable' style. It was £90 but now is £55—get it even cheaper with with the code DREAMDEALS – that knocks an additional £11 off the price. (Offer ends May 29th 2022.) I don't believe this dress is available on the ASOS USA website, unfortunately.
For more mint green dresses, scroll through the widget below: