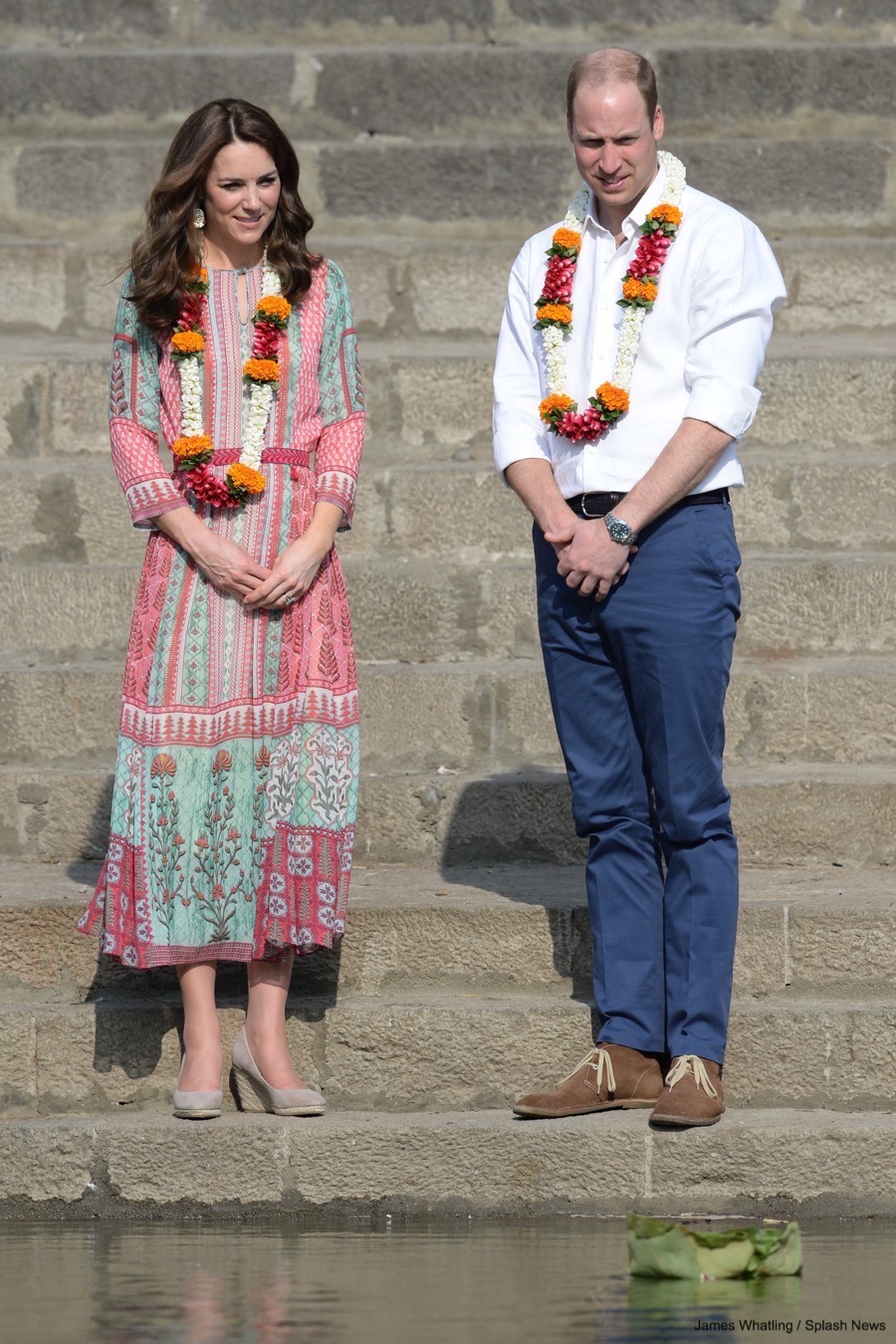 Did you read about William and Kate arriving in Mumbai and laying a wreath at the Taj Palace Hotel? If not,
click here
.
This afternoon (local time), William and Kate visited the Oval Maidan recreational ground in South Mumbai. It's a famous public park that is home to multiple cricket pitches.
At the Oval Maidan, William and Kate met with children from a three charities, Childline, Magic Bus and Doorstep.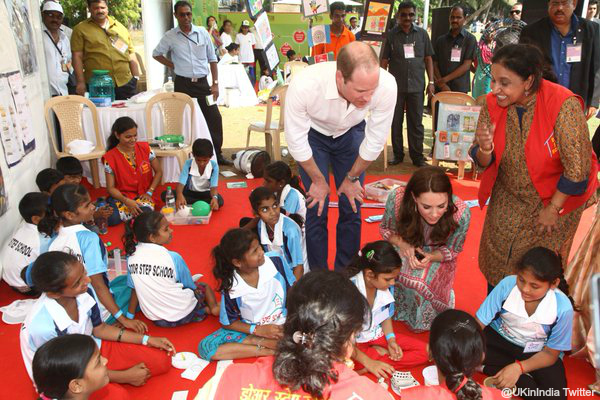 Childline is a helpline for street children in Mumbai.
"CHILDLINE [is] the country's first toll-free tele-helpline for street children in distress. As of March 2015, total of 36 Million calls since inception have been serviced by CHILDLINE service and operates in 366cities/districts in 34 States/UTs through its network of over 700 partner organisations across India."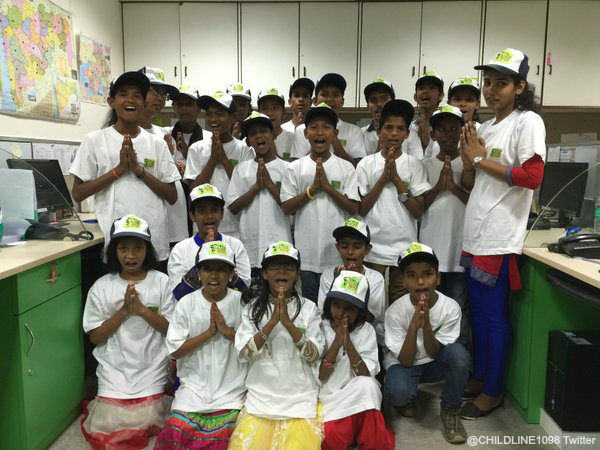 Meanwhile, the Door Step School is a local charity that "provides education and support to the often-forgotten children of pavement and slum dwellers, construction site families and many other underprivileged families."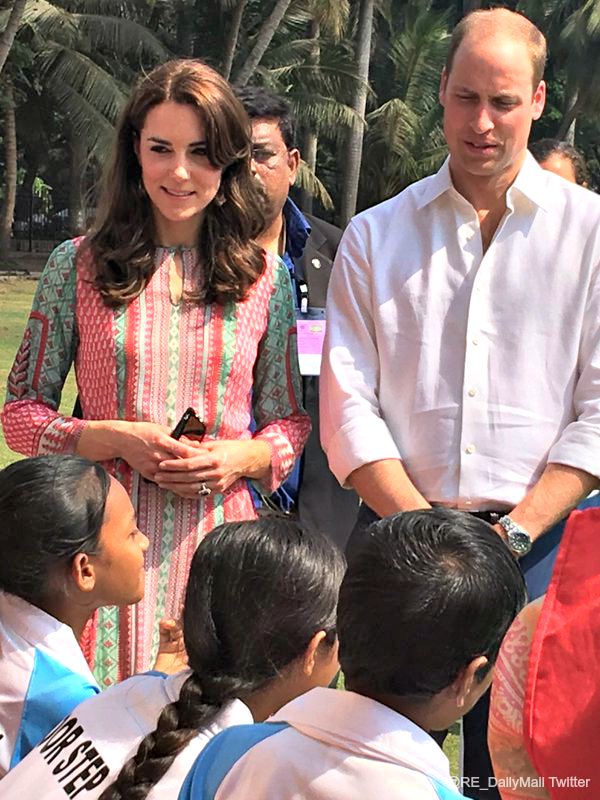 The children from the Door Step School presented William and Kate with some adorable handmade gifts: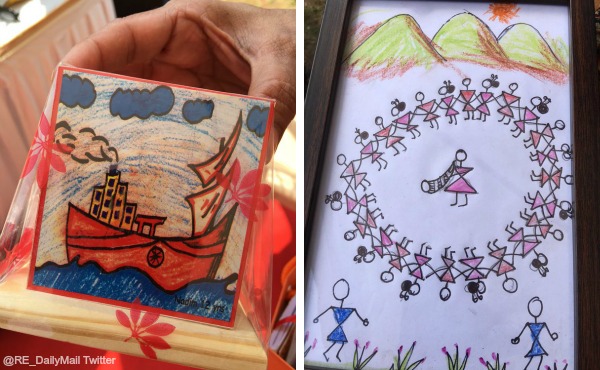 Magic Bus is an NGO that uses games and activities to make change. Each session "[teaches] children about education, gender, health, and key issues affecting them. The games excel in building physical, social, and personal skills."
William observed as Kate took part in with a few outdoor games:
The Duchess of Cambridge joins in with football training and a cricket game in Mumbai. Video: @CPamment pic.twitter.com/1J0F4kWNJL

— PA Media (@PA) April 10, 2016
They couple joined in with a Hindi lesson:
Video: William and Kate learn Hindi #RoyalVisitIndia pic.twitter.com/iDmy1P5u7Z

— Rebecca English (@RE_DailyMail) April 10, 2016
Also, William and Kate met with retired cricket legends Sachin Tendulkar and Dilip Vengsarkar:
Both royals had a go at playing cricket (Kate in wedges, naturally!)
Speaking of meeting the Duke and Duchess, Mr Tendulkar said:
"They were a remarkable couple and made us feel so comfortable. They were really humble.

[The] noble causes they are supporting all over the world shows what heart they have."
Embed from Getty Images
During the afternoon, William and Kate took an open top bus ride with children from the charity Apnalaya, another local charity that works with the children in Mumbai's slums.

Their next destination was the Banganga Water Tank. This is an ancient water tank that is part of the Walkeshwar Temple Complex in Malabar Hill area of Mumbai in India. It has a fascinating history, first built in 1127 AD and then rebuilt in 1715 AD. It's a prominent tourist attraction in the city:
This structure is one of the holiest sites in Mumbai and one among the few surviving historical spots in the otherwise concrete jungle. As the water in the tank is regarded as the subsidiary of Holy Ganges, it is considered scared and is trusted to have healing powers.

Excerpted from Mumbai.org.uk
#willkateinmumbai Royal couple being accorded the traditional indian welcome at banganga tank @BBCWorld @SkyUK pic.twitter.com/i84xuWZyjt

— Megha Prasad (@MeghaSPrasad) April 10, 2016
The couple received a special welcome upon arrival to Banganga. They were given flower garlands to wear as dancers in traditional outfits lined the steps down to the water.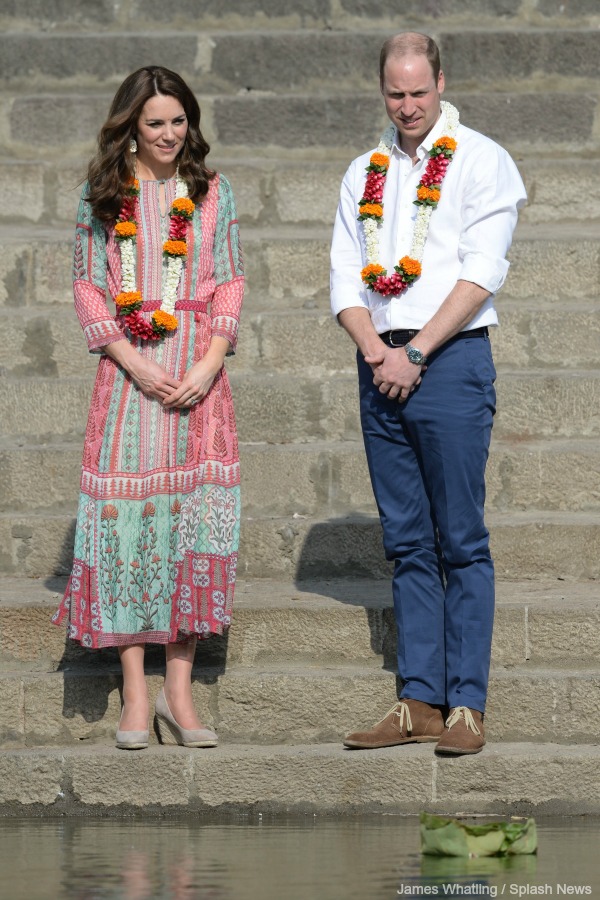 The couple took part in a traditional ceremony, releasing petals into the water.
http://gty.im/520247660
The couple also visited the local community and met with children and representatives from the Smile Foundation, who "work to empower less privileged children, youth, and women through education, healthcare & livelihood initiatives".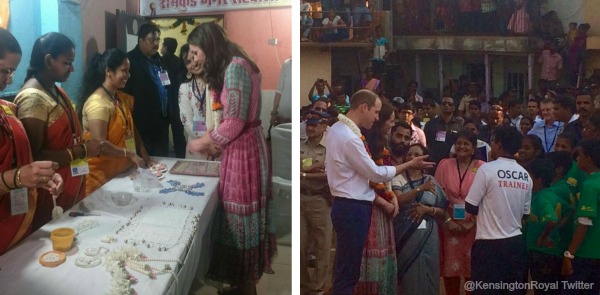 Kate's outfit:
Kate changed into a second dress for this afternoon's events (read all about the first one here).
It's from local Mumbai designer Anita Dongre, who confirmed the design is a "Mughal inspired tunic".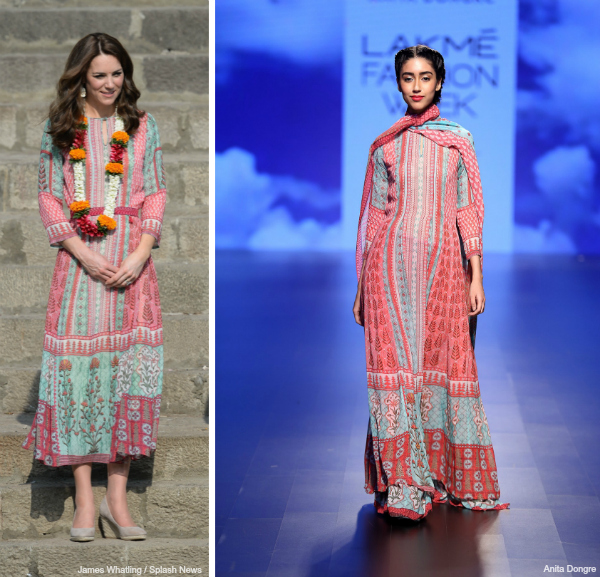 Anita Dongre describes the piece as a "classic composition of Jaipur-inspired motifs in a printed georgette tunic dress". It currently retails for $236.60 USD, which is approximately £168 GBP.
Note: the belt does not come with the garment. This must be something Kate has sourced herself. (If we get an "ID", I'll be certain to include it here).
The designer told the Hindustan Times that she had no idea Kate would wear her creation:
"This came as a total surprise to me! I honestly had no idea that Kate is going to wear the dress. Yes, someone from my team had mentioned that they had asked for our lookbook, but I never took it too seriously".

"So many times people have asked me who I would love to dress, and it has always been Kate for me, I really admire her sense of style so this is super exciting! I think that fashion goes hand in hand with comfort, and I guess that is what Kate chose. I hope to meet her soon".
According to reporters in Mumbai, a palace aid confirmed that Kate wanted to wear "a local designer at the earliest possible opportunity."  Mission accomplished Kate!
Kate paired the dress with all new accessories. She wore an £8 ($11 USD) pair of filigree earrings from British high street brand Accessorize.


The pretty earrings are embellished with faceted beads and small beaten coins. At the time of writing, they are out of stock. However, Accessorize has plenty of filigree pieces in stock if you're looking for something similar:

If you're wondering why Kate might have chosen to visit Accessorize, the company are known for looking towards countries like India for design inspiration, plus many materials are sourced from the region. From the company's about page:
"The intrinsic beauty of fabric, colour and technique so evident in the early sourcing of [Accessorize's] products from India, Afghanistan and the Far East, continues to exercise a strong influence. Today, [Accessorize's] team of talented designers gather inspiration and ideas from around the world to create the [Accessorize] signature look.

This is the inspiration for [Accessorize's] exclusive, in-house designed collection of unique, classic pieces, that range from sophisticated evening to casual day wear, and combine feminine styling with exotic colour, beautiful fabrics and detailed finishing."
Kate's shoes are from Accessorize's sister company, Monsoon. They're the "Fleur Espadrille Wedge" in taupe.  They feature an almond toe and a rope wedge/platform.


The wedges come in pink/red too.  Both colours are still in stock at the time of writing.
The wedges cost £45 in the UK and $79 in the USA (use the country change option top left to check the price in your currency if you're from another location).  Shop them here.
Kate carried her sunglasses throughout the day.  I think they're probably RayBans but I'm not yet sure if they're her folding Wayfarers or just her normal pair of non-folding Wayfarers.  I'll look into this and update the post later.
Thank you to everybody who sent IDs today. I am totally tired now and cannot remember who found what at this point. If you think that you're due credit, ping me a message on Twitter @KateMiddStyle and I'll update the post accordingly.