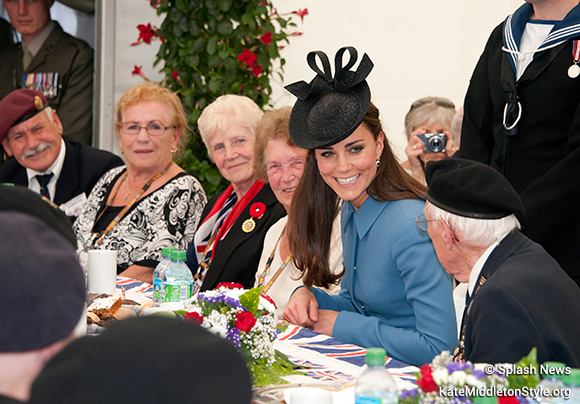 Today, William and Kate joined other members of the British Royal Family in Normandy, France to take part in events commemorating the 70th anniversary of D-Day.
A quick history refresher about D-Day:
On the 6th June 1944 Allied forces took part in a military operation now referred to as the Normandy Landings, or D-Day. The landing operation began the invasion of Nazi German-occupied western Europe, led to the restoration of the French Republic and contributed to an Allied victory in the Second World War.
Although most of the men who landed on the Normandy beaches were from the UK, USA and Canada, they were joined by troops from Australia, Belgium, Czechoslovakia, France, Greece, The Netherlands, New Zealand, Norway and Poland too. The Royal British Legion website describes the Normandy Landings as "pivotal in drawing the Second World War to a close, as well as being one of the most ambitious attacks in military history." D-Day was a culmination of two years worth of meticulous preparations and high level planning between British and American commanders.
If you'd like to learn more about D-Day and read a timeline of events from the historic invasion, click here or check out the 'essential reading' section below.
70th Anniversary Commemoration Events:
D-Day has been observed with a number of events throughout the week in both France and Great Britain.  From the Royal British Legion website:
"On Friday 6 June 2014, the 70th anniversary of D-Day, the biggest wartime operation ever will be commemorated on both sides of the English Channel. Second World War veterans will be honoured with a commemorative service and wreath laying in Bayeux."
A look at HM The Queen laying a wreath in Bayeux earlier in the day:
While other key members of the British Royal Family took part in events across Normandy, William and Kate met veterans at a tea party in the town of Arronmanches.
The royal couple were met by the town's Mayor, Monsieur Patrick Jardin and Naval Attache, Christopher Clough.   After a meet and greet with French and British scouts and cadets, the pair entered the tea tent for the 'tea party' with World War Two veterans.  A number of Royal Navy, Royal Marine and Royal Engineers personnel were present too.  You can watch a video of the brief tea party here on the ITV website.
Next, William and Kate headed over the the D-Day Museum on Gold Beach, Arronmanches, where they met a historian who gave them a short briefing on the events that took place 70 years ago to the day.  After, the pair viewed exhibits in the museum.
Finally, William and Kate joined the 70th Anniversary Commemoration ceremony on Gold Beach.  Veterans took part in a parade before singing hymns, listening to poetry and observing a minute's silence.  Prince William laid a wreath and gave a speech, thanking veteran for their service during World War II.
Kate's outfit:
It was a 'repeat' for Kate, who wore an outfit we saw almost a month to the day in Blenheim, New Zealand during the Royal Tour.
Kate's cornflower blue coat is a bespoke piece by Alexander McQueen. The peplum pocket coat is similar to several piece's in McQueen's ready-to-wear collection.
From left to right:
Utility coat dress in black // Peplum waist coat in sand // Utility peplum coat dress in powder blue
Kate's hat may feel unfamiliar, but it's not new.  The Duchess has only worn once publicly to date, in June last year for the Royal Princess cruise ship christening.   The piece is the "Salsa" hat by Sylvia Fletcher for Lock and Co.  It retailed on Lock & Co's website for £295.
Kate wore a pair of black suede shoes.  Because the soles are grey and not nude, we can confirm they are NOT the new Jimmy Choo Vikki pumps Kate debuted on tour earlier this year.  The shoes could be Stuart Weitzman / Russell & Bromley styles.  From What Kate Wore, who has an update on the pumps:
There is some thought the shoes could be from Russell & Bromley, Ashley Marie suggests on the WKW Facebook page that Kate could be wearing the company's  'Power' style (left), or perhaps the 'Plunge'. Both are Stuart Weitzman designs.
Kate wore her blue sapphire earrings, which we've seen a number of times since 2011.  It's often speculated that these earrings came from Princess Diana's collection, and were a gift from Prince William.  Look at this graphic for more information.
Finally, Kate also carried her black suede Mulberry Bayswater Clutch bag.  Kate's worn this piece on a number of occasions recently, it's quickly becoming a go-to piece.