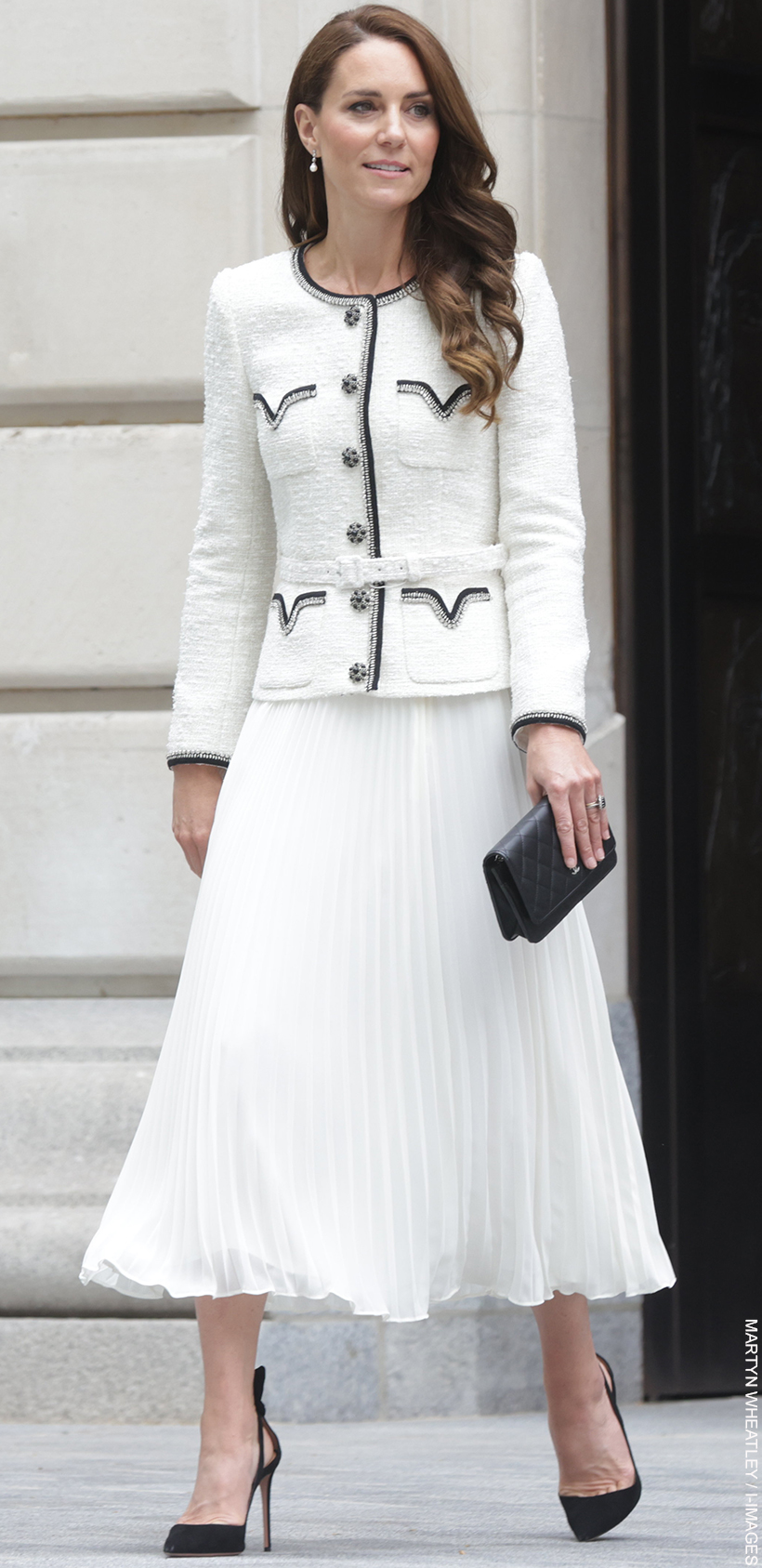 Kate Middleton was an image of sophistication at the National Portrait Gallery's grand reopening this morning. The Princess of Wales looked lovely in a white blazer dress with a sharp black trim by London-based brand, Self Portrait.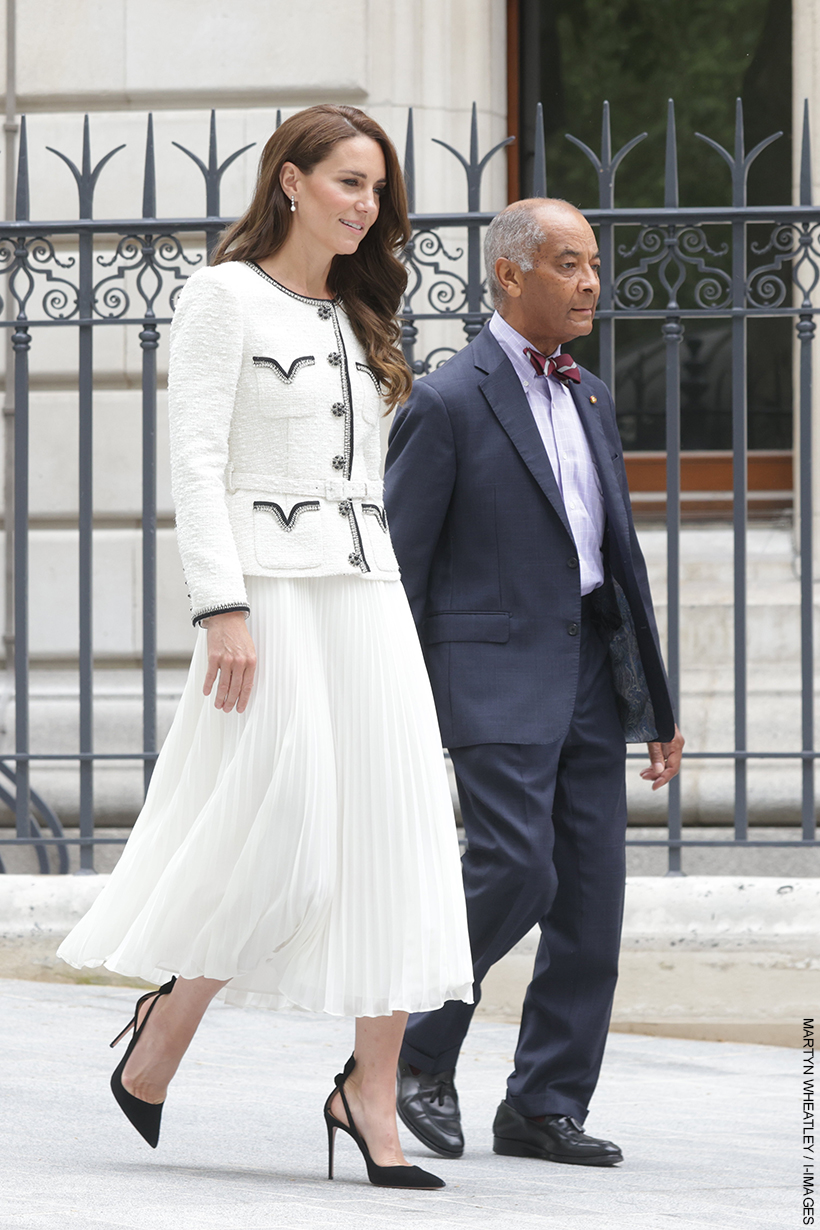 In a fashion-forward move, Kate unveiled a new Chanel quilted handbag during the visit—no doubt, a subtle show of solidarity with the famed French luxury brand, who have joined hands with the National Portrait Gallery for its grand reopening. The collaboration, fostered through the Chanel Culture Fund, aims to intensify the representation of women within the gallery's esteemed collection, and throughout the gallery.
The Princess finished her look with sleek black heels by Aquazurra and faux diamond and pearl earrings by Heavenly London—an affordable pair she's had in her collection for over a decade (and that are still available to buy, snap them up here!)
As always, we'll look at Kate's visit of the gallery before giving a more through outfit breakdown below.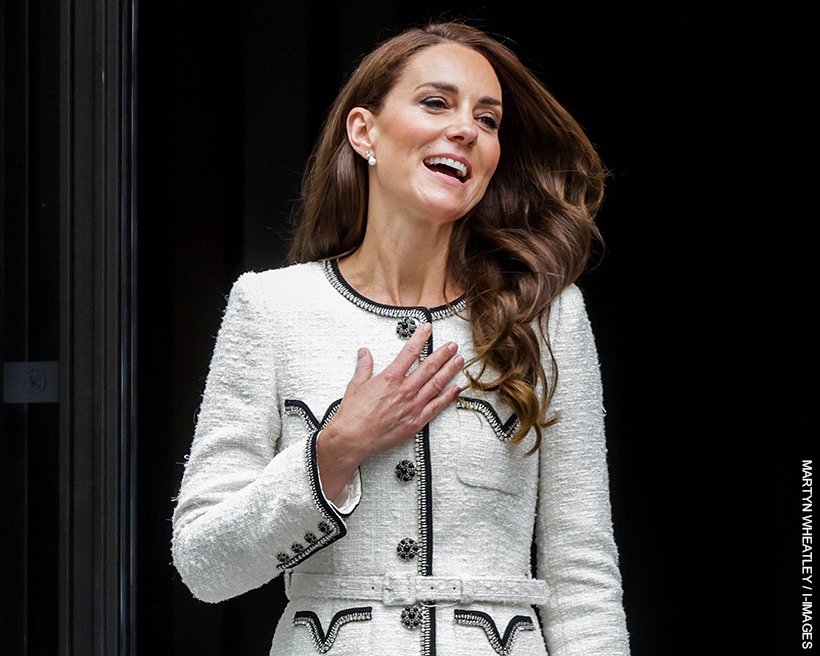 Kate Middleton's visit to the National Portrait Gallery:
The gallery officially reopens on the 22nd of June—Kate's had a private preview and tour ahead of the big day. The reopening follows a three-year intensive refurbishment of the Grade I listed building.
The transformation also includes a comprehensive redisplay of the collection in beautifully refurbished galleries, and more than 50 new acquisitions.
The visit began with Kate meeting Jamie Fobert, the Project Architect of the refurbishment, and renowned British artist Tracey Emin on the National Portrait Gallery's forecourt. Emin was commissioned to create an artwork for the gallery's new doors, featuring a design that incorporates 45 carved brass panels to represent 'every woman, throughout time'.
Inside the gallery, the Princess met Sir Paul McCartney and his wife, Nancy Shevell, who have an exhibition opening at the gallery later this month. This exhibition is a collection of Sir Paul's personal photographs taken between 1963 and 1964.
Kate also visited The Mildred and Simon Palley Learning Centre in the Gallery. The learning centre formed a significant part of the redevelopment and more than doubles the gallery's provision for learners. Here, the Princess learned about the Gallery's new Under 5's Programme. She joined nursery children taking part in a multi-sensory workshop focused on the world of Beatrix Potter, designed to enhance creativity.
In the workshop, Kate interacted with a preschooler named Rania. A video shared by The Daily Express's Richard Palmer showed Kate looking at atwork Rania had created, telling her "it's a very nice picture". Then Kate asked Rania if the illustration was of Peter Rabbit.
The new program, which was developed in partnership with the London Borough of Westminster family hubs and local state nurseries, is set to launch in September and will welcome families from the local community to the Gallery to encourage creative learning, play, and exploration.
During the visit, History of Art graduate Kate also enjoyed a tour of the gallery's latest acquisitions, including Joshua Reynolds' Portrait of Mai (Omai):
Sir Joshua Reynolds' spectacular Portrait of Mai (Omai) holds a pivotal place in global art history, depicting the first Polynesian to visit Britain, and is widely regarded as the finest portrait by one of Britain's greatest artists.

Known as "Omai" in England, Mai (ca. 1753-1779) was a native of Raiatea, an island now part of French Polynesia, who travelled from Tahiti to England with Captain James Cook. He spent the years 1774-76 in London, where he was received by royalty and the intellectual elite, and indeed became something of a celebrity. Mai returned to his homeland in 1777 and died there two years later.

National Portrait Gallery
The painting was jointly acquired by the Gallery and Getty earlier this year after a historic fundraising campaign. The two institutions will share the painting for public exhibition, research, and conservation care, maximising public access to the work in perpetuity.
Before leaving, Kate visited the exhibition 'Yevonde: Life and Colour'.
The exhibition centres around the life and career of Yevonde, a pioneering London photographer who spearheaded the use of colour photography in the 1930s. The archive of Yevonde's 60-year career was acquired by the Gallery in 2021. The new exhibition has been supported by The CHANEL Culture Fund.
Speaking of which, let's look at Kate's gorgeous new handbag and her outfit in more detail:
Kate's Outfit at the NPG today:
The Princess debuted a new two-in-one ensemble—a dress that resembles a jacket and skirt—by Self-Portrait at the National Portrait Gallery today. It was stylish and eye-catching, yet refined.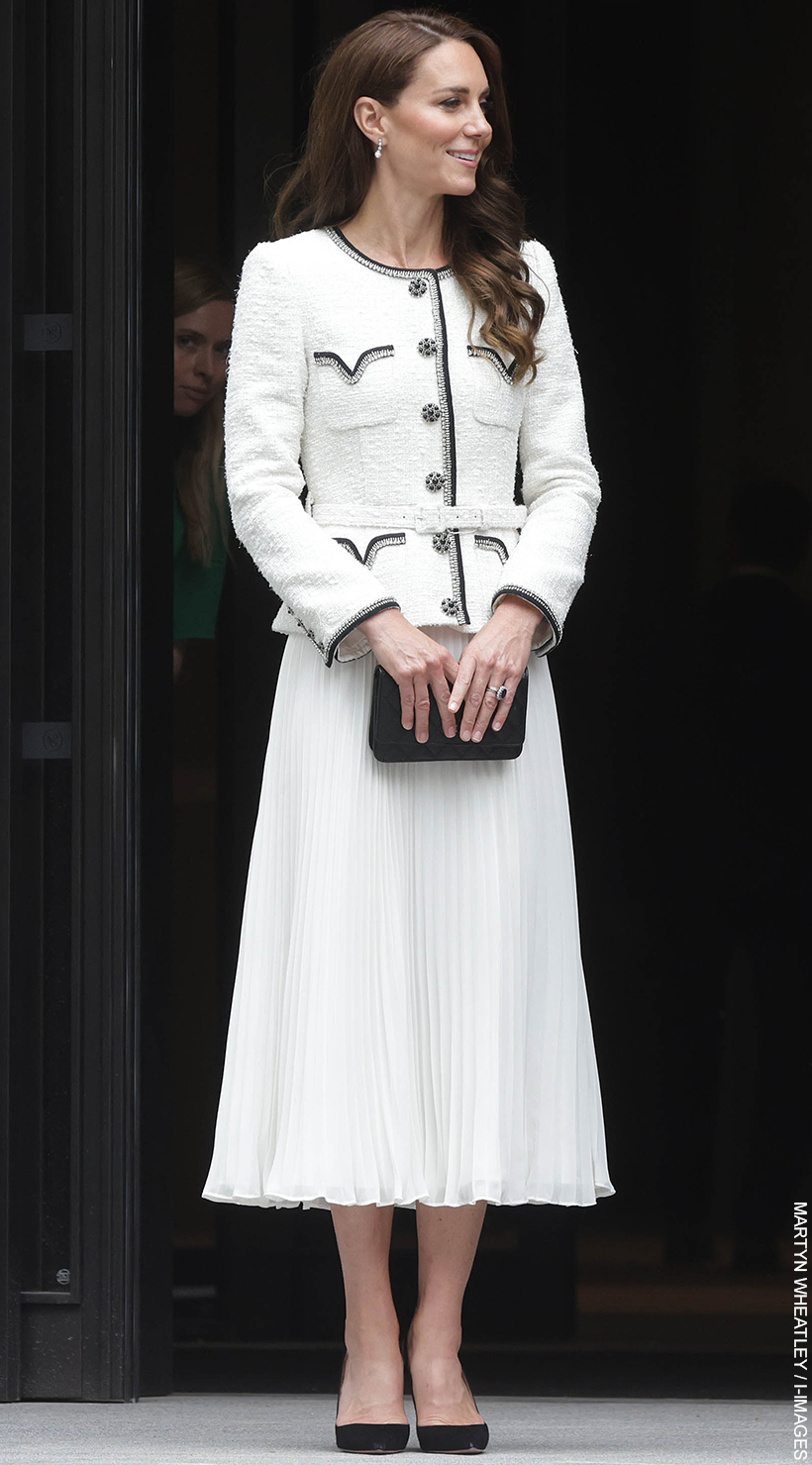 Though for royal style watchers, it was puzzling choice. Kate owns this dress in three other iterations. She's worn it in black twice, in plain white twice, and in cream once (below). Why not repeat one of those? Or wear something else from her wardrobe instead of buying new?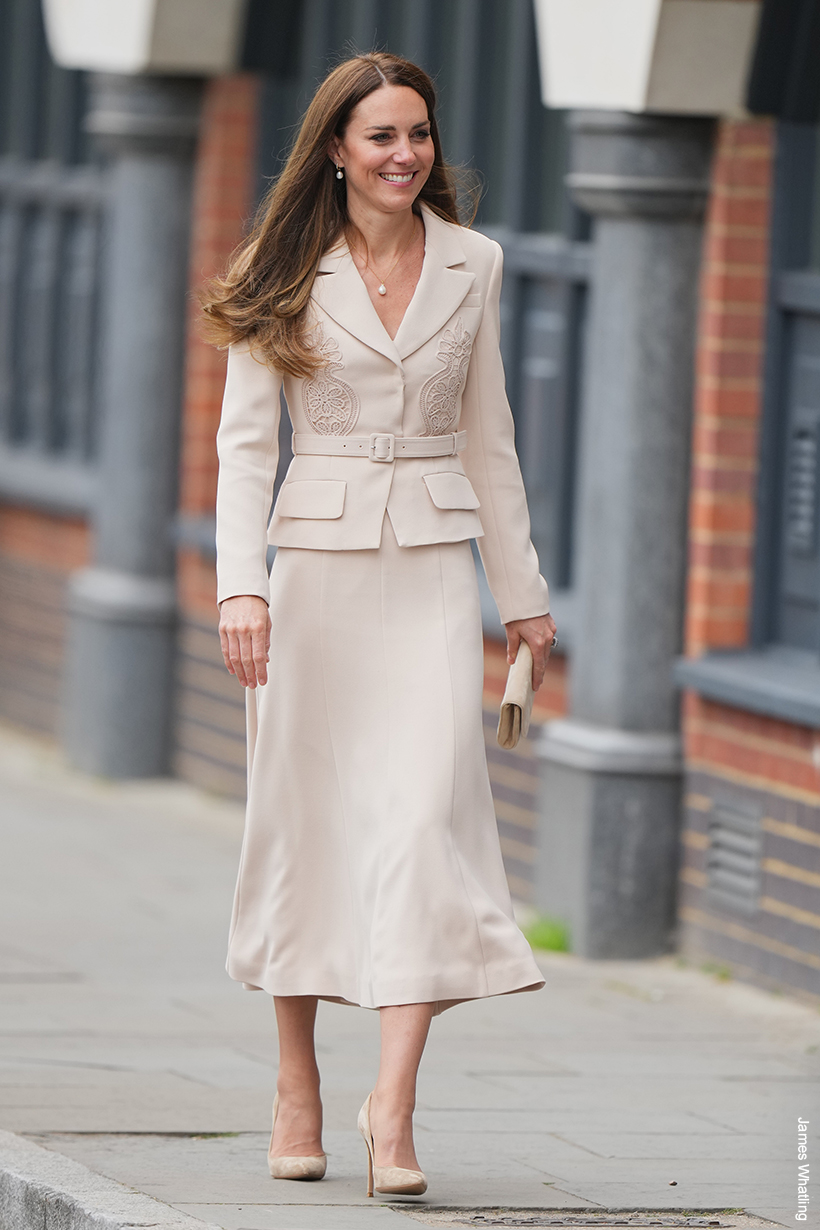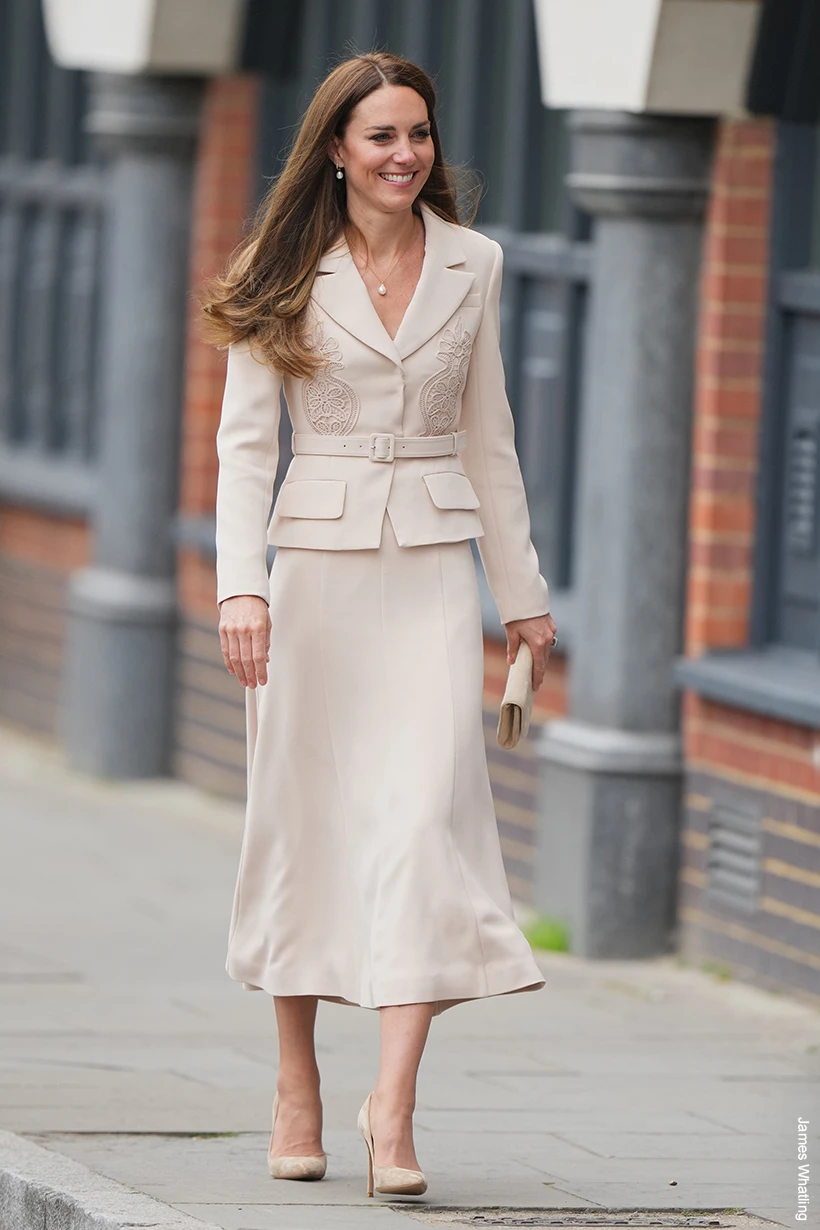 It's the second time in two days I've asked that question. Kate wore a spotty dress to Order of the Garter yesterday that resembled one she already owns by the same designer, and a new pair of shoes that almost exactly resemble a pair she wore a handful of times last year. I'll give her the benefit of the doubt on the shoes—she might have ruined them on grass and wanted a new pair with a similar look.)
This is another ensemble that I'm filing under the "same but different" category. Kate's worn a lot of "same but different" looks over the last year or so. All iterations of the same look with similar or differently coloured garments. I've had several discussions about Kate's thinking with fellow bloggers, Kate fans, commenters and Twitter followers in recent weeks. I could probably fill an entire post with our my musings on this subject.
Let's take a proper look at the Self-Portrait dress now. It's fashioned to mimic a deconstructed two-piece, featuring a bouclé tweed bodice and a flowing chiffon shirt. The upper part is impeccably fitted through the shoulders with a tailored cut that subtly accentuates the silhouette of the wearer.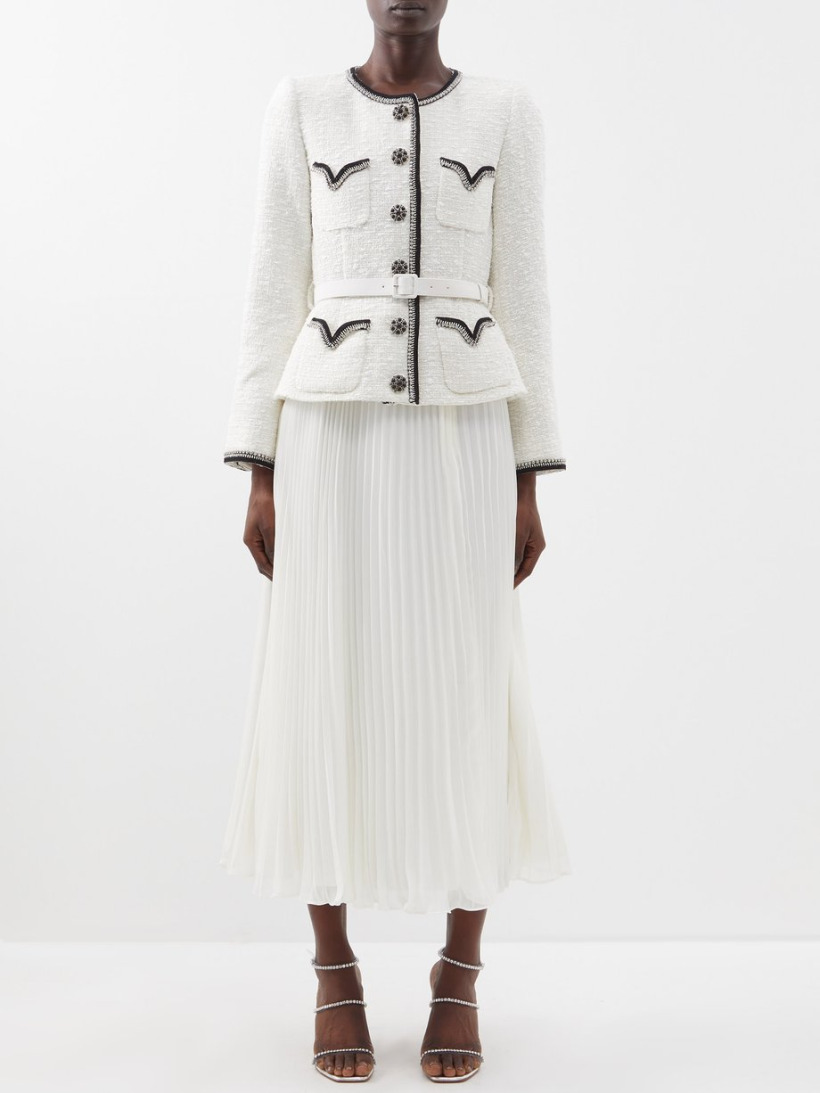 The jacket is finished with a black and metallic silver trim on the cuffs and pockets. The matching front buttons add a dash of chic functionality.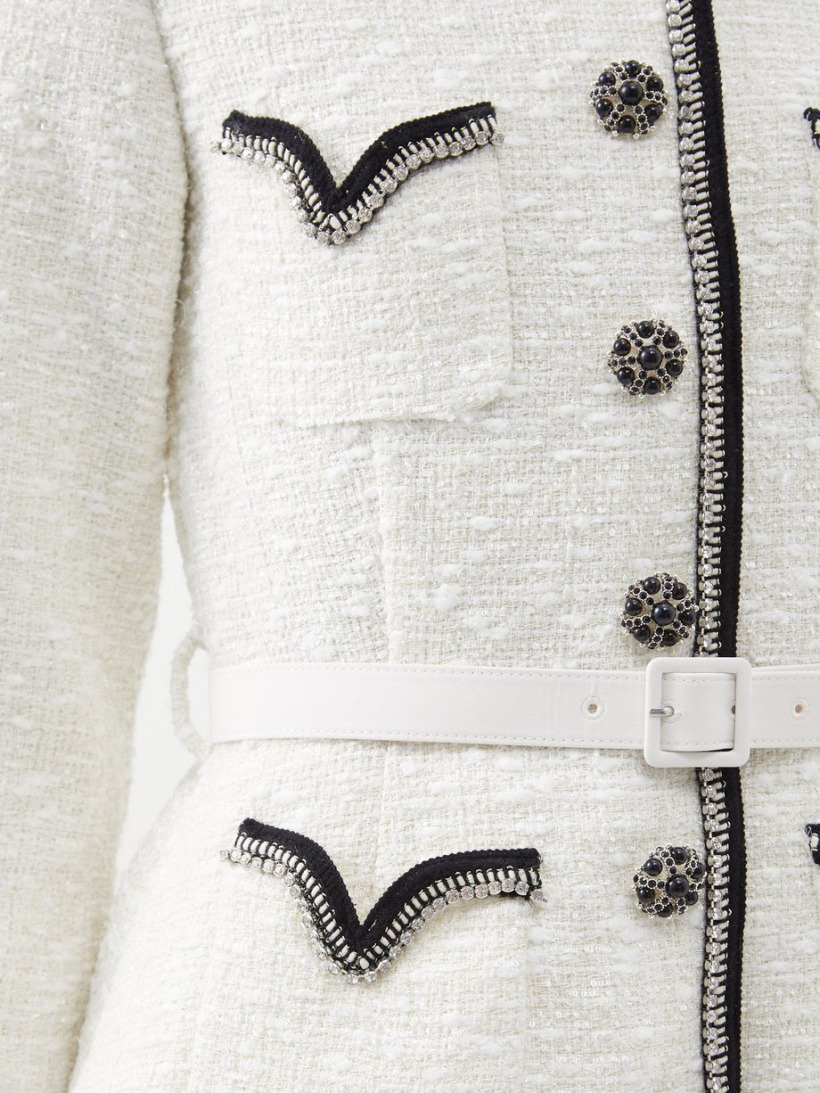 The lower part of the frock is a pleated chiffon skirt that adds a soft, feminine touch to the ensemble. The look can be further cinched to preference with an adjustable belt.
It was crafted in Italy from 100% polyester.
Want to own the gorgeous midi dress? There are VERY LIMITED sizes left at FarFetch and Matches. Otherwise, try this white lace version from MyTheresa (perfect for a bride attending her wedding rehearsal dinner, I think).
We simply must discuss Kate's handbag next. The Princess carried the Chanel's iconic quilted wallet-on-chain, which she held as a clutch.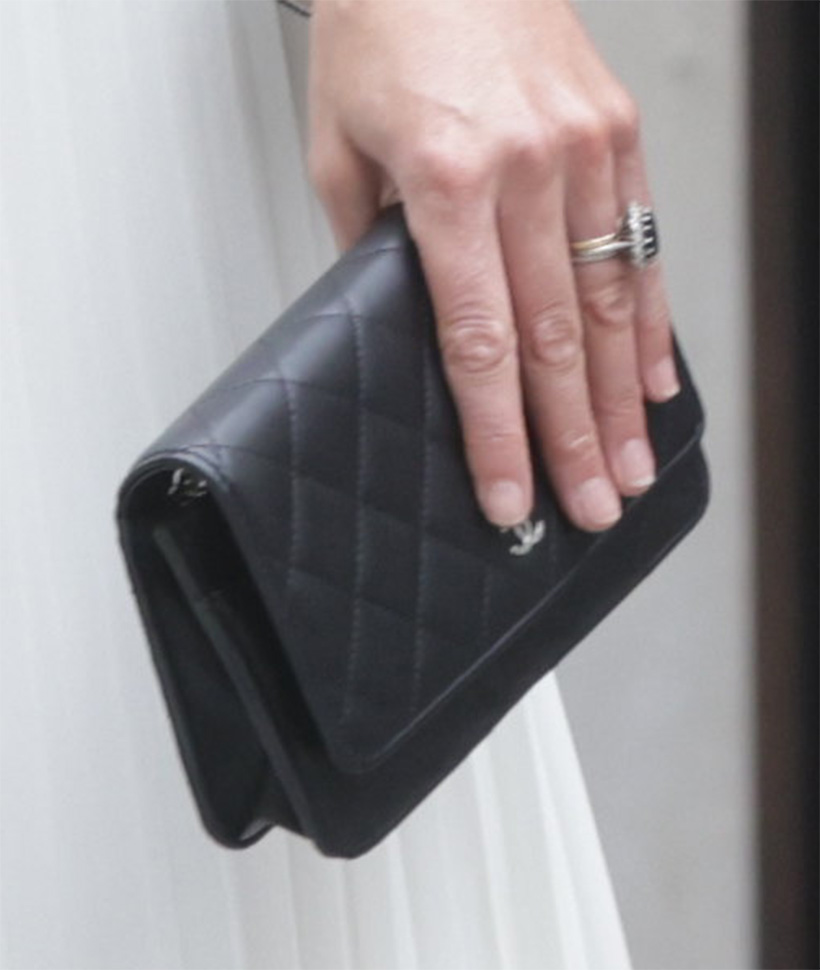 This elegant accessory is crafted from lambskin and features silver-tone metal detailing. RRP: $3,350 USD / £2,810 GBP.
The Wallet on Chain, also commonly known as the WOC, is a highly sought after Chanel bag that is popular among fashion enthusiasts and handbag collectors alike. The rectangular accessory is timeless, compact and versatile. It features the brand's iconic quilted leather design, the CC logo and a long chain strap that allows it to be worn cross-body, over the shoulder, or as a clutch with the chain tucked inside (as preferred by Kate). The interior is well-organised, with multiple compartments and pockets.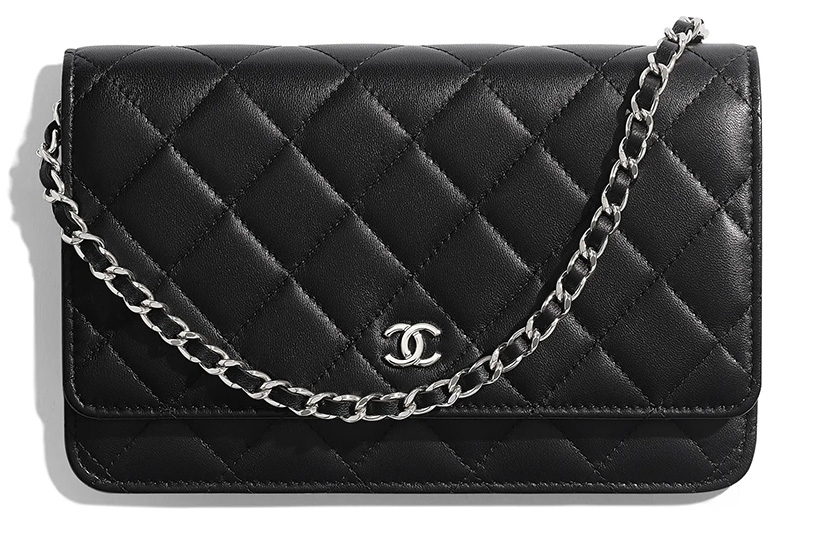 While still a luxury item with a high price tag, the WOC is more accessible and affordable than most of Chanel's other, larger handbags, which adds to its popularity. I've seen it referred to as a good "entry point" for those wishing to start a Chanel collection. The bags are also known for having a high resale value and for retaining their value well.
I was quite surprised to see Kate with a WOC—it's not an accessory I'd have associated with her necessarily. But given Chanel's connection with the gallery, it makes sense. Of course, my regular readers will know I like to sit and ponder these things—did Chanel approach Kate about carrying the bag? Did Kate see the Chanel connection and whip the item out of her closet? Did she go out and purchase it specially for the event today, did Chanel lend it to her?
It's not the first time she's carried a Chanel handbag though, she does own another style in burgundy. She's also worn a blue tweed Chanel jacket twice in the last twelve months (below), and a Chanel coat during a visit to Paris in 2017.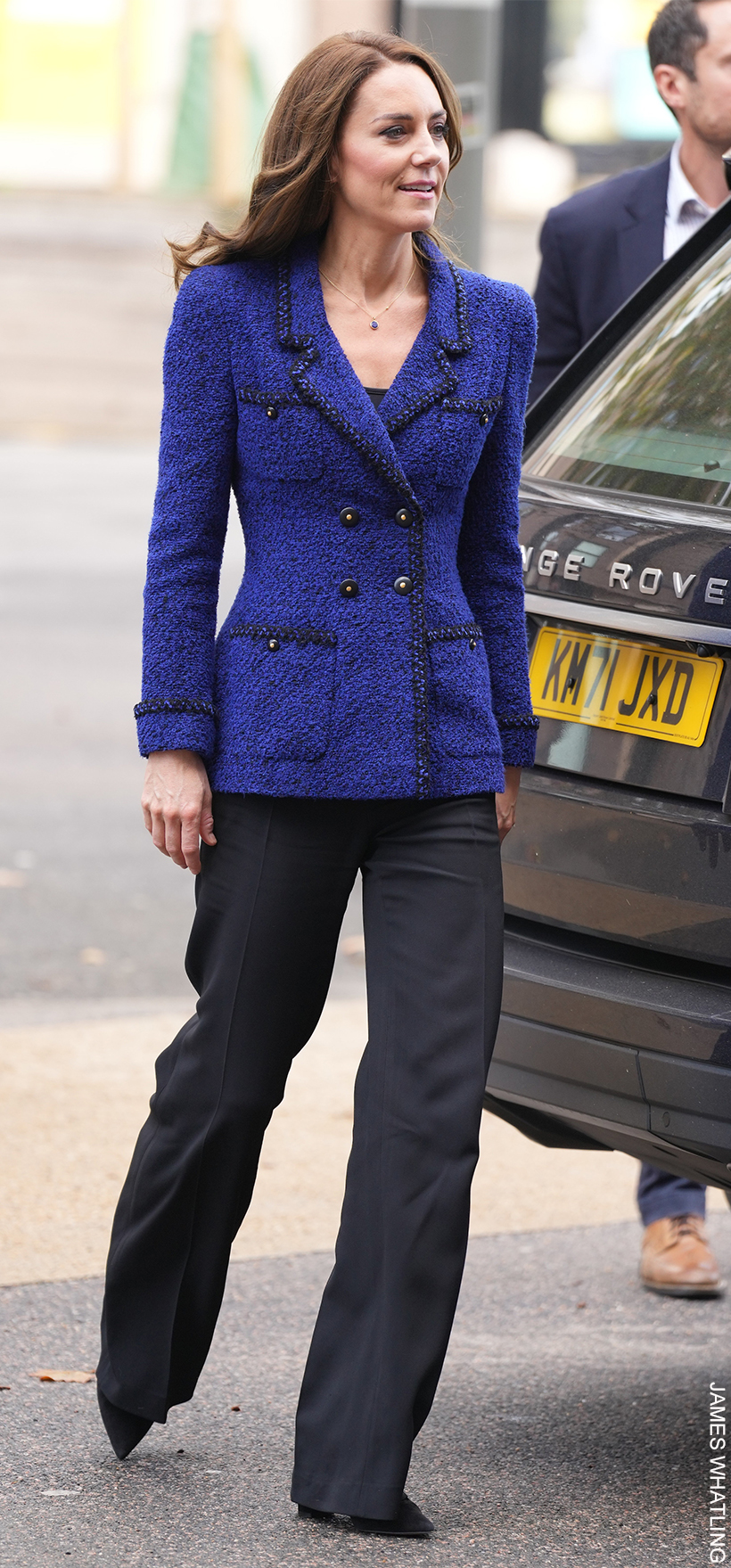 Let's take a look at Kate's GORGEOUS shoes next. I'm a real fan of these sleek black shoes. They're from the luxury Italian brand, Aquazzura.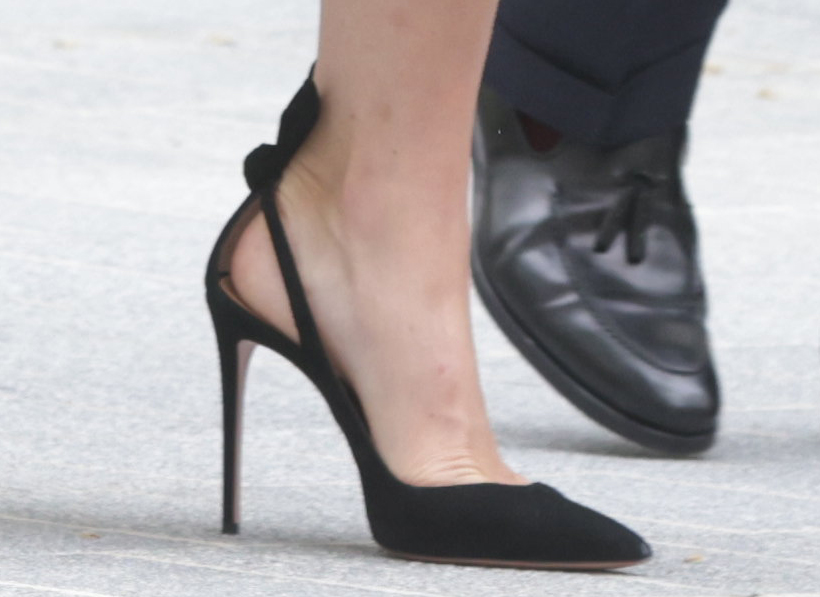 The Princess debuted the heels earlier this year, at a luncheon on the eve of King Charles's coronation.
They feature a 105mm tall heel, an elegant pointed toe, cutouts on the sides, and and a stylish knotted detail on the heel.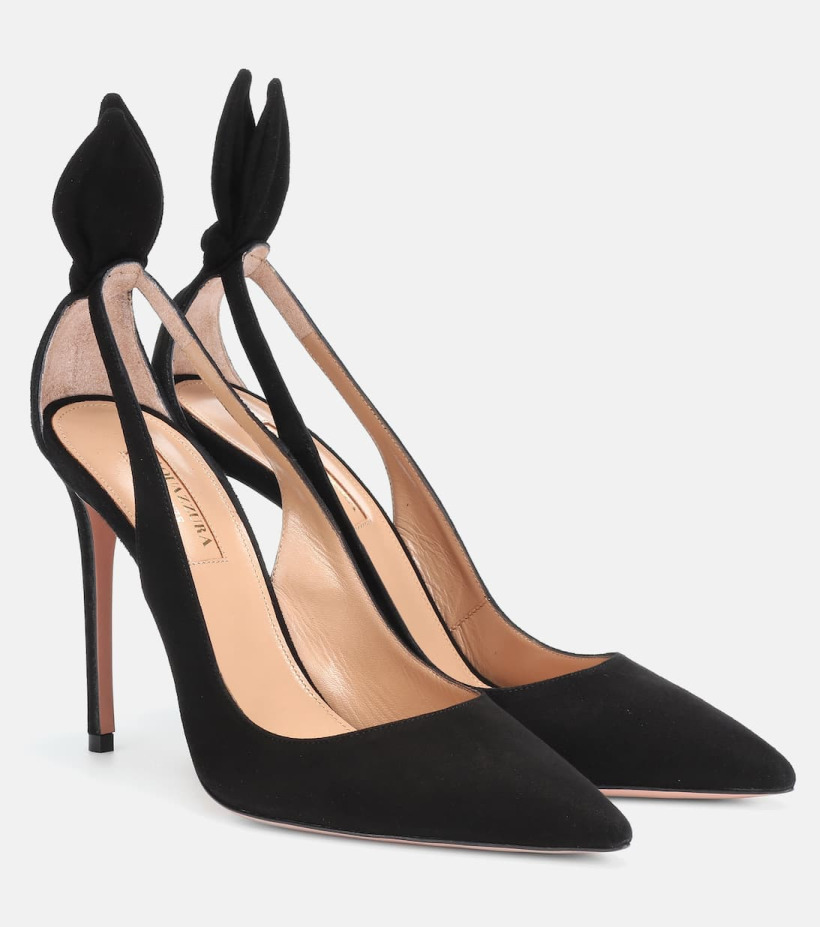 Covet them? Want them? Need them? They're still available at MyTheresa (where they're described as the "perfect after dark shoe") in a bunch of sizes. Also find them at: Net-A-Porter and FarFetch in several sizes.
I think Kate owns seven pairs of Aquazzura heels now, including this same style in blush pink. The company is quickly rising up the ranks when it comes to her favourite luxury heel brands.
And last but not least, Kate completed her monochromatic outfit with a pair of earrings from Heavenly London: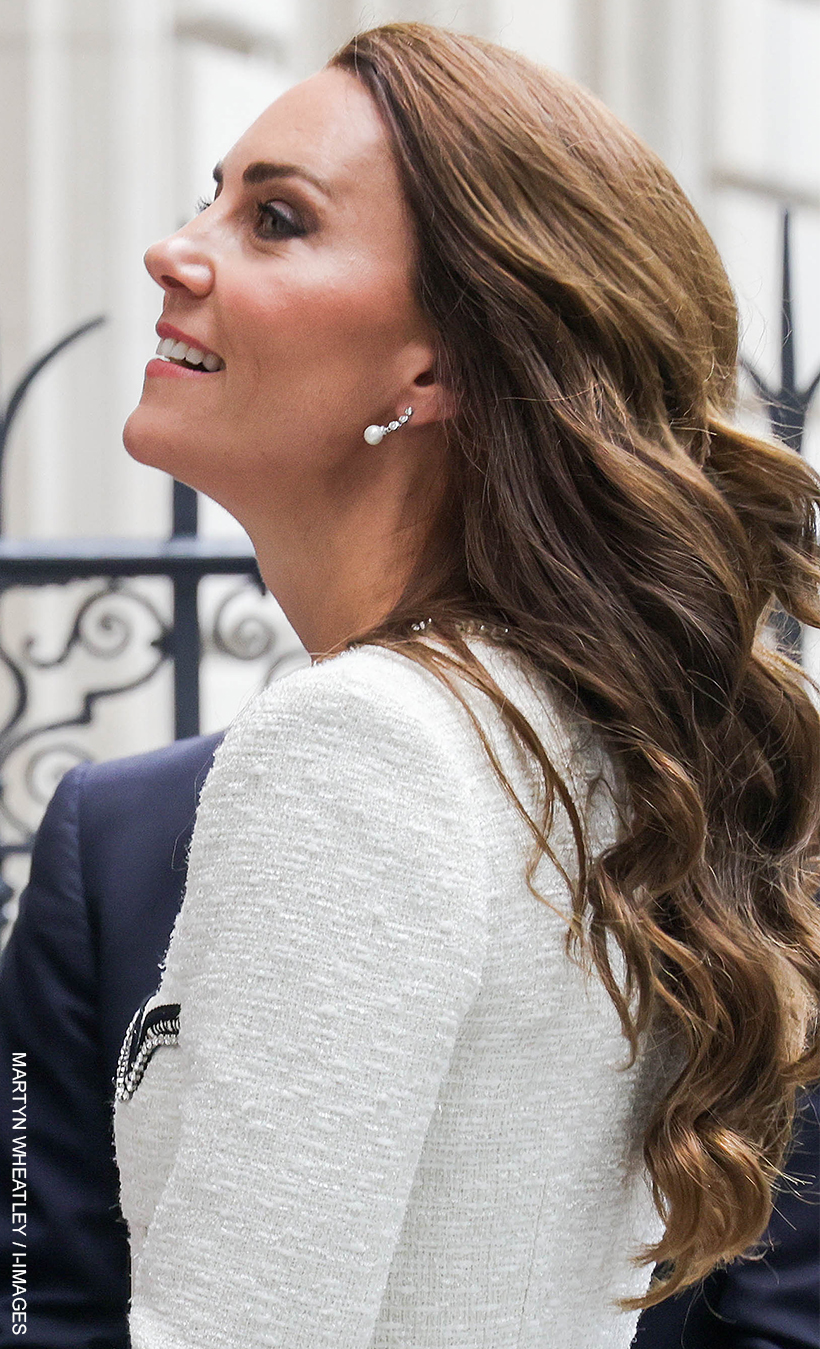 The earrings are costume—they feature imitation diamonds made from cubic zirconia and pearls crafted from resin. As the earrings do not feature real stones, they retail for an affordable £90 (approx $115 USD).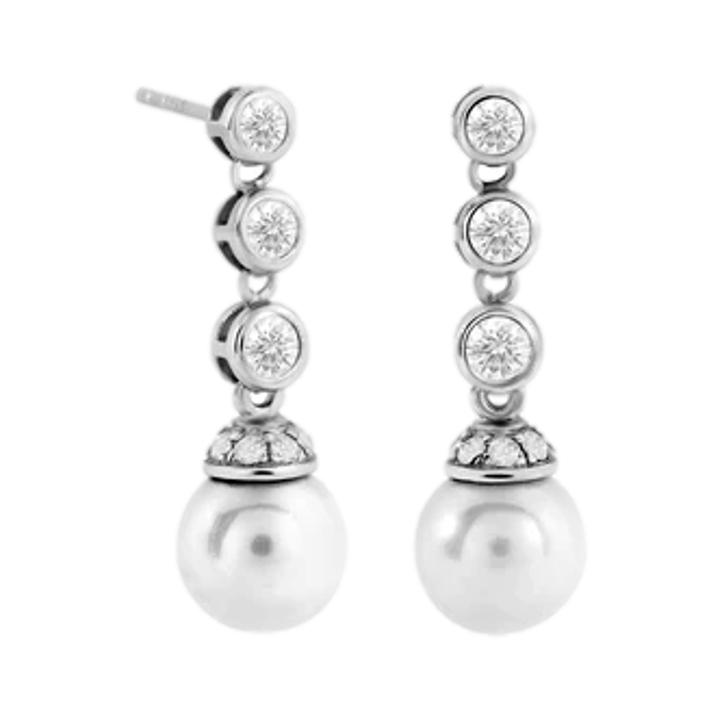 The Princess has worn the earrings four times in public prior to today. She wore them three times between June and July 2012, and then, interestingly, after a hiatus of more than ten years, they resurfaced in February 2023.
Heavenly London specialise in curating and designing pieces that evoke the grandeur of heirlooms, but using faux gemstones. The outcome is indulgent jewellery at a reasonable price range, making luxury attainable for all.
The inception of Heavenly, originally named Heavenly Necklaces, dates back to 1993 when it was established by Belinda Scott. In an interview with the Daily Mail in 2012, Scott reminisced about seeing her imitation jewels grace the red carpet on Hollywood's elite. Apart from the clear advantage of affordability, her clientele often prefer faux jewellery for the sake of avoiding the need for insurance and the attention of security personnel at high-profile gatherings. As she aptly put it, they can enjoy the "sparkle without the risk."
Today, Heavenly London's reins are in the hands of Scott's daughter, Madeleine, who has broadened the brand's repertoire to include demi-fine jewellery manufactured with ethically sourced materials.
Kate's aunt-in-law, the Duchess of Edinburgh, is also a fan of Heavenly. She owns several pieces from their collection and regularly incorporates them into her ensembles. I wonder if Sophie told the Princess about the brand, or purchased the earrings for Kate as a gift?