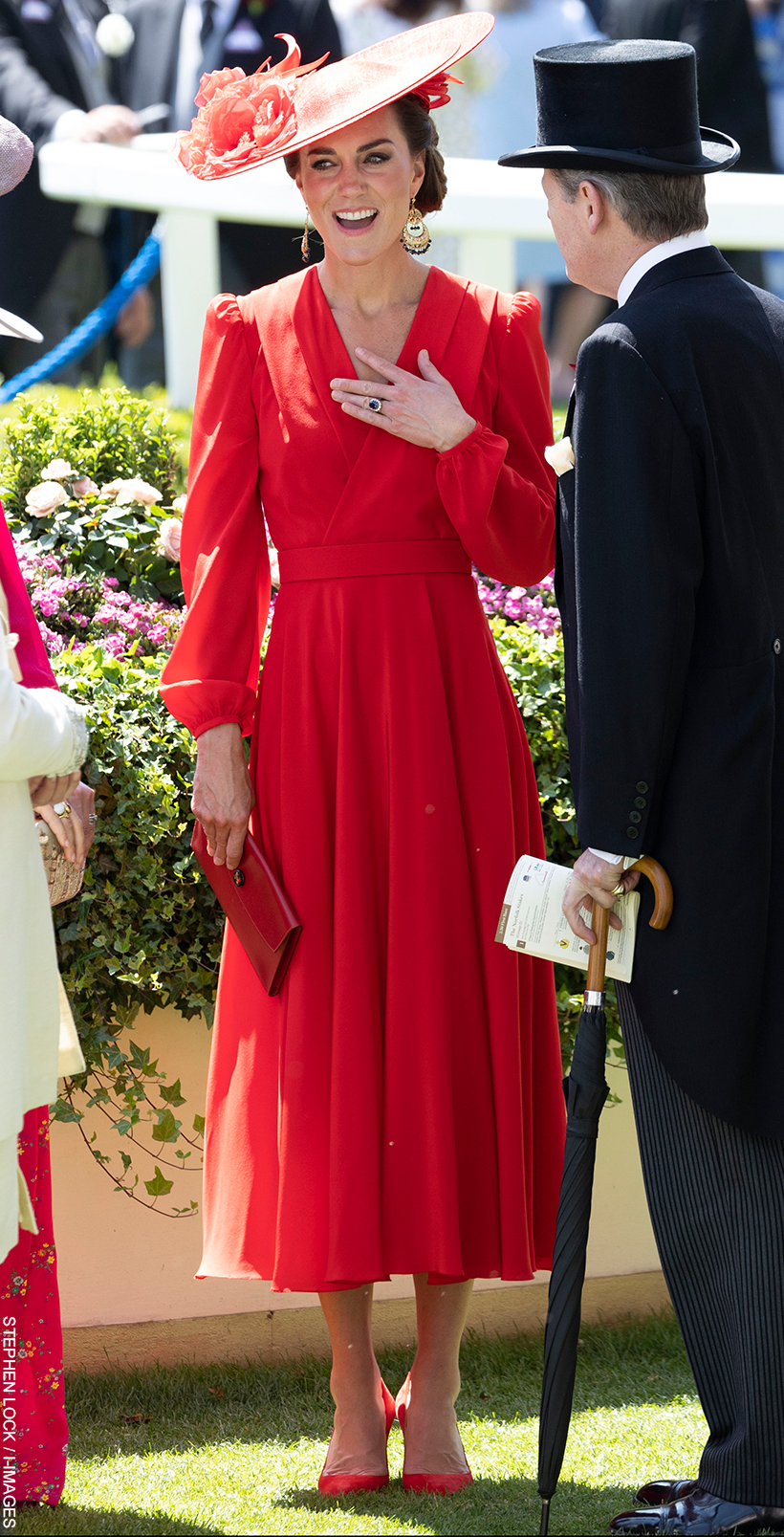 Kate Middleton made a strong style statement at Royal Ascot on Friday.  The Princess of Wales wore a bright and eye-catching red ensemble as she attended the horse racing event for the fifth time since joining the family in 2011.
The Princess's look comprised a flowing v-neck maxi dress from Alexander McQueen, chunky statement earrings from the Paris-based brand Sézane, a flower-trimmed wide-brimmed hat from Philip Treacy, sleek new heels from Jennifer Chamandi, and a coordinating vintage clutch by the French luxury house Hermès. (Full outfit breakdown further down the page.)
Kate at Ascot:
The Prince and Princess of Wales arrived in style, taking part in the traditional carriage procession that marks the start of each day at Royal Ascot. They shared the second carriage with Princess Beatrice and her husband, Edoardo Mapelli Mozzi. The four royals followed behind King Charles and Queen Camilla, who travelled with the Duke and Duchess of Devonshire.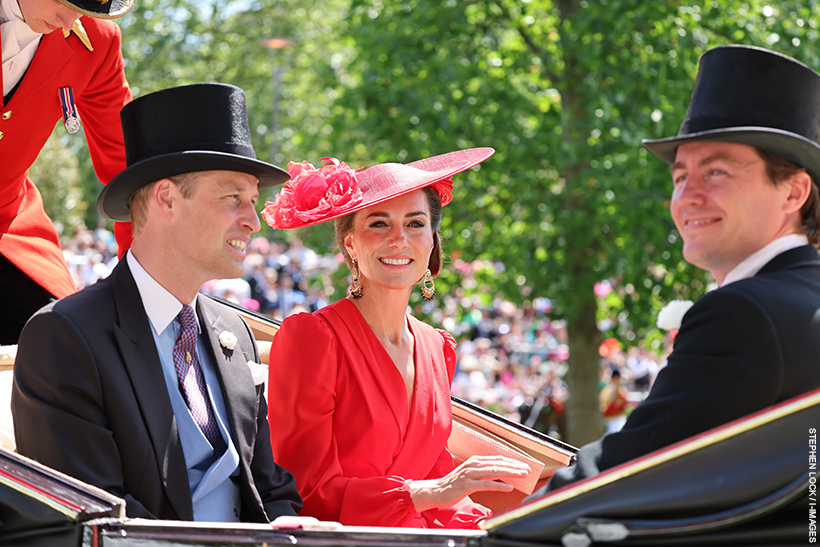 Princess Beatrice was a vision of summer elegance in a Monique Lhuillier lace dress (Thanks Laura for the ID). The chic cream dress was beautifully accentuated with a delicate floral and foliage print. (Mini dress version still available here. )
The Duchess of Edinburgh rode with The Earl of Caledon, Prince Michael of Kent, and Princess Michael of Kent in carriage three. Sophie looked like elegance personified in her blush pink dress by Suzannah (ID credit: UFO No More). After a similar dress for an event this summer? I found this affordable dupe at Coast.
Dame Judi Dench, David Mills, Mr William Farish and Mrs William Farish occupied the the fourth and final carriage. It appears Kate and Dame Judi got on well. Photos show the two VIPs chatting and laughing in the Royal Box.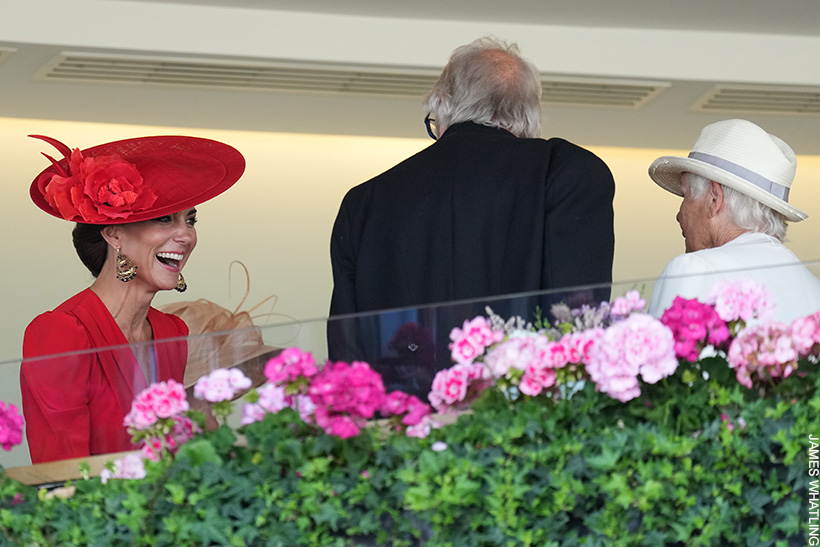 During the afternoon, William and Kate took to the stage to present a trophy. They awarded the Commonwealth Cup to the connections of Shaquille. The horse, ridden by Oisin Murphy, beat odds-on favourite Little Big Bear.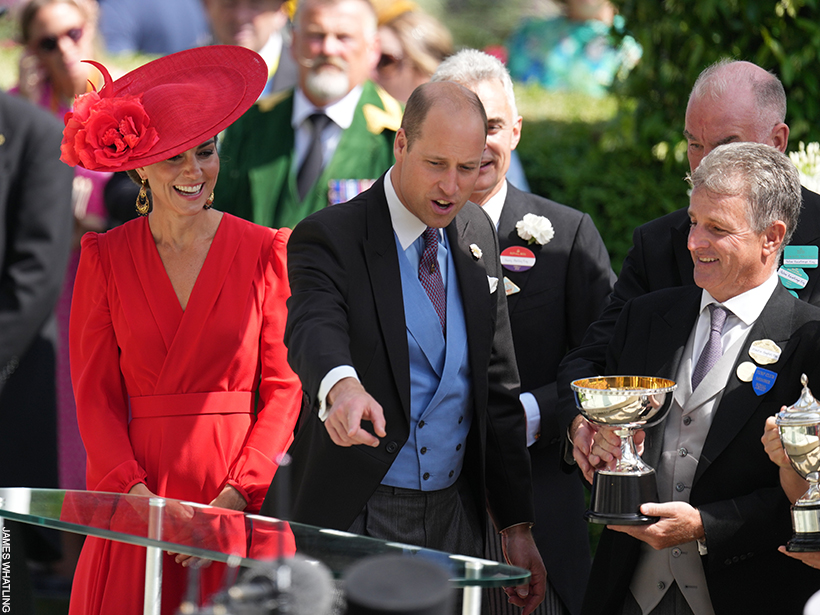 Ascot is a notable part of the royal family's summer diary. The late Queen Elizabeth II, known for her love of horse racing, attended all five days of Ascot prior to her passing. King Charles, with Queen Camilla at his side, has continued this tradition, attending each day of the event so far this week.
Today, the King viewed a special photo exhibition created by Ascot in his mother's memory:
Let's run through Kate's gorgeous red-on-red look today.
Kate's outfit at Ascot:
Kate opted for an all-red monochrome ensemble for this year's Royal Ascot. It was a surprising departure, given her past penchant for softer palettes (she's opted for white three times and subdued pastel blue once.) It was an unexpected but refreshing change. The bold and vibrant hue definitely marks a new chapter in Kate's Ascot appearances!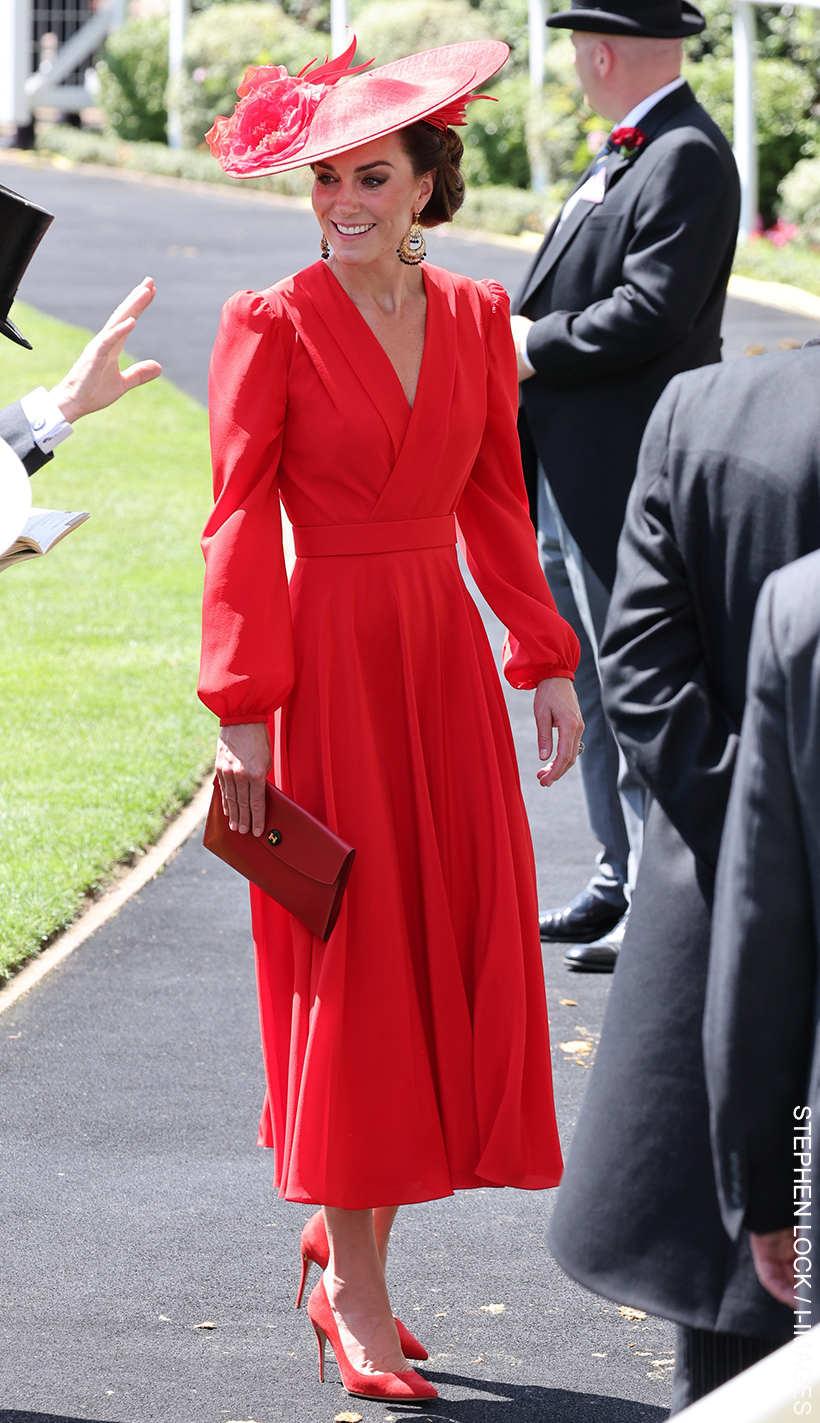 The red frock featured a v-neckline accentuated with wide tapered tucks, pronounced shoulders, an inset waistband, long cuffed sleeves and a calf-length pleated skirt. It was an Alexander McQueen creation according to journalists briefed by the palace.
I suspect the dress is bespoke (made just for the princess, not available off the rack) as I'm not seeing any similar pieces when I search Google images. Kate has a close relationship with the fashion house, she's commissioned bespoke dresses and coats for various events over the last 12 years (most notably, her wedding gown, of course).
UPDATE: Royal Fashion Police believe we've seen this dress before, sort of. They think the princess wore the red frock under a coat on St David's Day earlier this year. Click here to see their comparison photos and comments. (Opens in a new tab).
Alexander McQueen is a British luxury fashion brand known for its innovative designs and impeccable craftsmanship. I recently counted the brands, labels and companies behind Kate's dresses and Alexander McQueen came out on top—the princess has worn over 40 of their dresses (excluding coat dresses) since joining the Royal Family in 2011.
Let's take a look at Kate's statement earrings now. The Princess chose a pair of chandelier tassel drop earrings crafted from gold-plated brass and finished with black beads. They're from Parisian brand Sézane. (Thanks to UFO No More for finding the earrings first.)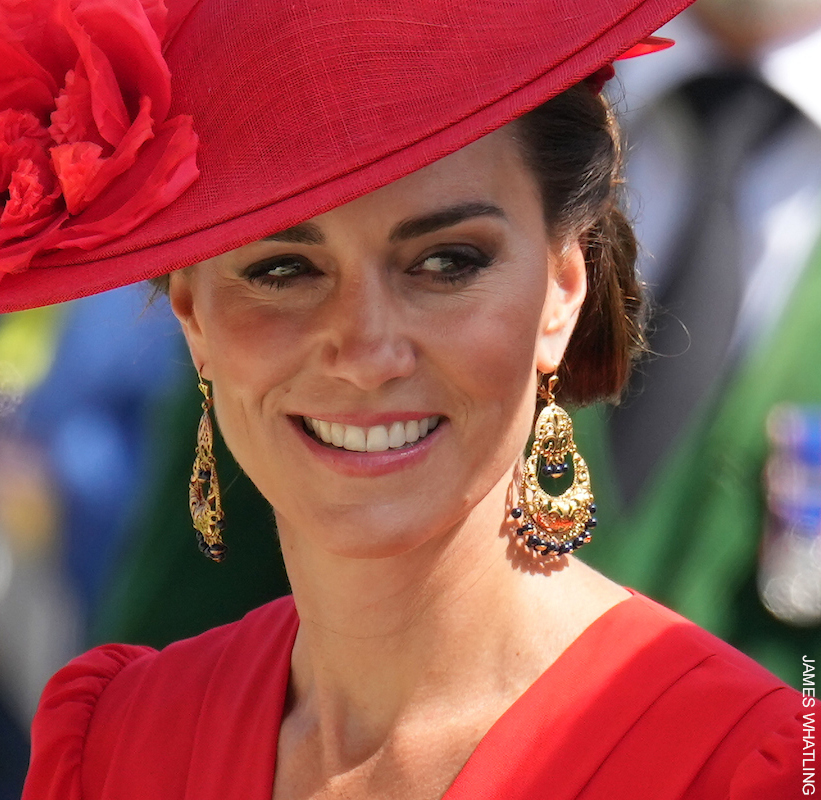 Unfortunately, the boho style earrings (pictured below) are no longer available to buy.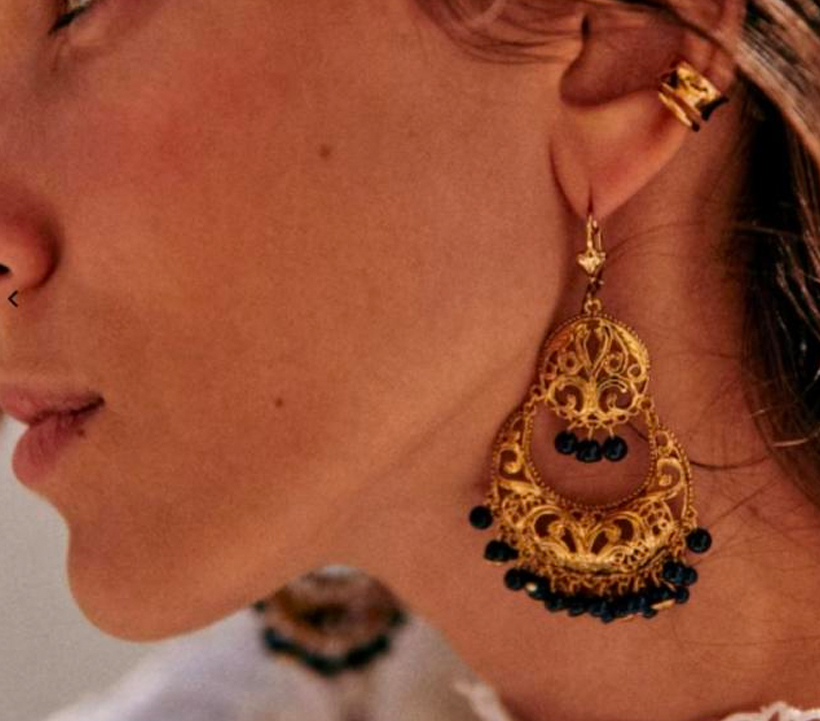 I found a similar pair at Phase Eight for just £19 for anybody who needs this style in their jewellery box but doesn't want to wait and see if Sèzane restock. I thought they were a pretty decent 'repliKate' —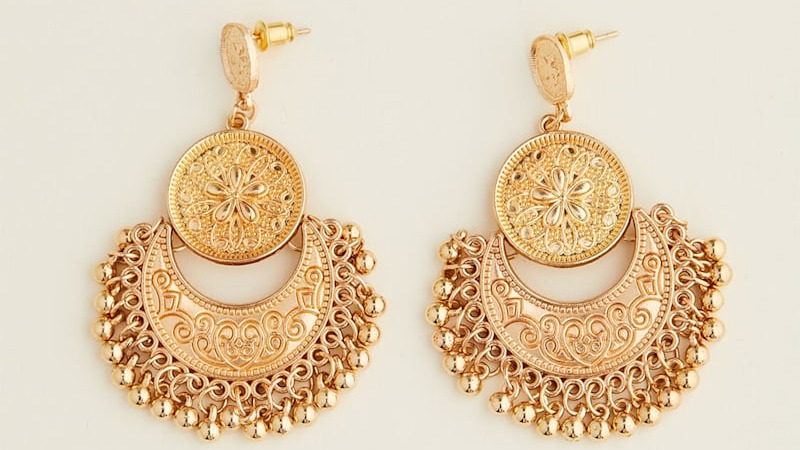 Kate's quite the fan of Sézane's earrings. This is the seventh pair she's worn over the last few years, making them her second favourite earring brand (Kiki McDonough is her most-owned brand to date.)
Sézane, a distinguished French fashion brand, was established by Morgane Sézalory , a self-made fashion maven. Sézalory launched her fashion career with an eBay shop, selling carefully curated vintage items before creating her own online platform in 2013. Today, Sézane is celebrated globally for its combination of contemporary femininity, wearability, and vintage inspiration, reflecting Sézalory's unique aesthetic vision​.
Let's move on to look at Kate's hat now. The design is by esteemed milliner Philip Treacy.
The wide brim saucer hat is topped with a coordinating red flower. This listing at Bonham's shows a Philip Treacy hat in a similar design, though the crown on Kate's hat has a softer shape. But it features a similar 'double layer' on effect on the brim and large accent flower detail.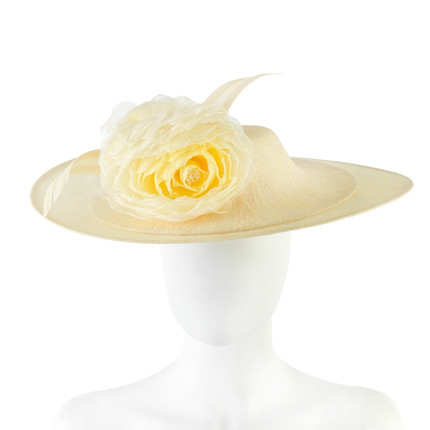 Unfortunately, I don't know anything else about Kate's hat at present.
Philip Treacy is an Irish milliner renowned for his imaginative hat designs. His creations, which can be seen as artworks in their own right, have graced the heads of royalty and celebrities worldwide.
Let's shift our focus to Kate's footwear now. The Princess wore a pair of red suede heels designed by Jennifer Chamandi (thank you to Middleton Maven for the ID). The heels are specifically identified as the Lorenzo 105 pumps.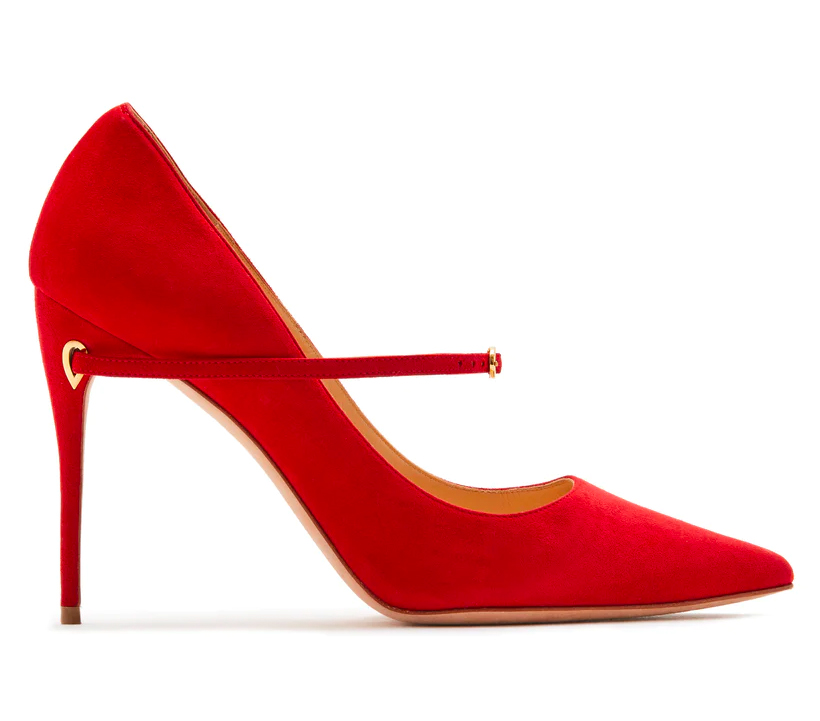 Kate's opted to forgo the removable ankle strap. This strap threads through Chamandi's distinctive "Eye of The Needle" detail on the heel, which you can just make out in the photo below (on Kate's back foot) –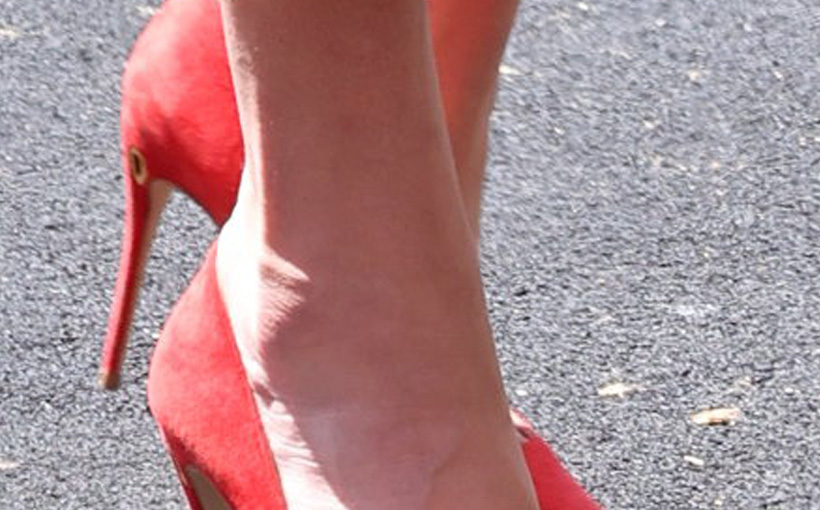 It was the 'Eye of the Needle' that served as the key clue for the shoe's rapid identification.
This is the second pair of Jennifer Chamandi shoes Kate's debuted this week, and the third pair we've seen her wear to date.
Jennifer Chamandi is a British shoe designer of Lebanese descent who transitioned from a thriving career in banking to pursue her passion for footwear design. After intensive training and full immersion in the world of shoes, she launched her own successful brand.
Let's move on to Kate's handbag. The second Parisian piece in her outfit! It's the iconic Rio clutch from luxury French design house, Hermèz. We have several ladies to thank for this fab find: Susan, Laura and Eva (via Middleton Maven).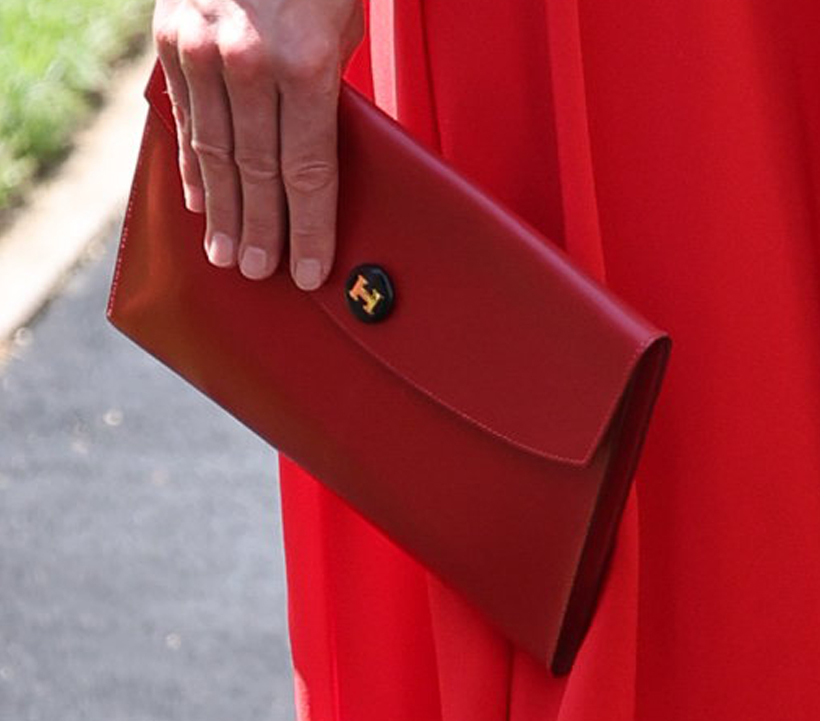 This rectangular piece boasts a fold-over top, a subtly curved edge, and a snap closure concealed under the flap. Each Rio clutch is embellished with the classic black and gold 'H' logo.
A Vestiaire Collective listing (below) for a bag in a very similar colour lists the item as "Ashen Rogue/Bordeaux". I'm assuming this is an official Hermès colour name?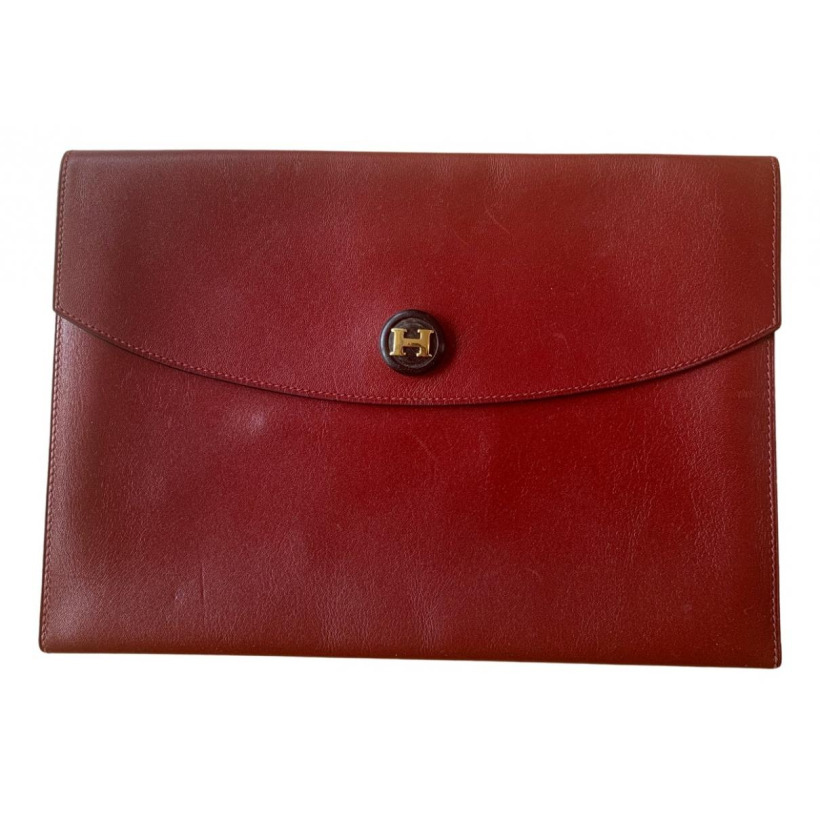 The listing shows the bag sold for £246 in April 2022.
You can explore the vintage Rio bag in other styles and check the current availability at Vestiaire Collective.
To the best of my knowledge, this is the first time we've seen Kate with an Hermès piece.
Hermès need little in the way of introduction. They're a world-renowned luxury goods manufacturer, best known for their high-end fashion accessories, including scarves, ties, watches, and handbags—most notably, the iconic Birkin and Kelly bags.