Kate Middleton exuded professionalism on Tuesday as she arrived at NatWest HQ in London for the inaugural meeting of her new Early Childhood Business Taskforce. The Princess of Wales dressed in a sharp ivory blazer and tailored trousers as she met with representatives from major companies, including Unilever, Lego, Ikea and Deloitte.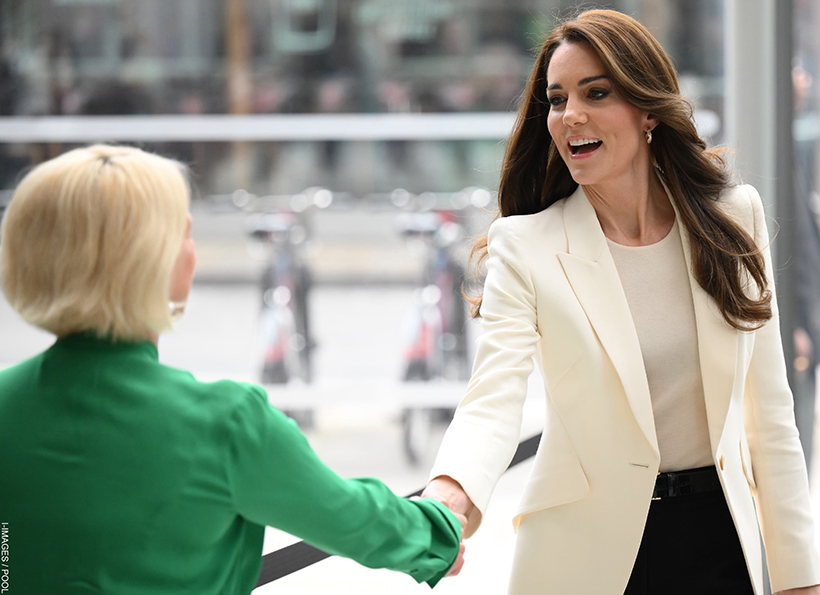 The Princess has bought the executives together to explore how the business community can provide young people and their families with the support and resources they need to thrive in life.
During the meeting, Taskforce members discussed how the business community can help build "a supportive and nurturing world" around children and those who care for them.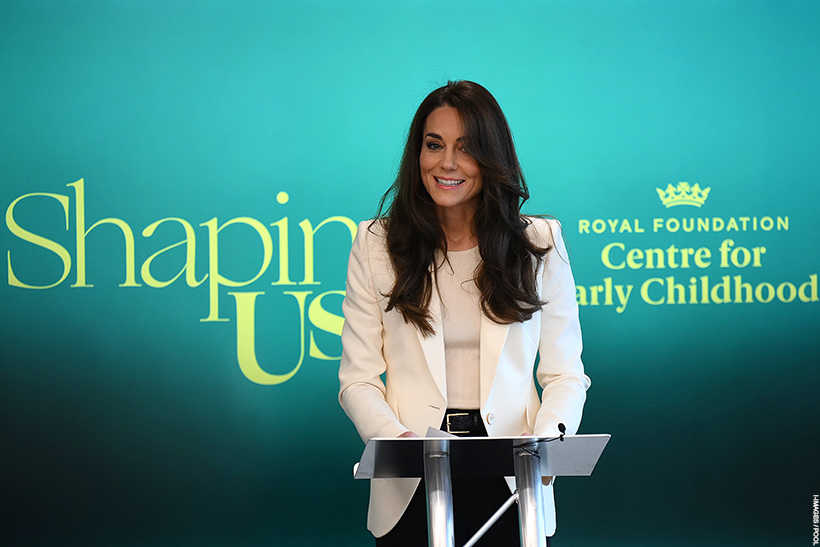 The Princess outlined her mission to the executives in attendance:
This, however, is not just about supporting children in the earliest years of their lives. It is also about building healthy communities in which they can grow. Because the healthy development of our children relies on healthy adults. So this is why we all have a part to play. And that is why I'm standing here in front of you, to ask you, some of Britain's most influential business leaders, for your support in helping create the societal change that is needed.

I have spoken before about the need to make early childhood the societal equivalent of climate change. In the way that the business world has embraced the net zero target to protect our environmental ecosystems, you also have an important role to play in ensuring that our social ecosystems are protected too. Your business organisations are living examples of these social ecosystems, so building healthy environments both in and out of the workplace is fundamental.

The Princess of Wales
As a key player in shaping our society and economy, the business community has a clear interest in developing a strong future workforce, making the Taskforce an opportunity to collaborate and bring about long-term change.
I truly believe that by investing in early childhood, with a specific focus on social and emotional development, businesses in turn will see in the future… better communication, better working relationships, improved resilience, employees finding better work–life balance, less stress, more patience and understanding and increased job satisfaction.

Not only that, but the societal impact we could have, if we work together on this, could transform lives for generations to come. As the saying goes, it really does take a village.

The Princess of Wales
The experiences that children have in their first few years of life can have a profound impact on their physical, emotional, and cognitive development, which affects their ability to learn, work, and contribute to society as they grow older.
Investing in early childhood development can lead to significant economic and social benefits, such as reduced healthcare costs, increased productivity, and lower rates of crime and poverty. In contrast, neglecting early childhood development can have long-lasting negative effects, leading to a range of social problems, such as addiction, family breakdown, poor mental health, suicide, and homelessness. Kate's 12 years as a royal—conducting engagements, meeting a people, hearing experiences firsthand and speaking to experts—have given her a deeper understanding of these issues.
It's why the Princess launched The Royal Foundation Centre for Early Childhood in 2021, which aims to drive change and transform the way society prioritises and supports children, and those who look after children in their earliest years to benefit future generations and society as a whole.
Last month, Kate launched 'Shaping Us', a campaign to raise further public awareness of the early years. The Princess worked with celebrities, met with experts and published content on social media to get her message out there.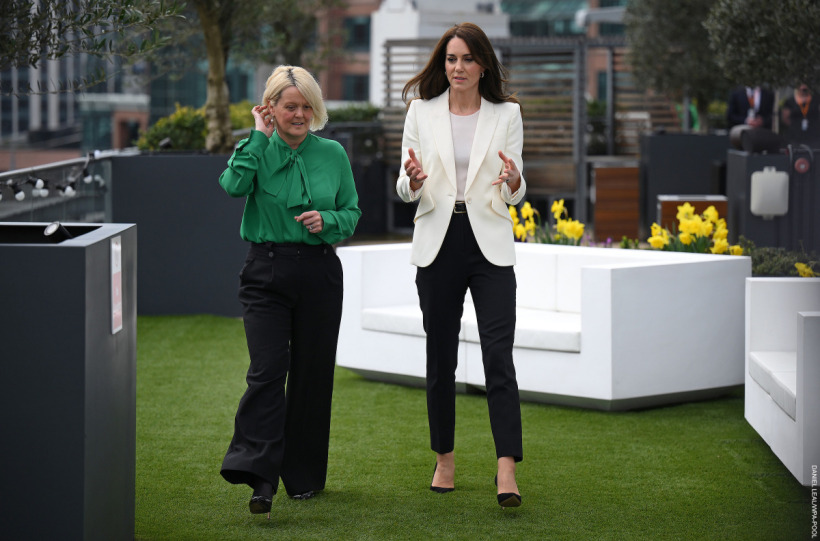 After meeting her Taskforce, Kate took to NatWest's roof terrace to pose for photographs with the City in the background. According to one reporter, Kate joked, "I don't feel qualified to be standing on this balcony".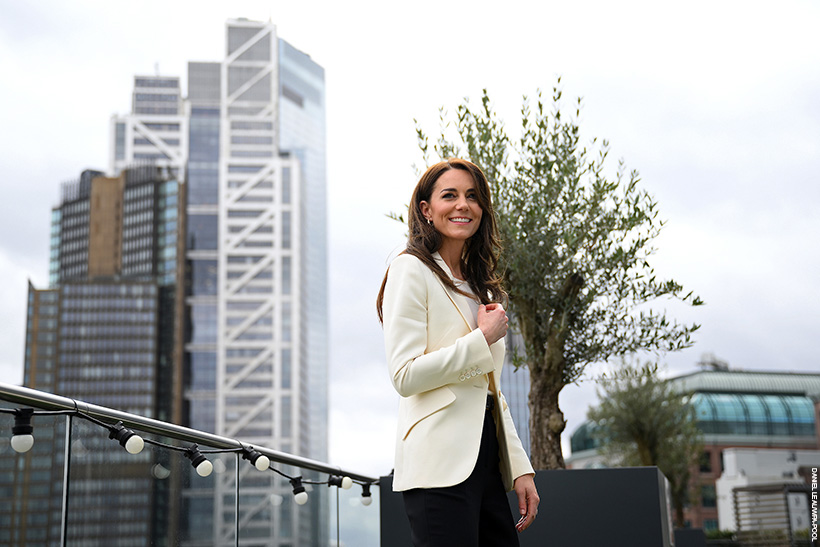 Let's move on to look at the Princess's outfit.
Kate's outfit for the Early Childhood Taskforce meeting:
The Princess wore an off-white blazer over a matching knit with slim black trousers and towering heels.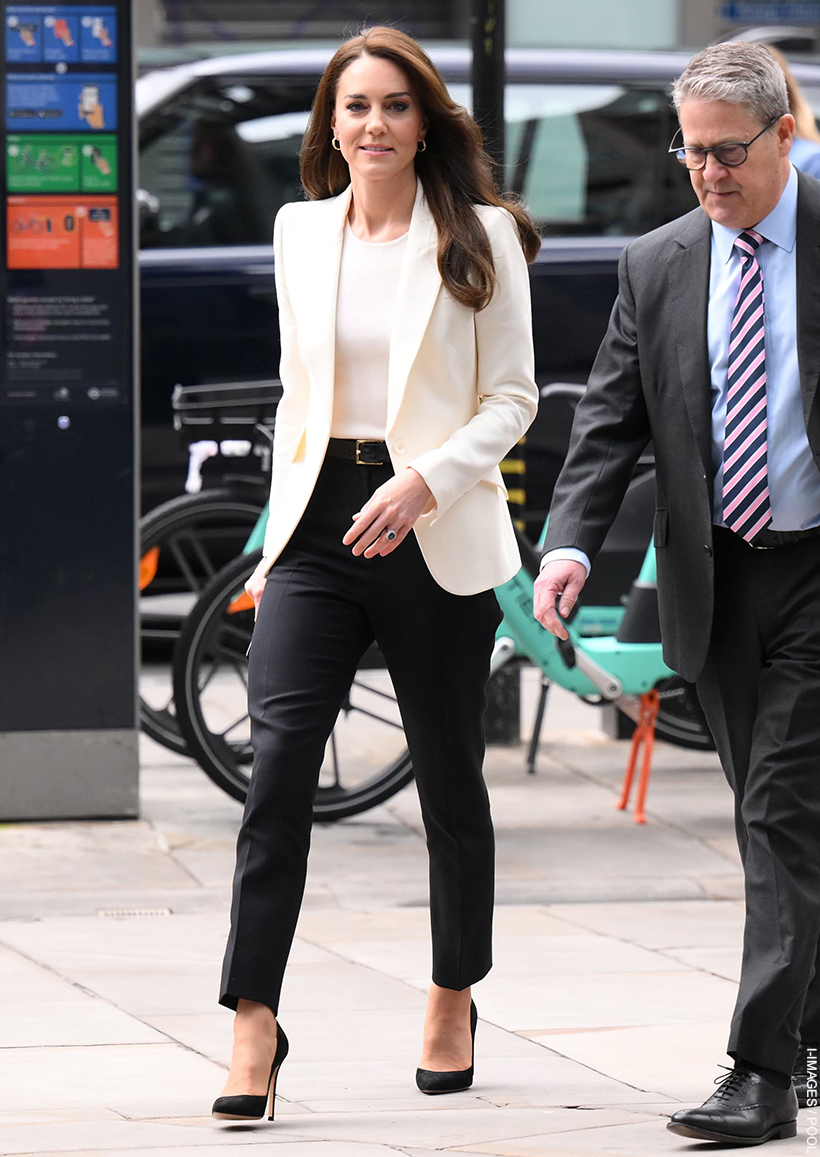 Kate has undoubtedly established her signature style for engagements that require a sense of gravitas, particularly those held in association with her Centre for Early Childhood. Her choice of a blazer paired with tailored trousers exudes a polished and professional demeanour, commanding respect for her message. The ensemble itself is sleek and understated, reminiscent of those found in boardrooms across the globe. This type of look enables Kate to shift the focus onto her work, rather than on her attire.
The blazer-and-trouser combination is certainly a departure from the fit-and-flare dresses and bold prints the Princess favoured in the early years of her marriage.
Let's look at each individual piece.
The blazer is from Alexander McQueen. (Thanks to Bojana for identifying it quickly). It's the Peak Shoulder Leaf Crepe Jacket in Ivory.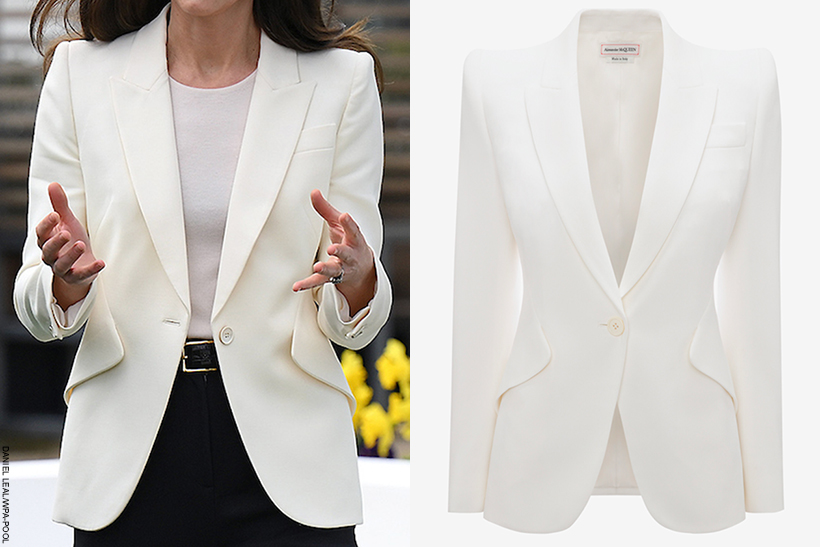 The crepe blazer features strong shoulders, a peak lapel, a slim silhouette and a nipped-in waist. It's finished with a single button closure and Alexander McQueen's characteristic slanted pockets at the hips.
Does it feel familiar? It ought to, the Princess has a closet full! We've seen her wear the same design in pink, amethyst purple, navy blue, black, white and now ivory. She's also worn a very similar design in red.

Want to exude the same level of gravitas and poise as the Princess at your next business meeting? The sleek blazer is still available at AlexanderMcQueen.com, Net-A-Porter, Matches and MyTheresa.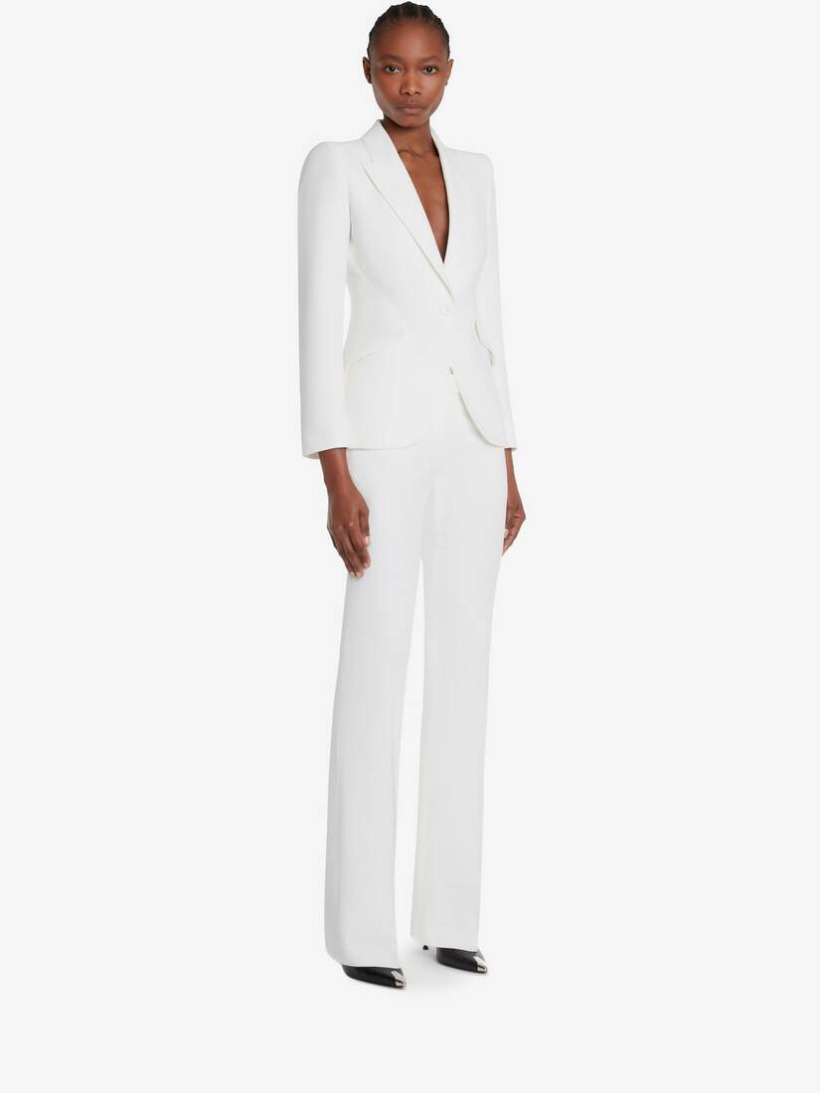 Alexander McQueen Crepe Blazer
Elevate your work wardrobe with this blazer — it's the epitome of polished professionalism. Channel Kate's iconic style and make it your own.
Since choosing Sarah Burton—Alexander McQueen's creative director—as her wedding dress designer for her nuptials in 2011, the Princess has developed a deep appreciation for the celebrated design house. Her affinity for McQueen is evident in her choice of their garments for major events and royal engagements over the last twelve years. With their impeccable tailoring and meticulous attention to detail, it's no wonder that the Princess is drawn to the brand.
Unfortunately, I cannot tell you anything about the coordinating fine knit top Kate wore under her blazer.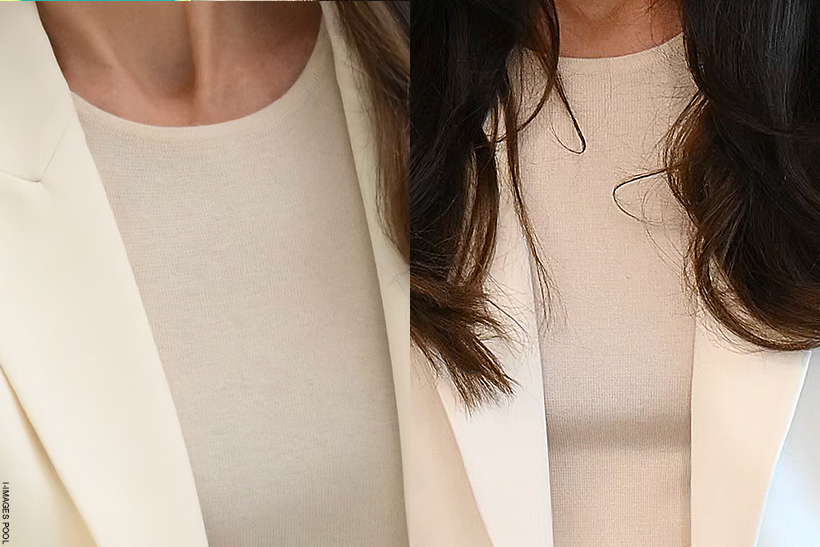 Arket, The White Company and Theory carry similar tops if you need a good piece to layer under your jacket.
Another item I can't tell you much about, unfortunately, is Kate's trousers. I'd wager that they're by Alexander McQueen too—possibly the 'Long Cigarette Trousers' show below.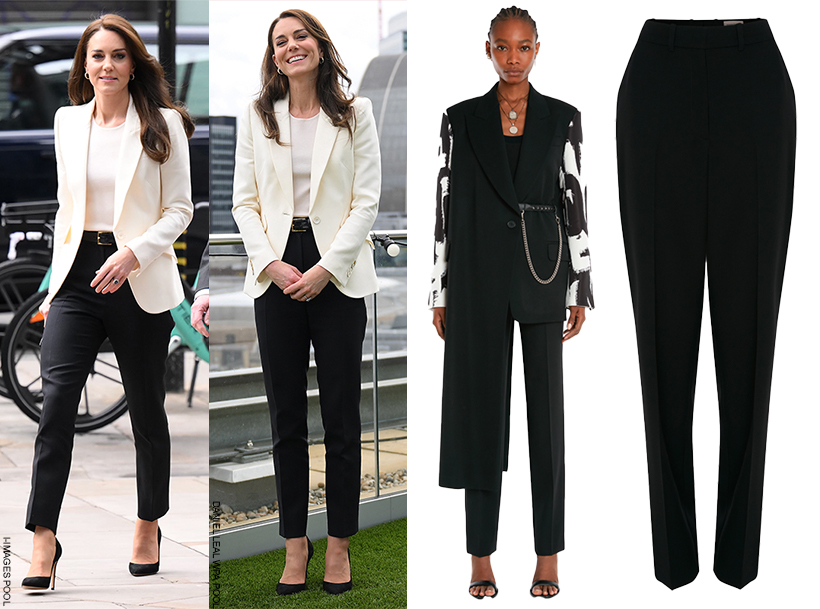 They look pretty similar. I suspect they match with her black suit jacket.
I can tell you about Kate's earrings. They're the Asprey London Oak Leaf Hoops in Size Small. The Princess has worn the gold oak leaf hoops to many engagements over the last five years.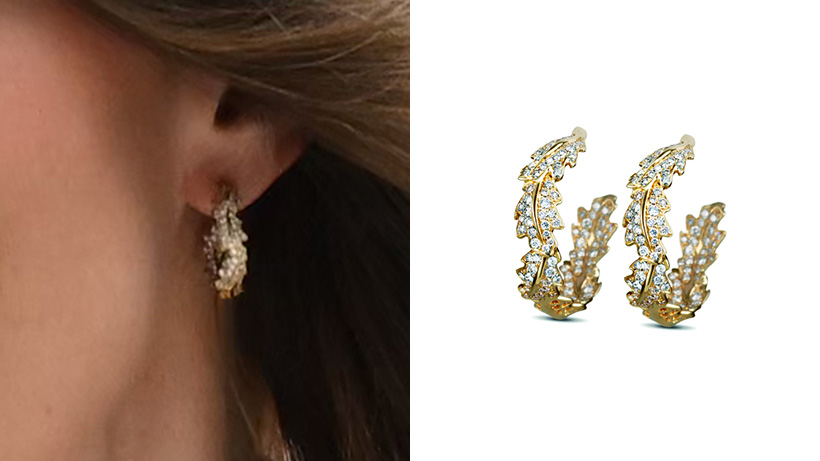 The earrings are from Asprey's Woodland Collection and feature oak leaf motifs decorated with diamonds. They cost £7,350 / $8,250.
Oak leaves have a special significance for the Princess. Ahead of her wedding to William in 2011, the Middleton family worked with the Garter King of Arms and Senior Herald in England to create a new Coat of Arms that was personal to them and visually identified them as a family. The Coat of Arms features a number of elements that represent the family, including three acorn motifs, each representing Kate and her two siblings. The family chose acorns for their Coat of Arms because the area in which the children grew up in West Berkshire is surrounded by oak trees.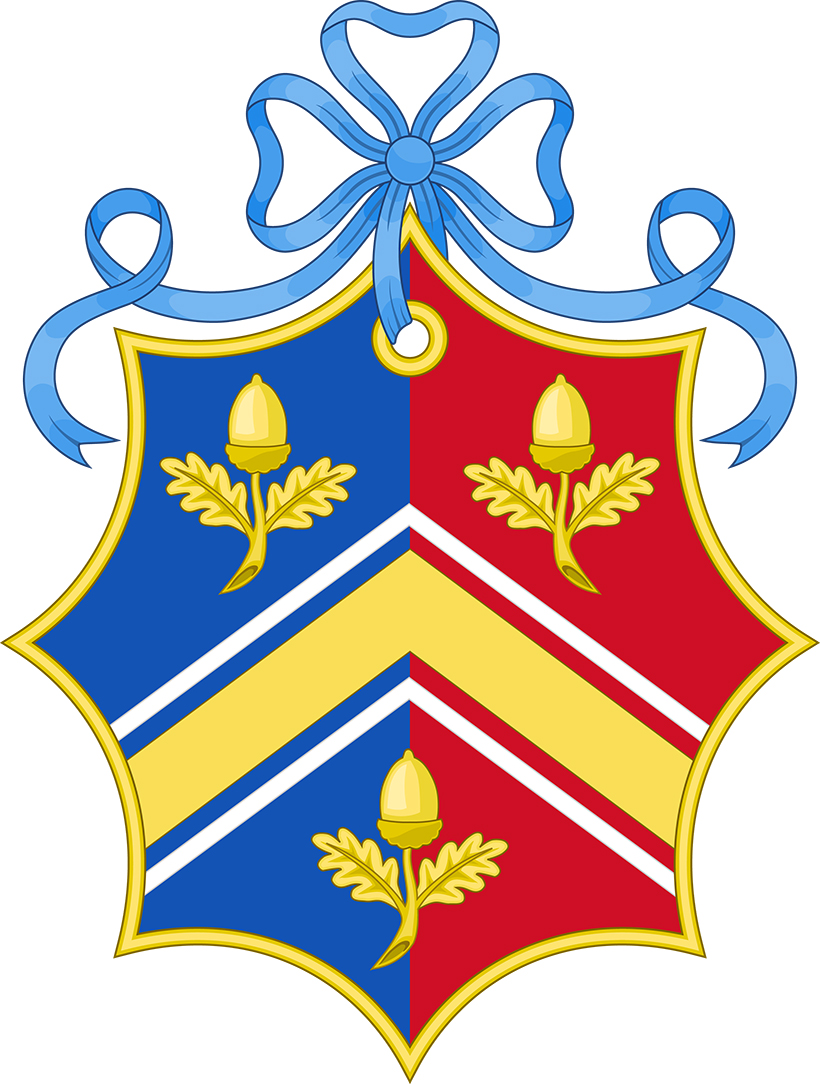 Since, Kate has worn a few pieces of jewellery featuring oak leaf designs. Most famously, her wedding earrings by Robinson Pelham, which featured an acorn inside a pear-shaped drop, suspended from a stylised oak leaf—each piece adorned with sparkling diamonds. She's also worn an acorn brooch and an acorn pendant necklace too.
I suspect Kate was given the Asprey oak leaf earrings as a gift following the birth of her son in 2018. Prince Louis was born at the end of April and we spotted Kate first wearing the earrings less three months later.
Asprey is a British luxury brand known for its exquisite craftsmanship of fine jewellery, watches, leather goods, and other accessories. The Princess has been spotted wearing several pieces of Asprey jewellery on various occasions—one notable piece in her collection is the coordinating "Woodland" charm necklace that she debuted in 2014. The necklace features a collection of charms, including a mushroom, an oak leaf, and an acorn, all crafted from white gold and diamond pavé.
Let's finish by looking at Kate's heels, I am pretty sure she's wearing her Gianvito Rossi 105 pumps in black suede.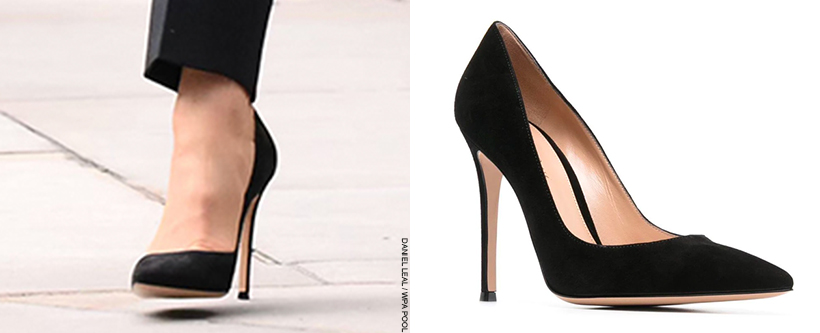 The shoes feature a pointed toe, 105mm stiletto heel and leather soles. They were handcrafted in Italy from luxury suede.
The pumps are a definite favourite. The Princess has worn them 30 times since 2015 and owns the same style in eight other colours.
You can buy them from MyTheresa.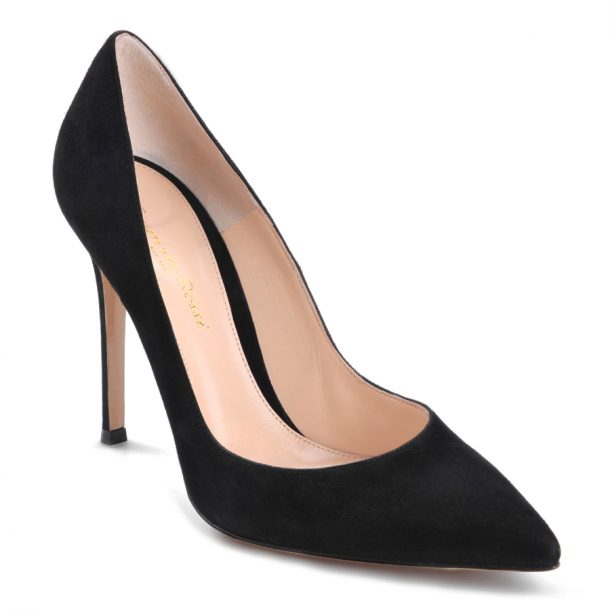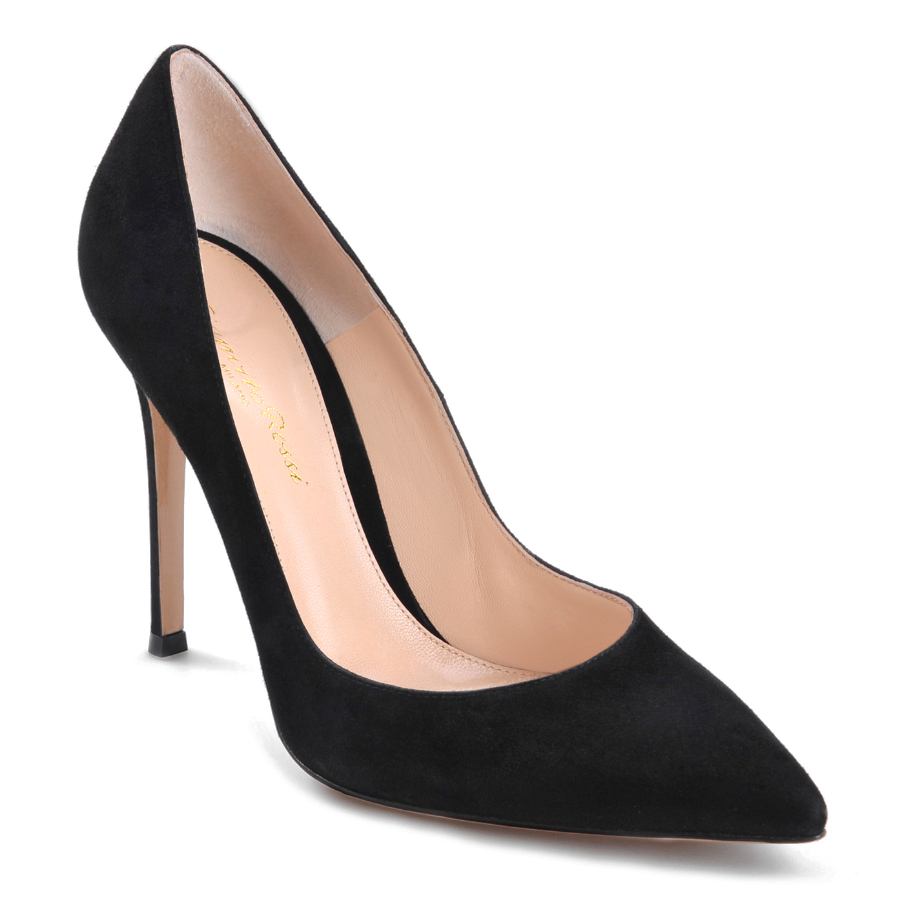 EXACT MATCH: Gianvito Rossi 'Gianvito 105' Pumps in Black Suede
Elevate your wardrobe with these exquisite shoes from Gianvito Rossi. The designer's signature pump will take you from desk to dinner. With every step, you'll feel the exquisite comfort and confidence that comes from owning a truly exceptional piece of footwear.
The Princess is clearly a fan of Gianvito Rossi—she owns an impressive collection of his shoes-20 pairs in total! Including 15 pairs of heels, two pairs of sandals and three pairs of boots.
Gianvito Rossi, following in the footsteps of his father, the renowned shoe designer Sergio Rossi, debuted his first shoe collection in Milan in 2007 to high acclaim. Over a decade later, Rossi's creations continue to captivate celebrities such as Sarah Jessica Parker.
Updated to add: Belt – Andersons Croc Print Belt in black